We use affiliate links and may receive a small commission on purchases.
Giant Contend AR 1 Review
MSRP: $1,950
Frame: Aluminum
Tires: 700x32c, compatible with tires up to 38mm wide
Drivetrain: 2×11
Groupset: Shimano 105, Praxis
What we like about it: The versatile 2022 Giant Contend AR 1 is synonymous with comfort, speed, and enduro.
What we don't like about it: The single-color design may disappoint users who don't like black.
Rating (4.85/5)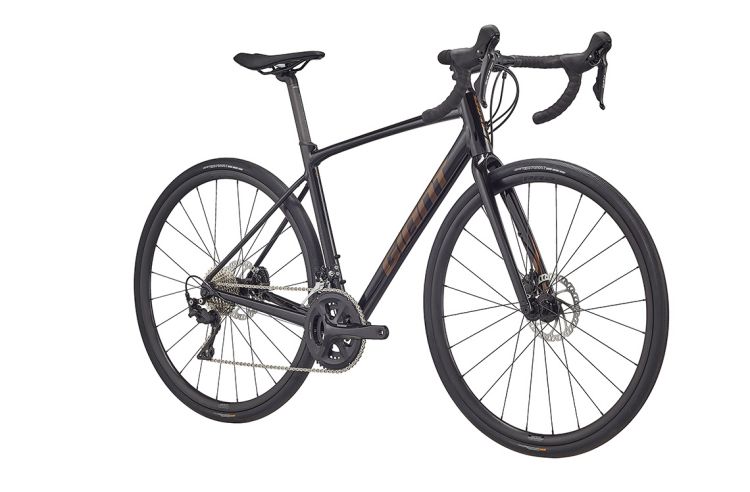 Although Giant named the 2022 Giant Contend AR 1 "Contend AR" to highlight its "ALL-ROAD" characteristics, I prefer to call it an enduro bike.
Because on a long ride, you will encounter a lot of unpredictable road conditions. Even though you are familiar with the road, there may be uneven "surprises" waiting for you.
The Giant Contend AR has a carbon fiber fork on a lightweight aluminum frame, and the flexible geometry used supports the rider with a long and comfortable ride.
At the same time, the Shimano 105 drivetrain has enough gear ratio range to handle fast riding on various trails.
In addition, vacuum tires with high grip and puncture resistance will support a wider range of roads and weather.
Here's a breakdown of the 2022 Giant Contend AR 1's riding experience, key features, components, and specifications, as well as other versions.
If you're looking for a bike that can handle any riding style, or if you're considering owning a road bike for the first time, remember to follow us. We will continue to update with more real bike reviews.
Learn More: Giant Contend 3 Review [2022]- Cost-Effective Long-Distance Runner
Road Enduro Riding
I call the Giant Contend AR 1 an enduro bike because it gave me a great sense of comfort on my trip from Chicago, Illinois to Louis, Missouri. Another thing that needs to be prepared in advance is booking accommodation. This time, I still booked accommodation on IHG Hotels & Resorts, hoping for a good rest.
The Giant D-Fuse SL (44cm, L) Handlebar is the perfect size for me to operate, and combined with the Grips (Velo cork tape with the gel) it feels very comfortable in my hand.
To be honest, I couldn't feel the Giant Contend AR 1 geometry for the first part of the ride. But as the ride lengthened and hit rush hour traffic along the way, the near upright riding position and nimble steering maneuvers made it very comfortable and fun.
I was impressed by how well the Giant Gavia Fondo 2's tires passed through damaged tarmac and how well they absorbed the shock when I encountered it. Together with the seat post (Giant D-Fuse) Saddle, which also has a shock-absorbing effect, I could feel like my butt was just getting a massage without the soreness.
At the same time, its standard integrated clip makes it more challenging and very firm and comfortable. In addition, my body doesn't sway from side to side. It always leads my body to face forward as long as I don't deliberately move it.
Giant Approach's Saddle deserves praise. Because of its extremely ergonomic cutout design and particle flow technology, it is not only breathable but also very comfortable for my butt and legs.
Equally important, the thoughtful Giant was equipped with a water bottle holder in the location of the bike's downtube. So I stored food and water there to replenish my energy.
General Riding
The "ALL-ROAD" Contend AR 1 is not only suitable for enduro riding, but also commuting, daily training, and occasional gravel rides.
After installing fenders on it and changing to 38mm wide tires, I also take it for occasional countryside walks.
The dirt path was soft and occasionally small stones could be seen embedded in it. And I maneuvered the bike with ease, gently crossing them.
The Shimano 105 Shifters also worked pretty hard when it came to steep hills; they shifted quickly and smoothly. And on the downhill, the Shimano 105 hydraulic was so responsive that I kept reeling in my fingers. But I loved it because the feeling was so joyful.
Main Features
Frame Group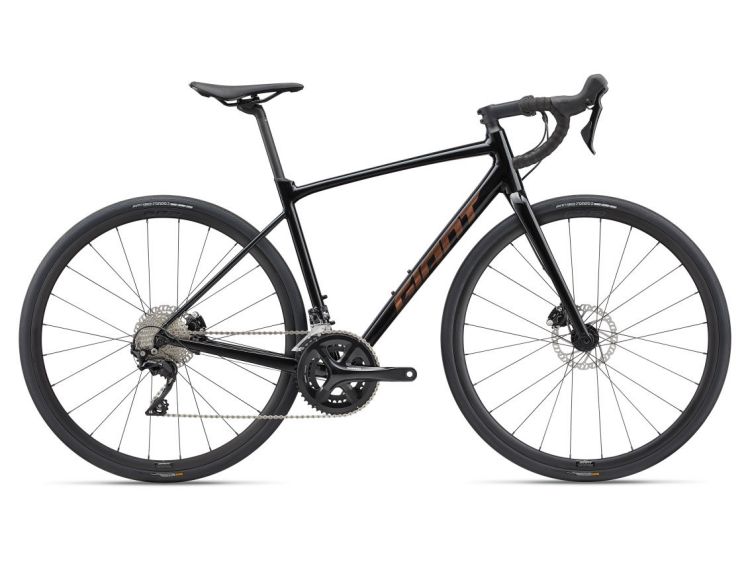 Similar to other Contend name bikes, the Contend AR 1 features an aluminum frame and carbon fiber fork.
From a distance, the frame of the ALUXX-Grade Aluminum, which is made of mechanically formed tubes, has a similar sloping top tube and finely angled shape to Giant's higher quality products.
At the same time, the internal cable wiring, and the body basically can not see the design of the line pipe, making the bike's appearance simple. Together with the black paint, it looks very elegant.
To its credit, Giant's original OverDrive oversized full carbon fiber steerer tube technology not only provides excellent shock absorption but also gives the rider precise front-end steering performance.
In addition, the integrated D-Fuse Seatpost and Handlebar are useful in absorbing shock and vibration. Moreover, the more comfortable riding experience encourages riders to ride faster and longer.
Lastly, the Contend AR 1 also has fender and water bottle cage mounting holes for users. So you don't have to worry about the bike being untidy or thirsty during the journey.
Geometry
Giant designed their Balanced road Geometry with pride after special research.
The geometry is said to create a balanced, all-around feeling for the rider, helping him or her to blend agile cornering and acceleration into one. And indeed it does.
First of all, the super high Stack/Reach Ratio (1.55, ML) guarantees that the rider will have a very comfortable riding position. Because the posture is more upright, it is more ergonomic.
As we all know, a lower BB Height keeps the center of gravity closer to the ground and facilitates a stable ride. The Contend AR 1 is no exception, with 256mm to ensure the rider's balance.
Secondly, the Contend AR 1 is a standard angle for the average road bike, whether it is the Seat Tube Angle (73.0°, ML) or the Head Tube Angle (72.5°).
On the Wheelbase, however, the Contend AR 1 features a shorter 1,015mm (ML) to allow the rider to maneuver more quickly.
In addition, we can see that ML's bike has a shorter 56mm Trail, which means it can be very agile and steerable, making it very useful on roads with lots of bikes.
Components and Specifications
Shimano 105 2×11 Drivetrain
Although Shimano 105 is not as professional as DA and Ult's Groupset, it does not lose them in performance.
First, the Shimano 105, which inherits the excellent ergonomic design of Ultegra, has an increased range of grip adjustments to give users a more comfortable feeling of control.
Secondly, the HG700-11 Cassette works perfectly with the GS Rear Derailleur to provide an extra-large range of low-speed climbing gear ratios suitable for mixed-road riding. In addition, with the excellent Crank (Praxis Alba 2D), the Contend AR 1 is capable of handling all kinds of surfaces without fear of climbing.
What's more, the Shimano 105 R7020 Dual Control Levers Shifter shifting controls are as light and effortless as the premium system. Such an intuitive shift operation allows users to maneuver with ease and confidence.
As a result, Shimano's 105 shifts are almost perfect and the drivetrain performs admirably for its value.
Shimano 105 Hydraulic Braking System
Rigid 12mm front and rear thru-axles, and support for the installation of Shimano 105 hydraulic brakes. This means the rider will have no fear of wet weather and rough roads. Because it has a more stable braking force for better control.
No matter what the environment, the user's smooth operation, and control can stop the bike in its tracks at any time.
In addition to the commendable braking effect, the Shimano 105 hydraulic has a very clean and neat appearance. Because the brake lever is inside the hood, it won't leave you with oil stains all over your hands.
Giant Gavia Fondo 2 Vacuum Tires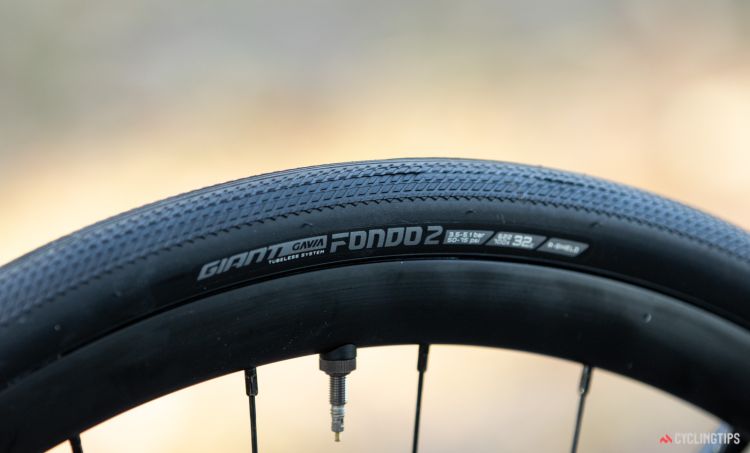 What I like about the Contend AR 1, besides its comforting geometry and the great handling groupset, is the tubeless tires and tire kit. The simple operation of adding the provided tire sealant through the valves and you're ready to hit the road.
The real surprise for me was the Giant Gavia Fondo 2's Tubeless System, which reduces tire leaks and provides more traction and less rolling resistance. This gives the rider a fast and naturally smooth ride.
In addition, Giant P-R2 Disc wheelset tires are perfectly matched with Giant Gavia Fondo 2 tires. They are very strong and secure, allowing the tires to run at high speeds without lacking traction.
To its credit, the Giant tire system supports the installation of tires up to 38mm wide. So if you have gravel riding needs or want a more comfortable ride, changing tires will satisfy you.
Other versions of Giant Contend AR
With those on a budget in mind, Giant also offers the 2022 Giant Contend AR 2, Contend AR 3, and Contend AR 4 for riders to choose from.
In general, they follow the Contend AR 1 geometrically as well as in the frame (except for the colors), but with a downgraded treatment on the groupset.
Therefore, they are not very different in terms of comfort and speed. However, there is still a gap in the operating feel of the shifting and braking system.
Take the Contend AR 2, although it also uses the same 2×11 shifting system, the Shimano 105 is more recognized for its shifting feel and means than the Shimano Tiagra.
Secondly, in terms of braking, the Shimano 105's hydraulic discs are more efficient than the Tektro MD-C550 mechanical as well. That's not to say they aren't good enough, realistically speaking, they are. But, after all, a higher price means better performance.
Therefore, if you have a limited budget and no greater pursuit of an operating system, then other models of bikes are very good and can enter your scope of the examination.
If you are also interested in the bikes mentioned above, you can follow us. We will keep updating other models as well as more interesting bikes for real-life testing.
What we like about it
Lightweight ALUXX ALUMINUM frame for all riding styles.
The simple and atmospheric cable internal alignment style makes the bike more in line with the public aesthetic.
Giant's original oversized fork steerer tube technology combines significant damping with precise steering.
Balanced road geometry supports a more comfortable, enduro road ride for the rider.
The innovative D-Fuse Seatpost with Giant Approach Saddle will fully absorb vibrations and give the user the smoothest ride quality.
The Shimano 105 2×11-speed drivetrain with its Seamless disc-brake integration is not picky about terrain and weather, giving the rider plenty of dominance on the bike.
The Giant WheelSystem is compatible with tubeless tires up to 38mm, allowing the rider to map beyond the sidewalk.
With the Giant Gavia Fondo 2's vacuum tires, users will feel faster and more comfortable on the road with great traction.
Climbing hills is easier for it than its counterpart bikes, and the amazing speed is unforgettable.
Out of the box is Giant's style, and the Contend AR 1 is no exception, requiring you to pay extra money for accessories.
Six sets of sizes are available, covering almost all heights.
What we don't like about it
Single color, so the face control party is a headache, if you like black, then please ignore the previous sentence.
FAQs
What is the drivetrain of the 2022 Giant Contend AR 1?
The 2022 Giant Contend AR 1's drivetrain is a Shimano 105 2×11-speed drivetrain.
What are the tire sizes for the 2022 Giant Contend AR 1?
The 2022 Giant Contend AR 1 has a tire size of 700x32c, but it is compatible with a narrower 28c as well as a maximum width of 38mm.
Can the 2022 Giant Contend AR 1 be ridden on gravel?
The bike itself is positioned as an all-rounder, so it is supporting you on the gravel trails. But to have a more comfortable riding experience, I suggest you'd better replace the wide tires before you take on the challenge.
What size of the 2022 Giant Contend AR 1 should I get?
This is the size chart I found on the official website, you can refer.
| | | |
| --- | --- | --- |
| Rider Height (cm) | Rider Height (in) | Frame Size |
| 157cm – 169cm | 5'2″ – 5'7″ | XS |
| 165cm – 175cm | 5'5″ – 5'9″ | S |
| 171cm – 181cm | 5'7″ -5'11" | M |
| 177cm – 187cm | 5'10" -6'2″ | ML |
| 183cm – 193cm | 6'0″ -6'4″ | L |
| 189cm – 199cm | 6'2″ – 6'6″ | XL |
2022 Giant Contend AR 1 Specs
Build
| | |
| --- | --- |
| Frame | ALUXX-Grade Aluminum, disc Color: Black |
| Fork | Advanced-Grade Composite, full-composite OverDrive steerer, disc |
| Rear Shock | N/A |
| Bottom Bracket | cartridge |
| Stem | Giant Contact XS:80mm, S:90mm, M:100mm, M/L:110mm, L:110mm, XL:110mm |
| Handlebar | Giant D-Fuse SL XS:40cm, S:40cm, M:42cm, M/L:42cm, L:44cm, XL:44cm |
| Saddle | Giant Approach |
| Seatpost | Giant D-Fuse, composite, 14mm offset |
| Pedals | platform pedal |
| Grips | Velo cork tape with gel |
Wheels
| | |
| --- | --- |
| Rims | Giant P-R2 Disc wheelset |
| Spokes | Giant P-R2 Disc wheelset |
| Front Hub | Giant P-R2 Disc wheelset |
| Rear Hub | Giant P-R2 Disc wheelset |
| Tires | Giant Gavia Fondo 2, tubeless, 700x32c (34mm) |
Groupset
| | |
| --- | --- |
| Rear Derailleur | Shimano 105 GS |
| Front Derailleur | Shimano 105 |
| Crank | Praxis Alba 2D, 34/50 XS:170mm, S:170mm, M:172.5mm, M/L:172.5mm, L:175mm, XL:175mm |
| Shifters | Shimano 105 |
| Cassette | Shimano 105, 11×34 |
| Chain | KMC X11EL-1 |
| Brakes | Shimano 105 hydraulic, Giant MPH rotors [F]160mm, [R]160mm |
| Brake Levers | Shimano 105 |
Video
Comparison Table
2023 Trek Domane AL 5 Disc vs 2022 Giant Contend AR 1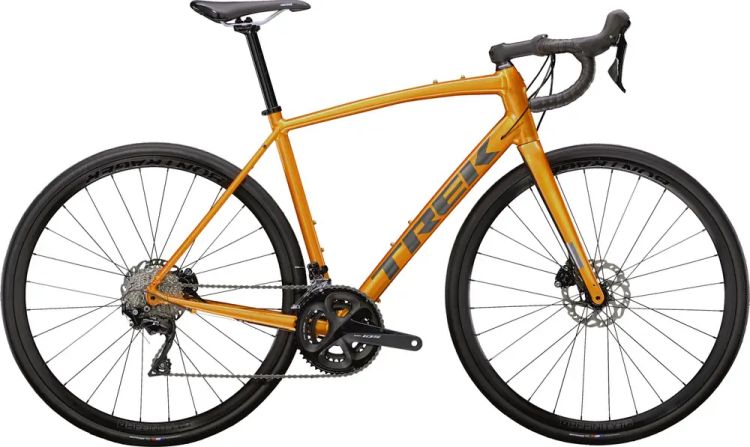 When I saw the Giant Contend AR 1 105 groupsets, I couldn't help but think of the 2023 Trek Domane AL 5 Disc with the same components.
Apart from the groupset, these two brothers are particularly similar in the frame structure, geometry, and wheelset size. Therefore, it is impossible to say who is faster than whom in terms of speed performance.
Of course, you can interpret the Giant Contend AR 1 as a flat replacement for the 2023 Trek Domane AL 5 Disc. Because the former is more advantageous in terms of price, after all, the cheap $149 price is also very attractive.
Learn More: Trek Domane AL 5 Disc Enduro Bike Review [2023]– Would It Be The Enduro Bike You Want?
2023 Bianchi Via Nirone 7 – 105 vs 2022 Giant Contend AR 1
Although the 2023 Bianchi Via Nirone 7 – 105 also uses the Shimano 105 shifting system and narrower 700×25c tires, this doesn't necessarily give it an advantage in the speed competition.
In addition, perhaps to lighten the body and to be more aerodynamic, it also uses a tire rim brake structure as a brake. However, this may affect the braking effect in a wet environment.
Overall the 2023 Bianchi Via Nirone 7 – 105 is appropriate for a road bike at this price point.
But the 25c tires ultimately not only limited its range of motion but also made the rider lose more comfort. So, it also left the scope of my examination.
Learn More: Bianchi Via Nirone 7 Review [2023]- GRX 400 Review – Newest
2022 BMC Roadmachine X AL ONE vs 2022 Giant Contend AR 1
It's said that Giant's D-fuse technology borrows from BMC's D-shaped seat post. But in terms of geometry, BMC should probably consider moving closer to Giant as well.
Because the 2022 BMC Roadmachine X AL ONE's Stack/Reach Rotio (1.41) tells us that its speed is traded for more comfort.
But Giant has proven with facts that a more comfortable riding position can also lead to faster speeds. Because a more comfortable geometry position not only allows the rider to use his strength as much as possible but will also encourage him to widen his map and be more suitable for enduro riding.
If you also prefer a near-upright riding position, I bet the Giant Contend AR 1 is very comfortable.
Learn More: BMC Roadmachine X Two Review [2023]- Taking You On The Ultimate Comfortable Road Enduro Ride
2022 Fuji Sportif 1.1 Disc vs 2022 Giant Contend AR 1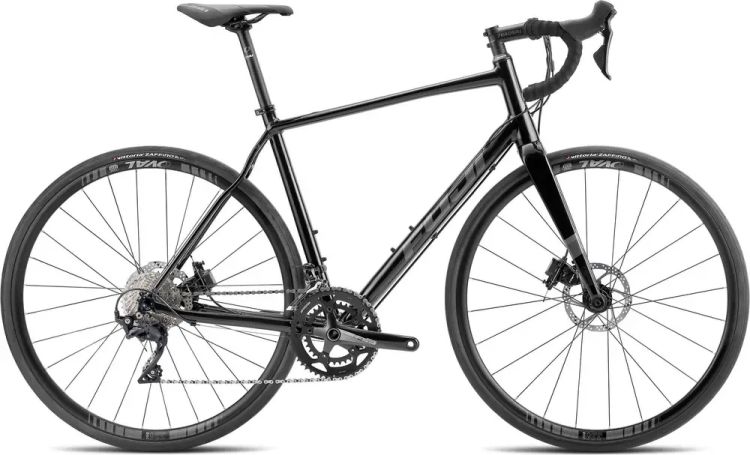 Needless to say, the 2022 Fuji Sportif 1.1 Disc is also an enduro bike that combines speed and comfort.
But as far as real riding experience tells me, the Fuji Sportif 1.1 Disc's geometry is missing a more flexible handling feel.
If it is ridden on flat roads without winding sections, then it is really good. But once it faces a technical surface, neither its tires nor geometry can support the rider to be able to pass very smoothly.
The 2022 Fuji Sportif 1.1 Disc is nice if you don't plan to add your bike to your city commute plan and just ride on the open road.
But If you need to cut through the crowds to get to work, the Giant Contend AR 1 may be a better fit with its more flexible geometry.