We use affiliate links and may receive a small commission on purchases.
GT Pro Series 29 Review
Price: $725
Frame: Aluminum alloy
Wheels: 29″
Gearing: Single speed
What we like about it: Disc brakes and a sturdy three-section chainring.
What we don't like about it: The aluminum frame may be a little soft when falling at high speeds.
Rating (4.7/5)
This is an old brand that has been dedicated to the bicycle industry since 1972, and they have always been committed to developing bikes for all types of riders. This mission is for the same reason that everyone puts effort into their first bike – pure fun and simple. There would be no good times without GT.
I don't think it costs much to have a BMX game because they are wearing and tearing. A strong and durable frame is what BMX riders need, not weight and aerodynamics and all that.
Below we analyze the 2022 GT Pro Series 29 regarding course riding, key features, components and specifications, and other versions.
If you want to know more about bike reviews, you can follow us.
Course Riding
BMX bikes are quite a unique riding experience, just as interesting as the most original riding sport. The culture of the bike itself with the street culture of BMX makes it a different charm to the majority of enthusiasts so the majority of cycling and street enthusiasts are deeply attracted to this sport.
My drivetrain includes a three-piece crank, a simple chain toggle to keep the single-speed freewheel tight at all times, and a single rear brake for a very clean overall design. It works very well for skate parks, street riding, and jumping action in the dirt and mud. I came to the skatepark near my community, a hotspot for BMX enthusiasts.
I tried to dive down from the edge of the bowl skatepark and do some simple maneuvers. The bike wasn't as bulky as I thought it would be, instead, it was very light and fast to ride. The simple brakes allowed me to stop easily after doing a maneuver. The ride in the venue was never too high and the excellent disc brakes were more than adequate.
I felt very stable under my feet when performing dives and airborne maneuvers. The wide metal pedals with raised non-slip metal pegs can effectively prevent the dangerous situation of feet falling off the pedals when doing the action, and at the same time, you can easily make rabbit jumps and other jumping movements on flat ground.
The first thing I did when I got this bike, I chose to add Peg to its sides to make more fancy moves, and I suggest you try the same.
Main Features
Frame Group
The aluminum frame greatly reduces the overall weight, and the 6061 tubing reduces the overall weight without sacrificing the rigidity of the frame. The overall shape is similar to the old GT BMX style, the retro freestyle style with almost 0° fork offset creates a very flexible shape. Disc brake mounts and rim brake mounting holes are provided to give you more brake options.
The regular saddle and seat tube caliber enables the rider to have more options for cruising on a relaxed ride. The underside of the top tube is equipped with a brake line retainer clip to ensure that you don't let the brake line bother you during practice moves.
Geometry
The compressed geometry gives the rider more control flexibility, and the raised BB height can greatly increase the overall passability of the bike. The smaller fork offset can shorten the wheelbase while allowing the handlebars to rotate without creating a large front-to-back offset in the front wheel. The top tube and rear fork are almost in the same line, which makes the whole bike very compressed, providing a better feeling of power feedback and also greatly enhancing the unity of the vehicle, allowing more coherent movements in the air.
Components and Specifications
GT Power Series Cr-Mo 3pc Chainring
The excellent three-section crank with a 170mm long crank arm brings an excellent pedaling feeling and high rigidity. At the same time, the hollow shaft bolt can additionally reduce the overall weight, 25T freewheel brings the right speed.
Seatposts, Stems, and Saddles
This is very pleasing, as the seat tube and saddle are of the same caliber as the regular bikes, so you can change the seat tube or saddle at will. No need to use a special saddle and seat tube like most BMX bikes.
Hydraulic Disc Brake
We don't see many brakes like this on small-wheel bikes, most of them will be in the form of rim brakes, and reliable hydraulic disc brakes give me better-braking results. There will be many emergencies in the field and effective and quick braking is necessary.
Reliable dual-piston hydraulic brakes for outstanding performance no matter what the off-road conditions.
GT Smoothie 29 x 2.5″ Tires
Tires are very important for BMX, not only to maintain sufficient grip but also to always be able to provide comfortable cushioning. Because of the robustness of the frame, resulting in the overall not being equipped with cushioning, the cushioning comes entirely from the tires. I'm glad that the tire's width and high grip give me excellent performance, and I think it's perfect for being mounted on this bike.
Other Versions of GT Pro Series 29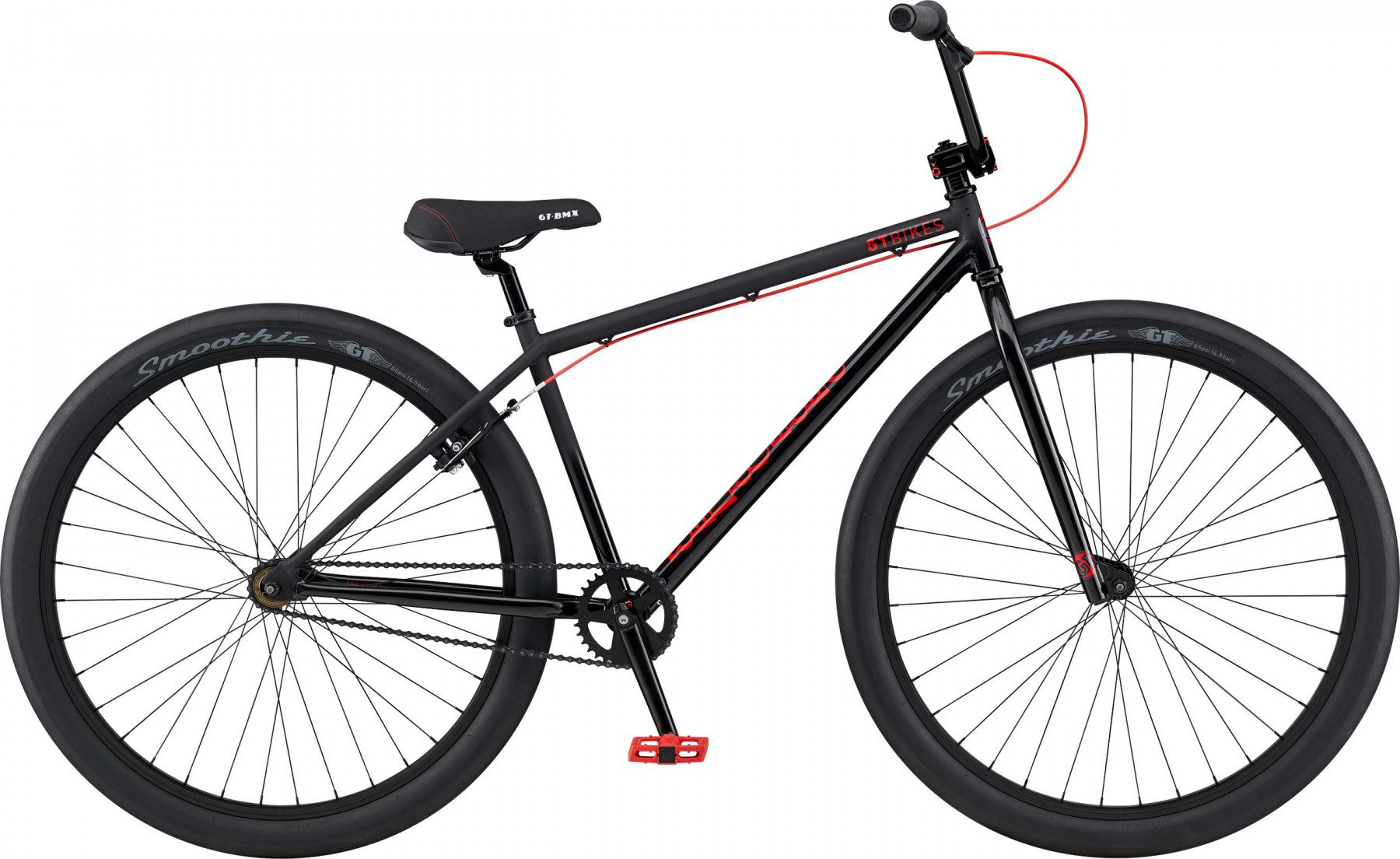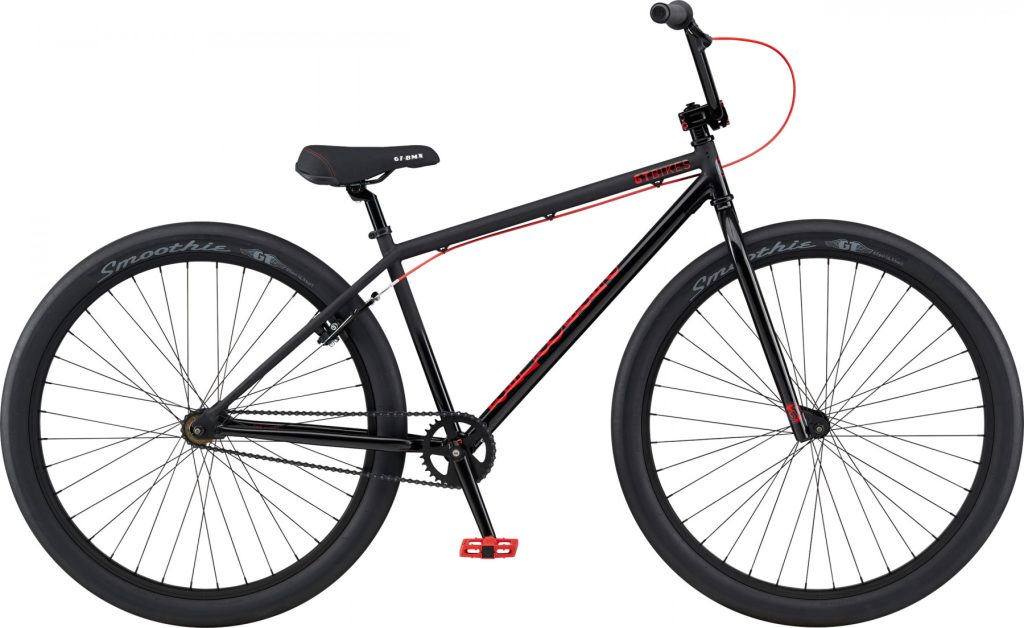 In this review, we have reviewed the 2022 GT Pro Series 29, a light and sturdy big BMX model that is capable of riding through fast skate parks and curbside street venues. It allows you to comfortably train for a full day of street action without making mistakes.
As you can see, this is an excellent street action bike. To that end, we also found its similar version, the 2022 GT Performer 29. It features a heavier chromoly steel frame, which is an increase in weight but will provide a nice overall stiffness, for which you'll pay a $200 difference.
We also did a review of the 2022 GT Performer 29, follow us to find out more.
What do we like about it?
Wide tires provide plenty of grips.
The compressed frame makes the whole more flexible and stable.
The disc brakes provide excellent braking for the bike.
Affordable price.
Sturdy and durable three-section chainring.
The stable and spiked footrests hold the feet firmly in place.
What don't we like about it?
Aluminum frame may be a little soft when falling at high speed.
FAQs
What kind of components are used in the 2022 GT Pro Series 29?
This bike uses all Shimano SLX components. The full set of components means it is more suitable and less prone to error in terms of overall compatibility and fitment. We also prefer you use this full set of components.
What kind of fork does the 2022 GT Pro Series 29 come with?
The frame is equipped with a GT Pro Design fork, which is made of 100% chromoly steel making it very strong. The steerer and tapered legs allow it to be mounted stably in the head tube.
If you want to go riding in well-known terrain or special terrain, where is the most convenient place to stay?
You can book your accommodation on IHG Hotels & Resorts, which is not only rich in variety but also easy to operate.
What heights do the 2022 GT Pro Series 29 fit?
The 2022 GT Pro Series 29 doesn't come in many sizes, but it can be ridden as long as you are taller than 120cm.
(These sizes are only a general guide, and the true fit may vary from person to person. The easiest way to find your size the best way is to go for a test ride, feel free to follow us.)
2022 GT Pro Series 29 Specs
Build
| | |
| --- | --- |
| Frame | GT Pro Series Design, 6061 Alloy, DT Gusset, MID BB, 135mm Hub Spacing, Disc Brake Mount, Integrated 1-1/8″ H/T w/ Removable Rotor Tabs |
| Fork | GT Pro Design, 100% Cr-Mo 2pc. Steerer, Tapered Legs, 3/8″ Axle Dropouts |
| Bottom Bracket | MID Sealed Bearing |
| Headset | 1 1/8″ Integrated Design, 45X45 Degree Sealed Bearings |
| Stem | GT Front Load, 1-1/8″, Cold Forged Cap, 10mm Rise, 40mm |
| Handlebar | GT Pro Series Cheat Code 2pc. 100% Cr-Mo, 7.875 "H x 31.5 "W, 5°Up, 11°Back |
| Saddle | GT Cheat Code Railed |
| Seatpost | Alloy Micro Adjust 27.2 x 300mm |
| Pedals | GT Low Profile FS Platform Design |
| Grips | GT Super Soft Flanged 155mm Single Compound w/ GT Removable Plug |
Groupset
| | |
| --- | --- |
| Crank | GT Power Series Cr-Mo 3pc. 170mm Arms, 19mm x 8T Cr-Mo Spindle, GT 25T Steel Chainwheel |
| Cassette | 16T Freewheel |
| Chain | KMC Z410 |
| Brakes | Promax Mech Disc, 160mm Rotors |
| Brake Levers | Alloy, 2 Finger |
Wheels
| | |
| --- | --- |
| Rims | Alloy Double Wall, 36h |
| Spokes | Stainless Steel, 14g |
| Front Hub | Alloy Body, Sealed Bearings 3/8″ Axle, 36h, 15mm Nut |
| Rear Hub | Alloy Thread-on Disc Body, Sealed Bearings, Cr-Mo 3/8″ Slotted 14mm Axle, 36h, 17mm Nut |
| Tires | GT Smoothie 29 x 2.5″ |
Video
Comparison Table
2022 GT Pro Series 29 VS 2023 Haro CK AM
It is a smaller size in comparison and does not come with any brakes. So it is suitable for those drivers who are looking for the limit, the small size of the bike has a very flexible handling experience. And the lack of brakes can also be a limitation for the average novice. The GT Pro Series we tested is more stable and loose, with a more comfortable ride. Although it may not be able to make a lot of moves, it is a good choice for playing the basics.
The former uses a 25:16 freewheel for gear ratio, which can be used for street commuting at a good speed. But the latter HaroCK AM uses a 48:25 freewheel, which may not be able to commute on the street and will be very laborious.
For this reason, our advice is that novices can opt for the larger GT Pro Series 29, but those professional BMX riders may be suited to a smaller bike like the HaroCK AM, which is nimble and easy to maneuver.
Learn more : Is 2023 Haro Leucadia DLX Worth Buying?-[2023 Haro Leucadia DLX Review]
2022 GT Pro Series 29 vs 2022 GT Pro Performer 20
The GTPro Performer 20 is aimed at the more nimble and precise professional extreme bowls, with the rotatable infinite angle handlebars to make a lot of extreme moves. The larger GT Pro Series 29 is more suitable for simpler street action in urban parks and can be paired with some urban commuting attributes. And the mechanical disc brakes are also more suitable for timely braking on the road.
Elsewhere, the 20-inch GTPro Performer's shaped tubing makes the overall geometry more comfortable, and the thickened top tube allows overall high rigidity while maintaining good cushioning. Also, this is the only model in the comparison list that is equipped with dual brakes front and rear.
Learn more : Is GT Pro Performer 29 Super CakeBoy Worth Buying? [2022 GT Pro Performer 29 Super CakeBoy Review]
GT Pro Series 29 vs Verde Vex XL
The wider, all-black outer tire makes the VerdeVex XL very popular in races, providing excellent ground traction and allowing riders to control their movements with precision. 165mm cranks also make speed easier to handle. It has the highest BB height in the list, which makes the whole bike will be more agile.
In terms of gear ratio, the GT Pro Series uses a 25:16 gear ratio with a large 29-inch wheelset, allowing it to be used on the street. The VerdeVex XL, on the other hand, uses a smaller 27:9 gear ratio, which makes it more suitable for getting consistent and effective pedaling in extreme venues with a smaller wheelset.
GT Pro Series 29 VS Polygon RAZOR ELITE
One of the few models on the list that uses an aluminum frame with a carbon fiber fork, which effectively reduces overall weight. The large chainring can effectively increase the speed, but the chainring seems a bit too big in my opinion, and may not be able to handle the low speed required for the extreme action in the field.
For our current test, the GT Pro Series 29 has a larger size and smaller gear ratio, which can effectively improve how to quickly find the right pedal frequency when doing the action. At the same time, the cheaper price will be more suitable for those beginners to use and build a good foundation.
Conclusion
Above is our test of the 2022 GT Pro Series 29, an affordable BMX model that is perfect for those riders who are new to the street park. Of course, if you prefer a more extreme action peddle bike, we suggest you go with a size around 20 inches that will be more flexible to make more moves. But that kind of instability may be more suitable for those street veterans. If you want to try, welcome to see our test about it.
Finally, if you like our content, feel free to share it with your friends! If our content is helpful to you, you can click the email subscribe button below!