We use affiliate links and may receive a small commission on purchases.
We've selected 12 best mountain bike forks for your reference.
I believe every mountain enthusiast, after owning a bike, will be eager to lie on the handlebars and do "squeezing" action on the bike to test its condition and shock performance. The front fork is usually the focal point of the bike, and it is an important factor for us to measure the capability of a bike.
If you expect your bike to give you a more refined ride, you may want to consider upgrading your fork.
For this reason, we have tested the most popular forks on the market and selected the best quality forks for riders of all riding styles. If our review is helpful to you, welcome to subscribe to our website!
Best Mountain Bike Forks List
Fox Racing Shox 34 Float SC 29 ($1,020)
RockShox Pike Select ($599)
Cannondale Lefty Ocho($999)
RockShox Lyrik Ultimate ($1107)
MRP Ribbon Air 29″ ($879.96)
RockShox Zeb Ultimate ($1159)
Cane Creek Helm MKII AIR ($659.4/$1,099.9)
Fox 40 Float 29 Grip 2 ($1819)
RockShox BoXXer Ultimate ($1,828)
Marzocchi Bomber 58 ($1,049.00)
XC(cross-country)/Flat Trails
1. Fox Racing Shox 34 Float SC 29 ($1,020)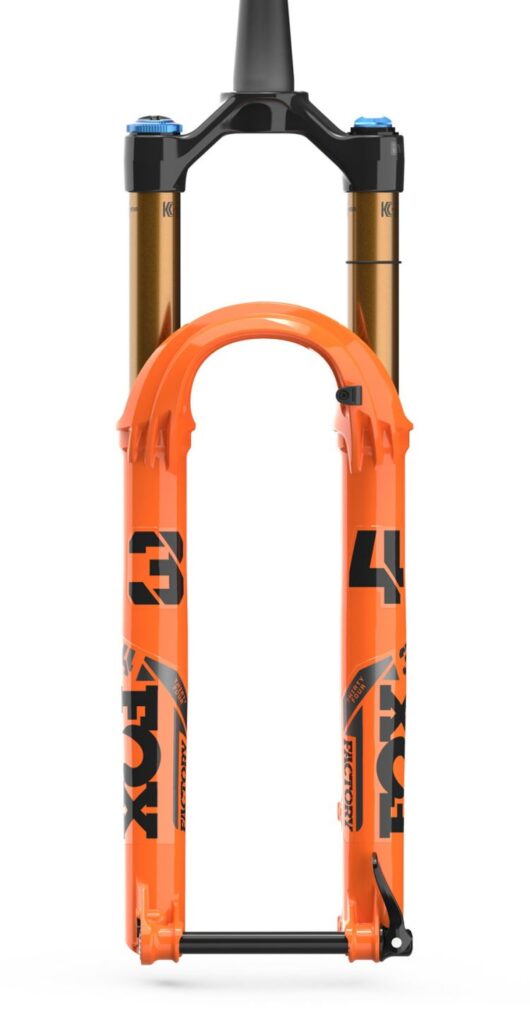 Wheel size: 29″
Weight: 1496g
Type: XC Racing
Travel: 100mm/120mm
Rake: 44 mm/ 51mm
Rotor size: 160 direct Post Mount, Up to 180 compatible
Steerer: 1.5 Taper
Damper: FIT4 (3-position Lever)
What we like about it: Lightweight, standard stiffness strength.
What we don't like about it: The stiffness-to-weight ratio is exaggerated.
The Fox 34 Step-Cast is the lightest Fox 34 fork ever made, with a weight of only 1496g, making it extremely competitive. If you've ridden your XC racer and felt the Fox 34 Step-Cast in compression in the mountains, you'll be amazed by its performance. the legendary softness of the EVOL air spring allows you to feel, very clearly, the reduction of wind volume in the calf and the increase of air pressure in the tube. So even during high-intensity compression, you can hardly feel the fork touching the bottom. Further, the excellent FIT4 closed cartridge system will provide three dynamic compression damping positions (open, medium, and firm) to adapt to different trailing conditions, which is very practical.
If there's one thing one can nitpick about the Fox 34 Step-Cast, it's probably that FOX brags about its stiffness-to-weight ratio. We'll admit that this part was selected to be lightweight without compromising the stiffness or strength required for modern trail riding. But in terms of real riding experience, I think its stiffness and strength are no different from the cheaper RockShox Pike.
2. RockShox Pike Select ($599)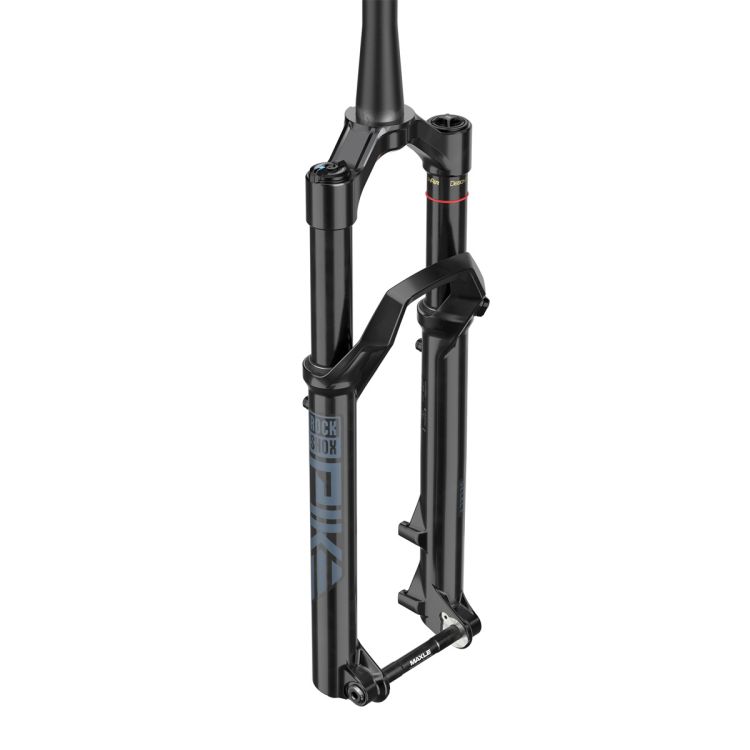 Wheel size: 27.5″/ 29″
Weight: 1778g (29″ Maxle Stealth 140mm Travel 44mm Offset)
Type: XC
Travel: 120mm/130mm/140mm
Rake: 37mm/44 mm
Damper: Charger RC
What we like about it: The Super cost-effective and complete accessories.
What we don't like about it: The shock absorption is not for veterans.
If you're a novice XC rider on a budget, consider the playful RockShox Pike Select. Friendly to novice XC track riders, the DebonAir+ air spring is perfectly balanced for bumpy tree root slalom. And the upgradable Pressure Relief Valves quickly eliminate elevation or temperature-induced calf air pressure buildup when the rider needs it, making for a smooth ride. Moreover, Pike Select's compatibility with premium short fenders has become a reason for many people to choose it. After all, no one in the mountains can say no to equipment that makes for cleaner gear.
Although the Charger RC damper is only an entry-level version, it also has excellent low-speed compression and rebound adjustment. We just have to respect the fact that it's a far cry from the FOX 34 in terms of bump and vibration relief. If that bothers you, consider its even better sibling, the RockShox Pike Ultimate, with its new Charger 3 dampers, which has already proven itself on the podium with multiple wins in the 2021 season.
3. Cannondale Lefty Ocho($999)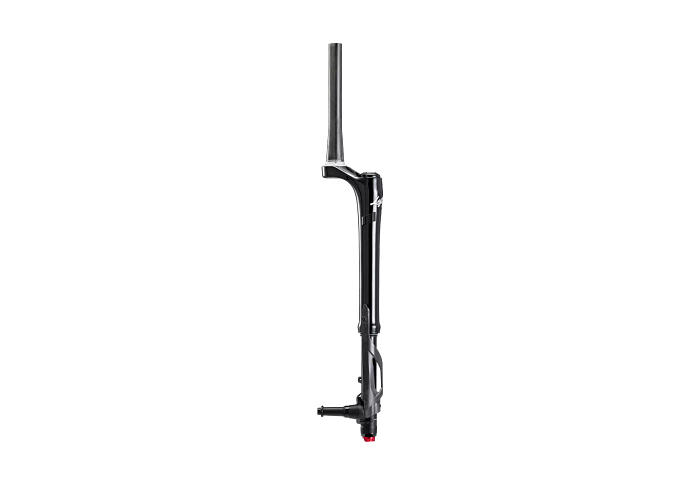 Wheel size: 27.5″/ 29″
Material: Carbon/Alloy
Weight: 1446g/1735g
Type: XC racing
Travel: 100mm
Rake: 50mm/55mm
Damper: Chamber
What we like about it: Perfect stiffness-to-weight ratio, great compatibility.
What we don't like about it: The single-leg design lacks conviction.
If we were to elect the coolest fork, Lefty Ocho would have a place. The unique single crown structure fork is available in Carbon and Alloy, both of which are extremely lightweight and reliable. The perfect stiffness-to-weight ratio helps users save energy during fast acceleration, climbing, and sprinting. And the Chamber Damper, the heart of the fork, is always lively as well as responsive, making all tracks smooth and soft. In addition, the reliable remote lockout function makes the operation easy and quick. Fortunately, now you can feel the Cannondale Lefty Ocho as long as your bike's head tube fits the current clamp spacing (137mm for the standard version and 163mm for the XL size).
While the Lefty Ocho is indeed the embodiment of smoothness, precision, and efficiency, there are still many who are skeptical of its single-leg design. People are afraid that it won't be able to perform well on the XC track in terms of stability as well as handling, but the truth is that those who are attracted by the Lefty Ocho design and choose to try it are finally won over by it. If you're hesitant, the other double-legged forks we recommend are excellent.
Trail And All Mountain Mixed Terrain
4. Fox Racing Shox 36 Float 29 Grip 2 Factory ($1,139)
Wheel size: 27.5″/ 29″
Weight: 1942g
Type: all-mountain
Travel: 150mm/160mm
Rake: 51mm
Rotor size: 180 direct Post Mount, Up to 230 compatible
Steerer: 1.5 Taper
Damper: GRIP2 (Max adjustment and performance)
What we like about it: Positive response to very small bumps, fender-bender compatible.
What we don't like about it: It doesn't do well on long rides.
As the undisputed mountain champion, the Fox Racing Shox 36 has improved its durability while reducing its weight by 20g with its new crown design. The surprise calf exhaust makes full travel possible while improving small bump sensitivity and responsiveness. And the circulation of lubricant makes the compression incredibly silky and smooth. In addition, the updated FIT GRIP2 dampers reward the rider with unparalleled ride quality, and Variable Valve Control (VVC) technology will enable more precise external fine-tuning of the suspension. To its credit, the mudguard mount makes clean, durable use possible, and mud will not disturb the Fox Racing Shox 36 or the rider's eyes.
Compared to its competitor, the RockShox Lyrik Ultimate, the Fox 36 has more stroke adjustment, but it didn't impress me in terms of keeping the rider on a sustained ride. This is because the Fox 36 leaves something to be desired in terms of reducing tracking feedback, making long rides stressful for the rider. Fortunately, on its other Fox 38, this problem was solved.
5. RockShox Lyrik Ultimate ($1107)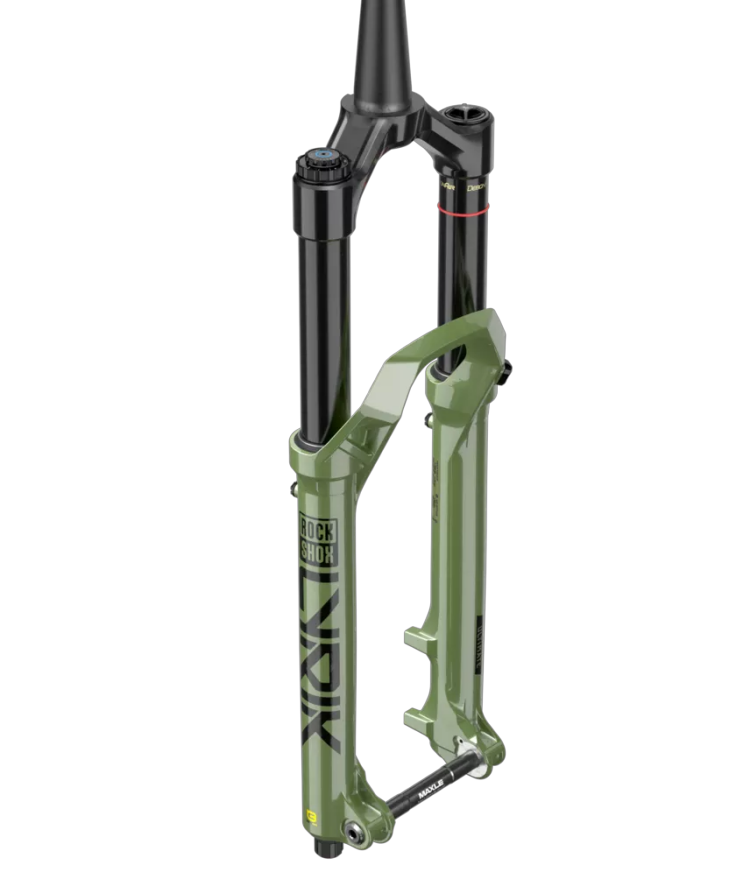 Wheel size: 27.5″/ 29″
Weight: 2028g (29 Maxle Stealth 160mm)
Type: all-mountain
Travel: 140mm/150mm/160mm
Rake: 37mm/44mm
Damper: Charger 3 RC2 W/ButterCups
What we like about it: Rigidity stiffness enhanced, quiet and reliable ride.
What we don't like about it: The damping bounce is not soft enough.
Although the RockShox Lyrik Ultimate is also very good at enduro riding, we feel that its trail length, as well as design, is more like for all-mountain. The modified crown is very nice looking. The reshaped lower part of the fork has a 20% increase in torsional stiffness. This also makes the RockShox Lyrik Ultimate durable, as in my two months of riding it is as smooth and reliable as when I first got it, and 100% leak and scratch-free. This makes me very satisfied. Further, the new Lyrik Ultimate is quiet, as it includes a functional stepped "silencer" piston head that reduces turbulence and the amount of noise generated by the fork during compression or bounce.
We admit that the RockShox Lyrik Ultimate is a great fork, but in terms of damping rebound performance, it's not as soft and silky as its competitor, the Fox 36. This is because it lacks rebound adjustment speed and mid-stroke. We hope that the Lyrik Ultimate will have a technical innovation in this area soon.
6. MRP Ribbon Air 29″ ($879.96)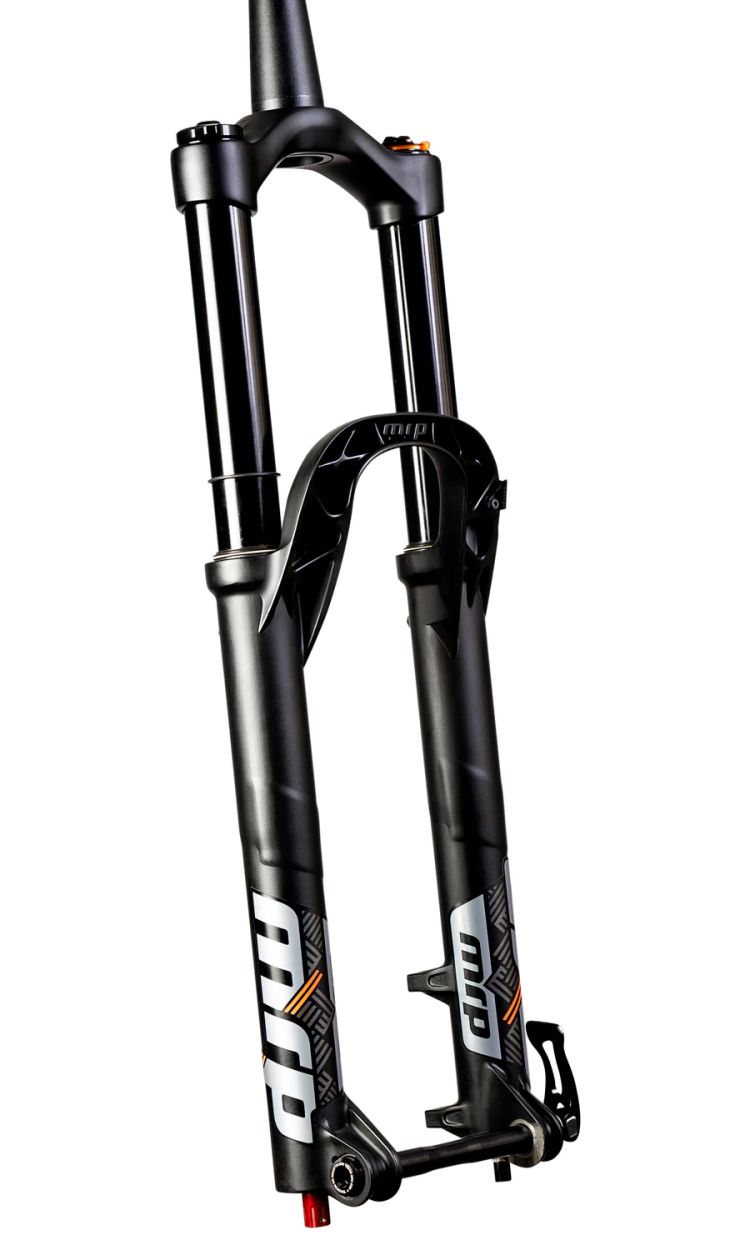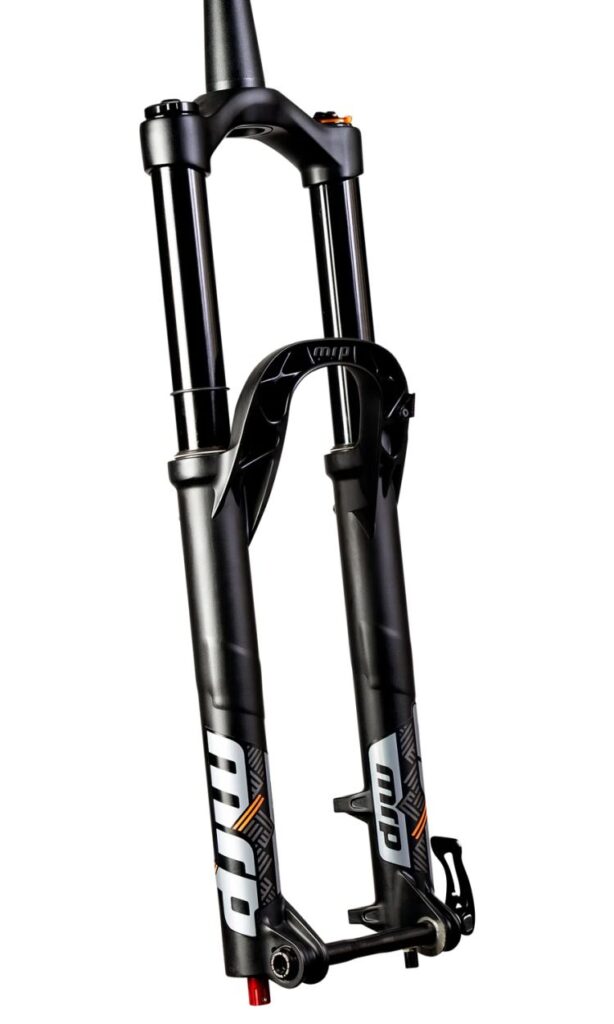 Wheel size: 27.5″/ 29″
Weight: 1919g (29″)
Type: all-mountain
Travel: 140mm/150mm/160mm/170mm
Rake: 44mm/46mm
Dampers: FulFill independent positive and negative chamber system
What we like about it: Competitive weight, comfortable riding experience.
What we don't like about it: Its dampers are not very friendly to riders who hate noise.
Although MRP's chain guides may be better known, its shock forks are just as competitive. Take the Ribbon Air 29″ for example, after new users have felt its sharpness, they will choose to buy it back or recommend it to their friends. At only 1919g, the lightweight Ribbon Air 29″ is very responsive in most situations. Plus the FullFill™ air spring system not only gives the rider pressure advice for weight but also adjusts the positive and negative air chambers so that the air can be balanced at all times.
Sadly, the Ribbon Air's damper is not a quiet player. Its incessant cacophony of chatter when off-road can be distracting to those who prefer a quieter ride. Secondly, its fork takes longer to recover from the depths of the stroke when encountering steep hills, which isn't very friendly to too complex mountain sports. Therefore, for riders who want to fully enjoy a quiet ride on steep hills, the Fox 36 and RockShox Zeb Ultimate may be better at it.
Enduro/All-Mountain
7. Fox Suspension 38 Float Factory Grip 2 Fork ($1,249)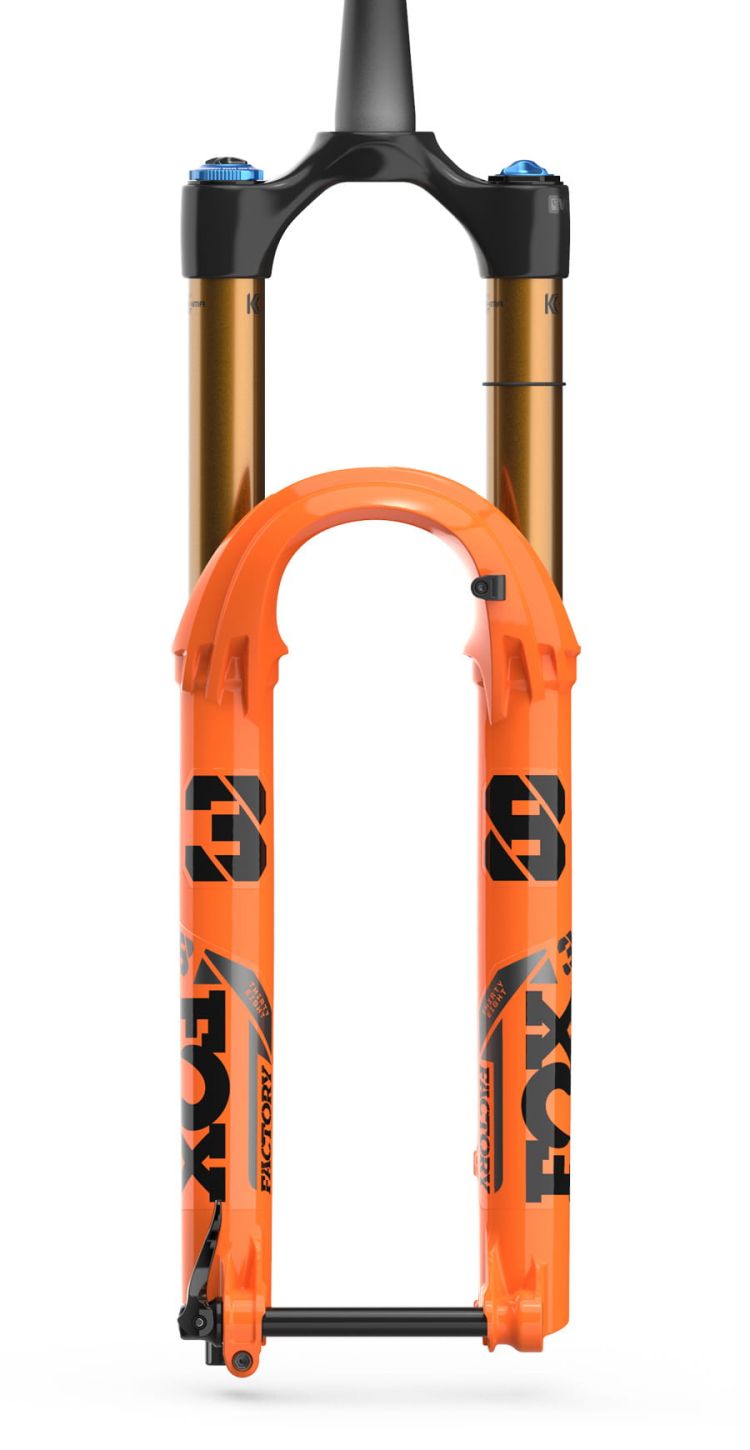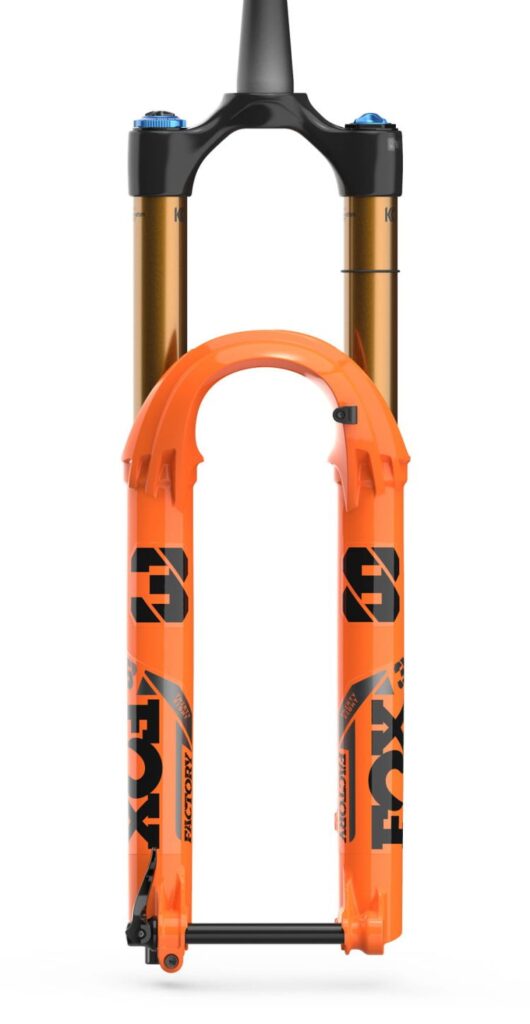 Wheel size: 27.5″/ 29″
Material: Aluminium
Weight: 2180g
Type: long-travel enduro
Travel: 160mm/170mm/180mm
Rake: 37mm/44mm/51mm
Rotor size: 180 direct Post Mount, Up to 230 compatible
Steerer: 1.5 Taper – internally elliptical
Damper: GRIP2 (Max adjustment and performance)
What we like about it: A killer on rugged hills, the perfect aid for endurance riding.
What we don't like about it: The price hurts the wallet a bit.
Those who are keen on long-distance mountain endurance riding must have heard of the Fox 38.
First of all, the perfect GRIP2 shock not only gives the rider a super comfortable riding experience but also optimizes the process of removal and installation so that even the unskilled rider can quickly enjoy the beauty. And the unique floating axle is keen to keep the front wheel perfectly aligned with the fork, thus eliminating unnecessary friction between the upper and lower fork legs. In other words, it makes the fork more sensitive while also giving the rider a higher-quality ride. In addition, with the reliable leg bleeders, atmospheric pressure is instantly balanced at the touch of a button and the fork will achieve more responsiveness.
The fact that individual riders feel the Fox 38 is overpriced is a little hard for me to understand. Because $1,249 is not too much to ask for a piece of equipment that will allow all riders to maintain absolute stability and comfort on rough roads. Of course, if you're willing to lower your comfort requirements, the less expensive RockShox Zeb Ultimate below will certainly not disappoint you.
8. RockShox Zeb Ultimate ($1159)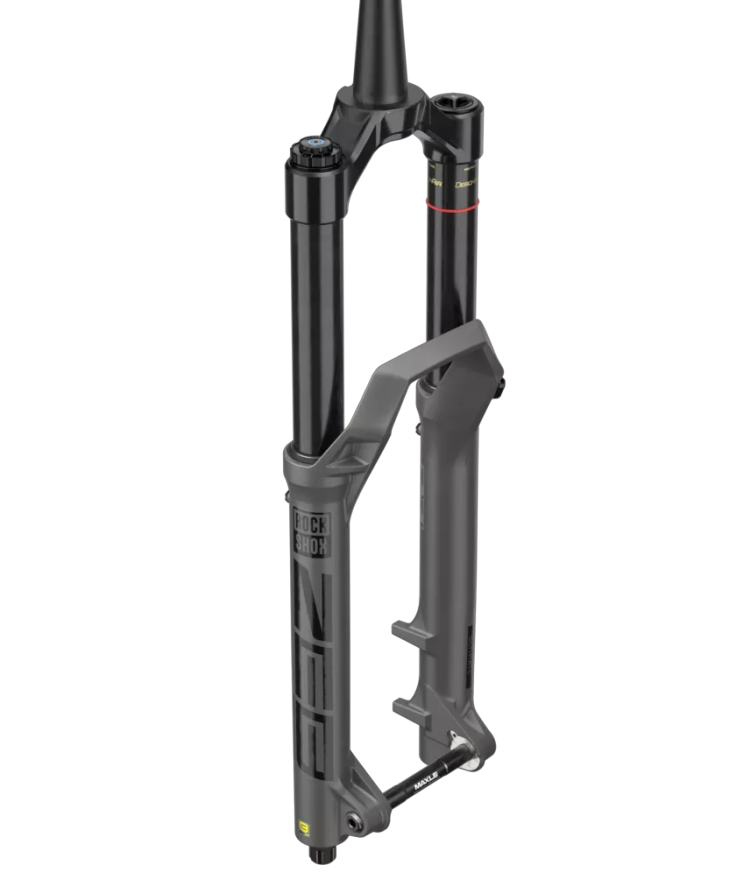 Wheel size: 27.5″/ 29″
Weight: 2265g (29″ 190mm)
Type: long-travel enduro
Travel: 160mm/170mm/180mm/190mm
Rake: 38mm/44mm
Damper: RockShox Charger 3
What we like about it: Premium RockShox Charger 3 dampers, greater control.
What we don't like about it: Not good at the rough ground.
For riders who want to go faster and jump higher in the mountains, having a RockShox Zeb Ultimate fork with extra-long travel is a necessity. The new Charger 3 RC2 suspension fork, with its all-new Internal Floating Piston (IFP) design, makes them more consistent throughout the stroke, becoming precise and silent with every click. butter cups reduce hand fatigue while limiting vibration, and the rider feels more control. As a result, the Zeb also allows the rider to calmly continue the endurance ride on rough terrain.
Although the RockShox Zeb Ultimate is cheaper than the Fox 38, it can't match the latter's compliance and traction on the ground. In particular, it occasionally struggles to stay stable under hard braking on rough roads, which may be slightly disappointing to riders. But for general mountain surfaces, it is comfortable and reliable. If your riding surface is very steep and rough, the Fox 38 is better at it.
9. Cane Creek Helm MKII AIR ($659.4/$1,099.9)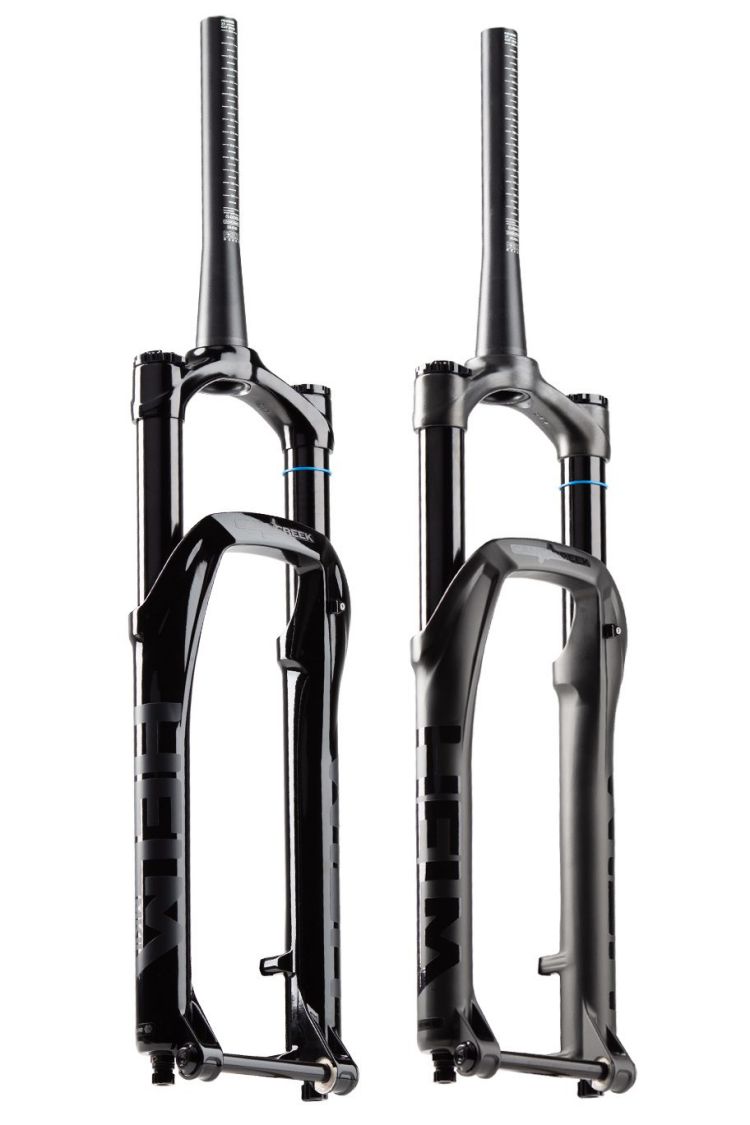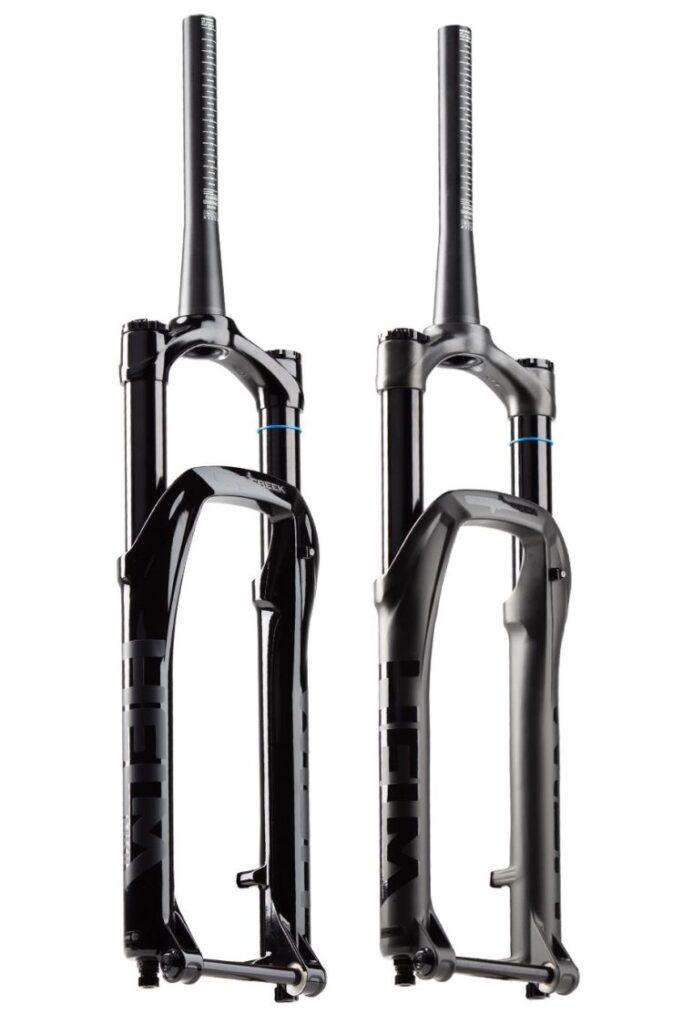 Wheel size: 27.5″/ 29″
Weight: 2040g (29″, air sprung)
Type: long-travel enduro
Travel: 120mm/130mm/140mm/150mm/160mm
Rake: 37mm/44mm/51mm
Dampers: High-speed Compression, Low-speed Compression, Low-speed Rebound
What we like about it: Lightweight, simple travel adjustment.
What we don't like about it: The positive and negative air chambers are complicated to set up for balancing.
I have to say that while the Cane Creek Helm MKII AIR doesn't have the name recognition of its competitors, it outweighs them. In terms of dampeners, the Helm has a very comprehensive 12 clicks of low-speed compression, 10 clicks of high-speed compression, and 10 clicks of rebound adjustment. In addition, to our surprise, the Redesigned Air Spring is not only very soft, and its design is more user-friendly, no need to install any other parts to travel the adjustment, very convenient.
Probably the biggest difference in the Cane Creek Helm MKII air spring compared to the competition is the way the positive and negative air chambers are balanced. While the small indent in the fork strut automatically balances the system of air chambers when the FOX and RockShox forks are compressed, the Helm requires physical pressure to release air from the positive chamber to the negative portion of the air spring. So it's more cumbersome to set up and may take more time for the user, but it's more price friendly, isn't it?
DH(downhill)/Steep, and rugged technical gravity path
10. Fox 40 Float 29 Grip 2 ($1,819)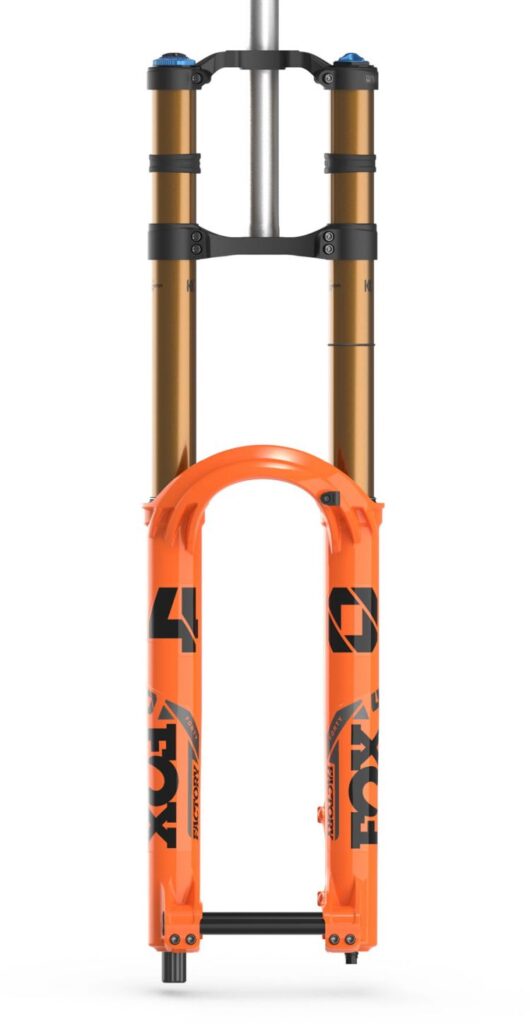 Wheel size: 27.5″/ 29″
Weight: 2816g
Type: DH Race
Travel: 203mm
Rake: 48mm/52mm
Rotor size: 203 direct Post Mount, Up to 230 compatible
Steerer: 1.125 Straight
Damper: GRIP2 (Max adjustment and performance)
What we like about it: The highest level fork, perfect detailing.
What we don't like about it: The weight is not competitive.
For DH racers, the Fox 40 is also definitely considered the highest level of fork configuration. As a regular on the podium, it is in some ways more like a travel-lengthened version of the FOX 38, as their technology is the same. Only with a longer travel, the Fox 40 will give you the ultimate comfort and fun on steeper mountain DH races or ski routes.
Whether it's the floating EVOL air springs for rider comfort, the Grip 2 dampers for ultra-precise adjustability, or the ability to look cool and reduce friction with Kashima coating, all the details suggest that the Fox 40 is the best DH fork in the World Cup.
It has to be admitted that the lightest Fox 40 also weighs 2816g, which makes it not lightweight. If you are expecting a lighter and better fork, the RockShox BoXXer Ultimate is more like a smart move.
11. RockShox BoXXer Ultimate($1,828)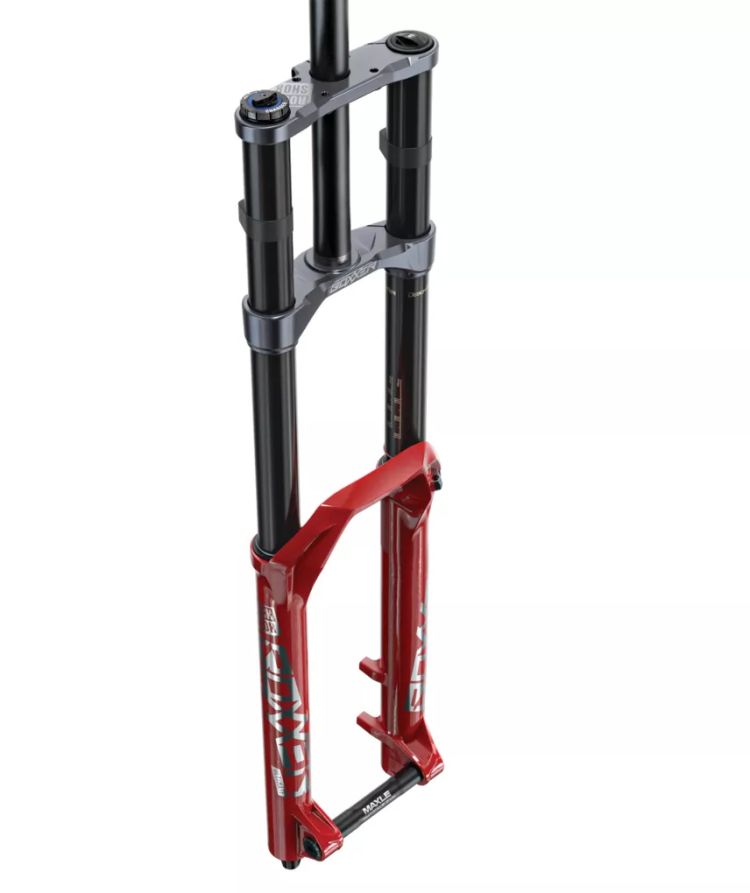 Wheel size: 27.5″/ 29″
Material: Aluminium and Magnesium
Weight: 2565g(27.5″ 200mm)
Type: DH
Travel: 180mm/190mm/200mm
Rake: 36mm/46mm/56mm
Damper: Charger™ 2.1 RC2
What we like about it: The lightest DH fork, excels at big rock garden trails.
What we don't like about it: The basic recommended design is complex.
As a world champion fork, the lightweight aluminium, and Magnesium RockShox BoXXer Ultimate has an absolutely impressive weight – just 2565g for a 27.5″ 200mm fork. Charger™ 2.1 shocks, riders can customize the fork to best fit their riding style and terrain based on their riding weight. In addition, RockShox has equipped the BoXXer Ultimate with a DH-specific DebonAir air spring capable of shattering all impacts on rock gardens, roots, and debris trails. And the proven Maxima Plush Fluid not only prevents suspension wear, reduces friction, and increases fork durability but also mutes the noise from the dampers.
Comparing the RockShox BoXXer Ultimate to the Fox 40 is also a topic that riders like to talk about. We must admit that the RockShox BoXXer Ultimate takes more time to set up and wait than the Fox 40 with the basic recommended design. In addition, the rear chassis support of the BoXXer Ultimate does not perform as firmly as the Fox 40, so it does not feel as soft to us as the latter.
12. Marzocchi Bomber 58 ($1,049.00)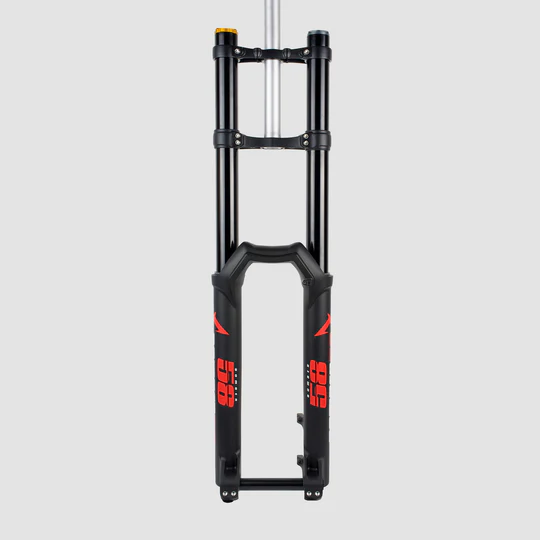 Wheel size: 27.5″/ 29″
Material: Aluminium
Weight: 2800g (29″)
Type: DH
Travel: 200mm
Rake: 51mm
Damper: GRIP (compression + rebound)
What we like about it: Affordable price, performance without losing the more expensive fork.
What we don't like about it: Not very suitable for high-level DH racing.
The Marzocchi Bomber 58 is a great bargain for those on a budget. If you open Marzocchi Bomber 58's official website, you will find almost all 5-star reviews. That's because of the wear-resistant aluminum alloy construction that will withstand all the shocks and bumps of the roughest DH trails. The reliable EVOL air springs, by increasing the volume of the negative air springs, will make any very small bumps and rock impacts smooth and flat. Moreover, the adjustable FIT GRIP dampers always make it easy to adjust compression and rebound to keep the motion smooth at all times.
Overall, while the price difference between the Marzocchi Bomber 58 and the Fox 40 is significant, the performance is very close. Of course, that's if you don't consider using it in a very high-level DH race. Because once faced with extremely high-level tracks, the Marzocchi Bomber 58 may not be able to support you in very fast rolls, as it doesn't rebound as quickly and is silky smooth as the Fox 40.
Mountain Bike Fork Buying Guide
What is a damper?
Offset selection
Is longer travel always better?
Are more expensive forks better?
Suspension Maintenance
What is a damper?
The damper, an important component in a fork, limits vibration by capturing energy from impacts and controlling their release. While many manufacturers offer forks that have a similar appearance, the damper is the biggest contributor to their price difference, and with the price difference, they will also offer different levels of performance.
Take our Fox recommendation, except for the Fox 34's FIT4 which is slightly more intermediate, the Grip 2 dampers used in its other models 36, 38, and 40 are absolutely top of the line. They are more responsive in rough terrain and offer more adjustment options to dial in the fork, making for a more comfortable riding experience in the mountains.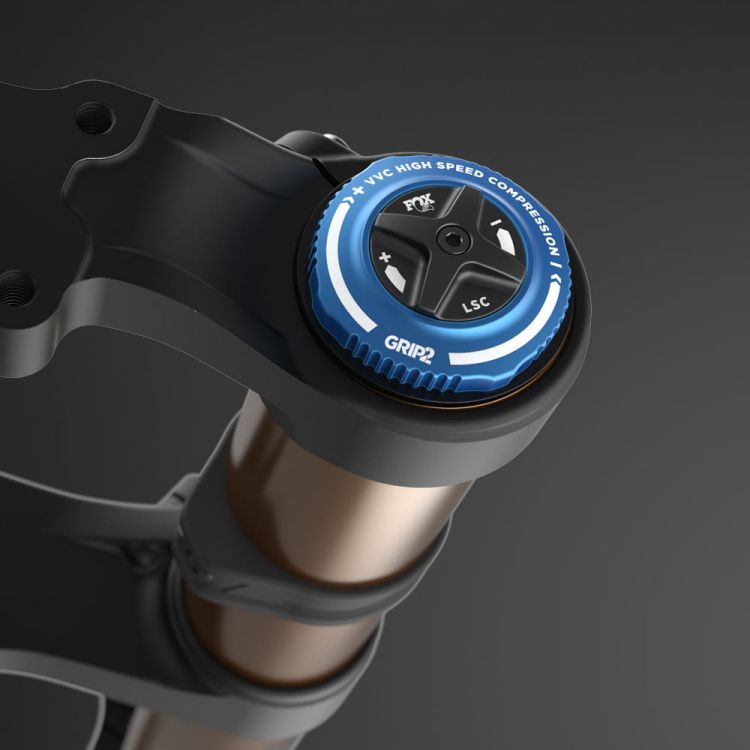 Offset selection
In our introduction to forks above, we rarely expanded on the concept of offset to explain it to you. Here we need to explain it.
The offset and the "head tube angle" work together to form the "Trail" – a core geometric parameter that affects the handling (steering) agility of the front end, and the stability of the front end at high speeds and low speeds. Simply put, a shorter fork offset means a longer trail and more agile steering, while a longer trail makes for more stable steering.
Generally, manufacturers give 29ers a longer offset to produce a shorter trajectory for faster, more agile steering. 27.5ers, on the other hand, are matched with shorter offsets for more consistent steering. In addition, racing XC mountain bikes require front-end handling that tends to be agile at low, medium, and high speeds, while enduro and AM bikes require stable and agile handling and steering in medium and low-speed conditions.
To their credit, many of the fork manufacturers we recommend have chosen to offer a variety of offsets for each size of tire. The RockShox Lyrik Ultimate, for example, offers 51mm and 42mm offsets for the 29-inch (46 and 37mm offsets for the 27.5-inch).
Is longer travel always better?
Many people will take it for granted that a longer fork travel means better damping and performance. However, from our years of riding experience, this is more of a trap for business promotions. Because the maximum amount of compression you need from a fork under load should be divided according to the intended riding style as well as the terrain. The fact is that in mountain riding, a longer travel does ensure a certain level of cushioned comfort to some extent. However, when riding on normal bumpy roads, a long travel does not achieve full travel compression and is bulky and redundant. In addition, when encountering more flat roads or uphill riding, long travel will also have a serious performance of power loss.
Therefore, we have also categorized the forks for riding styles, so riders can choose according to their needs. For example, for XC and flat trails, the Fox Racing Shox 34 Float SC with 100mm-120mm of travel and the RockShox Pike Select and Cannondale Lefty Ocho are both reliable.
Are more expensive forks better?
We have to admit that just as a more expensive price can buy a lighter bike, a higher price can also reduce the weight of the fork as much as possible. For example, the Fox 34, which is considered expensive, is the lightest XC fork available. However, there are no absolutes, as the $879.96 MRP Ribbon Air 29″ is lighter than its famous competitors, the Fox 36 and RockShox Lyrik Ultimate. However, it is also true that its performance in the mountains is not as detailed and silky as the latter two.
More expensive forks also tend to mean higher performance compression and rebound, making them faster and smoother in terms of damping and a more comfortable ride for the rider. After all, the big manufacturers have more experience in manufacturing and more advanced technical support, but the cost required is also higher.
Suspension Maintenance
Like a fine transmission or braking system, forks require regular and careful maintenance by the rider to ensure a longer life for their excellent performance.
Here we hope that.
1. Riders need to prevent or reduce scratches to the struts. Because once they cause scratches from mountainous or rocky surfaces, the dust seals and bushings can also be torn completely with rough riding styles, thus reducing the performance and life of the suspension.
2. Clean the struts regularly. After each ride, please remember to wipe around the tubes with a soft cloth and a mild cleaning solution, using dental floss and preferably a light lubricant if available.
3. Regular maintenance of the suspension. We all know that suspension replacement requires a high cost, but we can extend the life of the suspension through regular maintenance. Riders would be wise to take their bikes to a store every year to have the store perform professional and comprehensive maintenance.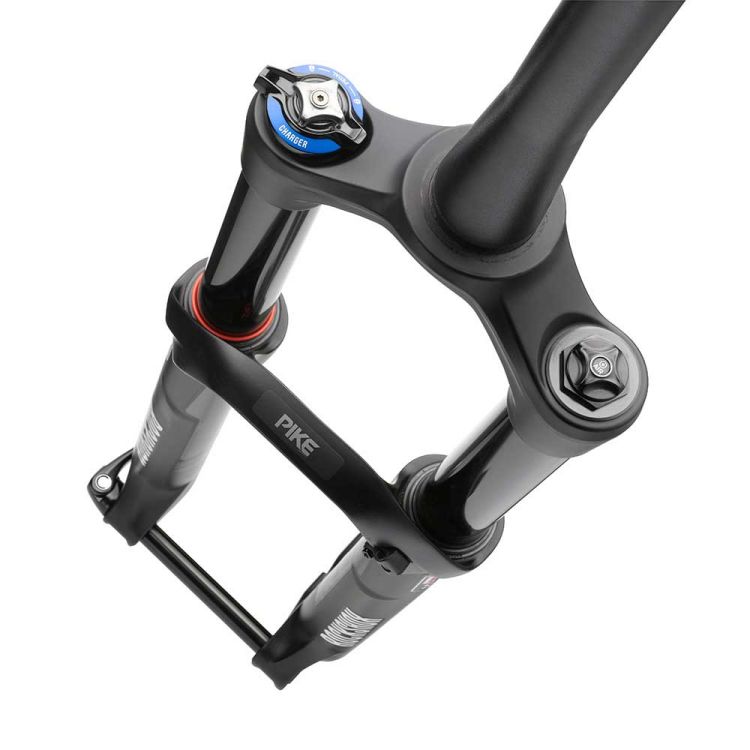 Conclusion
For mountain bikes, the fork is probably one of the best upgrades, giving the rider more confidence to tackle tough terrain quickly with an intuitive ride.
In fact, in addition to absorbing violent impacts, they allow the front wheel to track the ground more accurately, thus improving grip and stability. Therefore, for riders who want to improve their skills, it is too expensive to buy a brand-new bike, but it makes more sense to choose a proper suspension. By the way, if you want to go riding in well-known terrain or special terrain, you can book your accommodation on IHG Hotels & Resorts. It is not only rich in variety but also easy to operate.
The forks we recommend are the most refined pieces. That's why the usual Fox and RockShox on the podium have become permanent guests on our list. Of course, this does not mean that other brands are not good enough. Take the Marzocchi Bomber 58, its off-road performance is not inferior to Fox 40 and RockShox BoXXer Ultimate, but it has room for improvement in terms of details and materials.
We hope that every reader who is eagerly seeking a quality fork will find the best equipment for you in the article. If you like our content, feel free to share it with your friends. And, if our content is helpful to you, you can click the email subscribe button below!