We use affiliate links and may receive a small commission on purchases.
We've selected 15 best triathlon-specific bike saddles for your reference.
A saddle is probably your best friend in a triathlon. The bike is also the only section you can finish sitting down, so a comfortable saddle is necessary. Road saddles may allow you to complete faster and longer rides, but they aren't necessarily the best choice for triathlon as well as time trials.
Finding a TT saddle that allows you to maintain a fixed position for long periods becomes especially important for both health and performance. For this reason, we have selected the fifteen best saddles for you from hundreds of saddles.
Keep reading for our best triathlon-specific saddles. If you have some confusion about your choice, please skip to the bottom to read our selection suggestions and learn what you need to know before making your choice. If interested in our articles, feel free to follow us on our website.
2023 Best Triathlon-specific Bike Saddle List
1. ISM PN 3.1 ($150.98)
Width: 110mm
Length: 275mm
Clamp: 7mm
Weight: 360g
What we like about it: Thickened saddle pad, double saddle nose design.
What we don't like about it: It doesn't fit a bike with a big drop.
Starting with the P3.0 chassis, more saddle pad is offered to time trialists, with a 120mm rear end and tapered edges for comfortable support. Compared to other double-nose saddles, the PN3.1 offers excellent thigh clearance for more movement in the saddle and allows the rider to cut corners quickly. The saddle's nose-free design eliminates soft tissue stress for a healthier and more enjoyable ride.
It will not be a good choice if your postural fall is designed to be very large. This is because an excessively forward-leaning posture will put pressure on the front sides of the sit bones. If you are a big drop rider, we recommend the following Fizik Mistica Kium with no saddle nose design.
For triathlon-specific events with high-speed straight-line riding, the double saddle nose design is very comfortable and the thickened saddle pad provides a more comfortable ride.
2. Fizik Mistica Kium ($135.95)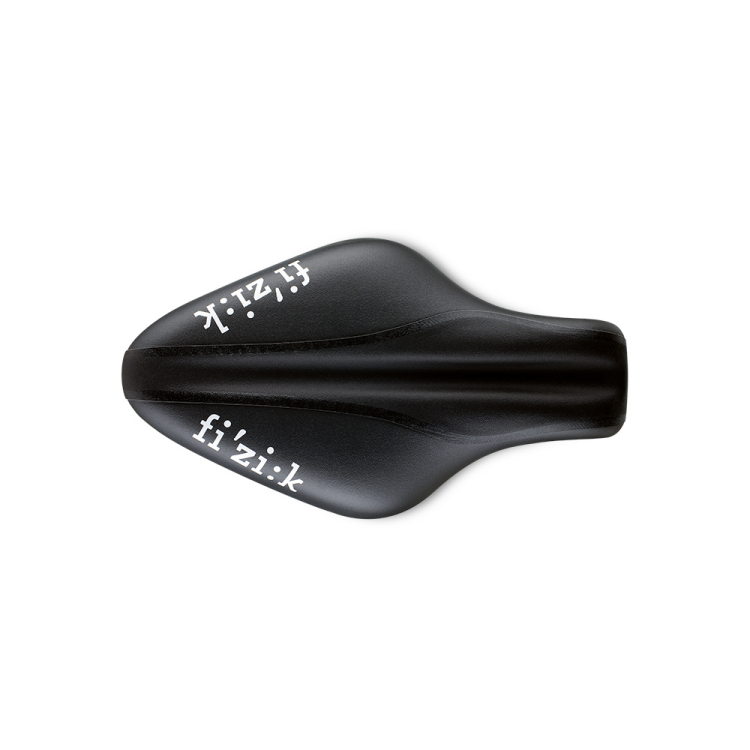 Width: 135/141mm
Length: 240mm
Clamp: 7mm
Weight: 235g
What we like about it: Lightweight and aerodynamic design.
What we don't like about it: Not for the restless rider in the saddle.
A noseless triathlon saddle with a lightweight overall for a perfect aerodynamic position. Very similar to the traditional Arione model, the difference is the recessed channel and the "chopped off" nose that helps share the weight for the sit bones and improves circulation. The result is less bumpiness, less numbness, and more lasting comfort.
It has a very wide front end and can be a bit limiting for riders who like to rock in the saddle. I would recommend the Pro Aerofuel for you, with a good degree of mobility. If you are a committed triathlon rider and it happens that your handlebars have enough drop to the saddle, then the noseless design is the best choice.
3. ISM PN 1.1 ($135.51)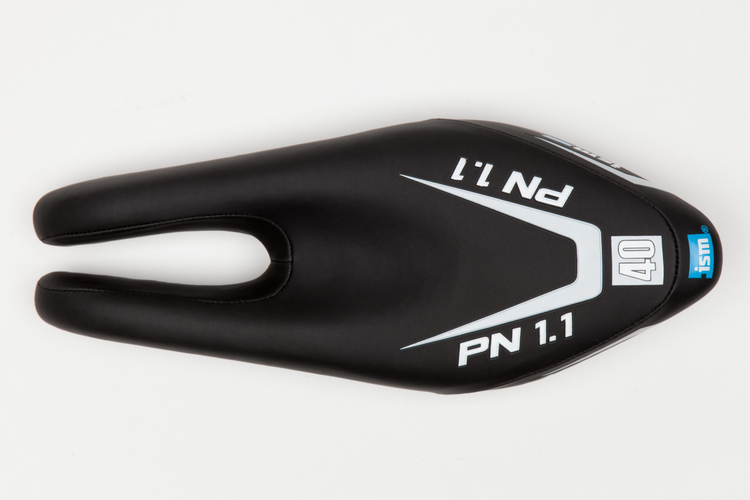 Width: 110mm
Length: 275mm
Clamp: 7mm
Weight: 360g
What we like about it: Aggressive, with plenty of legroom to move.
What we don't like about it: The sturdy saddle pad is only suitable for professional competition riders.
This is a tough saddle that is called the "ISM Attack". Although it provides the rider with an extra saddle pad, the stiff chassis still provides plenty of feel for power. Similar to other ISM saddles, the 110mm width provides ample thigh clearance and the oversized concave eliminates soft tissue pressure while ensuring maximum blood flow.
The stiff saddle pad is only for competition-level riders. If you're a triathlon rider looking for comfort, check out the upgraded ISM PN 3.1 with a thicker saddle pad above, but if you're competing in a half or small triathlon, I think this saddle could be effective for you to improve your performance.
4. Pro Aerofuel ($239.95)
Width: 142mm
Length: 275mm
Clamp: 7mm
Weight: 175g
What we like about it: The comfortable saddle pad cushioning with a split saddle nose.
What we don't like about it: It's not very good at making turns.
Lightweight, yes you heard it right, the thick triathlon saddle can also be less than 200g. while still maintaining a high level of comfort, the carbon-reinforced nylon base with SUS316-TiRails provides the most comfortable cushioning effect. The left and right saddle pads of the saddle is completely separate, and the wide groove in the middle is very comfortable.
The wide split saddle nose allows for less thigh mobility and may not cut in at the optimal angle when facing corners. If you mind this you can look at the Fizik Mistica Kium above. although the saddle nose design is widely used on triathlon bikes, the split saddle head with covered EVA foam provides a more comfortable long-distance ride. And this race does not have too many turns.
5. Fizik Antares R3 ($127.79)
Width: 141/152mm
Length: 275mm
Clamp: 7mm
Weight: 200g
What we like about it: The wider saddle, the comfortable saddle pad.
What we don't like about it: It's not suitable for people with thin bones.
This saddle is best for those who prefer a medium saddle and cutout. The anatomical cutout releases pressure on sensitive areas and may be difficult to see in pictures, but this saddle is larger than Fizik's traditional saddle. The wider design positions most of the saddle's weight directly under the sit bones, and the carbon fiber frame provides comfortable support for long rides.
For those with skinny bones, this is bad news. Just the small size also has a whopping 141mm seat bone width, which is the width of a traditional saddle large. If you need something narrower, check out the ISM PN 1.1 at just 110mm. And for riders who are wide and have average ligaments, this saddle is perfect for being part of your long-distance triathlon ride.
6. Selle SMP T5 ($259)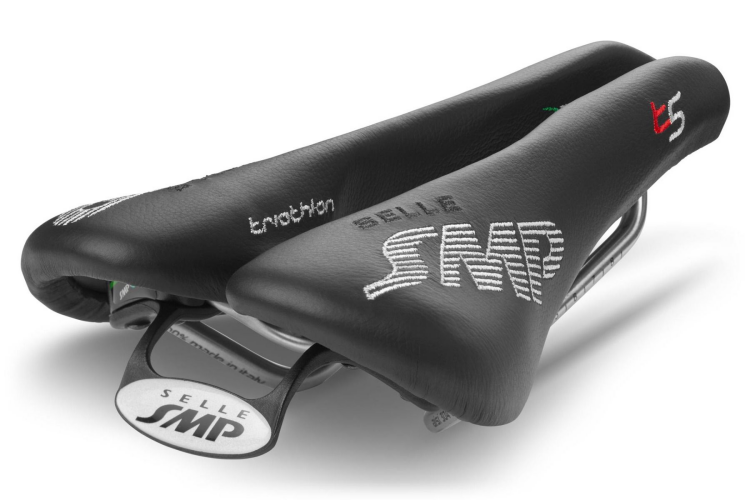 Width: 141mm
Length: 251mm
Clamp: 7mm
Weight: 320g
What we like about it: Comfortable ergonomic design.
What we don't like about it: It's not suitable for short race events.
The T5 is for those with a medium-width pelvis. It features the ultimate ergonomic design with the same channels to prevent blood obstruction from perineal pressure, while the hawk's beak tip design prevents pressure on the urinary system. The outer skin is available in a choice of black leather and yellow and white microfiber. The former provides excellent comfort, while the latter provides excellent abrasion and stain resistance.
For those short triathlons and time trials, this saddle is a little over-cushioned, even to the point of making it hard for you to power through. If you are a racer my recommendation would be the ISM PN 1.1, which I have to say is the most comfortable saddle. Whether you are participating in a long-distance triathlon or an ultra marathon bike race, I think it is a great choice.
7. Cobb JOF 55 ($229)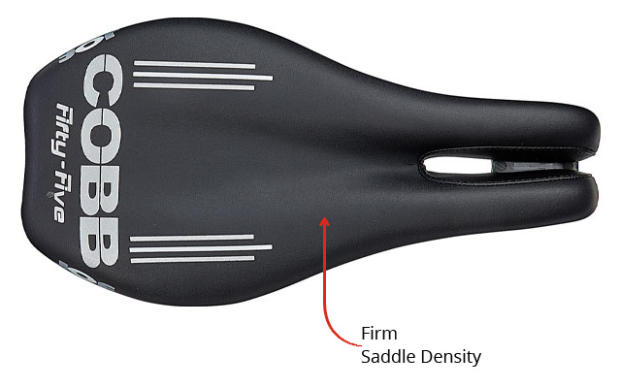 Width: 134mm
Length: 275mm
Clamp: 7mm
Weight: 330g
What we like about it: Professional grade triathlon saddle.
What we don't like about it: The rear notch is not very deep, and some people have a sense of pressure.
A comfortable, wide, short-nosed split saddle that has almost all the features of a triathlon bike. The saddle as a whole is almost parallel to the rails, which causes the front bulge to rise slightly. And this design provides good support for an aggressive stance and prevents too much weight from being put on the hands.
The rear notch is very shallow and I felt the rear squish in my actual riding. But it is still loved by top riders like Patrick Lange, Jodie Swallow, and Jesse Thomas. If you're worried about that too, check out the full-through Selle SMP T5. In short, the wider design and comfort provide the perfect race saddle. If you want to improve your performance too, it's a good partner.
8. Fizik Transiro Mistica ($163.04)
Width: 135/141mm
Length: 241mm
Clamp: 7mm
Weight: 205g
What we like about it: The perfect aerodynamic posture.
What we don't like about it: Less hip mobility.
This saddle features extra-long rails, as well as ultra-light and ultra-sturdy carbon fiber allowing for maximum fore/aft adjustment, contributing to a perfect aerodynamic position. The new channel design allows for better weight distribution on the sit bones and the seamless, friction-free nose construction provides better comfort. The short, wide nose is perfect for female riders, not only men, but this is also a good saddle for women.
The noseless design gives it less hip movement while riding and I often get rubbed by the turn of the saddle's broken nose. Perhaps a double-nose saddle might be a better choice for me. But TT riders don't do much in the saddle, so this design would be perfect for them.
9. Bontrager Hilo Comp tri saddle ($125.99)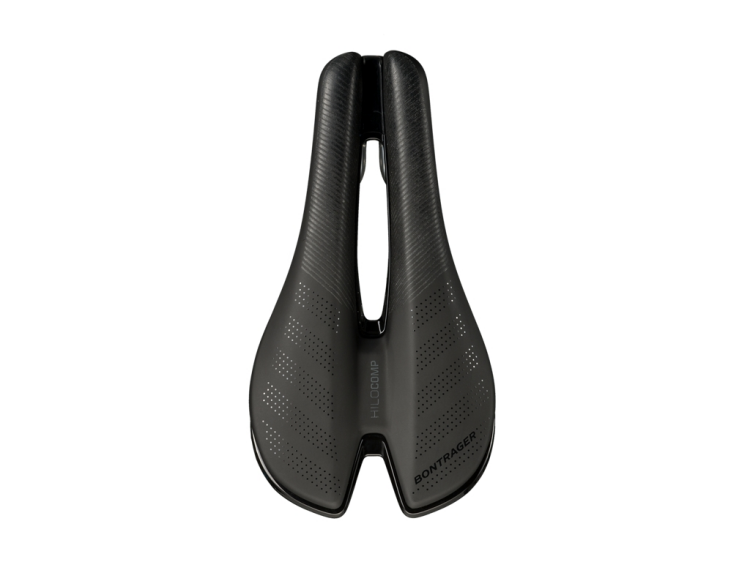 Width: 134mm
Length: 240mm
Clamp: 7mm
Weight: 427g
What we like about it: The comfortable ride and the right amount of support.
What we don't like about it: Rails has a small adjustment margin.
It is fast and stylish, that's what people say about it. It is mounted on the seat tube like a large mobile sofa. The saddle stays soft without deforming, so the pressure release channels don't narrow under pressure. The dual-density foam does a good job of providing both cushioning and support. Surprisingly, the end of the saddle is equipped with mounting holes for water bottles.
The Rails are very short and you will have a hard time making significant adjustments to the saddle fore and aft. If your bike needs a very forward or rearward position, the Pro Aerofuel Tri saddles might work for you. But that aside, the comfortable ride and long-lasting stable support are something every rider can't resist.
10. Fabric Tri Race Flat ($76.99)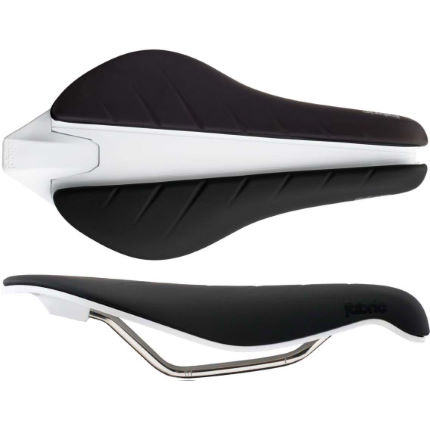 Width: 134mm
Length: 240mm
Clamp: 7mm
Weight: 232g
What we like about it: Split base, rear-mounted water bottle holder.
What we don't like about it: Rails seems a bit short.
The advanced Tri saddle design brings comfort to every ride. First, the advanced three-part construction eliminates stretch and tension, and the waterproof microfiber is paired with soft foam. It provides extra comfort no matter where you go. In addition, the short nose design with an eagle beak down maximizes the body for a better experience, and the removable rear water bottle holder design allows you to stay hydrated on the trail.
The Rails are also very short and not for riders who need to be in an odd position. If you need to over-adjust you can look at those full-length Rails. however, if this length is just right for you and you, then I recommend you feel the appeal of the split base and the waterproof microfiber. I believe you will love it for that.
11. Prologo Dimension Tri Tirox 143 ($107)
Width: 143mm
Length: 245mm
Clamp: 7mm
Weight: 180g
What we like about it: The support is solid and ergonomic.
What we don't like about it: The narrow front end doesn't lend itself to a forward-leaning position.
This is a unisex saddle with an overall narrow front and rounded tip that is very ergonomic. Provides ample room for the hamstrings and quads to move while effectively supporting the gluteus maximus in a forward-moving position. The stiffness of the saddle makes it easy to generate power.
The narrow front end makes for an uncomfortable forward-leaning position for those with almost no drop from the handlebar to the saddle. And if you are a big dropout rider, we recommend the Fizik Transiro Mistica noseless saddle above. Also, if you're a no-drop competitor, then its comfort and ease of launch will give you the upper hand in a race.
12. Fizik Argo Adaptive R1 ($299.99)
Width: 140-150mm
Length: 265mm
Clamp: 7mm
Weight: 190g
What we like about it: Good choice for enduro riding, lightweight design.
What we don't like about it: It was very expensive.
3D-printed saddles play a more important role in the overall market but are not a replacement for the existence of short saddle nose saddles. Part of the reason is that this technology is still very expensive. The printed saddle provides comfortable cushioning for the rider, is suitable for long-distance endurance people, and has a central skeletonized channel to reduce pressure.
The R1 saddle is very expensive, you only pay half the price for the same shape, and has a lighter weight. But if you love the power of fresh technology and a more comfortable ride to accompany you on a long ride, then it's a good option.
13. PROLOGO T-GALE PAS SADDLE($209.99)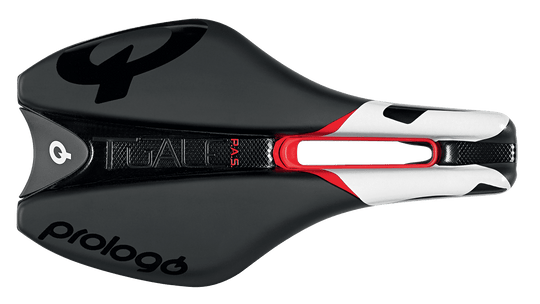 Width: 128mm
Length: 254mm
Clamp: 7mm
Weight: 252g
What we like about it: Aerodynamic design made for fast racing.
What we don't like about it: The flat shape is not suitable for riders with low flexibility.
This is a TT and triathlon-centric saddle with a shortened nose and enhanced aerodynamics, designed for fast racing. The PAS channel is recessed to maintain blood flow.
It appears to be very flat overall on the side and may not be suitable for those with low body flexibility. If you happen to be one of those people, the Selle SMP T5 might be what you're looking for. All in all, the comfortable flex material and the short nose design make it perfect for long rides and the aerodynamic design provides speed support.
14. Selle Italia Watt Gel Superflow ($134.25)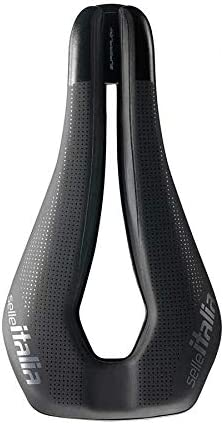 Width: 135mm
Length: 255mm
Clamp: 7mm
Weight: 235g
What we like about it: Great power and comfort.
What we don't like about it: The wide saddle may limit turning ability.
Known for its power and strength, the Selle Italia Watt Gel Superflow is for those seeking improved performance while still maintaining comfort at high pedaling frequencies. Also paired with reliable Ti 316 rails, anti-slip covers for enhanced stability, and a wider saddle head for greater comfort, it can meet the needs of demanding triathlon riders.
This wide, short-nose saddle may limit the rider's turning ability compared to a noseless saddle. If you're facing a track with a lot of turns, check out the Fizik Transiro Mistica. other than that, I can't find any other flaws with this triathlon saddle.
15. Bontrager Hilo Pro ($240.99)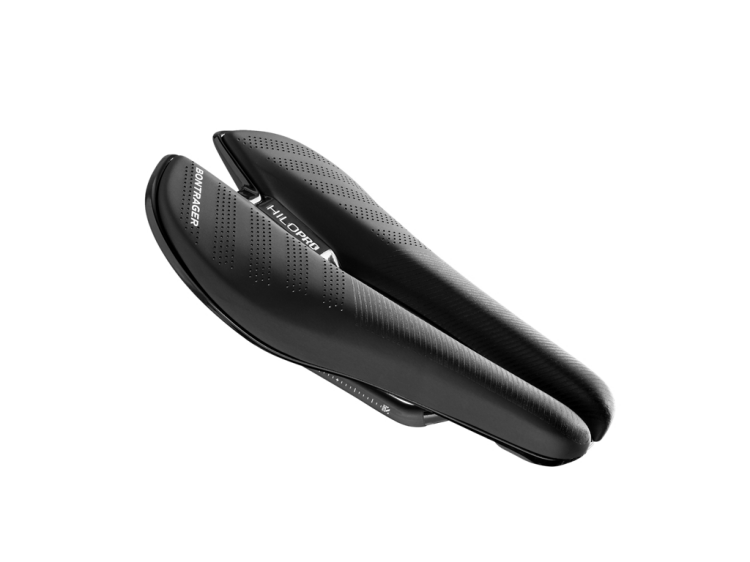 Width: 134mm
Length: 240mm
Clamp: 9mm
Weight: 204g
What we like about it: The very low price, rugged and very comfortable and suitable for female riders.
What we don't like about it: The weight is very large.
It's a super fast, stylish saddle with a split support area for full-on TT and Tri racing. the Hilo Pro is designed to maintain stable pedaling in different positions of the saddle and provides extra compliance with extra-long, thicker rails and supportive foam for maximum comfort. In addition, it is a women's saddle for women's racing.
The thicker rails won't fit all seatposts, so you may need to purchase a matching seatpost to use this saddle. Or you can choose the regular version of the Bontrager Hilo Comp tri saddle, but it has to be said that the wider and thicker saddle provides more stability and helps the rider's riding performance.
Triathlon saddle purchase advice.
Things to note when buying a triathlon saddle
Should I choose a saddle with a center cutout
The difference between Triathlon saddles and road saddles
Shape
Cover material
Rails
Riding Style
Things to note when buying a triathlon saddle
triathlon saddles come in a variety of shapes and sizes. Without the opportunity to test them out for yourself, it can be difficult for a rider to figure out which type fits them best. If you are a triathlon rider or you are preparing for your first triathlon race, I think you should go to your local offline store and test ride. However, the following suggestions will help you get a better idea of what saddle you need.
Should I choose a saddle with a center cutout?
The center cutout saddle has become the trend for almost all bike saddles. Today's technological constructions allow a huge hole to be hollowed out in the center of the saddle without sacrificing strength.
This design is very ergonomic and can reduce the pressure on the vulnerable parts of the body to avoid numbness when riding, greatly enhancing comfort. Moreover, this design can also reduce the overall weight of the saddle and reduce part of the air resistance.
The difference between Triathlon saddles and road saddles
The triathlon saddle has been specifically designed for triathlon riders to provide a more comfortable and practical option. Traditional road saddles are designed for road bikes and can be ridden upright. The triathlon saddle is designed to support you in all directions when you lean forward.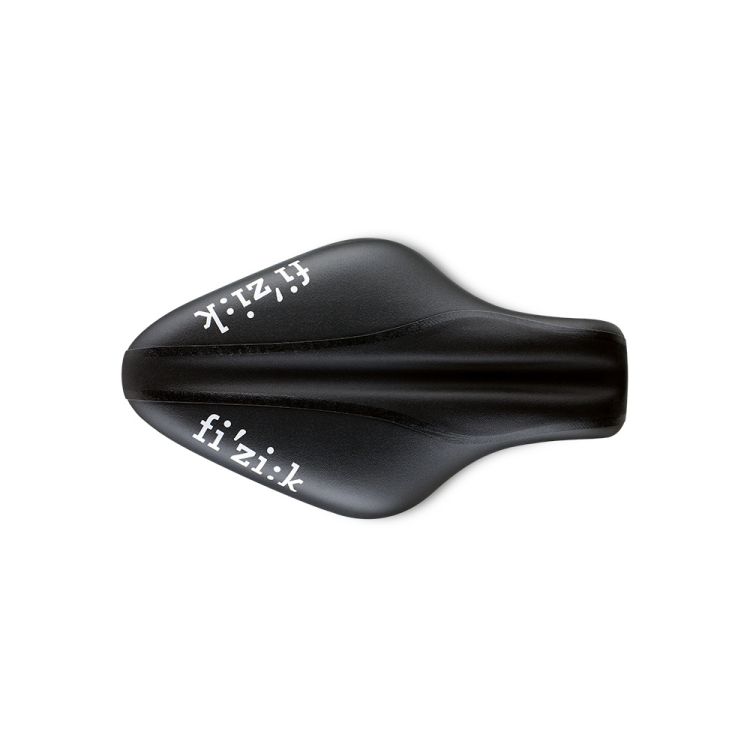 The triathlon saddles are angled differently than road saddles and have a wider and flatter section than usual at the nose of the saddle to make the forward-leaning ride more comfortable. Many of these saddles are also designed with a cutout section in the middle as well as at the rear to take pressure off the perineum for a more comfortable ride.
Shape
Most triathlon saddles are narrow and tear-shaped, with a wide nose and a wide rear, and some even look like the front end has been cut off, such as the Fizik Mistica Kium on the list.
The cutout and depression of the saddle have also become more exaggerated, with some shapes resembling the letter U or O.
Most modern triathlon saddles feature ergonomic recesses and slopes designed to fit the natural angle of the body.
Cover material
The cover wraps around the saddle and is usually made of a durable synthetic or leather material. Most saddles avoid those with hard textures and overly rough seams that can bruise the pelvic area as well as the inner thighs. While popular preference is usually for the strength of the material and the feel, most riders prefer saddles with special color schemes and oversized logos.
Rails
Rails are the two metal tubes that connect the saddle to the seat tube. They are usually made of durable metals, commonly chromium-molybdenum steel, carbon fiber, and titanium. While lightweight metals are preferred, they are usually more expensive than steel. This is because they increase the aerodynamic potential of the bike.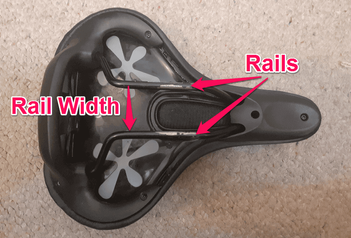 Some rails offer angle adjustment. This is an important feature and the design allows the rider to optimize the pelvic angle. In addition, the long rails provide enhanced stability and the opportunity to adjust the saddle position. It is worth noting that some of the saddles have wider rails and wider rail widths, which enhance comfort in this form, so you will need to change the seat tube to accommodate this design.
Riding Style
Each rider has a different way of shifting their weight and taking the corresponding aerodynamic position. In most cases, triathlon riding requires tilting the pelvis forward, and this automatically puts pressure on the soft tissue parts of the body. While this type of positioning will never be considered completely comfortable, the saddle manufacturer's triathlon saddle will work to eliminate this discomfort.
Performance
The triathlon saddle is designed to improve the rider's comfort as well as performance. When a rider rides in an odd position for long periods against an uncomfortable body, such as shifting weight from one side of the body to the other to reduce pressure on the pelvis, his or her performance is bound to suffer as a result. A properly designed saddle can also help riders correct their riding posture and optimize the efficiency of their muscle use while riding.
For those who are beginners, adapting to the triathlon riding position can be a difficult and uncomfortable process. However, once acclimated to the riding position, the rider's aerodynamic resistance is greatly reduced. Good aerodynamics can make riding comfortable and physically capable go hand in hand.
Conclusion
After carefully selecting the best bike saddles for 2023, I would say that there are a lot of valuable and properly designed saddles out there. And they can improve a rider's triathlon performance in a variety of ways. In addition, they are ergonomically designed for aerodynamic position and do not cause injury or discomfort to the rider. Although saddles come in a variety of shapes and sizes and styles, they all have one goal in mind, and that is to improve the riding performance of triathlon athletes. By the way, if you want to go riding in well-known terrain or special terrain, you can book your accommodation on IHG Hotels & Resorts. It is not only rich in variety but also easy to operate.
All in all, when choosing which saddle to use, you can consider your riding type, the width of your sit bones, your body anatomy, the shape of the saddle, the material, and the saddle pad. our current selection list is believed to provide you with some help to find the best saddle for you.
If you like our content, feel free to share it with your friends! And, If our content is helpful to you, you can click the email subscribe button below! Thanks for your support!