We use affiliate links and may receive a small commission on purchases.
2022 GT Transeo Elite
Price: $810
Travel Front: 75mm
Wheels: 700c
Drivetrain: 2×8
What we like about it: A higher quality aluminum frame, a more powerful drivetrain, and a shock fork that can't be beat, allowing you to easily translate city and adventure.
What we don't like about it: It can't do any better for the harsh outdoor terrain.
Rating: (4.6/5)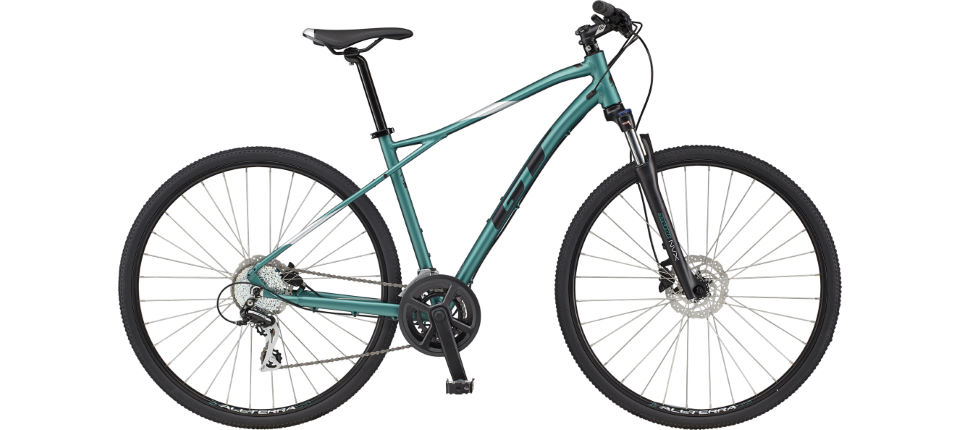 Introduction
With an eye on creating more fun rides, GT BIKE is introducing three very interesting models in the Transeo series for 2022. Compared to the other two, I was more interested in the 2022 GT Transeo Elite with its 75mm Suntour fork and microSHIFT 2x8speed. It's not often seen in sub $1,000 city commuters.
As a quality city car, the first scenario we need to face is to travel quickly through the city streets. But equally, for sportier scenarios (such as fitness or simple outdoor training and gravel traversing), we need a bike that is light enough, easy to ride, and passable enough. It just so happens that I think the 2022 GT Transeo Elite fits all of these points better.
Commuter Riding
During our commuter test, we were amazed by the large size of the GT Pavement, 700 x 40c tires at first glance. But riding the bike was a different story. Because of the more relaxed 74.5° head tube angle, I immediately started riding in a ready position when I touched the saddle. I have to say, if you are new to riding, this would be an encouraging start.
After starting a rhythmic pedal launch, it was obvious that I could receive a very stable signal from the senses. I think this has to do with the large enough wheels to absorb vibrations and having the 75mm Suntour forks to work with. It was also able to pass quickly when crushing some bumpy roads.
City Park
As I entered the city park trail through a small bumpy section of brick pavement, I began to have a hard time. There was a not-so-steep but upward-trending hill in front of me. I noticed that with the microSHIFT 2×8-speed, even with the sudden acceleration, there was no question.
At the same time, I also noticed some details of the design. That is the ability to ride smoothly even in the face of sudden pedaling. I wasn't wearing more specialized athletic footwear on the day of the test, and the raised rivets designed into the Alloy Platform material of the pedals were able to prevent me from slipping during acceleration.
I was faced with impending rain during my city riding test. Although the loose geometry supports adaptive fenders, I did not install them due to time issues. This is a reminder to city commuters to always install fenders in the first place.
I did make an unexpected discovery, though. The slightly darker weather would make me notice the reflective stripes on the tires of other bikes on the road. Although the GT Pavement doesn't have a corresponding design, because the frame is free enough, you can also equip it with some auxiliary reflective lights, which can provide a high level of passive safety.
I would repeatedly confirm that the brakes were working properly due to the obstructed vision caused by the weakened light. But even with this high frequency of repeated testing, the Tektro Hydro Disc continued to work hard and gave me very agile braking power.
Even when I was driving fast and was forced to stop by a sudden obstacle, there was no hesitation. All in all, I think the Tektro Hydro Disc was an essential component for me to be able to complete this test.
Gravel Roads
As I said earlier, for urban use, shock forks are optional. But if you're looking to expand some of your city-bound adventures, or need cycling fitness, you can try gravel riding. For the gravel roads that have become so popular in recent years, the open views and more physical exertion as leisure or fitness, are good choices.
On the weekend I took the GT Transeo Elite for a leisurely ride on gravel roads. Since I didn't have to compete with cars on the road, I saw that there were not many people riding. The gravel roads are full of gravel and sand, and the surface is loose, so there is a lot of rolling resistance.
If you're riding on spaghetti tires, you'll get completely caught in the road, and that's really bad news. While the wider GT Pavement,700 x 40c wheels can travel freely on such roads.
And thanks to the high fit of the 75mm Suntour fork, I still didn't feel any upper body soreness after nearly an hour of riding. Even though I've rolled over countless pieces of gravel, large and small, it's hard for me to imagine how hard it would be for me to lack a shock-absorbing fork.
Hilly Areas
Because of the changing road conditions, the microSHIFT 2x 8-speed, which is not more effective in the city, shone when I reached some hilly terrain. Faced with continuous uphill and downhill, the pedaling output was reduced by friction.
Even though it had been nearly an hour and a half since I started the ride, the GT Transeo Elite was still able to withstand the test of prolonged power output. Realizing that the two large water bottle holders that come with the 6061 T6 Aluminum Frame body were no longer enough for me, I felt like I could call it a day.
Overall, this outdoor workout was enough for me to trust the superbly priced GT Transeo Elite.
Main Features
Frame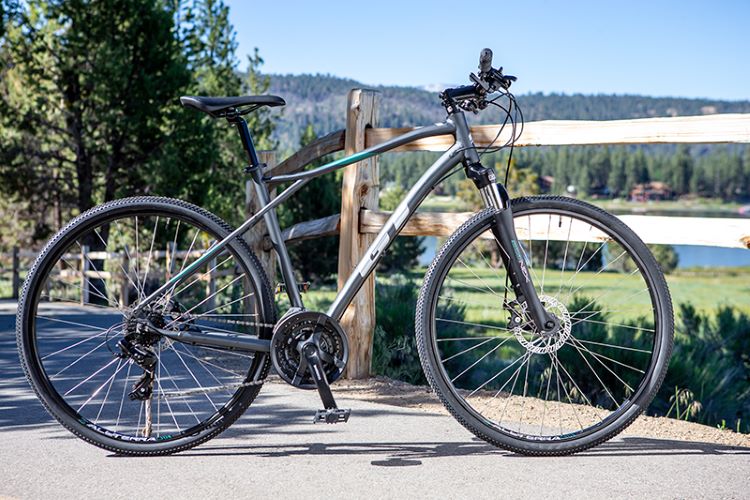 As a qualified commuter bike, you will surely be attracted by its bright colors at the first sight. Next is the more liberal frame. Although the material is a 6061 T6 Aluminum Frame, it shines in the sunlight and exhibits a carbon-like texture.
The body is designed with internal alignment, and both shifting and brakes are accessed through hidden alignment ports via down tube five-ways to the brake and shifting positions. You can assemble your fenders and rear brackets and can support a mount that will greatly reduce the embarrassing experience of being splashed with sewage from the tires after rain.
There are two water bottle holders at the stem, so you can fill two full-size water bottles. This adds at least 40min to the ride. For the saddle that the rider touches the most, GT Transeo Elite has chosen the GT MTB horse.
I think it is still more comfortable and soft and can alleviate discomfort on long rides. If you notice the multi-groove design of the handlebars of the 6061 Alloy Riser, you will know that the grip and friction will be very adequate.
Also back at the pedals, the prominent rivet structure prevents slippage when pedaling, so it doesn't matter if you're wearing sneakers or business shoes you can ride well.
Geometry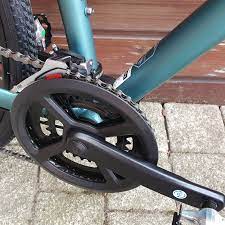 The GT Transeo Elite's seat tube angle reaches a value of 74.5 degrees, so it will feel freer in terms of riding. The near upright ride allows you to maintain a more comfortable seating position for city crossing. You'll ride further and be more relaxed than some of the pro race models with their slumped forward position.
The 72-degree head tube angle is certainly not suitable for climbing some of the steeper uphill climbs, so this GT Transeo Elite is not capable of navigating expert technical trails. If you are more of an adventurous rider, you should still buy a more professional mountain bike line.
The GT Transeo Elite is more stable when riding. You can imagine you're driving a boat, and thanks to the 29.1cm five-way height, the GT Transeo Elite has a low center of gravity, so it's also more friendly for newbies. If you are a taller rider, you can easily stop the bike.
Components and Specifications
Suntour NVX-DS HLO75mm Shock Front Fork
The fork of choice is a shock fork with 75mm of travel Suntour. This is sufficient whether you are facing some brick pavement in the city, park trails, or doing gravel road rides on the weekend.
Although in some more specialized designs for road bikes, the shock fork will be abandoned for further weight reduction, and a simple steel fork is used, it is certainly not enough for greater riding compatibility.
When I ride outdoors on gravel trails, facing rocky bumps and hidden potholes, the 75mm Suntour fork reduces the force of control over the body, allowing me to ride longer without muscle discomfort or loss of control.
GT Pavement, 700 x 40c Wheels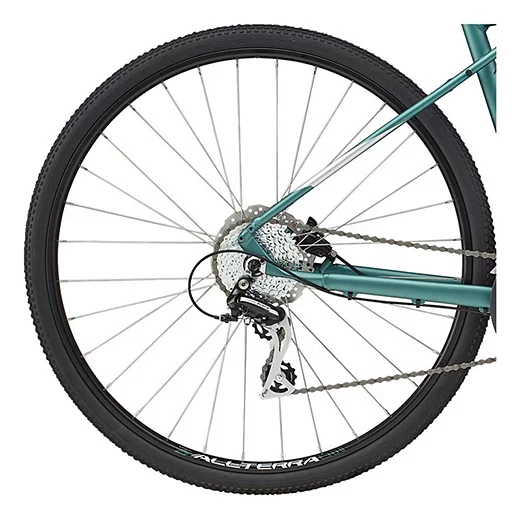 Although I've stressed over and over how important the GT Pavement, 700 x 40c wheels are to the ride's passability, the real ride will give you a new experience. If you pay attention to riding regularly, you will know that compared to fast-rolling 27,5" or even smaller wheels, the larger wheels are more effortless on the pedals, have more grind force, and are better at absorbing vibrations from the road.
In the face of some slippery road conditions, the wide wheels can also be very good at keeping the body stable and reducing the slippery situation.
If you need to ride all year round you can also make some upgrades to the wheels. For example, use vacuum tires, so that the frequency of maintenance is also lower, in outdoor riding can also resist more punctures.
MicroSHIFT TS39-8, 2×8-speed Drivetrain
If you're puzzled by the GT Transeo Elite2x drivetrain or even find it slightly redundant (in recent years the design of city bikes has favored a simpler 1x drive), then you can test it out on a ride on a gravel road in the countryside.
Faced with continuous uphill and downhill, the microSHIFT 2×8-speed will shine. It also means you get the gravel road bike plus the city commuter bike for just $810.
Other Versions of GT Transeo Elite
For 2022, GT released three Transeo series, and I'll compare the other two with the 2022 GT Transeo Elite next.
2022 GT Transeo Sport
When comparing the 2022 GT Transeo Sport, which differs significantly in design, it is clear where the designers have positioned the bike: a faster urban commuter.
On the fork, he gave up the damping function and used the simpler GT Fork w a steel fork. So for smooth and flat city road riding, the dead weight is reduced thus enabling faster acceleration.
But if you have a larger sporting need or even a more adventurous spirit, the ride may feel strained. And for cost reasons, the mechanical disc of Mech Disc is used. The later maintenance will be simple, but the sensitivity will be slightly inferior compared to the liquid disc.
In addition, the 2022 GT Transeo Sport has not changed in terms of wheel size. The same GT Pavement 700x40c tires are still available, and there is no vacuum tire upgrade, although this would provide an upside to the existing price.
A more extensive microSHIFT 3×7-speed drivetrain has been chosen for the drivetrain, which will be found on most mountain bikes and offers a greater range of speed options for the rider. If you're on a flat urban ascent, I think it would be interesting to tune the 2022 GT Transeo Sport.
2022 GT Transeo Comp
In terms of price, the 2022 GT Transeo Comp has made a certain drop, although the difference is not that much. The reason for this I think is the abandonment of liquid discs on the brakes in favor of the simpler Tektro Mech mechanical discs.
Unlike the GT Transeo Sport, the GT Transeo Comp does not abandon its insistence on a damping fork and uses the SR Suntour 63mm fork. Although it is a bit inferior to the GT Transeo Elite on long, bumpy sections, it is more compatible than the Transeo Sport.
In addition, the GT Transeo Comp uses the 3x drivetrain that most mountain models have, which will be abundant in speed options. Also, there will be more assistance if facing longer ascending sections.
What do we like about it?
Cost-effective city commuter bike that can also meet your outdoor riding needs.
Longer front fork damping can effectively relieve the impact of bumps.
Tall 700x40c tires for fast riding.
Internal wiring is simple and efficient and prevents dragging.
Liquid disc brakes, more sensitive and efficient braking.
2×8-speed wider range drivetrain for more effort on hills.
The body color is beautiful and can catch the eye when riding.
What do we don't like about it?
Unable to provide line high riding position.
Despite the beautiful colors, there are fewer options.
FAQs
What is the size of the 2022 GT Transeo Elite tires?
The tire size of the 2022 GT Transeo Elite is 700x40c.
What is the 2022 GT Transeo Elite drivetrain?
The 2022 GT Transeo Elite drivetrain is the microSHIFT TS39-8, 2×8 speed.
What are the 2022 GT Transeo Elite brakes?
2022 GT Transeo Elite brakes are Tektro M275 Hydro Disc.
How do I choose the 2022 GT Transeo Elite size?
The 2022 GT Transeo Elite is available in XS, SM, MD, LG, XL.
Comparison Table
2022 Trek Dual Sport 2 vs 2022 GT Transeo Elite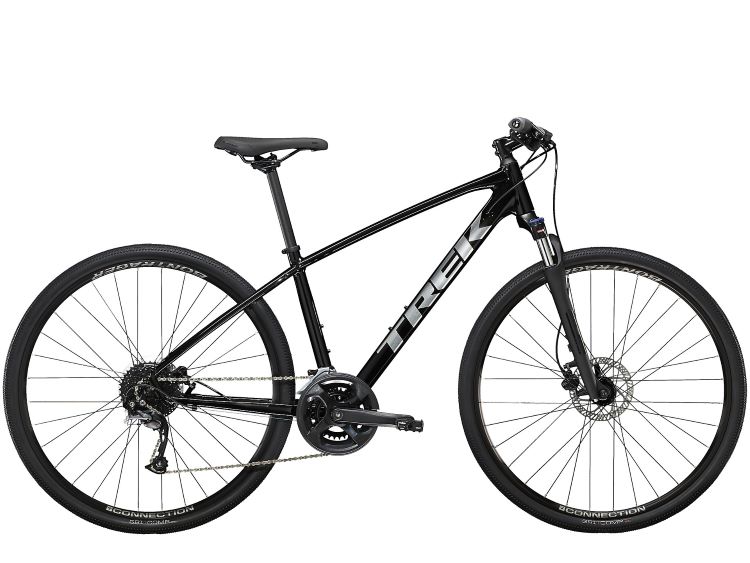 The 2022 GT Transeo Elite's performance is worthy of elaboration in the face of the 2022 Trek Dual Sport's strong rival. For example, the GT Transeo Elite has a longer 75mm fork travel compared to the Trek Dual Sport's 65mm fork travel, which means the GT Transeo Elite has an advantage when facing longer and bumpier trails.
But the Trek Dual Sport has the same wide 700x40c tires for some soft gravel roads or more slippery riding in the rain. Although I trust Trek's Bontrager in terms of brand familiarity, in terms of real riding performance, the two are almost evenly matched.
In addition, in terms of drivetrain, the Trek Dual Sport uses a wider range of 2×9 speed drivetrain. So if faced with uphill sections that require more acceleration power to climb upwards, it is also more advantageous. Although in terms of weight, the Trek Dual Sport will be more stable and heavy.
Learn More: Trek Dual Sport 2 Reviews- The Super Cost-Effective Bike
2023 Electra Townie Path 9D Step-Over vs 2022 GT Transeo Elite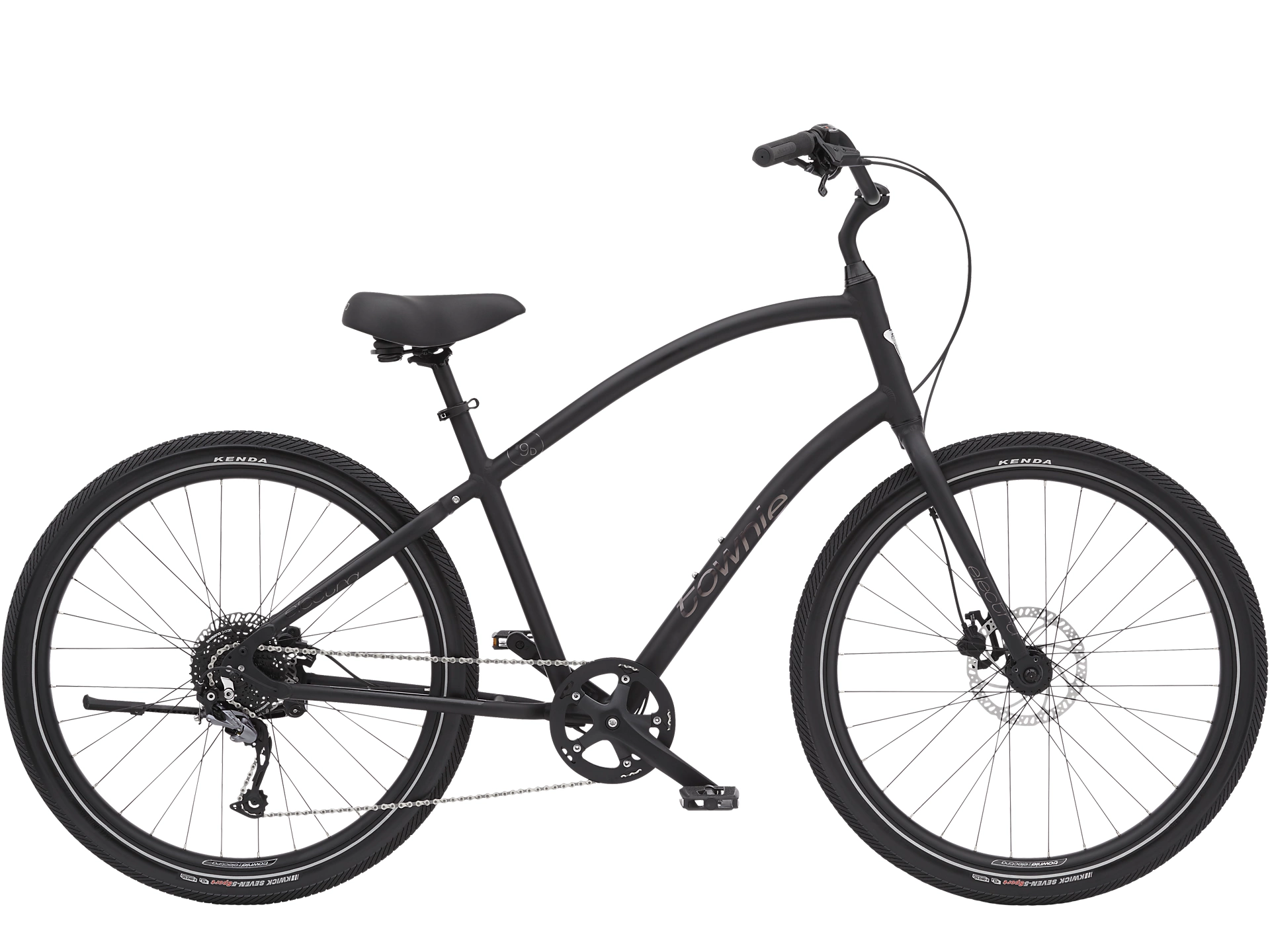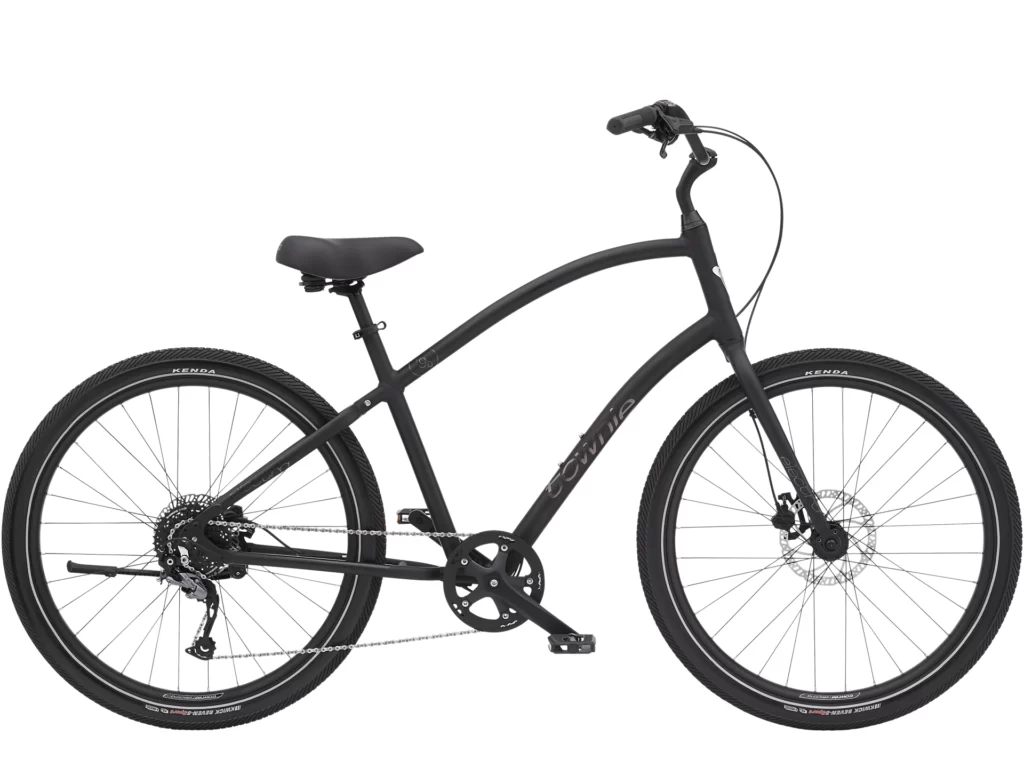 Although it is a new model for this year, I think the 2023 Electra Townie Path 9D Step-Over still tends to be conservative in terms of design. For example, only a single-disc Shimano 9-speed drivetrain is used in the drivetrain selection.
If you compare it to the 2022 GT Transeo Elite, it is sufficient for city commuting, but it will be a bit hard for some outdoor sports. For example, if you are on a gravel road in the countryside, or if you are in an area with significant hilly terrain, then it will be a bit hard for some climbing performance.
In addition, the Electra Townie Path 9D Step-Over has chosen smaller tires that are more agile but not as fast as the GT Transeo Elite. This will be more pleasing for some nimble obstacle avoidance.
However, the speed boost and handling of the ground alignment are not as strong as the performance of the beater tires, not to mention the design without the shock fork, which will increase the physical exertion of bumps. Although from the price, Electra Townie Path 9D Step-Over will be more friendly.
All things considered, I think the Electra Townie Path 9D Step-Over is more cost-effective for less urban riding. If you want a model that rides more frequently and is more compatible I would recommend the GT Transeo Elite.
learn more:2023 Electra Townie 7D Review – Best Selling Comfort Bike
2022 Schwinn Collegiate Step-Thru vs 2022 GT Transeo Elite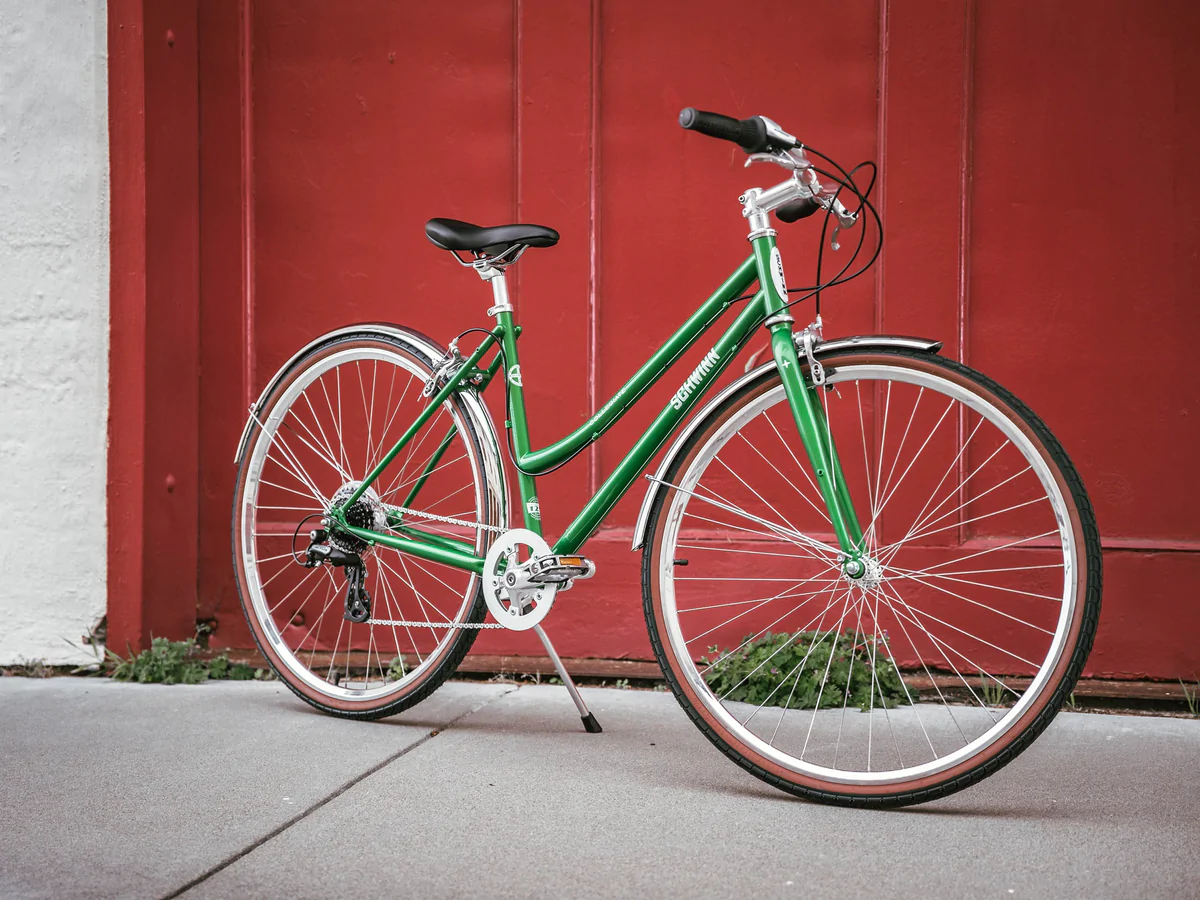 In the design of urban commuter bikes, many models will reduce weight to ride more easily and thus do not have the option of a shock-enabled fork. While this is sufficient for some of the gentler city rides and the price would be more friendly. In the Schwinn Collegiate Step-Thru, we see a retro Americana trend, with the classic return of the iconic 965 Collegiate Deluxe on the bike, and even I don't think he has made too many hardware upgrades in the pursuit of restoration.
For example, the front fork is a simple steel fork, with no shock function. In addition, the drivetrain is a very simple 1×8 speed, and the brakes are Caliper brakes.
I would prefer to keep the Schwinn Collegiate Step-Thru for my collection or for a short bragging ride. But if you are looking to buy a commuter bike for more frequent trips, I suggest the more modern performance 2022 GT Transeo Elite with 75mm damping fork travel + more efficient 700x40c tires + 2×8 speed drivetrain + liquid disc brakes, which is more suitable.
Schwinn Collegiate 700c Hybrid Bicycle Reviews
2022 Public V9 Aluminum vs 2022 GT Transeo Elite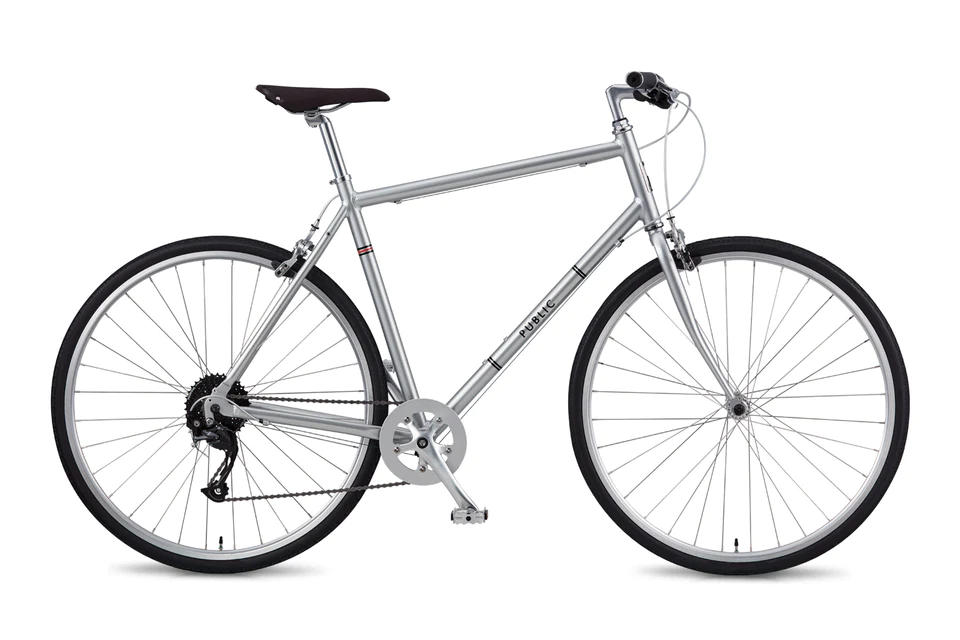 Although the 2022 Public V9 Aluminum has an advantage in terms of price, the GT Transeo Elite has better performance when it comes to compatibility issues. The key lies in the choice of fork, the Public V9 Aluminum has a more direct steel fork structure.
For some flat and non-bumpy city roads, this is enough and also greatly reduces the weight, Public V9 Aluminum weighs only 25lbs.
The Public V9 Aluminum can't handle more complicated road conditions if you look at it on some outdoor sports rides.
Although it has a very good power upgrade with a 2×9 speed drivetrain. In terms of wheel selection, the Public V9 Aluminum is also more suitable for flat city roads. The GT Transeo Elite's wider tires, in contrast, are more capable of drifting not only on country gravel roads but also after rain or on roads that require better grip.
So if you are simply using it for infrequent city commuting, the Public V9 Aluminum would be more suitable. Because it is lighter in weight. But if you ride more frequently and face more complex roads, I would recommend the 2022 GT Transeo Elite.
In case, the above comments are helpful to you, please remember to share the subscription. Have a great day!