We use affiliate links and may receive a small commission on purchases.
2022 Giant Defy Advanced 2 Review
Price: $2800
Frame: Carbon
Tires: 700c×32c
Gear: 2×11
What we like about it: Extremely high comfort paired with an excellent drivetrain.
What we do not like about it: Non-same series of the crankset.
Rating (4.9/5)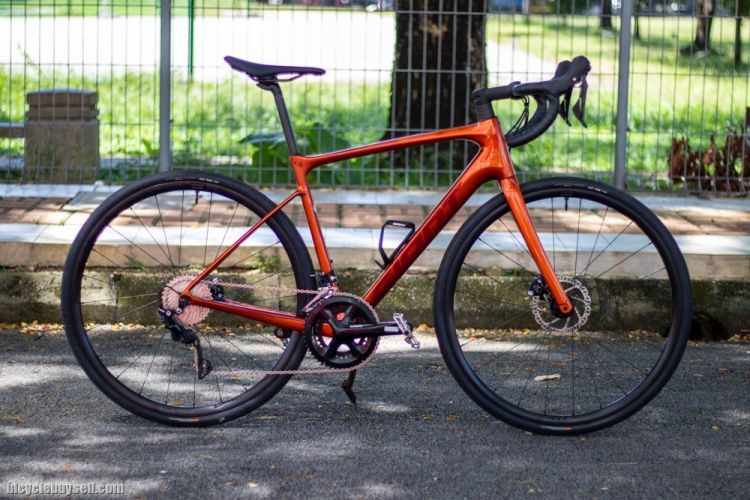 The Giant Defy series has always been the brand's main line of comfort bikes. It focuses more on achieving the ideal balance between keeping the rider in an upright riding position and a sportier, faster position while riding.
The 2022 Giant Defy Advanced 2 comes with an endurance compression gear ratio, cooling Ice-Tech rotors, and a host of Giant's accessories. These include a D-shaped seat tube and a full wheel with a 32C outer tire.
While comfort is indeed the theme of the Defy line, who wouldn't want to go the distance on a faster bike?
Below we analyze the 2022 Giant Defy Advanced 2 regarding road riding, long-distance riding, main features, components, specifications, and other versions.
If you want to know more about bike reviews, you can follow us.
Giant Defy Advanced 2 Road Riding
Before setting off, I also booked accommodation through IHG Hotels & Resorts to give myself ample space to rest and prepare. Defy's geometry is based on keeping the rider comfortable, which is why I bought it. Of course, it does make a small difference. At first, this position struck me as a bit odd. But as I rode around the city on unpopulated roads, I felt like I was very upright. Not slumped over the entire bike like those road riders.
But after I got used to the position, I found that it does make it more comfortable. With my head slightly up, I can better appreciate the surrounding scenery instead of sprinting as hard as I do in those races.
It's worth noting that it's more of a road bike for peddling, it rides very smoothly and is faster than I thought it would be. In addition, the longer rear fork gives a longer overall wheelbase, which makes it very stable and filters ground bumps well.
And even facing some inclines is not a problem for it. But the extended stable body may take longer through the corners. Obviously, it's not as agile as a race bike, and I don't need that. What I would prefer is to enjoy the whole ride.
Giant Defy Advanced 2 Long-Distance Riding
The tree-lined ride at The Old Head Wood is one of my favorite rides. It's located on the southern shores of Clew Bay and the weather is very humid. I used to worry that the slippery roads would make my riding experience less enjoyable, but the Giant Gavia Fondo 1 with its 700×32c tires gave me a good grip and I rode with great peace of mind.
Before that, I was only willing to do 10 to 20-mile bursts on my bike. I had no ambition to be a long-distance rider and my riding goal tended to be to stay fit. So what surprised me was that my friend and I rode 50 miles in one go this time. Previously on other road bikes, I had been reluctant to ride more than 20 miles because my back would hurt so much and my neck would be sore. But this time was completely different, I didn't feel any discomfort on the Giant Defy Advanced 2, so I was happy to ride further to push my limits.
The wide tires give me a comfortable ride on flat surfaces. Also, it can feel very smooth on rough roads and is more like my front and rear cushion on paved roads, making me very comfortable.
Although as far as pure road bikes go, it's not a professional race bike. But, I was happy to lose a bit of top-end speed in exchange for comfort throughout. Another thing that added to my comfort level was the unique saddle, which is wide and flexible enough to be comfortable on the bike and not bounce up and down causing letdowns.
One of the best endurance road bikes, the Defy is almost perfect, with a very high ride quality that exudes comfort. At the same time, the top-notch handling allows it to not lose speed. Other than the water bottle, I don't feel the need to add any other accessories.
Main Features
Frame Group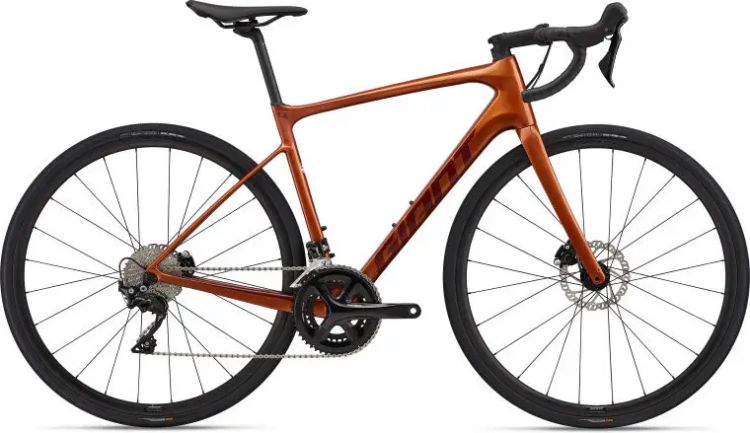 When I was doing short sprints, I could feel the top tube was very stiff, and Giant claims it was 30% stiffer than a standard frame in this direction.
The frame is designed with almost all internal cable routing, making the cables almost invisible from the outside, which makes it very easy to maintain. The sunken rear lower fork reduces weight while theoretically lowering the windward side of the fork and also optimizing the road feel at the rear.
Geometry
The riding position is not the traditional endurance bike with a tall Stack and elongated wheelbase. This bike has a balanced riding position, such as a taller Stack (586mm) paired with a longer Reach (381mm), which gives it a sporty feel. Undoubtedly, it's not as relaxed as most enduro bikes. But, personally, this setup suits me perfectly.
Compared to similar enduro bikes, the Giant Defy Advanced 2 has a 10mm higher Stack and a relative 5mm increase in Reach than most enduro bikes in its class.
Components and Specifications
Shimano 105 Kit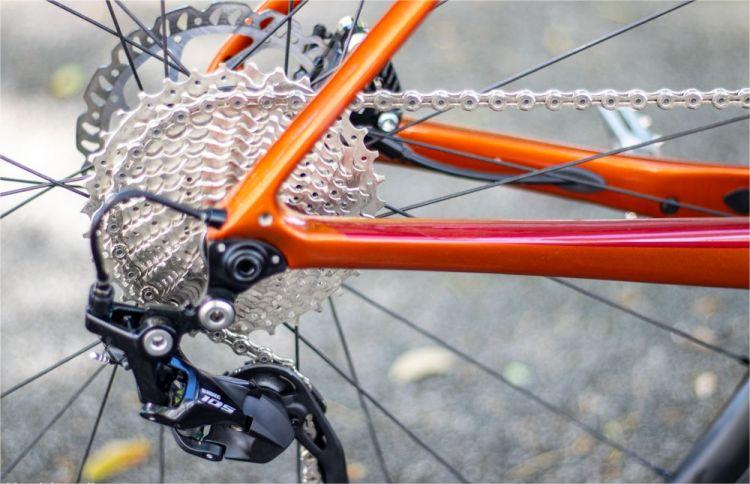 When it comes to the drivetrain and braking system, Jet took no chances and went with the full Shimano 105. this component has been well received by the riding public over the years and it is as reliable as ever. Plus, the 50/34 crankset with the 11/34 cassette provides the smallest gear ratio that allows the rider to climb some steep hills with ease.
The efficient braking is equally impressive, and the Ice-Tech rotors have excellent resistance to thermal decay, allowing you to brake quickly and without overheating.
D-Fuse D Seat Tube
Giant's D-Fuse seat post has been used for a long time on their road bikes in various configurations over the years. First, the D-shaped design allows it to filter wind resistance. And, the flat rear design provides a slight deformation in the front and rear directions. Since then, a similar shape has been used by many brands.
Giant's next step is also to introduce D-Fuse technology into the handlebars. This shape of the handlebar is designed to allow the rider to face bumps with the slight deformation technology of the D-shaped handlebar, allowing most of the road vibration to be filtered out. Identically, this enhances comfort, which Giant claims are a 10% improvement over regular carbon handlebars. Indeed, it is very necessary on long rides.
Giant P-R2/Giant Gavia Fondo 1 700×32c Tires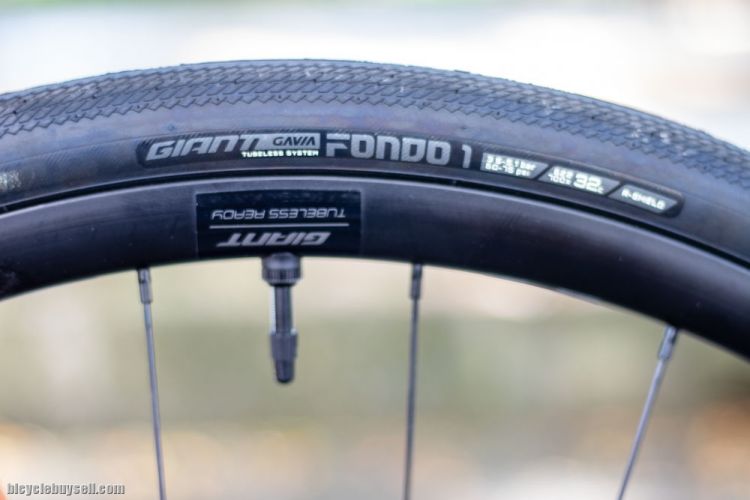 Giant P-R2 tires have hookless rims, which make vacuum tires easier and the tires are more easily sealed. The hookless rims also provide a significant weight reduction and allow the rims to remain strong.
The rim weight is very light, only 1545g, 250g lighter than the same model last year, and provides a very large tire capacity to allow me to mount wider tires.
Giant Gavia Fondo 1 tire, which is a very strong tire. Also, the vacuum material allows it to be quickly repaired by the internal tire repair fluid in the face of smaller knocks, avoiding some unnecessary accidents.
At the same time, it's not like those old training rubber tires. Precisely, it is an all-rounder and can face many scenarios.
Other versions of Giant Defy Advanced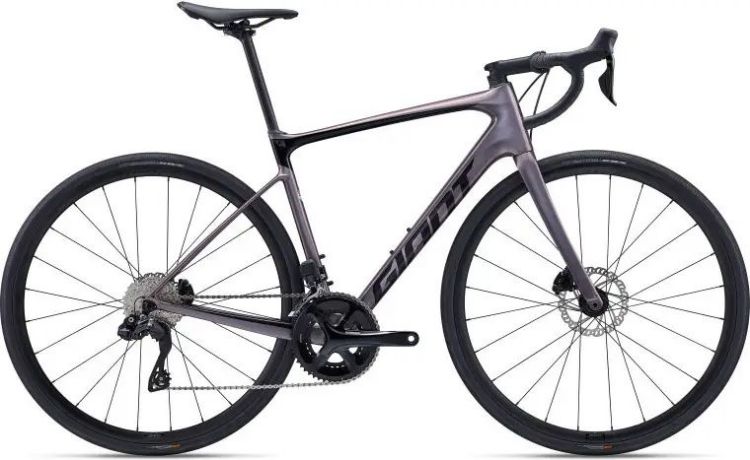 In this review, we have reviewed the 2022 Giant Defy Advanced 2. It is a very comfortable endurance road bike that can accompany you over long distances. And it has a good quest for speed. If you need to accelerate while riding, this bike can be your right hand.
As you can see, this is an excellent endurance road bike. To that end, we also found its upgraded version, the Giant Defy Advanced 1. Undoubtedly, it features Shimano's more convenient 105 electronic shiftings and extra gear for a better riding experience. But there aren't many other improvements elsewhere, and for that, you'll pay a difference of $1,100.
The feel of electronic shifting is undeniable, but whether or not it's worth paying more money for is up to each individual's budget. We also did a review of the Giant Defy Advanced 1, follow us to learn more.
What we like about it
Comfortable geometry.
Lightweight internal frame.
Cost-effective 105 components.
Tough frame geometry with a dropped rear upper fork.
Excellent hydraulic brake.
Vacuum tires offer lower maintenance costs.
What we don't like about it
Not the same series of the crankset.
FAQs
What kind of components does 2022 Giant Defy Advanced 2 use?
The bike uses all Shimano 105 components, all but the crankset, and the crankset uses the Shimano FC-R510, which is also a good choice.
What kind of people is 2022 Giant Defy Advanced 2 for?
The 2022 Giant Defy Advanced 2 is suitable for most road bike people, especially endurance riders who like to do long-distance rides. If you still have some preference for speed, it's even more of a good choice for you.
What heights does the 2022 Giant Defy Advanced 2 fit?
The size chart for 2022 Giant Defy Advanced 2 is as follows.
(These sizes are only a general guide, the true fit may vary from person to person and the easiest way to find your size is best to go for a test ride.)
| | |
| --- | --- |
| Rider height | SIZE |
| 157cm – 169cm | XS |
| 165cm – 175cm | SM |
| 171cm – 181cm | MD |
| 177cm – 187cm | MD/LG |
| 183cm – 193cm | LG |
| 189cm – 199cm | XL |
2022 Giant Defy Advanced 2 Specs
Build
| | |
| --- | --- |
| Frame | Advanced-Grade Composite, disc BB Standard: BB86/BB92, Press Fit Colors: Deep Lake / Black; Amber Glow |
| Fork | Advanced-Grade Composite, full-composite OverDrive steerer, disc |
| Rear Shock | N/A |
| Bottom Bracket | Shimano, press fit |
| Stem | Giant Contact XS:80mm, S:90mm, M:100mm, M/L:110mm, L:110mm, XL:110mm |
| Handlebar | Giant Contact SL D-Fuse XS:40cm, S:40cm, M:42cm, M/L:42cm, L:44cm, XL:44cm |
| Saddle | Giant Approach |
| Seatpost | Giant D-Fuse, composite, 14mm offset |
| Pedals | N/A |
| Grips | Stratus Lite 3.0 |
Groupset
| | |
| --- | --- |
| Rear Derailleur | Shimano 105 |
| Front Derailleur | Shimano 105 |
| Crank | Shimano FC-R510, 34/50 XS:170mm, S:170mm, M:172.5mm, M/L:172.5mm, L:175mm, XL:175mm |
| Shifters | Shimano 105 |
| Cassette | Shimano 105, 11×34 |
| Chain | KMC X11EL-1 |
| Brakes | Shimano 105 hydraulic, Giant MPH rotors [F]160mm, [R]140mm |
| Brake Levers | Shimano 105 |
Wheels
| | |
| --- | --- |
| Rims | Giant P-R2 Disc wheelset |
| Spokes | Giant P-R2 Disc wheelset |
| Front Hub | Giant P-R2 Disc wheelset, 12mm thru-axle |
| Rear Hub | Giant P-R2 Disc wheelset, 12mm thru-axle |
| Tires | Giant Gavia Fondo 1, tubeless, 700x32c (33.5mm), folding |
Video
Comparison Table
2022 Giant Defy Advanced 2 vs 2023 Trek Domane SL 6 Gen 4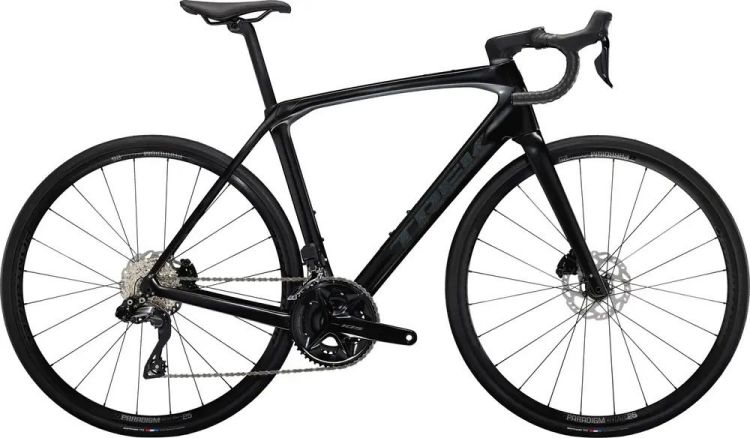 From a comparison of the two bikes, the Trek Domane SL 6 Gen 4 features a better-feeling electronic shifting. Although it is the same Shimano 105 grade, the electronic shifting enhances the feel while adding a rear gear, thus providing a more dense riding shifting feel.
It is worth noting that in terms of geometry the Giant Defy Advanced 2 is designed for comfort but without losing speed. It also uses a relatively less tall Stack (586mm) and a longer Reach (381mm) to create a more spacious geometry position. In contrast, the Trek Domane SL 6 Gen 4 will be more upright and more comfortable. But it will undoubtedly lose a lot of speed.
Both have a very large selection of sizes, so almost any rider can find the right size for him or her. And, both have great value for money and are great choices in both price ranges for endurance road bikes.
Learn More: Trek Domane SLR 6 eTap Review [2022]- Will It Take You Back To The Top Of The Track?
2022 Giant Defy Advanced 2 vs 2023 Bianchi Impulso Pro – GRX 600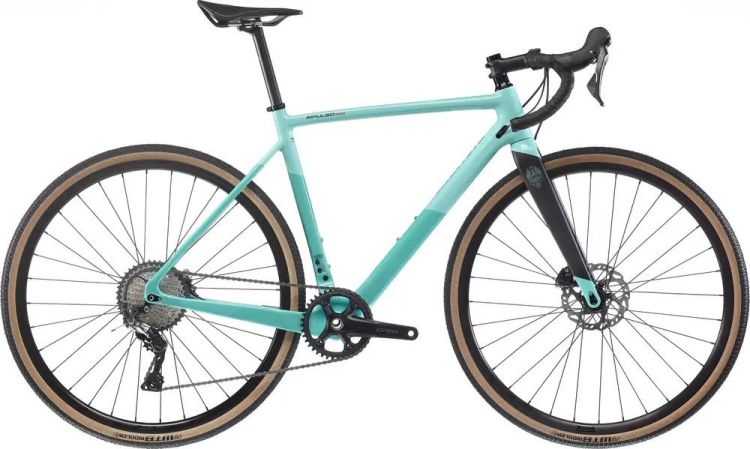 The Bianchi Impulso Pro – GRX 600 looks more like a gravel road bike than an enduro road bike. Because of the use of Shimano's gravel road bike-specific components, only the single crankset design is available.
Both types have the same comfortable geometry, but the Bianchi Impulso Pro – GRX 600 has wider tires. So it can go more places as a touring bike, but it limits its speed considerably. The Giant Defy Advanced 2, on the other hand, has slimmer tires and a double-crankset design that allows it to face all kinds of hills with ease.
In general, the two bikes have different pursuits for endurance. One is a long-distance race bike, while the other focuses on a long-distance touring bike, not pursuing speed, and can be chosen according to their own needs.
Learn More: Bianchi Impulso Pro – Ekar 1x13ps Review [2022]- What Will It Bring To You?
2022 Giant Defy Advanced 2 VS 2023 Wilier GARDA CAMPAGNOLO CHORUS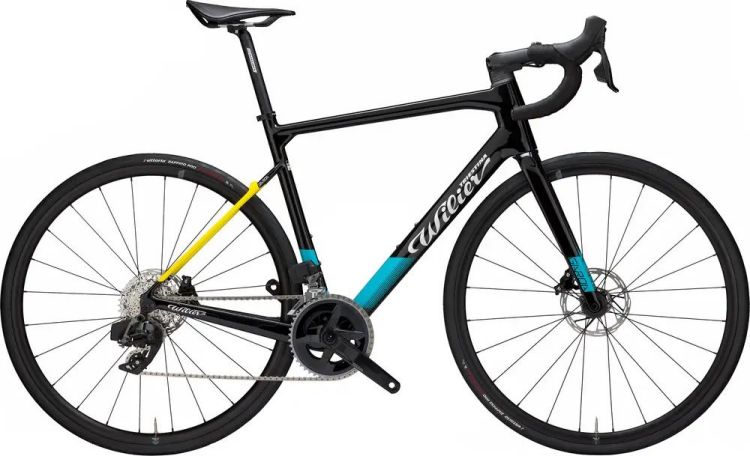 The Wilier GARDA CAMPAGNOLO CHORUS has an ultra-lightweight frame, almost all other components are carbon, and the components are top-of-the-line CAMPAGNOLO. these are all very top-of-the-line, and with these features, it is very cost-effective. But such a high price may not be accepted by most cyclists, cyclists more need affordable and can be long-distance riding bike.
The Giant Defy Advanced 2 is a great value for money at a low price point. Despite being half the price, it uses a full set of Shimano 105 components with a very good reputation for entry, as well as a disc brake barrel axle frame. All in all, it is a great bike for entry-level riding without losing quality.
2022 Giant Defy Advanced 2 vs 2023 BMC Roadmachine X TWO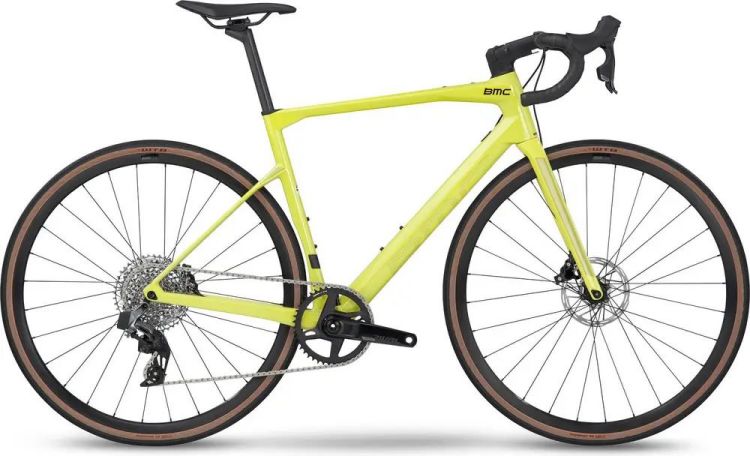 This appears to be a super high-end gravel road bike that uses Sram's single-disc electronic shifting and is compatible with wider 32mm outer tires. This design is perfect for riding over a variety of bumps and has a good experience on paved surfaces. But it's certainly not as good as the narrower road tires that bring less rolling friction.
The Giant Defy Advanced 2 features a slimmer road wheelset that may not be well-suited for riding on gravel surfaces. This is because the thinner rims of the will undoubtedly bring lighter weight to it. As with the second car in the comparison, it seems to be better suited to travel on roads in poor condition. Because apparently, it does not seek much on speed.
They have different pursuits in road bikes and can choose the right model for them according to their preferences.
Learn More: BMC Roadmachine X Two Review [2023]- Taking You On The Ultimate Comfortable Road Enduro Ride