We use affiliate links and may receive a small commission on purchases.
2022 Giant Contend 3 Review
Price: $950
Frame: Aluminum Alloy
Tires: 700c×28c
Gear: 2×8
What we like about it: The Super cost-effective and comfortable riding position is perfect for newcomers.
What we don't like about it: Fewer paint colors.
Rating (4.6/5)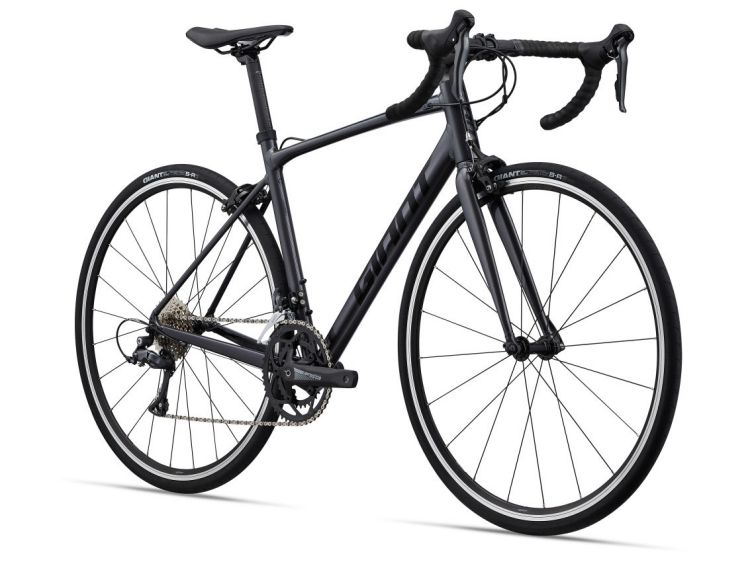 The Giant Contend series has been called "the best bike model of our time" and at this price point, it has unbeatable geometry. It doesn't have the aggressive geometry and lightweight frame, but at this price point, it's too good for cyclists.
This series is popular all over the world, whether you're a beginner cyclist or a regular fitness exerciser, it will adequately meet your needs. If you're looking for a bike for everyday road riding, weekend excursions, and exercise, we highly recommend the Giant Contend 3.
Below we analyze the 2022 Giant Contend 3 regarding road riding, weekend workouts, key features, components, and specifications as well as other versions.
If you want to know more about bike reviews, you can follow us.
Giant Contend 3 Road Riding
I wanted to have a bike like this years ago. I was a very short-of-money student at the time and had to save up hard to buy someone else's used bike. If I had a bike like the Giant Contend 3, I wouldn't have had to work so hard to buy it in installments.
I rode it for my favorite tarmac ride and it was perfect for riding on such roads. Mostly the slim 28c tires reduce the friction of the ground on it and allow it to skim over the tarmac quickly. I can say unequivocally that this bike is on par with my other aluminum bikes but at half the price.
The geometry puts it in a relatively upright position, which also makes it feel lighter than it looks on cruising rides as well as climbs. And, the 34T max cassette also allows it to ascend hills as easily as most climbing bikes. As a result, it was very compliant when I rode it at speeds above 20 mph.
Giant Contend 3 Weekend Workout
Giant says the Contend series is "designed for aspiring riders aiming to ride a little faster and go a little further". These are my aspirations, and I ride it every week on my rest days to get to my training trails. Although my goal is just to stay healthy, I seem to overdo it every time.
If you've ever ridden a bicycle, you know that the freedom it brings is unmatched by any other mode of transportation. The in-your-face wind, the sun on your back, and the endless road that you can't see at a glance are pleasures that only those who dare to ride long distances can appreciate. This year's winter was extraordinarily cold, and the feeling of the cold mountain wind blowing through my hair was refreshing.
When I sat on the bike I felt its a comfortable ride, and the very upright position also made my riding posture more comfortable. Although it is a full aluminum design, it also gives me a very light and fast pedaling feeling. And the metallic paint color makes it look like it's more than just the price. All of this causes me to enjoy riding it to farther places.
I felt it when my yardstick mileage showed that I had reached 150 miles. People around me were moving their backs and necks – I could tell they weren't comfortable. I was able to stay seated upright by simply grabbing the handlebars, which is certainly important for long-distance riding.
I think it's thanks to the taller Stack and the less elongated Reach that makes me more willing to ride farther on it. Isn't the fun part of keeping riding for new riders being able to ride long distances comfortably?
Main Features
Frame Group
There seems to be some difference from the traditional internal cable routing, the Contend series ground chainstay cable enters from the head tube double port and leads out in front of the BB housing. And the rear brake goes through the upper tube and enters the interior from the right side, then leads out from the right side into the left side, giving the most comfortable brake line.
This bike has room for bigger tires and front and rear fender mounting holes. So it makes a great commuter bike or a good choice for riding in the winter. It can meet a variety of needs for every ride.
Geometry
Most people probably don't care too much about the geometry of this bike because it has so many shiny spots. But Andrew Juskaitis, Giant's global product marketing manager, says the geometry is the best thing about the bike. The geometry of this bike adopts the design of the previous Defy as well as the TCR series. Its front end is more like Defy's geometry, with a loose head tube angle (72.5°) and a higher Stack (577mm) creating a comfortable upright riding position. The rear end is designed like the TCR, with a compact rear dropout fork (412mm) and a lower BB height (266mm), making it more agile and lively to ride than similar endurance bikes.
Components and Specifications
Shimano Claris 2×8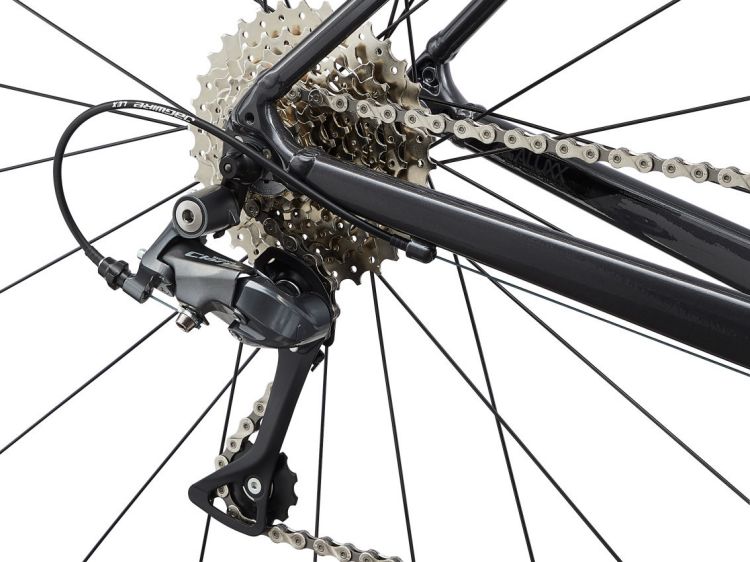 On the one hand, Shimano's Claris has a very nice look to it. It is equipped on most fitness bikes, and touring bikes and even can turn a road bike into an entry-level road race bike. The overall handling, accuracy, and lightness are ensured by the 8-speed cassette, powerful brakes, and a smooth rotating, super easy-to-maintain hub.
On the other hand, the Tektro TK-B177 brake calipers are not Shimano's matching brakes. But the fitment is so good that it works like Shimano's own unit. It's not a good thing if it's a standout performer. It's the fact that it performed as expected that kept me from paying much attention to it, which means the brakes still run very well.
D-Fuse Seatpost
The D-Fuse seat post helps to improve the quality of the ride. The design is similar to BMC's D-shaped seat post design, which generates seating comfort from the flat rear surface of the seat post, allowing a slight deformation front to back for cushioning purposes. Giant's next step is to introduce D-Fuse technology into the handlebar. That's right, the D-shaped handlebar design allows the rider to face bumpy roads with a slight deformation that filters out most of the vibration for a more comfortable riding experience.
Giant S-R3 700×28c Wheelset
The bike comes with 28c width vacuum tires on Giant S-R3 rims, which can support up to 32c tire width. If you want to ride it and head to bumpy terrain like gravel roads, you can change to wider tires. Undoubtedly, it will be a comfortable gravel model.
By filling the tires with the proper pressure, the wide area of the tire can be fully utilized and the D-Fuse seat tube can better absorb vibrations and provide a comfortable ride quality.
The most important thing I forgot to mention is that the Giant S-R3 tires have a consistent grip. The rounded profile and lower tire pressure made me feel confident when pressing corners. Secondly, the refined ride and excellent handling also made the Contend excursions a very relaxed, positive, and enjoyable experience.
Other versions of Giant Contend 3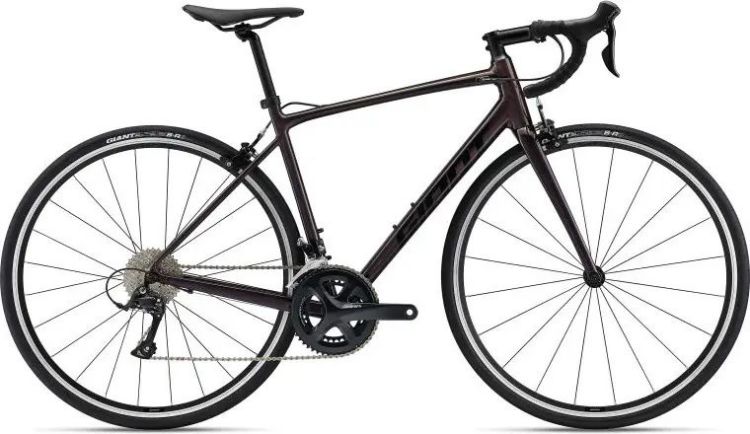 In this review, we have reviewed the 2022 Giant Contend 3, a comfortable enduro frame that surpasses its price point in the pursuit of speed and offers excellent value for money.
As you can see, this is an excellent endurance road bike.
The Giant Contend 3 is $200 cheaper than the Contend 1, but there are some similarities. Both have aluminum frames, but the Contend 3 has an aluminum fork, as well as offering a higher level of Shimano Sora kit. In addition, both feature larger tires and very flexible seat posts. The ride is similar, although the Contend 1 is a bit sportier in general and more progressive in its willingness to make progress.
In terms of numbers and weight, they're not that different, which is almost nothing. But on the road, the extra cost you pay for the Contend 1 is a reasonable investment in your overall ride satisfaction.
What we like about it
Superb value for money.
Comfortable riding position.
Lightweight frame.
Internal alignment of the cable.
Patented cushioning design of D-Fuse seat tube.
Perfect for newbies to the riding position.
What we don't like about it
FAQs
What kind of wheelset does the 2022 Giant Contend 3 use?
Giant is an excellent brand, using its production wheelset design, including hubs, spokes, and rims and all are factory-made, forming the Giant S-R3 wheelset. The tires are also made in-house Giant S-R3-AC tires, with 700×28c outer tires providing abundant grip.
What kind of people does the 2022 Giant Contend 3 face?
This is a great value-for-money bike for city commuting, weekend excursions, or even a first-road bike for road beginners to use for racing, making it a great value choice for entry riders. And with excellent low maintenance costs, you can easily repair your bike, but it doesn't seem to be error-prone.
If you want to go riding in well-known terrain or special terrain, where is the most convenient place to stay?
You can book your accommodation on IHG Hotels & Resorts, which is not only rich in variety but also easy to operate.
What heights do the 2022 Giant Contend 3 fit?
The size chart for the 2022 Giant Contend 3 is as follows.
(These sizes are only a general guide, the true fit may vary from person to person and the easiest way to find your size is best to go for a test ride.)
| | |
| --- | --- |
| Rider height | SIZE |
| 157cm – 169cm | XS |
| 165cm – 175cm | SM |
| 171cm – 181cm | MD |
| 177cm – 187cm | MD/LG |
| 183cm – 193cm | LG |
| 189cm – 199cm | XL |
2022 Giant Contend 3 Specs
Build
| | |
| --- | --- |
| Frame | ALUXX-Grade Aluminum Colors: Black / Silver; Cold Iron |
| Fork | alloy, OverDrive steerer |
| Rear Shock | N/A |
| Bottom Bracket | cartridge |
| Stem | Giant Sport XS:80mm, S:90mm, M:100mm, M/L:110mm, L:110mm, XL:110mm |
| Handlebar | Giant Connect XS:40cm, S:40cm, M:42cm, M/L:42cm, L:44cm, XL:44cm |
| Saddle | Giant Approach |
| Seatpost | Giant D-Fuse, alloy, 14mm offset |
| Pedals | platform pedal [GU, GV, GJ] pedal with toe clips/straps [rest of GSC] |
| Grips | Velo cork tape with gel |
Groupset
| | |
| --- | --- |
| Rear Derailleur | Shimano Claris |
| Front Derailleur | Shimano Claris |
| Crank | FSA Tempo, 34/50 XS:170mm, S:170mm, M:172.5mm, M/L:172.5mm, L:175mm, XL:175mm |
| Shifters | Shimano Claris |
| Cassette | Shimano CS-HG50, 11×34 |
| Chain | KMC Z72 |
| Brakes | Tektro TK-B177 |
| Brake Levers | Shimano Claris |
Wheels
| | |
| --- | --- |
| Rims | Giant S-R3 wheelset |
| Spokes | Giant S-R3 wheelset |
| Front Hub | Giant S-R3 wheelset |
| Rear Hub | Giant S-R3 wheelset |
| Tires | Giant S-R3-AC, 700x28c (30mm) |
Video
Comparison Table
2022 Giant Contend 3 vs 2022 Trek Domane AL 2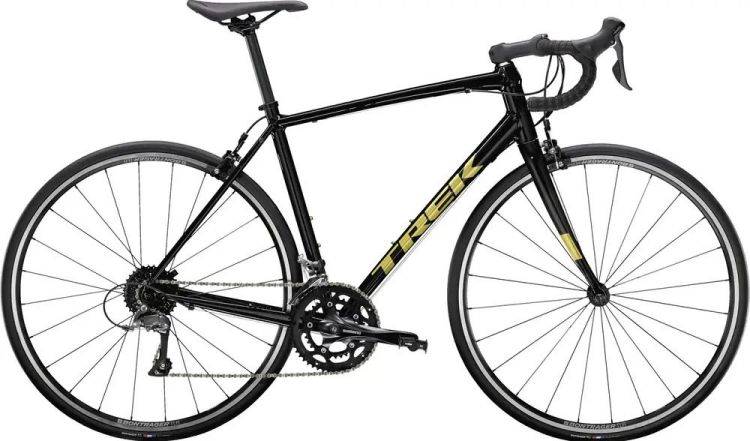 The Trek Domane AL 2 is equipped with a carbon fork and uses a full set of Shimano Claris components. In contrast, the Giant Contend 3 is modified on the cassette, using the FSA Tempo cassette which is a good choice for cost savings.
In terms of geometry, the Trek Domane AL 2 has a lower standing height. This design is very friendly to players who are not very tall, but this may result in a loss of stability. The Giant Contend 3's higher standover height provides greater stability and a more comfortable riding geometry on long rides.
What is not easily noticed is that the 2022 Giant Contend 3 uses a 34T cassette that is more suited to climbing. this gives it a gear ratio of up to 1:1, making it easier for us to climb.
Learn More: Trek Domane AL 2 Review [2023]- Is It The New All-Rounder?
2022 Giant Contend 3 vs 2022 Fuji Sportif 2.3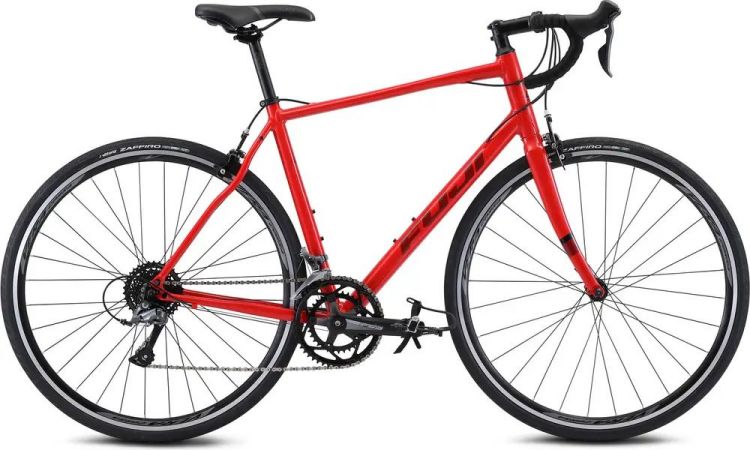 The two bikes do not differ much in terms of comparison, even switching to an FSA cassette, and are very consistent in their ideas of component configuration. This is one of the reasons why they do not differ much in price.
Again to compare geometrically, the Fuji Sportif 2.3 has a fairly high Stack on the almost identical Reach. this also makes it look very comfortable as it can be kept in a very upright riding position. Elsewhere they are virtually indistinguishable. As a beginner Entry road bike, both are very suitable choices at affordable prices.
Fuji Sportif 2.3 has a very special design, equipped with clips and straps on the pedals. This design can hold the foot on the pedal like a locking shoe, and also get the power support of lifting while riding. This is a good design for riding in addition to locking shoes.
2022 Giant Contend 3 VS 2022 CUBE ATTAIN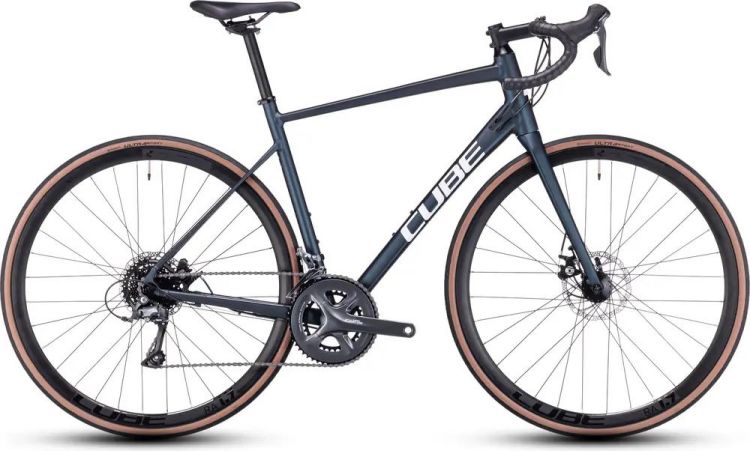 This is also a high-comfort endurance bike. We can see this from its tall head tube, which allows a very upright riding position on it. It has wider tires and looks somewhat like a gravel road model. This greatly increases the amount of terrain it can face, and a normal road bike can't handle these demanding surfaces.
The CUBE ATTAIN seems to be better in terms of component configuration. They both use Shimano's Claris components, which are not easy to get wrong on an entry-level road bike. Also, the large cassette design makes it easier to cope with the obstacles of hills.
There isn't much difference in this price point, but the wider tires do make the difference. So the advice I would give is that if you are looking to get out on more rough roads, the CUBE ATTAIN would be a good choice. But if your home is surrounded by well-paved roads, the Giant Contend 3 would be a better choice.
Learn more : Is CUBE NUROAD PRO FE Worth Buying? [2023 CUBE NUROAD PRO FE Review]
2022 Giant Contend 3 vs 2022 Schwinn Fastback AL Claris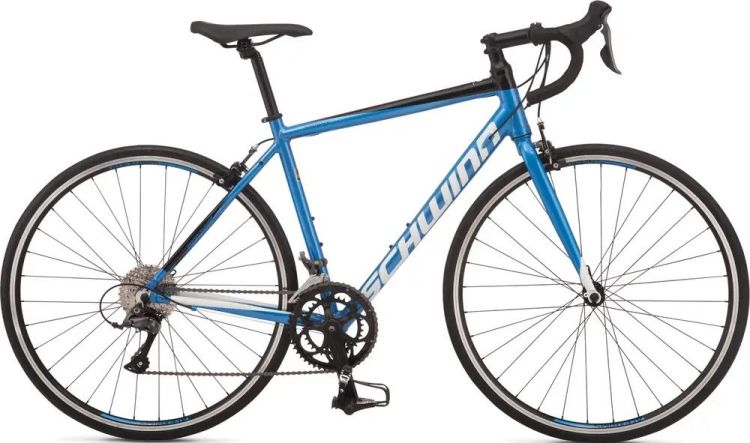 The Schwinn Fastback AL Claris is not an outstanding brand, but it has surprised me in no small way. Because it uses the configuration of the big brands in every aspect. However, it may not be as suitable as a well-known brand like Giant Contend 3, because Giant even produces its tires and wheels.
In terms of geometry, they don't seem to have much difference. However, the Giant Contend 3 is a little lighter, probably due to the brand, which should be the result of the difference in craftsmanship. The Giant is also easier to maintain, and there is always the guarantee of a well-known brand. So my advice is of course to choose Giant Contend 3.
Learn more : Top 10 Best Road Bikes Under $1000 [2023] – Great Value For Money