We use affiliate links and may receive a small commission on purchases.
2022 Canyon Stoic 2 Review
Price: $1,199
Category: Hardtail Bicycle
Frame: Aluminum
Gears: 1 x 10
Tires: 27.5 x2.35″/29 x2.35″ (compatible)
What we like about it: Having a sturdy aluminum frame, a precise and fast drivetrain, 140mm forks and grippy tires create more fun for us off-road.
What we don't like about it: The heavier body.
Rating (4.7/5.0)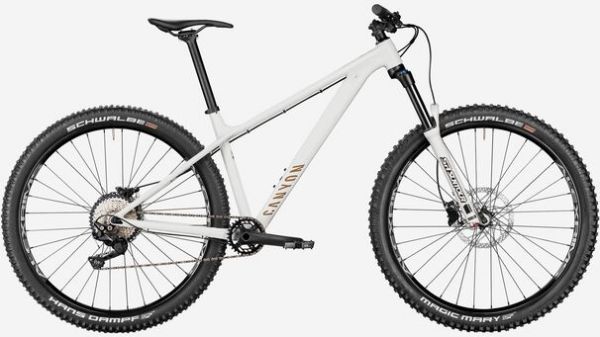 With its bomber frame and modern geometry, the Stoic becomes the go-to rig for tackling technical trails, challenging jump lines, or just wandering around on any pump track. the Stoic line sets us up for an all-around cost-effective setup at an affordable price. If you're new to the hobby or planning to try a new bike hobby, then this Stoic 2 is a good recommendation I'd like to give you.
Next, I will break down the main features, components, and specifications, and how it compares to this bike. If you're interested, remember to follow us!
Canyon Stoic 2 Climbing
For a hardtail trail bike, climbing is one of the tests it has to face. We took this Canyon Stoic 2 to Cady Hill Forest to test its performance.
Cady Hill Forest has a variety of single-track trails that are not very long, with a vertical drop of fewer than 400 feet from top to bottom. It is heavily wooded, with some dead branches spread out on the trail, and the undulating trails traverse the entire forest. This is a great adventure trail for novice mountain bikers.
First of all, the aluminum construction of the Stoic 2 does not give me a heavy feeling. With the progressive design of the entire frame, the frame is very strong and has no excess weight. While some riders may think that the lack of rear shock will make it less capable of handling bumps, in practice, the Canyon Stoic 2's lack of rear shock has not only reduced weight but also increased speed, allowing me to ride with less effort.
Secondly, when I faced some relatively large drops uphill, the Stoic 2 made my ascent a breeze with its 11-46 gearing and 10-speed shift setup. In the process, the sand and dirt on the trails were swept up by my tires and occasionally the branches and trunks on the trails would jump with me.
It's worth mentioning that I was impressed by the 140mm fork of the Stoic 2. Even though there were some potholes and some hard tree trunks, I didn't feel uncomfortable because of them, and the fork was responsive enough to rebound and help me recover quickly.
After our testing, the Canyon Stoic 2 is very comfortable with tough terrain. I think its performance can lead more beginners through trail riding.
Canyon Stoic 2 Descending
Another indispensable pleasure in trail riding is descending. I initially thought the $1199 Canyon Stoic 2 would be less than stellar on the descents. However, I was surprised by the results of these few tests.
Since the Canyon Stoic 2 has no rear shock, it is also lighter. When descending, I can go forward faster.
Also, its geometry was one of the favorable factors that helped me descend quickly. Its more aggressive geometry allows me to be in an aerodynamic position to ride, and I get less air resistance and more speed.
Plus, the Canyon Stoic 2's tires are made with Addix compound, and I was amazed by the superb tire grip and traction when turning on loose dirt roads! It worked perfectly with the Shimano MT200 braking system, allowing me to glide through each corner quickly and consistently.
Frankly, I think the Stoic 2 has completely exceeded my expectations in terms of performance. It would be a treasure of a bike for beginners to discover.
Main Features
Frame Group
The Canyon Stoic 2 is built with a sturdy frame made of 6061-T6 aluminum. It has the same toughness and durability as an endurance bike.
Moreover, it has easy-access entry holes at the head tube, exit holes under the bottom bracket, and external cabling along the rear lower fork. So our cable runs are fully protected and they will last longer.
Not only that, it has a special design for the rear lower fork, with extra tire clearance to prevent mud buildup. This also means that our flexibility while riding will not be hindered by this.
From trail riding to the occasional jump training, this hardtail can do it all.
Geometry
The geometry of the 2022 Canyon Stoic 2 has been tested over and over again, and the 1193mm wheelbase is not exactly eased, which is just enough to make it tighter when we ride. For off-road, it is very suitable.
And the 65° head tube angle feels steep to me, but it also has a 140mm fork. So it seems that the 65° head tube angle is the angle we need in the trail.
In addition, its steep 75° seat tube angle can enhance our efficiency when climbing.
Overall, the geometry angle of the Stoic 2 is more aggressive and we will be in a more aerodynamic position when riding. As a result, we will experience much less air resistance.
Components and Specifications
Shimano Deore M6000 GS Shifting System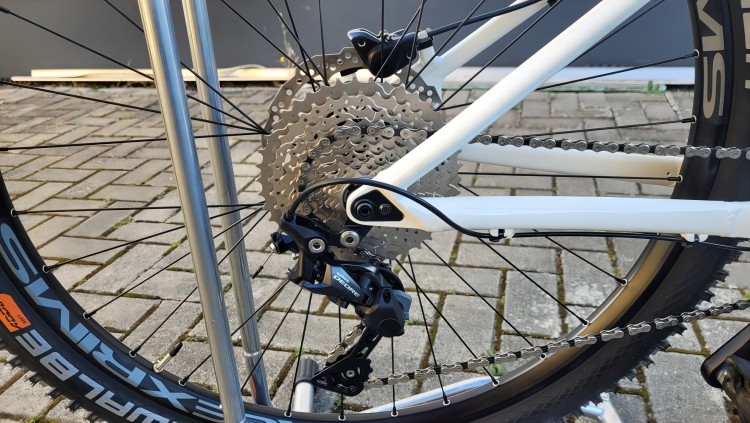 This drivetrain has been optimized to have a more powerful gear set and gear ratio than ever before. This bike's 11-46T gearing combined with a 10-speed shift range creates an exceptional speed experience for our trail rides that is adaptable enough for all types of terrain.
Moreover, its rear derailleur features an improved ShadowRD+ construction, which ensures chain retention and stability. Even after a long run, chain drop will not happen easily.
Shimano Deore M6000 GS shifting is not as good as a high-end drivetrain, but at the price of the Canyon Stoic 2, it's hard to find such a cost-effective drivetrain.
SHIMANO MT200 Braking System
The Canyon Stoic 2 prepares us for the SHIMANO MT200 hydraulic disc brake, which is designed to provide adjustable braking power for entry-level riders.
Although it will be heavier than a V-brake, the hydraulic disc brake will be better at it considering the variety of terrain you will encounter in trail riding. Not only does it have a simple, quick, and clean installation, but it still uses SHIMANO hydraulic mineral oil to make the braking smoother.
One other thing of note is that the SHIMANO MT200 hydraulic disc brake is quieter. This is mainly due to its 40% wider pad clearance, and the wider distance makes the clicking sound of the percussion pads smaller.
Tires by Schwalbe
Schwalbe Hans Dampf Front Tire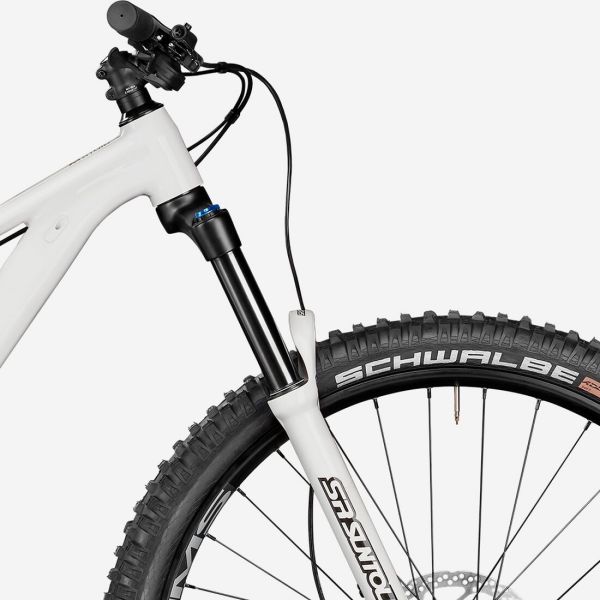 As the front tire on the Canyon Stoic 2, Schwalbe Hans Dampf uses the ADDIX compound, a tire intended for off-road racing. It takes the XC tire to a new dimension of performance, with an almost perfect balance of speed, durability, and grip.
And, the precisely adjusted bolt positioning of this Schwalbe Hans Dampf allows for controlled and relaxed self-riding at the limit. What's more, the semi-open slider ensures optimal self-cleaning performance and low rolling resistance.
Schwalbe Magic Mary Evo Super Trail Rear Tire
The rear tire on the Stoic 2 is different from the front tire, with the Schwalbe Magic Mary Evo Super Trail chosen for the rear.
The rear tire, also with ADDIX compound, has a complex center profile and open tread design structure, providing us with even better braking power and grip.
What's more, these tires combine sturdy Shimano MT400 hubs with Alex Rims DP30 rims and a large 30mm internal width, and they handle rugged trail riding well.
For the novice, the Canyon Stoic 2 is a very suitable wheelset configuration.
Other versions of Canyon Stoic
We have already looked at the performance of the Canyon Stoic 2 in detail. However, there is another version of the Stoic series, the Stoic 3, which we have compared with the Stoic 2. If you're interested, read on!
2022 Canyon Stoic 3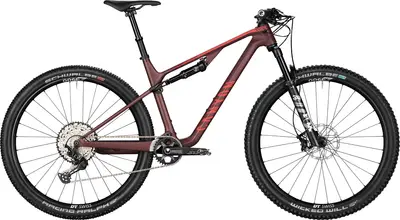 There is no difference in price between these two bikes. Also, the frames are made of the same sturdy aluminum frame. However, they have some different configurations and focus in terms of performance components.
First of all, the Canyon Stoic 3 uses the RockShox Recon Silver RL 29 fork, which also offers 140mm of travel. However, this fork is relatively lighter.
Secondly, its SRAM SX Eagle 12s drivetrain differs from the Shimano Deore M6000 GS drivetrain in that it has a 1×12 speed range with an 11-50T gear set. The shifting is more direct and has a wider range. However, the smoothness of the shifting is not as comfortable as that of the Shimano Deore M6000 GS.
So, in my opinion, for beginners, the Canyon Stoic 2 would be a better fit. Because it does a better job of balancing all aspects, while a novice may have a hard time navigating a drive train that is on the exciting side.
Leran More: Is Canyon Stoic 4 Worth Buying? [Canyon Stoic 4 Review]
What we like about it
Rugged 6061-T6 aluminum frame.
Internal alignment design.
Greater tire clearance.
Shimano MT200 Braking System.
Shimano Deore M6000 GS drivetrain.
What we don't like about it
Heavier body.
Limited hydraulic disc brake.
FAQs
1. What is the frame material of the 2022 Canyon Stoic 2?
The frame material of the 2022 Canyon Stoic 2 is aluminum.
2. What is the drivetrain of the 2022 Canyon Stoic2?
The drivetrain of the 2022 Canyon Stoic 2 is the Shimano Deore M6000 GS.
3. What sizes are available for the 2022 Canyon Stoic 2?
| | | | | | | |
| --- | --- | --- | --- | --- | --- | --- |
| Size | 2XS | XS | SM | M | L | XL |
| Rider height | < 159cm | 157cm – 167cm | 165cm – 176cm | 174cm – 184cm | 182cm – 193cm | 191cm + |
Video
2022 Canyon Stoic 2 Specs
Build
| | |
| --- | --- |
| Frame | Canyon Stoic, long, low, and slack geometry pair well with a bomber, and aluminum chassis to create a bike that begs to be thrown around, ridden hard, and put away wet. away wet.Tire Clearance: 2.8″Color: Avalanche White |
| Fork | SR Suntour XCR 34 29″ AIR Boost, SR Suntour's 140mm-travel XCR 34 fork features a stout chassis, no-nonsense build quality, and an easily-tuned air spring. |
| Stem | HL TDS, By pairing a short (40mm) Iridium stem with a longer frame reach, we've created a cockpit that centers the rider more effectively on the bike. |
| Handlebar | HL MTB, Short stem, wide (780mm) bars, and just the right rise (20mm)-the Stoic's cockpit is dialed for aggressive trail riding. |
| Saddle | VELO VL-1589 |
| Seatpost | HL SP218, Seatpost length 450mm, diameter 30.9 mm |
| Pedals | None included |
| Grips | VELO VLG-311D2, Width 130mm |
Groupset
| | |
| --- | --- |
| Rear Derailleur | Shimano Deore M6000 GS, Shimano's short cage, and Deore rear derailleur deliver quality performance that belies its modest price. |
| Crank | ProWheel Charm, ProWheel's aluminum crankset is Boost 148 compatible and features short (170mm) crankarms that reduce pedal strikes. |
| Shifters | Shimano Deore M6000 10s, and Shimano Deore 10-speed shifters are reliable and precise. |
| Cassette | CS SURA CSMS3 10s 11-46 sr |
| Chain | KMC X10-93 10s, Durable half nickel plated chain. |
| Brakes | Shimano MT200 and Shimano hydraulic disc brakes are a rarity at this price point, but the Stoic 2 delivers. |
Wheels
| | |
| --- | --- |
| Rims | Alex Rims DP30 / Shimano MT400 Center Lock, We paired wide (30mm) and tough alloy rims with the proven reliability of Shimano hubs. |
| Tires | Schwalbe Hans Dampf 2.35″, The original all-rounder, the Hans Dampf rolls quickly yet offers reliable traction in a wide range of conditions. | Schwalbe Magic Mary Evo Super Trail, Stoic is spearheaded by an all-time gravity favorite, the Magic Mary. The new Super Trail casing boosts puncture resistance, yet keeps weight low. |
| Disk Rotors | Shimano SM-RT30 Center lock 203 mm, A big Shimano RT830 brake rotor delivers equally big stopping power. | Shimano RT10, Shimano's 180mm RT10 rotor provides a good balance of stopping power and modulation. |
Comparison Table
2022 Canyon Stoic 2 vs 2023 Marin Pine Mountain 1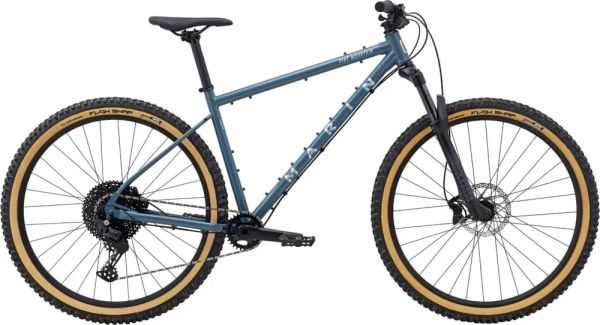 The 2023 Marin Pine Mountain 1 is a steel-framed Trail bike that uses a RockShox Recon fork. But the fork travel is 120mm, which is shorter than the Canyon Stoic 2's fork travel.
In addition, the rear derailleur on the Marin Pine Mountain 1 is a 1×11 speed range with an 11-51T gear set. although it has a greater range, it is relatively less smooth in speed shifting than the 1×10 speed of the Canyon Stoic 2.
On balance, I think the Canyon Stoic 2 offers better value for money at $1199.
Learn more : Is 2023 Marin Bolinas Ridge 1 A Perfect Selection? – [2023 Marin Bolinas Ridge 1 Review]
2022 Canyon Stoic 2 vs 2022 Kona Honzo
This bike is more expensive than the Canyon Stoic 2 because it has an additional TranzX dropper setup than the Canyon Stoic 2. This will help improve our riding comfort.
In addition, the Kona Honzo is powered by a Shimano Deore 11-speed drivetrain. The speed range is a little wider than that of the Stoic 2. But I think for newbies, this difference is not noticeable in the experience. The other components of the Kona Honzo and Stoic 2 are similar in performance.
However, the Kona Honzo, which costs $1,899, will provide better damping than the Canyon Stoic 2.
But my advice is that you should choose the more cost-effective 2022 Canyon Stoic 2 if you are just starting.
Learn more : Is Kona Cinder Cone Worth Buying? – [2023 Kona Cinder Cone Review]
2022 Canyon Stoic 2 vs 2022 Specialized Fuse 27.5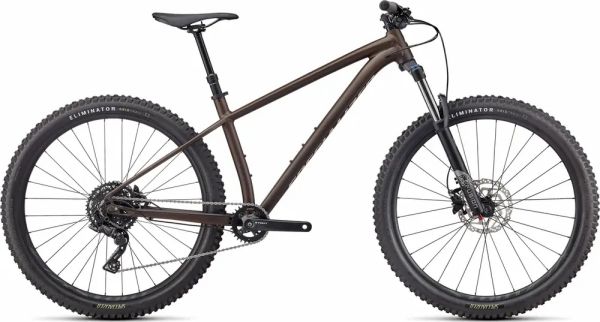 The 2022 Specialized Fuse 27.5 prepares us with the X-Fusion MIG 27.5 fork, which has external rebound and compression adjustment. The rear derailleur uses the microSHIFT Advent, which gives us a 9-speed range of shifts and an 11-42T gear range. While the Specialized Fuse 27.5 does have a better fork, I think the Canyon Stoic 2 drivetrain would be a better fit. The Stoic 2 also has a bit more fork travel and offers better stability for the rider.
The 2022 Specialized Fuse 27.5 is a little more expensive than the Stoic 2. But it does perform well, and I think it should suit more skilled riders than novices.
2022 Canyon Stoic 2 vs 2022 GT Avalanche Expert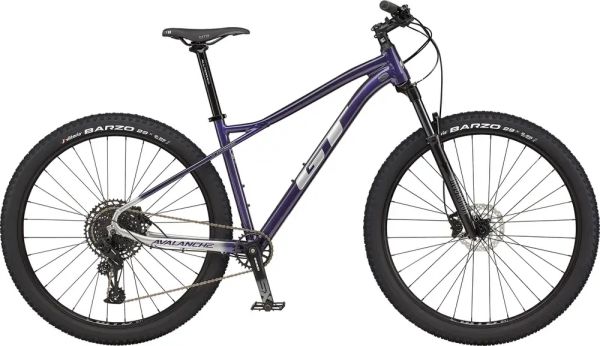 This is the player we consider the most competitive in our comparison. If you have more budget, you can choose this 2022 GT Avalanche Expert.
The drivetrain chosen for this bike is the SRAM SX Eagle drivetrain. Its 12-speed range of gearing with 11-50T gears, provides us with plenty of gearing and a more efficient ride.
However, its fork travel is 120mm, which is not long enough compared to the 140mm fork travel of the Canyon Stoic 2.
These two bikes may be a difficult choice for newbies. If you want a little more stability at the beginning, then my recommendation is the 2022 Canyon Stoic 2.
In case, the above comments are helpful to you, please remember to share the subscription. Have a great day!
learn more:GT Avalanche Sport Review [2022] – Does It Tickle Your Fancy?