We use affiliate links and may receive a small commission on purchases.
2022 Canyon Stitched 720 Review
Price: $1954
Frame: Aluminum alloy
Stroke: Front 100mm
Tires: 26×2.30"
What we like about it: The precise handling that allows for many stunts.
What we don't like about it: Difficult to ride on average roads.
Rating (4.8/5)
Introduction
After winning the Freeride World Tour, Canyon stitched came into the spotlight. the Canyon Stitched 360 is recognized as a killer on sloping courses, and this year the German brand is back with a rear-damping version of the series, the Canyon Stitched 720. this is the bike that Tommy G and Lil This is the bike that Tommy G and Lil Moine rocked at the FMB World Tour. Would it be equally at home on sloping courses and some mountainous trails? Or even at home on flow trails and pump tracks, or riding around town?
Below we break down the Canyon Stitched 720 about course riding, mountain cross country, key features, components, specifications, and other versions. If you want to know more about bike reviews, you can follow us.
Canyon Stitched 720 Course Riding Review
I first got on this bike in a bowl at Mina Abu Dhabi and the Slopestyle bike gave me a whole new experience. For the most part, it rode like a mountain bike, with a soft fork and rear shock, and with wider tires. But its tires are so small that people around me often refer to it as a small-wheeled bike.
Every move in the concrete-built bowl required precision because the field was so small. The short stems and almost vertical head tube angle made it very flexible and I could do a lot of detailed moves including riding on the wall, lifting the head, turning the handlebars, and a series of other simple moves.
But the very wild configuration and the wide model make me feel that playing in the field is always a bit limited. Its ultimate goal is still to go to those dirt hills and high hills. Playing with the BMX model on concrete is just one of the ways to play with it.
Canyon Stitched 720 Mountain Cross Country Review
Unlike cross-country mountain bikes, the Canyon Stitched 720 filled my head with wild ideas, like backflips, 360° spins, and tailspins through jumps. Until I come back to reality, I think I'll be lucky if I don't fall over.
After I got going, I noticed that the Canyon Stitched 720 has bigger gears compared to other Slopestyle bikes. It took more effort to get going, but the advantage was that I was able to maintain a better speed. After completing a move, I could just pedal one turn and be ready for my next flight up the hill.
But this bike can be a bit demanding on the rider's weight. I'm 80kg and I often feel less nimble when riding it on mountain trails and the cushioning may not be quite enough. I feel like I'm a bit bulky compared to the skinny riders who are quite agile. Well, it's time for me to lose some weight.
Once the tires started moving, the Canyon Stitched 720 became very responsive. The aluminum frame is so stiff that every pedal stroke I made was transmitted solidly to the rear tire. Plus, its short, wide handlebar set was perfect for making precise turns, and I was able to quickly and precisely adjust the front end for a smooth landing once I was in the air.
Main Features
Frame Group
First of all, the Canyon Stitched 720 frame is set up with oversized BB joints, which gives the whole frame more rigidity so I don't have to worry about it when I'm falling heavily from the air. And the tapered headtube makes the landing more stable and less prone to error.
Secondly, the tire mount at the rear of the frame is equipped with a horizontal chain release, and just tightening the two screws on the rear ensures that my chain stays taut on the gears. But I would have preferred a rear chainstay, because the bike was asked to go fast on a 4X track, like soaring through the air. But a chainstay would make the bike less passable, and I'd probably be worried about injuring my chainstay with a fast landing. So it's a design that requires trade-offs.
Finally, unlike the Canyon Stitched 360, the Canyon Stitched 720 offers a wider range of sizing options. From one size and only for taller riders, the number has increased to two (S or L, 400 or 417 mm range) to better accommodate more riders.
Geometry
The Canyon Stitched 720 is not just beautiful as a work of art, it has one of the best and most attractive geometries of any Slopestyle bike. This is mainly because Slopestyle bikes are almost impossible to adjust, which is why great geometry is so important.
Also, Reach and wheelbase are very important. If it is too long, I will have a hard time making a move like dumping. The right Reach (400mm) and wheelbase (1038mm) allow me to not feel too constricted, and the not-too-long body makes it easy for me to do more difficult maneuvers in the air.
In addition, the very spacious top tube length (527mm) and the steep head tube angle (69°) give me a lot of confidence to make moves. My legs don't fail by touching the frame when rotating the body, and I even feel it makes the whole frame rotate faster.
Components and Specifications
SRAM Level TL Hydraulic Disc Brake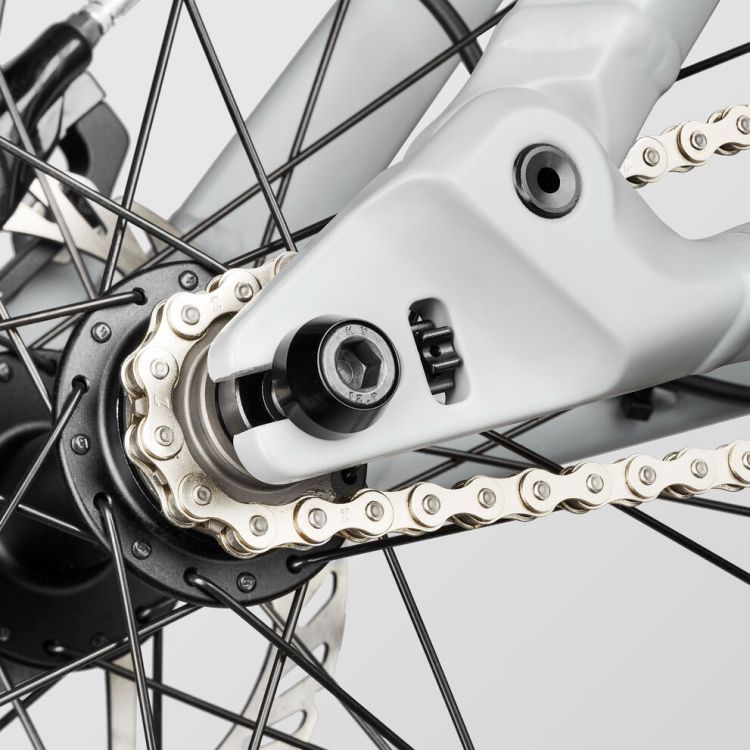 To reduce the overall weight of the body and to make more movements that require rotating the front end, the Canyon Stitched 720 is only equipped with hydraulic disc brakes at the rear for the rider.
When I didn't see it in person, I often worried that the brake line would be a hindrance when I rotated the handlebars. The Canyon Stitched 720 is equipped with a Hydraulic Gyro in the Headset area, which disconnects the brake hose under the stem. This design solves the problem very well by not causing cable tangles no matter how many turns the handlebars make. In the old days, some riders even had to wrap 6-7 turns of brake cable around the handlebars to keep the rotating handlebars from getting in the way.
MAXXIS DTH 26×2.3″ Tire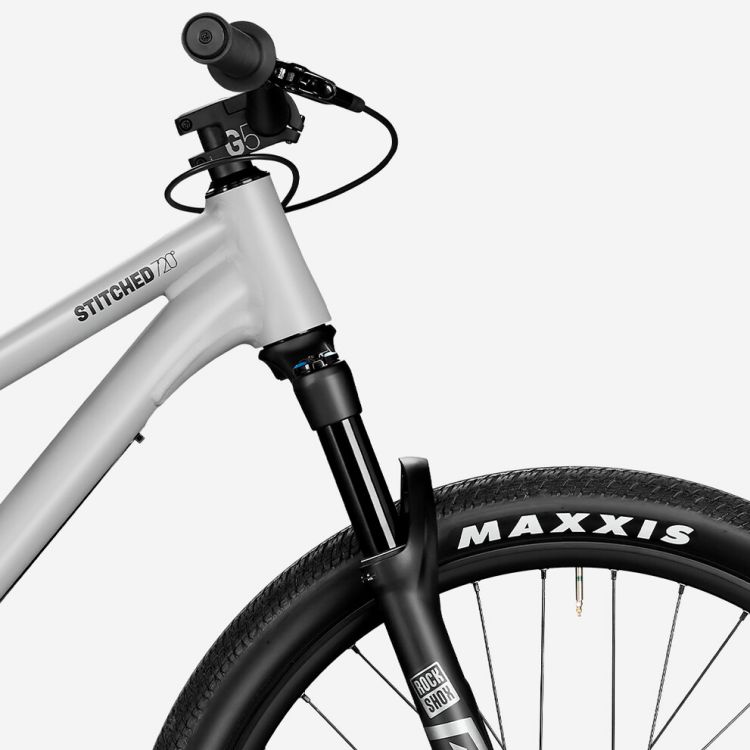 The Canyon Stitched 720 was fitted with two smaller tires, which allows it to be more agile when crossing dirt slopes. Because the smaller tires will keep the speed from becoming too fast to maneuver, the MAXXIS DTH is the latest generation of dirt and street tires with a very lightweight and great grip.
Despite the large reduction in tire diameter compared to mountain bikes, there is no reduction in tire width. This is also in consideration of the fact that Slopestyle bikes can have a lot of airborne conditions and landing stability is very important for these bikes.
Also, the surface of the tire contains abundant aramid particles, but it does not stand out. Therefore, it can float over every dirt slope more smoothly while having a slight grip.
RockShox Pike DJ Fork
The RockShox Pike DJ fork has a whopping 100mm of cushioning travel, which is probably too small for a normal mountain bike. But this is an extremely small Slopestyle bike, and that kind of cushioning travel is very nice. It provides me with good damping travel for fast drops on the ride and when ejecting up the wall, and plenty of damping support on takeoff.
In addition, the fork is housed in the frame's tapered bowl set giving it more stability. When I made a heavy landing, I could feel the strong support of the 35mm struts, which matched the rear cushioning very well.
Other versions of Canyon Stitched
In this review, this Canyon Stitched 720 does qualify as a great street bike, whether it's flying down a steep hill or making some special moves in the air, it's very nimble. The prerequisite is that you have to be highly skilled on the bike.
In response, we also looked up the Canyon Stitched 360, which eliminates the shock system at the rear of the frame and the gyroscope setup on the brake line. And with only one frame size available, it's cheaper to sell and can satisfy more consumers for the riding experience. But the price/performance ratio may be far less than an excellent version like the BMC Speedfox ONE.
What we like about it
Excellent geometry with the right wheelbase length.
The right cushioning stroke to help the curtain call after each perfect movement.
The gyroscopic design of the brake allows the handlebars to rotate at any angle.
The dazzling colors make it look very crazy.
What we don't like about it
1. You can only ride at special venues.
FAQ
Can I ride the Canyon Stitched 720 on the road during the week?
The Canyon Stitched 720 is a bike designed for special venues, where you can fly on dirt slopes set up in the mountains and make many special technical moves.
But it has very small gears and doesn't ride very fast. If you need a bike that can be ridden on any road, welcome to follow us and you will have very many choices.
What brand of tires are they for the Canyon Stitched 720? What are the sizes?
Maxxis brand, MAXXIS DTH 26X2.3″ size outer tire is used for both front and rear tires.
What heights does Canyon Stitched 720 fit?
The Canyon Stitched 720 is only available in two sizes S (4′5" – 5'7") or L (5'5" – 6'11").
(These sizes are just a general guide, the real right size may vary from person to person, the easiest way to find your size the best way is to go for a test ride, welcome to follow us.)
2022 Canyon Stitched 720 Specs
Build
| | |
| --- | --- |
| Frame | Canyon Stitched, Lightweight but highly robust frame. category: 5. With BB box design for maximum bottom bracket stiffness, and progressive rear With BB box design for maximum bottom bracket stiffness, and progressive rear suspension tune for more airtime and harder impacts. BB Standard: BSA, 68mm, Threaded Colors: Storm Grey; Purple Trasher |
| Fork | RockShox Pike DJ, Dirt jump fork., Stanchion diameter: 35 mm., Axle dimensions: 15 x 100 mm., Offset: 40 mm., Crown to axle: 482 mm., Travel: 100 mm, Fork steer tube diameter: 1 1/8″ – 1 1/4″ |
| Rear Shock | RockShox Monarch RT, Air-sprung shock with two-position compression adjustment (open/lock). Externally tunable rebound. Size: 190 x 51 mm. |
| Bottom Bracket | SRAM BSA DUB, SRAM BSA bottom bracket with DUB (Durable Unified Bottom Bracket) technology for optimal power transfer. With a sealed cartridge for dependable protection against dirt and moisture. |
| Stem | Canyon G5 Stem, Modern design, extreme durability: Canyon G5 components were developed by our pros on the world's toughest trails: 31,8 mm |
| Handlebar | Canyon G5 Riser Bar, G5 stands for gravity riding, and category 5. This aluminum bar has superb ergonomics and durability, Width: 780 mm, Rise: 30 mm |
| Saddle | Canyon Stitched |
| Seatpost | Canyon Stitched, Clamp diameter: 30,9 mm |
| Pedals | None included |
| Grips | Canyon Stitched, Canyon Stitched grips for direct handling and extra shock absorption. |
Groupset
| | |
| --- | --- |
| Crank | Truvativ Descendant 6K DUB 30T, Aluminium crankset., Chainring size: 30T., Arm length: 165 mm., Number of chainrings: 1 |
| Chain | KMC Z510HX 1s |
| Brakes | SRAM Level TL, Hydraulic post-mount disc brake with organic pads and 2-piston calliper. |
Wheels
| | |
| --- | --- |
| Rims | DT Swiss 533D | Stitched Hub, Robust 26-inch Canyon aluminum rear wheel. With industrial bearings for enhanced durability., Axle dimensions: 9 x 135 mm, Rotor mount: IS 6-bolt | DT Swiss 533D | Stitched Hub, Robust 26-inch Canyon aluminum front wheel. with industrial bearings for enhanced durability. Axle dimensions: 15 x 100 mm., Rotor mount: IS 6-bolt |
| Tires | MAXXIS DTH 2.3″, Latest-generation dirt and street tires. 26-inch. low weight, huge grip. width: 2.3-inch., width: 2.3″ |
| Disk Rotors | SRAM G2 Centerline, Brake rotor with 6-bolt hub interface. Diameter: 160 mm. | SRAM G2 Cleansweep Brake Rotor |
Video
Comparison Table
| | | | | | | |
| --- | --- | --- | --- | --- | --- | --- |
| Bicycles | Price | Brakes | Cushioning Travel | Tires | Cushioned Front Fork | Click view |
| Specialized P.3 | $2200 | SRAM Level T Hydro Disc | Front 100mm | Specialized Rhythm Lite Control 26×2.3″ | RockShox Pike DJ | Click View |
| Norco Rampage Team | $3099 | Tektro MD-280 Mechanical Disc Hydro Disc | Front 100mm | Maxxis DHT folding 26×2.3″ | RockShox Pike DJ | Click View |
| Canyon Stitched CFR Trial Fabio Wibmer | $2931 | Magura MT7 HC3 Hydro Disc | None | Continental Air King, Width: 24×2.35″ | None | Click View |
| Commençal ABSOLUT RS LILAC | $2300 | SRAM Guide T Hydro Disc | Front 100mm | SCHWALBE Billy Bonkers 26″ x 2.1″ | RockShox Pike DJ | Click View |
2022 Canyon Stitched 720 vs 2022 Specialized P.3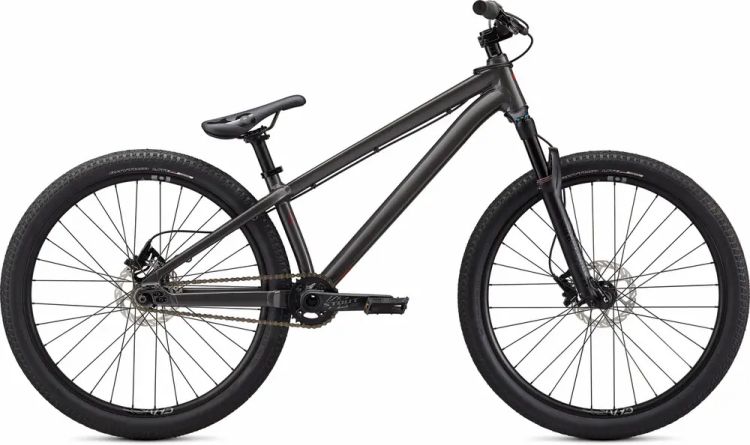 First of all, there is no difference in frame geometry. the Specialized P.3 has an external cable layout frame and the brake lines are wrapped around the frame head tube to allow for rotation, which I find a little far-fetched. So I prefer the gyroscopic brake cable of the Canyon Stitched 720 design, which allows me to rotate as much or as little as I want.
Secondly, the Specialized P.3 does not have a cushioning system in the rear, so I had to take all the pressure from the rear of the bike when I landed. While some riders think this design provides a better road feel, I don't think so. The rear shock on the Canyon Stitched 720 did give me good cushioning when I was making my move, allowing me to land from the higher ground with confidence.
2022 Canyon Stitched 720 vs 2022 Norco Rampage Team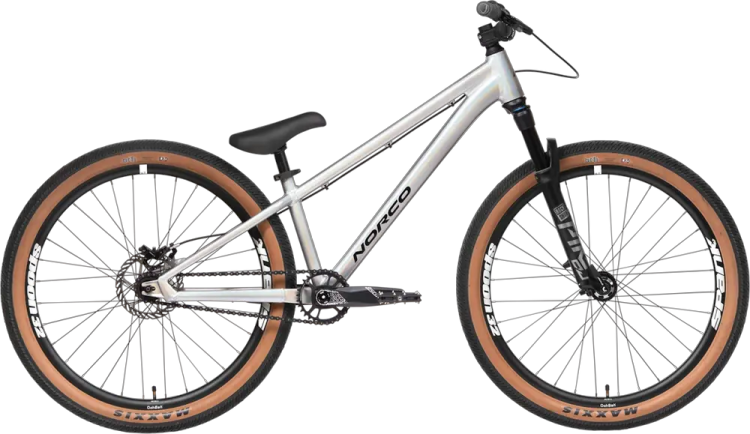 There's a pretty big price difference between the two bikes. the Norco Rampage Team comes in three sizes to accommodate a wider range of heights. And it has mechanical disc brakes, which makes me wonder if it's up to the task of braking in some emergencies. The first thing I would do is upgrade the braking system when I get it. And its brake lines are designed to be very short and are all lined up outside the frame, so I can't make more than two turns of the handlebars.
And the bike does not have a rear shock system, which is not very friendly to me. But some people may feel that the lack of damping allows them to make cleaner moves. The Canyon Stitched 720, on the other hand, is equipped with a rear cushioning system, a design that allows for better drop-offs from high places.
Learn more : Is 2023 Norco Torrent S1 HT Splendid? – [2023 Norco Torrent S1 HT Review]
2022 Canyon Stitched 720 vs 2022 Canyon Stitched CFR Trial Fabio Wibmer
Surprisingly, the 2022 Canyon Stitched CFR Trial Fabio Wibmer is an all-carbon bike that is much lighter throughout. But it makes me very worried if the frame is still usable in case of a crash. After all, we know that the carbon frame is difficult to withstand knocks, and this type of bike inevitably falls.
In addition, the frame has a longer handlebar and is upright, allowing the rider to lift the whole bike better when riding. The front and rear discs are also used to provide a better braking effect. Undoubtedly, the Canyon Stitched 720 is designed to be more suitable as an action bike. Its short, flexible stems and all-aluminum frame are perfect for intense action.
Learn more : Is Canyon Stitched 720 Worth Buying? [2022 Canyon Stitched 720 Review]
2022 Canyon Stitched 720 VS 2022 Commencal ABSOLUT RS LILAC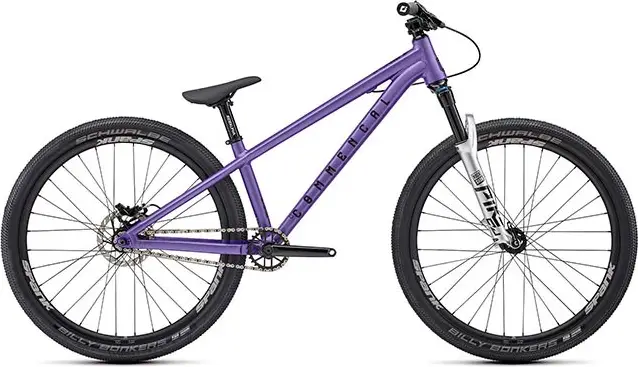 The 2022 Commencal ABSOLUT RS LILAC is a good street action bike. It has the right weight and full internal alignment, and the same top-of-the-line fork as the Canyon Stitched 720. And the elongated top tube length gives it more inertia, making it more suitable for aerial tailspin maneuvers.
But unfortunately, the Commencal ABSOLUT RS LILAC does not come with a rear cushioning system. After riding the Canyon Stitched 720 for a long time, I've gotten used to the comfortable cushioning it gives me. Even though some people say that the rear cushioning might be a bit distracting when they do the moves, I think it might be an advantage after getting used to it, because it means I can go up against bigger impacts.
In case, the above comments are helpful to you, please remember to share the subscription. Have a great day!