We use affiliate links and may receive a small commission on purchases.
2022 Canyon Grail 7 Review
Price: $2199
Frame: Aluminum
Tires: 650b / 700c x40
Gear: 2X11
What we like about it: A price the public can afford, all-around passability.
What we don't like about it: There are equipped with regular fender mounting holes.
Rating (4.9/5)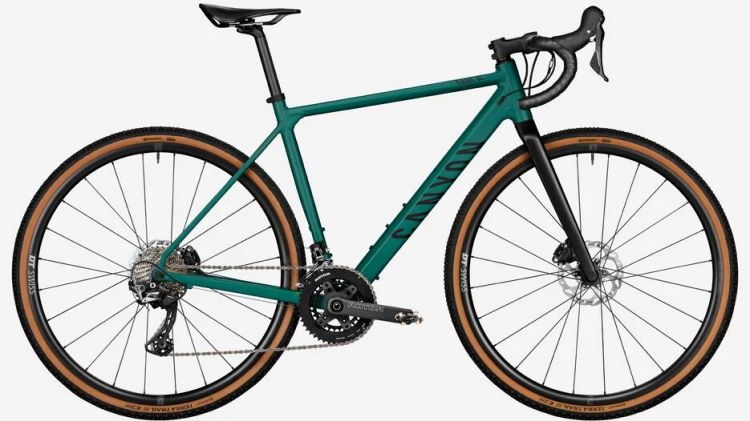 Introduction
The gravel road bike has made a big splash in the past few years. It is a model between a road bike and a mountain bike, and its good passability has made it well-received by the majority of riders. Also, it has not yet received UCI regulations, so it can not be used for racing, but people do not seem to care about that.
It usually does not seek a lightweight body and the most performance on certain terrain. Rather, it is a matter of pursuing versatility that allows it to offer touring attributes. This is thanks to the abundance of luggage mounting points, wide tire clearance, and good durability.
In this test, we put the 2022 Canyon Grail 7 to the test. About gravel riding, long-distance touring, main features, components and specifications, and other versions.
If you want to know more about bike reviews, you can follow us.
Canyon Grail 7 Gravel Riding
When I saw the 2022 Canyon Grail 7 I had high expectations, it looked like the kind of touring road bike I needed for longer rides. That's exactly what happened, and for the past year that I've been riding it, it's always been an enjoyable ride.
The road in front of my house is not in very good condition, just a small road paved with stones. It takes a long time to get to the tarmac in town, so I wasn't able to buy a road bike to ride. But I also didn't like climbing up high hills and charging down them like a Red Bull rider, so I had trouble getting interested in mountain biking. It wasn't until I learned about the Gravel road bike, with its widened tires and flared handlebars for long rides, that this type of bike was perfect for me.
Whenever I ride the 2022 Canyon Grail 7 from home, the wide tires do a great job of filtering the vibrations from the road. The efficient 700C wheelset allows me to ride as fast as a road bike, and that excites me. I've taken it on all kinds of snow, ice, mud, roots, rocks, and potholes around my house and the 2022 Canyon Grail 7 has handled them all very well.
Not only that, the wide tires give it a humming sound of crushing gravel when riding, which gives me a good sense of the road. It responds differently to different terrain, which gives me a good feel for nature. My first impression of the bike was that it was hard-wearing and versatile, perfect for long outings. I found I enjoyed the responsive ride and the friendly feeling and fun I had as I raced down muddy hills and gravel roads. It was also its simplicity and ease of use that allowed me to explore with abandon.
Canyon Grail 7 Long -Distance Riding
I was looking for a gravel road bike that would allow me to explore the forest trails, horse trails, and hauled trails across the US, but not be as cumbersome to ride as a mountain bike. Needless to say, it far exceeded my expectations and I headed to the Hot Springs, Idaho mountain bike trails to put it to the long test.
From blue-ribbon trout streams to subalpine terrain and cozy mountain towns, I will travel through some of the most spectacular countries in the West, with the opportunity to indulge in the highest concentration of soakable hot springs in North America.
There is a great variety of roads on this route, including sidewalks, good gravel roads, 4×4 roads, single tracks, and worn-out railroad beds. This can be pretty bad for a road bike but seems a little too flat for a mountain bike so gravel road bikes are perfect for this route. In addition, the abundance of rack mounting holes allowed me to strap my bike bag and my spare tires and supplies all to the rack and take them on a couple of night-long adventures.
The whole thing wasn't friendly, and I rode in heavy rain and gusty winds for most of the three-day journey. But the route was pretty incredible and made me feel like it encompassed almost every rugged part of the US.
As always, the bike was fun to ride and handled some sand and mud as well as bogs and dampness without complaint. Despite this, the bike just has a little squeak in the BB position and I think I should give it a good cleaning after this ride. Good thing it didn't have any problems with the rest of it.
I had never mounted a bike bag for a ride before and I wanted to see how it would handle the extra luggage weight. The very large number of screw mounting holes proved to give me a solid binding. My luggage seems to be screwed to the frame and doesn't wobble as I ride.
Main Features
Frame Group
The frame is equipped with three mounting holes for water bottle cages, one of which is positioned at the bottom of the downtube so that you can carry more water bottles on long rides. But the 2022 Canyon Grail 7 does not come with traditional mounting holes for fenders, instead, it is provided with integrated holes for fenders on the inside of the rear upper fork and front fork, and I can use some other methods to mount the fenders.
In addition, the frame uses all built-in cables, which makes the whole bike look very clean. And I don't have to worry about accidents if the cables are exposed when I go through muddy roads.
And, the frame has a great selection of sizes from 56″ to 63″ people can ride. The XXS and XS models are also thoughtfully equipped with a specially developed version of the 650B, so smaller riders can benefit from consistent handling and control.
Geometry
The geometry of the 2022 Canyon Grail 7 doesn't have the ultra-slack angles that some gravel road bikes have.
Whenever I want to go for a long ride, I install the longer Stem. This is thanks to its long head tube (143mm), which makes it very loose to ride. The stock short Stem also makes it more nimble and comfortable for my usual gravel rides. In addition, the long Reach (405mm) value seems very long in numbers, but when comparing it to a typical road bike, we need to consider whether gravel road bikes converge with mountain bikes across the range. That means a longer frame, shorter cockpit, and wider handlebars, a design that allows for better off-road handling.
Most importantly the 2022 Canyon Grail 7 is equipped with a long wheelbase (1035mm) as well as a high Stack (579mm) to provide me with a stable ride on gravel roads.
Components and Specifications
Shimano GRX Gravel-Specific Components
It uses the gravel bike-specific components introduced by Shimano, which even at the most basic level, still provided me with up to 20-speed shifting. It also thus allowed me to accelerate while hovering on hills as well as on flat roads.
After my year-long use, through all kinds of complex terrain, it still has perfect gearing. This was my first time using Shimano GRX components and I was very impressed with its performance. And with the drivetrain being (11/34) in the back and (46/30) in the front, I can use every gear in it regularly.
Tektro M275 Hydraulic Disc Brake
The hydraulic brakes are also very efficient, even when the body is covered with mud or even when it is raining heavily, I can still stop the bike quickly.
At first, I didn't care about the brake's performance because it just worked silently and didn't produce anything unusual. It wasn't until I rode a few thousand miles that I felt how powerful it was. The fact that it still ensures efficient braking performance even after passing through various road conditions is a good indication that this is a low-maintenance brake. Even if I don't usually bother with it, it still provides me with a good experience.
Continental Terra Trail 700×40mm Tires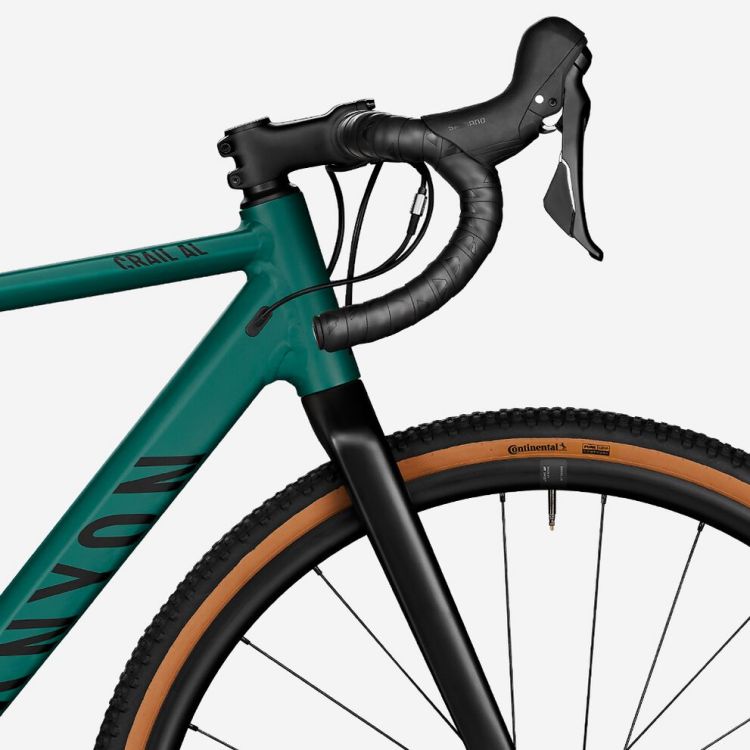 First of all, the larger tires are perfect for providing extra traction on rough terrain, which I especially appreciated. Also on the trip, I was able to go right through some rocky stream crossings.
Secondly, the lower psi helps a lot with this. On the off-road sections, the 28mm and 35mm outer tires my friend rode passed very easily, but when entering the driveway, the thin tire width of my bike took over. I found that the tires were much slower than they were on the flat and I had to accelerate to keep up due to the increased rolling resistance.
But on long trips, there are very few of these very flat roads, mostly dirt and gravel paved roads. This I expressed complacency.
Other versions of Canyon Grail
In this review, we examine the Canyon Grail 7. The comfortable geometry allows you to ride long distances, and the abundance of mounting holes lets you fit more bike bags while you ride. There are also wide tires to handle more pavement and efficient components designed for gravel road bikes. As you can see, this is a cost-effective gravel road bike.
On top of that, Canyon also introduced the even more exaggerated 2022 Canyon Grail CF SL 7 at the same time. It's designed with a new double-layered handlebar, which Canyon says is designed to better cushion road vibration as well as give a more comfortable grip on the lower handlebar. Both are good choices, but two different prices. If you want to know more about the 2022 Canyon Grail CF SL 7, welcome to follow us.
What we like about it
A price that most people can accept.
Good handling on all kinds of roads.
Designed for the smaller version with 650b wheelset diameter.
Hydraulic disc brakes and a kit designed for gravel road bikes.
What we don't like about it
Not equipped with conventional fender mounting holes.
For long rides it is best to replace longer handlebars.
FAQ
What surfaces can I ride on with the 2022 Canyon Grail 7?
The gravel road bike itself is all-purpose, you can ride it on paved roads, also on gravel, country roads, and other unpaved roads, and even on bumpy mountain roads, but I don't recommend you ride it to climb and descend, after all, it doesn't have any cushioning system.
What kind of brake shifter does the 2022 Canyon Grail 7 use?
Featuring the Shimano GRX RX600 2-speed shifting system, the Gravel-specific shifter features a very ergonomic design for improved comfort on long rides. A textured non-slip brake lever allows for better grip on rough terrain.
3. 2022 Canyon Grail 7 is suitable for which height people?
The size chart for 2022 Canyon Grail 7 is as follows.
(These sizes are only a general guide, the true fit may vary from person to person and the easiest way to find your size is best to go for a test ride.)
| | |
| --- | --- |
| Rider height (inch) | Frame size |
| < 5'6″ | XXS |
| 5'4″ – 5'9″ | XS |
| 5'7″ – 5'11" | SM |
| 5'9″ – 6'1″ | MD |
| 6'0″ – 6'3″ | LG |
| 6'2″ – 6'5″ | XL |
| 6'3″ + | XXL |
2022 Canyon Stitched 720 Specs
Build
| | |
| --- | --- |
| Frame | Canyon Grail AL Disc Colors: Sand; Forest |
| Fork | Canyon FK0070 CF Disc, Material: Carbon, Steerer: 1 1/4″, Axle Dimension: 12 x 100 mm, Brake Mount: Flat Mount |
| Bottom Bracket | Token Ninja Lite BB4124, Weight: 83 g |
| Stem | Canyon V13, High-quality aluminum stem with square cross-sectional profile. A new handlebar clamp design increases torsional stiffness by up to 40%. Handlebar clamp diameter: 31.8 mm. Head tube diameter: 1 1/4″. |
| Handlebar | Canyon HB0063 |
| Saddle | Selle Italia Model X |
| Seatpost | Canyon SP0043 VCLS CF, Material: Carbon, Setback: 20 mm, Technology: VCLS |
| Pedals | None included |
Groupset
| | |
| --- | --- |
| Rear Derailleur | Shimano GRX RX810 GS |
| Front Derailleur | Shimano GRX RX810, Gravel-specific derailleur with lighter operation and easier setup thanks to the new link construction and integrated cable tensioner., Max chainring gear range: 17T. |
| Crank | Rotor Canyon LTD, 46/30 |
| Shifters | Shimano GRX RX600, 2-speed, Gravel-specific shifter with ergonomic design for improved comfort and textured, anti-slip brake lever for more control on Featuring adjustable reach. | Shimano GRX RX600 11s |
| Cassette | Shimano HG700 11-34 11s |
| Chain | Shimano CN-HG601 11s |
| Brakes | Hydraulic Disc |
| Brake Levers | Shimano GRX RX600, 2-speed, Gravel-specific shifter with ergonomic design for improved comfort and textured, anti-slip brake lever for more control on Featuring adjustable reach. | Shimano GRX RX600 11s |
Wheels
| | |
| --- | --- |
| Rims | DT Swiss Gravel LN | DT Swiss Gravel LN SH11 |
| Tires | Continental Terra Trail 40mm |
| Disk Rotors | Shimano RT70 |
Video
Comparison Table
2022 Canyon Grail 7 vs 2023 Trek Checkpoint ALR 5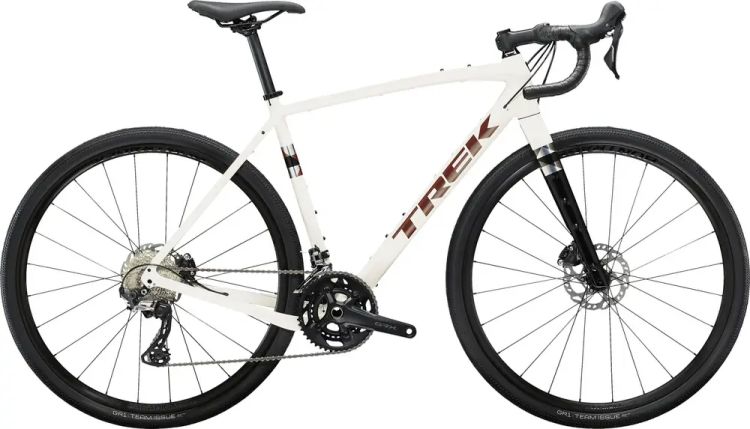 Both bikes use the same Shimano components designed for gravel road bikes, and the professional always seems to make me feel better. This was true when I was using this shifting kit.
But during my test ride, I found that the Trek Checkpoint ALR 5 had a higher standover height, which was very uncomfortable for me to ride. Because the gravel road bike had to go over a lot of bumps and sometimes faced sudden drop-offs and having to stop, the high standover height was a disaster for someone like me who doesn't have long legs. If you're not very tall like me, my advice is to go with the Canyon Grail 7.
2022 Canyon Grail 7 vs 2023 BMC URS ONE
Unlike the other bikes in the table, the BMC URS ONE uses SRAM components and has a lot of high-tech details in its frame, providing many bearings in the frame to generate cushioning. In addition, up to 10mm of travel cushions the rear end well, and there are protective covers at the bottom of the frame to prevent knocks. But perhaps a single-disc assembly would be more appropriate for a gravel road bike. I think the dual discs will ensure that I can ride longer.
To be honest, the Canyon Grail 7 is just as good. It is equipped with Shimano components developed specifically for gravel road bikes, and the durability of the entire vehicle has been proven during my long rides. Needless to say, both bikes are good value for money in their respective price ranges, and I would recommend buying the right one for your budget.
2022 Canyon Grail 7 vs 2023 Marin Headlands 1
The first time I saw the Marin Headlands 1 I was fascinated by the abundance of mounting holes on it. It's perfect for tuning enthusiasts who can mount a very large number of packs on their frames for long rides.
It has almost the same geometry as the Canyon Grail 7, which can only mean that gravel road bikes all seem to have this comfortable geometry similar to that of an enduro road bike, so this is not shiny.
It's worth noting that the Marin Headlands 1 has wide tires of up to 44mm, sometimes more than some mountain bikes, and it can run very smoothly over bumps. But the very high rolling resistance makes it seem less suitable for riding on paved surfaces to me. This is because it makes it look more like a trail road bike than the all-terrain compatible feel of a gravel road bike.
Overall, the Marin Headlands 1 seems to be better suited for unpaved roads and bumpy terrain. The Canyon Grail 7, on the other hand, is not only rideable on gravel, but also comfortable when facing the road.
2022 Canyon Grail 7 vs 2023 Framed Basswood Carbon Gravel Bike
The Framed Basswood Carbon Gravel Bike is a relatively inexpensive kit this time around, so I didn't expect much from it. After all, gravel road bikes always go on long journeys, and kit problems are not something we want to see on long rides.
And, the near pure flat geometry makes it not very suitable for mountain riding. Because it uses a raised stem to provide comfort, it makes me feel like a road bike converted to a gravel bike. It also surprisingly has a mechanical braking system, for which I say it doesn't offer great value for money.
On the contrary, the 2022 Canyon Grail 7 has a very cost-effective package as well as an abundance of water bottle cage mounting holes and a relatively comfortable riding position. I don't think you need my advice to see who is a better buy.
In case, the above comments are helpful to you, please remember to share the subscription. Have a great day!
Learn more : 2023 The Best Gravel Bike (High-end Version)