We use affiliate links and may receive a small commission on purchases.
2023 Canyon Speedmax CF SLX 8 WMN Disc Di2 Review
Price: $7622
Frame: Carbon
Tires: 650c / 700c×25 carbon
Gear: 2×11 electronic
What we like about it: Clever water bottle placement, easily adjustable cockpit, and geometry designed for women.
What we don't like about it: The handlebar alignment is a bit messy.
Rating (4.9/5)
Introduction
The Canyon Speedmax CF SLX 8 WMN Disc Di2 is the bike used by world-class triathletes Daniela Bleymehl and Laura Phillip, and the Canyon accompanies them on the battlefield with an exciting array of advanced technology, with Canyon working closely with aerodynamic experts Swiss Side and professional triathletes Jan Frodeno and Patrick Lange. Besides that, they claim the bike is an even better aerodynamic upgrade from the previous generation 2019 Ironman Championship-winning Speedmax CF SLX, and that it's designed for women. If you're looking for a new time-trial road bike or triathlon road bike, feel free to read on.
Below we break down the Canyon Speedmax CF SLX 8 WMN Disc Di2 regarding time trial events, triathlon events, key features, components, specifications, and other versions. If you want to know more about bike reviews, you can follow us.
Canyon Speedmax CF SLX 8 WMN Disc Di2 Time-Trial Events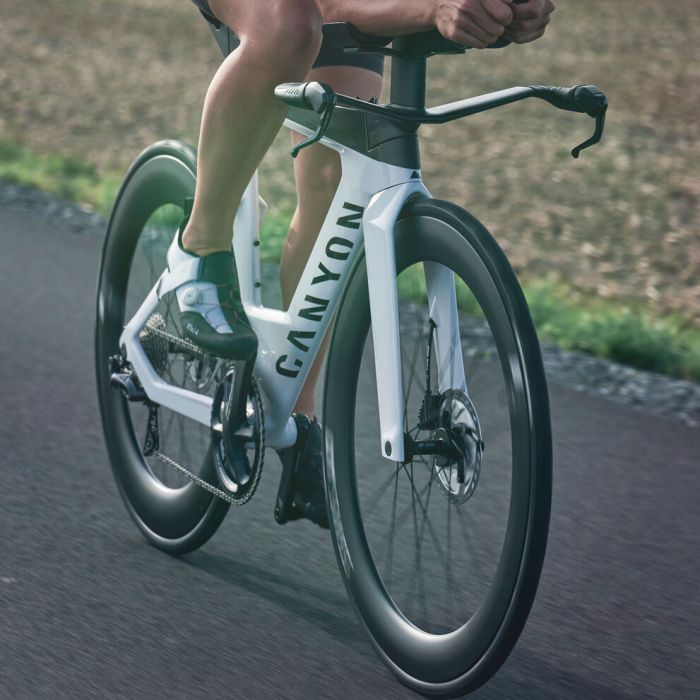 With the US time trial season in full swing, I decided to take a shot at some local 10 and 25-mile time trials. This would also test the performance of the Canyon Speedmax CF SLX 8 WMN Disc Di2 and determine where it fits in the best time trial bike class.
The race was held in Borrego Springs, California, and when I arrived I found it to be very comfortable, despite the very high temperatures (95 degrees F/35 degrees C). Meanwhile, the roads were quiet, traffic was light, and the terrain around town was very flat with few curves. Afterwards, the race started with a single 18-mile lap and the need to run as many laps as possible.
This is my first-time trial and I'm very excited! But I still don't forget to check my bike, it's very important to me. I rode several times to adjust the bike to the right position for me and I raised the handlebars a few millimeters, which made my riding position more comfortable.
Experience
At first, the bike started bulkily and I tested it before riding, and it was a solid 9.8 kg. That's not too light for a carbon bike, but once I got up to speed, I could feel the inertial propulsion from the wheelset and the unmistakable wind-breaking sensation from the aero frame. I shifted my hands to the TT handlebars and the extreme aero position allowed me to rip the air out of the way and push forward.
I felt its technology deeply on the straight, and slightly undulating, road. First, the sturdy frame allowed me to transfer every watt of power to the gears without loss. Second, although the Canyon Speedmax CF SLX 8 WMN Disc Di2 is very stiff, it never generated any vibration on the rough tarmac. Again, the padded armrests on the Aerobar handlebars keep my small arms very comfortable and stable. In addition, the Fizik Mistica saddle minimizes the sting of road bumps on my body. Finally, the carbon wheelset with high front and rear frames kept the side winds at bay.
On the downhill corners, I felt very stable and the extreme grip of the tires gave me the confidence to go full speed. Even on wet roads. And the 53-11 maximum gear ratio means I can maintain high output at all times except for the steepest descents.
Two years ago, I rode 215 miles in 12 hours. This time I bumped it up to 258 miles at an average of 21.8 miles per hour, which gave me a fourth-place finish.
Canyon Speedmax CF SLX 8 WMN Disc Di2 Ironman Events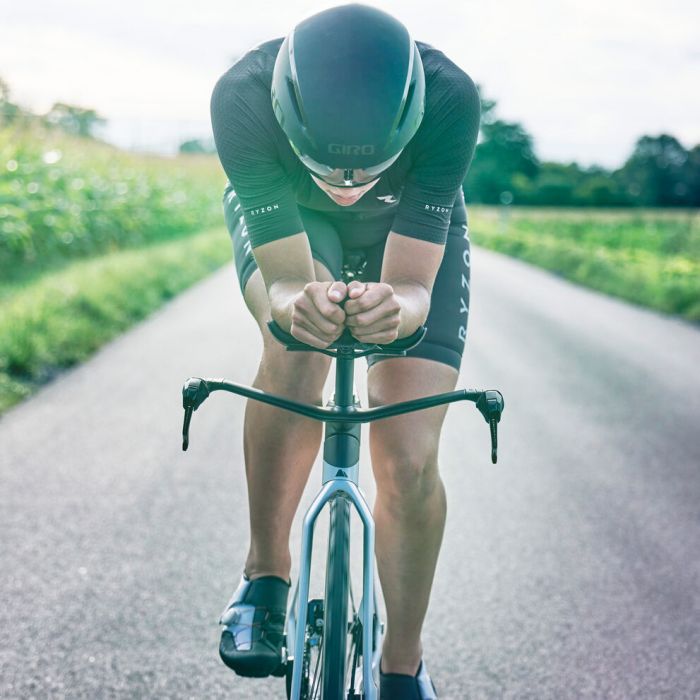 I do some triathlons, and I have to say it looks just perfect for a timed road bike race like an Ironman.
Unlike the ITT race, I needed to do a long swim before starting my cycling race. At this point, I was already very depleted as swimming is not my strong suit. I couldn't wait to climb on my bike and start the second race. For the swim, the bike race was simply giving me some time off for me.
Competition
Once I was in cruise mode after the start, I could comfortably rest on the TT handlebars for a while. It was comfortable, I could sit at the very front of my saddle and put most of my body weight on the handlebar position. Also, the near-vertical seat tube made my pedaling much more efficient, and with the stiff frame, I felt like every bit of my power was truly transferred to the ground. When I reached a certain speed, I felt it was unusually smooth, as if I wasn't moving forward.
It was surprising! I never felt like I could make much of a difference on the tires, after all, I don't get to make contact with it while riding. But this time the DT Swiss ARC 1400 Dicut DB's wheelset surprised me, with a narrow front and wide rear design, and an unremarkable weight of 1694g combined front and rear. But while riding I could feel a noticeable riding inertia, and the super high frame volume of 50mm in the front and 80mm in the rear gave me an excellent ability to maintain speed in the face of long descents and when cruising on flat roads. I had to keep the brakes on all the time to slow down on a downhill section of the carryover. At times it was so fast that I couldn't believe it, which is unprecedented.
I finished the race and had a good result. Obviously, the bike stage improved my ranking a lot and I owe it to the Canyon Speedmax CF SLX 8 WMN Disc Di2, which allowed me to finish the race faster and easier.
Main Features
Frame Group
The muscular frame shows off the aerodynamic shape of the Canyon Speedmax CF SLX 8 WMN Disc Di2 and the various technologies that have been designed into it. It may be thick and heavy for a regular road bike, but it brings unprecedented functionality and a female version designed for women to compete in triathlons and equipped with a short nose saddle.
Exciting is the single post-pneumatic riser as well as the pneumatic bar extension. An integrated lunch box is equipped above the top tube and an integrated tool box above the bottom bracket, which also allows for a more rigid power point location on the frame.
The most striking feature is the built-in hydration system that hides the Hydropak bladder in the downtube (600ml-700ml depending on frame size). A straw attached to the handlebar allows me to hydrate without opening the top cap.
Geometry
Like most triathlon bikes, the Canyon Speedmax CF SLX 8 WMN Disc Di2 has almost identical geometry, a thicker fork, and wrapped aerodynamic disc brakes. The entire body is very angular with thick, multi-faceted tubes.
Since this is a version for women, the Canyon Speedmax CF SLX 8 is designed for women with a shorter Reach in the same size (415 vs. 438), a lower Stack (469 vs. 489), and a fairly low stand-up height (798 vs. 816). This is all designed for the different length proportions of men and women.
On the ride, I found that the longer head tube (62mm) provided more comfort at the front. Combined with the TT handlebars, it allows the rider to ride close to pure flat on the bike. The near-vertical seat tube angle (80.5°) also provides the rider with a more comfortable pedaling feel, and the thicker tubing helps absorb road bumps.
Components and Specifications
Shimano Ultegra Di2/Shimano Dura-Ace Di2 Shifting System
All the power drivetrain comes from Shimano, using Shimano Dura-Ace Di2 electronic shifters with Shimano Ultegra Di2 drivetrain, giving it the best balance of performance and price. The only downside might be that it's a bit heavy. But that's not a concern for time trialists, and the Ultegra offers near Dura-Ace performance at a significantly lower cost.
The electronic shifting can be done from both the handlebar and the TT handlebars with the push of a button, which is certainly very convenient.
DT Swiss ARC 1400 Dicut DB Tires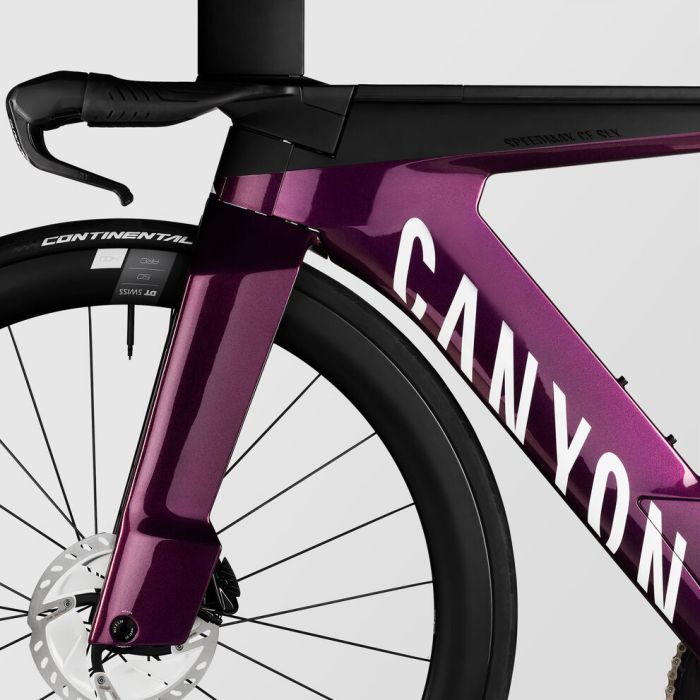 The tires use DT Swiss 240 hubs with a rim shape developed by Swiss. The front rim is 50mm and the rear rim is 80mm, which maximizes the inertia of the wheelset. In addition, the higher frame height gives us a better sail effect. In other words, the rims can act as a sail, allowing the wind to push them to maintain or increase speed.
Under its overall Aero+ design philosophy, DT Swiss has taken into account "flat and rotational drag, rolling resistance and steering torque" to create what DT Swiss claims is the best all-around aero wheelset on the market.
Ergon Integrated Handlebar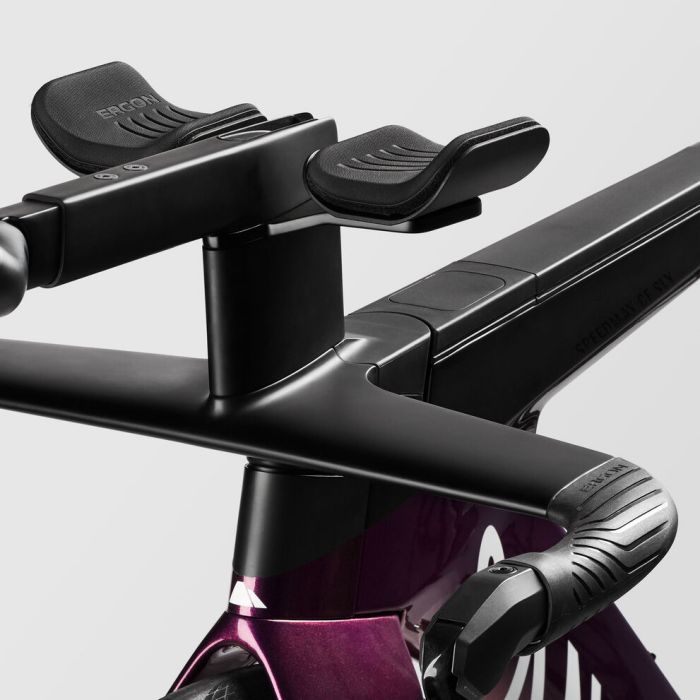 The front part of the bike features the dual handlebar design common to triathlon bikes, with one being used for cruising riding. You can lay your small arms completely on the handlebar of the TT handlebars to keep your whole body in a flat position.
It is worth mentioning that the handlebars have been improved to a single lever design, which means that the handlebars can be raised and lowered by increasing and decreasing the number of pads and rings, just like a normal road bike. Again, this better allows the rider to adjust to his height. In the middle of the TT handlebars, there is also a suction tube and a mounting position for the code meter. This allows the rider to maintain an aerodynamic position to complete a series of operations while riding.
Other versions of Canyon Speedmax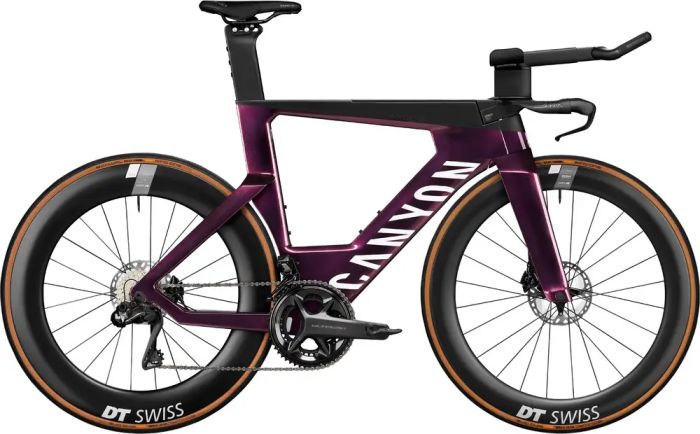 In this review, we reviewed the Canyon Speedmax CF SLX 8 WMN Disc Di2, a triathlon and time trial bike for cruising. The version designed for women has a modified saddle and geometry to help women finish on the Ironman podium. The various details of the design also show that this is a bike designed to go at high speeds to get to the finish line as fast as possible.
For this reason, we compared the Canyon Speedmax CF SLX 8 Disc Di2, which is the male version of the vehicle under review. In addition to having a higher amount of forward reach and stack in its size, we also found that it comes with a 2×12-speed electronic shifting system. It is more precise and excellent. In addition, there is a power meter in the teeth area, which gives the rider a better idea of what he is getting into.
In addition to this, the male and female versions of the saddle are equipped differently. This may be to adapt to the differences in the physiological makeup of men and women, but again, both are top-of-the-line. In addition, it is necessary to pay $940 more, which may be the difference in price brought by the power meter. If you want to know more about this product, welcome to follow us.
What we like about it
Excellent integrated and integrated system.
Aerodynamic Wheelsets.
Comfortable ride geometry.
Versions designed specifically for women.
Top of the line drivetrain.
Suitable for long-distance riding.
What we don't like about it
1、The handlebar alignment is a bit messy.
FAQ
What are the fine-tuning features of the Canyon Speedmax CF SLX 8 WMN Disc Di2?
The monospace system is aerodynamically optimized and offers huge height adjustability of 110 mm. And the monoextension is designed with a step-less length adjustment of 132 mm. The armrests combine multiple positioning possibilities with materials that provide excellent shock absorption and grip.
What do I need to do with the bike to participate in the Ironman event?
What you need is to fill up the water you need as well as energy gels and other supplies, and remember to prepare air bottles and tire repair tools in the toolbox for emergencies.
The Canyon Speedmax CF SLX 8 WMN Disc Di2 is suitable for which height people?
The size chart for the Canyon Speedmax CF SLX 8 WMN Disc Di2 is as follows.
(These sizes are only a general guide, the true fit may vary from person to person and the easiest way to find your size is best to go for a test ride.)
| | |
| --- | --- |
| Rider height | SIZE |
| < 5'8″ | XS |
| 5'6″ – 5'11" | SM |
| 5'9″ – 6'2″ | MD |
Canyon Speedmax CF SLX 8 WMN Disc Di2 Specs
Build
| | |
| --- | --- |
| Frame | Canyon Speedmax CF SLX DISC, All-new Speedmax CF SLX frame shaped by extensive computational fluid dynamics analysis, validated in the wind tunnel. Fully internal routing, integrated hydration system, hidden toolbox, easily accessible bento box, 12×142 mm through axle, flat-mount disc standard. Weight: 1560 g BB Standard: BB86/BB92, Press Fit Color: Super Pink |
| Fork | Canyon FK0080 CF Disc, Radical deep profile design, covered brake calipers for enhanced aerodynamics, internal cable routing, 12×120 mm through axle, CT scanner tested and approved |
| Bottom Bracket | Shimano Pressfit BB72, Pressfit BB86 road standard, compatible with 24 mm axles featuring Hollowtech 2 technology. Weight: 69 g |
| Handlebar | Canyon GP0226 Aerobar, Telescopic mono-extension with ergonomically optimized dual grip., Size: Medium, Length: 325 – 405 mm, Grip Adjustment: 7° |
| Saddle | Fizik Mistica |
| Seatpost | Canyon SP0049 TRI CF, Speedmax triathlon seat post, specifically designed for pure aero performance, non-UCI-compliant profile, weight: 295 g |
Groupset
| | |
| --- | --- |
| Rear Derailleur | Shimano Ultegra Di2 R8050 SS, 11-speed, short cage design, max. cassette size: 30T, Shadow Shifting technology. weight: 240 g |
| Front Derailleur | Shimano Ultegra Di2 R8050, 2×11-speed, with automatic trimming adjust, braze-on mount. Weight: 130g |
| Crank | Shimano Ultegra R8000 4iiii PM, Number of chainrings: 2 |
| Shifters | Shimano Dura-Ace Di2 R9160 Remote TT, Pair of shifters for aero bar-ends. Programmable shifting modes, with Shimano Synchronized Shift tech. Customizable using E-TUBE tech to fit your riding style. Weight: 40 g / pair |
| Cassette | Shimano Ultegra R8000, 11-speed, 11-28T, Advanced mix of aluminum, carbon, and steel reduces weight and increases durability. Gear range: 11-28T. Weight: 251 g |
| Chain | Shimano CN-HG701 11s, High-grade chain with premium SIL-TEC treatment on roller link plate and pin link plate for increased durability and efficiency. |
| Brakes | Hydraulic Disc |
| Brake Levers | Shimano Dura-Ace Di2 R9180 TT, Aerodynamic design and optimized grip feel for triathlon and TT bikes. Carbon brake lever with reach adjustment. Single button for shifting in Synchro Shift mode. Function customizable using E-TUBE tech to fit your riding style. Weight: 114 g |
Video
Comparison Table
| | | | | | |
| --- | --- | --- | --- | --- | --- |
| Bicycles | Price | Drivetrain | Brakes | Tires | Click view |
| 2023 BMC Timemachine 01 ROAD THREE | $8899 | Rival eTap 2×12 | SRAM Rival eTap AXS HRD Hydro Disc | Vittoria Corsa 700×25C | Click View |
| 2022 Cervelo P-Series Ultegra Di2 | $6800 | Ultegra Di2 2×12 | Riderever Triva Hydro Disc | Vittoria Zaffiro Pro V 700×25c | Click View |
| 2022 Quintana Roo PRsix2 Disc – Ultegra Di2 Electronic | $7895 | Ultegra Di2 2×11 | TRP Spyre Hydro Disc | Continental Ultra Sport 700×25c | Click View |
| 2022 Orbea ORDU M30iLTD | $7299 | 105 Di2 2×12 | Shimano R9270 Hydro Disc | Vittoria Rubino Pro 700×25c | Click View |
2023 Canyon Speedmax CF SLX 8 WMN Disc Di2 VS 2023 BMC Timemachine 01 ROAD THREE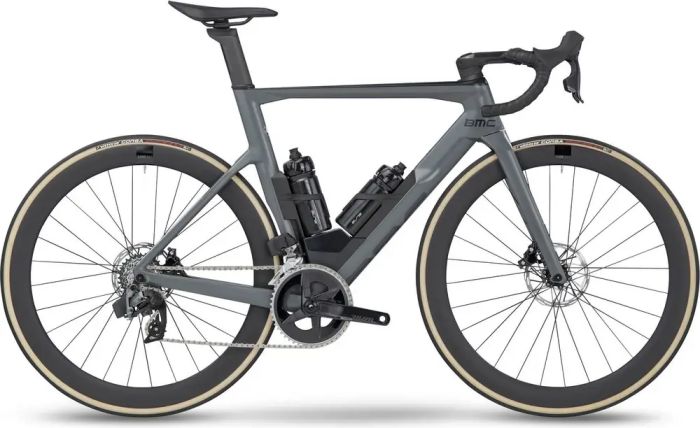 The BMC Timemachine 01 ROAD THREE is an excellent aero bike that we have reviewed before. It has a great aerodynamic design, and many people even use it as a bike for Ironman races.
The geometry of the BMC Timemachine 01 ROAD THREE looks more like a normal road bike, which can only be described as capable of handling triathlon races. But for the truly dedicated Canyon Speedmax CF SLX 8 WMN Disc Di2, this is an exercise in futility.
My advice is that if you only have one bike and want to balance your daily road riding with the occasional triathlon, the BMC Timemachine 01 ROAD THREE would be a good choice.
But if you are a professional triathlete and your bike is used exclusively for triathlons or time trials, you should buy the Canyon Speedmax CF SLX 8 WMN Disc Di2 to improve your performance.
Learn More: 2023 BMC Timemachine ROAD 01 THREE Review – The "Time Machine" That Gets You To The Finish Line Faster
2023 Canyon Speedmax CF SLX 8 WMN Disc Di2 VS 2022 Cervelo P-Series Ultegra Di2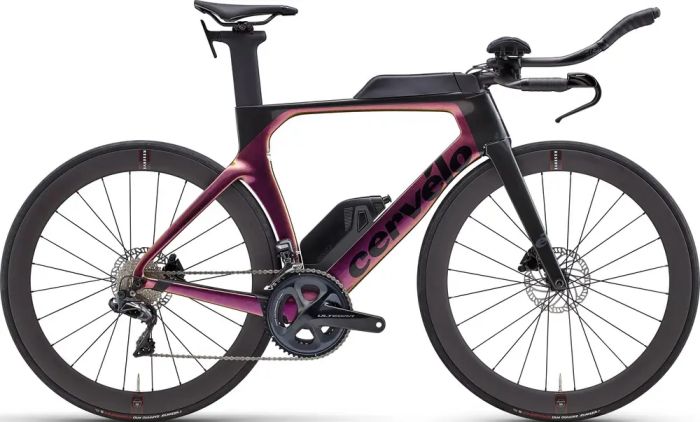 The two are very similar in design and use the same drivetrain. However, the Cervelo P-Series Ultegra Di2 has been upgraded with a better 12-speed design for an improved riding experience.
Geometrically, the Cervelo P-Series Ultegra Di2 has a significantly higher stack height, which will make it more comfortable to ride. On the contrary, the Canyon Speedmax CF SLX 8 WMN Disc Di2 will have a better aerodynamic position, ensuring that it can be ridden faster during races. In addition, the extra-long wheelbase also allows the Cervelo P-Series Ultegra Di2 to be ridden more consistently.
So it can be seen that one tends to be more stable and long-distance riding, while the other pursues a more aerodynamic position to maintain high speed. Such differences can allow buyers to better choose according to their needs when shopping.
Learn more : Is Cervelo P5 Ultegra Di2 Worth Buying? [2022 Cervelo P5 Ultegra Di2 Review]
2023 Canyon Speedmax CF SLX 8 WMN Disc Di2 VS 2022 Quintana Roo PRsix2 Disc – Ultegra Di2 Electronic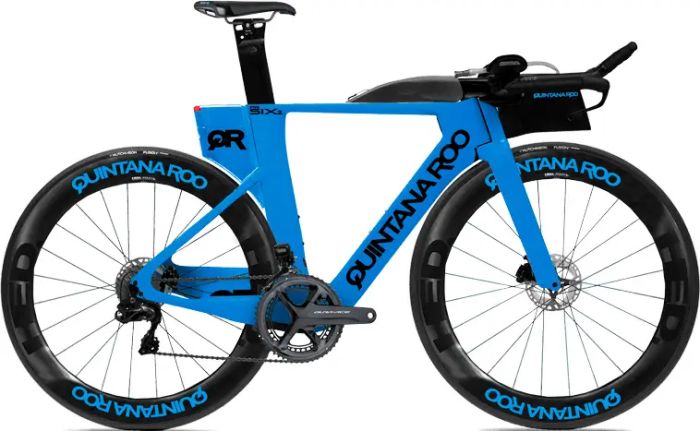 Needless to say, the Quintana Roo PRsix2 Disc – Ultegra Di2 Electronic's design is really over the top, just like its overly long name. First of all, the Quintana Roo PRsix2 Disc has a long and slender headtube and a tall body. This ensures that the rider can maintain a more comfortable seating position when riding with the right height TT handlebars. However, the seat tube angle of the Quintana Roo PRsix2 Disc does not seem to be large, which forces the rider to put most of his body weight on the rear of the bike. This makes it relatively difficult to maintain high pedaling efficiency.
And the radical geometry of the Canyon Speedmax CF SLX 8 WMN Disc Di2 enables the rider to sacrifice just a small amount of comfort (relatively) for a very aero position, so the rider can ride faster in the race. After all, a competitor who enters a race is more interested in winning the race than just staying comfortable for the entire race.
2023 Canyon Speedmax CF SLX 8 WMN Disc Di2 VS 2022 Orbea Ordu M30iLTD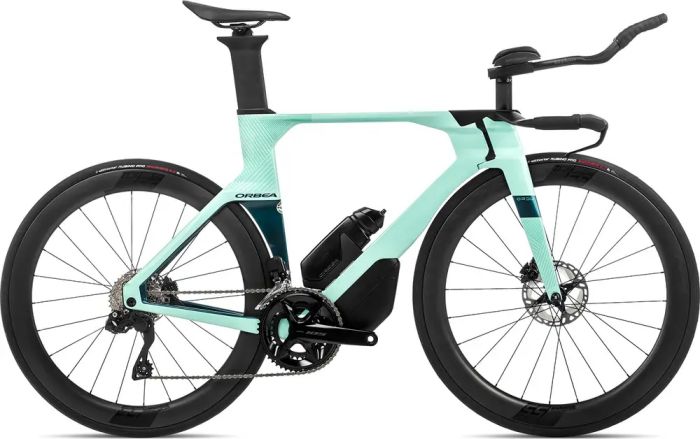 The Orbea Ordu M30iLTD is an excellent triathlon bike, but the toolbox external setup made me worry if it would affect its aero. As proven on my test ride, this was not the case. The Orbea Ordu M30iLTD incorporates the external toolbox into the wind tunnel test so that it can fit perfectly into the whole bike.
As for the drivetrain system, the Orbea Ordu M30iLTD has a more advanced 12-speed electronic drivetrain, but with a mixed 105 drivetrain pairing. This is the pursuit of cost-effectiveness, and I think it is a good choice, after all, the price difference between the two bikes is not too big.
Again, the lower head tube and taller handlebars give the Orbea Ordu M30iLTD almost the same design language as the Canyon Speedmax CF SLX 8 WMN Disc Di2. But the Orbea Ordu M30iLTD seems to stretch its forward reach too much, which makes it very aggressive and makes the front end far too difficult to control. This may be good news for riders with long upper bodies, but if you are of normal proportions or even have longer legs, I suggest you go for the Canyon Speedmax CF SLX 8 WMN Disc Di2.
In case, the above comments are helpful to you, please remember to share the subscription. Have a great day!
Learn more : Is 2023 Orbea AVANT H60 A Good Choice? -[2023 Orbea AVANT H60 Review]