We use affiliate links and may receive a small commission on purchases.
2022 Cannondale Quick CX 3
Price: $999
Frame: Aluminum alloy
Stroke: 63mm front
Tires: Vittoria Terreno Dry, 700 x 40C
Gear: 2×8
What we like about it: Fast and efficient riding through the city's roads, and smart connectivity that allows people to understand their data.
What we don't like about it: It's not suitable for road bike racing.
Rating (4.7/5)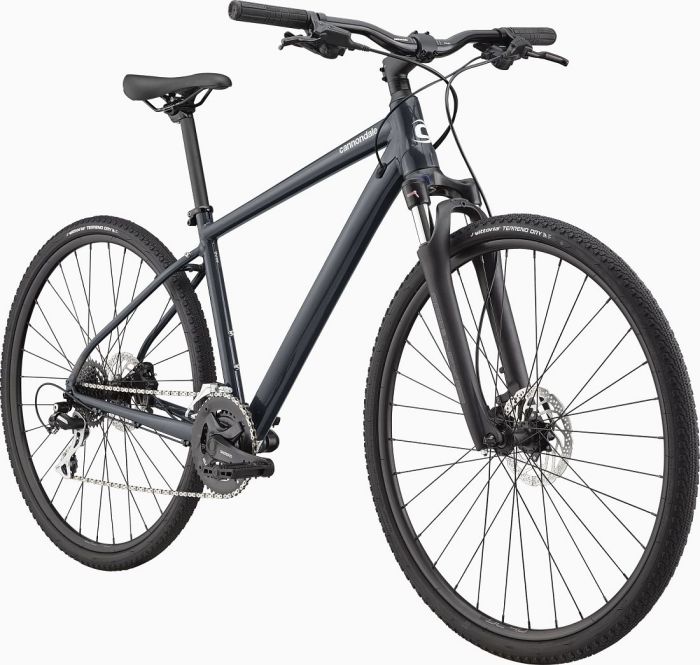 Introduction
As we all know, if you want to buy a bike with an aluminum frame, Cannondale must be the best choice for you. Because Cannondale has the world's best aluminum frame, Cannondale CAAD10, which is light and tough.
I prefer to call him a combination of a hybrid bike and a road bike as opposed to a fitness bike. It's still designed for urban riding, but with more focus on speed and efficiency.
With the fully flat and wider handlebars (700mm) people feel more comfortable when riding it, and the wider tires (700*40C) allow us to run smoothly on the rougher trails in the countryside.
With the wheel sensors mounted on the forks, it also allows me to have better access to ride data via my phone. This is very important for those who work out.
Below we break down the 2022 Cannondale Quick CX 3 on city commuting, weekend excursions, key features, components and specifications, and other versions.
If you want to know more about bike reviews, you can follow us.
Cannondale Quick CX 3 Urban commuting Review
Nowadays, more and more people are giving up their cars to travel and they are more likely to commute to work by bicycle, and I am one of them. Like most people, I want to become healthier, so I choose Cannondale Quick CX 3 to accompany me on my daily journey.
I ride it through the town trails early every morning. The very large tire diameter makes my rides much faster and the smooth town trails don't require a lot of friction on the tires. I can ride it comfortably through town almost all day, taking long detours and enjoying the nice weather all day.
Not only that, but the thicker tires compared to the road bike also allowed the Cannondale Quick CX 3 to face fewer flat surfaces. As I navigated the trails leading to my home, I could feel that the thicker tires gave me good damping compared to the road bike, and I was able to handle the gravel more comfortably.
In addition, Tektro hydraulic disc brakes allow me to get good braking without worrying about slippage.
Remarkably, the sufficiently narrow body and flexible OutFront steering geometry (pairing a 55 mm fork offset with a generous 71° head tube angle) also allowed me to quickly weave between them on crowded streets.
In all my long rides, I think it's perfect for riding on urban roads, like paving, concrete, and hard dirt for example.
Cannondale Quick CX 3 Fitness Cycling Review
In addition to my usual city strolls, every weekend I hope to work out on the roads of Acadia National Park.
Although it took me more than three hours to get around the area, the right and abundant gear ratio (2*8) allowed me to handle the rolling terrain of Acadia with ease. Watching the people next to me having to push their bikes up the hills, I thought the Cannondale Quick CX 3 was great! It's a great workout.
The beautiful coastline is perfect for riding, but it has to be said that some of the downhills are not friendly to all cars. Because they are too bumpy and have very gravel surfaces.
The difference is that the Cannondale Quick CX 3 comes with a Suntour NEX-E25 fork with proper cushioning travel (60mm) up front, and wide Vittoria Terreno Dry, 700 x 40c gravel road bike tires. This is something that traditional fitness bikes don't have.
But when it came to cruising rides, I always seemed to be far behind the road riders. But I don't care, my fundamental goal is to ride and get healthier. I'm not looking for speed, so the Cannondale Quick CX 3 is perfect for me.
One more thing is that Cannondale Quick CX 3 also has mounting holes for the rear rack and fenders for me. That's nice! Because no one wants to have something heavy on their back while working out.
In addition to the usual features, the Cannondale Quick CX 3 offers some additional devices such as wheel sensors. the Intellimount bar is used to mount a phone, as long as it is in any SP-Connect compatible case. So as long as I have my phone mounted on it, I can get detailed data on my fitness rides, such as calories burned, distance, time, and elevation. It makes my exercise more scientific.
Main Features
Frame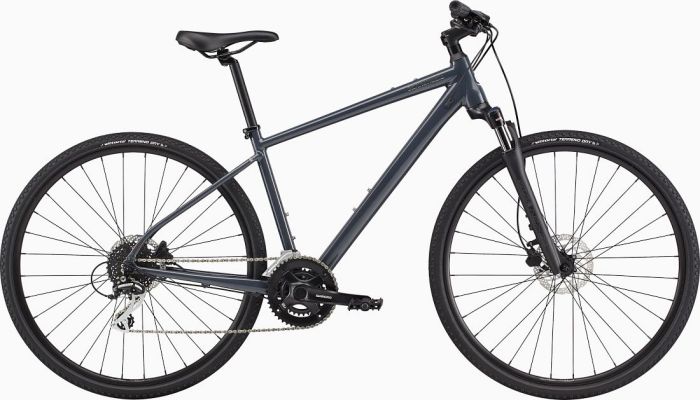 We have always believed that the aluminum frame produced by Cannondale is undoubtedly one of the very best. And that's exactly what it is, a very lightweight frame that provides pleasing performance both on and off-road.
The Cannondale Quick CX 3 also uses an internal cable routing design that places all cables inside the frame to reduce damage to exposed cables. Even through rainy and muddy roads, there is no need to carefully maintain the brake and shift cables when you get home. The rear end is equipped with a rack and fender mounting holes to help different riders in different scenarios, greatly increasing the playability of the bike.
Geometry
It seems that Cannondale Quick CX 3 understands the buyer very well. It is designed with plenty of tire clearance and front shocks to provide cushioning and a comfortable ride.
Interestingly, the Cannondale Quick CX 3 combines a small fork offset (55mm) with a generous head tube angle (71°) to give the bike agile handling without losing stability, which Cannondale calls the OutFront steering geometry. In terms of riding position, the shorter Reach of the Cannondale Quick CX 3 allows the rider to maintain a higher riding position at all times. This also allows me to ride farther in the ride.
Components and Specifications
Shimano Altus 2×8 Drivetrain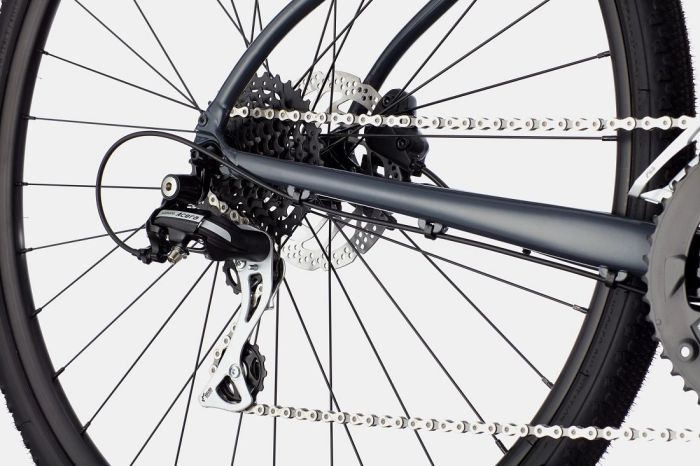 On this bike, the Cannondale drivetrain is a mix of Shimano Altus and Acera components. I have to say that I feel that it can handle both work commuting and weekend gym rides, as it gives me a very wide range of gearing options (16-speed). In combination with the Shimano Tourney 46/30 cranks and Sunrace 11-34T flywheel, it gives me the right amount of gearing for a comfortable ride, whether it's up or down a hill on the trail or the city tarmac. All of these features indicate that this is a ratio that is designed to be a trade-off between speed and comfort.
Vittoria Terreno Dry Tires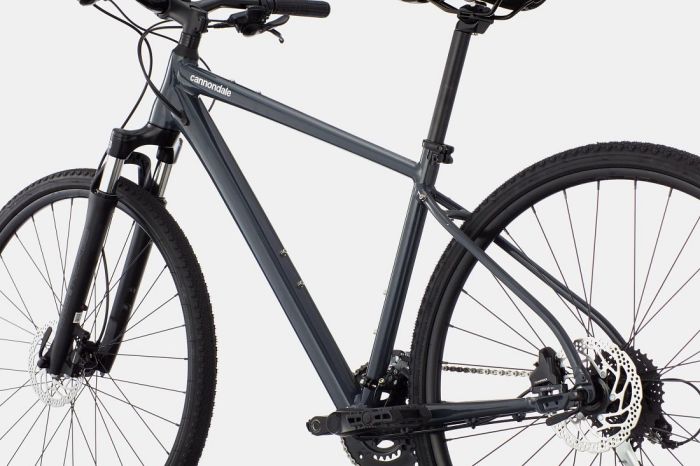 Rather than being an exercise bike, the Cannondale Quick CX 3 is equipped with tires that can provide off-road, something that other exercise bikes don't have. I was able to grind on some light gravel roads with confidence while riding and it gave me great peace of mind
At the same time, a pair of thick and toothed tires can let me have a better grip when it rains, without the danger of slipping tires when braking on a slippery road on an ordinary exercise bike.
Overall, such a tire configuration on an exercise bike provides great peace of mind.
Cannondale Wheel Sensors
Fitness people are always looking for numbers, they always want specific calorie numbers whether they are running or cycling.
To my surprise, the sensors on the tires connect to an app on my phone, giving me specific access to ecological reports, and some of the data necessary to get healthy from my ride. This is where the bike has a lot of costs invested.
The SP-Connect-compatible Intellimount bar is used to load the phone, and it holds my phone very well.
Paired together, they look like a dashboard on my bike and make my bike look smarter.
Other versions of Cannondale Quick 3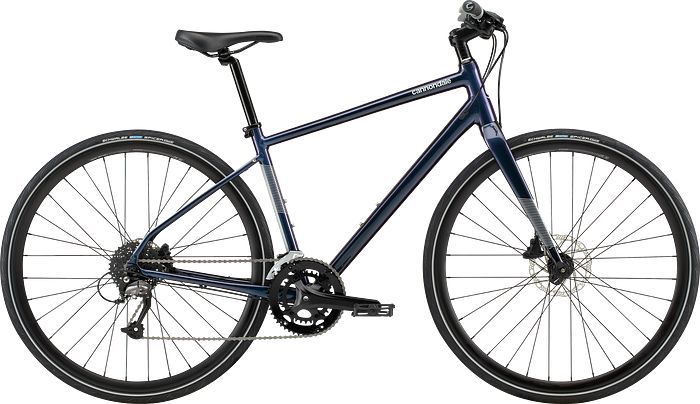 To give you more possibilities in your choice, we tested other models in the Cannondale Quick CX 3 series for a certain period, including the Cannondale Quick 3, in an objective and impartial manner.
In testing, we found them to be similarly configured. The big change is that the Cannondale Quick 3 has a stiff fork, which is all carbon. No doubt, this also gives it a faster speed.
On the other hand, this also limits the terrain it can be ridden on. It can't ride on bumpy gravel like the Cannondale Quick CX 3, which makes my hands hurt from the shock. So it's up to you whether you choose speed or more terrain.
We also found that Cannondale Quick 3 has a special version for women. This is something that Cannondale Quick CX 3 does not have.
Learn More: 2022 Cannondale Quick 3 Review – Why You Should Get Your Hands On The 2022 Cannondale Quick 3
What we like about it
Lightweight, sturdy, and geometrically comfortable frame allows us to ride further
With high-performance body sensors and a place to put your phone for a clear understanding of the data
Large and wide tires, fast and can pass more complicated road
Suntour NEX-E25 forks help over obstacles and descend not-so-steep slopes
2*8 rich shifting system allows riders to deal with more terrain
What we don't like about it
Riding on flat roads may not be as good as a typical aero road bike
Some people don't find the saddle very comfortable (I didn't feel this during my ride)
FAQ
How can I view, on my phone, the data and distance while riding?
By connecting the wheel sensor on the fork and downloading the app on your phone, you can view it on your phone when you finish the ride by connecting.
How much does the car weigh, is it heavy or light compared to other cars on the market?
The whole weight of 11.5 kg, compared to other exercise bikes on the market is lighter.
What heights does the 2022 Cannondale Quick CX 3 suit?
The size chart for the 2022 Cannondale Quick CX 3 is as follows.
(These sizes are just a general guide, the real right size may vary from person to person, and the easiest way to find your size is the best way to go for a test ride)
| | |
| --- | --- |
| Rider height | SIZE |
| 157cm – 171cm | SM |
| 165cm – 178cm | MD |
| 175cm – 188cm | LG |
| 182cm – 196cm | XL |
| 193cm – 206cm | XXL |
2022 Cannondale Quick CX 3 SPECS
Build
| | |
| --- | --- |
| Frame | SmartForm C3 Alloy, SAVE, tapered head tube, Straight shot hidden cable routing, flat mount disc, rack/fender mounts, 360° reflectivity Colors: Slate Gray; Agave; Rally Red |
| Fork | Suntour NEX-E25, 63mm, coil, lockout, custom crown |
| Bottom Bracket | Cartridge, square taper |
| Headset | Semi-Integrated, Tapered |
| Stem | Cannondale 3 with Intellimount, Alloy, 31.8mm clamp |
| Handlebar | Cannondale Riser, 6061 Alloy, 25mm rise, 8° sweep, 6° rise, 700mm |
| Saddle | Cannondale Fitness Ergo Double Density |
| Seatpost | 6061 Alloy, 27.2 x 350mm |
| Pedals | Cannondale Platform |
| Grips | Cannondale Dual-Density |
Wheels
| | |
| --- | --- |
| Rims | DC 4.0, double wall w/eyelet, 32h |
| Spokes | Stainless Steel, 14g |
| Front Hub | Alloy, Sealed, QR |
| Rear Hub | Alloy, Sealed, QR |
| Tires | Vittoria Terreno Dry, 700 x 40, reflective strip |
Groupset
| | |
| --- | --- |
| Rear Derailleur | Shimano Acera |
| Front Derailleur | Shimano Tourney, 31.8 clamp |
| Crank | Shimano Tourney, 46/30 |
| Shifters | Shimano ST-EF505, 8-speed |
| Cassette | Sunrace, 11-34, 8-speed |
| Chain | KMC X8, 8-speed |
| Brakes | (F) Tektro HD-T275 hydraulic disc, 160mm rotor / (R) Tektro HD-R280 hydraulic disc, 160mm rotor |
| Brake Levers | Tektro hydraulic disc |
Video
Comparison Table
2022 Cannondale Quick CX 3 vs 2023 Marin Fairfax 3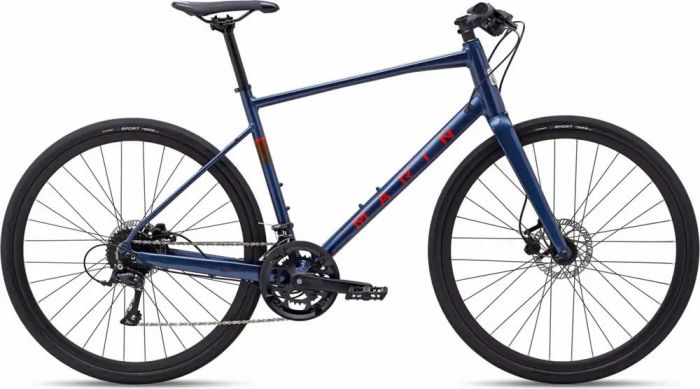 In my opinion, they have different scenarios. The 2022 Cannondale Quick CX 3 is suitable for more terrain but is not very concerned with speed. In contrast, the 2023 Marin Fairfax 3's stiff fork means it is built for speed.
Overall, if your riding environment is on city roads, they are both good choices. But if you need to face some gravel roads or bumpy rocky roads, then I would recommend you choose the 2022 Cannondale Quick CX 3.
learn more:Is Marin Fairfax ST 1 A Good Bike? [2023 Marin Fairfax ST 1 Review]
2022 Cannondale Quick CX 3 vs 2022 Specialized Sirrus 3.0 Step Through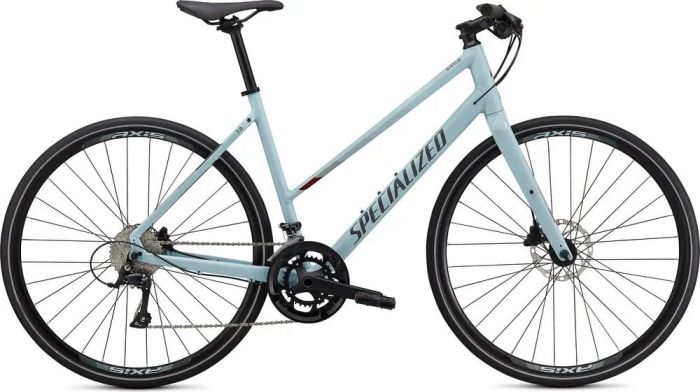 Like the above, the 2022 Specialized Sirrus 3.0 Step Through is also less suited to going over bumps. But it has an angled top tube, which is very special. It makes it very easy to get on and off the bike while riding and is very friendly to some of the little ones who don't have long legs.
Based on their positioning, they are both ideal for getting around town. The 2022 Specialized Sirrus 3.0 Step Through also allows for a more comfortable ride due to its higher speed options. But the difficulty in handling bumps does make it hard for me to choose it.
2022 Cannondale Quick CX 3 vs 2022 Canyon Roadlite 5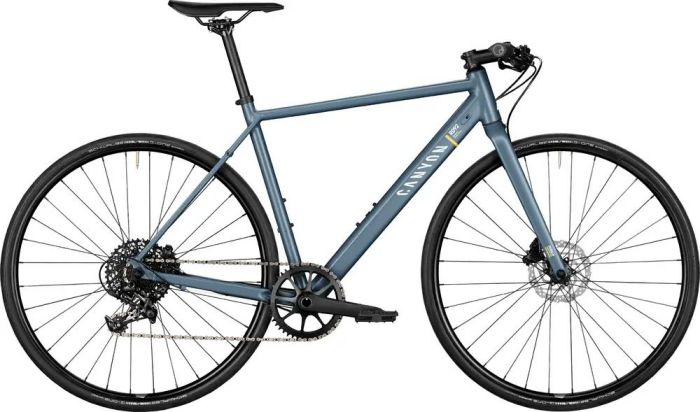 The Canyon color scheme is always preferred by the masses in most people's eyes, and the 2022 Canyon Roadlite 5 is no exception. The appearance gives a premium look that is hard to match with other brands.
However, practicality was more of a focus for me than the 2022 Cannondale Quick CX 3. The larger discs and aggressive angles didn't make me feel very comfortable on it, and that's what happened. I think it's more suited to those road bike riders than to me. I prefer good cushioning to keep me very comfortable on longer rides as well, which is very important.
learn more:Is Canyon Roadlite 6 Worth Buying? [2022 Canyon Roadlite 6 Review]
2022 Cannondale Quick CX 3 vs 2022 Cannondale Adventure 1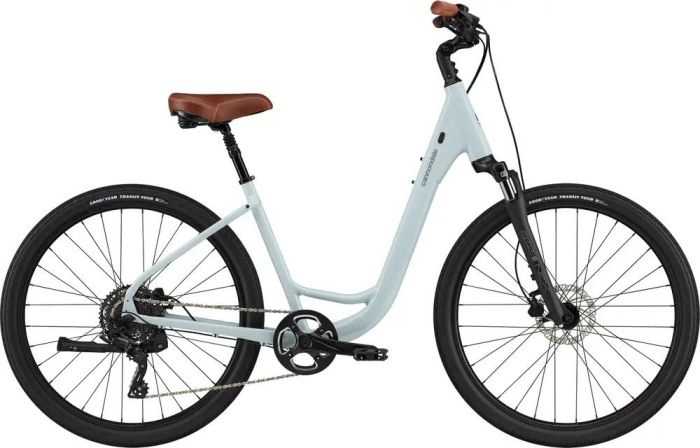 Also being part of the Cannondale family, both have good comfort.
In contrast, the 2022 Cannondale Adventure 1 has superior comfort and an easier way to get on and off the bike. And the thick saddle, as well as the elevated bent handlebars, prove that this is a bike created for comfort. But during the test ride, I found that the 2022 Cannondale Adventure 1 has one fatal flaw, it is so heavy that it is hard for me to lift it at certain times when necessary.
Overall the 2022 Cannondale Quick CX 3 is more suitable for those who have some pursuit of fitness off-road and ride more than just to replace their feet.
As for the 2022 Cannondale Adventure 1, I have to say it's comfortable, but not suitable for fitness. More often than not, it is more suitable for walking on my feet instead.
In case, the above comments are helpful to you, please remember to share the subscription. Have a great day!
learn more:Is Cannondale Adventure Worth Buying? [Cannondale Adventure Review]