We use affiliate links and may receive a small commission on purchases.
We've selected the 9 best recumbent exercise bikes for your reference.
Recumbent exercise bikes are very popular indoor exercise equipment that can help people get a great workout in a very comfortable reclined seated position. This type of fitness equipment is quite common in gyms or health clubs, but it is also suitable for home use.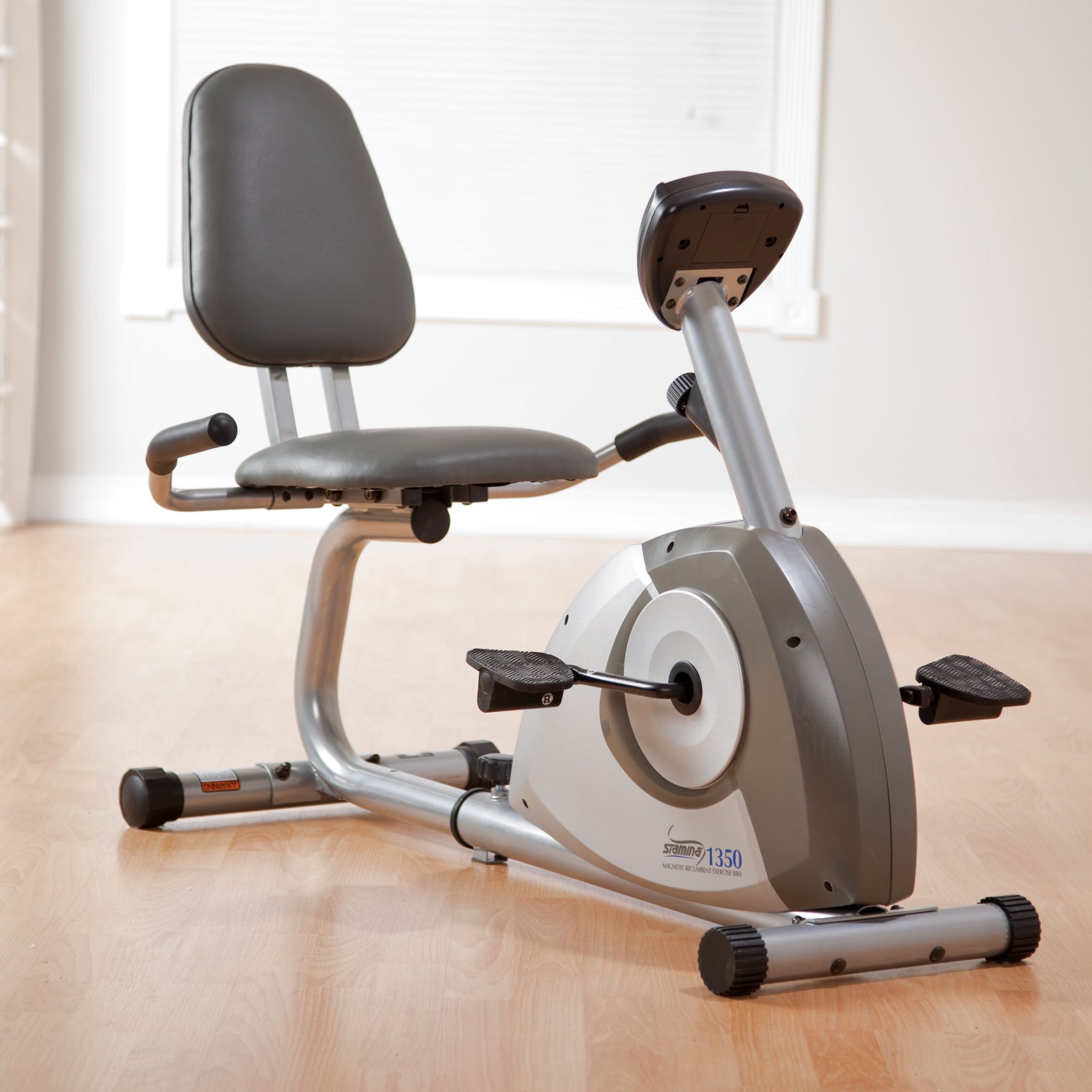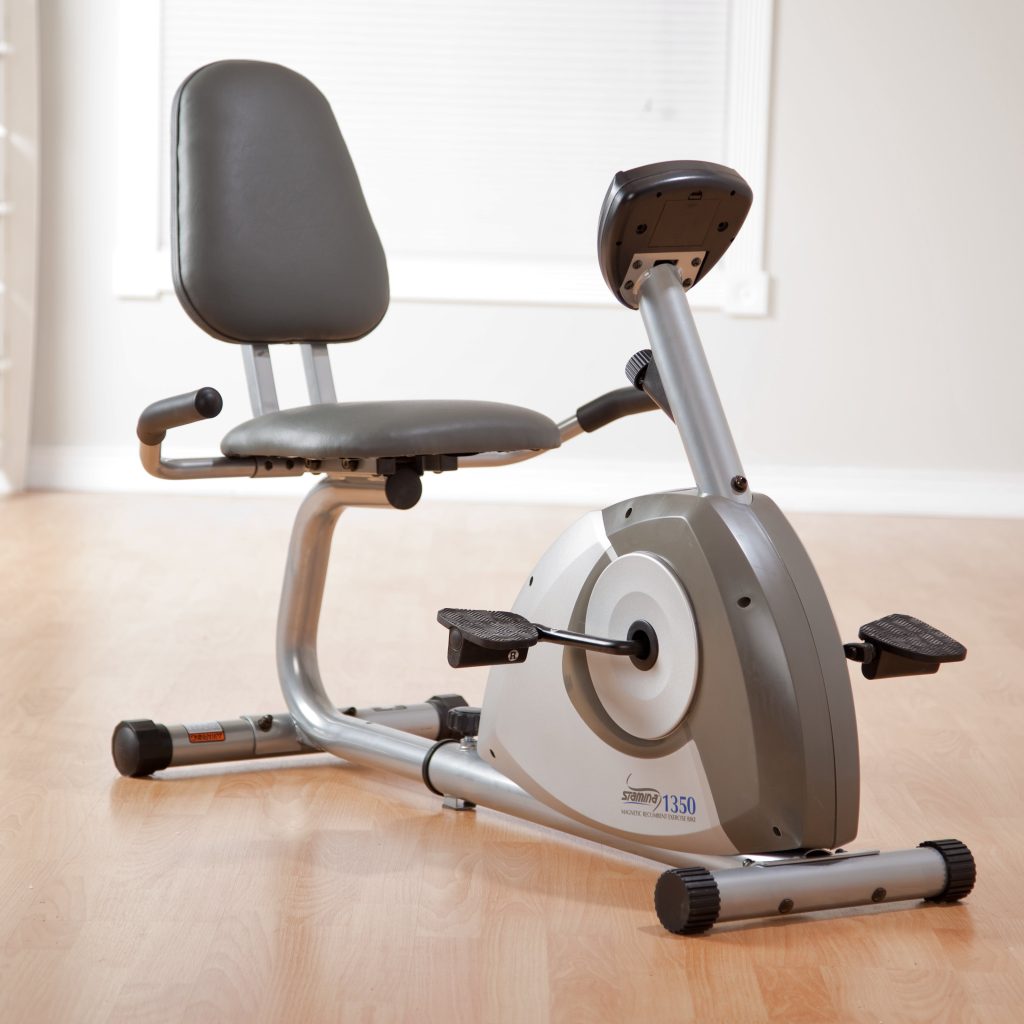 Notably, it is ideal for people over the age of 65 who want to stay active safely. There are also people of all ages recovering from injuries and any person looking for a low-impact way to improve their cardiovascular health. In this article, we focus on finding the best recumbent exercise bikes in 2023 that will allow you to get a safe and efficient workout without having to leave your house and won't cost too much. If you like our articles, feel free to subscribe to us to get the most up-to-date information on new reviews!
2023 Best Recumbent Exercise Bikes List
1. Marcy Recumbent Exercise Bike ($169.99)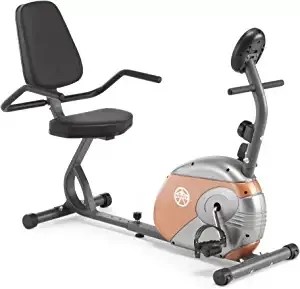 Size: 55.5 × 25 × 37.5 inches (141 × 63.5 × 95.3 cm)
Weight capacity: 300 lbs (136.1 kg)
Resistance: Class 8, magnetic
Screen: LCD
What we like about it: Affordable price, step-by-step design, LED display.
What we didn't like about it: The seat quality was a bit hard during long workouts.
For a fraction of the price of the other bikes on our list, you can enjoy the recumbent exercise bike that Marcy brings to you. The sturdy structural support can hold up to 300 pounds, and the seat adjustment can accommodate different leg lengths. The step-up design allows you to easily get on and off the equipment, and eight different phrases can be adjusted with the displayed LED screen. The backrest and armrests provide additional support, keeping your body shape intact and not causing back pain.
The ride quality of the seat felt a little hard during long workouts and left my butt feeling numb. If you want a softer seat feel, we recommend checking out the Sunny Health & Fitness Magnetic Recumbent Exercise Bike below, but overall, this affordable recumbent exercise bike with armrests, foam-covered grips, and an LCD screen is a good value for the money.
2. Sunny Health and Fitness Magnetic Under Desk Mini Bike ($86)
Size: 22L x 18W x 14.75H inches
Weight capacity: 220 lbs
Resistance: Class 8, magnetic
Screen: /
What we like about it: Lightweight and easy to carry, easy to accept.
What we don't like about it: The need to have separate chairs.
This is the part that is sold separately from your chair and is essentially a pedal as well as a base. And it is the most cost-effective product available at a very low price. With a suitable chair, you can turn it into a compact recumbent exercise bike.
And unexpectedly, it does not only exercise the leg muscles. If you put it on the table at the right height, hands grasp the grip to turn, you can exercise the upper body as well as chest strength. 8 levels of variable speed stable belt operation allow you to adjust the amount of force, burning more calories.
However, it has higher requirements for the chair. Your chair must be guaranteed to be non-slip and you will have to adjust the angle and length front to back before each ride. If you need to fix the convenience, take a look at the equally affordable Marcy Recumbent Exercise Bike above. but I will say that this is the cheapest product on this list, and you can get a small, portable fitness product at an affordable price, or even move it under your desk in the office.
3. Marcy ME 706 Recumbent Bike ($449.99)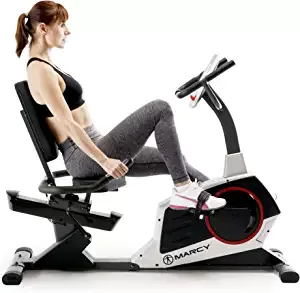 Size: 57 x 24 x 42 inches
Weight capacity: 30 lbs
Resistance: 24 levels, magnetic
Screen: LCD screen
What we like about it: No power required, comfortable geometry, adjustable balancer.
What we don't like about it: No water bottle holder or shelf.
If you're concerned about recumbent comfort, take a look at the Marcy ME 706, which is geometrically designed to provide plenty of legroom, has an adjustable seat that fits most users, and you can adjust it right from the saddle. One thing I like is that it has an adjustable counterbalance that allows you to keep the bike balanced on most surfaces, including less than flat or sloped floors.
Eh, it's a pity! Without a water bottle holder or even any shelf, I had to put a shelf next to me while riding. If you need a bike with shelves, take a look at the Schwinn Recumbent Bike, but the stable instrument and 24 levels of magnetic resistance make for a very rich workout experience, and the no-power design makes for a more flexible placement area.
4. XtremepowerUS Recumbent Exercise Bike ($197.95)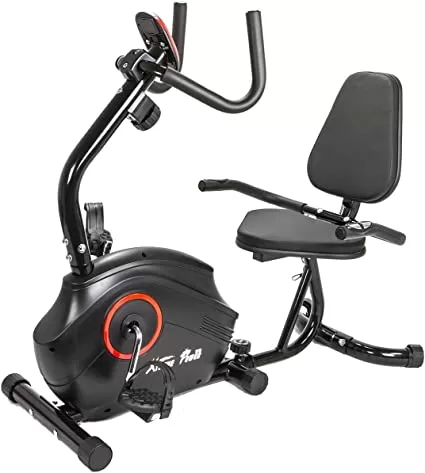 Size: 51×22.5×38 inches
Weight capacity: 200 lbs
Resistance: Class 8, magnetic
Screen: LCD screen
What we like about it: Built-in pulse grip for ergonomics.
What we don't like about it: The installation is complicated.
The built-in pulse grip is the biggest highlight in my opinion. I can get a real-time view of my heart rate by simply holding onto the grip while riding. The more stable and longer your heart rate rises, the more fat you burn. The ergonomic seat and backrest have high-comfort foam, and you can easily adjust the seat forward and backward. The convenient bottom transport wheels allow you to easily adjust the position of the equipment, and I enjoy pushing it in front of the TV after dinner to start my after-dinner workout.
Frankly! It was complicated to install and took me a long time to get it out of the package and into rideable mode. If you need something that works right out of the box, take a look at the Sunny Health and Fitness Magnetic Under Desk Mini Bike, but otherwise, it's the definition of affordable and easy to use that makes it so trusted by fitness enthusiasts.
5. NordicTrack Commercial R35 ($1499)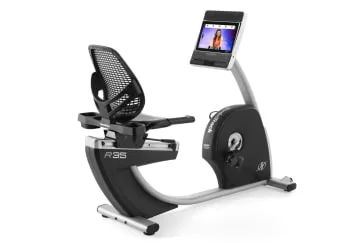 Size: 68.22″ L x 23.69″ W x 53.42″ H
Weight capacity: 200 lbs
Resistance: 26 levels, magnetic
Screen: LCD screen
What we like about it: Rich magnetic resistance, smart iFIT trainer, extra-large screen.
What we don't like about it: More features require an additional $34 monthly membership fee.
NordicTrack's newest recumbent exercise bike has an abundance of 26 resistance options and magnetic resistance that are nearly silent while riding. 14-inch HD touchscreen allows you to watch your favorite TV shows as well as on-demand cycling classes. In addition, the iFIT trainer automatically adjusts your resistance based on video as you train through your sessions to maintain an immersive training experience. In addition to the software features, the hardware is also very comfortable, with elastic lumbar support and oversized pedals to keep users safe.
However, this feature requires an additional membership to use. What you need to think through before you buy is that if you want to use its full features you need to pay an extra $34 per month. However, I think the extra cost is well worth it. It's amazing! 🙂 It allows you to feel like you're riding anywhere in the world with an immersive on-screen experience thanks to the built-in GPS maps.
6. Schwinn Recumbent Bike ($449.99)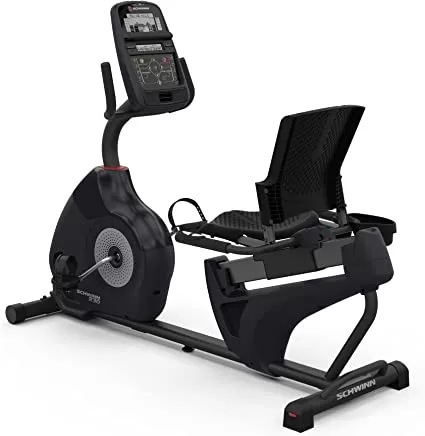 Size: 64 × 27 × 49.9 inches
Weight capacity: 300 lbs or 136.1 kg
Resistance: 25 levels, magnetic
Screen: Black and white screen
What we like about it: Very smooth for seniors who need safety.
What we didn't like about it: No touch screen, sketchy display.
The Schwinn 270 recumbent bike is very smooth for those seniors who need to get safe training. And for those who are recovering from injuries or illnesses with limited legs, you can get safe exercise. To provide a smoother ride, it has a weighted flywheel that can be rotated to help build momentum while exercising. Noteworthy is the unique VR compatibility feature that allows you to connect it to VR glasses and use applications such as "around the world" to traverse scenes from around the world. Oh! I really like it!
The absence of a touch screen makes it seem a bit spartan on this high-end machine. If you want a smarter and more visually stunning touchscreen, take a look at the NordicTrack Commercial R35 above. But if your goal is a safe riding experience, the stable and reliable Schwinn is best suited for your home.
7. YOSUDA Folding Exercise Bike ($144.49)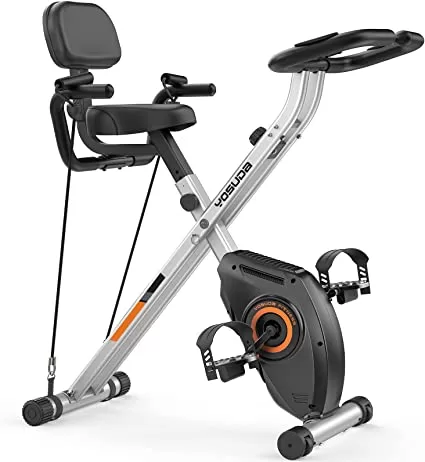 Size: 39 x 15.2 x 9.5 inches
Weight capacity: 270 lbs
Resistance: Class 8, magnetoresistive
Screen: LCD display
What we like about it: Compact and easy to store and fold.
What we didn't like about it: The overall simplicity and the need to move before working out.
This exercise machine has a wealth of features, not only the function of the bike but it can also be assisted by the elastic band on both sides of the bracket for upper body strength exercise. It is also very easy to fold and easy to store, with transport wheels for easy movement. In other words, it can be folded and placed in the corner of the room when you are not using it. 8 levels of magnetic resistance adjustment can be adapted to all fitness levels, and extra large cushion and non-slip waffle-like pedals can let you focus on riding.
Alas! The display is very simple and looks more like an enlarged electronic watch. However, the folding and lightweight attributes make it all the more simple in its overall construction. If you want something more robust and versatile, I recommend the NordicTrack Commercial R35. But if you need a lightweight and easy-to-store and fold, then it is the right product.
8. Sunny Health & Fitness Magnetic Recumbent Exercise Bike ($299.99)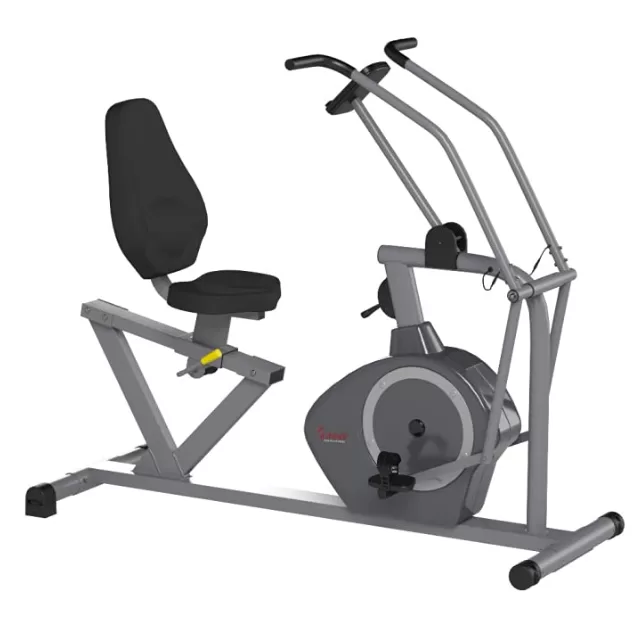 Size: 25.5×60×52 inches
Weight capacity: 350 lbs
Resistance: Class 8, magnetoresistive
Screen: LCD
What we like about it: Suitable for overweight people and synchronized hand movements.
What we don't like about it: The foot pedal is easily damaged.
I think the overweight fitness crowd will be worried about a problem, that is, whether the equipment can afford their weight. If this is your main concern, we recommend this recumbent exercise bike. It has an extra heavy-duty frame that can safely support up to 350 pounds of weight. The huge backrest provides posture correction and you can sit on it for seat angle and height adjustment. The non-slip adjustable pedals hold your feet to the pedals without falling off during exercise, and the simultaneous hand movement design allows for killer arm training.
Well, the pedal section is long with a large force arm, which may not be as durable as the traditional pedal design. The Marcy ME 706 Recumbent Bike's sturdy design may give you some peace of mind. But if you want to exercise both upper and lower body strength, this is the only one on the list that is of good quality and can do so at the same time.
9. NordicTrack Commercial VR21 Smart Recumbent Exercise Bike ($799)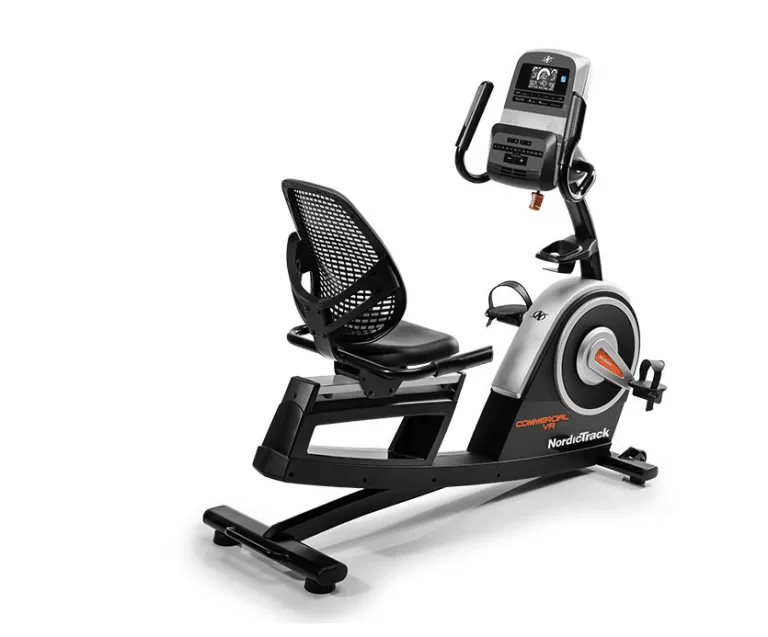 Size: 61.1×24.2×54.6 inches
Weight capacity: 350 lbs
Resistance: 25 levels, resistance
Screen: Backlit display
What we like about it: Advanced training courses and ergonomic design.
What we don't like about it: The large footprint.
Perfect for those professional sports people! This fully adjustable bike has an ergonomic seat and lumbar support that will allow you to excel at those challenging workout tasks. It's as advanced as most of the brand's range, with a fully interactive window into the world of personal training, cross-training, and full stats tracking. 25 levels of resistance and one-touch controls will keep you constantly challenged with new challenges. On top of that, the grip pulse monitoring feature includes a chest strap, two Bluetooth speakers, and an integrated tablet and phone holder.
Ah, almost forgot to tell you! It has a very large footprint, which also has to make you make space specifically for this big guy to fit in. But it's not easy to move, and it can't be folded. Overall, if you need a sturdy and professional piece of fitness equipment, this machine will ensure that your professional training results are displayed by connecting your phone.
Learn More: Top 12 Best Indoor Cycling Bikes [2023]
How to choose a recumbent exercise bike?
Why should I buy a recumbent exercise bike?
The benefits of recumbent exercise bikes
Who is the recumbent exercise bike for?
Indoor cycling computer
Data Tracking
Resistance adjustment and pre-programmed workouts
Downloadable data
Speakers and fans
Size and portability
Resistance
Recumbent exercise bike for which muscles? How often should I exercise?
Other Notes
Wear the right shoes
Fitness wear
Recumbent bike maintenance
Why should I buy a recumbent exercise bike?
Unlike an upright stationary bike, a recumbent bike allows you to ride in a reclined position. While this may seem like a "relaxed" way to carry out your exercise routine, don't let the laid-back look of a recumbent bike fool you.
Recumbent exercise bikes are an excellent way to enhance blood supply to the heart, lower high blood pressure, lower resting heart rate, relieve stress and improve mood. In addition, unlike stationary bikes, recumbent bikes put less stress on your joints as you perform aerobic exercise. Ultimately, it comes down to what you prefer.
The benefits of recumbent exercise bikes
It is worth noting that the reclined position is ideal for beginners, older adults, and people with mobility and other physical limitations. Due to the reclined position, the recumbent exercise bike puts less stress on the lower back and the backrest provides additional support, making it a good choice for people who are recovering from injuries.
Studies have shown that recumbent exercise bike use helps improve the range of motion as well as muscle flexibility, which can help relieve some forms of pain. Using a stationary bike for exercise even helps improve the range of motion in the hip more than using a hot pack.
Having said that, it is still important to talk to a healthcare professional to ask if a recumbent bike is right for your specific needs and concerns.
Who is the recumbent exercise bike for?
Recumbent exercise bikes provide a safe and effective cardiovascular workout for people at any level of fitness. The recumbent position is especially good for beginners, older adults focused on staying healthy, and people with mobility and other physical limitations.
Indoor cycling computer
1. Data Tracking
Most high-end models of recumbent exercise bikes can display a range of useful information that can help you show your fitness progress in real-time. Time distance and calorie data can give you an idea of where you are in your workout, which is designed to allow you to move forward with confidence toward higher goals. Some computers can also save user data and network competitions and other additional features.
2. Resistance adjustment and pre-programmed exercise
Resistance adjustment changes the amount of force needed to be exerted while riding, enabling quick and slight adjustments to the user's resistance level for a more challenging as well as more realistic workout. This will keep you coming back for more.
In addition, many of the recumbent bike computers allow for downloadable workout sessions that you can follow or even simulate getting around town. Some can even be paired with a third-party heart rate monitor to provide you with an aerobic level workout determined by your target heart rate level. The various resistance levels and classes allow you to make your workouts more colorful and fun, constantly challenging your training records.
3. Downloadable data
Some recumbent exercise bikes have monitors that can download your cycling data and body data to applications such as MyFitnessPal to help you record your exercise data over time.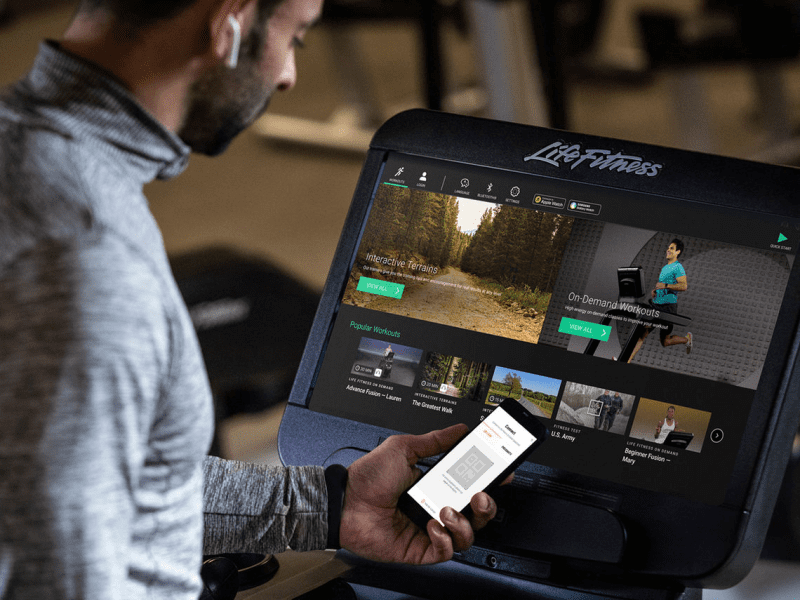 4. Speakers and fans
Finally, some recumbent exercise bikes have additional features that are fun add-ons. For example, a fan that looks like the shape of a bike air conditioner, a music-playing speaker, and a USB charging port. So you can plug in and listen to music from your phone while you work out.
Size And Portability
Recumbent exercise bikes come in a very wide selection of sizes and portability options, so be sure to keep these factors in mind before choosing yours. If you live in an apartment, you need to consider a bike that runs quietly so as not to annoy the neighbors. Conversely, if you live in a house and have enough space to dedicate to a recumbent exercise bike, this does give you more options.
In addition to size, portability is also very important. If you can leave the bike in the middle of the room for an extended period, this obviously won't be a problem. But if you need to move the bike for any reason, you may need to buy one with transport wheels, and a more lightweight or even foldable model can make the task easier.
Resistance
Recumbent exercise bikes typically use magnetic tension resistance on the flywheel to provide a smooth and shock-absorbing riding sensation. Usually, the heavier the flywheel inside the bike, the more realistic the riding experience will be. Therefore, be sure to check the weight of the flywheel before you buy.
Recumbent exercise bike for which muscles? How often should I exercise?
"When exercising on a recumbent bike, you'll use your quadriceps, hamstrings, shins, calves, and glutes," says Dan Jonhenry, an expert trainer at Retro Fitness. It's also good for the knees and hips while riding, especially for people who suffer from osteoarthritis. Because it has a minimal impact, it also increases blood flow and joint fluid.
There are no overly rigid rules about how often you should exercise. But in terms of physical activity, the CDC recommends at least 150 minutes of moderate-intensity physical activity or 75 minutes of high-intensity activity per week for the general population. Whether you use a recumbent exercise bike frequently depends on your own fitness goals.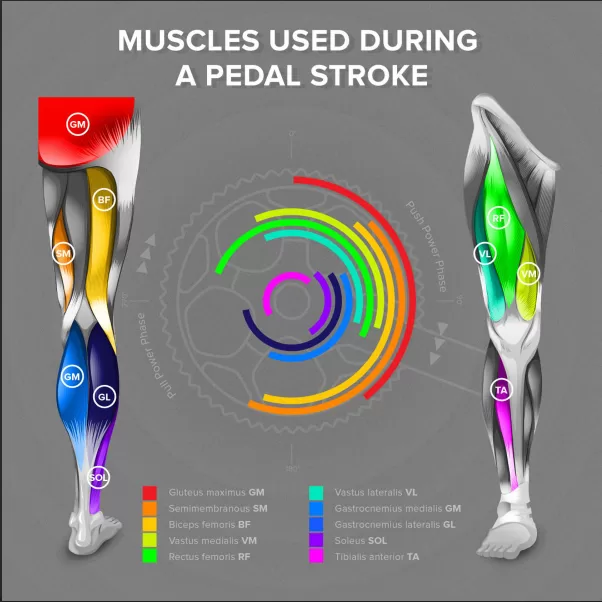 Other Notes
1. Wear the right shoes
Take it from me, wearing the right pair of shoes for any exercise is very important. The gears on a recumbent exercise bike can move fast and the wrong shoes can get you injured. Any type of running shoe or general training shoe will work fine, just make sure the shoe has a good wrap and will protect your toes.
2. Fitness wear
Clothing that is too loose-fitting may get caught in the equipment while exercising and is highly discouraged. Therefore, we recommend wearing more snug-fitting shorts and shirts while exercising and making sure that no part of your clothing is sagging near the gear.
3. Maintenance of recumbent bicycles
In a good recumbent exercise bike workout, you may sweat very much, be sure to dry them off after you finish training. Human sweat can corrode metal equipment leading to a decrease in service life. Sturdy equipment can withstand more, it will prevent moisture from entering the machine and it will keep it in good working condition for longer.
Conclusion
A good recumbent exercise bike can get quality fitness results without leaving home if you plan to buy a piece of exercise equipment for the elderly in the family or for people recovering from injuries and low exercise intensity cardiovascular disease patients enough. The exercise equipment in this article is very suitable for them, safe and stable seat and backrest, you can lie down to complete the exercise, and this position is very little damage to the knee joint. But how to choose before buying is still something you need to consider.
When choosing a recumbent exercise bike, prioritize resistance levels, adjustability, and the technology you want or favor. To that end, we've found nine of the best recumbent exercise bikes for 2023, from the simple folding YOSUDA Folding Exercise Bike to the feature-rich and large display NordicTrack Commercial R35, and we're sure you'll find something.
Finally, If you like our content, feel free to share it with your friends! If our content is helpful to you, you can click the email subscribe button below!