We use affiliate links and may receive a small commission on purchases.
We've selected the 12 best road bike wheels for your reference.
For most riders, bike wheels are most likely their first choice for an upgrade. This is because different wheels will completely change your riding experience, some of them are smoother and some of them are faster. When upgrading your wheels you can be more precise in finding your needs and injecting a new soul into your beloved bike.
But picking out the best wheels can be a confusing task when faced with thousands of choices. But don't worry, for this, we have done a professional test and listed the best 12 bike wheels. If it helps you, remember to share and subscribe.
Best Road Bike Wheels List
CADEX 42 DISC TUBELESS ($1,470)
All Around Everyday Performance Wheels ($1799)
HED Ardennes RA Pro ($900)
Bontrager Aeolus Pro 3V TLR ($679.99)
Roval Alpinist CLX II ($1,075)
Boyd Prologue 44 RIM BRAKE ($1100)
DT Swiss CR1400 Dicut ($1047)
Prime Primavera 32 Carbon Disc Wheelset (£899.99)
Hunt 60 Limitless Aero Disc Wheelset ($1449)
FFWD Ryot 55 ($1,631)
Roval Terra CLX ($1100)
Parcours Strade Disc (£1,099)
1. CADEX 42 DISC TUBELESS
Price: $1,470
Weight: 1327g
Rim height: 42 mm
Rim outer width: 23 mm
Inside rim width: 19.4 mm
What we like about it: The ultra-lightweight provides excellent performance.
What we don't like about it: The simple tubeless setup.
The CADEX 42 Disc TUBELESS is for cyclists looking for maximum aero gain and versatility. With a hookless rim design that maximizes aerodynamic performance and durability, you can roll down the road and feel the wind and sunshine to your heart's content. Also, the low friction hub eliminates bearing friction, reducing your potential power loss for maximum power riding.
The lightest possible weight brings efficient acceleration and climbing in addition to excellent stability in changing winds. The custom dynamic balancing system even makes your wheels more robust to withstand crashes while riding.
It's worth noting that the simple tubeless setup makes us feel unworthy of such an expensive price tag, which may be a compromise in other areas. But we would prefer to have a perfect wheel, even if it requires a higher price tag, which is not unacceptable.
2. All Around Everyday Performance Wheels
Price: $1799
Weight: 1320g
Rim outer width: 30mm front, 29mm rear
Inside rim width: 23mm front, 22mm rear
What we like about it: All-around road riding.
What we don't like about it: The high price.
This wheel may not be top of the line in one way, but it is certainly one of the most versatile wheels. That's right! It is suitable for all your activities on the road, thanks to the use of internally reinforced spoke holes, which strengthen the area of the rim that is subjected to the greatest forces. Not only that, but it doesn't add unnecessary weight.
Different rim widths in the front and rear allow you to gain greater stability when riding. The optimized aerodynamic design is an even more speedy experience. Achieve the perfect balance of weight, stability, and speed.
Honestly, the price is not that friendly for many riders. It is more suitable for those who have years of riding experience and are looking for a different riding experience, it will surely give you a different experience.
3. HED Ardennes RA Pro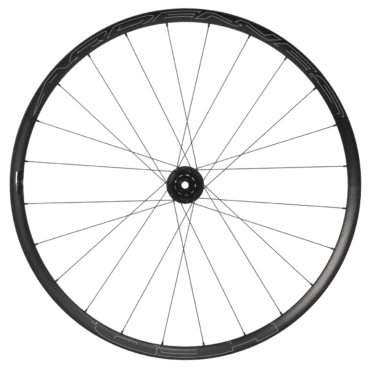 Price: $900
Weight: 1530g
Rim outer width: 25 mm
Inside rim width: 21 mm
What we like about it: offers disc and rim braking options.
What we don't like about it: Aluminum rims.
The HED always strives to build the best bike gear, and this HED Ardennes RA Pro doesn't disappoint – it's a top choice for road riders. The standard 21mm internal width means less rolling resistance, and the slightly curved rim brings benefits on rough roads and fast descents.
In terms of detailing, the HED Ardennes RA Pro also offers two different options of rim brakes and disc brakes, designed to meet the riding habits of different riders. Equipped with Sapim spokes and professional-grade Sonic 500 hubs are even more comfortable experience to crush gravel roads.
Unlike the above wheels, it is made of aluminum alloy in terms of material used. This makes it not as stiff as carbon fiber wheels in terms of strength. However, we don't feel much in terms of weight, so if you don't mind the choice of material, then the HED Ardennes RA Pro will be the perfect companion for you.
4. Bontrager Aeolus Pro 3V TLR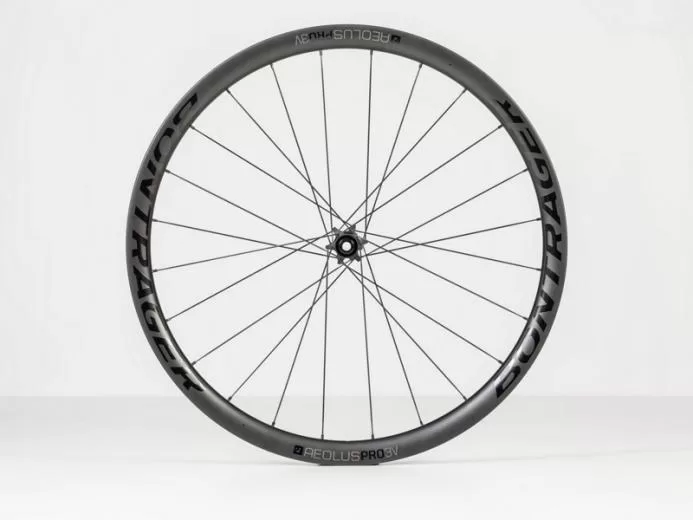 Price: $679.99
Weight: 855g
Type: Tubeless
Rim outer width: 32 mm
Inside rim width: 25 mm
What we like about it: Trustworthy after-sales service.
What we don't like about it: the very wide rims.
Hey, guys! You can always trust Bontrager's after-sales service, which has stood the test of time in this regard, and for all Bontrager Aeolus Pro 3V TLR owners, it is covered by a lifetime warranty. Of course, that's not the only reason we chose it.
The Bontrager Aeolus Pro 3V TLR has an inner width of 25mm and an outer width of 32mm, making it ideal for road or gravel riding. It also has a lower pressure when riding to get better tire support and increased riding traction. Made of carbon fiber, you can fully feel its lightness. And carbon fiber gives it enough strength and durability to achieve better riding.
You can see that the Bontrager takes the rim width to the extreme, and while it leads to a more stable ride, it is not suitable for all bikes. Before you choose it, you need to check if your frame can handle it.
5. Roval Alpinist CLX II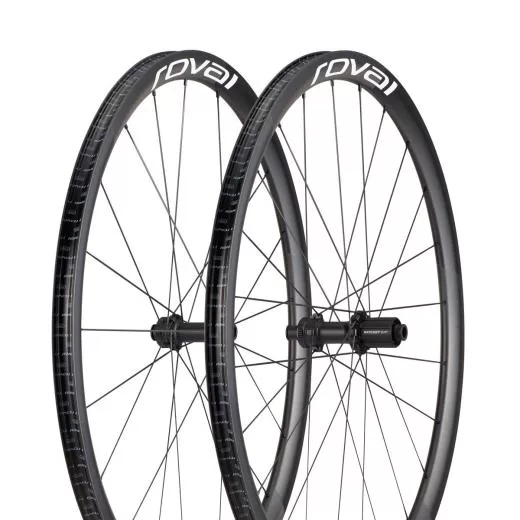 Price: $1,075
Weight: 1250g
Rim outer width: 27 mm
Inside rim width: 21 mm
What we like about it: The extremely lightweight.
What we don't like about it: It's not designed for aerodynamics.
Wow! We are amazed at the extremely lightweight that the Roval Alpinist CLX II brings to the table. It is like a work of art, with excellent performance under its slim appearance. You can feel its excellent handling while riding, with dynamic, responsive acceleration on the open road and impressive performance even in the corners.
The upgraded LightAF hub is arguably the key part of it, not only has it been upgraded in weight, but also features a new body and rotor mount. The interior is even made of ceramic bearings, providing silky smooth efficiency and excellent durability. You can enjoy the ride to your heart's content.
What you need to know though is that although it is 33mm deep, it is not designed for aero, so it may not be as fast as the products above. But it's a perfect choice for those weekend outdoor rides.
6. Boyd Prologue 44 RIM BRAKE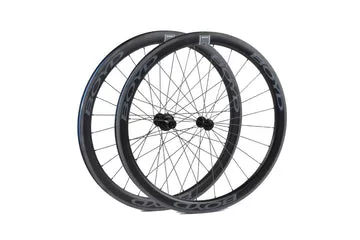 Price: $1100
Weight: 1605g
Rim depth: 44 mm
Rim outer width: 27 mm
Inside rim width: 19 mm
What we like about it: Well-made wheels.
What we don't like about it: Slightly stressful on intense rides.
The Boyd is always surprising people with the way they build their products. Aha!:) Despite the growing popularity of disc brakes, there are still people who prefer rim brakes, and that's why the Boyd Prologue 44 RIM BRAKE is made. 1605 grams of weight makes it equally suitable for both the road and the outdoor roads. There is enough support to keep your ride from getting boring, while at the same time making it incredibly comfortable.
Skyuka hubs are built to last. While this will add a few grams to the Quest hub, the Skyuka hub has unparalleled torque handling with 4 pawls and engages 36 teeth. This wheel is the ideal combination of weight, stability, and comfort.
The riding experience that is not too stiff makes me enjoy it. However, we found it to be slightly stressful during intense riding during our testing. This also means you need to keep your full attention when facing steep descents, especially when facing sharp turns.
7. DT Swiss CR1400 Dicut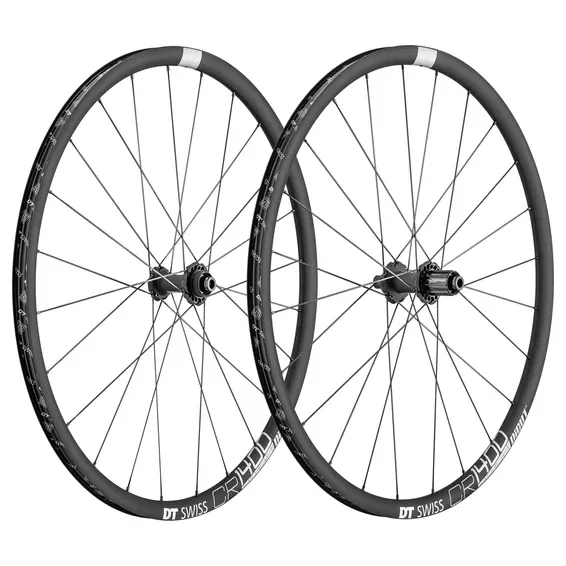 Price: $ 1047
Weight: 1600g
Rim height: 25 mm
Rim outer width: 26 mm
Inside rim width: 22 mm
What we like about it: Smooth ride.
What we don't like about it: It's not easy to replace.
We wanted a bike with great aero performance for the ultimate speed experience. And this DT Swiss CR1400 Dicut meets my needs very well. It offers the best riding performance at a very attractive price. With 240s wheels and a precision ratchet system, it delivers outstanding efficiency.
The hard alloy rim is suitable for wider tires and has good durability. It can bring enough grip when riding.
I didn't feel any lateral flex even during the sprint. They are not stiff, on the contrary, comfortable to ride and I enjoy them.
If you are using tubeless tires, then be warned that you will have to put more effort into the installation. Fragile tubeless tapes do cause some trouble, so please install them with proper guidance.
8. Prime Primavera 32 Carbon Disc Wheelset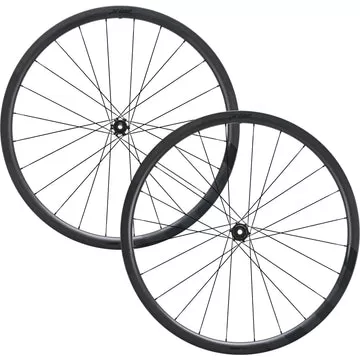 Price: £899.99
Weight: 1272g
Rim depth: 32 mm
Rim outer width: 30 mm
Inside rim width: 23 mm
What we like about it: Value-for-money carbon fiber rims.
What we don't like about it: Make sure you have a good drive train.
We chose Prime because they never accept mediocrity and aim to bring a better performance experience to their customers. This Prime Primavera 32 Carbon Disc Wheelset is the lightest wheelset they have ever made. The carbon material makes the entire wheelset only 1272 grams, and the light weight gives it responsiveness and stability even in gusty wind conditions.
For those seeking aero riding, this wheel will also satisfy you. 23 mm inner rim width combined with DT Swiss Aerolite spokes ensure that all aero gains are covered, bringing maximum comfort to every ride. The efficient power transmission is also excellent on climbs and very light on the flat.
What makes us complain is that you need to confirm the drivetrain being used before you buy. If you are using an SRAM XDR or Campagnolo drivetrain, then compatible parts will cost extra.
9. Hunt 60 Limitless Aero Disc Wheelset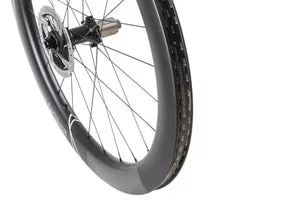 Price: $1449
Weight: 1669g
Profile: 60 mm
Outside rim width: 34 mm
Inside rim width: 21 mm
What we like about it: Handmade.
What we don't like about it: It doesn't fit into narrower frames.
That's right! You can trust the quality of Hunt products. The Hunt 60 Limitless Aero Disc Wheelset has a wider wheel width, a novel design not often seen in wheels.
It minimizes air resistance while still maintaining a smooth steering torque. Even in the face of sidewind conditions, it remains agile and maneuverable, always maintaining an aerodynamic position. We were impressed by the speed. the Pillar Wing spokes use wing profiles to effectively reduce air resistance, and the low-friction CeramicSpeed bearings deliver a smooth ride.
Although the novel wide-rim design can bring you a better riding experience, we found in the actual installation it may not fit some narrower clearance frames. So you'd better confirm the specifications of your bike and make your choice.
10. FFWD Ryot 55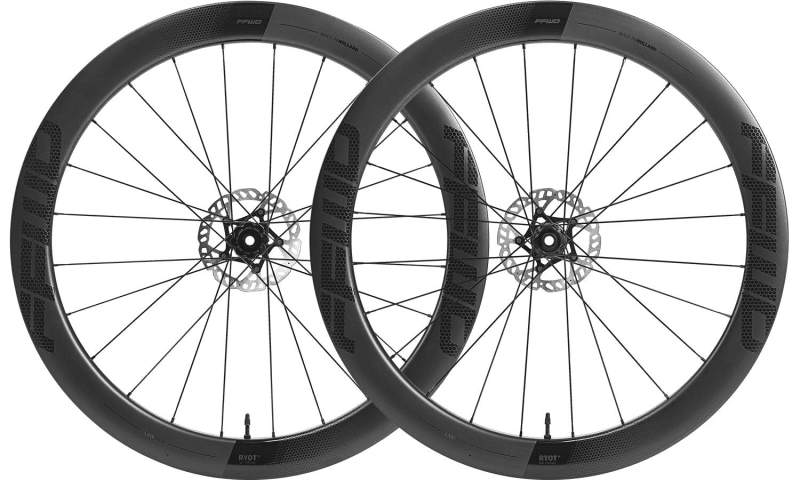 Price: $1,631
Weight: 1620g
Rim height: 55 mm
Rim outer width: 31 mm
Inside rim width: 21 mm
What we like about it: More superior acceleration.
What we didn't like about it: It was heavier than expected.
Well, if you're looking for a wheel with great speed experience, then the FFWD Ryot 55 is the one for you. As with the previous wheel, the wider LAW rim profile improves aerodynamics, provides greater comfort, and allows for higher speeds through corners.
The carbon rims give it a great look and great stiffness to face faster rides. The sturdy and reliable FFWD hub has excellent quality and is not only compatible with 12mm barrel axles but also converts to 15mm barrel axles.
Despite FFWD's optimized wheels, it can still feel a bit bulky in weight for those sensitive riders. This may give you a little trouble during the ride. But as a road wheel, the top-notch aerodynamic performance is perfect for those riders seeking speed.
11. Roval Terra CLX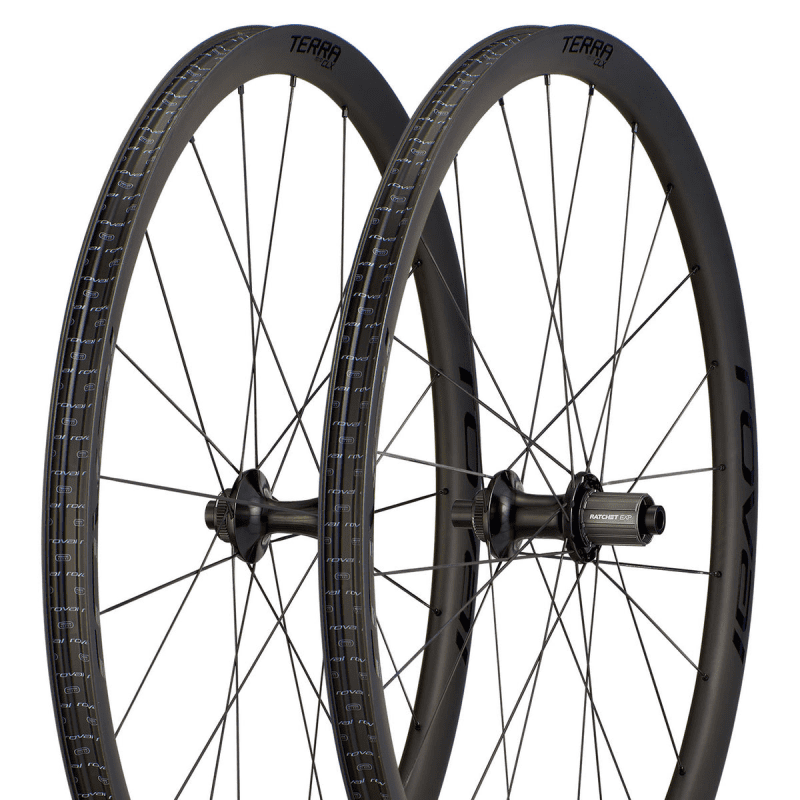 Price: $1100
Weight: 1296g
Rim depth: 32 mm
Rim width: 25 mm (inner width)
What we like about it: Great for gravel riding.
What we don't like about it: The noisy cassette body.
The Roval has a good reputation in cycling equipment, you can rest assured of the quality of their products, and even if they are damaged, you can enjoy a lifetime warranty. What's more, it has excellent performance, especially for gravel roads, giving you a new experience.
For a more comprehensive ride, hook-and-bead rims are used that are compatible with a wider range of tire mounts. Both endurance riding and gravel roads can be handled well for unparalleled versatility. Aero Flange hubs with 12 mm axles have a wide support angle, which not only adds strength but also contributes to improved handling and more aerodynamics.
However, we found on the actual ride that the DT Swiss EXP cassette body brings some slightly noisy sounds. This makes it not so comfortable to listen to. Of course, for other wheels, there is more or less. If you don't mind this too much, then it's still an excellent choice.
12. Parcours Strade Disc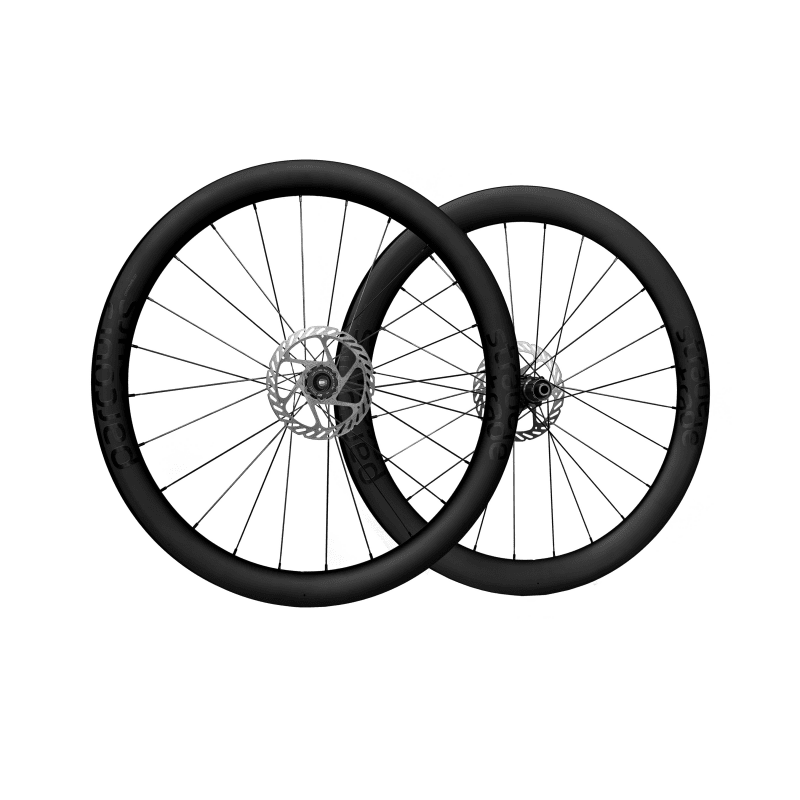 Price: £1,099
Weight: 1520g
Rim depth: 49.2 mm front and 54 mm rear
Rim outside width: 32 mm in front and 30.5 mm at the back
Inside rim width: 22.5 mm
What we like about it: Withstanding the rigors of an all-road ride.
What we don't like about it: the lamination is easily scratched.
This is an impressive top-of-the-line carbon fiber wheel that is strong and durable enough to withstand intense riding, no matter what way you ride. It effectively combines straight-line speed with stable handling to make your ride even more fun. And it's aerodynamically optimized around 28mm tires for even more appeal at speed.
The wheels feature Sapim CX-Ray aerodynamic spokes, and a cassette body with a three-degree engagement system, and are paired with Parcours disc center locks. These excellent components make up the outstanding performance. You can hardly dispute its aerodynamic characteristics. Because it performs as well on climbs as it does in the flat. There is no doubt that it is a reliable full-performance wheel.
To our slight disappointment, it is easy to scratch the fit during the ride. This may be because our testing process is more intense, but in the spirit of rigor, we still choose to tell you this, which I hope you can pay attention to when riding.
Learn More: Top 8 Best Road Bike Groupsets [2023]–What Road Bike Riders Need To Know
Wheel Buying Guide
Road bike wheel structure composition
Clincher vs. Tubeless
What is TPI?
How often should I change my road bike wheels?
Road bike rim width
Can I use any tire on the rim?
Road bike wheel structure composition
The wheel is composed of a hub, spokes, gland nut, rim, and other parts.
The wheels are divided into two types: spoked wheels and one-piece wheels. The former has excellent durability and good immunity in the face of bumpy roads, and the toughness of the spokes will absorb the vibrations while riding. Braided spokes need to be fixed on the rim, usually with an inner tube. Once damaged, it is more troublesome to repair. The latter has a lighter weight and also has a better power transmission. However, it is the opposite of a spoked wheel and cannot withstand intense riding.
The wheel is tied to the rim metal wire in the spokes, in the choice of material is also sometimes used in carbon fiber, but this will increase its cost.
The gland nut is a special nut that screws the spokes into the rim and is usually used to adjust the spoke tension.
The rim is located on the outside of the wheel, holding the tire in place and providing a braking surface for bicycles equipped with rim brakes.
Clincher vs. Tubeless
Before choosing the right wheel you need to know what kind of tire it fits. Generally speaking, most wheels are equipped with clincher tires, which consist of a single bead that you can fill with air. Even if it is damaged, you can easily remove it for repair or replacement.
The tubeless tire is a more expensive option and is becoming more and more popular. The absence of an inner tube gives it better durability and automatic repair in the face of small punctures. The downside, however, is that once damaged, you will have to pay more for repairs.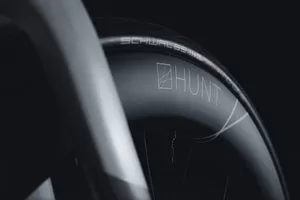 What is TPI?
TPI refers to threads per inch, the number of threads per inch of weave, and the density of the weave. TPI is the indicator to measure the performance of the tire, since the mesh cover is the main body of the tire, and the main source of rolling resistance is the energy loss caused by the compression and deformation of the mesh cover in contact with the road.
A higher TPI means more fibers in an inch. A high-density weave means finer fibers, which also means lower rolling resistance, allowing you to ride faster.
How often should I change my road bike wheels?
For different riders, the time to change wheels is not uniform. And if you are using rim brakes on your wheels, it will speed up its wear and tear, which will seriously affect the braking performance and bring safety hazards.
Generally speaking, the life of a wheel depends on how much you ride and how intense it is. Facing flat terrain, they can last for a long time without being subjected to violent impacts.
Of course, maintenance is also important, and regularly checking and cleaning your wheels will significantly extend their life.
Road bike rim width
The rim width is divided into inner and outer widths, and it is an important indicator to determine whether the tire size can be well mounted or not. For narrow rims, mounting wider tires can become unstable. Likewise for wide rims mounting narrower tires can lead to unstable or even damaged rims.
As technology continues to advance, rims are becoming wider and wider. Wider rims capture airflow better and reduce air resistance. This aerodynamic design for maximum efficiency delivers the ultimate speed experience.
Of course, this does not mean that wider rims are better. All other things being equal, they tend to be heavier than narrow rims. If you're a rider with stringent weight requirements, it's time to think carefully.
Can I use any tire on the rim?
The answer is no. Before choosing a tire you need to make sure that this fits the wheel you are using, otherwise, it can cause you some trouble.
However, you can run non-tubeless tires on tubeless rims with tubes, and you can also run tubeless tires on non-tubeless rims with tubes, provided that it has a hooked rim design. This design has better tire compatibility and allows for more tires to be used.
But the same goes for a hookless rim, which eliminates the hook on the inside of the rim bead used to lock the tire in place. This makes it have less compatibility and only supports vacuum tires. But it's more comfortable and has better cornering. You need to be careful not to put a hookless tire on a non-hookless rim, otherwise, you risk a blowout.
Conclusion
Thank you for being able to read through this article, in which we test 12 of the best road bike wheels and make a detailed presentation for them. We've considered a variety of factors for you, whether it's durability or comfort, this article will give you insight into the choices you can make based on your needs. By the way, if you want to go riding in well-known terrain or special terrain, you can book your accommodation on Skyscanner. It is not only rich in variety but also easy to operate.
Finally, if you like our content, feel free to share it with your friends! If our content is helpful to you, you can click the email subscribe button below!