We use affiliate links and may receive a small commission on purchases.
Schwinn World Sport Adult Road Bike
This is a schwinn road bikes that was produced back in 1979, this bike has been defined as sport road bike.
When you look at this bike, I think you're an old pro. And I'm a fan of older bikes, but after looking at the sale of this bike on several used platforms, I was surprised by how many enthusiasts liked it.
I'm still surprised by how many people like it, so today I'm reviewing the Schwinn World Sport Adult Road Bike as a "young" rider.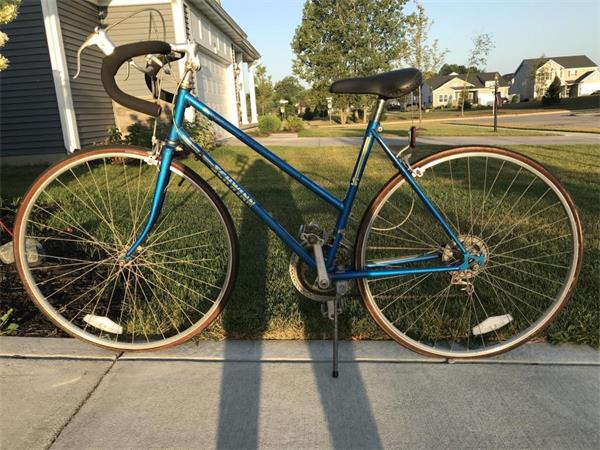 What are the features of the Schwinn world sports bike? What are the pros and cons? Which are the things to look for when buying a used Schwinn World sport? What are the alternatives to the newer road bikes?
What are the features of Schwinn World Sport Bike?
Design and history
The 1979 Schwinn World Sport was designed as a road bike, and I can't find any information on the price at the time, but it was a high-end consumer product at the time, with excellent parts quality and riding experience. The design retains a road bike's head-tube angle, continuing Schwinn's consistent demand for high-quality bikes.
The color is glossy black, and there are men's and women's frames available. Men's models are in high demand right now. Women's models are extremely difficult to come by.
Steel Frame
In the beginning, the Schwinn World Sport Bike had a carbon steel frame. The chrome Schwinn World Sport Bike was later produced. There is a significant quality difference between the two, and what remains today is essentially the chrome frame Schwinn World Sport. If you want to learn more about this bike, click on one of the links below.
The assembly date of the bike should be represented by a stamped four-digit number in a very small font on the head badge. The first three digits are the day of the year (001-366), and the last digit is the year's last digit. The decals and components determine the decade.
In addition, for Giant-built World Sports, the month and year of manufacture are stamped into the drive-side rear dropout in the format "GMMYY," where G stands for Giant (Taiwan), MM stands for the month, and YY stands for the year.
The online Schwinn catalogs can then be used to determine what tubing was used in the frame and which components were available for that year's World Sport.
Speed numbers
Initially, the Schwinn world sport 10-speed bike was produced, and around 1984, the 2*6 14 speed Schwinn world sport began to be produced. Such speed figures can still be found on many road bike models. The speed at which the gears change is very smooth. Suitable for fast riding.
Alloy linear V-brake
The sturdy and durable alloy linear V-brake is very unbreakable and requires regular checking and tuning of the brake's precision when it comes to maintenance.
Seat
The seat is set up a little differently than the newer ones, a little smoother, but it is not suitable for long-distance riding and lacks breathability. If you buy a used Schwinn world sport, you can upgrade to a softer seat. Typically, the seats on used bikes are in poor condition.
Tires
The 27-inch tires are not easy to find nowadays. If you buy online you can still find them, 27*25C thin tires.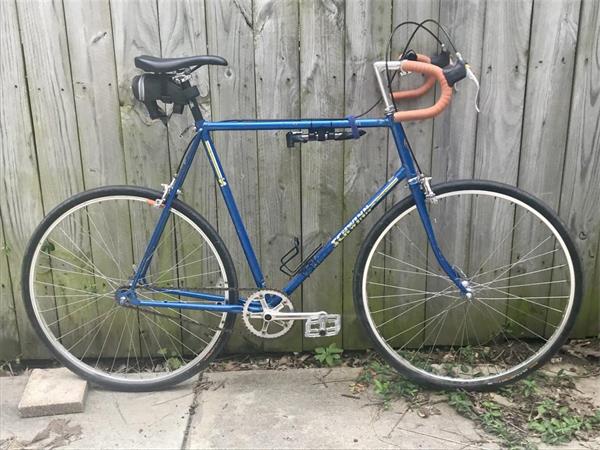 Schwinn World Sport Bike Pros and Cons
Pros
Steel frame
14 speeds
Can be fitted with a water bottle holder
Curved handlebars
Cons
Steel frame rusts easily
Road tires are less terrain friendly
Schwinn World Sport Bike Specs
| | |
| --- | --- |
| Bicycle Type | Road Bikes |
| Frame material | Steel |
| Frame Type | step-thru frame/step-over frame |
| Speed Number | 14-speed |
| Brakes | V-Brakes |
| Recommended Users | Adults |
| Tire size | 27-inch |
| Suitable height | Riders 64 to 74 inches |
| Load-bearing | 260 lbs. |
| Color | Blue/Black |
Bicycle Comparison
| | | | | |
| --- | --- | --- | --- | --- |
| Bicycle | Frame material | Wheel size | Speed Number | Price |
| Schwinn Phocus 1600 | Aluminum | 700c*23c | 16 | Click View |
| Vilano Shadow 3.0 Road Bike | Aluminum | 29-Inch | 14 | Click View |
| Kent Gzr700 Road Bike | Steel | 29-Inch | 21 | Click View |
| Schwinn Volare 1300 Adult Hybrid Road Bike | Aluminum | 28-Inch | 14 | Click View |
Comparison
Schwinn Phocus 1600 VS Schwinn World Sport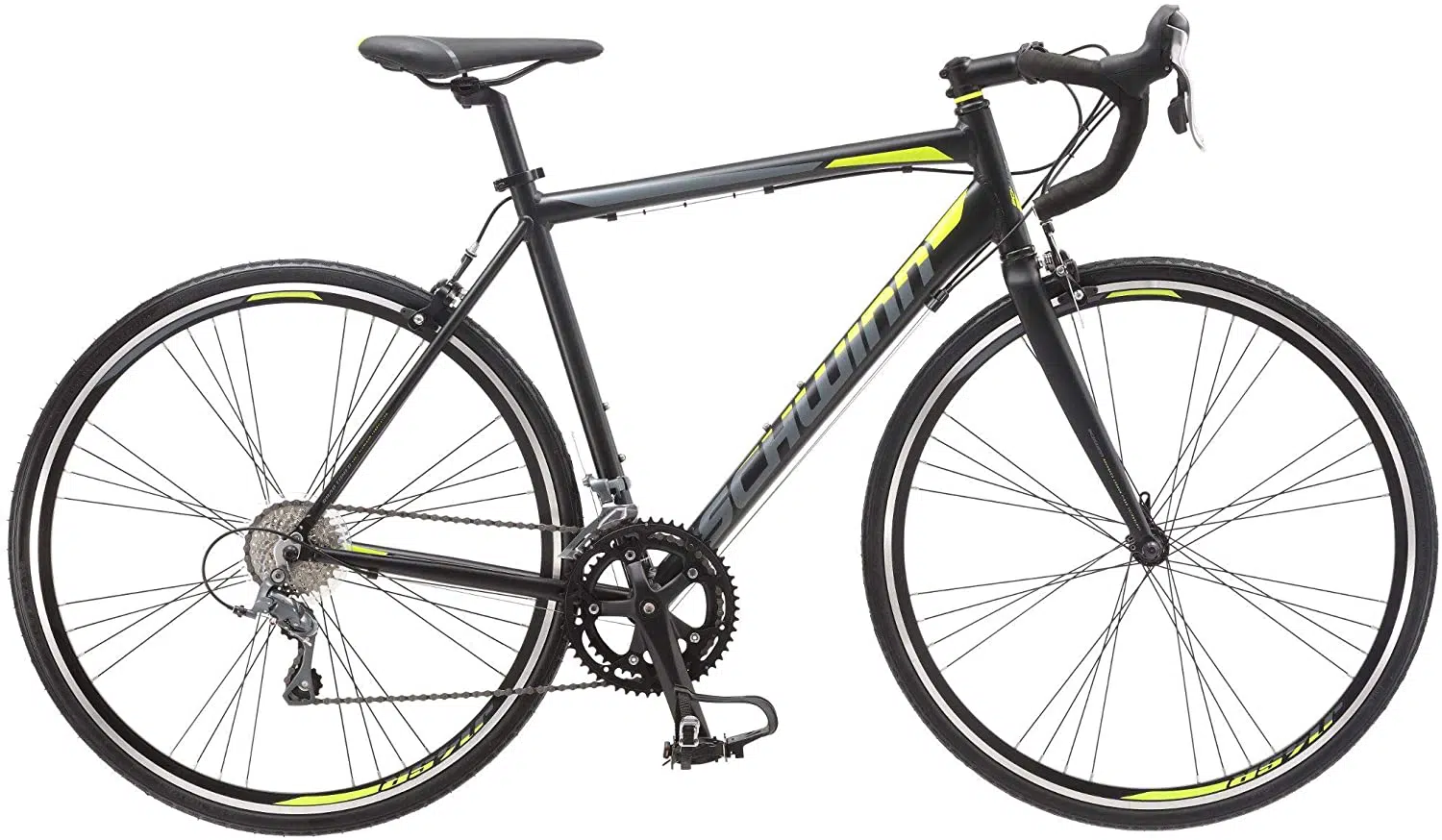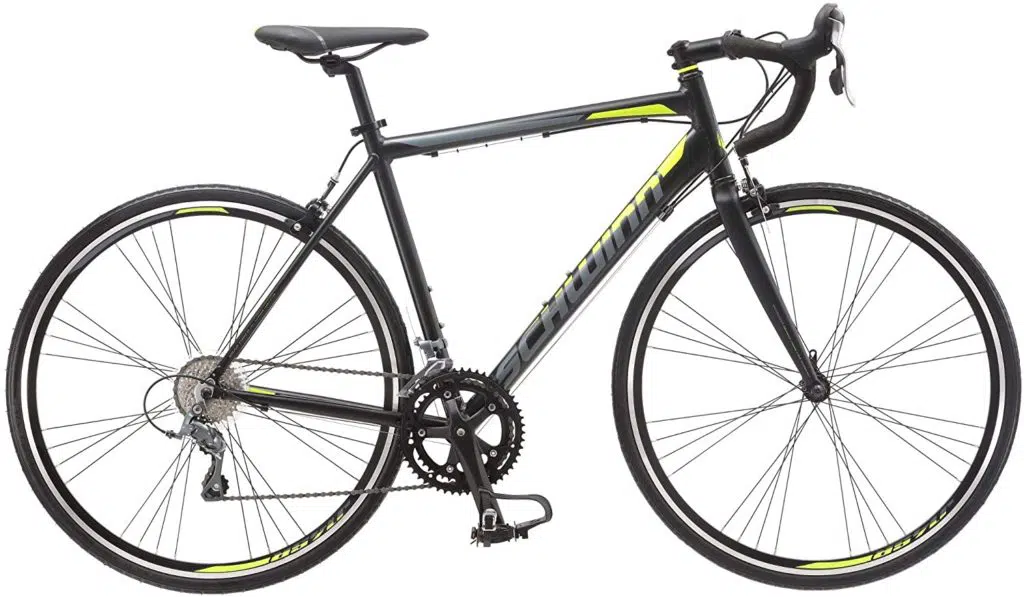 The Schwinn Phocus 1600 has an aluminum frame and a 16-speed shifter. Schwinn Phocus 1400 has the same 14-speed drivetrain as the Schwinn World Sport. The Schwinn Phocus 1600 feels lighter to ride, has a slightly longer wheelbase, and the 700c*23c tires range in size from 27.5″ to 28″.
It stands slightly higher than the schwinn world sport. The alloy double-wall rims are tough and long-lasting.
The carbon fork reduces the weight of the bike even more, allowing you to ride faster. This is complemented by the curved handlebar, which is ergonomically designed to keep you riding upright.
If you want a road bike that is fast enough to compete in triathlons and time trials, the Schwinn Phocus 1600 is still a good choice.
Learn more: Schwinn Phocus 1600 Review – Best Schwinn Entry Level Road Bikes
Vilano Shadow 3.0 Road Bike VS Schwinn World Sport
The 700c x 25c tires are the same width as the older schwinn world sport tires, which adds stability and comfort to the ride. As a general road ride or commuter ride, it's still well worth the investment.
It's also inexpensive, with an aluminum frame and fork and a weight of only 25 pounds. In comparison to the schwinn world sport, it is still very light. Riding speed is adequate.
If you like this affordable Vilano Shadow 3.0 Road Bike, you can check out our detailed review.
Kent Gzr700 Road Bike VS Schwinn World Sport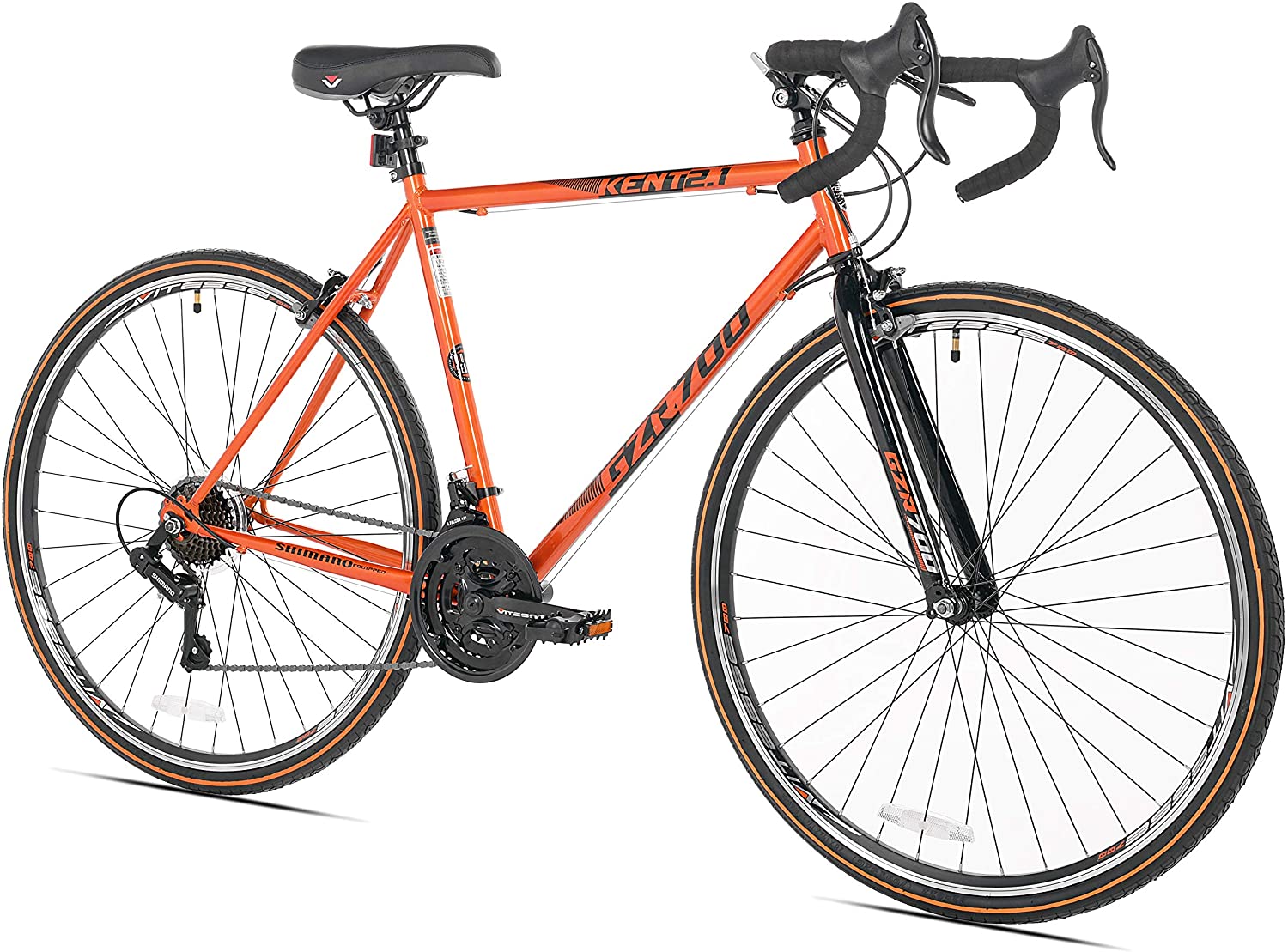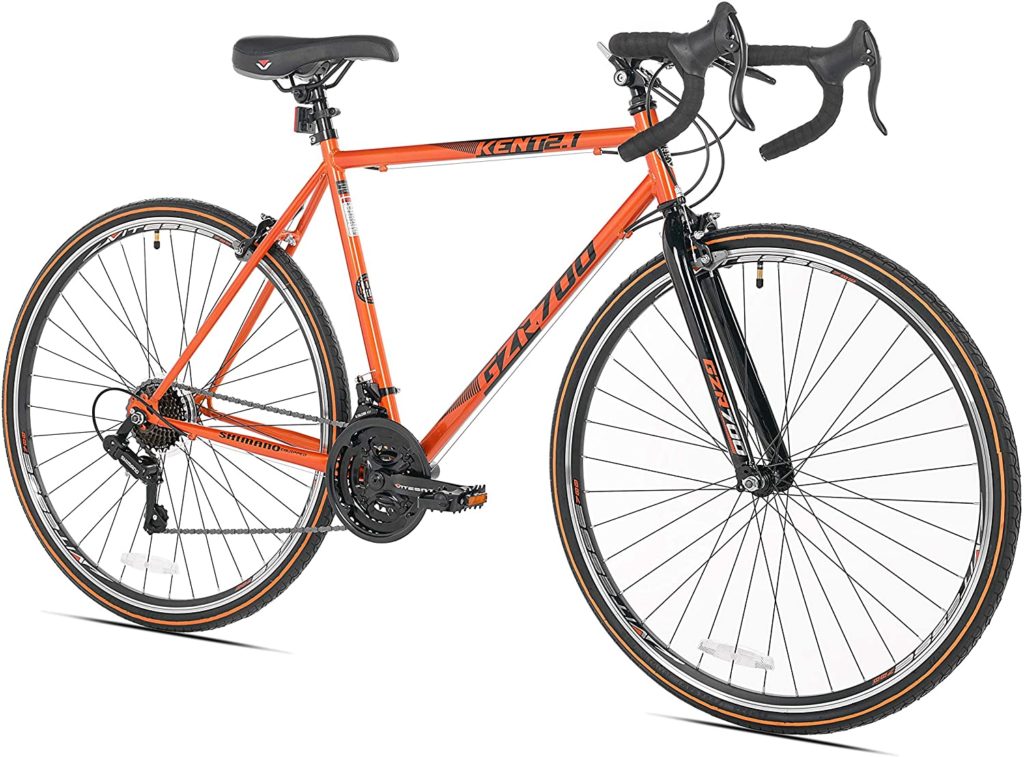 The Kent Gzr700 Road Bike is very inexpensive. It isn't even more than $200. This attracts riders who are looking to purchase a used road bike. Of course, the Kent Gzr700 Road Bike is a good option as well.
While professional riders scorn road bikes at this price, riders who ride as daily commuters adore them. Again, the steel frame is strong and long-lasting. If you take care of it, I believe it will last 30-40 years with schwinn world sport.
Furthermore, it has a surprising 21 speeds, smooth shifting, and minimal jarring. But there are some drawbacks, such as the wheel's poor quality, which makes it easy to damage when riding off-road. The Kent Gzr700 Road Bike is the most affordable option, while the schwinn world sport is the most nostalgic.
Schwinn Volare 1300 Road Bike VS Schwinn World Sport
The Schwinn Volare 1300 Road Bike is also a Schwinn brand road bike; it retains the schwinn world sport's head tube angle, but the frame material has changed from iron to aluminum. Shimano 14-speed drivetrain, smooth rider, does not tire you out.
Because this Schwinn Volare 1300 Road Bike is more geared toward fitness riding, the configuration has been altered, and the 28c sport tires are both fast and fun. If you're looking for a road bike for fitness riding, the Schwinn Volare 1300 Road Bike is ideal.
Where can I buy a schwinn world sport bike?
You can buy them on ebay or related used bike trading platforms, but most people go in with the attitude of trying them out. However, after checking out the appearance of many Schwinn World sport bikes and the newness of the parts, I was afraid to go for it.
Related videos
What should I look for when buying a used bike?
Brand
Older brands have many advantages, particularly that frame data is easier to find, and well-known brands make you want to research the used bike, and there will be more people to tell you the answer when you change the parts.
Newness
Cheap used bikes are only found when they are purchased, and many of the parts are broken. This is a huge hassle, and chances are you spent more money repairing it.
Parts data
Check the relevant parts data before you buy, so that when you repair, you can't find the matching parts.
Buy from legitimate trading sites to prevent being cheated
Buy a used bike from a reliable website to avoid non-delivery, or unmanageable disputes after purchase.
Summary
The schwinn world sport has used history to prove the Schwinn brand's durability and to make its many other models available to a wider range of cyclists. It has a 14-speed and frame design that has been applied to a variety of bike designs, whether for racing or everyday riding, as a vintage road bike. schwinn Road Bike has the right model for you. We provide additional advice on selecting a road bike in the hopes that it will be useful to you when selecting a road bike.
Related: Top 9 Best Road Bikes Under 500 [Review] – 2021