We use affiliate links and may receive a small commission on purchases.
2020 Salsa Blackborow GX Eagle
Price: $3299
Frame: Aluminum
Gear: 1×
Tires: 27.5 x 3.8″
What we like about it: Matching the rich frame and super strong fork brings great carrying capacity, so you can be more prepared when preparing for your adventure.
What we don't like about it: The relatively heavy body weight.
Rating:(4.7/5)
Introduction
It's actually hard to believe that I became interested in such a bulky-looking bike by chance. Not bringing enough essentials on a long ride forced me to interrupt my ride, so I always wished I had a bike that could carry more items.
This Salsa Blackborow GX Eagle did not disappoint me.
After our two-month review, this Salsa Blackborow GX Eagle with its sturdy aluminum frame, smooth SRAM GX Eagle1× drivetrain, and wide, hard-wearing 45NRTH Dillinger 4 led us through the tiny forest trails. Carrying more than enough weight to accompany us through the sparsely populated wilderness, it impressed my partner Eve and me.
Yes, it amazes us with that powerful load-bearing capacity. The easy and comfortable power transmission also cheered us.
Below we break down the Salsa Blackborow GX Eagle for weight riding, trail riding, key features, component specifications, and other versions.
To learn more, please stay tuned to us.
Load Ride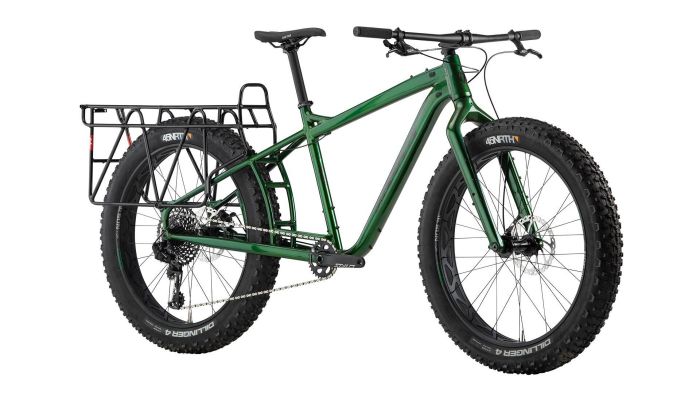 It is well known that being underweight can make our acceleration difficult. It also makes our riding inertia greater when braking because of the excess weight, and there is no way to have more stable braking. Even on the better trail bikes, I have had brakes fail due to excessive weight. At times like this, I always wish I had a bike that would allow me to carry more load.
When this Salsa Blackborow GX Eagle appeared in front of my eyes, my first thought was that I would be able to go farther into my camping trip. Then came the concern that with such a huge body and wheels, it would put a damper on my speed.
You might not expect it (and neither did I), but after I loaded up all my camping gear and my partner Eve headed further away from the hustle and bustle of the city to watch the stars in the wilderness and enjoy the empty autumn breeze on my face. The performance of this bike made our road trip full of songs.
With the sturdy 6066-T6 aluminum frame and the excellent SRAM GX Eagle 1× drivetrain, we can switch to more energy-saving speed gears and have a more relaxed and energy-saving ride under the premise of weight.
The comfortable WTB Volt Sport saddle served as a great cushion on the bumpy trails I encountered on this riding trip.
All in all the prominent weight-bearing features of this bike make it look like a bulky tank, but the excellent component configuration makes it not that difficult to ride. I think this will be the weight-bearing bike I want.
Off-road Riding
It's hard to imagine how this bike can be ridden off-road in the middle of a weighted ride. I thought it was just a gimmick at first, but it piqued my curiosity. This ride happened to include another single-track trail ride through the mountains. This Salsa Blackborow GX Eagle got a thumbs up from us for its performance off-road under load.
The 27.5 x 3.8″ 45NRTH Dillinger 4 vacuum tires have great grip. The powerful and lightweight Hayes MX Comp mechanical disc brakes allow me to stop in a hurry when I'm on the trail without the weight of the bike preventing me from braking steadily. 60mm BB drop lowers my center of gravity, allowing for better handling and stability in corners.
We noticed that the bike was not set up with a shock absorber. I did worry before I rode it that it would be unbearable for me to vibrate on bumpy trail routes, but I didn't expect the relatively soft vacuum tire setup to absorb some of the shock, and the comfortable Salsa Salt Flat kept my arms well cushioned.
Of course, it has to be said that the relatively heavy load weight will make this Salsa Blackborow GX Eagle unable to keep up with the speed of a lighter trail bike, which is a difficult problem to avoid with a cargo bike, but the performance of this bike is unimpeachable for its price point.
Yes, on this trail ride, I felt that this bike was stable and easy to ride off-road with a heavy load, so if you need such a loaded bike, I think it might be the one for you.
Main Features
Frame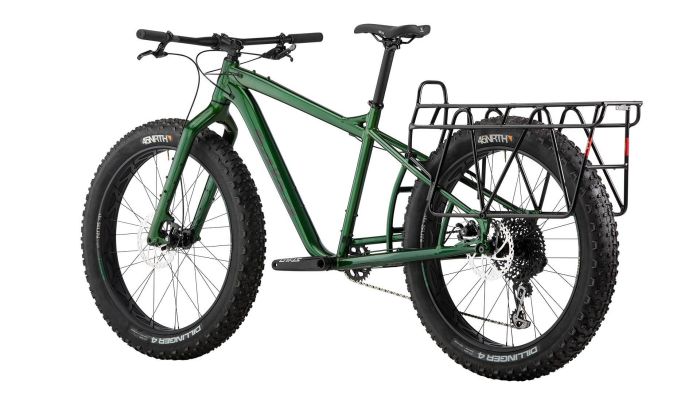 At first glance, my partner Eve's eyes widened and he told me he had hardly ever seen a bike with this frame. Yes, it's hard to describe such a model, but the green paint color gives me a very fresh feeling.
In addition, the internal alignment of the frame is simple, making the entire frame look clearer and easier to maintain and clean later.
Not only that, the 3 water bottle mounting holes are set up so that you can ride farther without fear. The rear bike panniers are designed to allow you to carry bulky items such as sleeping bags and clothing for winter use, or fishing gear and food. Incredibly, the mounting holes on both sides of the front fork also allow you to carry more essentials.
In short, it can be said that the frame design of this bike is almost ready for carrying.
Geometry
Regardless of the type of bike, a comfortable geometry will make your ride more beneficial.
The first thing that impressed us the most was the bike's extra-long 1336mm wheelbase, which is much longer than a normal hardtail bike, and while it may slow down the bike's handling, it is more stable than a short wheelbase when riding. Secondly, the steep seat tube angle (73°) allows you to pedal with relative ease and keep a relatively comfortable upright ride; also in the trail bike range, the steep head tube angle (69°) allows for relatively easier climbing.
But the relatively long reach (424mm) is more suitable for longer arm rides, and I'm a bit puzzled by its choice of only three sizes, probably also because this model is relatively niche.
In short, the comfortable geometry in this frame loads the bike during the ride, bringing the rider a comfortable riding experience is shown to the fullest.
Components and Specifications
SRAM GX Eagle 1× Drivetrain
A great drivetrain will give you a great ride with half the effort. As you can see the bike's dense 10-50t gear ratios allow for more effortless speed gearing when climbing, and the open drivetrain design makes it easy to clear the mud even when wading through muddy trails, providing you with clear and crisp gear changes and longer life.
Some people may think that the 1× drivetrain will risk dropping the chain when making shifts, so I conducted a test for this. Through repeated shifts, while riding, this SRAM GX Eagle 1× did not have any dropped chains even when shifting. The addition of the anti-drop technology makes this transmission perform even better.
Hayes MX Comp mechanical Disc Brake
It's true that hydraulic disc brakes are more popular in today's cycling world, but that doesn't mean that the braking power of mechanical discs is inadequate.
First of all, with the amount of stuff I was carrying on this cargo bike and myself on this ride, the bike was carrying quite a bit of weight. I was concerned about the braking, but when I needed to brake, the mechanical disc brake stopped my tires with precision and stability.
Yes, it didn't disappoint me even with that much weight. Also most of the mechanical disc brakes are forged so it is very strong and it is relatively low cost in terms of post maintenance.
45NRTH Dillinger 4 Tires
My friends who have lived in Alaska for a long time tell me that this 45NRTH Dillinger 4 tire has taken Alaska by storm.
I fully believe my friend is not exaggerating, as this bike has not only performed well on ice due to its Dillinger tread pattern and tubeless compatibility, but it also has a medium to strong grip on my actual trail rides.
In addition, the side lugs on the tread allow you to make turns even on loose ground, it will provide excellent cornering traction and the vacuum tires are ready for an easier ride.
You may not have thought that the custom studs can give you a firm grip on the ground when performing climbing on smooth ground, making your climbing more beneficial.
Previous Versions of the Salsa Blackborow GX Eagle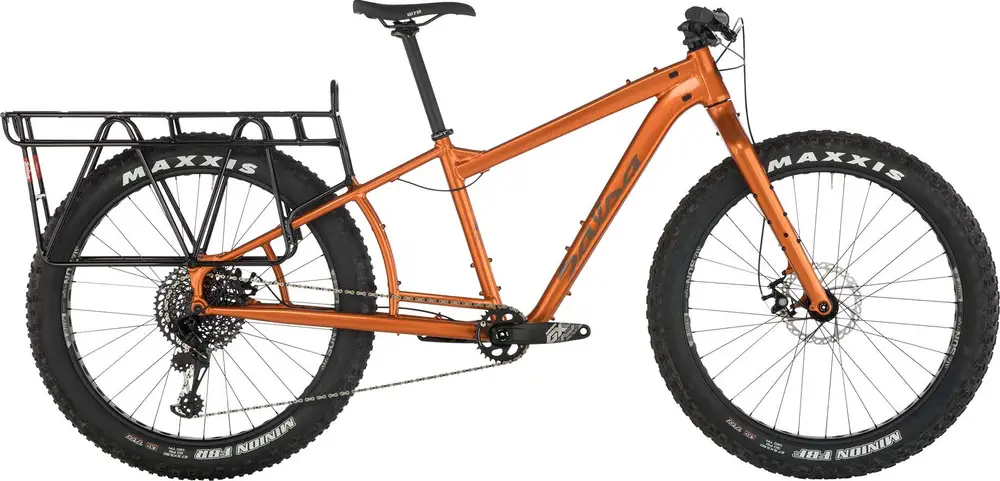 In this review, we get a real-life ride on this $3,299 2020 Salsa Blackborow GX Eagle with an aluminum frame and SRAM GX Eagle 1× drivetrain and Hayes MX Comp mechanical disc brakes, and 45NRTH Dillinger 4 tires. To get a more detailed look at this model, we learned about previous versions of the Salsa Blackborow GX Eagle.
The 2019 Salsa Blackborow GX Eagle is a 1×12 drivetrain, which is more than the 2020 Salsa Blackborow GX Eagle's gear range, but in practice, the same gear ratios (10-50t) don't make much of a difference, and the overall frame design is the same for the load. The overall frame design is designed to carry the same weight, and the brakes have not been changed much.
But it is important to mention the 45NRTH Dillinger 4 tires on this bike, the 2020 Salsa Blackborow GX Eagle. The vacuum tires are ready to go so that they can be lighter and the sturdy casing makes them more wear-resistant.
Salsa Blackborow GX Eagle 2019 or 2020 both impressed me, regardless of the model. As a result of the new 2020 Salsa Blackborow GX Eagle tires, my ride is even more comfortable.
What do we like about it?
Superb cargo capacity allows you to bring more essentials.
Large-size tires allow you to pass through the loose ground easily.
Excellent and smooth 1× drivetrain for swift shifting.
Relatively long wheelbase for a more stable ride.
Mechanical disc brakes provide strong braking power in all situations.
What we don't like about it?
Some people think that mechanical disc brakes are not advanced enough.
The paint color is too single.
FAQs
What is the weight limit for the rear rack of the 2020 Salsa Blackborow GX Eagle?
The weight limit for the rear rack of the Salsa Blackborow GX Eagle is 50kg (110Ibs).
What speed can the Salsa Blackborow GX Eagle reach?
Salsa Blackborow GX Eagle can reach a speed of 39km/h.
What sizes of Salsa Blackborow GX Eagle are available?
Salsa Blackborow GX Eagle sizes:
SM 168cm – 176cm;
MD 174cm – 184cm;
LG 182cm – 190cm.
Salsa Blackborow GX Eagle Specs
2020 Salsa Blackborow GX Eagle
2019 Salsa Blackborow GX Eagle
Frame
Blackborow Mid-Wheelbase Fat Frame
BB Standard: BSA, 100mm, Threaded
Color: Green
Blackborow, mid-wheelbase
BB Standard: BSA, 100mm, Threaded
Color: Copper
Fork
Kingpin
/
Rear Shock
N/A
/
Bottom Bracket
100mm BSA, threaded
/
Headset
Cane Creek 40 Series
Cane Creek 40
Stem
Salsa Guide Trail
/
Handlebar
Salsa Salt Flat
/
Saddle
WTB Volt Sport
/
Seatpost
Salsa Guide
/
Grips
Salsa File Tread
/
Rear Derailleur
SRAM GX Eagle
/
Front Derailleur
N/A
/
Crank
SRAM Stylo 6K DUB, 30t CNC
Truvativ Stylo 6K Eagle DUB Crankset with 30t ring
Shifters
SRAM GX Eagle
/
Cassette
SRAM Eagle 10-50t
SRAM XG 1275 Eagle 10-50t
Chain
SRAM GX Eagle
SRAM Eagle
Brakes
Hayes MX Comp mechanical, 180mm V-Series rotor
/
Rims
SUNringlé Mulefüt SL 80 27.5″ x 80mm w/ SUNringlé SRC 150mm hub
/
Tires
45NRTH Dillinger 4, 27.5 x 3.8″, tubeless-ready, custom stud-able
Maxxis Minion FBF front and FBR rear, 27.5 x 3.8″, 60 tpi
Disk Rotors
Hayes MX Comp mechanical, 180mm V-Series rotor
/
Video
Comparison Table
Salsa Blackborow GX Eagle vs 2022 Rad Power Bikes RadWagon 4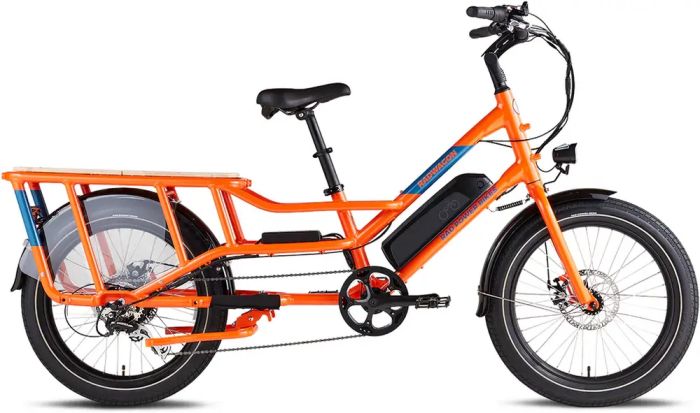 I have to say that the first impression of such cargo bikes is that they are bulky, but the relatively long wheelbase makes them more stable.
These two bikes, are similar in weight, but it's worth mentioning that the 2022 Rad Power Bikes RadWagon 4 is charged, which makes your ride easier and faster when riding. But if you enjoy simply riding more, I think a more nimble control of the Salsa Blackborow GX Eagle will allow you to have more fun.
In addition, with the same mechanical disc brakes, they are capable of strong braking even when facing a loaded situation. However, on this electric Rad Power Bikes RadWagon 4, I felt a little lag in its braking due to the relatively faster speed.
If you want a more pure riding experience, I think you can try this green Salsa Blackborow GX Eagle.
Salsa Blackborow GX Eagle vs 2022 Yuba Mundo Lux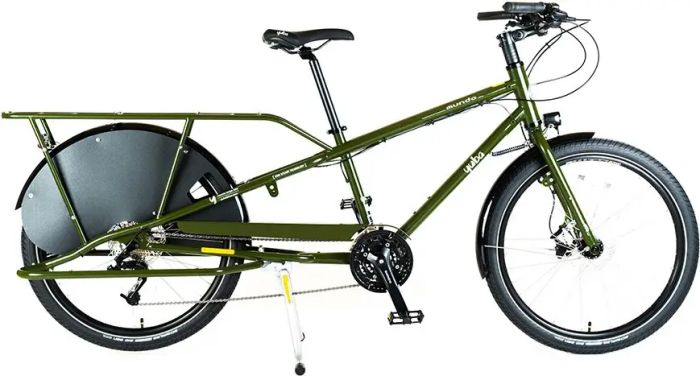 The 2022 Yuba Mundo Lux is really not a lightweight bike, the steel frame makes it 58Ibs. and frankly, if you just look at the weight, I'm afraid I'd have trouble holding on to it on a camping trip.
But the good news is that this 2022 Yuba Mundo Lux has a relatively wide 3×9 shifting range, as well as relatively advanced hydraulic disc brakes, which can make your ride a little bit easier.
I have to say that I personally prefer to drive the Salsa Blackborow GX Eagle, not only because of its relatively lightweight body, but also because of its 1× drivetrain, which is much smoother and easier. The mechanical disc brakes are powerful even under heavy loads (low maintenance).
Of course, the choice depends on your main needs. If you are willing to have a lighter body, I think you can try the Salsa Blackborow GX Eagle.
Salsa Blackborow GX Eagle vs 2022 Yuba Kombi E5 Electric Compact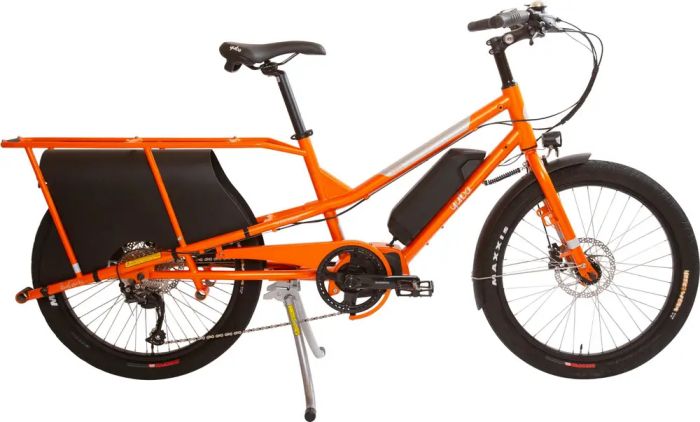 The orange-painted 2022 Yuba Kombi E5 Electric Compact looks relatively bright looking, but the sturdy steel frame gives it a weight of 65Ibs, which is a bit of a deterrent for me. While the powered setup will make your ride relatively easy, I always think about how it would be a disaster if there wasn't enough power to last on the road. One of the more pleasant surprises for me on this bike was its hydraulic disc brakes, which are relatively more advanced and have plenty of braking power even under load.
However, this is not my admission that the Salsa Blackborow GX Eagle is not good, on the contrary, the relatively light body makes it more agile, and the mechanical disc brakes have strong braking performance and relatively low maintenance costs afterward. In addition, the 1× drivetrain allows you to shift more smoothly.
If you want a relatively lightweight cargo bike, I think you could try the 2020 Salsa Blackborow GX Eagle.
In case, the above comments are helpful to you, please remember to share the subscription. Have a great day!