We use affiliate links and may receive a small commission on purchases.
2023 Kona Hei Hei CR Review
Price: $4899
Frame: Carbon
Wheels: 29″
Gear: 1×12
What we like about it: Carbon fiber frame, high-end component configuration, and fast ride.
What we don't like about it: The high price.
Rating: (4.7/5)
Kona is a bicycle company based in the United States, founded in 1988 with offices in Ferndale, Washington and Vancouver, British Columbia. It's a brand committed to creating high-performance mountain bikes, road bikes, and city bikes. Kona bicycles are known for their outstanding design and manufacturing, high-quality products, and good reputation. They excel in different types of riding.
The Hei Hei series is a top-choice XC bike with a long history at Kona. It's won multiple 24-hour solo world championships and podiumed at sanity-testing events all over the world. But it's not just a high-speed XC bike, it's also a bike that helps elevate anyone's riding level. It makes you want to ride harder, faster, and climb higher. And if you want to crush KOM, it will also help you achieve that.
Next, we'll analyze the riding experience, specifications, and other versions of the Kona Coco CR. If you want to learn more about bike reviews, follow us.
Riding Experience
As an experienced rider who has ridden various complex terrains, I'm used to those challenging roads. But when I got my hands on this Kona Hei Hei CR, I began to look forward to a wild and exciting journey.
Downhill Riding
For this test ride, we specifically came to the Mountain Creek Bike Park in Vernon, New Jersey. This park is known for its fast and flowy mountain trails, making it perfect for high-speed riding. There are various trails to choose from in the park, and I started with an easier one to feel the bike's handling and response. But soon I realized it couldn't satisfy me, and craved more challenges. So, I headed to the Double Down trail, one of the most technical and demanding routes in the park.
This trail is full of steep drops, narrow turns, and massive jumps, requiring precise and skilled techniques to handle. But the Hei Hei CR showed me with its actual performance that it can handle any terrain. I pushed the bike to its limit, quickly jumping on the road, and I could feel the suspension system easily absorbing the bumps and shocks. The application of a carbon fiber frame makes the bike light and flexible, almost like an extension of my body. Especially when facing sharp turns, the powerful braking effect helped me stabilize the bike and safely pass through.
Off-road Riding
A few weeks later, I took this Kona Hei Hei CR to the Tsali Recreation Area in North Carolina, deciding to have a more challenging off-road ride. The trails in Tsali are far different from the fast and flowy mountain trails in Mountain Creek Bike Park. Instead, they offer a mix of technical climbs, rocky descents, and fast singletrack. But once again, the Kona Hei Hei CR proved to be fully capable of handling it.
As I climbed steep hills and rocky roads, the 29-inch Maxxis Rekon Race EXO TR DUAL tires played an important role. They provided excellent traction and grip, making it easier to pass through some obstacles. At the same time, the outstanding suspension system also demonstrated its powerful performance, keeping me stable. When going downhill, I could let go and enjoy the speed of the mountain trails. One of the highlights of the Tsali trails is the Mouse Branch Loop, which provides a challenging yet beneficial ride through the forest and steep terrain. This loop is full of tight turns, rocky drops, and multiple sections, testing my skills and endurance. But with the Kona Hei Hei CR, I could easily conquer every obstacle.
Specification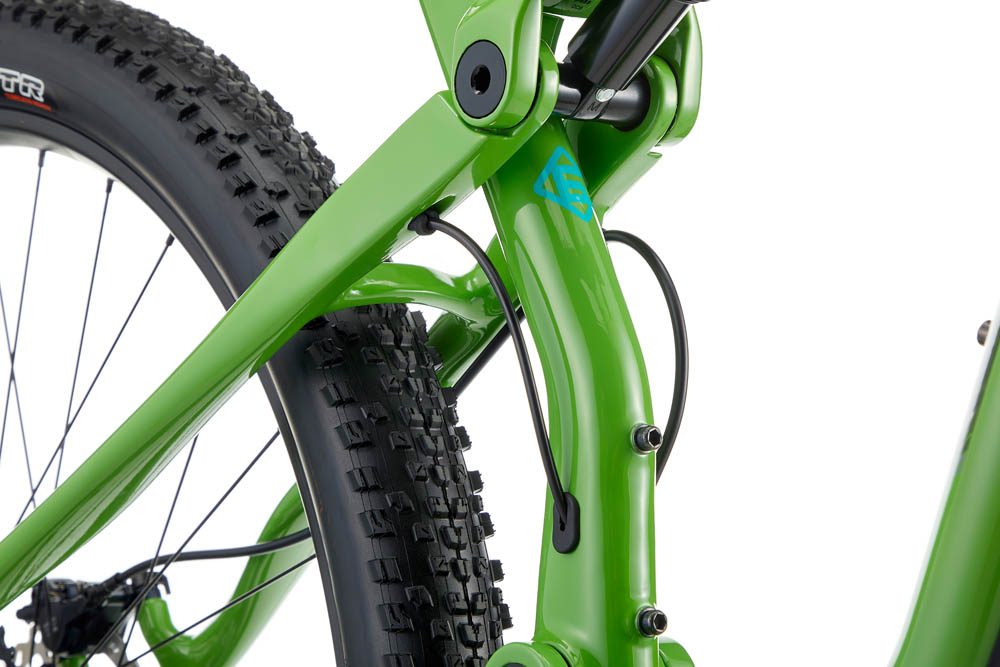 As a high-performance full-suspension mountain bike, the Kona Hei Hei CR is unique in its design. The lightweight carbon fiber frame, with its clean lines and bold colors, makes it look more stylish. But it's not just that, in component selection, it's equipped with a powerful suspension system, including a 120mm Fox 34 Float Performance fork and 120mm Fox Float DPS Evol rear shock. It can effectively absorb bumps and shocks on the road and provide excellent control on some technical terrain.
The Kona Hei Hei CR's drivetrain is also impressive. The Shimano XT 12-speed group provides smooth and precise shifting, and its narrow-wide chainring offers excellent power transmission and acceleration. The 29-inch wheels have good maneuverability. The Maxxis Rekon Race EXO TR DUAL tires bring fast acceleration and excellent traction, making it easy to ride through tight corners and technical sections.
Other versions
To give you a deeper understanding of the Kona Hei Hei CR, we also tested its other versions, hoping to help you.
Kona Hei Hei CR/DL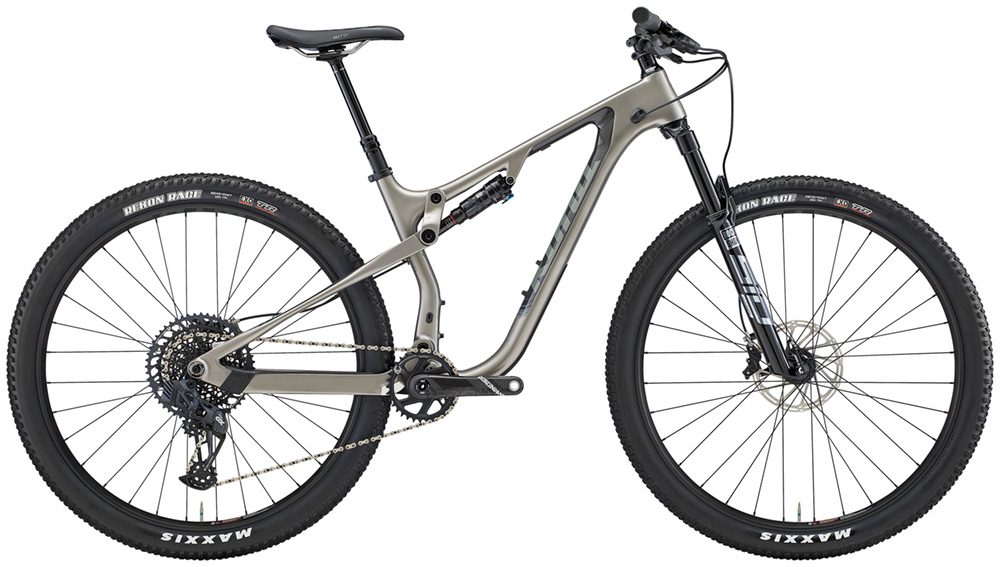 As the top of the line full-suspension Lindo bike in the Kona Hei Hei series, the Kona Hei Hei CR/DL is the highest in terms of both price and configuration. The SRAM X01-Eagle 10-52t 12spd electronic transmission is more responsive and capable of handling more and more complex terrain.
Of course, the better component configuration also means that you have to pay more in terms of price. If you'd like to learn more about this bike, feel free to subscribe to us and we'll keep you updated.
What do we like about it?
Carbon Fiber Frame: The lightweight carbon fiber frame makes for a fast and responsive ride with better toughness.
Top-notch suspension: The 120mm travel suspension provides excellent control and comfort.
Shimano SLX 12spd drivetrain: Provides you with smooth and precise shifting.
29-inch wheels: Fast-rolling wheels with excellent traction make it easy to navigate tight corners and technical roads.
What don't we like about it?
Price: The higher price is not affordable for everyone.
FAQ
Can Kona Hei Hei CR handle aggressive downhill riding?
While the Hei Hei CR is designed to excel in all riding conditions, including technical downhill. However, it may not be the best choice for riders who focus primarily on aggressive downhill riding. 100mm of rear travel and 120mm of front travel make it more suitable for cross-country and trail riding.
How does the Kona Hei Hei CR perform on climbs?
The Hei Hei CR is a great climbing bike thanks to its lightweight carbon fiber frame and efficient drivetrain. The bike's suspension also provides excellent traction on steep climbs, allowing the rider to maintain control and power even on loose or rocky terrain.
Is Kona Hei Hei CR a good choice for the race?
It is. Thanks to its lightweight carbon fiber frame, top-notch suspension and powerful drivetrain. The fast-rolling wheels also provide good traction and acceleration, making it a great choice for off-road and enduro racing.
How to choose the right size?
Here we have provided you with a size chart. Of course, it doesn't have to be according to this standard, and the best way to find the most suitable size is to test ride.
| | |
| --- | --- |
| Rider height | SIZE |
| 5'0″ – 5'8 | SM |
| 5'2″ – 6'1″ | MD |
| 5'9″ – 6'6″ | LG |
| 5'10" – 6'6″ | XL |
Specs
Build
| | |
| --- | --- |
| Frame | Kona Race Light Carbon 120mm TravelBB Standard: BB86/BB92, Press FitColor: Gloss Kiwi & Charcoal w/ Charcoal & Turquoise Decals |
| Fork | Fox 34 Float Performance 120mm Tapered 110mm Spacing |
| Rear Shock | Fox Float DPS Evol Performance |
| Bottom Bracket | Shimano or Raceface PF92 |
| Headset | FSA No.57E |
| Stem | Kona XC/BC 35 |
| Handlebar | Kona XC/BC 35 |
| Saddle | WTB Volt |
| Seatpost | Fox Transfer 31.6mm |
| Pedals | n/a |
| Grips | Kona Key Grip |
Groupset
| | |
| --- | --- |
| Rear Derailleur | Shimano XT 12spd |
| Front Derailleur | n/a |
| Crank | Shimano MT611 or RaceFace Aeffect 12spd, 34t |
| Shifters | Shimano SLX 12spd |
| Cassette | Shimano SLX 10-51t 12spd |
| Chain | Shimano Deore 12spd |
| Chain Guide | n/a |
| Brakes | Shimano SLX |
| Brake Levers | Shimano SLX |
Wheels
| | |
| --- | --- |
| Rims | WTB KOM Team i30 TCS 2.0 |
| Spokes | Sandvik Stainless Black 2.0/1.8 Butted |
| Front Hub | DT Swiss 370 110x15mm |
| Rear Hub | DT Swiss 370 148x12mm |
| Tires | Maxxis Rekon Race EXO TR DUAL 29×2.4WT" |
| Disk Rotors | Shimano RT76 180mm |
Video
Comparison Table
Kona Hei Hei CR vs 2023 Canyon Neuron CF 9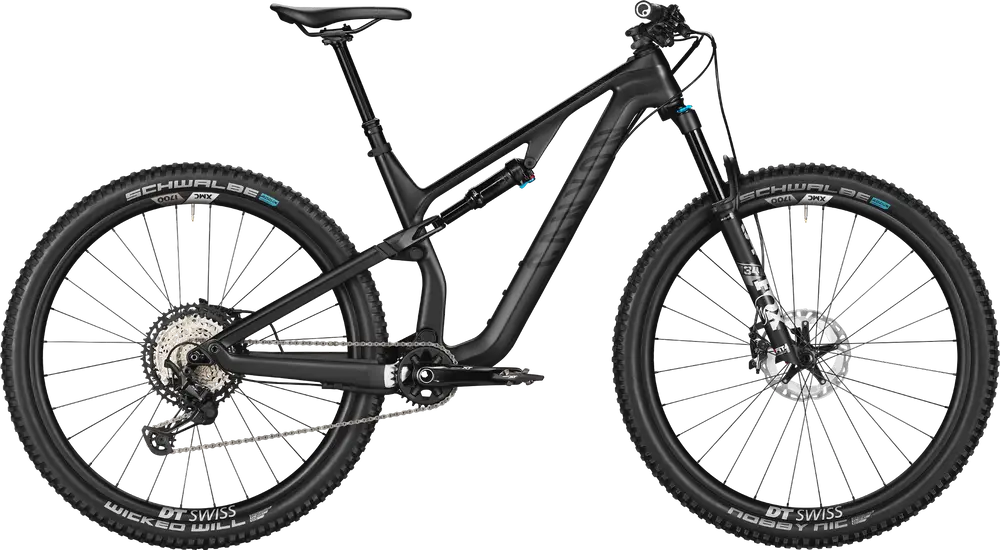 As a full-suspension mountain bike equipped with high-end components, the Canyon Neuron CF 9 performs well on some complex terrain. With a 140mm travel fork and 130mm travel rear shock, it can bring you a better riding experience. Fast, lightweight, and comfortable are its biggest features.
The Kona Hei Hei CR also uses the same Fox 34 Float Performance fork, with a slight difference in the rear shock using the FOX Float DPS Performance rear shock. Although there is a small difference in travel between the two, there isn't much difference in actual riding feel. Both are excellent full-suspension mountain bikes designed for riders who seek a better experience.
Kona Hei Hei CR vs Trek Top Fuel 9.7 SLX/XT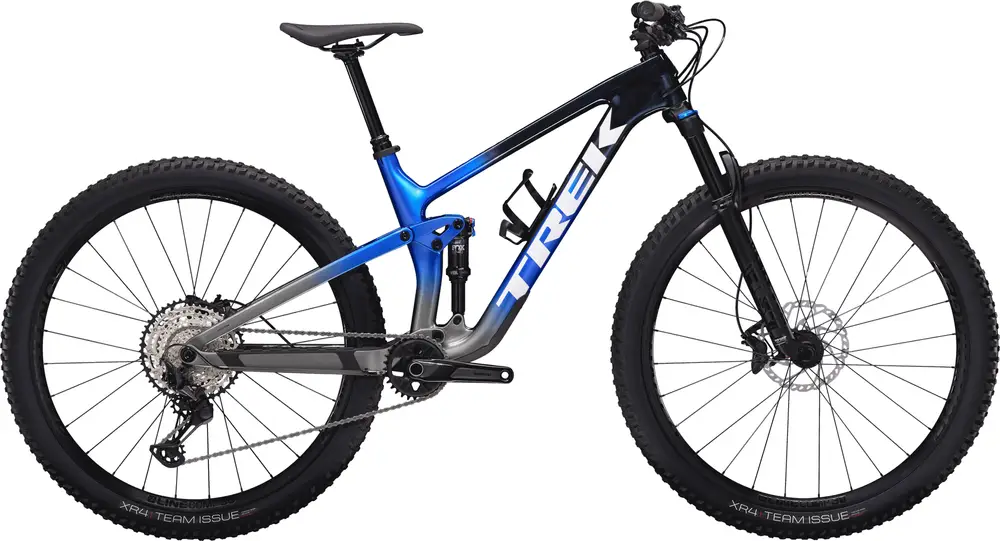 Honestly, it's hard for me to choose between these two bikes. The Trek Top Fuel 9.7 SLX/XT is a fast and agile full-suspension carbon fiber mountain bike that blends the speed of a cross-country bike with the ruggedness of a trail bike. It performs excellently not only on climbs, but also on crushed flat sections and rough downhill sections. With a lightweight and sturdy full-carbon fiber frame, 120mm FOX Rhythm fork, and 120mm rear travel FOX Performance Float shock, it allows you to confidently descend and pursue the best riding experience.
Likewise, the Kona Hei Hei CR boasts a performance that is no less impressive. Especially when facing those complicated terrains, the durable Maxxis Rekon Race EXO TR DUAL tires provide enough traction and grip so that you can be more confident. If you are looking for more exciting off-road riding, then the Kona Hei Hei CR might be a good choice.
Learn More: Is Trek Top Fuel 9.8 XT Worth Buying ? [2023 Trek Top Fuel 9.8 XT Review]
Kona Hei Hei CR vs 2023 Ibis Ripmo V2S GX
While both of these bikes are excellent full-suspension mountain bikes, there are some subtle differences in design. First, in terms of geometry, the Ibis Ripmo V2S GX has a steep 76-degree seat tube angle, which puts the rider in the center of the pedals. The more relaxed head tube angle is just right and won't sway when climbing, nor hinder you on descents. In comparison, the Kona Hei Hei CR has a steeper head tube angle, which means it has more agile and faster steering, allowing you to better control the bike.
In terms of component selection, the Ibis Ripmo V2S GX uses the SRAM GX Eagle kit, while the Kona Hei Hei uses the Shimano SLX series. Both are equally excellent components and perform well on technical terrain and complex roads, making it difficult to choose. However, I still prefer the Kona Hei Hei's agile handling, which gives it more possibilities.
Learn More: Is Ibis Ripmo AF GX Worth Buying? – [2022 Ibis Ripmo AF GX Review ]
Kona Hei Hei CR vs 2023 Cannondale Habit Carbon 1
The Cannondale Habit Carbon 1 is designed specifically for challenging climbs, flat terrain, and steep descents. With a full carbon fiber frame, 130mm of travel, and an SRAM GX Eagle 12-speed drivetrain, it has excellent handling capabilities for both uphill and downhill riding. The use of the DownLow dropper post makes your ride more convenient, while the SRAM G2 R hydraulic disc brakes ensure your safety during your ride.
However, if you're not satisfied with that and want a more exciting and faster ride, you may want to try the Kona Hei Hei CR. In our testing, the Kona Hei Hei CR was the fastest of these bikes, making it more suitable for those seeking an ultimate riding experience.
Learn More: Is Cannondale Habit 5 A Good Bike?[2022 Cannondale Habit 5 Review]
Summary
The Kona Hei Hei CR is a high-performance mountain bike that excels in off-road racing and fast technical riding. Its lightweight carbon fiber frame and top-of-the-line components make it the best choice for riders who demand the best in speed and handling. If you want to try a higher-end full-suspension bike, please check out our other tests.
Finally, if you enjoy our content, please share it with your friends. If our content has been helpful to you, you can subscribe to our newsletter by clicking the button below. Thank you for your support.