We use affiliate links and may receive a small commission on purchases.
2023 Kona Coco Review
Price: $829
Frame: Aluminum
Wheels: 29″
Gear: 1×9
What we like about it: Loose geometric design, comfortable ride, elegant shape.
What we don't like about it: It may not be the best choice for riders expecting to tackle steep hills or fast descents.
Rating: (4.7/5)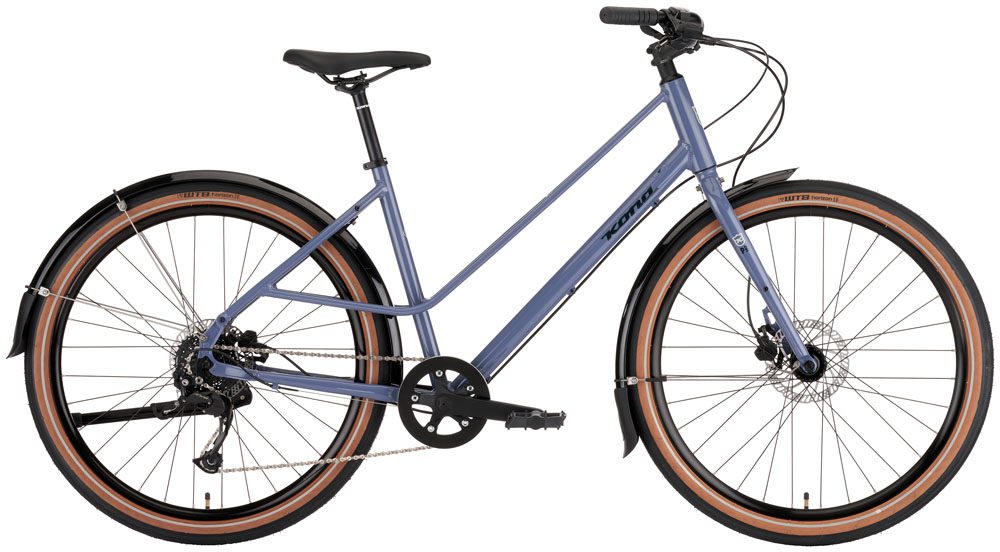 Kona is a bicycle company from the United States, founded in 1988 with offices located in Ferndale, Washington, and Vancouver, British Columbia. It is a brand dedicated to creating high-performance mountain, road, and city bicycles.
Kona bicycles are renowned for their excellent design and manufacturing, high-quality products, and good reputation, with outstanding performance in different types of riding.
If you are looking for a leisurely and stylish bicycle, then you should not miss the Kona Coco cruiser bike. Its minimalist design is complemented by a relaxed geometry, paying homage to classic European step-through bikes.
It is the preferred mode of transportation for modern young people, whether it's daily commuting or community cruising, the existence of Kona Coco makes these activities more fun.
Here we will analyze the riding experience, specifications, and other versions of Kona Coco. If you want to learn more about bicycle reviews, you can follow us.
Riding Experience
There was a time when I stopped obsessing over speed and just wanted to have a carefree ride around my community. No competition, no destination, just leisurely riding.
Until I got my hands on this Kona Coco, which has now become an indispensable part of my daily life. It's reliable, and stylish, and makes every ride enjoyable.
Daily Commuting
I live in an apartment in the Hunter's Point neighborhood of San Francisco Bay, which is a distance from where I work every day. B
efore, I had to wake up early every day to catch the bus, which was a hassle. But everything became simple when I got my Kona Coco. It's about a mile to the Muni station, and I have to cross streets mixed with pavement and gravel.
The wide tires of Coco make it easy to ride on both terrains, and the relaxed geometry provides a comfortable riding posture. Now, I no longer have to worry about catching the bus and can even appreciate the scenery along the road.
After riding through this neighborhood, there is a beautiful seaside park ahead where you can see the charming scenery of the bay area. The roads in the park are a mix of pavement and gravel, which makes for a challenging but enjoyable ride.
The Clarks M2 hydraulic brakes are sensitive, making it easy for me to navigate some of the hills and sharp turns in the park, while the wide tires provide good traction on loose gravel, which is a lot of fun.
Now, my daily commute has become less dull, and I am even looking forward to tomorrow's ride.
Recreational Riding
In my free time every weekend, I take it for a comfortable leisurely ride, and I often ride to Golden Gate Park, one of the most iconic destinations in San Francisco. To do so, I need to cross the Mission District, which has a mix of paved and gravel roads that make for a fun ride.
The 650b's wheels gently roll over it, feeling the heavy scent of the old neighborhood that comes to me, and it gives me immense peace of mind.
The walk-behind frame design makes it easy for me to either get on the bike or wait for pedestrians. In my spare time, I also ran to the convenience store to buy a drink.
When I entered Golden Gate Park and passed through the Japanese Tea Garden, it was a peaceful oasis where some idle tourists and locals relaxed and enjoyed the beautiful scenery.
But I didn't stop there because I knew Coco would lead me to see more. I rode to Ocean Beach, which is a long sandy beach that offers charming views of the Pacific Ocean.
The Shimano Alivio SGS 9-speed drivetrain was enough to handle all the terrain here, and I enjoyed the ride.
Feeling the breeze and warm sunshine, I knew I was completely conquered by Kona Coco this time. By the way, if you want to travel with your pet on weekends, you can book accommodation through Skyscanner. Rest assured, it allows pets to stay.
Specification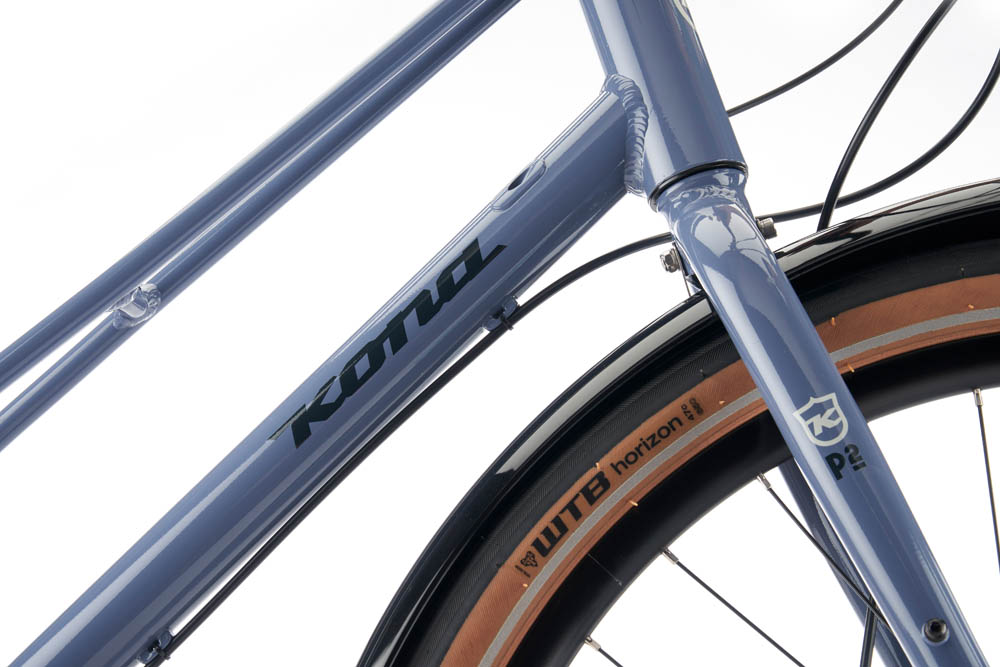 As a cruiser bicycle, it is designed for comfortable and efficient riding. The lightweight aluminum frame is tough enough to bring you a more comfortable ride and excellent durability. It uses a step-through design that makes it easier to install and remove.
And thanks to the relaxed geometry, riders can be in an upright position. This geometry is ideal for riders who want a comfortable and ergonomic riding posture, which is very comfortable.
Not only that, but it also uses the Kona Project Two Aluminum Disc on the front fork. It can effectively absorb vibrations on urban roads, especially on gravel roads, making for smoother and more comfortable rides. The lightweight aluminum front fork also improves the bike's handling and flexibility.
Coupled with 650b wheels, it is perfect for cruising in town or riding on pavement or gravel roads. WTB Horizon Comp tires are lightweight and durable, providing excellent traction and stability on various terrains. They are also designed to be puncture-resistant, reducing the chance of a flat tire on the road.
Kona Coco's drivetrain system is also designed for efficient and reliable riding. The Shimano Alivio SGS 9-speed drivetrain can handle different terrains and riding conditions and is more convenient for maintenance and use.
The powerful braking performance ensures your riding safety at all times, allowing you to ride more freely. Overall, this is an excellent cruiser bicycle.
What do we like about it?
Stylish design: classic cruiser bike design, stylish and practical, with sleek lines, bold colors, and a comfortable saddle
Comfortable ride: the relaxed geometry and upright riding position are designed for maximum comfort
Lightweight aluminum frame: the lightweight and durable frame makes it easy to ride and maneuver
Versatile riding: not only suitable for daily commuting, but also for park cruising, from paved roads to gravel paths, providing more fun riding experiences.
What don't we like about it?
Speed: for riders expecting to handle steep hills or fast descents, it may not be the best choice.
FAQ
Can Kona Coco handle hills?
While the Kona Coco is designed for comfortable and laid-back riding, it can handle some moderate hills with its Shimano Alivio SGS 9-speed drivetrain. If you're keen on challenging terrain, then it's probably not the best choice.
Is Kona Coco suitable for long rides?
The Kona Coco is designed for cruising around town and shorter rides, but it can handle some longer rides as well. If touring rides are what you expect, then you may want to consider adding accessories.
Can Kona Coco be used for commuting?
Yes, the Kona Coco is a great choice for commuting, especially for riders who want a comfortable and stylish option.
How to choose the right size?
Here we have provided you with a size chart. Of course, it doesn't have to be according to this standard, and the best way to find the most suitable size is to test ride.
| | |
| --- | --- |
| Rider height | SIZE |
| 156cm – 166cm | XS |
| 163cm – 174cm | SM |
| 171cm – 182cm | MD |
| 179cm – 189cm | LG |
| 185cm – 195cm | XL |
Kona Coco Specs
Build
| | |
| --- | --- |
| Frame | Kona 6061 Aluminum ButtedColor: Gloss Dusky Purple w/ Charcoal & Nimbus Decals |
| Fork | Kona Project Two Aluminum Disc |
| Rear Shock | n/a |
| Bottom Bracket | Feimin 68mm |
| Headset | Feimin FP-H863 |
| Stem | Kona Commuter |
| Handlebar | Kona Handplant |
| Saddle | Kona Commuter |
| Seatpost | Kona Thumb w/ Offset 27.2mm |
| Pedals | Kona JS2 |
| Grips | Velo Ergo |
Groupset
| | |
| --- | --- |
| Rear Derailleur | Shimano Alivio SGS |
| Front Derailleur | n/a |
| Crank | Samox, 39t/Guard |
| Shifters | Shimano Acera |
| Cassette | Shimano HG200 11-32t 9spd |
| Chain | KMC X9 |
| Chain Guide | n/a |
| Brakes | Clarks M2 Hydraulic |
| Brake Levers | Clarks M2 Hydraulic |
Wheels
| | |
| --- | --- |
| Rims | Double Wall Alloy |
| Spokes | Stainless Black 14g |
| Front Hub | Formula 100x9mm |
| Rear Hub | Formula 135x10mm |
| Tires | WTB Horizon Comp w/ Puncture Protection 650x47c |
| Disk Rotors | Clarks M2 160mm |
Video
Comparison Table
Kona Coco vs Fuji Cape May LS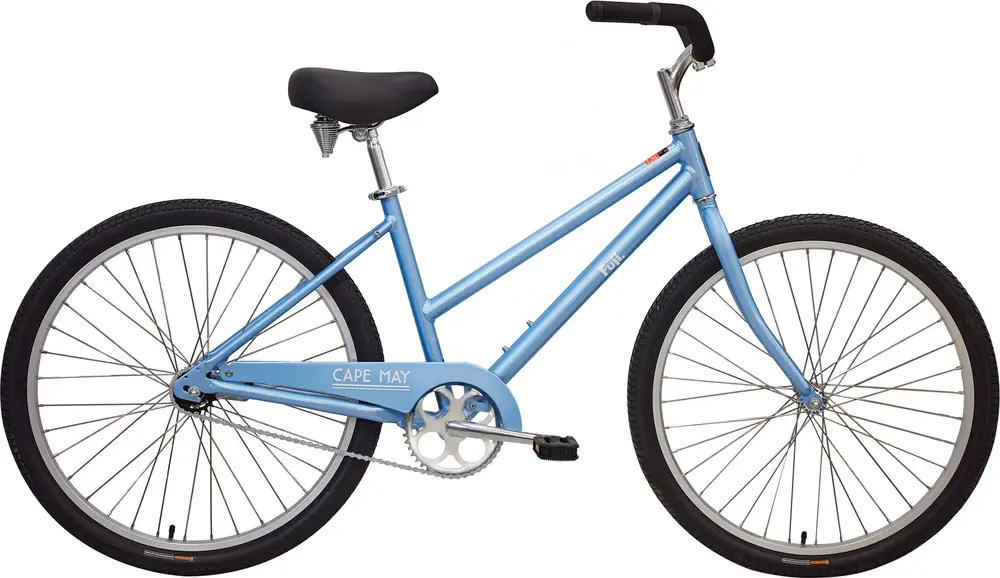 Similarly, as a cruiser bike, the Fuji Cape May LS has some differences in design. To be more lightweight and aesthetically pleasing, the Fuji Cape May LS has abandoned the drivetrain system, making it look even simpler.
Cruiser bikes are designed to handle urban roads, so they don't need too many gears. However, in some places, they still need to face uphill and downhill roads, and the Fuji Cape May LS is not as easy to ride in those situations.
But with the Shimano Alivio SGS 9-speed drivetrain, Kona Coco can handle different terrains well, making your cruising ride easier. Both bikes are enough for everyday riding. But if you are facing roads that are not just paved, then Kona Coco will be a better choice.
Kona Coco vs 2023 Jamis BOSS CRUISER 7
This 2023 Jamis BOSS CRUISER 7 is a bike built specifically for the rigors of resort travel, and you can see the care put into its design. It's designed to be low-maintenance, comfortable but durable enough to be ridden every day for years on end.
Choose the versatile Boss 7-speed with Shimano drivetrain and two-hand brakes to make your ride even easier. Again, this will bring more fun to your ride.
The Kona Coco is even more satisfying in its attention to detail. The Kona Project Two Aluminum Disc fork makes the bike lighter and gives it agile maneuverability, making it the perfect choice for weekend trips around the world.
Learn more : Is Jamis BOSS CRUISER COASTER Worth Buying?-[Jamis BOSS CRUISER COASTER Review]
Kona Coco vs Trek Delivery 3i Step-Over
I'm sure every rider who sees the Trek Delivery 3i Step-Over will be impressed by its vintage-style frame. Inspired by the classic delivery bike defined by its wooden tank panels and front tray, it has become one of the most recognizable models in the Classic Cruiser line.
Perfect for riding around town and carrying whatever you need to carry on your daily adventures, the Coaster brakes make it look a little easier to use, but not so easy to use on some of the steeper roads.
The Clarks M2 Hydraulic brakes have great braking performance and handle downhill roads very well. Again, its advantages don't end there. Whether you use it for everyday riding or as a commuter bike, it's the perfect companion for you.
Kona Coco vs 2023 Schwinn Mikko 3 Step-Thru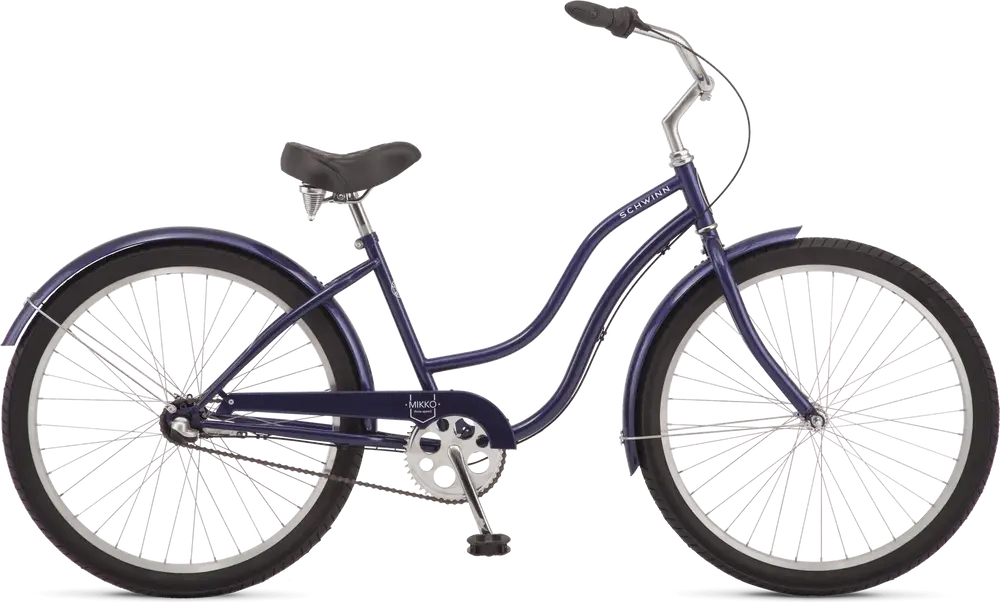 Although the Schwinn Mikko 3 Step-Thru also uses a step-thru design, its downtube is curved, giving it a more sophisticated look. This elegant cruiser-style frame will be a beautiful scenery in towns, parks, or beaches.
For component selection, a 3-speed twist shifter is used to provide smooth and reliable shifting, and the coaster brake provides intuitive braking power, making it more suitable for riders with less experience.
If you're not happy with the steel frame of the Schwinn Mikko 3 Step-Thru, look no further than the Kona Coco. The aluminum frame and fork make it lighter and the responsive handling makes it easier and more convenient to ride.
The Shimano Alivio SGS 9-speed transmission and Clarks M2 Hydraulic brakes make for a great riding experience. It makes community cruising more fun and enriches your weekend life.
Summary
Above is our complete test of the Kona Coco. With its elegant design and outstanding performance, it has successfully won the favor of modern female riders. Enjoy your weekend time, appreciate more of the beauty of city roads, and enjoy life to the fullest!
If you want to try higher-end cruiser bikes, please take a look at our other related tests.
Finally, if you like our content, please share it with your friends! If our content has been helpful to you, you can click the subscribe button below. Thank you for your support!