We use affiliate links and may receive a small commission on purchases.
2021 Jamis ALLEGRO A2 Review
Price: $759
Frame: Aluminum
Wheels: 700×35C
Gear: 2×8
What we like about it: The comfortable riding position and the faster speed.
What we don't like about it: The configuration is fairly basic.
Rating (4.9/5)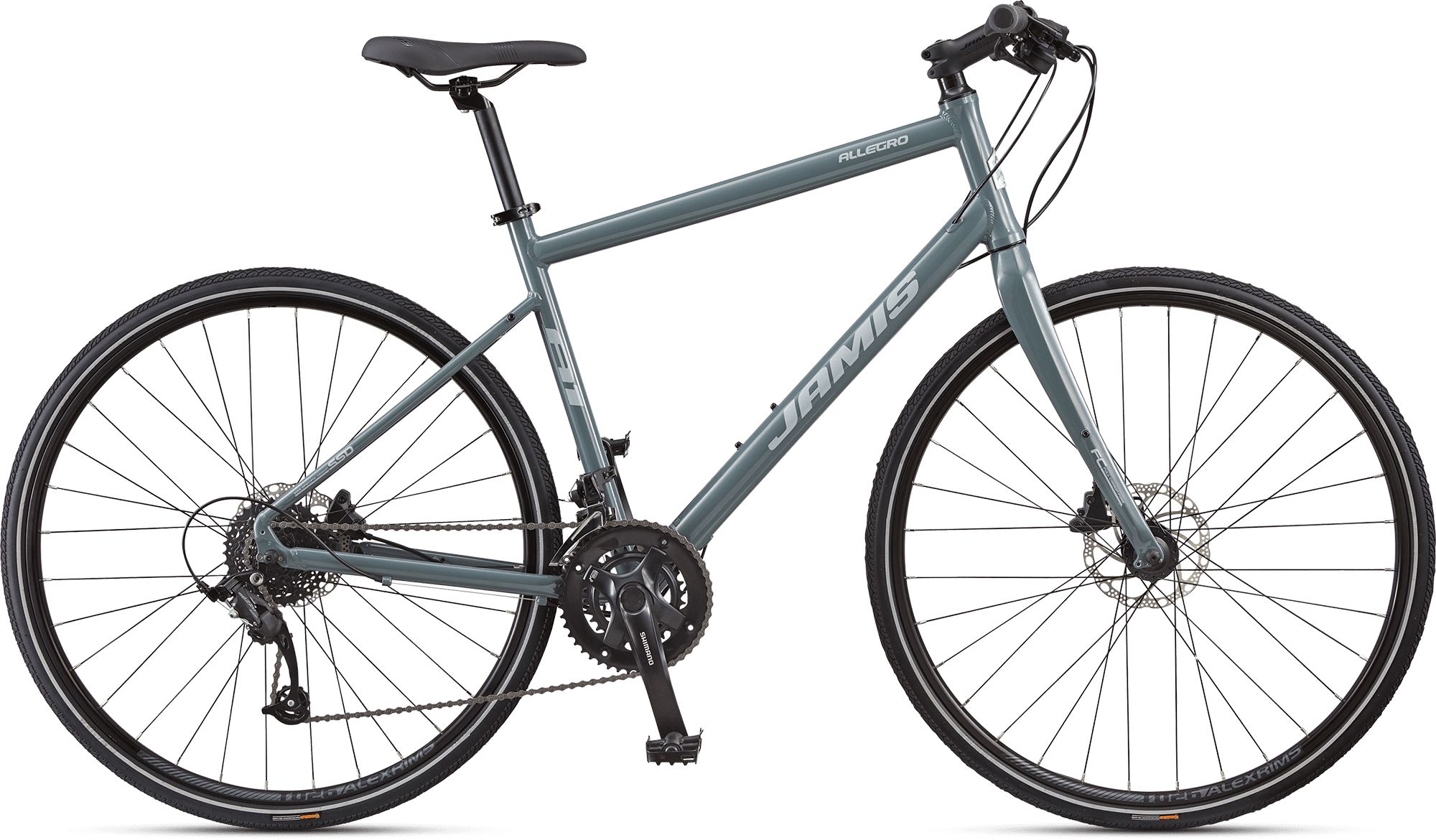 With its aluminum frame, disc brakes, and excellent drivetrain system, the Jamis ALLEGRO A2 is an excellent choice for a reasonably priced high-quality bicycle. Its simple and easy-to-use components make it suitable for a variety of scenarios, such as exercising on the bike path or traveling around town or the countryside.
This bicycle sits in the middle of the Jamis product line and is an upgrade from the lower-end Allegro model, with stronger and more durable components and better quality. The disc brakes and latest stem design make it more akin to a professional road bike.
If you want to learn more about bicycle reviews, you can follow us.
Riding Experience
This bike looks perfect for quick commuting between cities. Although the components may not look fancy, even very basic, they are enough for my daily commuting in the city. I already have a road bike for racing, but it is very aggressive and may make my waist feel sore when I ride it regularly. So, I decided to buy an affordable bike for my daily commuting.
After some searching, I picked the Jamis ALLEGRO A2. Affordable price, narrow tires for fast road cycling, and comfortable riding posture. Yes! This is the bike I need, and I immediately brought it home.
When I sat on it, its comfort surprised me. The raised head tube design made my riding posture very upright. Although this may create larger wind resistance, I don't care about that. This sitting posture allows me to maintain a comfortable sitting posture for a long time, and my shoulders won't stay tense because of gripping those narrow handlebars.
Commuting Experience
I ride it back and forth between home and work every morning and evening, and I enjoy it a lot. I commute about 20 kilometers a day on it, and it's great. In the morning, I can wake up 30 minutes later than before, enjoy breakfast comfortably, and then ride it out. There's nothing better than a simple exercise after a meal. The morning mist and the birds chirping in the trees relax me, and I'm confident about my work today.
When I ride it home in the evening, I don't have to get stuck at the busy subway station like before. Riding it fast not only makes me sweat slightly but also makes me forget the fatigue of a day's work. The NEW Jamis Touring with SL cover saddle is very comfortable. It doesn't feel as hard and forceful as a road bike saddle, but rather provides a soft and supportive feeling. I love this relaxed feeling.
Means Of Transportation
In addition to weekend road bike training, I also like to play basketball at nearby venues every weeknight. With this bike, I can quickly get there and not worry about leaving an expensive road bike on the street. The gear ratio is very comfortable, and I can shuttle quickly on flat roads. After the exercise, I can switch to a lower gear ratio and ride back easily and leisurely.
Overall, it performs well in almost any condition, and this is a commuter bike with quality geometry. It's a good choice for anyone who wants to ride in the city or get healthy on the road.
Specifications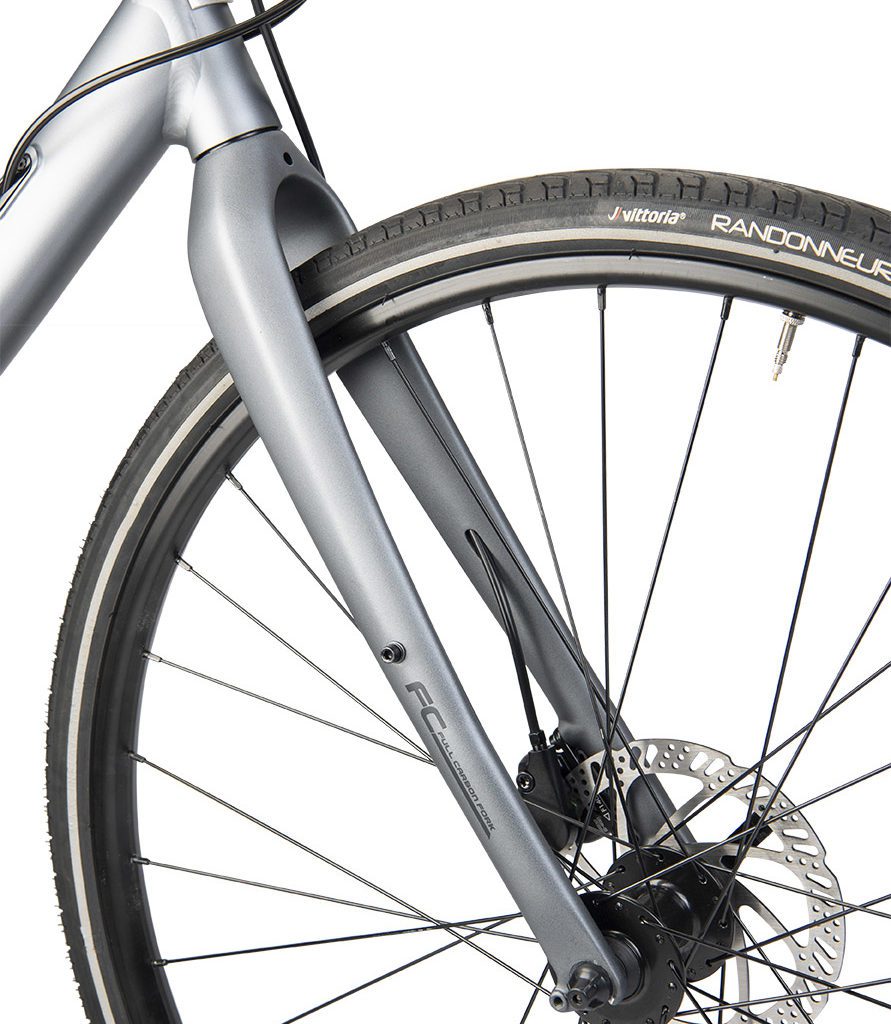 The triple chainring may be redundant for me. The 11-32T freewheel means it can easily climb any hill and maintain a comfortable pedaling cadence without too much effort. Although the brake uses disc brakes, the basic mechanical disc brakes are not very comfortable and responsive. However, compared to similarly priced bikes with rim brakes, it usually offers better braking performance in more conditions. But for me, riding at less than 30km/h is completely adequate.
The upgraded threadless stem makes it more adjustable than the previous generation, and the comfortable positioning of the frame geometry makes it more flexible and easy to operate than imagined. At the same time, it is also more stretched than similar commuter bikes, which is a familiar position for those of us who ride road bikes. It also helps the bike react quickly to changes in weight and direction. Although the aluminum frame is not the smoothest ride I've experienced on such a bike, it is still very enjoyable.
Other versions of the Jamis ALLEGRO A2
We tested a very comfortable and fast commuter bike, the Jamis ALLEGRO A2. The comfortable head tube allows the rider to always maintain a comfortable sitting position. At the same time, the mechanical disc brakes also have better braking performance than similarly priced bikes with rim brakes.
Indeed, it is a high-end and comfortable hybrid bike. For this reason, we also found a similar version, the Allegro Sport. It is equipped with a steel fork, Tektro mechanical disc brakes, and Shimano Acera shifters, for which you can pay about $200 less.
Follow us to learn more.
What do we like about it?
A comfortable head tube designed for urban driving.
A wide range of gear settings for riding in a variety of urban environments.
A lightweight aluminum frame that makes the whole bike lighter to ride.
Mechanical disc brakes offer good value for money in their price range.
Reasonably priced and cost-effective to meet a wide range of needs.
A comfortable soft support saddle that keeps the buttocks comfortable at all times.
The more forward-reaching geometry than traditional hybrid bikes allows the rider to stretch out more while accommodating taller riders.
What don't we like about it?
The configuration is fairly basic.
FAQs
Is the seat of Jamis ALLEGRO A2 adjustable?
Yes, the seat of Jamis ALLEGRO A2 is adjustable up and down and can be scaled according to your height.
What size tires does the Jamis ALLEGRO A2 come with?
The Jamis ALLEGRO A2 is equipped with a tire size of 700C x 35C.
If you want to go riding in well-known terrain or special terrain, where is the most convenient place to stay?
You can book your accommodation on IHG Hotels & Resorts, which is not only rich in variety but also easy to operate.
Jamis ALLEGRO A2 is suitable for people of which height?
The size chart for Jamis ALLEGRO A2 is as follows.
These sizes are only a general guide, the true fit may vary from person to person, and the easiest way to find your size is the best way to go for a test ride.
| | | |
| --- | --- | --- |
| Rider height | Rider height | SIZE |
| 148 cm – 158 cm | 4'10" – 5'2″ | XS |
| 158 cm – 168 cm | 5'2″ – 5'6″ | S |
| 168cm – 178cm | 5'6″ – 5′ 10″ | M |
| 178 cm – 185 cm | 5'10" – 6'1″ | L |
| 185 cm – 193 cm | 6'1″ – 6'4″ | XL |
| 193 cm – 198 cm | 6'4″ – 6'6″ | XXL |
Jamis ALLEGRO A2 Specs
Build
| | |
| --- | --- |
| Frame | Size Specific Design 6061 aluminum with fast back rear triangle, flat mount disc brake mounts, internal cable routing, hydro-formed top and down tube, taper gauge "S" bend stays, kickstand mount, replaceable derailleur hanger and fender/rack eyelets |
| Fork | Hi-Ten straight blade unicrown with flat mount disc brake mounts, low-rider carrier mounts, forged dropouts and 2 fender eyelets |
| Bottom Bracket | VP sealed cartridge, 68 x 122.5 mm |
| Headset | VP Integrated threadless, 1 1/8″ |
| Stem | Jamis Road 3D forged alloy, 10 ̊ rise x 90mm (15-17″), 110mm (19-23″) |
| Handlebar | Jamis Flat bar, 6061 T-6 aluminum, 31.8 x 10 ̊ sweep x 600mm (15- 17″) 620mm (19-23″) |
| Saddle | NEW Jamis Touring with SL cover |
| Seatpost | Jamis alloy micro-adjust, 27.2 x 350mm, alloy clamp with QR seatpin |
| Pedals | Platform style, steel cage/resin body |
| Grips | Anatomic double density kraton |
Groupset
| | |
| --- | --- |
| Rear Derailleur | Shimano Acera RD-M360 |
| Front Derailleur | Shimano FD-TY710-2 |
| Crank | Shimano FC-TY501-2, 46/30, 170mm (15-17″), 175mm (19-23″) |
| Shifters | Shimano Rapidfire SL-M315, 16-speed |
| Cassette | Shimano HG31 8-speed, 11-34T |
| Chain | KMC Z8 |
| Brakes | Tektro HD-M280/281 hydraulic Flat Mount disc brakes with 160mm rotors and Tektro brake levers. 15-17″ M281 (83mm reach); 19-23 " M280 (88mm reach) |
Wheels
| | |
| --- | --- |
| Rims | Alex TD26 alloy double wall rims, 36H, Modus disc alloy hubs w/QR & 14g black electroplated spokes |
| Tires | Kenda Kwick Tendril with anti-puncture protection and reflective sidewalls, 700 x 35c |
Video
Comparison Table
Jamis ALLEGRO A2 vs. Specialized Sirrus X 2.0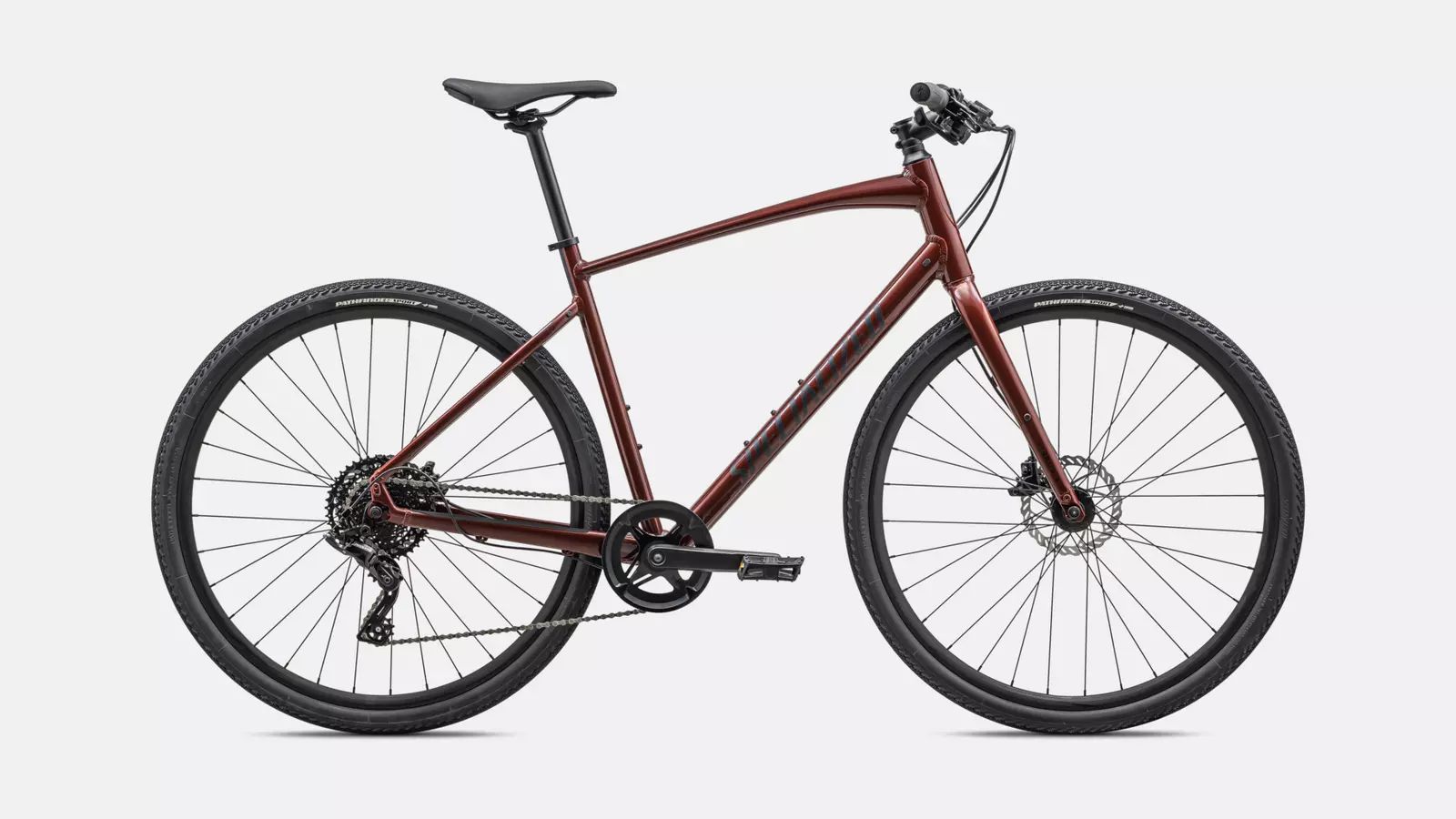 Specialized is a well-known brand, but as with most big brands, there is often a premium price to pay. While the two bikes being compared are priced similarly, there is still a significant difference in component configuration.
The Jamis ALLEGRO A2 uses the higher quality Shimano Acera 16-speed kit, which provides a very good riding experience and smoother shifting. In contrast, the Specialized Sirrus X 2.0 uses the cheaper microSHIFT Acolyte 8-speed kit, which may struggle with more varied terrain.
Jamis ALLEGRO A2 vs. Cannondale Quick 4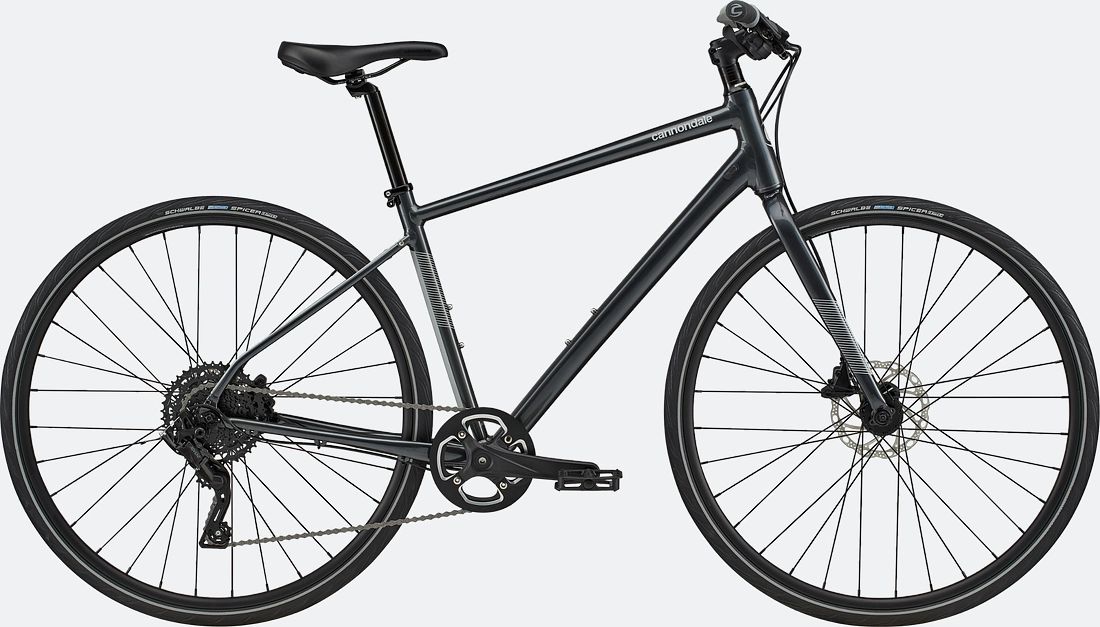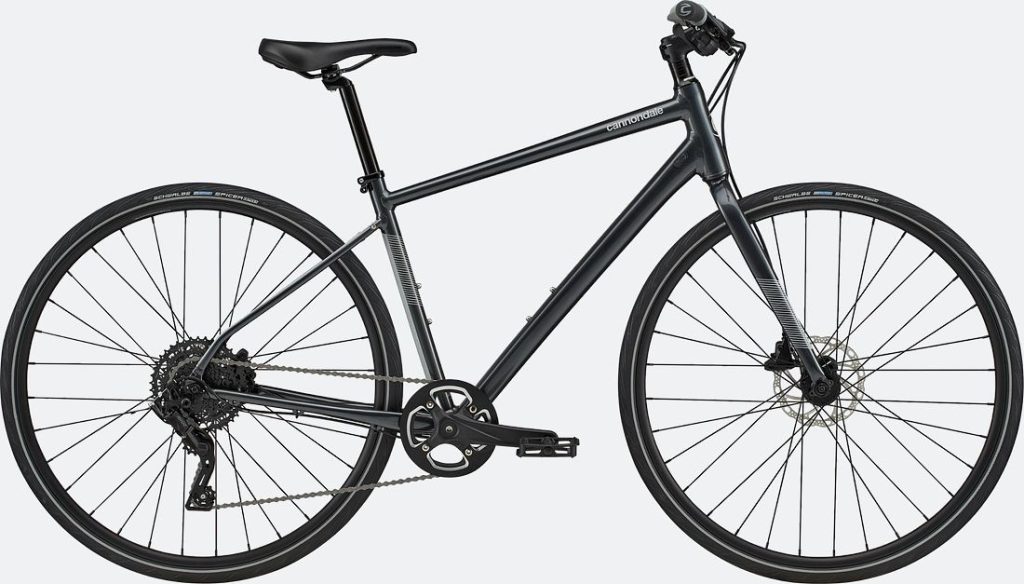 The Cannondale Quick 4 not only has a single chainring design, but also a very small chainring, which may not allow for faster speeds. It seems like this component is more suitable for installation on gravel bikes and may not provide suitable commuting speeds in the city.
However, in terms of geometry, the Cannondale Quick 4 is more aggressive and suitable for fast riding. On the other hand, the Jamis ALLEGRO A2 tested in this review has a more comfortable sitting position and suitable speed. I don't think it's necessary to spend the $200 price difference to buy a similarly configured but more difficult-to-ride bike unless you're a loyal fan of Cannondale.
Jamis ALLEGRO A2 vs. Canyon Roadlite 6
Unlike other bikes on the list, it uses a carbon fiber fork and has a high-end 105 drivetrain. It feels more like a flat handlebar road bike than a typical commuter bike. The 22 speeds allow it to go very fast and even participate in some racing training, but using it for commuting feels like overkill.
Compared to our tested bike, it will be more affordable and have sufficient commuting equipment at half the price. If you're just looking to commute, I highly recommend it. However, if you're looking for a professional road bike, I wouldn't recommend the Canyon Roadlite 6 and would suggest getting a drop-handlebar road bike instead.
Jamis ALLEGRO A2 vs. Marin Fairfax 2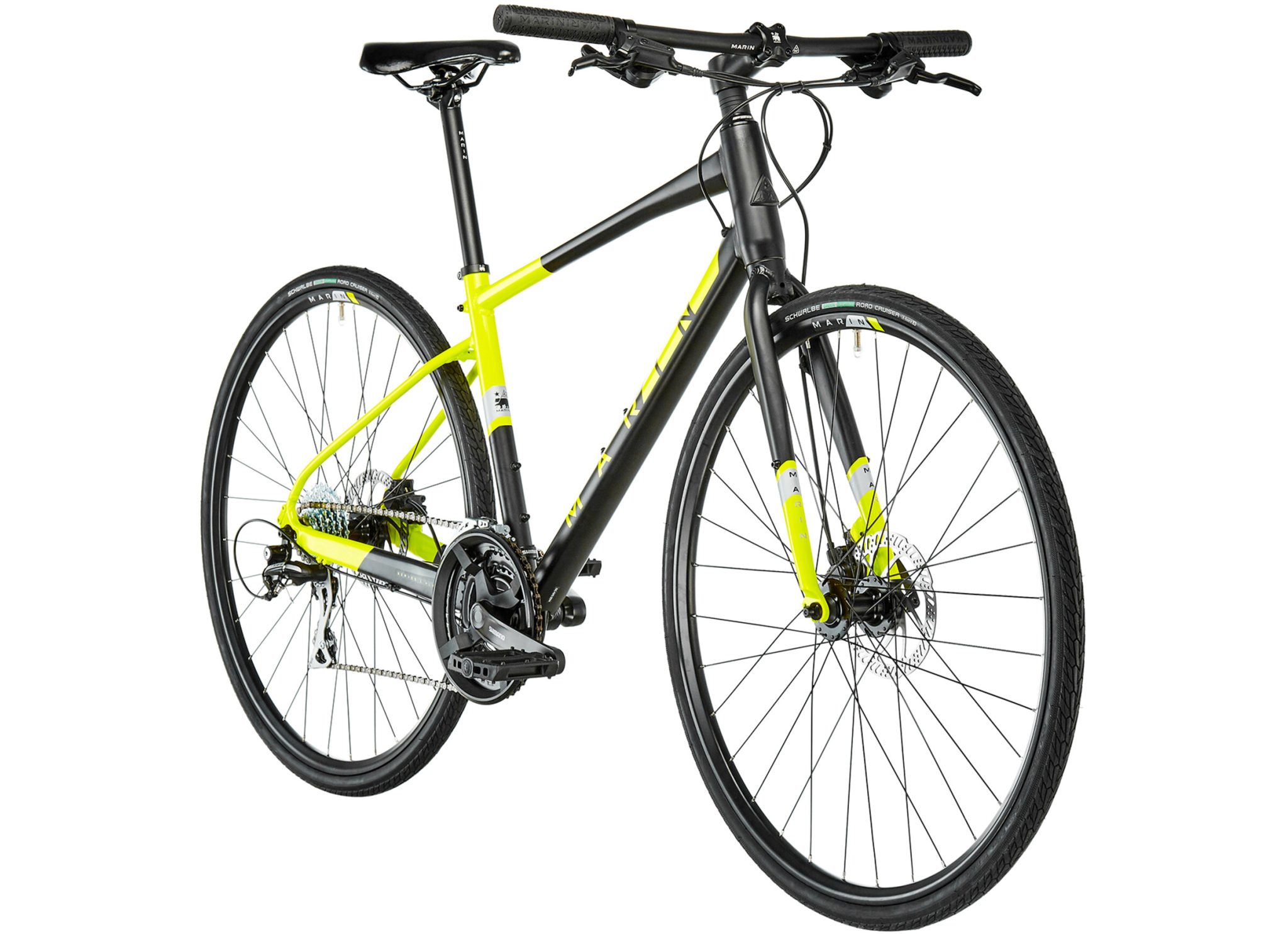 The Marin Fairfax 2 uses a lighter aluminum alloy fork, providing a lighter overall experience.
Otherwise, it's almost identical. Aluminum alloy frames, mechanical disc brakes, and aluminum alloy wheels have little difference. The identical Shimano Acera and Tourney drivetrains have almost no difference. The Fairfax 2 is $50 cheaper, so which one to choose is entirely up to you.
Learn More: Is Marin Fairfax ST 1 A Good Bike? [2023 Marin Fairfax ST 1 Review]
Summary
This is our review of the Jamis ALLEGRO A2. It can handle all angles of city riding and has good comfort and suitable speed. For someone like me who has a professional road bike but needs a casual commuting bike, it's the perfect fit.
Finally, if you like our content, please share it with your friends! If our content is helpful to you, you can click the subscribe button below! Thanks for your support!