We use affiliate links and may receive a small commission on purchases.
Eleglide M2 Electric Moped Bike Review
Price: $933.95
Frame: Aluminum
Tires: 27.5″ Aluminum
Gears: 3 × 8
What we like about it: The powerful support from the high-performance motor and the large battery capacity make it a robust electric-assist bike suitable for long-distance rides.
What we don't like about it: The weight may not be the lightest.
Rating: (4.76/5)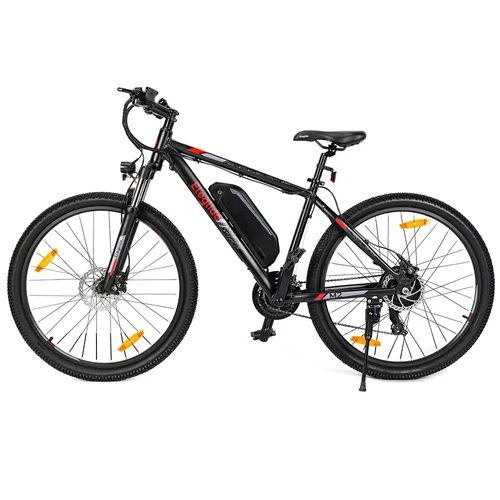 The aluminum frame of the Eleglide M2 Electric Moped is sturdy and durable, supported by reliable components. Additionally, its price is more easily accepted by the general public compared to similar types of electric-assist bikes.
Now, let's analyze the riding experience, key features, components, specifications, and advantages of the Eleglide M2 Electric Moped. If you want to learn more about bike reviews, you can follow us.
Riding Experience
Initial Impressions
When I received the Eleglide M2 Electric Moped, the packaging was thick enough to provide ample protection for every detail of the bike. After assembling the bike, I sat on it to get a feel for it. The saddle has soft padding but offers sufficient support to bear my weight comfortably. There was no discomfort in the perineal area; the saddle is comfortable.
The front suspension fork provided excellent support and rebound, capable of handling the weight of the bike and my body. I performed a few jumps on both wheels while stationary, and the impact upon landing was not too intense. This suspension fork absorbed all the shocks.
Lastly, the rubber handle grips have excellent adhesion. To test their stickiness, I wet my hands and gripped the handle grips again. The adhesion remained strong, ensuring a firm grip on the handlebars even during sweaty or rainy rides, allowing for better control.
Riding Plan
Next, to comprehensively test the performance of the Eleglide M2 Electric Moped, I planned a ride along California State Route 1. This route covers almost the entire California coastline, with mountains on one side and the ocean on the other. Along with California's unique sunny weather and the stunning beauty of the Pacific coastline, it provides the perfect setting to slow down, admire the scenery, and enjoy a peaceful ride.
Due to time constraints, I selected a portion of the route: San Jose – San Francisco – Golden Gate Bridge. This segment is approximately 100 kilometers long, with mostly flat terrain, few bumps, some uphill sections, and long downhill stretches. After booking a hotel at the end of the ride using IHG, I packed my gear and set off.
Road Riding
On the road, the Eleglide M2 Electric Moped feels fast and responsive. The rigid hardtail design gives the bike a solid overall feel, allowing each pedal stroke to propel the bike forward without any sluggishness.
Furthermore, the powerful motor equipped on the Eleglide M2 Electric Moped provides ample power for my road riding. I can adjust the pedal-assist level through the controller, enabling me to maintain my desired riding speed. Additionally, the motor's power output is smooth and quiet.
Thanks to the bike's excellent geometry, I can maintain an upright position while cruising on the road, which adds to the overall comfort. Combined with the 100mm front suspension fork that absorbs all road vibrations, the bike ensures a stable riding experience.
Uphill and Downhill
When riding uphill with the Eleglide M2 Electric Moped, the powerful motor and excellent geometry make my uphill rides much easier. My weight is evenly distributed between the front and rear of the bike. Additionally, adjusting the assist level to a higher setting allows me to ride at a faster speed.
As the slope becomes steeper, I shift the Shimano gears to the lowest ratio and disable the front fork's compression damping. This provides me with the appropriate pedaling frequency and makes climbing hills easier.
After cresting the hill, I encounter long downhill sections. I can feel the bike's balance and enjoy effortless maneuverability. During downhill descents, I don't even need to pedal; I rely on the bike's momentum to carry me downhill.
The 27.5-inch wheels and 680mm handlebars of the Eleglide M2 Electric Moped offer agile and responsive handling. This is especially crucial in corners and greatly enhances my safety.
Lastly, the hydraulic disc brakes provide reliable stopping power, ensuring all-weather braking performance. Additionally, they offer a light and responsive braking feel.
In this way, I completed the approximately 100-kilometer ride on the Eleglide M2 Electric Moped. Surprisingly, I didn't feel too tired.
Specifications
The Eleglide M2 Electric Moped features an aluminum alloy frame, ensuring durability while minimizing the overall weight of the bike. The 100mm front suspension fork absorbs all road vibrations, enhancing the comfort of the ride.
The Shimano mountain bike drivetrain components offer efficient power transfer and smooth, precise gear shifting. The renowned brand's drivetrain components guarantee reliable performance. The hydraulic disc brakes provide reliable stopping power, even in challenging conditions.
The bike comes equipped with LED lights, illuminating the road ahead during nighttime rides and alerting oncoming vehicles for improved safety. Through mobile application control, the bike can be locked, reducing the risk of theft.
Lastly, the powerful brushless motor delivers robust power output while remaining quiet. The large-capacity battery supports long-distance rides and is easy to remove for added convenience.
Key Advantages
Powerful Motor and Large Battery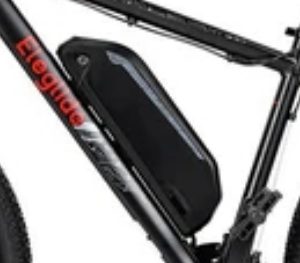 The Eleglide M2 is equipped with a powerful brushless motor that provides 55Nm of torque and reaches a maximum instant power of 570W. With a strong motor drive, the M2 bike can reach speeds of up to 25km/h. It is equipped with a removable 15Ah lithium-ion battery that allows for assisted riding for up to 125 kilometers (77.6 miles), making it perfect for long-distance rides.
27.5″ x 2.4″ Kenda Tires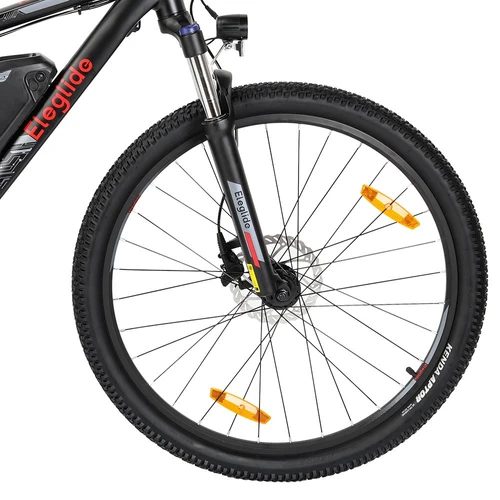 The Eleglide M2 Electric Moped Bike is equipped with 27.5-inch wheels, allowing for easy and stable maneuvering through small trail obstacles. The 2.4-inch pneumatic rubber tires provide greater traction, ensuring smooth and comfortable rides even on rough terrains. Additionally, the tread pattern on the tires significantly reduces the impact of road bumps, enhancing your riding pleasure.
3×8-Speed Shimano Gears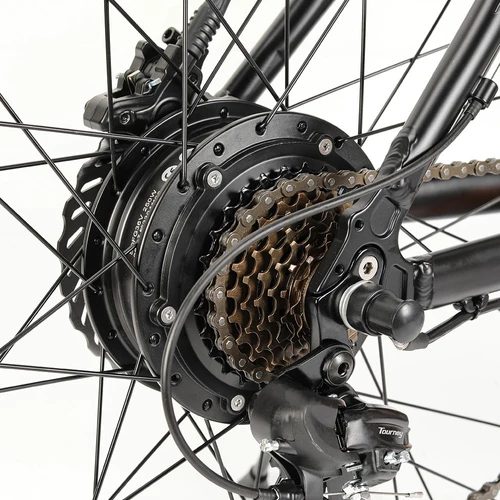 The Eleglide M2 electric bike is equipped with a professional Shimano derailleur. It features 3 front gears and 8 rear gears, allowing for quick and effortless riding. With the assistance of the derailleur, you'll easily navigate through various road conditions.
Hydraulic Suspension and Hydraulic Disc Brakes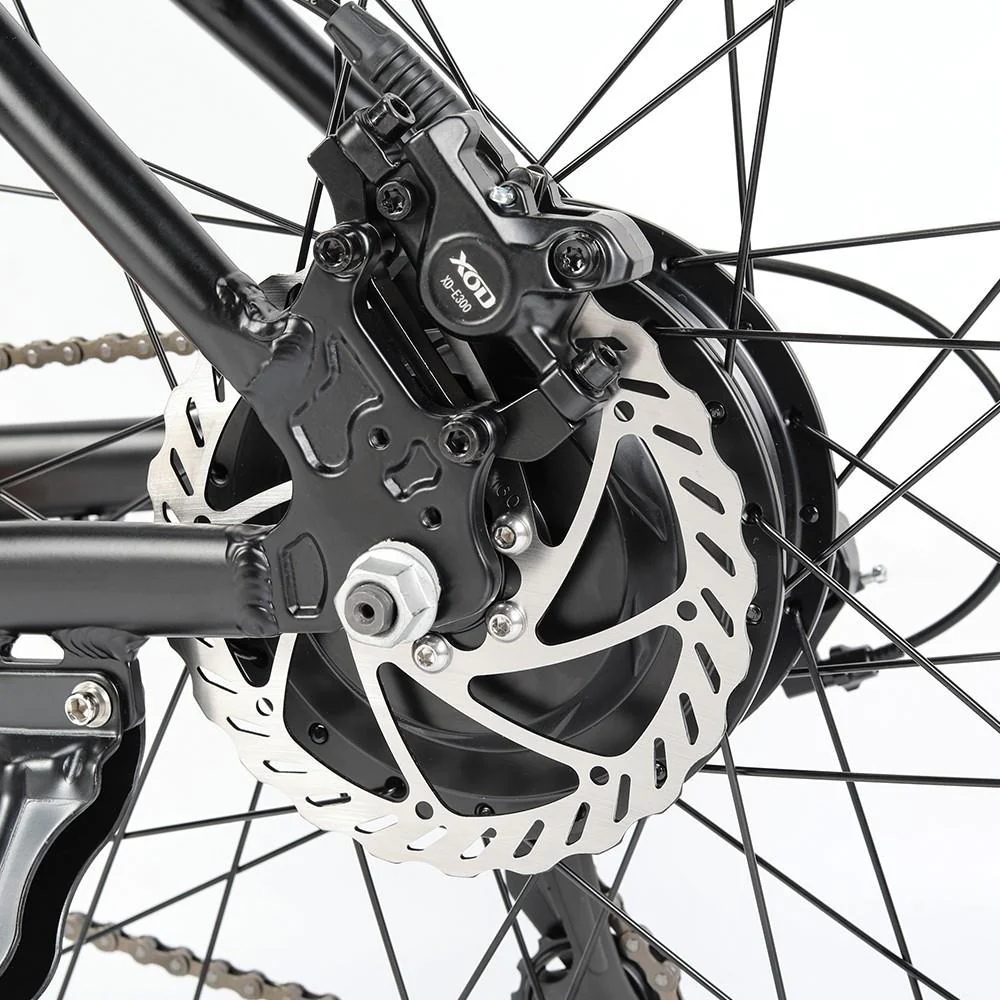 The hydraulic suspension offers more responsive feedback compared to other suspension systems, providing a smoother and more stable riding experience. With a lockout feature, you can lock the suspension for fast rides on flat roads and unlock it for comfortable cruising on uneven terrains. The hydraulic disc brakes offer better control and greater stopping power. They dissipate heat more evenly and have a longer lifespan compared to traditional mechanical brakes.
5 Assist Levels and 6 km/h Walk Mode
In assist mode, you can switch between 5 pedal-assist levels, including 12, 16, 20, 23, and 25 km/h. With the 6 km/h walk mode, you can effortlessly walk the bike to wherever you need to go.
Smart LCD Display and App Control
The Eleglide M2 features a smart LCD display that keeps you informed of all the important details, such as real-time speed, trip distance, and remaining battery power. You can directly switch assist levels, set screen timeouts, activate walk mode, and more from the display. Additionally, you can control the bike through the Eleglide app on your phone. The smart app allows you to activate additional features, such as bike locking, password settings, and adjusting screen timeouts, making your ride smarter and easier.
What do we like about it?
Hydraulic disc brakes with light and responsive operation. They provide reliable performance even in challenging conditions.
The Shimano 3×8 drivetrain system offers efficient power transfer, smooth gear shifting, and excellent quality.
Excellent geometry and 27.5-inch wheels provide better maneuverability and enhanced comfort for long rides.
The inclusion of LED lights ensures safer and more secure night rides.
The hydraulic suspension offers more responsive feedback compared to other suspension systems, providing a smoother and more stable riding experience.
The ergonomic frame geometry and component integration promote a comfortable riding position.
What don't we like about it?
The weight may not be the lightest for non-professional riders.
FAQ
Can the battery of this bike be removed?
Yes, the battery is removable and can be charged on or off the bike. You can lock it onto the bike using a key for added security.
How do I charge the battery pack of this bike?
You can charge the battery pack by plugging in the charger unit on or off the bike. The charger unit connects to a standard wall outlet. Charging time takes approximately 10 hours.
Does this bike have app control?
Yes. You can connect the M2 to the Eleglide app. The app is available for use on Apple iOS (11.0+) and Android (5.0+) devices.
What is the recommended rider height for this bike?
The recommended rider height is 160-195 cm (approximately 5′ 3″ to 6′ 4.8″).
Can I ride this bike in the rain?
Certainly, all electrical components, including the battery pack, are designed to be waterproof. However, we strongly recommend storing it indoors during rainy or severe weather conditions.
Eleglide M2 Electric Moped Bike Specs
Build
General
Brand: Eleglide
Model: M2
Color: Black
Basic Specification
Net Weight: 22kgUnfolded
Size: 1800x680x1060mm
Size of Frame: 27.5″x18″
Length of Handlebar: 680mm(26.8″, without grip covers), 700mm(27.6″, with grip covers)
Height of Saddle (from the ground): 34.3″-41.7″
Recommended Rider Height: 160-195cm (around 5′ 3″-6′ 4.8″)
Max Load of Bike: 120 kg
Cut-off Speed: 25km/h (Can be adjusted to 32km/h)
Max Range: 125km (Assist Mode)
Pedal Assist Levels: 12/16/20/23/25 km/h
Walk Mode: 6km/h
Waterproof Level: IPX4
Material: Aluminium Alloy (AL6061)
Braking System: Hydraulic Disc Brakes & Power-off Design
Motor
Rated Voltage: 36VMax Instantaneous
Power: 570W
Max RPM: 250
Max Output Torque: 55N.M
Derailleur
Brand: Shimano
Number of Gears: 3 (Front), 8 (Rear)
Battery
Capacity: 15Ah
Voltage: 36V
Charging Time: 10h
Power Capacity: 540Wh
Protection System: Yes
Charger
Input: 90~264V, ≤2.2A
Output: 42V, 2A
Tires
Brand: Kenda
Size: 27.5″x2.4″
Type: Pneumatic Rubber Tires
Tire Pressure: 40-65PSI
Best Tire Pressure: 50PSI (Front), 55PSI (Rear)
Display
Size: 1.75″
Type: LCD
Information: Speed, Battery Level, Trip Distance/Odometer, Assist Level, Push Mode, Light Mark, Error Code, Brake/Malfunction Mark
Functions: Power on/off, turning light on/off, shifting assist levels, activating walk mode, removing ODO data, setting screen timeout, etc.
App
Name: Eleglide
System Support: iOS (11.0+), Android (5.0+)
Functions: Turning light on/off, shifting assist levels, locking/unlocking the bike, setting password, adjusting screen brightness, etc.
Package
Size: 1480x240x770mm
Gross Weight: 27.5kg
Package List
1 x E-Bike 1 x User Manual
1 x Charger 2 x Pedal
1 x Rear Reflector 4 x Spoke Reflector
1 x Headlight 1 x Saddle
1 x LCD Display 2 x Key
1 x Tool Kit 1 x Throttle Kit
Learn More: Is Carrera Crossfuse Worth Buying? [2022 Carrera Crossfuse Womens Electric Hybrid Bike Review]
Conclusion
Above is my review of the Eleglide M2 Electric Moped Bike. In our opinion, it is an excellent electric-assist bike with a sturdy and durable frame and powerful components. The most crucial aspect is its attractive price point. That's why we gave it a rating of 4.76.
Of course, if you're interested in learning about other electric-assist bikes, we also review a wide range of bikes at various price points, and they are equally fascinating. Feel free to check out our other reviews as well.
Lastly, if you enjoy our content, please share it with your friends. If our content has been helpful to you, you can click the subscription button below to subscribe via email. Thank you for your support!
Learn More: Is Swagtron Eb7 Plus Worth Buying? [Swagtron Eb7 Plus Review]