We use affiliate links and may receive a small commission on purchases.
GT Performer 29 Review
Price: $535
Frame: Steel
Wheels: 29″
Gearing: Single speed
What we like about it: Wide tires and stable pedals.
What we don't like about it: The large frame makes it less flexible.
Rating (4.7/5)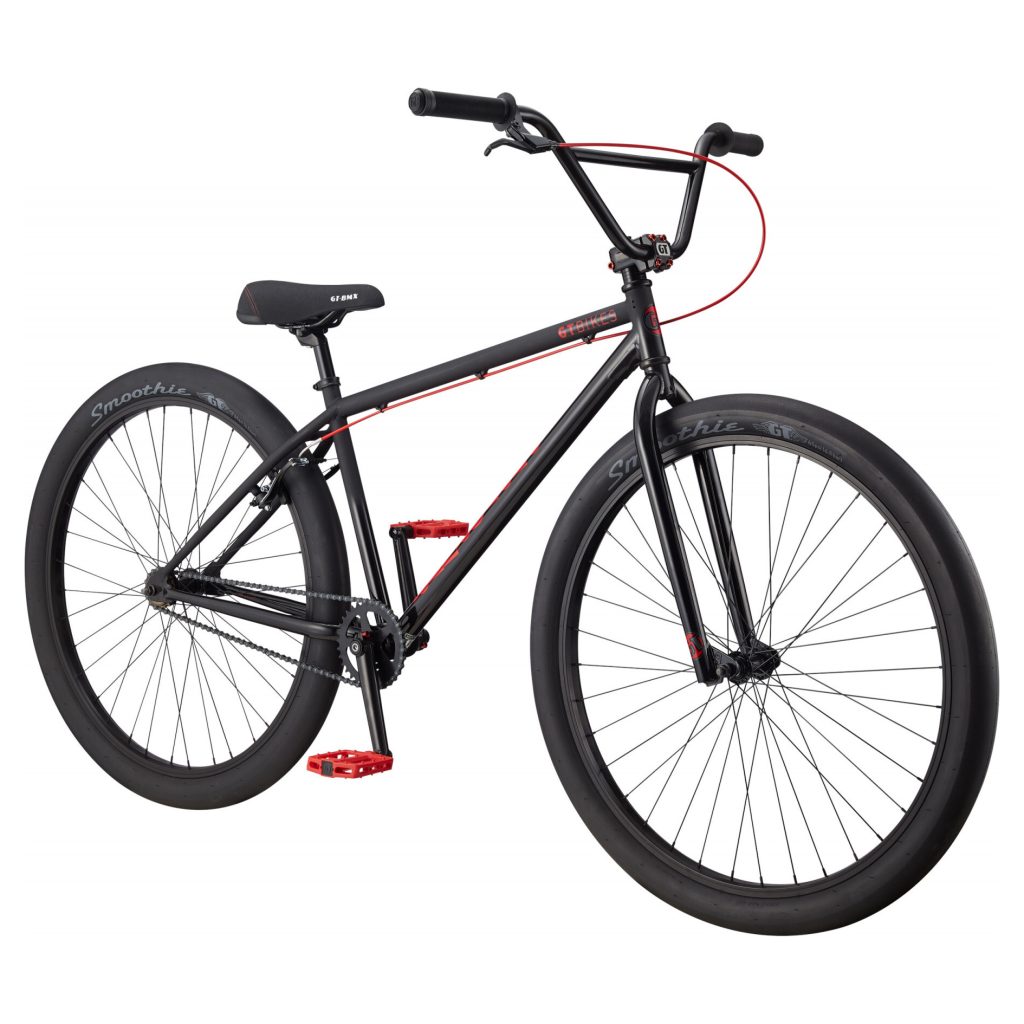 Dedicated to the bicycle industry since 1972, GT is the choice of most street cyclists, who have always developed bikes for all types of riders. Pure fun and simple, no good time without GT 🙂
Reminisce or relive your childhood on the GT Heritage line. Inspired by GT's freestyle roots, full of details that make these vintage-inspired bikes as legendary as their predecessors.
Below we analyze the 2022 GT Performer 29 regarding course riding, key features, components, and specifications as well as other versions.
If you want to know more about bike reviews, you can follow us.
Course Riding
This is my second BMX bike. Compared to the last bike it has a more retro geometry design, very similar to most traditional BMX bikes. I felt a noticeable ease of familiarity as soon as I started pedaling the first lap, and it felt very comfortable even on the long rides I took from home to the training grounds.
I am relatively tall compared to the average rider, but it still does the job, which is a relief. The beautiful colors and rich theme also appealed to me and made me eye-catching enough in the field. I tried to make a few familiar moves in the field, and the larger frame indeed made the prancing slightly unwieldy. But as a long-time BMX rider, I thought it felt good to play with this bike in a small skate park. The speed will be much slower when doing Tailwhips compared to before, but I felt more stable and easy to handle on the drop than ever before.
Despite being the latest version of the track bike, it still maintains the retro and classic styling of its predecessor. But this is a direct result of the fact that you may not be able to rotate the handlebars. My suggestion is that you can choose a longer brake line to rotate three turns in the head tube position. This also allows me to make the move of rotating the headset. Without any chainstays on the rear end chain area, the chain can still be run very tight, pulling as much tension as possible on the wheel. The super fast roll makes a pleasant noise from the tower base of the aluminum wheelset, which is a very solid wheel construction.
Main Features
Frame Group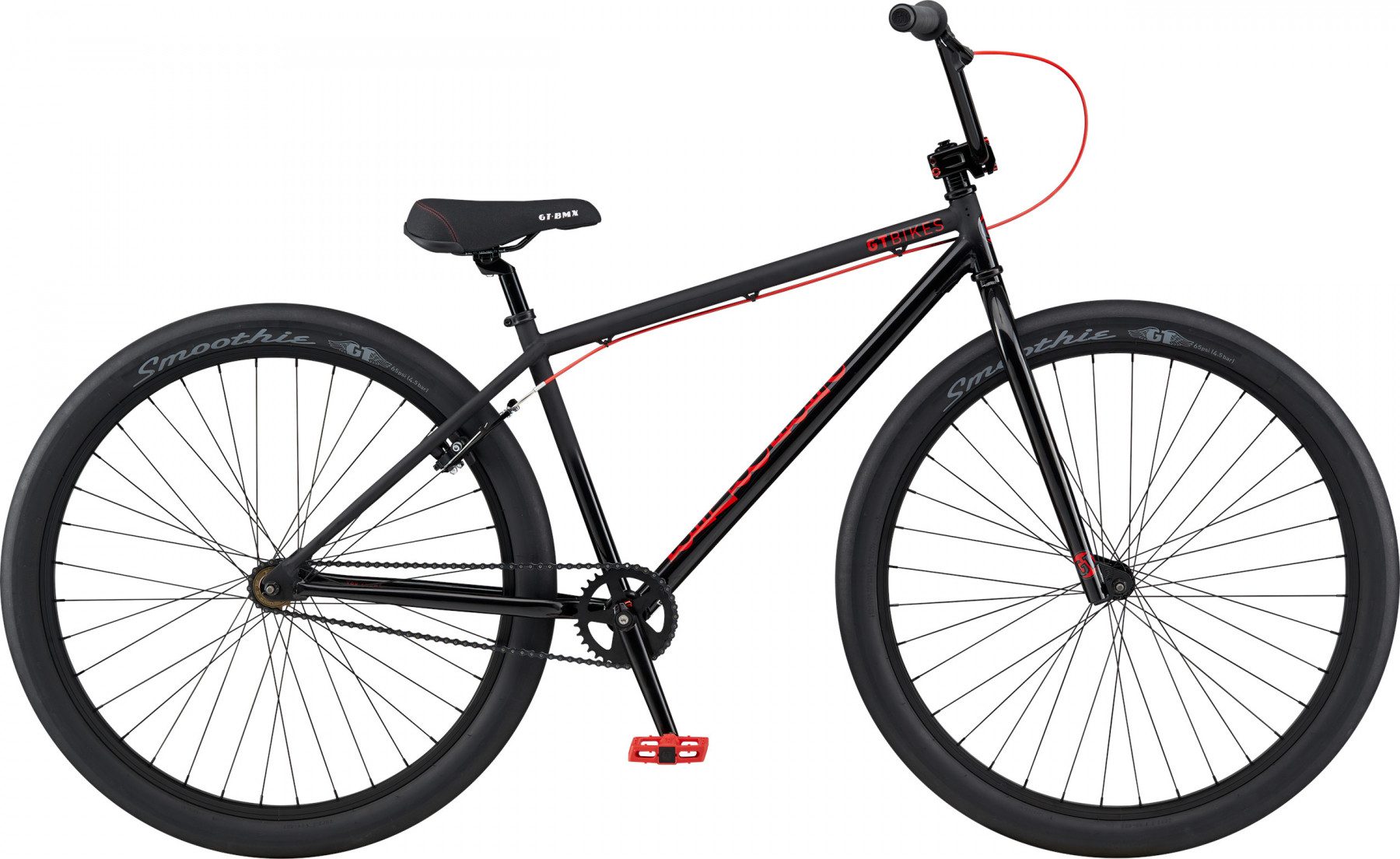 The steel frame makes it as sturdy as it looks and gives the rider an immediate sense of feedback as it takes off and falls. Unfortunately, the steel frame does not allow for internal wiring, leaving the only brake cable exposed. However, the cable clip on the lower part of the top tube does a good job of storing the brake cable close to the top tube, which also results in you not being distracted by the brake cable. Compared to the similar model 2022 GT Pro Series 29, the longer rear lower fork gives more overall stability. The very small fork offset greatly reduces the possibility of the toe to wheel accidents when rotating the handlebars.
Geometry
The frame as a whole is very classic and compressed as most BMX frames are. The top tube, almost parallel to the rear fork, creates an extremely low stack that allows the overall center of gravity of the bike to be very focused. The almost vertical head tube angle allows for a more aggressive and agile overall response to the rider's reactions.
The very high BB drop makes the passability greatly improved, especially when leaping over the steps without worrying about the chainring and the chain getting hurt as a result.
Components and Specifications
GT Power Series Cr-Mo 3pc Chainring
The excellent three-stage crank with a 170mm long crank arm brings an excellent pedaling feeling and excellent rigidity. 33T freewheel brings the right speed, and with 16T freewheel, it can always keep the right speed.
Rim Brake
BMX does not need a very good brake system, affordable and good rim brakes are a very good choice. Because of the special nature of the action bike, it just needs to get some simple braking when going down a steep hill. Compared to disc brakes, it is also more simple and easy to maintain.
GT Smoothie 29 x 2.5″ Tires
The 2.5-inch tires are very wide and thick and provide excellent ground traction and fast rolling speeds quickly. It is suitable for dirt jumps, dirt parks, and pump tracks. The spider tread pattern is a truly unique design that also works well for most riders in terms of function. The lower tread depth allows it to roll fast.
It is worth mentioning that the GT Smoothie 29 x 2.5″ is available in two colors, including black or tan tread. It's not just about looks. Choose black for more traction, and tan for more speed.
Other Versions of GT Performer 29
In this review, we have reviewed the 2022 GT Performer 29, a very solid street bike for those who are new to extreme sports in the street park, for a very stable running and dropping experience, perfect for those new to the sport.
As you can see, this is an excellent street action scooter. To that end, we also found its upgraded version, the 2022 GT Pro Series 29. It has a lighter aluminum frame but will be less rigid overall and feature more reliable disc brakes. There aren't many other improvements elsewhere, and for that, you'll pay a $200 difference.
We also did a review of the 2022 GT Pro Series 29, follow us to learn more.
What do we like about it?
Wide tires provide stable support and grip.
Comfortable and easy-to-handle handlebars.
Stable and spiked footrests hold the feet in place.
Affordable price.
Simple and low-maintenance rim brakes.
Smooth and easy-to-use drivetrain.
What don't we like about it?
The large frame makes it less flexible.
FAQs
What kind of components does the 2022 GT Performer 29 use?
The bike features GT's three-stage crank with a sturdy aluminum 16T freewheel. perfect for weaving through the streets and playing on the field.
What kind of tires are used on the 2022 GT Performer 29?
GT Smoothie 29 x 2.5″ tires are used, and the front and rear tires are of the same width to make the whole very balanced.
If you want to go riding in well-known terrain or special terrain, where is the most convenient place to stay?
You can book your accommodation on IHG Hotels & Resorts, which is not only rich in variety but also easy to operate.
What heights does the 2022 GT La Bomba Pro fit?
The 2022 GT La Bomba Pro doesn't come in many sizes, but it can be ridden as long as you are taller than 120cm.
(These sizes are just a general guide, the real right size may vary from person to person, the easiest way to find your size the best way is to go for a test ride, welcome to follow us.)
2022 GT Performer 29 Specs
Build
| | |
| --- | --- |
| Frame | Hi-Ten Steel Tubes, DT Gusset, American BB, Under Seat Stay V-Brake, External 1-1/8″ H/T w/ Removable Rotor Tabs |
| Fork | Hi-Ten 2pc. Steerer, Tapered Legs, 3/8″ Axle Dropouts |
| Bottom Bracket | American Loose Ball Bearing |
| Headset | 1-1/8″ Thread less, Steel |
| Stem | GT Front Load, 1-1/8″, Cold Forged Cap, 10mm Rise, 40mm |
| Handlebar | 2pc. Hi-Ten, 7.875 "H x 31.5 "W, 5°Up, 11°Back |
| Saddle | GT Railed |
| Seatpost | Alloy Micro Adjust 27.2 x 300mm |
| Pedals | GT Low Profile FS Platform Design |
| Grips | GT Super Soft Flanged 155mm Single Compound w/ GT removable plug |
Groupset
| | |
| --- | --- |
| Crank | GT Cr-Mo 170mm 3Pc. 19mm x 8T Cr-Mo Spindle, GT 33T Steel Chainwheel |
| Cassette | 16T Freewheel |
| Chain | KMC S1 |
| Brakes | Alloy V-type |
| Brake Levers | Alloy V-type |
Wheels
| | |
| --- | --- |
| Rims | (F) Alloy Single Wall, 36h / (R) Double Wall, 36h |
| Spokes | Stainless Steel, 14g |
| Front Hub | Steel Body, Loose Ball 3/8″ x 150mm Heat Treated Axle, 36 Hole, 15mm Nut |
| Rear Hub | Steel Flip Flop Thread-On Body, Sealed Bearings Cr-Mo 3/8″ x 185mm Axle, 36 Hole, 15mm Nut |
| Tires | GT Smoothie 29 x 2.5″ |
Video
Comparison Table
2022 GT Performer 29 vs 2023 Haro Downtown 20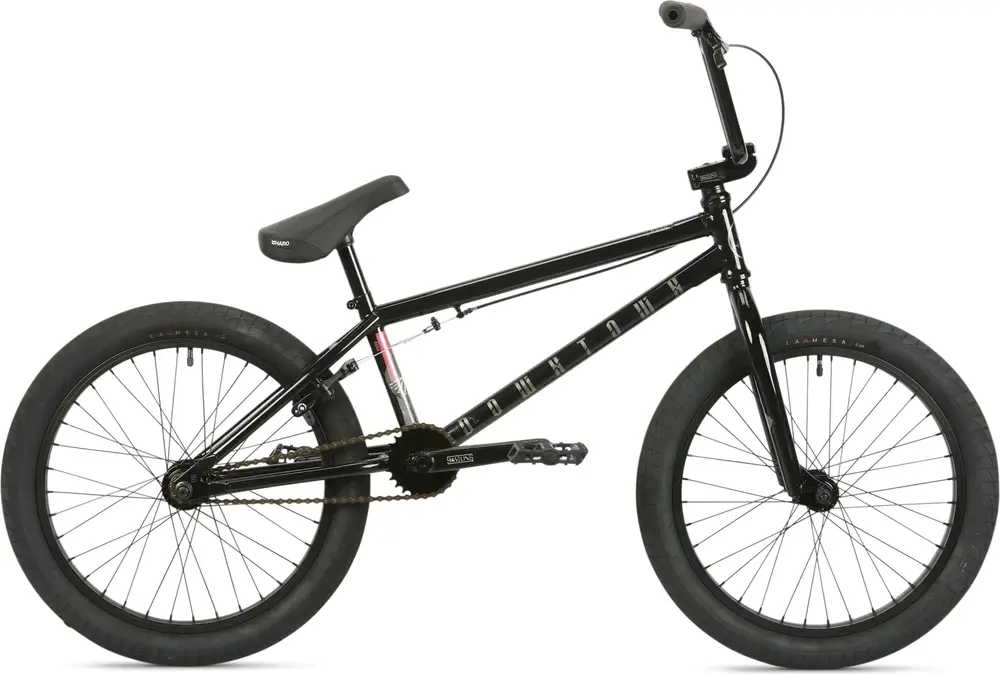 It is clear from the comparison of the two bikes that the GT Performer 29 has a higher standing height and larger tires, which means that it can comfortably sit in the saddle for long periods to pass through the city streets. The HaroDowntown 20, on the other hand, will be smaller and more agile for full-on technical riding on the track.
Component-wise, the 33-16 gear ratio is perfect for weaving through the streets of the venue and on the way home, while the 20″ paired with the 25T wheels may be more suitable for just fitting in the venue.
The HaroDowntown 20 does have some limitations. But you have to admit it is lighter in weight and can jump up and down more easily, but the excessive flexibility may not be suitable for those beginners.
Learn more : Is Haro Downtown 26 Worth Buying?-[Haro Downtown 26 Review]
2022 GT Performer 29 vs 2022 Verde Vex XL
The wider, all-black outer tire makes the VerdeVex XL very popular in races, providing excellent ground traction and allowing riders to control their movements with precision. In terms of gear ratio, the GT Pro Series uses a 25:16 gear ratio with a large 29-inch wheelset, allowing it to be used on the street. The VerdeVex XL, on the other hand, uses a smaller 27:9 gear ratio, which makes it more suitable for getting consistent and effective pedaling in extreme venues with a smaller wheelset.
The Verde Vex XL is made of a very high-quality steel frame with an advanced process that makes it as light as an aluminum frame, and it also has a strength that aluminum frames cannot match.
Geometrically, the Verde Vex XL is significantly taller in terms of seat tube length. The advantage of this design is that it makes the whole body more stable and can better correct the angle of the body when performing some airborne landing maneuvers. The GT Performer 29, on the other hand, has a very short seat tube length, and the compressed overall frame has the advantage of making the whole thing very focused and flexible, allowing it to make similar moves like rotating the body more easily. The GT Performer 29 also incorporates a reverse fork tine design in the frame, which allows the frame to not be directly impacted by the ground.
Unfortunately, Verde Vex XL is not equipped with disc hydraulic brakes, which will encounter very many unexpected situations when performing movement exercises. Therefore, effective braking disc mountings are very necessary. And, with nearly double the price difference between the two bikes, my advice is to go for the more cost-effective GT Performer 29.
2022 GT Performer 29 vs 2022 Polygon RAZOR ELITE
Both bikes are good choices, using two different wheel sizes. the Polygon RAZOR surprisingly at this price uses an all-aluminum frame, which keeps the overall weight of the frame well under control. The gear ratios are also very similar, with the Polygon RAZOR using a 44:16 gear ratio and the GT Performer 29 a 42:18. This gear ratio is perfect for the smaller bike to ride around the course without going too fast or too slow.
Geometrically, Polygon RAZOR uses a more compressed frame with a smaller wheel diameter, which allows for more overall flexibility and I can make body flip jumps very easily. And the GT Performer 29 also appears in front of us with the same design language.
Component-wise, the Polygon RAZOR surprisingly features front and rear brakes. I have to say that this is perfect for beginners, allowing them to brake instantly. But the disadvantage is that it is completely impossible to make similar movements such as rotating the front end on this bike, and the handlebars cannot be rotated up to 360°.
2022 GT Performer 29 vs 2022 Bulls Barbar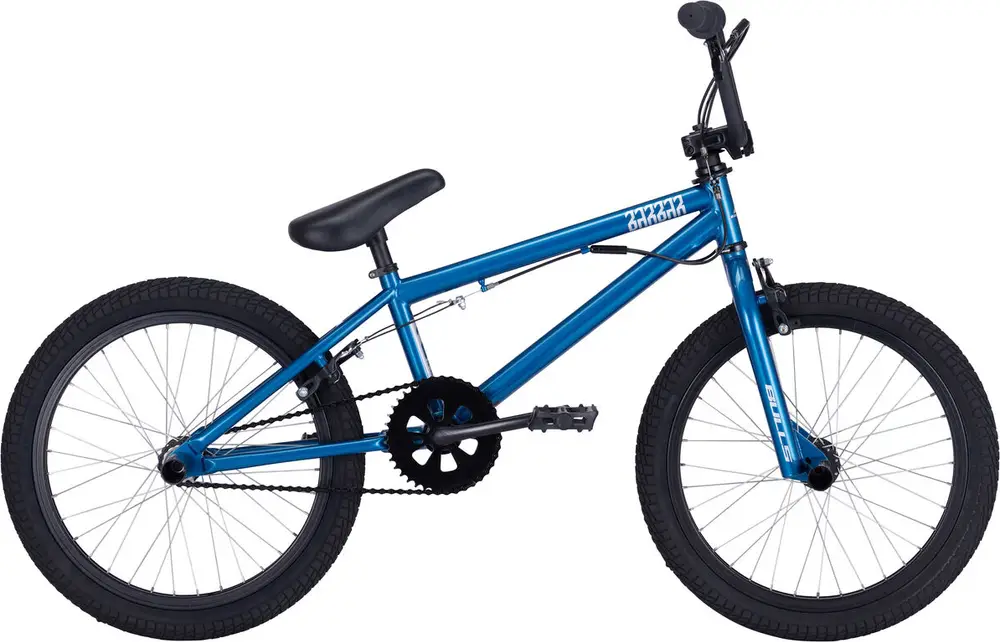 The bike features front and rear brakes, which is very rare in BMX models. Riders may suspect that their handlebars will be limited by rotation, and BullsBarbar seems to have taken this into account. BullsBarbar seems to have considered this, as they have installed an infinitely rotatable joint on the rotating part of the handlebar, so you can put these concerns aside. This makes the front and rear brakes of this BMX perfect for those who are beginners on the course. But if you're a street rider, I think you can look at the GT Performer 29, a big action bike that can handle both street riding and your simple moves on the course.
Conclusion
Above is our test of the 2022 GT Performer 29. The big BMX is perfect for riders who aren't just limited to the action of the field, you can quickly cross every street and get to a park to start your show. And the big BMX is capable of handling every scenario, even the daily commute to and from work. Of course, if you prefer more extreme action on small wheels we suggest you choose a size of about 20 inches, which will be more flexible to make more movements. But that instability may be more suitable for those street veterans. If you want to try, welcome to see our test.
Finally, if you like our content, feel free to share it with your friends! If our content is helpful to you, you can click the email subscribe button below!