We use affiliate links and may receive a small commission on purchases.
Giant Yukon 2 Review
Price: $1900
Category: Fat Tire Bicycle
Drivetrain: 1×12
Travel: 50mm
What we like about it: Great components for a comfortable ride and the use of fat tires allows you to ride in the snow.
What we don't like about it: The need to configure your pedals.
Rating (4.7/5)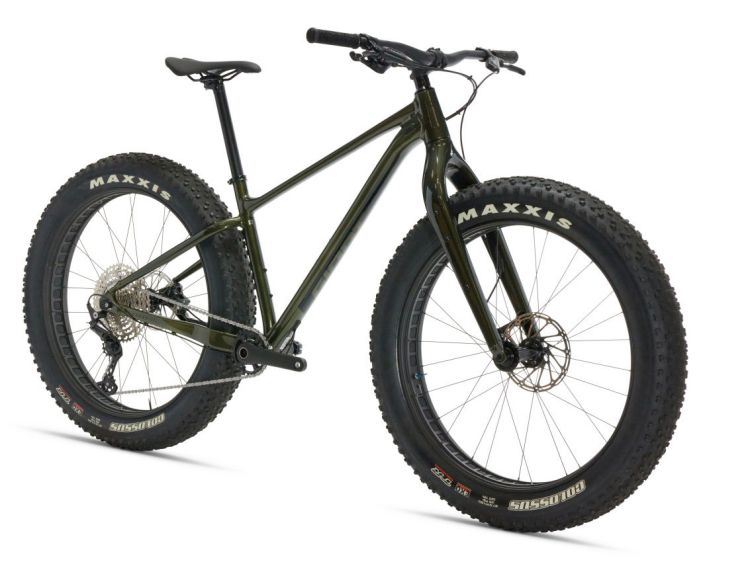 For cyclists, conquering different terrains brings a great sense of pride. Different types of terrain require corresponding bikes to conquer, and obviously, the Fat Tire Bike is a mountain bike for rough terrain.
The next bike we'll introduce is the Giant Yukon 2, a fat-tire bike that can handle the snow in the winter or the gravel in the heat.
First of all, the wide tires give it the possibility to drive on these rough terrains, and the excellent performance is what gives you a comfortable experience. Secondly, the aerodynamic geometry design makes it easier for you to ride. Finally, in terms of configuration, this bike is also fitted with high-end components.
So let me introduce this bike to you in detail. I will introduce it from snow riding, cross-country riding, main features, and main components.
If you want to know more about fat tire bicycles, welcome to follow us, your attention is my greatest motivation to update.
Giant Yukon 2 Snow Riding
Luckily we had a big snowfall recently so I didn't have to worry specifically about finding a venue.
In my opinion, the greatest joy of snow riding is exploring areas that others have not yet traveled to. So I got my gear ready early in the morning and set out.
The world covered with snow is so beautiful that it is all white in my vision. When the tire rolled over the snow, I could feel the sound it made. It was interesting and something you don't experience on normal roads.
And the wide 27.5 x 4.5-inch tires grind on thick snow, bringing extreme stability. You might be worried about slippage, but my actual ride told me not to worry. Because the prominent tread pattern on the surface of the tire provides good friction, I just need to steady my weight and I can ride steadily.
In addition, Giant's custom sport comfort saddle makes my ride even more comfortable. Not only that, I love its handlebars, which still give you a quick steering response despite wearing thick gloves.
If you were behind me, you would have seen the long tire tracks on the road, a testament to my exploration of the new world behind the snow. Of course, it's not just for riding in the snow, it also performs well on gravel roads.
Giant Yukon 2 Off-road Riding
When you notice its excellent performance on snow, don't forget that it is also a mountain bike. As such, it performs equally well in mountain cross country. Another thing that needs to be prepared in advance is booking accommodation. This time, I still booked accommodation on IHG Hotels & Resorts, hoping for a good rest.
Before going on snow rides, I would often take it for rides in the mountains in the countryside as well. However, the loose gravel trails did not become a hindrance to my riding, instead, they surprised me with their performance.
This is due to its wide and soft Maxxis Colossus tires. They not only provide excellent grip while riding but also absorb some of the vibrations from the ground, allowing me to ride smoothly.
Also, the Shimano Deore drivetrain helped me a lot on this ride. There is no doubt that the 1×12 gearing gives me a good ability to cope with different gradients of roads.
It is worth mentioning that its weight is a concern to many of my friends. I'd like to say that although its huge tire profile may give the impression of being bulky, the opposite is true: I didn't feel it was bulky on the ride. After all, the frame is made of ALUXX SL grade aluminum and the fork is made of carbon, so I still feel very relaxed on the whole.
Of course, it may not be as good as a professional cross-country bike in terms of performance. But it is equally capable of giving you a comfortable ride, while not forgetting that it is a bike specifically designed for snow, gravel, and other special terrains.
Main Features
Frame Group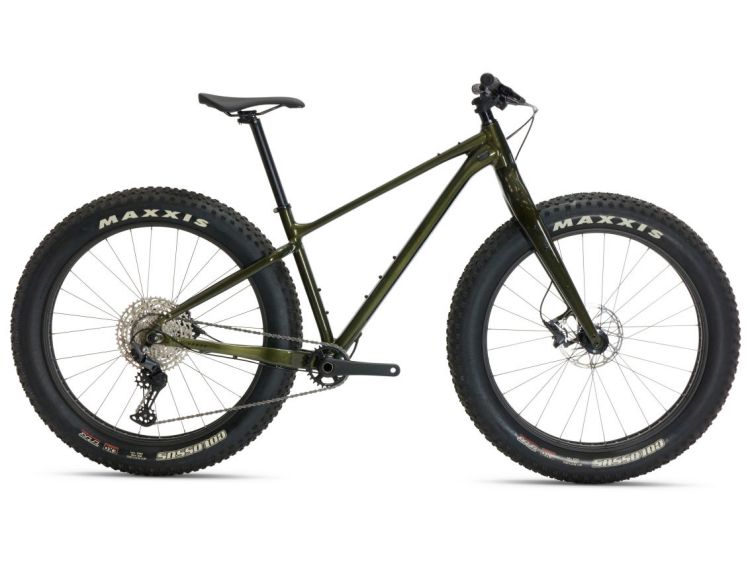 Honestly, this fat tire bike would look adorable. It proves to be more than just cute, it is equally good in other aspects.
Aluminum alloy is used in the choice of frame. Therefore, it not only provides lightweight but also has enough quality to cope with all kinds of harsh terrain.
In the color with the knight's shield and the phantom green two can choose, and the solid color design makes the appearance more eye-catching. I like the Knight's Shield one.
In addition, the design of the internal alignment is to make the body look clean and tidy, effectively protecting the cable lines from damage. Meanwhile, water bottle mounting holes are set on its top tube, bottom tube, and seat tube, so you can carry multiple water bottle holders. Of course, if you are riding in the snow, remember to pay attention to the water insulation.
Geometry
When people first see a fat tire bike, they are attracted to its wide tires but don't overlook its equally excellent geometric design.
First of all, the 1171.1mm wheelbase and 460mm rear fork length are moderate, which makes you more stable and easy to handle when riding. Second is the 68.5° head tube angle. This standard mountain bike head tube angle provides quick and responsive steering and doesn't make you feel unstable during descents.
Once again, the 73° seat tube angle allows you to maintain a very comfortable position, ensuring your pedaling efficiency.
Finally, the standing height of 772mm is just right for me. I can always hold the body steady and stop to enjoy the scenery around me.
Components and Specifications
Maxxis Colossus Tires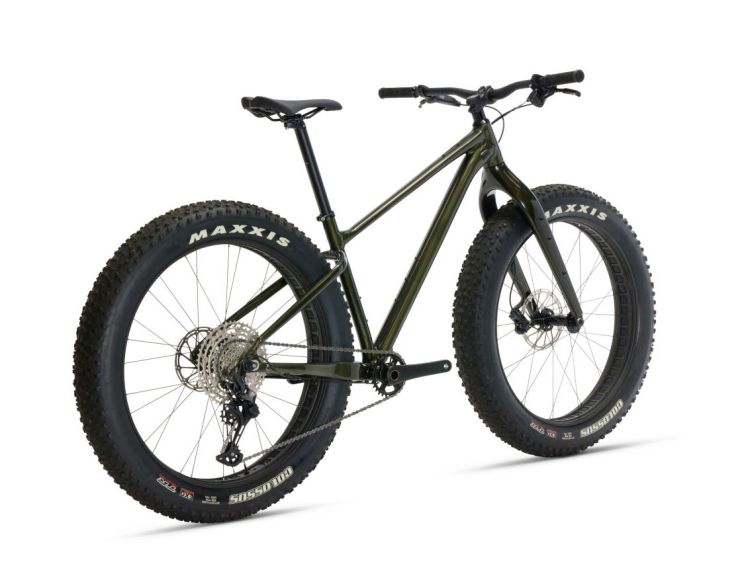 As a fat tire, the Maxxis Colossus is designed for riding in winter snow. The tread consists of many high knobs that effectively penetrate the snow and grip the hard terrain directly below. There is no doubt that this ensures stability when riding.
At the same time, the raised surface pattern removes snow and provides enough traction to keep you moving through the snow.
And the use of EXO technology in its manufacture makes it highly resistant to wear and tear. This also gives it the bottom line to handle rough terrain.
SRAM Level Brakes
When it comes to brakes, this bike is a good choice for the SRAM Level. first of all, the dual-piston drivetrain and sealed pivot bearings provide control quickly. Emergency braking can be applied immediately when you need it.
Secondly, the use of a carbon brake lever is light enough in weight. At the same time, the reasonable shape contour design can perfectly and perfectly fit your fingers, effectively reducing finger fatigue.
Finally, there is superb braking performance in addition to quick responsiveness. It provided stable braking in steep hill driving, allowing me to reach the gentle road safely.
Shimano Deore Shifter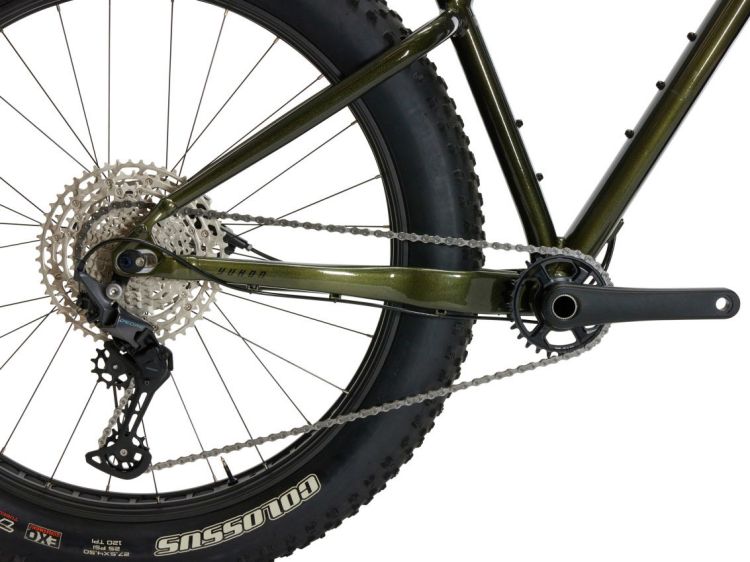 As Shimano's classic style derailleur, it brings a faster riding experience during your ride and makes your ride fun.
And the 1×12 drivetrain gives you more options for shifting gears. Therefore, when facing different gradient terrain, switch at any time to ensure your riding speed at all times.
At the same time, the quick responsiveness allows you to ride without putting too much attention on shifting, enhancing your confidence in mountain riding.
Other versions of Giant Yukon
In this test, we tested not only this bike but also bikes from its same series. Of course, this is to let you have a more comprehensive understanding of this bike and at the same time have more choices.
2022 Giant Yukon 1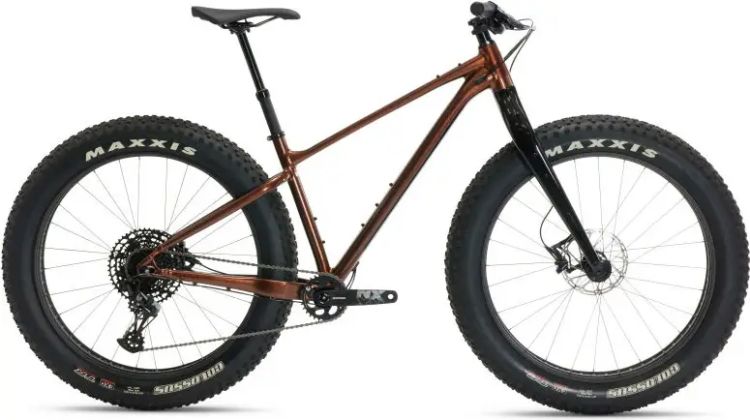 As an upgrade to the Giant Yukon 2, this bike has made some updates to its components.
The first thing is the new dropper design on the seat post, which also makes your ride more comfortable. Other than that, in terms of component selection, this bike uses SRAM accessories.
But honestly, compared to Shimano accessories, both don't feel much better in actual riding. For me, both are equally comfortable.
In addition to these, of course, changes have been made to the colors. I still prefer the Knight's Shield of 2022 Giant Yukon 2.
If you are like me, give it a try, it will surprise you.
What we like about it
A unique experience of riding in the snow.
Lightweight aluminum frame design, quality assurance.
Maxxis Colossus tires deliver a smooth ride.
The 1×12 drivetrain lets you tackle more terrain.
Powerful braking capability.
What we don't like about it
Need to configure your pedals.
FAQs
What are the tires on the 2022 Giant Yukon 2?
The tires on the 2022 Giant Yukon 2 are Maxxis Colossus.
What is the drivetrain of the 2022 Giant Yukon 2?
The drivetrain of the 2022 Giant Yukon 2 is a Shimano Deore.
What are the brakes on the 2022 Giant Yukon 2?
The brakes on the 2022 Giant Yukon 2 are SRAM Level.
2022 Giant Yukon 2 size chart
| | |
| --- | --- |
| size | Rider height |
| SM | 163 CM – 173 CM |
| MD | 170 CM – 181 CM |
| LG | 178 CM – 189 CM |
| XL | 186 CM – 198 CM |
2022 Giant Yukon 2 Specs
Build
| | |
| --- | --- |
| Frame | ALUXX SL-Grade Aluminum with horizontal dropouts, 12×197 Colors: Knight Shield; Phantom Green |
| Fork | rigid composite with alloy steerer, 15×150, with low rider rack mounts |
| Rear Shock | N/A |
| Bottom Bracket | ProWheel, press fit |
| Stem | Giant Contact S:50mm, M:50mm, L:60mm, XL:60mm |
| Handlebar | Giant Connect Trail, 780×31.8mm |
| Saddle | Giant Sport Comfort |
| Seatpost | Giant Connect, 30.9mm S:375mm, M:375mm, L:400mm, XL:400 |
| Pedals | N/A |
| Grips | Giant Tactal Single |
Groupset
| | |
| --- | --- |
| Rear Derailleur | Shimano Deore |
| Front Derailleur | N/A |
| Crank | ProWheel MPX, 28t S:170mm, M:170mm, L:175mm, XL:175mm |
| Shifters | Shimano Deore, 1×12 |
| Cassette | Shimano Deore M6100, 10×51 |
| Chain | Shimano |
| Brakes | SRAM Level, hydraulic [F]180mm, [R]160mm rotors |
| Brake Levers | SRAM Level |
Wheels
| | |
| --- | --- |
| Rims | Giant FBR alloy, 27.5″, 85mm |
| Spokes | stainless, 14g |
| Front Hub | [F] Giant 15×150 sealed bearing [R] Giant 12×197 sealed bearing |
| Rear Hub | [F] Giant 15×150 sealed bearing [R] Giant 12×197 sealed bearing |
| Tires | Maxxis Colossus 27.5×4.5, foldable, TR |
Video
Comparison Table
2022 Giant Yukon 2 VS 2022 Salsa Mukluk microSHIFT ADVENT X
Being a fat tire bike, the Salsa Mukluk microSHIFT ADVENT X uses 26″ for its tire selection. I'm more comfortable with larger tires. Because it gives me better passing and faster riding speed.
In addition, the 1×10 shifting option is slightly less responsive to different terrain than the Giant Yukon 2. Although both have the same excellent responsiveness in terms of shifting.
If you have certain requirements for shifting, then you may want to try this Giant Yukon 2. I believe it will bring you a different experience.
Learn More: Fat Tire Bicycle 2023 Salsa Mukluk Deore 11 Review-Sand Buster
2022 Giant Yukon 2 vs 2022 Trek Farley 5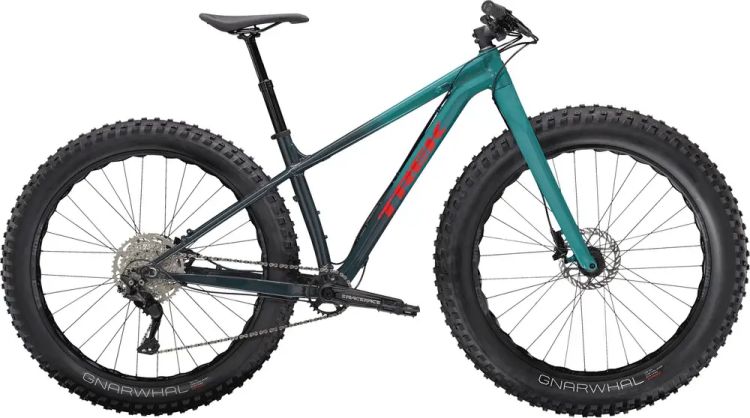 If I were to look at the two bikes alone, I would choose the Giant Yukon 2 because the paint color is more appealing to me.
Of course, in addition to the value, there is the design of its internal cable routing. Trek Farley 5's cable is exposed, which greatly increases the probability of it being damaged. And, maintenance is still more trouble.
And there is not much difference between the two in terms of performance. So if you have the same preference as I do, then this Giant Yukon 2 would be a good choice.
Learn More: Trek Farley 5 Review [2022]- Does It Qualify To Be Your Fat-Tire Bike?
2022 Giant Yukon 2 vs 2022 Canyon Dude CF 7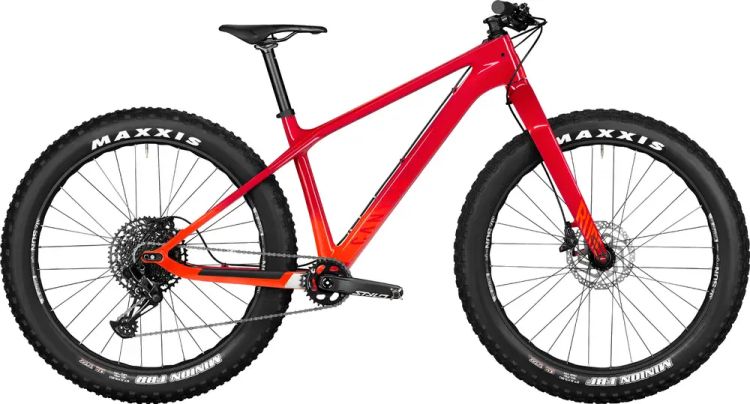 I have to say that the Canyon Dude CF 7 is excellent. The frame made of carbon makes the body weight very light, it is only 13.5 kg.
Also, the SRAM SX Eagle shifter option makes it easier for you to ride. Because the 1×12 shifting option allows you to deal with more terrain. And Shimano MT410 brakes also provide powerful braking ability.
Of course, the Giant Yukon 2 is no slouch either. 27.5×4.5 size Maxxis Colossus tires make it smooth and comfortable to ride in the snow.
Also in terms of price, it is a bit cheaper than the Canyon Dude CF 7. If your budget is not that high, you can try this Giant Yukon 2.
2022 Giant Yukon 2 vs 2022 Kona Wo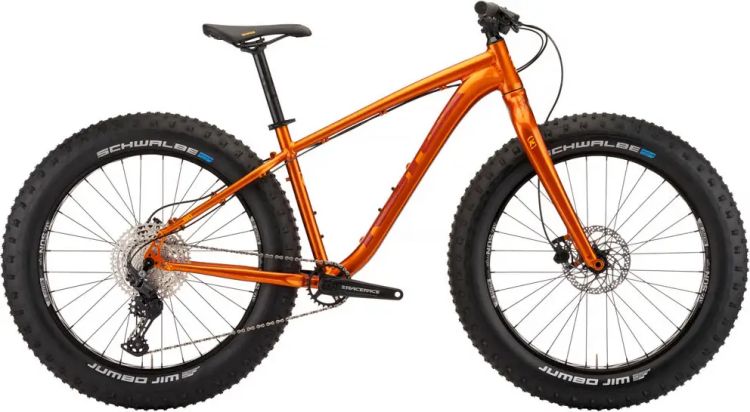 In this comparison, the Giant Yukon 2 has the fastest ride of the bikes. This is probably due to its excellent geometry design.
Compared to the Kona Wo, it is relatively bent over when riding, which is more aerodynamic. And the 280mm BB height makes it more stable when riding.
In addition to the geometry design, the choice of the drivetrain is also key. 1×12 drivetrain gives it a good performance in dealing with different terrains. And, it is much faster compared to Kona Wo's 1×11.
In addition, the fork made of carbon makes it lighter in weight and more relaxed when riding.
Learn More: Is Kona Wo Worth Buying? [Kona Wo Review]