We use affiliate links and may receive a small commission on purchases.
Giant Revolt 2
Price: 1,450 USD
Wheels: 700c
Tire: 38c
Drivetrain: 2×9
What we like about it: The world's leading brand of value-for-money gravel road bikes with the new Revolt lightweight ALUXX aluminum frame, updated gravel geometry, and 53mm more tire clearance to make your ride even more playful!
What we don't like about it: Although we've done it all, we can't do better in the face of brutal terrain challenges.
Rating :(4.7/5)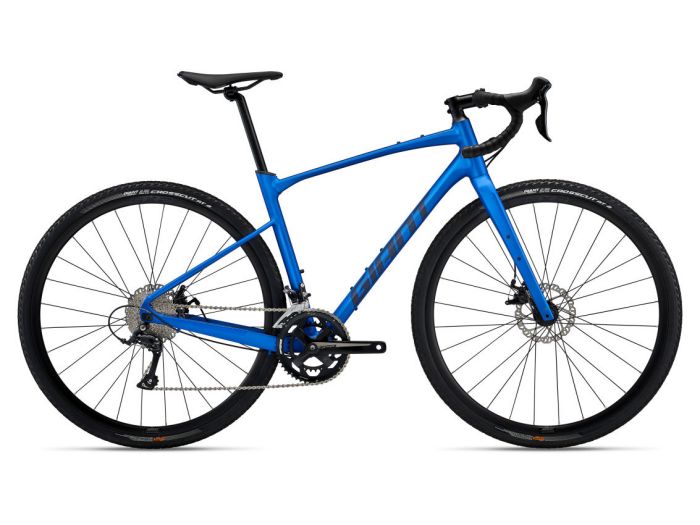 GIANT, the world's leading brand of high-quality bicycles and cycling equipment, has long been sought after by riders.
With the gravel road boom in recent years, the Revolt 2 series for 2022 is equipped with the new Revolt lightweight ALUXX aluminum frame, which supports a larger 53mm tire clearance and Shimano-grade, 2×9 drivetrain. In addition to adapting to the more extreme and variable terrain in the wild, innovative gravel geometry, longer reach, and lower bottom bracket for added stability in the ride.
If that's not enough to entice you, then you'll also have the unbeatable Giant CrossCut AT 2, 700x38c, vacuum tires within the $1450 price tag. Let you ride farther, with fewer bumps, more fun, and fewer worries.
Commuter Riding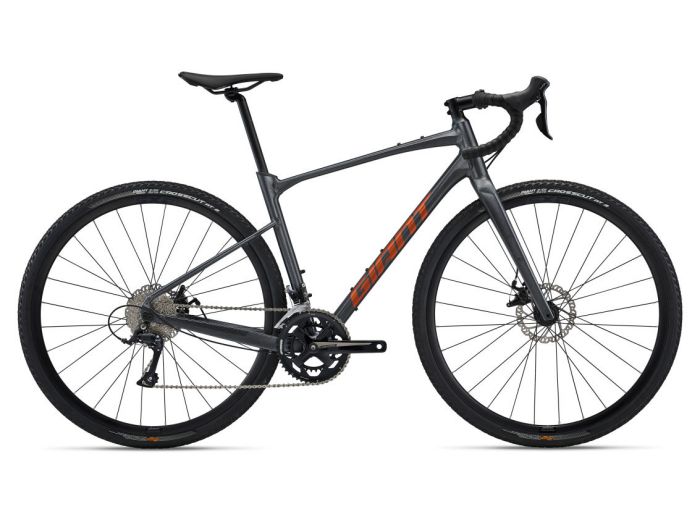 Almost all gravel bike owners travel city streets on their bikes, although it may be a bit easy in the minds of some race riders. But you have to understand that inner-city commuter riding is often overlaid with much more complex terrain, such as sidewalks that require fast acceleration, frequent brick-laying roads, and park trails that some riders who like to ride at a leisurely pace often engage. To review the Shimano 2×9 drivetrains, the Giant CrossCut AT 2 with vacuum tires of 700x38c, and Shimano Sora mechanical discs, so we'll start the test by focusing on urban commuting.
Based on the steep head tube angle (71.5°), even a complete novice can quickly start riding for enjoyment. So even though I took it to the center of town without much of a burden, the 74-degree seat tube angle is certainly good news for the muscles for a near upright seating position. The Shimano 2×9 drivetrain was certainly good news for me as I hurried through the crowds and sidewalks, and it performed without hesitation and quietly. While one has to admit that the 2×9 speed would shine in more demanding outdoor riding. It's certainly a very adequate number for city commuting. Also, as the terrain extends upwards in the vast majority of the city I'm in, it holds a sharp pace for some of the sections that require an uphill climb.
Among the people who bought them, we noticed that some needed to commute for long periods of time. The cork tape with gel has a soft and firm grip and is adaptable to most riders in terms of grip for riding. Even on bumpy natural roads, the Giant Approach saddle is happy to ride with the 2022 Giant Revolt 2 for long periods of time.
Speedy Runner
At the same price point, the Giant Revolt will undoubtedly be praised as a "Speedy Runner". Yes, the shifting is snappy and the wide range of gears gives me more speed options for every situation. Perhaps, mountain bikers who are used to riding with droppers will notice that the Giant Revolt 2 doesn't have a dropper design, so admittedly it may still struggle a bit in the face of more demanding outdoor riding. However, the Advanced-Grade Composite fork reduces overall body weight while absorbing most of the vibration, no doubt allowing you to move freely and quickly through the city.
Gravel Road
Wanting to build a lighter bike that would be more suitable for newbies, we ditched the shock absorbing suspension and went with an Advanced-Grade Composite fork to absorb the shock from the ground. When we do gravel road rides, we'll be dealing with this untold number of rocks and gravel, but when I had my doubts about the Giant Revolt before the ride started, I was put to rest with a nearly 4-hour ride. The 73.5° seat tube angle not only made pedaling easier, but was also appropriate for some of the slopes approaching 5%.
In addition, the Giant CrossCut AT 2 with vacuum tires of 700x38c were not so bad that it was difficult for me to get around in today's sandy terrain. On the contrary, NED, who was traveling with me, was really struggling because he chose the narrower Scott Scale 940 with 29×2.25″ tires.
Wild Outdoor
But was it really just that? During our gravel shuttle, we arrived in the wilder outdoors, with dense jungle on both sides of the road and wildlife visiting at all times. While testing the SRAM Apex frequently, I found the hydraulic disc brakes to be extremely responsive, which gave me more confidence in the unknown.
In addition, not all roads are dry and friendly, and muddy country roads cause a lot of trouble for cycling. The vacuum tires of 700x38c combination Shimano 2×9 drivetrain with Praxis Alba, 40T crank technology, did not drift or even get out of control even at the fastest speeds.
Faced with the rough pavement between the forest trails I traversed with slabs, the frequent but not violent bumps left me with no small amount of complaints. It even made me bored with the Specialized Diverge E5 premium aluminum, even though I thought it could withstand most of the friction. Plus, the free frame leaves plenty of room for carrying water bottles. I filled two full-size water bottles to complete close to four hours of outdoor riding. Of course, if the Giant Revolt hadn't ridden easy enough, I probably would have needed additional hydration.
Main Features
Frame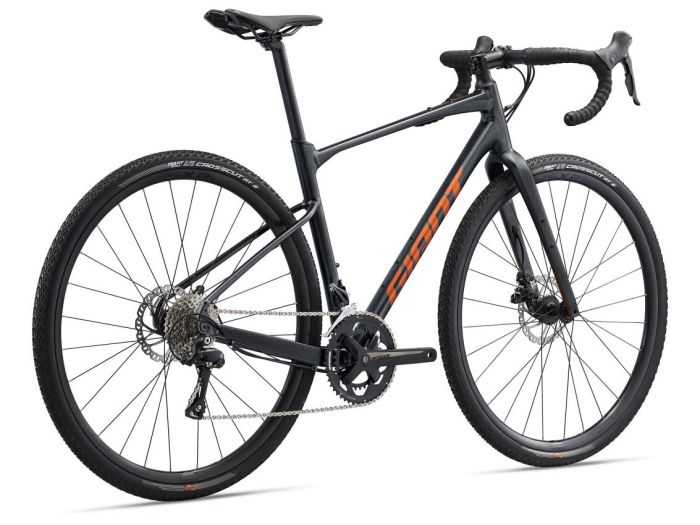 As you can see in the frame material and the matching geometry, the ALUXX-Grade Aluminum frame geometry is designed with more endurance riding in mind. In addition, if you need to do frequent commuter rides, the friendly enough frame series allows for easy installation of fenders and rear racks. You don't have to worry about being limited by weather or loading items. Additionally, I think that with a $1450 limit, the Giant Revolt really can't do much more than that given the consumer obsession with carbon frames.
The aluminum body achieves a combination of lightness and endurance, and in the face of harsh outdoor riding, not only does it allow for less wear and tear, the ride will be more attention-grabbing. The shorter, thinner, saggier rear dropouts are designed to absorb road shock and vibration, and help achieve precise handling, agility and control when you're adventuring in the great outdoors.
If you notice the internal body wiring design, you'll understand that the Revolt can become very efficient when riding without tangles or hose drag issues on forest roads or at high speeds, and even reduce mud washing. The D-Fuse handlebars and seatpost work as a system to increase compliance without sacrificing stiffness when turning, sprinting, or climbing.
Of course, if you look at the exterior of the bike paint is really in the middle of the road. Compared to the Giant Revolt 1 enthusiastic red, I prefer its jewel blue color, very comfortable and dazzling.
Geometry
In terms of riding feel, the Giant Revolt's steep seat tube angle (73.5°) will be more upright for the riding position and will make you feel at ease when you start riding. This is good news for newbies. Also, if you're not satisfied with city commuting and like the challenge of some outdoor uphill terrain, this doesn't put much of a burden on you to accelerate, either by adjusting your stance or adjusting the Shimano, 2×9 speed to maximum.
The 71.5° head tube angle for higher steering speed allows for relatively fast steering speed on flowing trails with more curves. And the friendly 23.1-inch stack combined with the 40.9-inch trail length allows you to ride comfortably without worrying about losing control of the body in sharp turns.
Components and Specifications
Shimano Sora, 2×9
Those of you who know me well will know that I have faith in the Shimano brand, so when I see a Giant Revolt with Shimano-grade, 2×9-speed combo FSA Vero Pro, 32/48 crank drivetrain, I'll be delighted. Although 1x single-disc drives are simpler and lighter for today's trends, if you're facing larger ascending terrain, you'll still want to have the richness of a 2x/3x drivetrain like a mountain bike. Of course, this will be a test for newbies.
In addition, because of the more economical price of $1450 for the ALUXX-Grade Aluminum, rather than the more expensive all-carbon, will raise the weight further. If it weren't free and wide enough as well as a dense gear ratio, you'd lose some of your strength sooner on longer traverses of gravel roads.
Giant CrossCut, 700x38c
For many bikes, these days prefer special-size tires such as smaller 27.5″ wheels or thicker 48c widths. I think the Giant CrossCut, 700x38c is very modest for both city commuting and gravel riding. It will make you feel like there is nothing new, but face the overlapping terrain on the road. You'll be able to get around the sidewalk quickly and still have enough friction to prevent drifting on slippery surfaces.
When I was doing outdoor gravel road rides, the sandy soil was loose so it was easy to sink the thin stripes into the tires and make the bike's travel incredibly difficult. For example, my friend Alex was riding a Giant XTC Advanced with 2.25″ tires and was passively in a bad spot, but the Giant CrossCut, 700x38c handled it with ease, and I quickly left him behind.
Shimano Sora Mechanical Discs
The debate about mechanical discs and liquid discs has been a very hot topic. From the point of view of maintenance costs, liquid disc brakes are expensive to replace, while the performance of mechanical discs will be very stable. And from riding experience, if you are in the outdoor riding adventure is very suitable for mechanical discs. There is little difference between the two in braking, and out of trust in the Shimano brand, there is no need to worry about unexpected conditions despite the high speed.
I had an experience that made me feel good about the Shimano Sora mechanical discs. When I was testing a ride on a wild forest road, I hadn't thought it through very well. So while I was accelerating, an uninvited guest came out of the woods and gave me a complete scare. But the brakes were so quick and responsive that I didn't stumble when braking, and I was lucky to avoid the possibility of injury.
Other Versions Of Giant Revolt
I'm also interested in two of the more expensive models in the Giant Revolt series: the 2022 Giant Revolt Advanced 1 and the 2022 Giant Revolt Advanced 3. So I'm happy to compare them to the Giant Revolt 2 in hopes that the elevated price will see consideration for component upgrades.
The Giant Revolt Advanced 1 is priced at $4,000 and is relatively high-end in terms of component specifications. Starting with a full-carbon body that saves weight while maximizing the absorption of vibration from the road. In addition, equipped with Maxxis Rambler vacuum tires of 700x45c, both to improve the efficiency of pedaling and to actively and positively deal with some cuts and tears.
Of course, it also uses the wider and faster SRAM Rival eTap AXS, a 2×12 electronic drivetrain combined with SRAM Rival eTap AXS liquid disc brakes for both faster acceleration and more confident braking. I think it is a big upgrade from the Giant Revolt 2 to Giant Revolt Advanced 1.
Priced at $2400, the Giant Revolt Advanced 3 is designed with a higher-end all-carbon and is capable of a significant increase in drivetrain compared to the Giant Revolt 2, reaching a standard of 2×10. The range of options is wider and the power is more powerful.
In addition, the Shimano GRX RX-400 hydraulic disc is chosen for the brakes, which is good for some riders who ride at high speed and can stop even when they encounter some sudden obstacles. Undoubtedly, this adds more riding confidence.
What do we like about it?
Compatible with a wider range of gravel road bikes, capable of meeting the needs of urban commuting and outdoor adventures.
Tough Giant CrossCut, 700x38c wheelset to improve friction while riding fast.
Richer and more powerful Shimano, 2×9-class drivetrain, take you to challenges more difficult.
Lightweight ALUXX-Grade Aluminum alloy for more aggressive outdoor riding.
The simplicity of the internal wiring enhances the efficiency of the ride.
What we don't like about it?
Color can not do more choices.
Cannot upgrade more components in the existing price framework.
FAQs
What is the tire size of Giant Revolt 2?
Giant Revolt 2 tire size is 700x38c.
What is the Giant Revolt 2 drivetrain?
The Giant Revolt 2 drivetrain is Shimano Sora, 2×9.
What is the Giant Revolt 2 brake?
Giant Revolt 2 brakes are Tektro MD-C550 mechanical.
Giant Revolt 2 SPECS:
| | |
| --- | --- |
| Frame | ALUXX-Grade Aluminum, 12x142mm thru-axle, disc, flip chip dropout |
| Fork | Advanced-Grade Composite, full-composite OverDrive steerer, 12mm thru-axle, disc |
| Wheels | Giant S-X2 Disc wheelset |
| Tires | Giant CrossCut AT 2, 700x38c, tubeless |
| Bottom Bracket | Cartridge |
| Crankset | FSA Vero Pro, 32/48 |
| Shifters | Shimano Sora, 2×9 |
| Front Derailleur | Shimano Sora |
| Rear Derailleur | Shimano Sora, long cage |
| Cassette/Freewheel | Shimano HG400, 11×34 |
| Chain | KMC X9 with Missing Link |
| Brakes | Tektro MD-C550 mechanical |
| Rotors | Giant MPH 160mm rotors |
| Brake Levers | Shimano Sora |
| Handlebars | Giant Contact XR Ergo-Control, 31.8mm |
| Tape/Grips | Cork tape with gel |
| Stem | Giant Contact, 8-degree |
| Seatpost | Giant D-Fuse, alloy, 14mm offset |
| Saddle | Giant Approach |
| Accessories & Extras | tubeless prepared, 53mm max tire size in "long" flip chip position, 42mm max tire size in "short" flip chip position |
Comparison Table
2022 Cannondale Topstone 3 vs 2022 Giant Revolt 2
Compared to the 2022 Cannondale Topstone 3, we can clearly see that both bikes have been upgraded within the framework of the gravel bike. For example, in the choice of tires, are used 700c wheelset, which is very helpful for rapid driving to see.
Compared to the Cannondale Topstone 3, the Giant Revolt 2 is wider and thicker in size, reaching a value of 38c. It means that in some more testing terrain, such as more slippery sections or for some countryside riding on primitive gravel roads, it is not easy to fall into the sand, resulting in driving becoming very difficult.
Also, in terms of drivetrain, the Giant Revolt 2 chose the Shimano brand that I am more familiar with. Although both are 2×9 drivetrains that are more energy efficient for upward climbing terrain.
In the $1300-$1500 price frame, both opt for the more economical and easier to maintain mechanical discs. If you are a novice who has just been riding for a short time, then this will suit you better than the expensive hydraulic discs.
Learn More: 2022 Cannondale Topstone 3-Can It Take You Across The Gravel Road?
2023 Marin DSX 2 vs 2022 Giant Revolt 2
When comparing the 2023 Marin DSX to the Giant Revolt 2, you can't ignore the fact that the Marin DSX encourages outdoor adventure. The Marin DSX2's massive WTB Riddler wheels of 700x45c are good news for strong grip, but if you need to go fast or climb up, there's inevitable lag.
My riding style lends itself well to the 700x37c wheelset on the Giant Revolt 2. Whether I want a boost for dry surfaces or friction for wet surfaces, it'll work well.
In terms of other key components, the Marin DSX Shimano Deore 12 drivetrain is much easier for some newbies to do some low-difficulty forest riding. But you can't ignore that if you need to do some difficult challenges, the Giant Revolt 2 with Shimano 2×9 drivetrain will be more suitable.
So all in all, if you need a more stable ride, Marin DSX is also enough, but if you need more novelty and fun, I recommend Giant Revolt 2's Giant Revolt 2.
Learn More: 2023 Marin DSX 2 Review-Made for Fun Riding
2022 Salsa Journeyer Flat Bar Deore 700c vs 2022 Giant Revolt 2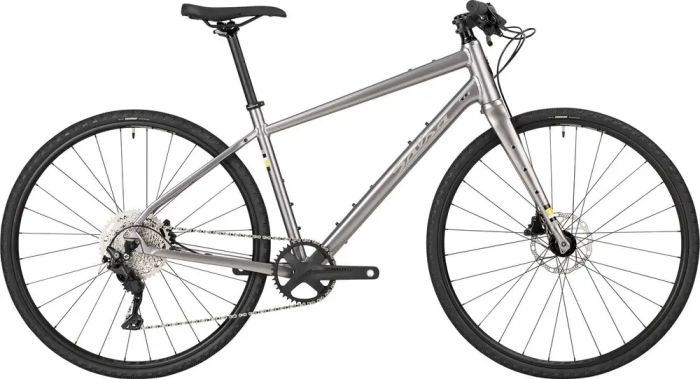 For most gravel road bikes, as much as I hate to admit the fact, there is basically a successful frame to emulate. Such as the Salsa Journeyer Flat Bar Deore, which is almost identical in terms of wheelset choice. Except for the brand differences, and all use the 700x38c size. But in the key components of it, I still see some obvious differences.
Power traditional system Salsa Journeyer Flat Bar Deore made a single-disc drive upgrade, only 1×10. This means that it does not provide more power when faced with some of the more upward terrain climbs.
Although in weight will be lighter than the Giant Revolt 2 with Shimano 2×9, for newcomers will also be a little easier to operate. However, in the brake braking piece, the more expensive hydraulic disc brakes were chosen, although, from my riding review, the difference between the two is not great.
Salsa Journeyman Sora 700 Review – Novice Riders' First Gravel Bike?
2022 Specialized Diverge E5 vs 2022 Giant Revolt 2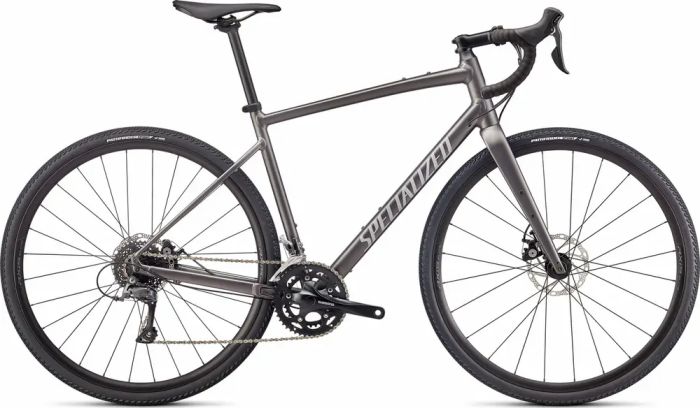 For Specialized Diverge E5 and Giant Revolt 2 comparison to see, it is very not easy. In the wheelset, this almost unanimously adopted the standard 700c. Although the width of Specialized Diverge E5 has a 38c width, this time for the actual ride encountered in the acceleration problem is slightly The overall performance is basically the same.
The brakes are made with more affordable mechanical discs and flat-mount technology. This makes the whole lighter and more compact. From the material, both choose a more wear-resistant alloy, and carbon forks are made to adhere to certain.
Specialized Diverge E5 is more conservative in the drivetrain, using 2×8 speed drivetrain. Although both are loyal fans of the Shimano brand, if from the perspective of choosing the best of the best I would appreciate the Giant Revolt 2 with Shimano 2×9 drivetrain.
In case, the above comments are helpful to you, please remember to share the subscription. Have a great day!
Learn More: 2022 Specialized Diverge Comp E5-A Multifunctional Bike That Gives You More Fun