We use affiliate links and may receive a small commission on purchases.
Trek Top Fuel 9.7
Price: $4,499
Travel: 120 mm rear, 120 mm front
Wheels: 27.5″/ 29″
Drivetrain: 1 × 12
What we like about it: Oclv full carbon fiber body with more classic 29" tires and 120mm longer travel equipped with FOX Performance Float shocks, allowing you to convert in a variety of styles of trails, but also the perfect response.
What we don't like about it: It can't do more than that in this price frame.
Rating: (4.7/5)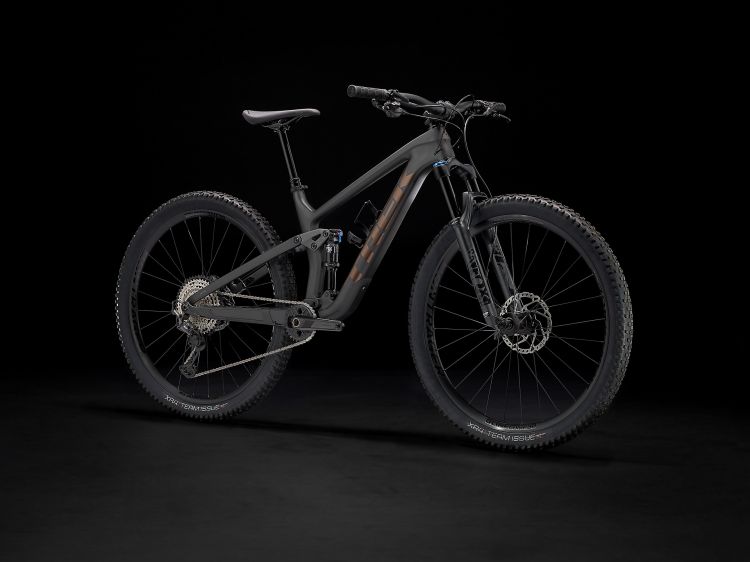 Introduction
Trek, a major bike brand, is known for its highly rated mountain and hybrid bikes. The 2023 Trek Top Fuel 9.7 presented here is a higher-end full-suspension bike in terms of components and is still very friendly in terms of price compared to trek's latest slash series.
The lightweight yet sturdy OCLV mountain full-carbon frame is equipped with Bontrager XR4 vacuum tire combo and Shimano drivetrain, allowing you to enjoy smooth pedaling. The OX Performance Float shock and longer 120mm of rear travel can handle tougher terrain. Meanwhile, the 4-piston Shimano brakes provide confidence even on the descents. I can't think of a better investment than owning an all-around champion. It will take you for a fun ride and give you the support you need to race.
If you want to know more about the riding experience, please stay tuned and subscribe, I will bring more reviews.
Off-Road Riding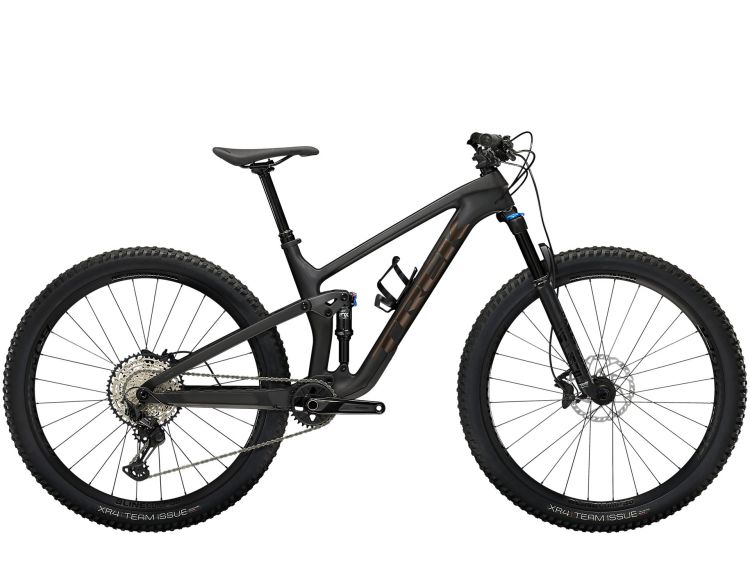 The new topfuel gives you the confidence and control of a full-suspension trail bike and the speed and agility of an xc race bike. The FOX Performance Float shock and longer 120mm of front and rear travel make for a fun ride in the ever-changing and rough road conditions we face on our fast trails. I remember when I rode into a wild forest road, I felt more stable even on the descents thanks to the updated geometry in the face of the undulating road conditions. I also noticed that the topfuel has a shorter stem and wider handlebars to make it easier to maneuver the bike through bigger impacts during the ride.
Combined with the Bontrager XR4, 120tpi 29.x2.40" vacuum tires, it was easy to control the body squeeze from the ground. When I need more efficient long climbs and sprints, the Shimano 12-speed combo Shimano Deore M6120 crank technology is perfect for my local mountain terrain. It spins and climbs even the steepest of climbs, requiring only maximum adjustment of the derailleur gearing.
What also surprised me was the ABP technology it uses. When facing some fast descending, I don't really have more confidence to ensure maximum safety, and I tend to use the brakes for braking. But inevitably, I would lose some of the effectiveness of the damping, and ABP technology can bring the shock to perform as expected, while avoiding wheel disengagement from the mountain road. I also noticed its Knock Block technology, which means that under the spin of a high-speed collision, even if the body suffers a crush, there's not much impact on the controls.
Gravel Riding
In fact in the face of gravel road terrain, I think the experience would be best on a full suspension bike. With the popularity of gravel road bikes, I think it's just a mountain bike variant. So, in my opinion, the gravel road review is essential for the 2023 Trek Top Fuel 9.7.
Dirty Sheets
For a more endurance ride, we headed to South Fulton County to experience the far-flung Dirty Sheets. And faced with a 20-mile gravel course, the Bontrager XR429.x2.40" vacuum tires with a 76.4-degree seat tube angle made it easy and enjoyable as soon as I started cadence pedaling. Of course, the Shimano 1×12 drivetrain combined with the Shimano Deore M6120 crank technology should not be overlooked, enabling me to accelerate easily even on some 5% upward stretching terrain. I don't have to worry about dropping the chain when facing bumpy gravel roads, and the simpler 1× drive makes my handling easier and faster.
After noting that the bike has a long 120mm rear and 120mm front suspension, I thought it was redundance to handle the gravel bumps so efficiently. I had a great time riding for close to 3h, with no muscle soreness and no further loss of energy after a long ride. Moreover, due to the insistence of the body material on the more expensive carbon fiber, it showed enough endurance and sturdy performance even in the face of flying sand and rocks.
The OCLV mountain carbon fiber is equipped with countless times-proven active brake control that keeps you calm even under emergency braking. And with MINO linkage to adjust geometry and Hassle-free routing to guide internal cable routing, Top Fuel stays quiet on the road and maintenance is a breeze.
Main Features
Frame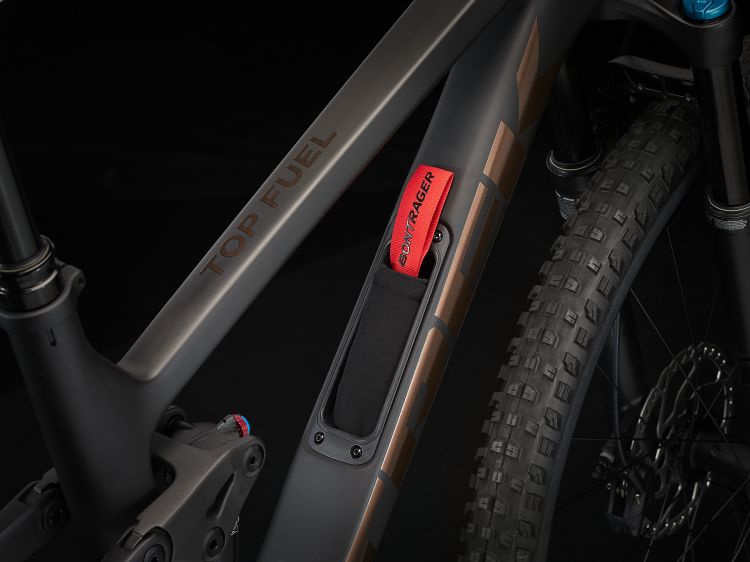 It's not just that the carbon frame is light enough and strong enough, or that it can handle friction more aggressively for the outdoors. More importantly, I noticed that the Trek Top Fuel 9.7's unique geometry, combined with the 120mm of rear travel in a progressive trail geometry. It gives me a fast, responsive feel on the ride and helps me stay calm when the trail gets noisy.
Of course, the internal cable routing keeps me absolutely quiet on the trail, no dragging of hoses at high speeds, and maintenance becomes a breeze. In addition, the internal frame storage allows me to easily ditch the pack and still carry some riding essentials such as a tool kit and physical supplies.
And I have to mention the Knock Block technology, which, during my high-speed trail rides, did not cause much shock to the controls in the face of crash spins, even when the body was crushed. If I still have a complaint, it's that I don't have much choice in paint, although I like her ruby blue color, it's too understated.
Geometry
As a mature industrial product, the geometry often means more rationalization. The Trek Top Fuel 9.7, being an endurance bike, has been designed with less aggressive geometry angles. As I rode, the steeper 76.4° seat tube angle and longer 105mm head tube were evident. This not only improved handling stability, but also made some improvements for comfort.
In addition, the larger stack value, and smaller reach are designed to provide a more upright riding position. It is worth noting that although the Top Fuel 9.7 is an enduro bike, the geometry of the rear triangle has been designed to be very compact. The length of the rear lower fork is only 434mm, which is still very helpful for the efficiency of the drivetrain output when riding efficiently.
Components and Specifications
130mm FOX Rhythm Front Fork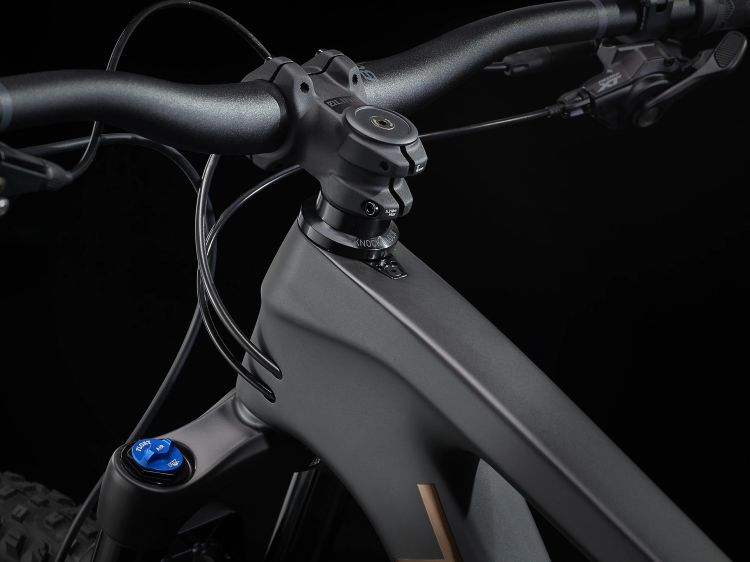 If you ask me why the topfuel series is so efficient, I have to mention its patented ABP fork damping technology. For years the majority of our riders have been faced with the choice of brakes versus damping. Although a variety of shock absorbing devices are available, the advantages of the technology will stop as soon as the rider brakes.
It's because braking locks up the shock that TREK gave the answer to the problem with a fork assembly that incorporates ABP technology, which solves the problem perfectly. As we go through a bumpy section, similar to a rock garden, the technology allows the rear shock to continue working even during braking. It even says that for the rear tires, it remains stable against the ground and maintains traction. So you don't have to worry about front fork loading and still maintaining body stability and handling as the bike quickly rolls over a rock-laden road.
Shimano 4-piston Hydraulic Disc, M6100 Lever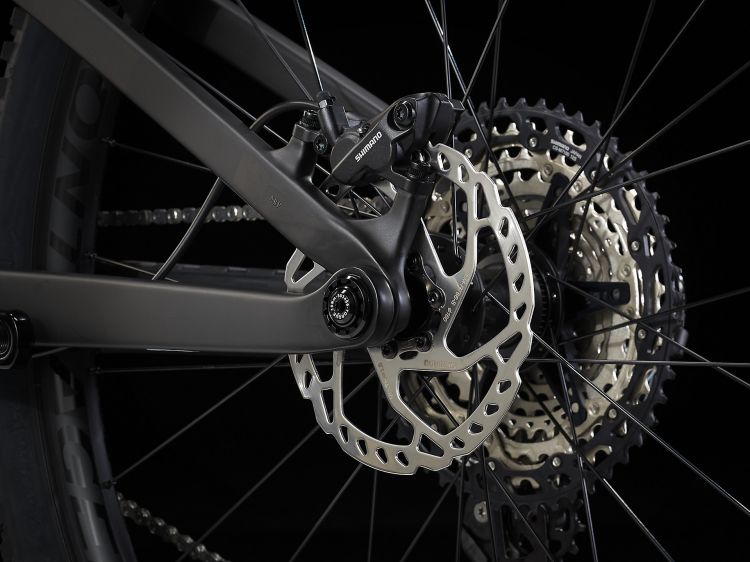 For braking, there are often two extremes, either mechanical brakes or hydraulic disc brakes. And there are mixed reviews of them. But from a actual review, I have to admit that the more expensive hydraulic disc brakes are faster and more responsive, although that means a lot of pressure on your wallet.
In addition, the Shimano 4-piston brake provides another step up in braking power. It uses the sturdy M6100 brake lever design to provide extra support for intense riding, ensuring a smooth descent and a feel that's not soft. On some of the harsher muddy and slippery terrain, you'll have to take more effective measures, and better braking will certainly provide you with more confidence.
Bontrager 29.x2.40" Tire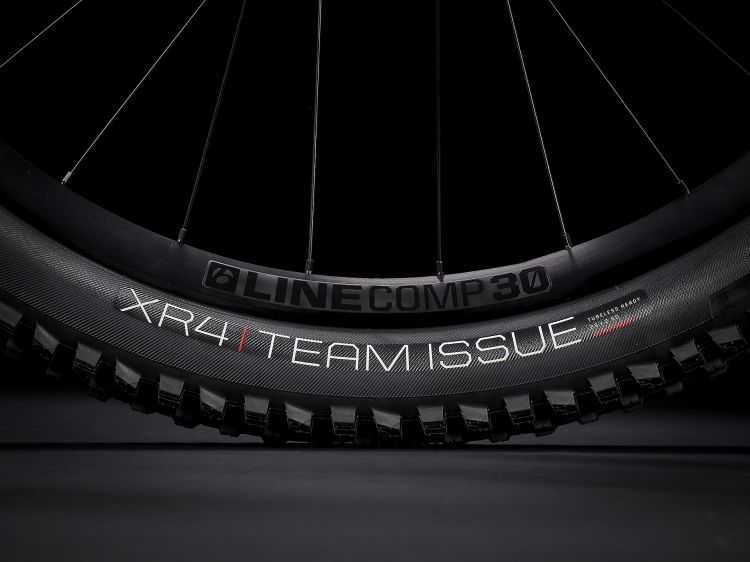 I'm sure there has been much debate over the 29-inch wheel for years, so is it necessarily a classic? That answer is yes in my case.
I've ridden smaller wheels such as the 27.5-inch trek marlin, but to be honest, despite its higher rolling efficiency, I don't feel any easier in acceleration. The Bontrager wheelset of 29.x2.40" with 115mm of trail length is more stable when turning at top speed without losing agility. I don't think this is any worse than the smaller 27.5″ wheels. In addition, the 2.4-inch, 120tpi tires covered with aramid beads make up for the size limitation with extremely rough grip, so you don't need to worry about the risk of drifting even in the face of slippery muddy ground.
In addition, the handling of air resistance is also more efficient than wider tires. So whether it's ascending or descending terrain, everything is just right.
Shimano XT M8100, 12-speed Drivetrain
For the whole industry within the big wave, the single-disc drivetrain with its convenient and simple speed adjustment, and upgraded greater power support, won the hearts of countless racers. The top fuel 9.7 is equipped with just such a Shimano 1×12 drivetrain, combined with Shimano Deore M6120, 30T crank technology, even if you are quickly up and downhill shift gears also seem to be smooth, with no sense of lag.
The shifting action is optimized to be crisp and responsive, and the feel is not soft, which can be clearly perceived on the rider's fingertips. Perhaps the power support was strong enough that I forgot to adjust the speed to the right range on smooth, flat sections after a long upward climb. When in a pedaling dilemma, if you are as prone to riding obliviously as I am, I suggest you make sure to shift gears in time, because it is so easy.
Other Versions Of Trek Top Fuel
2020 Trek Top Fuel 9.7
Compared to the 2020 Trek Top Fuel 9.7, we can clearly perceive that the 2023 Trek Top Fuel 9.7 is made with a lot of room for upgrades. In terms of suspension travel from 115mm rear , 120mm front to 120mm rear , 120mm front, this is a recent trend. The longer consistent values for front and rear travel enable a more aggressive response to the harsh terrain of bumps.
The combination of consistent Bontrager 29.×2.40" front and rear does not avoid the soft tail letdown problem, but for endurance riding, only more efficient handling of bumps will allow you to ride far enough. In addition, Shimano-grade hydraulic discs are chosen for the braking options, but the 2023 version has 4-piston brakes for another step up in braking power. The range of drivetrain options continues with the 1×12 speed range, except for the version upgrade. So in terms of key figures, I'd go for the slightly more expensive and more modern 2023 Trek Top Fuel 9.7.
2021 Trek Top Fuel 9.7
Compared to the 2021 Trek Top Fuel 9.7, we find that the 2023 Trek Top Fuel 9.7 doesn't actually make more room for upgrades based on the 2021 version, but is a more conservative continuation of the classic. The Bontrager wheelset of 29.x2.40" uses longer consistent values for front and rear travel in the suspension (from 115 mm rear , 120 mm front to 120 mm rear, 120 mm front). Although you may find it less interesting, it is very efficient from the point of view of more aggressive handling of bumps.
For the external frame, the front fork is made of the stronger Fox Rhythm 34 material. This is certainly good news for fast skimming over uneven surfaces and also reduces the wear and tear on the tires. In addition, the 2023 version of the 4-piston brake provides another step up in braking capability. From the comparison of these key figures, I would prefer the 2023Trek Top Fuel 9.7 from the bottom of my heart.
What do we like about it?
The higher-end oclv carbon fiber material retains both strength and lightness.
Simpler and faster Shimano, 1×12 drivetrain is you easily through the forest road.
Longer 120mm travel to effectively deal with bumpy roads and faster response to harsh roads.
Hydraulic discs with 4-piston brakes are faster, more agile, and more expensive.
The performance of vacuum tires absorbs more vibration and lasts longer.
What don't we like about it?
Less range of color choices.
Relative to the more expensive price of components.
FAQs
What is the drivetrain of 2023 Trek Top Fuel 9.7 Review?
2023 Trek Top Fuel 9.7 Review's drivetrain is Shimano XT M8100, 12 spd.
What is the body material of 2023 Trek Top Fuel 9.7 Review?
2023 Trek Top Fuel 9.7 Review speed body material is oclv carbon fiber.
What is the tire size for the 2023 Trek Top Fuel 9.7 Review?
The tire size for the 2023 Trek Top Fuel 9.7 Review is 29×2.40″.
Comparison Table
2023 Marin Rift Zone 29″ Carbon XR vs 2023 Trek Top Fuel 9.7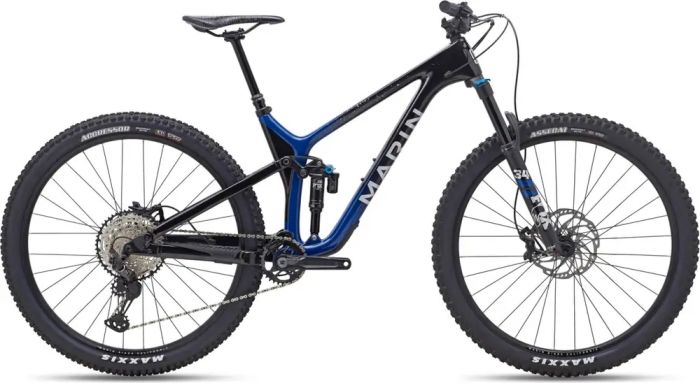 For the Marin Rift Zone, which is basically in the same frame, I think that in terms of performance of some components, both opt for the 29" size and both opt for the more expensive hydraulic disc brakes in this area of braking. In terms of handling bumps, the Marin Rift Zone's 125mm rear and 140mm front figures would be more advantageous than the Trek Top Fuel with 120mm of front and rear suspension travel.
Don't think that's the end of it, it was obvious to me on the ride that although the travel was shorter, it handled bumps more efficiently. I thought and it Fox Rhythm 34 fork equipped with Float EVOL air spring and GRIP shock with more technology. This is good news for long endurance rides. Also, if you look at it from the outside, I think the oclv carbon will be stronger and lighter than the Marin Rift Zone's carbon.
Learn more : Is Marin Rift Zone 27.5 1 Worth Buying? [Marin Rift Zone 1 Review]
2023 Santa Cruz HIGHTOWER R vs 2023 Trek Top Fuel 9.7
Faced with the more expensive 2023 Santa Cruz HIGHTOWER R, my heart was hard to choose. The same great 1×12 speed drivetrain, the same range of options with more power, and the simpler, more novice-friendly, classic 29″ wheels. The rolling efficiency or obstacle crushing and even steering agility are close to the same, and I even appreciate Trek Top Fuel's 4-piston brakes for their braking ability.
Also, on a cosmetic level, I feel the same way about the HIGHTOWER R's c-grade carbon fiber and the Trek Top Fuel's oclv carbon fiber, both are a good balance of lightweight and sturdiness. And, if you notice the Trek Top Fuel's distinction in component size, I think you'll join me in choosing the more wallet-friendly Trek Top Fuel 9.7.
Santa Cruz HIGHTOWER R Review [2023]- Enjoy Rushing Down Hill
2022 Norco Optic C2 SRAM vs 2023 Trek Top Fuel 9.7
Also, excellent is the higher-end 1×12 drivetrain for a consistent range of options and more power. The classic 29″ wheels roll at a higher rate and the 4-piston brakes add more power to the braking capability. Although the Norco Optic C2 is more expensive in terms of price. But admittedly, cosmetically it will look better than the Trek Top Fuel's understated paint job.
However, the Norco Optic C2 is more streamlined and slender in terms of appearance, so I deliberately compared their materials. Compared to Trek Top Fuel's OCLV carbon fiber, the Norco Optic C2 is a bit plain. And in terms of long-term endurance riding, I think it stands up to the test.
All things considered, the more friendly price, higher-end components, and stronger frame of Trek Top Fuel are worth your choice.
Learn more : Is Norco Optic C AXS Worth Buying? – [2023 Norco Optic C AXS Review]
2022 Ibis Ripley GX vs 2023 Trek Top Fuel 9.7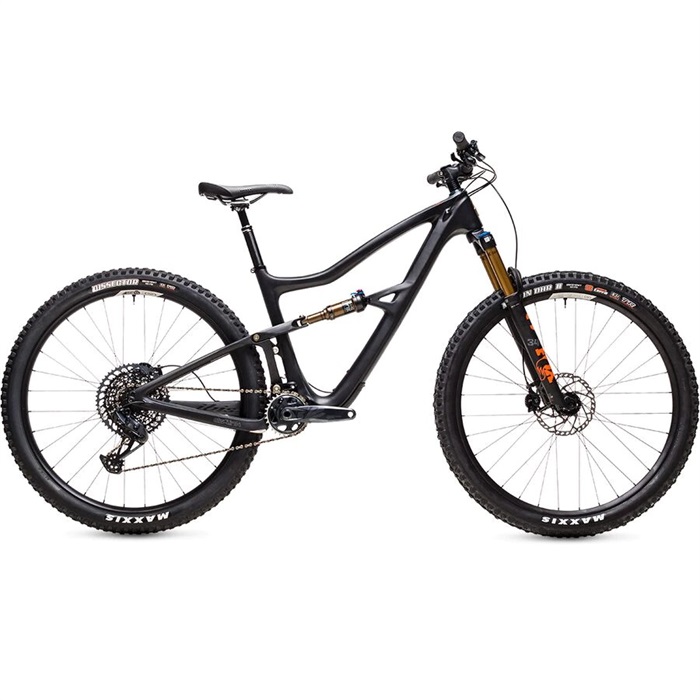 In the face of the more expensive Ibis Ripley with shorter suspension travel (120mm rear, 130mm front), the efficiency of handling the same bumpy terrain is not as efficient as the Trek Top Fuel. In addition, the drivetrain uses the same range of 1×12 drivetrain. Each chooses 29″ x 2.4″ tires as their tire size. It has to be said that in the framework of a successful endurance bike, and this is close to a tie.
But I couldn't ignore the more detailed design, such as the Trek Top Fuel's multi-component size options, which can accommodate riders of all sizes. In addition, I prefer the Shimano 4-piston hydraulic disc to the Ibis Ripley 2-piston disc. I also trust the carbon fiber texture of the OCLV in the frame. So from my preference, I would prefer the Trek Top Fuel which has a better price and better component fit.
In case, the above comments are helpful to you, please remember to share the subscription. Have a great day!
Learn More: Ibis Ripley GX Review [2022] – Want To Take A Trail Ride?