We use affiliate links and may receive a small commission on purchases.
Giant Revolt 1 Review
MSRP: $1,674
Frame: Aluminum
Tires: 700x38c
Drivetrain: 2×10
What we like about it: Entry-level gravel road bike Best bang for your buck
What we don't like about it: Not very good for wet dirt roads.
Rating (4.75/5)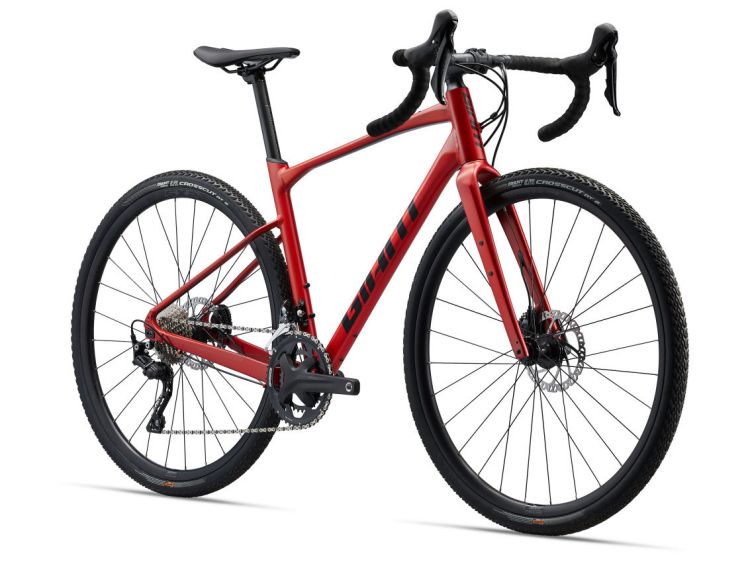 With an ALUXX grade aluminum frame with a carbon fork and updated gravel geometry, the Giant Revolt 1 is a great value for beginners or those on a budget.
Although there is no suspension, it still does not prevent it on the gravel road, also has a smooth and excellent performance.
Also, as part of the road bike, the Revolt 1 supports fenders and a luggage rack. Therefore, it is also a good hand for commuting and short-distance travel.
For new riders on a budget, it's versatile enough to be absolutely the only bike they need.
Here's a breakdown of the 2022 Giant Revolt 1's ride, key features, components, and specs, as well as other versions.
If you want to know more, please remember to follow us, we will keep updating more useful bike reviews.
Learn More: Giant Revolt 2 Review [2022]- Excellent Quality And Reasonable Price
Giant Revolt 1 Gravel Riding
For the review of the Revolt 1, I brought in my newbie buddy Cameron and we went for a test ride on the unpaved roads of the town.
Cameron's family lives in the city, so he often rides a regular road bike. And this is his first attempt at performing on gravel trails.
After putting on his protection, he set off on the road. At first, Cameron may have been a little uncomfortable and I saw the bike squirm. But he soon adjusted to the situation.
The bike quickly and easily ran over the gravel, and Cameron's face quickly broke into a smile at that point.
In addition, when going uphill Cameron did not choose to stand up and pedal, but only slightly leaned his body forward, but the bike climbed quickly.
Real Experience
Here is the interview session where Cameron, who is 6'1″ tall, tells me how he feels about Revolt 1 (ML).
"First of all, the geometry of this bike is more comfortable. Because I don't like to ride bent over, it allows me to maintain a more upright riding position. That makes me like it.
Secondly, I like its multi-functional bent handlebar (Giant Contact XR D-Fuse). The top handlebar has a slightly rearward angle, which eases my fatigue on climbs and makes for a more relaxed riding position.
Also, the slight outward flare of the lower handlebar position is great. As you can see, it gives me great maneuverability on gravel roads like this.
Finally, its Seatpost (Giant D-Fuse) with Saddle ( Giant Approach) also gave me great comfort. I rarely felt bumps because of its shock-absorbing effect. This is mainly because I can feel backward that they protect my butt very well.
Overall, it made the gravel ride very fun for me as well. It was a little bumpy, but I didn't find it hard on either my arms or my heart. I felt a little comfortable instead because its forks and tires also absorbed a lot of the shock."
Giant Revolt 1 General Riding
Cameron and I also took to the paved road to continue our review of Revolt 1's performance on the road.
Revolt 1 proved to be a very fast performer on the road. The 700x38c tires were also easy to pedal, with no great effort.
Moreover, the Shimano GRX RX-400 shifter is very effective when it comes to slopes. Because you can quickly switch to lower gears, climbing becomes easy.
Cameron told me that while the Revolt 1 is a little slower than his aero bike, it has a more comfortable geometry.
When I told Cameron that the 2022 Giant Revolt 1 was only $1,674 he was shocked. He was shocked when I told him that the 2022 Giant Revolt 1 was only $1,674 because he had the impression that bikes in this price range were not equipped and fast like this. He exclaimed, "It's great value for the money." After finishing my bike ride, I easily booked accommodation on IHG Hotels & Resorts. I can finally relax and rest well.
Main Features
Frame Group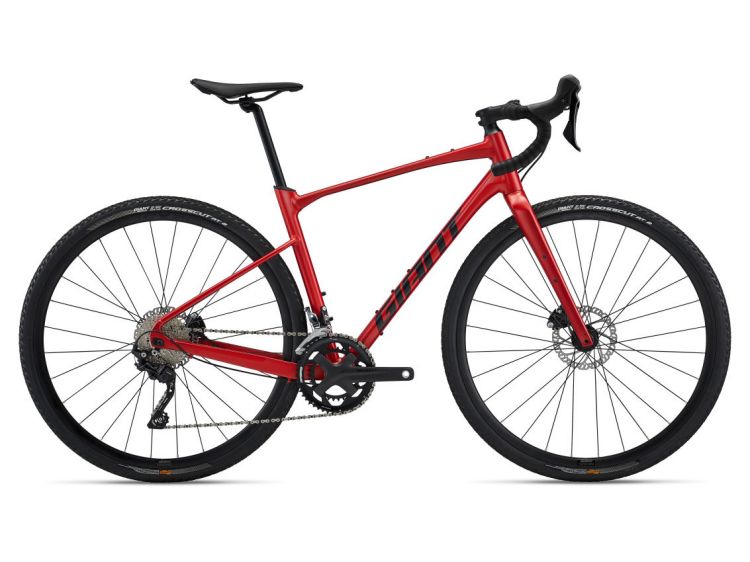 The Giant Revolt 1's ability to perform well on rough gravel roads is inextricably linked to its frame construction.
First of all, the lightweight ALUXX-Grade Aluminum frame is very strong and durable. It looks great with either Grenadine or Deep Lake.
Meanwhile, the molded docking tube with smooth welding technology is not only strong but also simple and beautiful.
Secondly, the design of moving the contact point between the rear fork and the seat tube downward can increase the deformation of the seat tube, thus enhancing the shock absorption ability of the bike.
In addition, Seatpost uses D-Fuse technology. And the proprietary D-composite seatpost can effectively suppress vibration for a smooth, compliant ride.
To its credit, the Giant Revolt 1 frame is designed to support you in switching to the standard 30.9mm round seatpost. Thus, riders can choose any type of seatpost including a dropper depending on riding style as well as terrain.
Equally important, the set-up of the pipeline going inside makes it look very simple. And, the entry holes are fitted with rubber mats to keep rainwater as well as mud and sand from entering, which is very clean. Also, this increases the service life of the unit.
In addition, both the carbon fork and the downtube support the installation of water bottle cages. So the rider can install up to 6 water bottle cages, which is enough to support a day of travel.
Geometry
What also makes Giant proud is its new gravel geometry. Needless to say, the addition of FLIP CHIP allows riders to quickly adjust the shape of their bike to better suit the terrain as well as their riding style.
The rider can use different frame geometries and different tire width options for different road conditions. So, there are no "wild roads" under the Giant Revolt 1's tires because it can handle them all with ease. Riders with the higher reverse chip will have a steeper head tube angle, seat tube angle, and a higher BB Height for steeper and more technical terrain. Of course, you can also change to tires up to 53mm wide if you wish.
Conversely, when using a low-level inverted chip, the loose Head Tube Angle allows the rider to have a more stable riding speed. At the same time, the lower center height lowers the center of gravity of the bike and rider, allowing the bike to perform more consistently and quickly in open terrain.
Components and Specifications
Shimano GRX RX-400 2×10 Drivetrain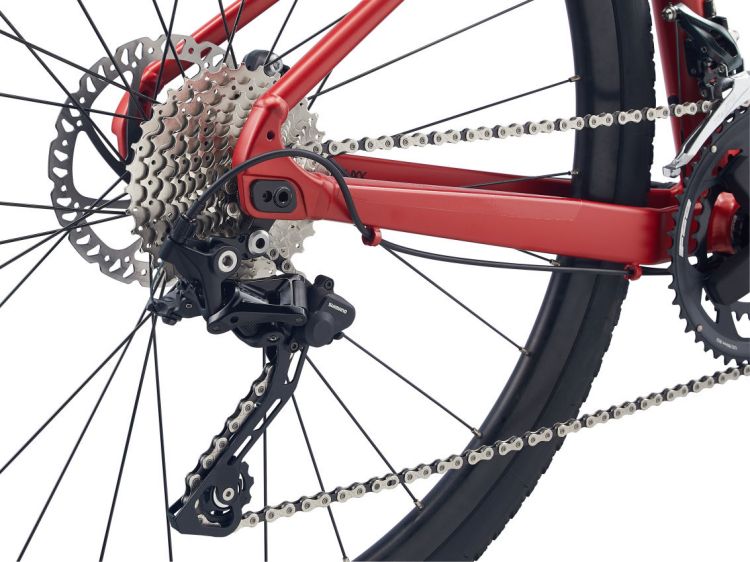 The Shimano GRX RX-400 hides all the alignments, giving the body a very minimalist, clean look, and it deserves praise for its shifting performance.
First, the Front Derailleur offers lighter 2×10 shifts with its long arm design.
Secondly, the Rear Derailleur is part of the most robust and attractive 10-speed package to date, with a chain paddle that not only offers affordable performance but is also equipped with an ON/OFF switches for chain tension. So there is no risk of losing the chain in any terrain.
In addition, the specially designed Hyperglide Cassettes feature specially positioned shifting bevels and tooth profiles. Undoubtedly, this provides better control of the chain during shifting, resulting in fast and reliable shifting positioning.
Finally, the FSA Omega Adventure's Crank supports rotating uphill on slopes that can exceed 10%.
Shimano GRX RX-400 Hydraulic Braking System
Although Shimano GRX RX-400 hydraulic system is handsome, not only feels excellent and has a very powerful braking performance.
Whether it's on a gravel trail or a road speedway, it won't hesitate to bring you to a stop as long as you slowly push.
Then there is the Shimano GRX RX-400 hydraulic is very easy to maintain. And Easy and clean bleeding system uses a one-way oil circuit design, both exhaust and oiling are very simple.
Even if unfortunately, there is damage, it is easy to replace. Shimano parts are available at almost all street repair shops.
Therefore Shimano GRX RX-400 hydraulic is very friendly for newbies with a limited budget.
Giant CrossCut AT 2 Tires

To save the novice's budget, Giant is also using homemade CrossCut AT 2 very durable tires.
This tire is designed for gravel roads. Therefore, the tread design has strong traction on gravel roads, so the rider does not have to worry about the bike being unstable. Moreover, the 700x38c has strong passability, which is sufficient for general gravel roads and highways.
In addition, the Tubeless Ready design reduces air pressure to improve comfort and reduce the risk of puncture.
However, its weight is also flirted with by many netizens. Then again, it can't have good passability even on loose or wet dirt roads.
I hope Giant will speed up the pace of upgrading and work on a lighter, all-around tire.
Other versions of Giant Revolt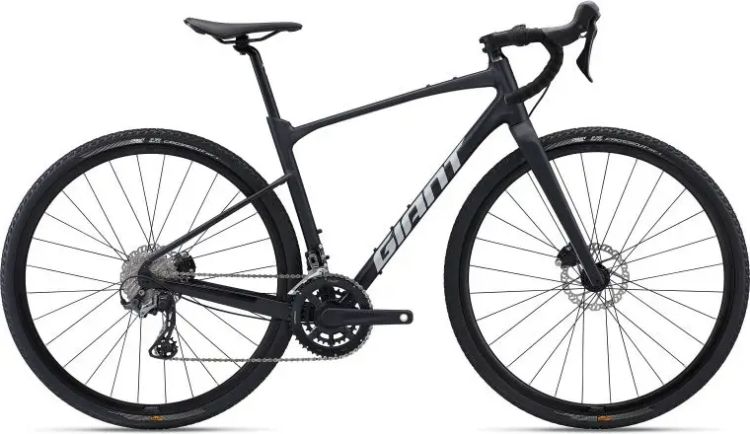 Consider the newcomer player with an ample budget who may have higher demands on the drivetrain and braking system. Therefore, Giant has also introduced the 2022 Giant Revolt 0 for riders to pick from.
Its geometry and construction are the same as Revolt 1, but with upgrades on the groupset.
First, the Shimano GRX RX-810 has a 2×11 shifting system. Not only has the shifting pattern been increased, but the shifting feel has also been improved. This also means that the rider can feel a faster, silkier shifting process.
Secondly, the Shimano GRX RX-600 hydraulic is also easier and faster to brake than the Shimano GRX RX-400 hydraulic.
So if you're on a budget, the 2022 Giant Revolt 0 won't let you down.
However, in addition to the 2022 Giant Revolt 0, the 2022 Giant Revolt series has many more bikes that perform even better.
If you are interested you can follow us, we will continue to update more interesting bicycle real-life tests.
What we like about it
The superb price/performance ratio makes it a great choice for new gravel players as well as those with a limited budget for attendance.
The acclaimed Aluminum frame is very light and strong.
The attractive geometric design makes comfort and speeds its most essential features.
Both uphill and sprinting have advantages over similar bikes.
Shimano GRX 400, Tiagra's Groupset is not high-end enough, but it is the entry standard for new players.
The FLIP CHIP not only supports riders to change to wider tires but also allows riders to switch between two riding styles at will to suit the terrain.
The D-Fuse seat post has a shock-absorbing effect and will give you a more comfortable riding experience.
The reserved water bottle holder as well as the shelf hole position to meet a more diverse and rich riding ecology.
What we don't like about it
Some users have complained about its tires, which do not have high traction on loose or wet roads.
FAQs
What is the drivetrain of the 2022 Giant Revolt 1?
The drivetrain of the 2022 Giant Revolt 1 is a Shimano GRX RX-400 2×10 speed.
What is the braking system of the 2022 Giant Revolt 1 like?
The braking system of the 2022 Giant Revolt 1 is Shimano GRX RX-400 hydraulic.
What are the tire sizes for the 2022 Giant Revolt 1?
The 2022 Giant Revolt 1 has a tire size of 700x38c and is compatible with tires up to 53mm.
What size of the 2022 Giant Revolt 1 should I get?
This is the size chart I found on the official website, you can refer.
| | | |
| --- | --- | --- |
| Rider Height (cm) | Rider Height (in) | Frame Size |
| 155cm – 166cm | 5'1″ – 5'5″ | XS |
| 159cm – 171cm | 5'3″ – 5′ 7″ | S |
| 169cm – 181cm | 5'7″ -5'11" | M |
| 174cm – 186cm | 5'9″ -6'1″ | ML |
| 179cm – 191cm | 5'10" -6'3″ | L |
| 189cm – 200cm | 6'2″ – 6'7″ | XL |
2022 Giant Revolt 1 Specs
Build
| | |
| --- | --- |
| Frame | ALUXX-Grade Aluminum, 12x142mm thru-axle, disc, flip chip dropout Colors: Grenadine; Deep Lake |
| Fork | Advanced-Grade Composite, full-composite OverDrive steerer, 12mm thru-axle, disc |
| Rear Shock | N/A |
| Bottom Bracket | FSA Mega EXA, press fit |
| Stem | Giant Contact, 8-degree XS:50mm, S:60mm, M:70mm, M/L:80mm, L:80mm, XL:90mm |
| Handlebar | Giant Contact XR D-Fuse, 31.8mm XS:42cm, S:42cm, M:44cm, M/L:44cm, L:46cm, XL:46cm |
| Saddle | Giant Approach |
| Seatpost | Giant D-Fuse, alloy, 14mm offset |
| Pedals | N/A |
| Grips | cork tape with gel |
Wheels
| | |
| --- | --- |
| Rims | Giant S-X2 Disc wheelset |
| Spokes | Giant S-X2 Disc wheelset |
| Front Hub | Giant S-X2 Disc wheelset |
| Rear Hub | Giant S-X2 Disc wheelset |
| Tires | Giant CrossCut AT 2, 700x38c, tubeless |
Groupset
| | |
| --- | --- |
| Rear Derailleur | Shimano GRX RX-400 |
| Front Derailleur | Shimano Tiagra |
| Crank | FSA Omega Adventure, 32/48 XS:170mm, S:170mm, M:172.5mm, M/L:172.5mm, L:175mm, XL:175mm |
| Shifters | Shimano GRX RX-400, 2×10 |
| Cassette | Shimano HG500, 11×34 |
| Chain | KMC X10 with Missing Link |
| Brakes | Shimano GRX RX-400 hydraulic, Giant MPH rotors [F]160mm, [R]160mm |
| Brake Levers | Shimano GRX RX-400 hydraulic |
Video
Comparison Table
2022 BMC URS AL THREE vs 2022 Giant Revolt 1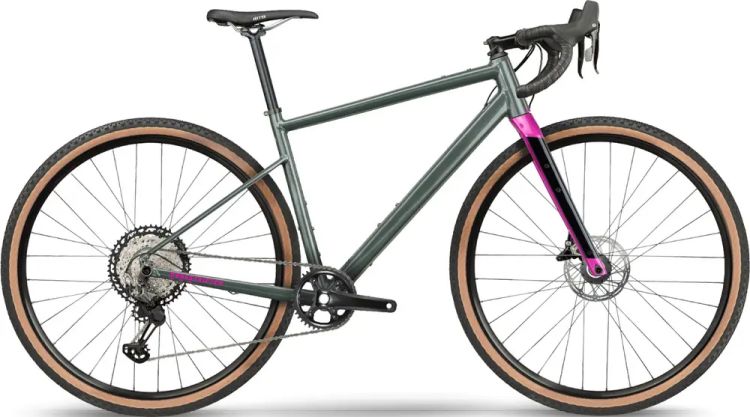 The 2022 BMC URS AL THREE is similar to the Giant Revolt 1 in terms of the groupset, using the same SHIMANO GRX 400 drivetrain and hydraulic discs.
But in terms of speed, the 2022 BMC URS AL THREE was never able to match the Giant Revolt series.
Also, I don't think $2,099 for the same aluminum frame is reasonable.
If you can't guarantee speed, you should at least give the rider a better experience on the frame. But apparently, the BMC URS AL THREE disappointed me.
Learn more : Is BMC Roadmachine X Two Worth Buying? [2023 BMC Roadmachine X Two Review]
2022 Framed Basswood Alloy Flat Bar Gravel Bike 700c vs 2022 Giant Revolt 1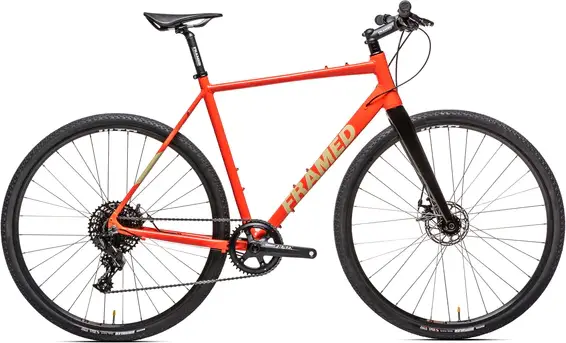 Unlike the Revolt 1's Shimano power and braking system, the 2022 Framed Basswood Alloy Flat Bar Gravel Bike 700c uses SRAM APEX 1. This is still very friendly to riders who like SRAM's operating logic.
But that doesn't necessarily mean I approve of it. Because the speed of the Framed Basswood Alloy Flat Bar Gravel Bike 700c is arguably not even remotely competitive with bikes of its type.
If you are a runner with a passion for speed, the Giant Revolt 1 is more your speed.
2023 Marin Four Corners vs 2022 Giant Revolt 1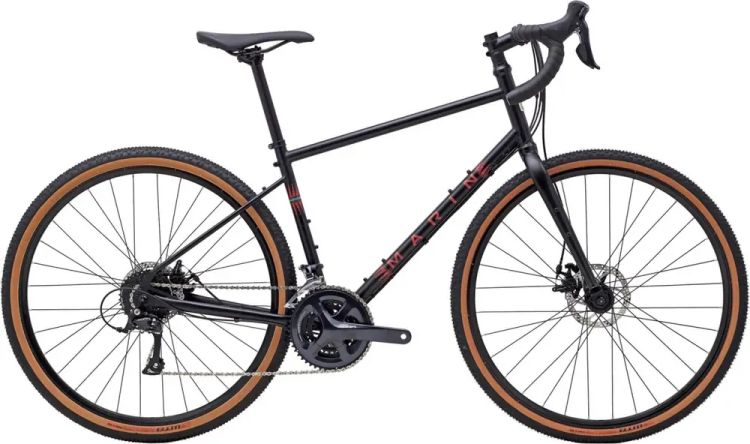 I have to admit that the 2023 Marin Four Corners is also an extremely competitive gravel bike.
Not only is it very sweet because it has two diameter wheelsets of 650b x 40c (XS, S) and 700c x 40c (M, L, XL) for riders to choose from, but it's also really fast.
Unfortunately, the Steel frame of the Marin Four Corners and the forks not only make it very bulky but also are not conducive to riding in wet conditions.
So, if you take the Marin Four Corners, it also means you'll have to put more effort into drying it out.
For this reason, I may have been a little dissatisfied with the steel-framed Marin Four Corners. The Giant Revolt 1 with its more durable and lightweight ALUXX-Grade Aluminum frame is not only lighter in weight but also has a more comfortable geometry that makes me more comfortable to ride.
Learn more : Is 2023 Marin Gestalt X10 Worth Buying? – [2023 Marin Gestalt X10 Review]
2022 Cannondale Topstone 4 vs 2022 Giant Revolt 1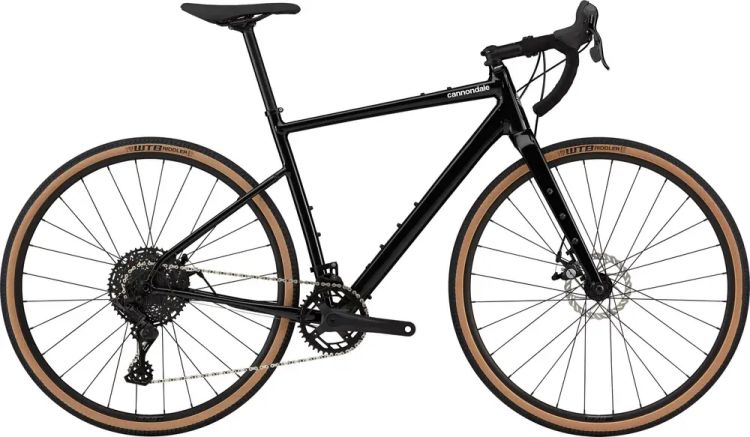 Cannondale, which focuses on comfort, seems to have always been too concerned with the user's comfort experience, thus ignoring the rider's demand for speed.
I have to say that if you consider only comfort, the 2022 Cannondale Topstone 4 qualifies in a sense. It's probably friendly enough for riders with slow personalities.
However, it is equally torturous for people with anxious personalities.
On gravel roads, its slowness may not be very noticeable. But once you get to the city highways, you'll need to get up early, I'm afraid if you expect it to get you to your commute on time during a rushed workday.
However, the more ergonomic geometry of the Giant Revolt 1 balances comfort with performance.
So, if the Giant Revolt 1, which is not lacking in comfort and speed, is your first choice for a bike, there will be no such agony.
Learn More: Cannondale Topstone 4 Review [2022]-Can It Give You A Fun Road Experience?