We use affiliate links and may receive a small commission on purchases.
Trek Slash 9.9 XTR
Price: $10,249
Travel: 160mm rear, 170mm front
Wheels: 29×2.5″
Drivetrain: 1×12
What we like about it: You'll have a high-end, complete oclv mountain carbon frame, combined with an updated Thru Shaft shock, paired with a powerful Bontrager 29×2.50" to lead you into the forefront of long-distance trail riding.
What don't we like about it: The high-end racing cars that are not easy to maintain and are expensive.
Rating: (4.8/5)
Introduction
The Trek brand with the most podium finishes has led generations of champions to fulfill their cycling dreams. If you want a dream bike, I recommend the 2023 Trek Slash 9.9 XTR, there's nothing like it. For the pros, there's no longer endurance ride than the one that counts.
And with an Oclv Mountain all-carbon frame to lighten your ride, longer rear 160mm, front 170mm suspension travel. Moreover, taller race-grade 29×2.50" wheels, you'll be riding farther and better, time and time again. Take the Trek Slash 9.9 XTR for a spin, fearlessly take on all off-road challenges and get on the honor roll.
Descending
For the all-rounder Trek Slash 9.9 XTR, while for most people it is revered for its upward climbing or high speed descending or even endurance riding. I would call him the speed benchmark due to my personal riding preferences. While I am so impressed with its all-around ability that only the more cleverly designed Trek super caliber has been able to influence my judgment in the past two years. This model does not rival it in terms of speed climbing.
If you're a complete newbie to the Trek Slash 9.9 XTR as you sit on the near upright 75.6° seat tube you'll only focus on the technical track full of rough and steep in front of you. And although I've reviewed more bikes on this wild forest road, I'm still trepidatious in the face of countless rocks and loose ground, or sharp turns.
The E*13 LG1 Race Carbon, 170mm length cranks with Shimano XTR 1×12 drivetrain was tighter when I started and more capable of crossing obstacles in terms of muscle focus compared to a slack road bike. Further, I was positive about the traction the Bontrager 29×2.50" tires provided when my wheels hit the loose dirt. And if you've ever ridden a very thin strip of tires, you'll understand what I'm talking about and how important it is to feel the power of the ride.
Downhill
As I headed into the first turn, facing a slicker-than-usual rocky flyback, I tried to adjust myself to a low geometry to reduce the squeeze for the sharp drop. Moreover, I noticed that the full-length downtube shroud protected the downtube from deformation from blows while I was riding at full attention. In addition, thanks to the longer, lower and slacker geometry. I was not subjected to the violent ground crushing on drops at heights that even felt like they would fold. This took my breath away from my fellow travelers. But it is something to be proud of, for riders who pursue more excitement are not going to want to use more brakes while riding. But I have to say, it was because of the Shimano XTR M9120 piston hydraulic discs that I was more daring to play some tricks.
Even when I pulled onto a gentle winding section of forest road trail and was faced with wet roots growing prominently, I was amazed at how cold the Trek Slash 9.9 XTR was, and even though I was now on descending terrain, I still put the Shimano freewheel to the test and used the most of my physical prowess.
Others
The suspension with the RockShox shock, which uses a thru shaft damper, was as efficient as it should be when going over these bumps. And I completely floated over them. Of course, I think the Bontrager SE5 vacuum tires provided a big boost. Compared to the mid-range Trek Stache I rode a while back, it was only a tie with the Trek Slash 9.9 XTR in terms of aggressiveness in the face of obstacles, despite having much wider and thicker 29×3″ tires. That's the beauty of the full shock, it can mobilize the whole body to accelerate.
As I rolled down the trail and rode along the winding berm, I found that while the Trek Slash 9.9 XTR is a standout on the exciting terrain with lots of drop-offs. It's also happy to be a leisurely stroller. So if you don't want a heart-pounding ride you can also bring along the Bontrager, 29×2.50" vacuum tire combo! With the Shimano XTR drivetrain, E*13 LG1 Race Carbon, 170mm length cranks. And an efficient Thru Shaft shock to provide riding support and smooth pedaling. You can take the Trek Slash 9.9 XTR for a slow ride.
Climbing
For most riders, more power output and more control on climbs are not that appealing. And I had more problems on climbs than I thought I would. For example: from the time I started climbing, despite the number of rocks rolling off the top of the mountain, and the RockShox ZEB Ultimate, with 170mm of travel, did reduce the number of bumps I had to deal with. But there are two sides to everything, and with 160mm of travel in the rear shock. I'm more likely to have a letdown than on a hardtail, and that's a fact that can't be avoided.
If you're a rider looking for extreme speed on climbs, you're better suited to riding a hardtail model such as the trek pro-caliber series. But here's the good news: aggressive handling of road setbacks will allow you to ride farther and challenge more extreme terrain. As I passed a section of roughly 13-15% ascent, I started to tiptoe and pedal as hard as I could. Luckily, I kept my weight forward on the relatively steep 75.6° seat tube angle without losing riding distance. And I didn't feel any increased difficulty in the process. I have to say that even though the Trek Slash 9.9 XTR has tall 29" tires, they are medium in width and don't add excessive weight to the body, and the aramid bead ignores many obstacles on the grind.
Experience
I'm a rider who is not satisfied with a peaceful spin-up climb. And I'm extremely obsessed when faced with moments where I can sprint fast and generate enough inertia to leap. I was about to take on a smooth rock climb where I honestly ate countless failures. But it still didn't stop me from trusting the Trek Slash 9.9 XTR. Because I think only the rider's unskilled technique can slow down this excellent bike. Other than that, it can show off to the best of his ability on his own.
I knew I was halfway there when I shifted the Shimano class, 1×12 speed gears to maximum. It first diving hard, then leaping hard, and hearing the "su su" sound of airflow through the OCLV carbon body. One more detail is that I was worried about pulling the handlebars into shape due to the high power output of my entire body. But the OCLV Carbon RSL one-piece handlebars, while light enough, were tightly connected to the body and reduced my distractions. The most important thing is that if the Bontrager vacuum tires weren't strong enough. I would have been in danger of a flat. As I said, the Trek Slash 9.9 XTR behaved like a calm, intelligent machine that could calculate each landing point precisely, so I was greeted with only the possibility of victory.
Main Features
Frame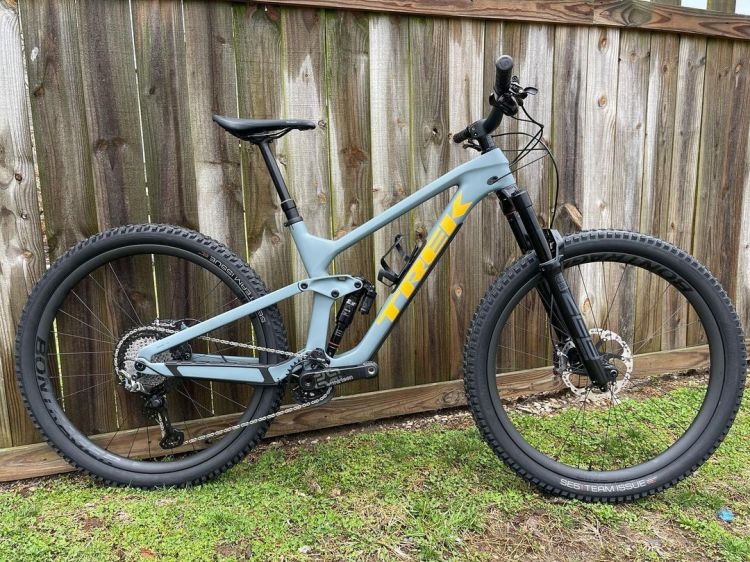 Compared to ordinary carbon material, oclv mountain carbon uses aerospace technology carbon process to achieve lightweight while also improving the strength and toughness. So generally for the more demanding racing bikes will use this technology. The Trek Slash 9.9 XTR full of ergonomic body weight of only 13.9 kg. In the details of the processing of the internal alignment design, the drivetrain and brake are through the hidden alignment port through the down tube five-way access to the brake and shifting position. And it will effectively prevent you from being dragged when playing tricks.
Both the shifting and brakes are accessed through hidden alignment ports through the down tube five-way in and out of the brake and shifting positions, which will effectively prevent your play from being affected by the drag lines when you are playing tricks. I noticed the Knock block technology logo on the body. It means that under the rotation of a high-speed collision. Even if the body suffers a crush, it will not cause much impact on the control.
Others
I didn't ask for more from the Trek Slash in terms of color. What I liked most was its red and yellow clash. Because it was very visually striking. I also noticed that the downtube shroud is replaceable. And when I'm rock climbing, I don't want this big expensive guy to get hit with an extra impact that would have a big impact on my concentration.
As I said, we think more carefully if we do an enduro ride, and not having internal frame storage means bringing a backpack. And although I always stress packing light, there will always be tools that need to be carried that are very necessary. When I tighten the lid of the storage compartment I hear the sound "kada", and it still works tightly as I traverse the larger bumps of the ride.
Geometry
From the time I started riding the Trek Slash 9.9 XTR I could feel that he understood for long rides. The wider 75.6° seat tube angle allowed me to sit close to upright and my muscles to relax to a great extent. Although in terms of drivetrain it also did a good enough job, it is also very bad if the riding position affects your judgment.
Compared to most hardtails, this number is friendly enough. And secondly, when climbing upwards, this just-right value didn't hinder me much. But of course, if extended further, like the Santa Cruz MEGATOWER X01 opting for a more relaxed 77.9°, I'd feel a bit over the top, which of course doesn't negate the fact that it would provide more confidence when descending.
The 64.1° head tube angle is perfect for climbing some of the steeper uphill climbs. There is no doubt about that, so this Trek Slash 9.9 XTR is not only the benchmark for descending, but also for climbing, like I said, it's more of an all-rounder.
In addition, the five-way height is 345mm, this height is not a big obstacle to the downward pressure of the center of gravity, and you can start faster. The 134mm Trail makes the steering more stable. But we can't do instant reaction, and in the face of the environment becoming more of an endurance race, I think stability is the best tool to measure longer rides.
Components and Specifications
RockShox ZEB Ultimate Fork
For this pricey full shock, it's the more specialized RockShox that offers the best comfort ride. Compared to the Fox brand that more mid-priced Trek's are happy to use, the RockShox, with its 170mm front, not only means you can ride further, but it also absorbs more energy making body control easier on rougher rock garden terrain.
At the same time, the RockShox fork with DebonAir springs and Charger 2.1 RC2 dampers didn't overpower the body in terms of weight. I did complain about the fork being overpowering when climbing slicker flow trails, but I didn't feel the slightest bit of drag when I was exploring the woodlands at a brisk pace.
RockShox Super Deluxe Thru Shaft Shocks
There is no doubt that enduro racing has now become more rigorous, reflected in the multiple terrains that now overlap the course and the more escalated demands of the descents.
The Trek Slash 9.9 XTR with Thru Shaft shocks seems to have fully harnessed this trend, as we input as much stamina as possible on rough tracks, Thru Shaft gives the bike more efficiency and control, and in the more demanding crevices or mud, Thru Shaft can freely compress and get you out of trouble, so to speak! The ubiquitous Thru Shaft is one you can't ride without.
Bontrager Tires, 27.5×2.60″
If you know enough about TREK, then you'll be impressed with their loyal Bontrager, whether it's the smaller 27.5×2.60″ XR4 I had when I was riding the remedy, or this Bontrager SE5 now, 29×2.50". Performance is said to be very amazing. It adapts quickly to the requirements of all kinds of terrain, you need to be more agile or grinding pressure super, I mean: there is no more professional than Bontrager.
Also as I elaborated earlier, I was doing a near 9.8-foot altitude burst down and I weighed close to 150lbs and there was absolutely no pressure on the Bontrager SE5 to burst for the body as well as the ground impact. Sharp branches and debris when going through forest roads can also be completely ignored outright, and in addition, the Bontrager SE5 vacuum tires' ability to absorb vibrations was well demonstrated when I went through the rock garden, and excluding the damping, it was as if I was floating through these obstacles.
Shimano XTR M9120 4-piston Hydraulic Disc
In terms of brakes, Trek Slash still chooses to go for the high standard. As a rider who has been riding for many years, the advice to you is if you are looking at a model to see if you are getting value for money, then go for the brakes. The Trek Slash 9.9 XTR with Shimano-grade brake braking system gives you enough confidence as you take on more unknown tracks, and you don't have to worry about any hesitant jams. It also feels right in the hand, not feeling too hard or too soft. In terms of version, the M6100 goes up quite a few heights from the MT500 I was riding before, and the biggest thing I felt was that I was able to stop the wheels at high speeds more easily than usual.
Shimano XTR M9100, 1×12 Speed
Compared to other standout and more innovative components, the Shimano XTR M9100 1×12 speed is a moderate performer that does what the M9100 is supposed to do. Many mountain bike riders with 2x or 3x, they face more short and sharp sprints, so a 1x drivetrain does not meet the rich requirements of such riders. The Shimano 11-50t freewheel was easy enough for me to climb, but for the more varied terrain of the enduro, we wanted enough power to drive without being more fancy, reliable and easy.
Other versions of Trek Slash
Compared to the 2023 Trek Slash 9.7, with nearly double the difference, we can explore very well why the 2022 Trek Slash 9.9 XTR is what I would call a dream bike.
The first is the weight of the body, although the 14.9kg of the Trek Slash 9.7 is already rare in full shocks, the Trek Slash 9.9 XTR is still better. Not only because the 9.9 XTR is made of oclv carbon with more aero components, but also because of the upgraded options for other components, such as liquid brake discs. This gives a lot less dead weight for climbing on ascending terrain. But we can't deny that the Slash 9.7 is still an excellent player, both use the same longer rear 160mm and front 170mm values for the suspension travel. Of course, in terms of riding feel, I'm more partial to the Slash 9.9 XTR with the RockShox Super Deluxe Thru Shaft shock.
In addition, compared to the Slash 9.7's Bontrager XR5 with 29×2.50" tires, the Slash 9.9 XTR will perform much tougher, and if faced with a better and stronger option, I believe most people will choose the higher-end version and save themselves a lot of trouble in subsequent upgrades.
What we like about it?
The choice of champions is nothing more than what we can give
Oclv mountain full carbon frame, ride lighter, faster and more energy-efficient
Fast-rolling Bontrager 29×2.50" carbon wheels, not to be defeated in the face of storming
Shimano XTR, 1×12-speed drivetrain easy to operate, climbing effortlessly
Shimano XTR M9120, hydraulic disc braking more sensitive, to bring absolute confidence in the challenge of higher difficulty
Longer rear 160mm, front 170mm suspension combined with RockShox Super Deluxe Thru Shaft shock allows you to ride farther and control more easily in the face of more complex overlapping terrain
More storage space to reduce the burden of riding
The simplicity of the internal alignment, while saving a lot of winding for the ride
What we don't like about it?
Can't compromise on price in the face of high-end components
FAQs
What is the size of the Slash 9.9 XTR tires?
The tire size of Slash 9.9 XTR is 29×2.50".
What is the Slash 9.9 XTR drivetrain?
The Slash 9.9 XTR drivetrain is Shimano XTR M9100, 1×12 speed.
What is the Slash 9.9 XTR brake?
The Slash 9.9 XTR brake is Shimano XTR M9120 4-piston hydraulic disc.
How do I choose the Slash 9.9 XTR size?
Size
Rider height
S
153 – 167 cm
5'0″ – 5'6″
M
161 – 172 cm
5'3″ – 5'8″
M/L
166 – 179 cm
5'5″ – 5'10"
L
177 – 188 cm
5'10" – 6'2″
XL
186 – 196 cm
6'1″ – 6'5″
2023 Trek Slash 9.9 XTR Specs
Frameset
| | |
| --- | --- |
| Frame | OCLV Mountain Carbon main frame & stays, internal storage, tapered head tube, Knock Block 2.0, Control Freak internal routing, Carbon Armor, shuttle guard, threaded BB, ISCG 05, 34.9mm seat tube, magnesium rocker link, Mino Link, ABP, Boost148, 160mm travel |
| Fork | RockShox Zeb Ultimate, DebonAir spring, Charger 3 RC2 damper, 44mm offset, Boost110, Maxle Stealth, 170mm travel |
| Shock | RockShox Super Deluxe Ultimate RCT2, 230mm x 62.5mm |
| Max compatible fork travel | 180mm (596mm axle-to-crown) |
Wheels
Wheel front
Bontrager Line Pro 30, OCLV Mountain Carbon, Tubeless Ready, 6-bolt, Boost110, 15mm thru axle
Wheel rear
Bontrager Line Pro 30, OCLV Mountain Carbon, Tubeless Ready, Rapid Drive 108, 6-bolt, Shimano MicroSpline freehub, Boost148, 12mm thru axle
Rim
Bontrager Line Pro 30, OCLV Mountain Carbon, Tubeless Ready
*Tire
Size: S , M , ML , L , XL
Bontrager SE5 Team Issue, Tubeless Ready, Core Strength sidewalls, aramid bead, 120 tpi, 29×2.50"
Rim strip
Bontrager TLR
Max tire size
Frame: 29×2.50″ Fork: See manufacturer
Drivetrain
| | |
| --- | --- |
| Shifter | Shimano XTR M9100, 12 speed |
| Rear derailleur | Shimano XTR M9100, Shadow Plus, long cage, 51T max cog |
| Crank | E*thirteen LG1 Race Carbon, 30T, 55mm chainline, 170mm length |
| Bottom bracket | E*thirteen BB20-P, BSA threaded, 73mm width |
| Cassette | Shimano XTR M9101, 10-51, 12 speed |
| Chain | Shimano Dura-Ace/XTR M9100, 12 speed |
| Max chainring size | Max: 34T, Min 28T |
Components
Saddle
Bontrager Arvada, austenite rails, 138mm width
*Seatpost
Size: S
Bontrager Line Elite Dropper, 100mm travel, MaxFlow, internal routing, 34.9mm, 345mm length

Integrated Bar Stem
Bontrager RSL Integrated handlebar/stem, OCLV Carbon, 27.5mm handlebar rise, 820mm width, 0 degree stem rise, 35mm stem length
Grips
Bontrager XR Trail Pro, alloy lock-on
Headset
Knock Block 2.0 Integrated, 72-degree radius (includes infinite-radius chip), sealed cartridge bearing, 1-1/8" top, 1.5" bottom
Brake
Shimano XTR M9120 4-piston hydraulic disc
*Brake rotor
Size: S , M , ML , L , XL
Shimano RT86, 6-bolt, 180mm
Rotor size
Max brake rotor sizes: Front see fork manufacturer, rear 200mm
Accessories
| | |
| --- | --- |
| Bag | Bontrager BITS Internal Frame Storage Bag |
Weight
| | |
| --- | --- |
| Weight | M – 14.05 kg / 30.98 lbs (with TLR sealant, no tubes) |
| Weight limit | This bike has a maximum total weight limit (combined weight of bicycle, rider, and cargo) of 300 pounds (136 kg). |
Comparison Table
2022 Santa Cruz NOMAD X01 vs Trek Slash 9.9 XTR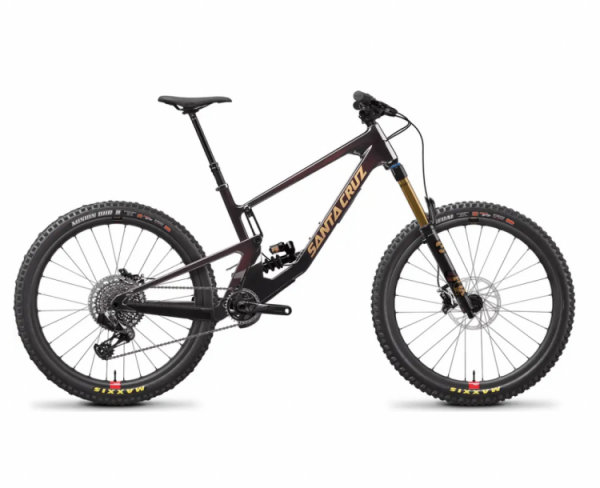 Although the price range, Santa Cruz and Trek Slash are the same. But in the design concept, the two have some differences. In terms of suspension travel design, Santa Cruz chose a consistent value of 170mm in the rear and 170mm in the front. This means that in the face of ascent or descent, there is consistency in the way it is handled. When you are riding, you will feel that for climbing, a shorter rear journey is more beneficial.
Also, in terms of seat tube angle, the Santa Cruz is designed with a more relaxed 76.3° seat tube angle. If you need to accelerate while climbing up, I'm afraid you'll need to adjust your stance even lower. Of course, there is no denying that Santa Cruz will be very enduring in a bumpy and gentle rock garden. In addition, the Trek Slash 9.9 XTR's Thru Shaft damper technology and Knock block technology are more interesting and creative in some new technologies.
Secondly, the choice of wheels for full shock models. Although nowadays riders can get a little bored with the majority of 29″ tires. But from my riding perspective, I think the 29″ is the classic. As we face the pressures of multiple mixed terrains, only taller wheels can respond more aggressively. Although there will be different voices that believe smaller wheels will be more agile in the face of corners.
The SRAM X01 Eagle 1×12 drivetrain, which also belongs to the top end. It gives the Santa Cruz body a smooth enough pedaling efficiency. Although I think in terms of body weight, the Santa Cruz with NOMAD X01 carbon does not have the same weight advantage as the Trek Slas 9.9 XTR oclv mountain carbon material.
Overall the Santa Cruz didn't surprise me a lot. It is a very high-end bike, but it lacks some new ideas.
Learn More: 2023 Santa Cruz NOMAD X01 Review – The Limits Of Man And Bike
2022 Santa Cruz MEGATOWER X01 vs Trek Slash 9.9 XTR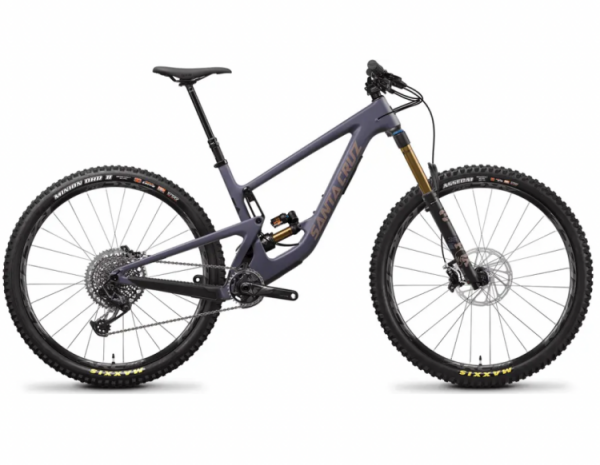 If you are interested in high-end models, then you will notice the 2022 Santa Cruz MEGATOWER X01 model. Compared to the Trek Slash 9.9 XTR, I will elaborate on their differences in the following aspects. First is the suspension that I value more. In terms of brand construction, I prefer the RockShox brand. Because I think is more robust for handling big drops outdoors, which is also the choice of the Trek Slash 9.9 XTR, although FOX is just as good. Also in terms of stroke design, I think the Trek Slash 9.9 XTR will be better at handling different terrain. Unlike the Santa Cruz MEGATOWER X01, has a consistent 160mm long travel front to back, and no more Thru Shaft damping like the Trek Slash 9.9 XTR. So I would favor a more layered 160mm rear and 170mm front Trek Slash 9.9 XTR.
In terms of body material, I am not as familiar with the MEGATOWER X01 AXS used in the Santa Cruz MEGATOWER X01 as I am with the oclv mountain carbon of the Trek Slas 9.9 XTR. But I think trek made a lot of effort in upgrading the technology of carbon, so much so that each time the body weight will be lighter than the last. In terms of brakes and drivetrain, the two are on par. But really, in terms of riding feel, the position is friendlier for relatively gentle terrain as the Santa Cruz MEGATOWER X01 opts for a more relaxed 77.9°. But if you're in the middle of an accelerated climb, the rearward shifting center of gravity can drag you down tremendously. Again, I think riding the Santa Cruz MEGATOWER X01 would be very efficient, but lacking in novelty.
learn more:2023 Santa Cruz MEGATOWER XX1 AXS Review – Why Is Your Mountain Bike More Expensive Than Mine?
2022 Specialized S-Works Enduro vs Trek Slash 9.9 XTR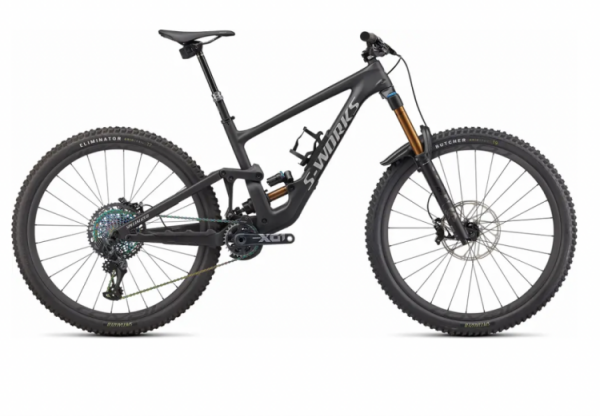 In terms of real riding experience, I think the Specialized S-Works Enduro and Trek Slash 9.9 XTR feel nearly identical in terms of seating position. Thanks to the close seat tube angle, they both ride close to upright for better endurance riding. In addition, for suspension travel, the Specialized S-Works Enduro uses the same 170mm value front to back. Although this is a bold decision, I would prefer the more thoughtful 160mm, front 170mm Trek Slash 9.9 XTR. In practice, if you can't respond positively to changing terrain, then you can't call it an endurance race.
For brakes and drivetrain, the Specialized S-Works Enduro opted for SRAM 1×12 speed and SRAM liquid discs. While I am more familiar with the Trek Slash 9.9 XTR Shimano 1×12 drivetrain, there is no denying that the SRAM is just as high-end. In addition, the Specialized S-Works Enduro prefers 29×2.3″ tires, which are narrower than the 29×2.5″ of the Trek Slash 9.9 XTR. This also means that it will not be able to generate more control force in the face of softer dirt or slippery conditions on forest roads, increasing the risk of drifting. Although there are advantages to narrower tires in terms of reducing air resistance.
Learn more : Is Specialized Epic Hardtail Bike Worth Buying? [Specialized Epic Hardtail Bike Review]
2022 Norco Range C1 vs Trek Slash 9.9 XTR
The 2022 Norco Range C1 is still a high-end model in terms of class, despite the slight price difference, so the specifications of the components are still superior. I'd like to highlight a few key differences between the Trek Slash 9.9 XTR: for example, the brand of the fork is Fox Factory 38 instead of RockShox, which I think is more robust, although the fox is also very superior in terms of race class.
In addition, a consistent 170mm of front and rear travel is used. For brakes and braking, I opted for SRAM 1×12 speeds and SRAM fluid discs. From my years of riding experience, I would recommend a mix of brands for model upgrades to more effectively absorb the parts that each brand is better at. So I still vote for the Trek Slash 9.9 XTR, both in terms of diversity and creativity.
In case, the above comments are helpful to you, please remember to share the subscription. Have a great day!
Learn more:Is Norco Optic C AXS Worth Buying? – [2023 Norco Optic C AXS Review]