We use affiliate links and may receive a small commission on purchases.
2022 Canyon Strive CFR Review
Price: $7,299
Category: Full Shock Endurance Bike
Frame: Carbon
Gear: 1x 12
Tires: 29″ x 2.4
What we like about it: With a Canyon Strive CFR frame, and with a FOX FLOAT X2 shock and FOX 38 Factory fork, and a Shimano XTR drivetrain designed for racing, you can take it to any endurance race!
What we don't like about it: The unavoidable body weight.
Rating (4.8/5.0)
Introduction
The dense forests and strange slopes will always attract people's curiosity and make them want to explore. The heart of every rider who likes endurance trails is filled with awe of nature.
This year, Canyon introduces an optimized Canyon Strive CFR for riders who love Enduro racing. pure Strive pedigree that never leaves the podium. With innovative dynamic geometry and suspension transformers, the mantra built for speed is loud and clear. Our team was fortunate enough to obtain this bike for review.
We have analyzed the climbing and descending performance, main features, and component specifications of this vehicle, so if you are interested, read on.
Canyon Strive CFR Climbing Review
Thanks to Canyon's Shapeshifter technology, we can change its geometry and suspension kinematics as we ride. the Canyon Strive CFR has a total of two modes, "pedal" and "shred ", which are for climbing and descending respectively.
I spent the day riding the Canyon Strive CFR in the Mystic MTB park, choosing gravel, sandy trails, a professional speedway, and some difficult hills.
I put the Strive CFR into "pedal" mode and got a 15mm BB lift and a 78° seat tube angle. These simple adjustments made the Strive CFR a great climber.
First, the suspension changes allowed me to maintain efficient forward momentum while reducing kinetic energy consumption during the hike. Even when numerous hard rocks appeared in front of me, I was able to leap right over them.
Secondly, the thick enough MAXXIS tire deserves my praise. The tread pattern on its surface tightly adheres to the sand, or rocks, which allows me to climb forward better.
When I was doing some technical climbs, the frame didn't swing violently. And the contact of the rear tire with the ground gives me strong support. In addition, the steep seat tube angle puts me in a good position over the BB to pedal comfortably.
I was amazed by the excellent climbing performance of the Canyon Strive CFR. It goes straight up as if there is no burden on it.
Canyon Strive CFR Descending Measurements
As the brand says, the Canyon Strive CFR combines the descent speed of speed equipment with the climbing efficiency of a trail bike.
I have to say that the Canyon Strive CFR's lever is ahead of many other bikes in its class. I flicked it and it switched to "shred" mode. In "shred" mode, the Strive CFR has a 63° head tube angle and a 36mm drop in the bottom bracket. This gives the Strive CFR a low enough center of gravity while still keeping the rear at 435mm.
Right then and there, it was like a flying meteor on some slick descents, going for broke. Undoubtedly, the Shimano XTR's 12-speed drivetrain created a meteor-like descending feeling for me. And, the wide range of gears and fine gear ratios made me understand that an endurance bike can shift so smoothly.
However, I had concerns about whether the Strive CFR would be as smooth in sharp turns at high speeds. It wasn't until I dialed in the brake lever that I knew my fears were more than warranted. Its four-piston brakes with one-piece calipers were calm and helped me out quickly. And the tires were instantly stationary on the uneven dirt slope without skidding, allowing me to steer with confidence.
Meanwhile, the Shimano XTR drivetrain followed suit and I was right back up to speed. The tires continued to gallop downhill. At times, leaves and small debris on the ground were gently swept up. However, the bike's downtube protector and rear lower fork protector prevented them from getting caught in the chain.
After this ride, I think the 2022 Canyon Strive CFR is an excellent update and it pretty much redefines an endurance bike.
Main Features
Frame Group
The new Canyon Strive CFR has been optimized in every detail to improve performance in Enduro racing.
However, the overall frame lines of the Strive CFR remain the same as before. The internal cable routing still protects the cable lines well and looks clean on the outside.
However, the details of its tube cross-section have been different. It has become wider and more angular to improve structural stiffness. And, it uses Canyon's CFR carbon for its frame. This has allowed the bike to reduce weight without sacrificing stiffness.
On top of that, the Strive CFR offers adjustable headphone cups, with a range of 10 mm (+/- 5 mm) to adjust the range to your liking. It's no less than having a pair of flip-chips installed.
Interestingly, it has a downtube protector installed on the frame to protect the carbon frame from ground impact and flying rocks. Moreover, the protector on the rear lower fork dampens the noise generated by the chain slapping on rough trails, which is very effective.
Geometry
The Canyon Strive CFR has a slacker head tube angle of 63.0°. So our fork will protrude forward, which will give us more speed stability on the downhill. But on climbs, this head tube angle will also cause our handling to be a little sluggish.
In addition, the steep 76.5° seat tube angle facilitates our bending acceleration. We can find the aerodynamic position in the ride more easily.
Also, the 435mm rear lower fork feels very stable to me. It makes me feel less bumpy when riding.
It is worth mentioning that the Canyon Strive CFR has 170mm of fork travel, which is long enough to provide reliable shock absorption.
Components and Specifications
Shimano XTR's Drivetrain
The Canyon Strive CFR's drivetrain comes from Shimano's family of XTRs. Its chain paddle brings a more progressive level of silence, thanks mainly to the reduced tension in the low gear position and the added bumper on the pulley carrier. Moreover, the larger 13T pulley improves efficiency and chain management.
In addition, it uses Shimano's exclusive technology – SHIMANO SHADOW RD+, which reduces chain slap by reducing the rear derailleur chain stabilizer. Such a low-profile design can make our installation easier.
Shimano XTR M9120 Braking System
The XTR M9120 caliper uses the MONO-BODY design, which is machined from a single cold-forged block. You can't underestimate it, it allows for maximum speed with increased stiffness and four ceramic pistons for perfectly Rider Tuned braking power. Moreover, it has 10% more braking power than the M9020 to engage.
Not only that, but its 4-piston caliper gives the disc brake rotor more contact area while keeping the size compact. And its ICE TECHNOLOGIES are also good at providing heat dissipation to help us ride farther when riding.
FOX FLOAT X2 Shock Absorber
FOX's manufacturing process and design are second to none throughout the industry. This FOX FLOAT X2 rear mountain bike shock has superb adjustability and is designed for tough conditions.
At the same time, it has redesigned the damper to allow FOX to switch to its variable valve control (VVC) high-speed rebound damping. And it uses a small piece with a wing to apply pressure at the top of the internal or external points of the shim set, acting as a lever to increase the pressure required to open the valve and allow oil to flow through.
In addition, this shock has a high-flow main piston, linear damping, and an independent locking rod that is firmer than the output shock. And its internal heat sink improves the structural stiffness of the shock and reduces hysteresis.
Maxxis Minion DHRII Front Tire and MAXXIS ASSEGAI Rear Tire
First, the Maxxis Minion DHRII has widened side knobs to give us more support. Its center tread has an angled leading edge for improved acceleration, while the knife groove pattern creates a smooth transition when leaning on the bike.
When we brake in a hurry, the prize spiral knob on the center tread will automatically start embedding to provide us with a boost to control the bike.
And its rear tire, the Maxxis Assegai, also has an unmatched grip. It stays tough regardless of the lean angle. And the triple compound provides it with more traction and more wear-resistant tread. It can be said that it can be adapted to all conditions of off-road riding.
Other versions of Canyon Strive CFR
I have already described above the various performances as well as components of this bike, and every detail of it is impeccable in my case. However, it also has another version that is also good. I have made a comparison of these two bikes. If you are interested, you can continue reading on.
2022 Canyon Strive CFR Underdog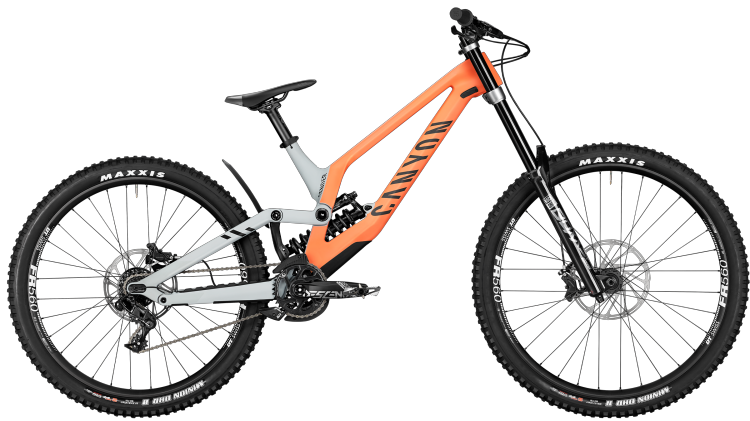 First, let me say a few words about the similarities between these two bikes. They are both made of Canyon Strive CFR carbon on the frame. And the front fork is also made of FOX 38 Performance Elite.
Then, the 2022 Canyon Strive CFR Underdog has a Shimano Deore XT M8100 drivetrain and Shimano Deore XT M8120 braking system, which is slightly lower than the 2022 Canyon Strive CFR's configuration. In some extremely difficult terrain, it will not perform as well as the 2022 Canyon Strive CFR, as it will be a little more strenuous in comparison. However, there is no problem at all on some flat roads.
In addition, the 2022 Strive CFR Underdog has a Shimano MT800 bottom bracket, while the 2022 Strive CFR has a Race Face BSA Cinch bottom bracket. I don't know if you know, but the latter bottom bracket uses reliable 6806 fixed bearings with waterproof grease and a dust seal to prevent slime from entering.
So, the 2022 Canyon Strive CFR is going to play better in terms of major performance. For some riders who want to compete or you are a player who has a lot of fun in cross-country, I would recommend you more to choose the 2022 Canyon Strive CFR.
Learn More: 2022 Canyon Stitched 720 Review- Ride It In The Air And Do A Backflip!
What we like about it
Lightweight and sturdy Canyon Strive CFR frame.
170mm FOX 38 Factory front fork.
Quiet and stable Shimano XTR 12-speed drivetrain.
Agile and durable braking system of Shimano XTR M9120.
What we don't like about it
Heavier body.
Fewer colors.
FAQs
What is the frame material of the 2022 Canyon Strive CFR?
The 2022 Canyon Strive CFR frame material is carbon
What is the drivetrain of the 2022 Canyon Strive CFR?
The 2022 Canyon Strive CFR has a Shimano XTR drivetrain
What are the dimensions of the 2022 Canyon Strive CFR?
| | | | | |
| --- | --- | --- | --- | --- |
| Size | S | M | L | XL |
| Rider height | <177CM | 172cm – 185cm | 180cm – 194cm | 189cm + |
2022 Canyon Strive CFR Specs
Build
| | |
| --- | --- |
| Frame | Canyon Strive CFR BB Standard: BSA, 73mm, Threaded Color: Ag 47 |
| Fork | FOX 38 Factory |
| Bottom Bracket | Race Face BSA Cinch, Hassle-free RaceFace Cinch threaded bottom bracket. |
| Stem | Canyon G5 Stem |
| Handlebar | Canyon G5 Riser Bar |
| Saddle | Ergon SM10 Enduro Comp |
| Seatpost | G5 Adjustable Dropper Post |
| Pedals | None included |
| Grips | Canyon G5 Grips |
Groupset
| | |
| --- | --- |
| Rear Derailleur | Shimano XTR, 12-speed, High-end 12-speed shifting system. |
| Crank | Race Face Next R |
| Shifters | Shimano XTR, 12-speed, Rear derailleur shifter, 12-speed, Textured rubber lever pad, Multi-Release, 2-way release, I-Spec EV clamp allows 14mm lateral adjustment and 60-degrees rotation adjustment, 127 g |
| Cassette | Shimano XT, 12-speed (10-51), Cassette size: 10-51T. Gear range: 510%. |
| Chain | Shimano M7100 12-speed |
| Chain Guide | e*thirteen Ultra Compact Upper Slider |
| Brakes | Shimano XTR M9120 | Shimano XTR 4-piston rear brake, Shimano's premier 4-piston brake, 1-piece caliper for maximize rigidity, ceramic pistons, reach adjust, quick pad retraction, banjo-type connection, ICE TECH brake pads, 385 g |
Wheels
| | |
| --- | --- |
| Rims | DT Swiss EX511 350 |
| Tires | MAXXIS MINION DHR II 3C MaxxTerra Exo+ | MAXXIS ASSEGAI 3C MaxxGrip |
| Disk Rotors | Shimano RT86, 203mm, A big (203mm) Shimano RT86 brake rotor delivers equally big stopping power. |
Video
Comparison Table
2022 Canyon Strive CFR vs 2023 Scott Contessa Genius ST 910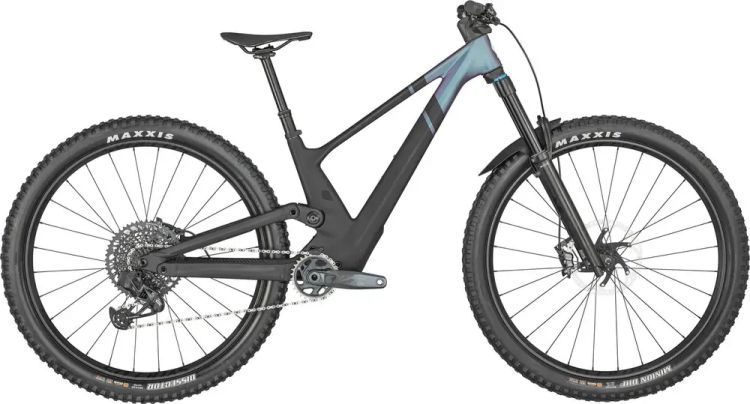 The Scott Contessa Genius ST 910 is more aggressive in geometry than the Canyon Strive CFR and has a lower rear upper fork for a relatively tighter wheelbase.
Also, the Scott Contessa Genius ST 910 uses the SRAM home wireless electronic drivetrain with the Shimano XT M8120 braking system. I would prefer Shimano to the Canyon Strive CFR Shimano set.
Personally, the higher end of the component range will be a little better with the same brand of components. They will have their smooth logic in design and fit, which is more beneficial to my riding.
2022 Canyon Strive CFR vs 2023 Trek Slash 9.8 XT
This bike is in the same price range in terms of price. But they have some differences in some details.
First of all, the Trek Slash 9.8 XT uses the RockShox ZEB Select+, which is also a very good front shock. It has DebonAir springs and Charger 3 RC2 dampers and is paired with a 44mm offset. It is undoubtedly a better shock than the Canyon Strive CFR fork.
Secondly, the Trek Slash 9.8 XT uses the Shimano XT M8100 rear derailleur and the Shimano XT M8120 4-piston hydraulic discs for the brakes. This provides the rider with a safe and flexible drivetrain and braking. However, compared to the Canyon Strive CFR, the 2022 Canyon Strive CFR is a quieter and smoother set-up, which stands out in the rugged and slippery mountain woods.
Frankly, I would prefer the Canyon Strive CFR because of its excellent and balanced overall performance.
learn more:Trek Slash 9.8 GX 2022 Review-How To Be the Best Enduro Bike
2022 Canyon Strive CFR VS 2022 Santa Cruz NOMAD XT / Coil / Carbon C / 27.5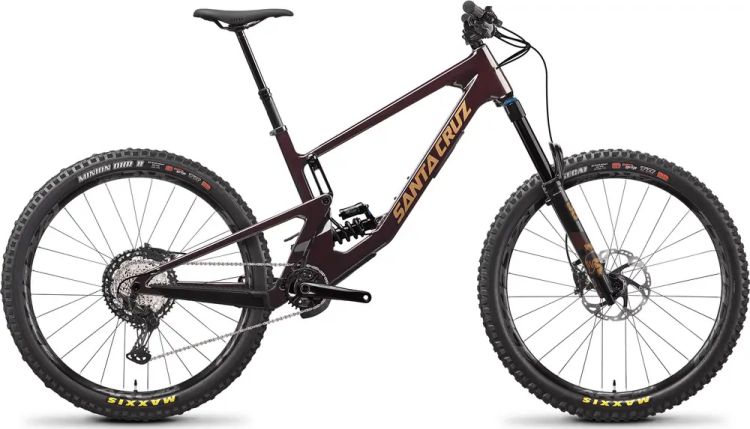 The 2022 Santa Cruz NOMAD XT / Coil looks much cuter than the Canyon Strive CFR. However, through our review, its overall performance is not as likable as its looks. Especially after comparing it to the Canyon Strive CFR.
The geometry of the 2022 Santa Cruz NOMAD XT / Coil was designed to be a little more aggressive, which means we could get the best position for aerodynamics.
At the same time, we needed superb stability on the ride. I felt that the 2022 Santa Cruz NOMAD XT / Coil tires could not give me reliable support in the mountains with a lot of drop-offs. And the Canyon Strive CFR tires would be much more stable.
In addition, the Santa Cruz NOMAD XT / Coil set configuration is not as attractive as the 2022 Canyon Strive CFR configuration.
All in all, the cost-effectiveness of the Canyon Strive CFR would be the main reason why I would recommend it to you.
learn more:Santa Cruz NOMAD X01 Review [2023]- The Limits Of Man And Bike
2022 Canyon Strive CFR vs 2022 Yeti SB165 C2
The Yeti SB165 C2 has a unique weight advantage in that it weighs less than the Canyon Strive CFR. This will have a better performance when climbing hills.
Not only that, but the design of the Yeti SB165 C2's shock is also different from the Canyon Strive CFR. The main difference is that the Yeti SB165 C2 shock is a Switch Infinity linkage, which allows the bike to have superior pedaling efficiency while climbing and also provides very responsive shock absorption.
The Canyon Strive CFR, on the other hand, uses a Horst-link design for its shock, which we will feel unique on the descent. You will find that your ride is not only smooth and comfortable but also has very little impact on speed.
Although, the shock design of these two bikes is each characteristic. However, the Canyon Strive CFR's drivetrain and braking system will be a bit more powerful. Because it chooses the top Shimano parts, Yeti SB165 C2 is a pity at this point.
All things considered, the Canyon Strive CFR is a bit more expensive, but its superb accessories and excellent performance are exactly what is expected. As you can see, you won't lose out by choosing the Canyon Strive CFR.
In case, the above comments are helpful to you, please remember to share the subscription. Have a great day!
Learn more : Is 2023 Yeti SB150 C1 Splendid ?- [2023 Yeti SB150 C1 Review]