We use affiliate links and may receive a small commission on purchases.
2022 Cannondale Trail 6
Price: $860
Frame: Aluminum alloy
Stroke: Front 100mm
Tires: 29×2.25″ (27.5×2.25″ – XS, SM)
Gear: 2×8
What we like about it: The most comfortable aluminum frame in its price range, long-lasting and durable components, and upgraded bones.
What we don't like about it: The more entry-level cushioning configuration may not be up to the task of intense rappelling.
Rating (4.5/5)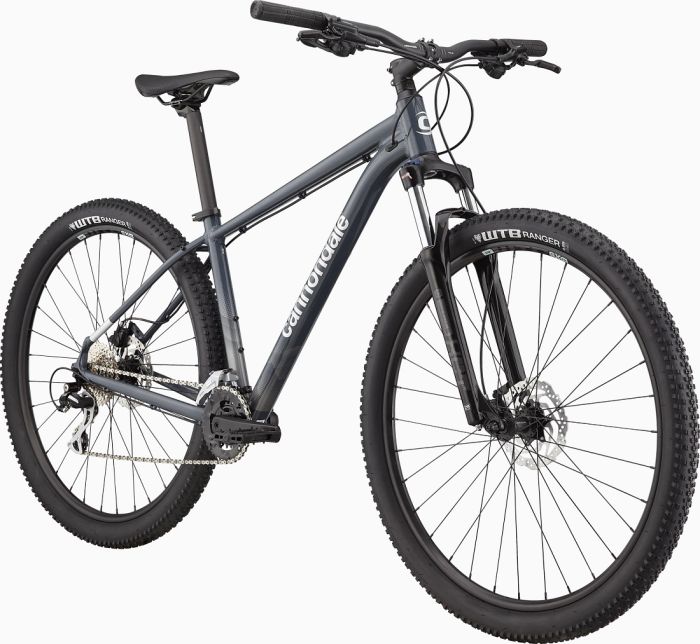 The Cannondale Trail 6 is a hardtail bike that is on a mission to ride winding singletrack. If you happen to be a budding cyclist with dreams of hitting the mountains away from the city and igniting your passion for trails, the Cannondale Trail 6 is certainly a good choice.
In addition, the durable frame and components will make the Cannondale Trail 6 a long-lasting companion. Moreover, the 2*8-speed drivetrain gives you more speed options so you can ride more territory. In addition, the comfortable saddle allows me to ride for a long time without feeling tired.
What I found surprising was that the easier availability of accessories also greatly reduced the maintenance costs of the Cannondale Trail 6. And the Cannondale Trail 6 has modified tire sizes for people of different heights to provide the best fit, propulsion, and good riding fun for all riders.
Below we break down the Cannondale Trail 6's climbing performance, descent performance, key features, components and specifications, and other versions.
If you want to know more about bike reviews, you can follow us!
Cannondale Trail 6 Climbing Performance
When I was facing a long hill, I pedaled hard and felt the strong support of the straight metal tubes running from the Bottom Bracket Height to the saddle. This is the unparalleled advantage that the hardtail frame gives me, allowing me to give it my all on the climbs. The caveat is that I have to turn off the SR Suntour XCM RL front shock, which is often used only on downhills. This also ensures that my upper body power doesn't emanate while I'm riding.
While not having an overly exaggerated gear ratio, the Cannondale Trail 6 was a lot of fun at lower speeds and the 2*8 speed gear range was enough to allow me to conquer every uphill. I have to say that the Cannondale Trail 6 rides really great on the uphill. I think this is due to the lightweight and stiff frame of the SmartForm C3 aluminum, which made me feel like I could ride the bumpy trails and climb the smaller grades with ease.
However, the whole ride made me think it had great potential. With a very small accessory upgrade, I think it can face tougher terrain.
What wasn't easy to find was that the Cannondale Stage 3 was a very comfortable saddle that made me feel comfortable in my seat while climbing. The comfortable cushioning allowed me to feel like there was only a limited amount of buzz being transmitted to my body, which we usually call "trail feel". It helps me feel the trail, not disconnect from it.
Cannondale Trail 6 Descending Performance
While it can't float through winding mountain sections as fast as a full-suspension bike, it does a good job on a hardtail trail bike. That's something I didn't expect until I got on it.
Tektro recommends that we only need to use just two fingers when using their brake levers, and I was able to easily apply the brakes. During the descent, I didn't need to focus too much on how hard I needed to squeeze the brakes. This allows me to focus more on the ride.
Since the downhill sections are often unpredictable, I had to quickly confirm my direction of travel. The shorter handlebar and slack head tube angle (68°) supported me well at this point.
On one of my partner rides, my partner, who is very different from me in weight, also said he didn't feel the cushioning was not enough. The SR Suntour XCT 100mm also has a good amount of cushioning travel when descending. Although it seems a bit small compared to a full suspension bike (which I didn't experience on the actual ride), its elastic support helps create a feeling of grip and plant.
In addition, Cannondale accommodates riders of different heights by making smaller size frames with smaller tire diameters, which I think is a very smart design.
Main Features
Frame
The Cannondale Trail 6 features a SmartForm C3 aluminum lightweight frame. This is definitely one of the more comfortable frames in its price range.
The bike is also equipped with a mudguard and luggage rack mounting holes at the seat spacer of the frame. This also provides a richer modification experience for the user.
This is a frame that offers internal alignment, which is a pleasant surprise at this price point. The internal cable routing is easy to maintain and looks very neat on the outside. There are cables for the chainstay and lifters, which are neatly routed through the SteaightShot openings in the downtube. In most models in the same price range, the rear brake cable is usually tied to the outside of the frame.
Geometry
First, it is designed with a very slack head tube angle and a low Bottom Bracket Height. This usually allows for a lower center of gravity and more stability while riding. At the same time, the Cannondale Trail 6 has elevated stance clearance to make it fit as well as any other bike. Even if we stop suddenly in the middle of a ride, there is no chance of an accident.
If you look closely enough, the Cannondale Trail 6 is designed with a shorter rear fork than similar models. This is a good way to improve the flexibility of the body.
In addition, the speed increase also enhances the rider's stability in rough terrain. In addition, to compensate for the shortened rear fork, the Cannondale Trail 6 also reduces the seat tube angle to allow the rider's center of gravity to be distributed more to the rear.
Components and Specifications
Shimano Altus 2×8 Drivetrain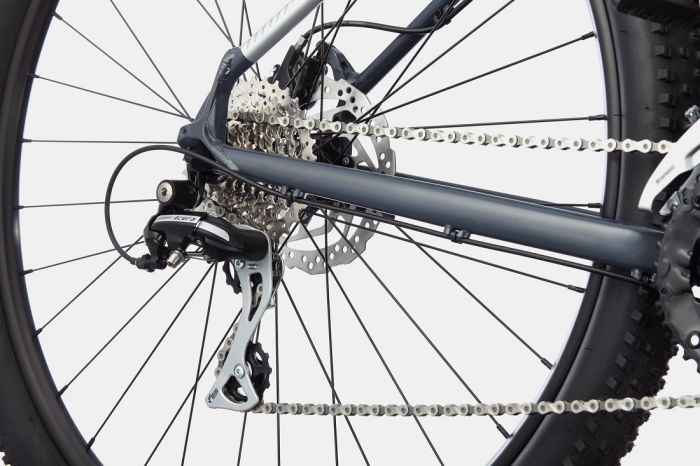 For beginners, more speed range is definitely a better choice, and it can be adapted to more scenarios.
When I first started riding the sport, I didn't really know what gear ratio I was comfortable with. the Cannondale Trail 6 is perfect for beginner riders and veteran riders who don't normally go for extreme rides.
It is worth mentioning that the silent guide tire made of resin can effectively reduce chain wear, while the main body is made of aluminum alloy, making it more robust and durable.
The Shimano M315's split-finger paddles give me a very light and responsive ride on different inclines. Its shifting performance is very smooth and the original rust-proof cable makes it easier for me to maintain while riding.
Tektro M275 Hydraulic Disc Brake
Tektro M275 hydraulic disc brake is designed with a stable and reliable structure, I can feel the sensitive brake braking performance when descending.
Terkteo suggests that we need two fingers to get excellent braking results when using the brake discs, while the brake handle travel is also adjustable. This is certainly very friendly to my smaller hands.
The two-piston caliper uses a unidirectional oil circuit design, which also makes it less likely that air bubbles will remain in the brake fluid circuit, avoiding a series of safety accidents caused by high temperatures. This is also very easy to maintain and low cost.
WTB Ranger Comp Tires
The WTB Ranger Comp does meet this criterion, as we all know when it comes to strong and durable tires for mountain bikes.
In detail, the abundance of raised aramid points provides a great grip for riding. As I rode through the mud, I often worried that the mud would fill in the grooves in my tires and make them slip. But the truth is, I probably thought too much about it. The deep rearward grooves in the tires were able to get the mud off quickly. This allowed me to always ride peacefully even when it was raining.
SR Suntour XCT Front Fork
When going over a long uphill, I opened the locking mechanism on the right side of the fork, allowing me to be more direct with my power. And before I raced down a less steep downhill, I could also adjust the preset adjustment knob on the left side of the fork that controls the rebound speed, allowing me to get the right cushioning speed.
In most people's opinion, 100mm of cushioning travel is not enough for mountain riding. But in my actual experience, I don't think that's the case. As long as you don't go for overly aggressive speed trails, this kind of cushioning is enough for me. It can adapt to all-terrain XC sections.
Other versions of the Cannondale Trail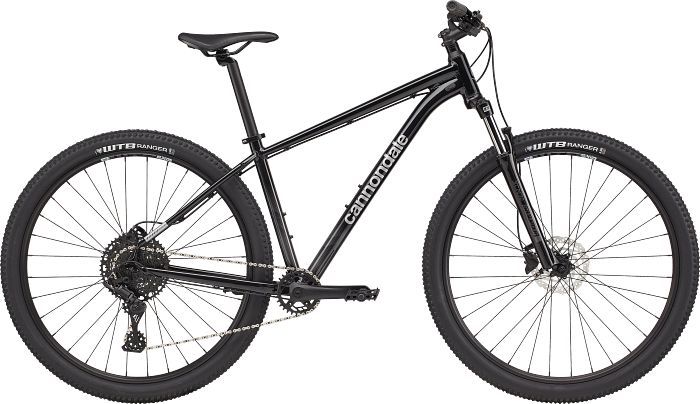 In this review, we have reviewed the 2022 Cannondale Trail 6. Both its sturdy and lightweight frame and its grippy traction tires indicate that this is a bike that will be with us for a long time and still be solid.
To give you more insight, we also found other versions of it. We compared the Cannondale Trail 5, which is more expensive, to the 2022 Cannondale Trail 6, which only has 2*8 speeds, and the Cannondale Trail 5, which has only been upgraded to 1*10.
While many people think the 1× drive might be easier in shifting, and in test riding I don't think that's a good thing for newbies. And you need to pay more money to achieve it, but in other components, they are basically no different.
Learn More: 2022 Cannondale Quick 5 Review
What we like about it
Comfortable, long-lasting, and stiff SmartForm C3 aluminum frame (most comfortable in its price range)
It's straightforward to crank with force and is one of the few bikes that use the Boost QR standard to increase tire strength and stiffness
Shimano 8-speed drivetrain with 2 sprocket cranksets
Comfortable riding experience for a wide range of heights (137cm-191cm)
Cannondale's big brands offer us a lifetime warranty
What we don't like about it
High ground clearance compared to low five-way height will undoubtedly increase the weight.
It may not have enough performance for riders seeking extreme climbing descents, but at this price, it's definitely a good choice.
FAQ
1. Is the 2022 Cannondale Trail 6 equipped with water bottle mounting holes?
The 2022 Cannondale Trail 6 is equipped with two water bottle mounting holes on the underside of the frame for better hydration.
2、What is the frame material of the 2022 Cannondale Trail 6?
The 2022 Cannondale Trail 6 is made of SmartForm C3 aluminum frame
3、What height is the 2022 Cannondale Trail 6 suitable for?
The sizing chart for the 2022 Cannondale Trail 6 is as follows.
(These sizes are just a general guide, the real right size may vary from person to person, and the easiest way to find your size is the best way to go for a test ride)
| | |
| --- | --- |
| Rider height | SIZE |
| 137cm-158cm | XS |
| 154cm-164cm | SM |
| 161cm-173cm | MD |
| 170cm-184cm | LG |
| 181cm-191cm | XL |
2022 Cannondale Trail 6 SPECS
Build
| | |
| --- | --- |
| Frame | SmartForm C3 Alloy, SAVE, 1-1/8″ headtube, post mount disc, StraightShot internal cable routing, dropper post compatible, BSA-73 BB Standard: BSA, 73mm, Threaded Colors: Slate Gray; Impact Orange; Abyss Blue |
| Fork | SR Suntour XCT, 100mm, coil, 42mm offset (27.5″) 46mm offset (29″) |
| Bottom Bracket | Sealed bearing cartridge, square taper |
| Headset | Semi-Integrated, 1-1/8″ |
| Stem | 6061 Alloy, 31.8, 7° |
| Handlebar | Cannondale Riser, 6061 Alloy, 25mm rise, 8° sweep, 6° rise, 720mm |
| Saddle | Cannondale Stage 3 |
| Seatpost | Cannondale 3, 6061 Alloy, 31.6 x 350mm (XS – SM), 400mm (MD-XL) |
| Pedals | Cannondale Platform |
| Grips | Cannondale Dual-Density |
Wheels
| | |
| --- | --- |
| Rims | WTB SX19, 32h |
| Spokes | Stainless Steel, 14g |
| Front Hub | Shimano HBTX 505 |
| Rear Hub | Shimano FHTX505 |
| Tires | WTB Ranger Comp, 29×2.25″ (27.5×2.25″ – XS, SM), DNA Compound |
Groupset
| | |
| --- | --- |
| Rear Derailleur | Shimano Acera |
| Front Derailleur | Shimano Altus, 34.9 clamp |
| Crank | Prowheel, 36/22 |
| Shifters | Shimano M315 Rapidfire Plus, 8-speed |
| Cassette | Sunrace, 11-34, 8-speed |
| Chain | KMC X8, 8-speed |
| Brakes | Tektro M275 hydraulic disc, 160/160mm rotors |
| Brake Levers | Tektro hydraulic disc |
Video
Comparison Table
2022 Cannondale Trail 6 vs 2022 GT Aggressor Expert
Compared to the GT Aggressor Expert, the Cannondale Trail 6 has a higher price tag. The Cannondale Trail 6 has a higher price compared to the GT Aggressor Expert, with correspondingly higher features, such as higher cushioning travel and a smoother, more comfortable head tube angle. This is certainly important for a comfortable off-road vehicle.
And the 3*8-speed drivetrain system may be a little too complicated for the audience at this price point, and even some veterans can't make use of them all.
However, the GT Aggressor Expert is equipped with a better SR Suntour XCM fork. Although the reduced cushioning travel is regrettable, the oil pressure damping must be a better choice.
One more thing, they also have WTB Ranger tires. This helps make the most of every pedal stroke when you're riding on dry gravel.
learn more : GT Aggressor Comp Review [2022] – Could It Be More Your First Hardtail Bike?
2022 Cannondale Trail 6 vs 2022 Kona Fire Mountain
I have to say that the 2022 Kona Fire Mountain is also a good choice in its price range.
As a strong competitor to the 2022 Cannondale Trail 6, it has an even better Suntour XCR 32 fork. Although it has the same cushioning travel (100mm), the hydraulic damping and the ability to lock in sections are definitely better than the spring shock.
But in our tests, we found that the 2022 Kona Fire Mountain only has 1×9 speed for our use. This is obviously not quite enough for most scenarios.
For example, on longer rides, a smaller gear ratio means we may need to pedal more often than others.
2022 Cannondale Trail 6 vs 2022 Diamondback Overdrive 29 2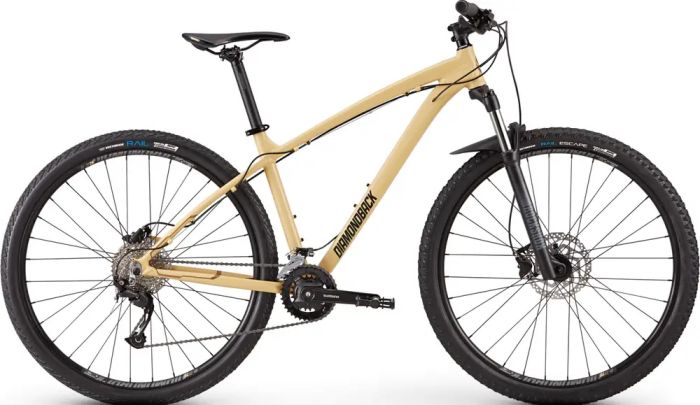 The higher price will certainly bring us a better experience. So when you compare the Diamondback Overdrive 29 2, it has a better drivetrain and braking system. That's if you're willing to pay the difference of nearly $200 more.
A survey of riders' comments revealed that the Diamondback Overdrive 29 2 saddle experience was not ideal or even a little bad. A large percentage of purchasers said, "We had to replace the saddle with a comfortable one when we rode for a few days".
But there is no doubt that the Diamondback Overdrive 29 2 is still a good car, although perhaps it has some flaws in terms of value for money.
Learn more : Is 2023 Diamondback Hook Worth Buying? – [Diamondback Hook Review ]
2022 Cannondale Trail 6 vs 2022 Specialized Rockhopper Comp 27.5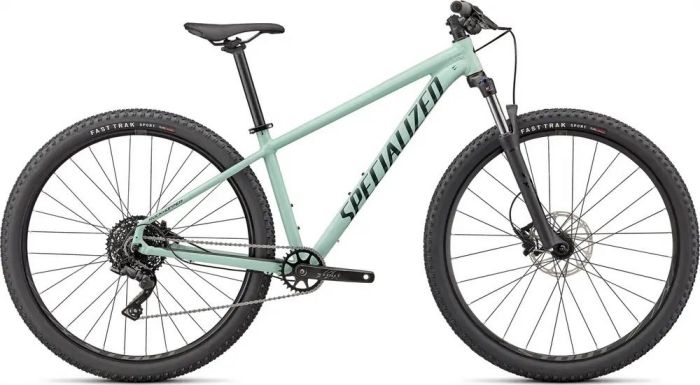 Specialized is a great brand that everyone loves, but the small 27.5 tire size makes it a lot less passable while still being able to pass fast.
However, the larger tires on the 2022 Cannondale Trail 6 allow you to maintain higher speeds on the same pedaling frequency and over larger rocks.
Also, the 1*9 derailleur makes the 2022 Specialized Rockhopper Comp 27.5 less usable. But it will give us easier shifting on the descent than the 2022 Cannondale Trail 6. Yes, it's easy to see that it doesn't have much of a range. Also, the smaller Reach makes the rider feel too confined when navigating rough trails.
In contrast, the 2022 Cannondale Trail 6 is very forgiving. It allows you to ride for long periods of time without back pain and may need to be well thought out for riders with longer upper bodies.
In case, the above comments are helpful to you, please remember to share the subscription. Have a great day!
Learn more : Top 8 Best Hardtail Mountain Bikes Under $1000