We use affiliate links and may receive a small commission on purchases.
2022 Cannondale Quick 4
Price: $960
Category: Hybrid Vehicles
Tires: 700 x 35c
Drivetrain: 1X9
What we like about it: A flexible and comfortable hybrid that lets you ride freely in the city. 1×9 drivetrain is easy to get started while still letting you feel the speed of the ride. Tektro HD-R280 hydraulic discs let you brake easily and steadily. Lots of reflective decorations and exquisite exterior styling make you the most beautiful scenery in the city riding.
What we don't like about it: There are only two paint options available, and for some pro riders, it's not quite as comfortable with its overly lightweight.
Rating (4.7/5)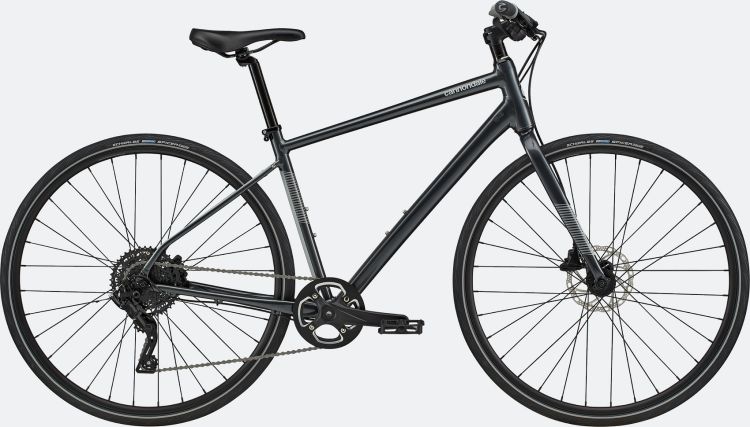 Introduction
The Cannondale Quick series has always been dedicated to urban road riding, providing customers with a spontaneous riding experience. The 2022 Cannondale Quick 4 is an upgrade from its predecessor, with a 1x 9-speed drivetrain that is easy to get used to while still providing a speedy experience. The hydraulic disc brakes are the most surprising feature at this price point, allowing you to brake safely and effectively whether on the road or in the field. Ride it, so you can feel the bustle of the city and the freedom of the wild, so you can make an outdoor trip anytime, anywhere.
Next, we will detail the Cannondale Quick 4 riding experience, key features, components, specs, and a comparison of other bikes.
If you want to learn more about other aspects, welcome to follow us.
Urban Commuting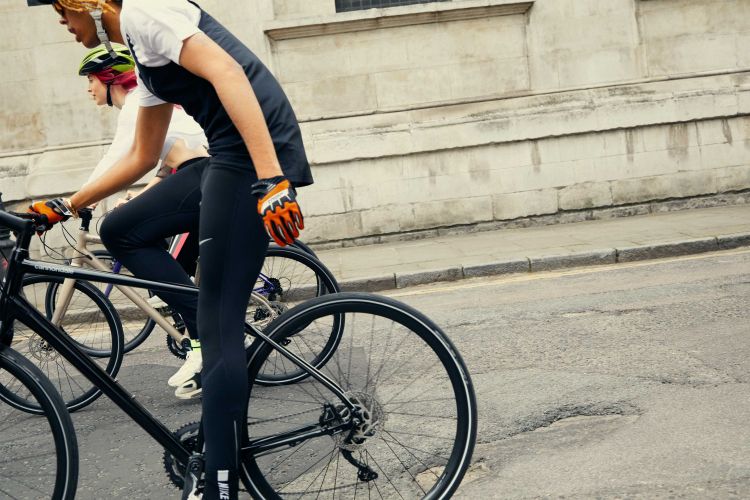 For me, what I need in my daily life is a bike that can take me to my destination quickly. In my spare time, I can also ride it for an outdoor adventure. And this Quick 4 is certainly a suitable choice.
When I was riding, I could feel the lightness of the body, while the 1X9 drivetrain is enough to deal with all kinds of roads in the city.
I feel very comfortable on it and the 700 x 35c tires are a classic configuration for a road bike. It makes you more efficient on the sidewalk.
Also, the Cannondale Quick 4 comes with an integrated tire sensor, and you can go through the free Cannondale app to find out how far you ride, how fast you go, how many calories you burn, etc. I think this is a great design for some amateur cyclists. You can find out the distance traveled to your destination and calculate the time. Probably for most people, the reason for choosing it is for fitness, then I can say value for money.
I did 5km of cycling every day for 15 days and the feeling I got was one of flexibility and comfort. In addition, the out-front steering geometry makes riding easier. It is more agile and maneuverable on wide sidewalks and in narrow alleys.
Outdoor Riding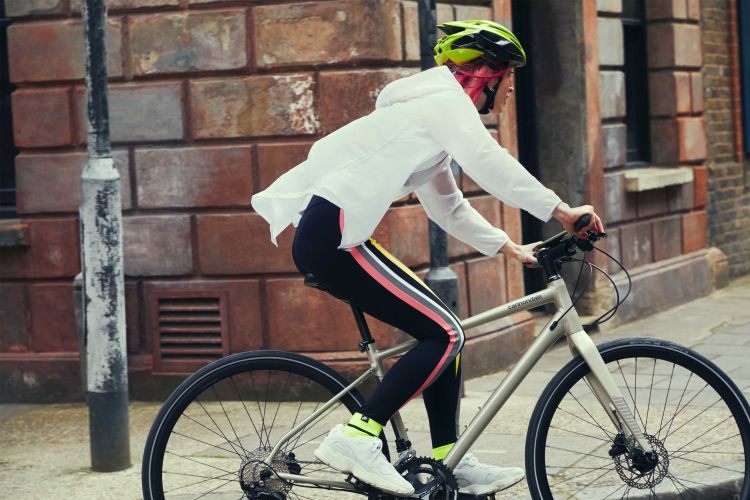 As a hybrid bike, it is not only commendable for city road riding, but also for outdoor riding. My test was on a country road when the weather was fresh from light rain. I was driving on a slightly slippery trail, but the Schwalbe Spicer 700 x 35c tires made the ride extra smooth. The larger, road-style tires allow the Cannondale Quick 4 to absorb bumps better, with better grip and endurance.
At the same time, during the design process, it adds a SAVE micro-suspension with bump absorption to make you more comfortable during the ride. Of course, we tested its climbing and descending ability as well. Although not as good as some professional hardtail bikes in terms of performance, it still performs commendably. And the brakes on the Cannondale Quick 4 are Tektro HD-R280 hydraulic discs, and I was able to feel its responsiveness and braking ability during the ride. If you want to have an outdoor trip with friends, Cannondale Quick 4 is still a good choice.
Main Features
Frame
I have to say that when I first saw the bike, I was impressed by its appearance. The updated SmartForm C3 alloy frame is lighter than the previous version, which makes it even lighter for everyday riding. The new pressure-reducing saddle design provides even more comfort.
There is also the Straight shot hidden alignment design, which will not be bothered by dragging during the ride, and looks to give a different aesthetic. And the bike is equipped with plenty of reflective trim, allowing you to provide additional safety measures even in low-light conditions.
The Cannondale Quick 4 is also equipped with a smart stem with a convenient mount that securely holds any SP-connect compatible phone case, which greatly facilitates free riding on a regular basis. You can see the ride's speed, mileage, and more through the Cannondale app. Plus, the integrated tire sensors also help track your activity, giving you full access to information about your ride.
Geometry
Everyone has their ideas about geometry standards, but I'm very satisfied with the geometry of this Quick 4.
First of all, the 73.0° seat tube angle allows me to maintain a stable and balanced position during the ride. Also, the steeper head tube angle (71.0°) gives you a more responsive steering ability. This also better faces some emergency problems encountered in city riding.
Yes, a sensible geometry design allows for a more comfortable ride. This Quick 4 certainly does that.
Components and Specifications
MicroSHIFT Advent 9-speed Drivetrain
Compared to most road bikes, there is a higher pursuit in speed. But as a fitness bike, the 1X9 drivetrain is adequate.
When riding on city roads, you can achieve smooth and fluid gear shifts with just a flick of a switch. Also, its micro-shift and high-quality chain paddle can overcome any terrain on the city roads.
In actual riding, I did not feel much difference in speed compared to the 2X system. On the contrary, I prefer the smooth shifting feeling from the microSHIFT Advent 9 when riding.
Tektro HD-R280 Hydraulic Disc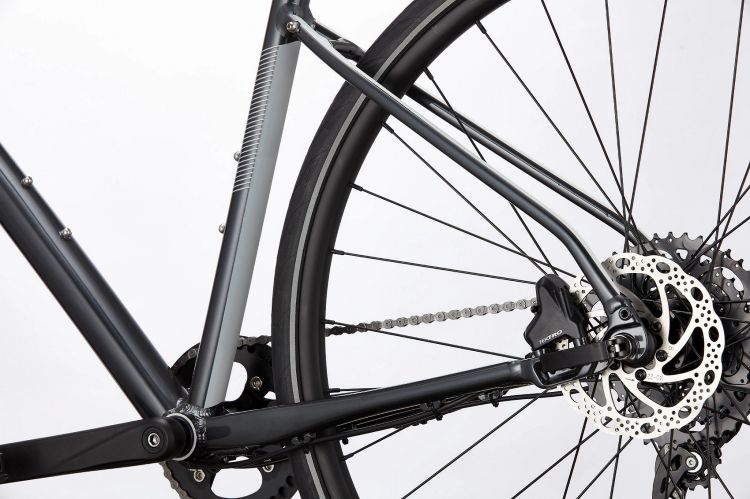 Braking performance is very important to the safety of the bike. The Cannondale Quick 4 uses Tektro HD-R280 hydraulic discs on the brakes. This is rare for an exercise bike at this price point.
It is worth mentioning that Tektro HD-R280 adopts a flat mounting system, which makes it easier to install and replace, and Tektro HD-R280 uses non-corrosive mineral oil, which has excellent thermal expansion performance. During daily riding, you can feel its excellent braking ability. I have been driving in the steep alleys of the city many times, and it is thanks to its excellent braking ability that I descend safely every time.
Schwalbe Spicer Tires
The 700 x 35c tire is suitable for city road riding. It has a relatively smooth tread that makes it easy to roll the tires.
We tested the Cannondale Quick 4 tires several times, and the K-Guard belts provided good puncture protection and a high-quality 50 EPI carcass, which made it as good as flat in some poor terrain.
At the same time, each of its reflectors is made quite standard, and the rims are aligned with each other rather than separated as in the middle. Just as the official publicity says, it is very comfortable to ride. You don't have to worry about the tires at all during city rides or even on light gravel trails in the countryside.
Other versions of Cannondale Quick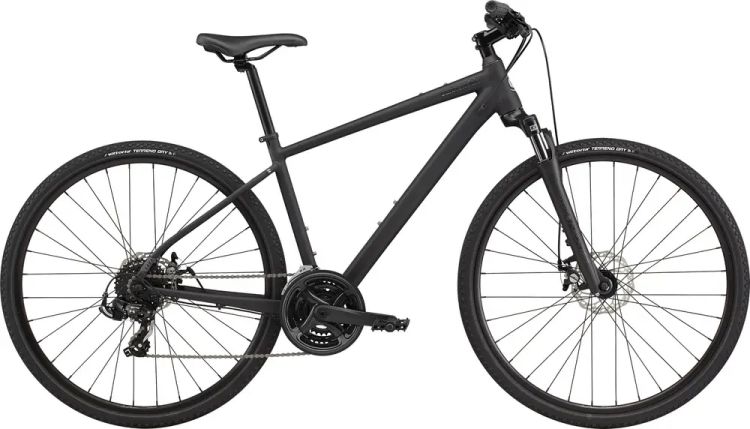 In this review, we also reviewed the Cannondale Quick CX 4, an exercise bike.
Overall, the differences between the two aren't too great. In terms of riding, we have reviewed both bikes several times and in my opinion, they are equally similar. However, my fellow riders preferred the Cannondale Quick 4 because of its micro-damping design of the saddle, which makes for a more comfortable ride. The Cannondale Quick CX 4 is equipped with a Promax mechanical disc, which is slightly inferior to the Cannondale Quick 4 in terms of brakes and slightly heavier in weight during the ride.
Both bikes are available in women's versions, bikes launched for girls, and the configuration is the same as both. The only difference is in the color selection.
Of course, if you want to know more about the Cannondale Quick series, you can follow us, and we will keep updating.
What we like about it
The 1X9 variable speed drivetrain system is easy to use and brings speed experience.
The Schwalbe Spicer 700 x 35c tires provide enough grip for more stability on road rides.
Integrated connectivity with the Cannondale app gives users better information about their rides.
A lightweight aluminum frame and plenty of reflective trim add to the overall look of the car.
Tektro HD-R280 hydraulic discs provide fast and effective brake braking.
What we don't like about it
Only two colors are available.
Some people are not used to its excessive lightness.
FAQ
What is the drivetrain of the Cannondale Quick 4?
The Cannondale Quick 4's drivetrain is the microSHIFT Advent 9-speed drivetrain.
What are the tires on the Cannondale Quick 4?
The tires on the Cannondale Quick 4 are Schwalbe Spicer 700 x 35c tires.
What are the brakes on the Cannondale Quick 4?
The brakes on the Cannondale Quick 4 are Tektro HD-R280 hydraulic discs.
Cannondale Quick 4 size chart
| | |
| --- | --- |
| Size | Rider height |
| SM | 157 – 171 cm |
| MD | 165 – 178 cm |
| LG | 175 – 188 cm |
| XL | 182 – 196 cm |
| XXL | 193 – 206 cm |
Cannondale Quick 4 Specs
Build
| | |
| --- | --- |
| Frame | SmartForm C3 Alloy, SAVE, tapered head tube, Straight shot hidden cable routing, flat mount disc, rack/fender mounts, 360° reflectivity Color: Black |
| Fork | Suntour NEX-E25, 63mm, coil, custom crown |
| Bottom Bracket | Cartridge, square taper |
| Headset | Semi-Integrated, Tapered |
| Stem | 6061 Alloy, 31.8, 8° |
| Handlebar | Cannondale Riser, 6061 Alloy, 25mm rise, 8° sweep, 6° rise, 700mm |
| Saddle | Cannondale Fitness Ergo Double Density |
| Seatpost | 6061 Alloy, 27.2 x 350mm |
| Pedals | Cannondale Platform |
| Grips | Cannondale Dual-Density |
Groupset
| | |
| --- | --- |
| Rear Derailleur | microSHIFT M26L |
| Front Derailleur | microSHIFT Dual Pull Compact, Band Clamp |
| Crank | Prowheel, 48/38/28 |
| Shifters | microSHIFT, 3×7-speed |
| Cassette | Sunrace, 14-34, 7-speed |
| Chain | KMC Z7, 7-speed |
| Brakes | Promax mechanical disc, 160/160mm rotors |
| Brake Levers | Promax |
Wheels
| | |
| --- | --- |
| Rims | DC 4.0, double wall w/eyelet, 32h |
| Spokes | Stainless Steel, 14g |
| Front Hub | Alloy, Sealed, QR |
| Rear Hub | Alloy, Sealed, QR |
| Tires | Vittoria Terreno Dry, 700 x 40, reflective strip |
Video
Comparison Table
2022 Cannondale Quick 4 vs 2023 Marin Fairfax 3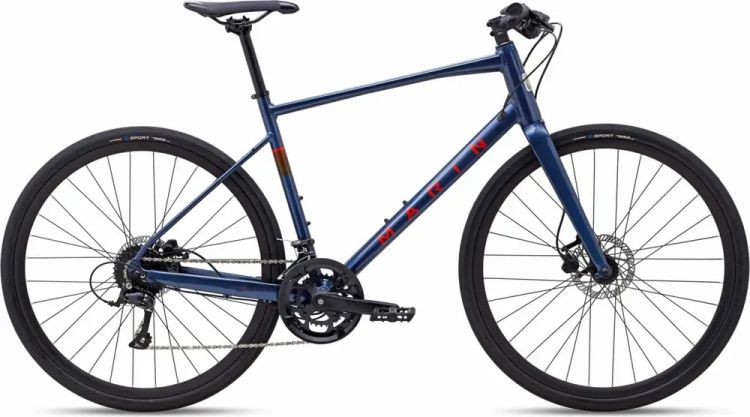 As the same 700c aluminum frame fitness bike, in terms of appearance, I feel that it is not as refined as the Cannondale Quick 4.
When the two were tested for riding, there was not much difference for me. However, it is worth mentioning that the Marin Fairfax 3 has a 2×9 drivetrain, so there are more options in terms of gearing.
At the same time, the weight is a little heavier than the 1X9 drivetrain. If you are sensitive to the weight of the car, you are recommended to choose Cannondale Quick 4, which is also easier to operate.
In terms of price, Cannondale Quick 4 is cheaper than Marin Fairfax 3. So the choice depends on your needs.
learn more:Marin Fairfax ST 1 Review [2023]-A Good Value Fitness Bike For A Healthier Way To Get Around
2022 Cannondale Quick 4 vs 2022 Specialized Sirrus X 3.0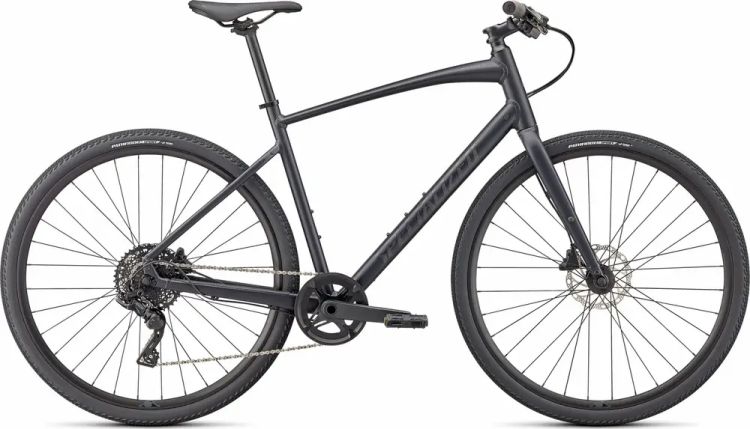 The 2022 Specialized Sirrus X 3.0 leans more towards mountain riding in the hybrid. 42mm gravel tires and a wider handlebar compared to road bikes give it relatively good off-road performance. What's more, the entry-level aluminum frame and fork allow you to ride on some rough mountain roads without feeling too many bumps.
Even though the Cannondale Quick 4 is more of a fitness bike, you can also drive it around town and still be able to roam the outdoors. Although both are similarly equipped, the choice depends on your usual use preference. I still like to enjoy the freedom of riding on city roads.
2022 Cannondale Quick 4 vs 2022 Cannondale Quick 2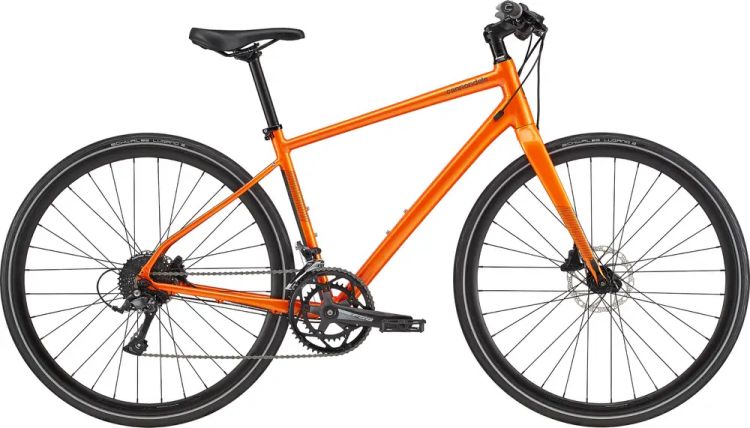 Both bikes are Cannondale Quick series, both are mainly urban riding, and fitness touring features.
Unlike the Cannondale Quick 4, the Cannondale Quick 2 uses a Shimano Sora 18-speed drivetrain. This makes for a faster and more agile riding experience.
Of course, as the upgraded model of Cannondale Quick 4, it is also higher than it in terms of price. It is also different in terms of paint color selection.
If your budget is not enough, we recommend Cannondale Quick 4. After all, the difference between the two is not that big.
learn more:Cannondale Quick 1 Review [2022]- The Warmth Of Humanity In The Details
2022 Cannondale Quick 4 VS 2022 CUBE SL ROAD PRO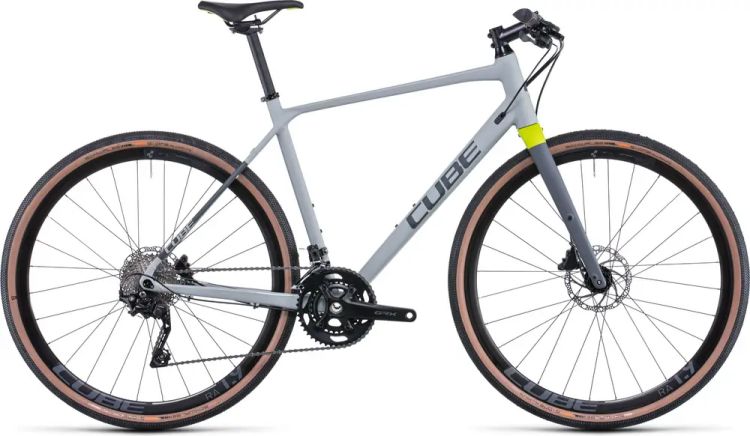 To be honest, I'm not a big fan of the 2022 CUBE SL ROAD PRO paint color. Of course, that doesn't stop it from being great in other performance areas.
Compared to the Cannondale Quick 4, the CUBE SL ROAD PRO uses a 2×10 drivetrain. This also means that it has more abundant options for riding. But I didn't feel much when I made the comparison between the two. Even with a 1X9 drivetrain, the Cannondale Quick 4 gives you a great experience in terms of speed.
In case, the above comments are helpful to you, please remember to share the subscription. Have a great day!