We use affiliate links and may receive a small commission on purchases.
2022 BMC Speedfox ONE Review
Price: $4499
Frame: Carbon
Stroke: 130mm front, 120mm rear
Tire: 29×2.35"
Gear: 1×12
What we like about it: Original Trailsync technology, excellent all-around performance.
What we don't like about it: Smaller range of size options.
Rating (4.8/5)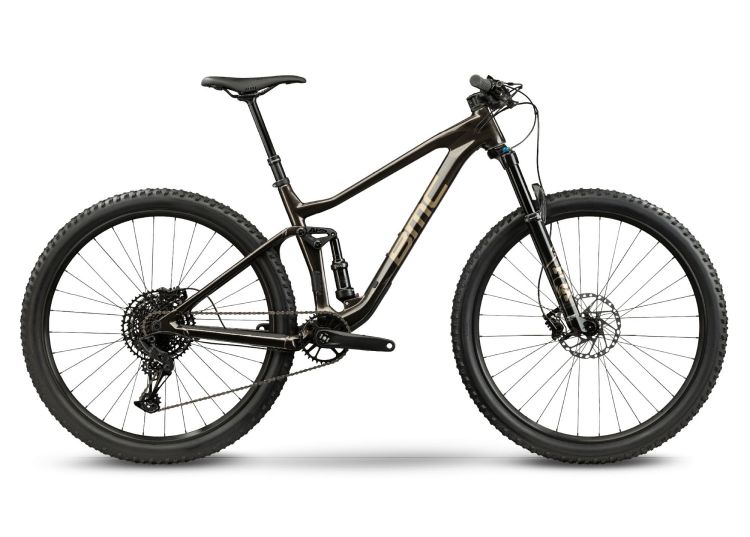 Since 1994, BMC has been at the forefront of bike design. In the earliest days, BMC pioneered unique designs for top road riders, keeping them at the forefront. It wasn't until 2007 that they entered the mountain bike arena.
Under the leadership of the legendary French rider Julien Absalon, BMC won the XC world championship. The completely in-house designed geometry, testing, and complete research and development are all part of BMC's "do-it-yourself" motto.
And, the Speedfox is BMC's departure from the traditional road and cyclocross bikes, with a more aggressive geometry for off-road riding. Unusually, it comes with a unique, fully integrated lift seat post, which also activates the shock to lock remotely.
Below we break down the BMC Speedfox ONE regarding climbing performance, descending performance, key features, components and specifications, and other versions.
If you want to know more about bike reviews, you can follow us.
Climbing Performance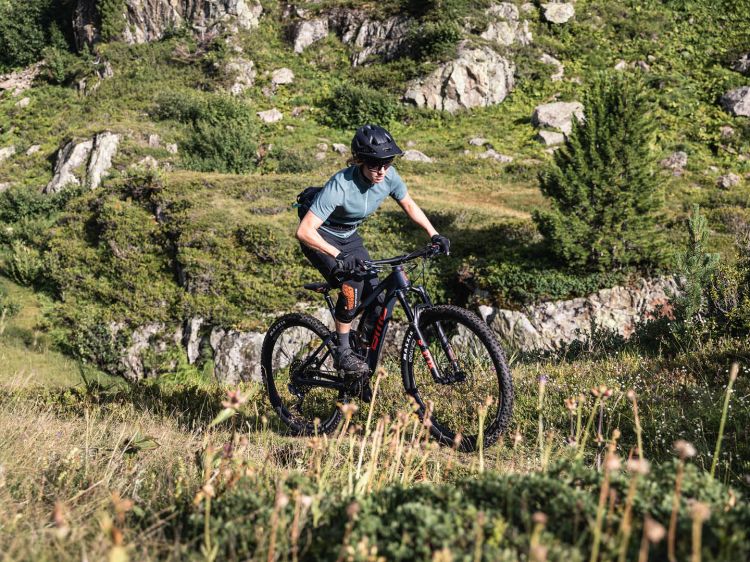 Thanks to BMC's original Trailsync technology, which gives it excellent climbing technology, the dropper, and shock absorber at the rear of the frame can be remotely controlled at the same time just by the stopper in your hand.
We had the opportunity to test ride the latest BMC Speedfox ONE while attending the CrankTank Media Summit in Sun Valley, Idaho, and while making climbs, I was able to lock the fork in advance and then toggle the Trailsync technology lever in my hand, which allowed the rear cushion and dropper to lock at the same time, turning it into a cushion-free bike. This makes it perfect for fire roads and singletrack, and it doesn't seem to ride any differently than a hardtail.
I have to say that the full drive to pedal to ground pedaling made my climbing a breeze. I even forgot this was a full suspension or even a dropper-equipped bike as I fought my way up the climb.
Many people comment on its climbing that it can climb like a mountain goat, and it can easily climb 20% of grades. Because the 29-inch tires can grip the ground, even if I pedal hard, the front tire does not drag off the ground.
I often turn off its rear shock and crank up the rebound on the front cushion and travel as fast as I can. It performs well with its light feel and efficient APS suspension design. This greatly improves my pedaling efficiency.
Descending Performance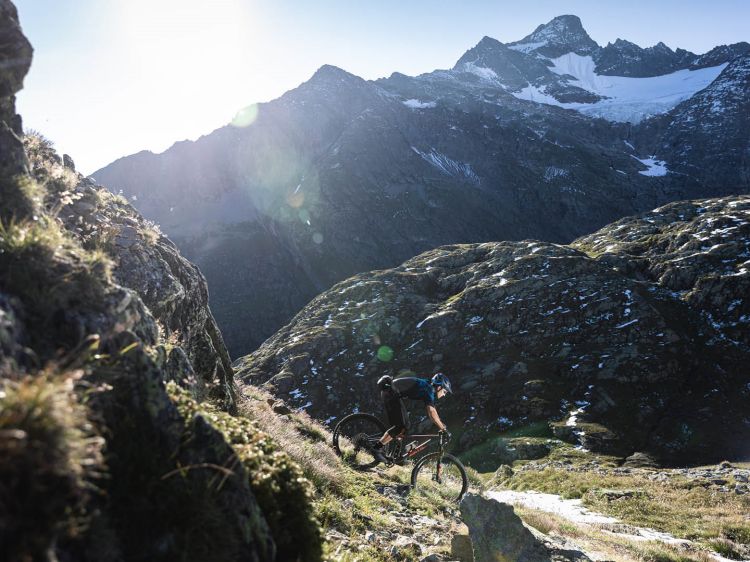 The BMC Speedfox ONE will climb like a hardtail, but it certainly won't drop like one. Once I opened the dropper to lower the saddle and switched the shock open, the BMC Speedfox ONE turned into an off-road crusher.
A good place to experiment was Silver Mountain, a ski area in Idaho, where we tested this ride. It is well used for riding in the summer, with the highest point at 5,650 feet and the lowest at 2,300 feet, and it is snow-free in the summer, making it perfect for descending.
The BMC Speedfox ONE has a flexible geometry and, as its name implies, it also has precise control when descending. I can make fast turns on the downhill, and the right head tube angle balances high-speed stability with improved cornering performance. It gives me a performance boost when running hills on the trail or during laps.
I could feel the support that its cushioning provided me when dropping down a rocky patch. Although the 130mm front and 120mm rear may seem a bit short, I felt it was quite adequate during my ride.
Also, the BMC Speedfox ONE is equipped with large 29″ tires. This allows it to completely ignore some of the smaller bumps and even roll over the tops of some large rocks and tree roots.
In Bend, Oregon, parts of Southern California, the Midwest, and the shorter technical sections of flow trails, the BMC Speedfox ONE is very powerful! It always looks like a rocket.
Main Features
Frame Group
The frame is made of full carbon and features all internal cables, giving the frame a very clean look. And even after I got through the mud, the internal cables made it easier to clean up the whole thing. This is necessary for mountain biking.
The entire frame is designed with an elegant silhouette, yet there are many small details worth noting. For example, guards, sag gauges, and baffles to keep all cables between the rear fork and main frame hidden are installed under the downtube and rear lower fork.
The designer's unique vision of a full-suspension bike can be seen in these exquisite designs. These are amazing little details that would be hard to do without riding experience.
Geometry
The frame geometry is of a more flexible design and is arguably the best for getting through winding sections of the mountain bikes I've ridden. The good steering is due to its shorter rear dropout fork (445mm), almost no length Stem (55mm), and 760mm handlebars.
And the whole body gives me a very aggressive experience when riding, allowing me to pedal very hard. I noticed it has a steeper head tube angle (68.3°) a very long top tube (634mm equivalent) and the aforementioned short rear dropout fork, which makes it as aggressive as it looks.
I felt like my whole body weight was on the rear tire while riding, which probably made me feel like the front tire would drag off the ground when climbing.
Such thinking is completely superfluous. When doing overly steep climbs, I have to take my body out of the saddle, which is where all my power would be on the handlebars and there would be no lifting of the front tire.
Components and Specifications
SRAM XO1 Eagle 1×12 Drivetrain
It's everywhere from the lightest XC bikes to the sturdiest endurance bikes. Despite having a relatively expensive price tag, it makes a qualitative leap in gear range, performance, and gearbox durability.
If you're not the most professional racer and aren't looking for the ultimate in lightweight, the XO1 is the strongest and most cost-effective at this price point. Even though it will be more expensive than the XTR package, the faster, cleaner, quieter shifting performance, and more efficient driving feel that it offers can be driven on all the roads you need.
Trailsync System
BMC has designed a unique integrated system for speedfox that controls both the shock and seat post via a remote control mounted individually on the handlebars, calling it the Trailsync system. This is a very special design and riders' opinions about it are polarized. So this system gives riders a special feeling on the track.
When the rider's dropper bar is extended to its maximum height, the shock locks in place, making flat roads or climbs more efficient. Once the rider reaches the top and starts to descend, the dropper is lowered while the shock is turned on, allowing it to rip down the wash. The great thing about this system is that the rider can control the opening and closing of the rear shock with a toggle in their hand while riding, provided it is paired with the dropper going up and down. To be honest, in my actual riding, operating simultaneously is convenient for me.
Maxxis Forekaster 29×2.35 Tires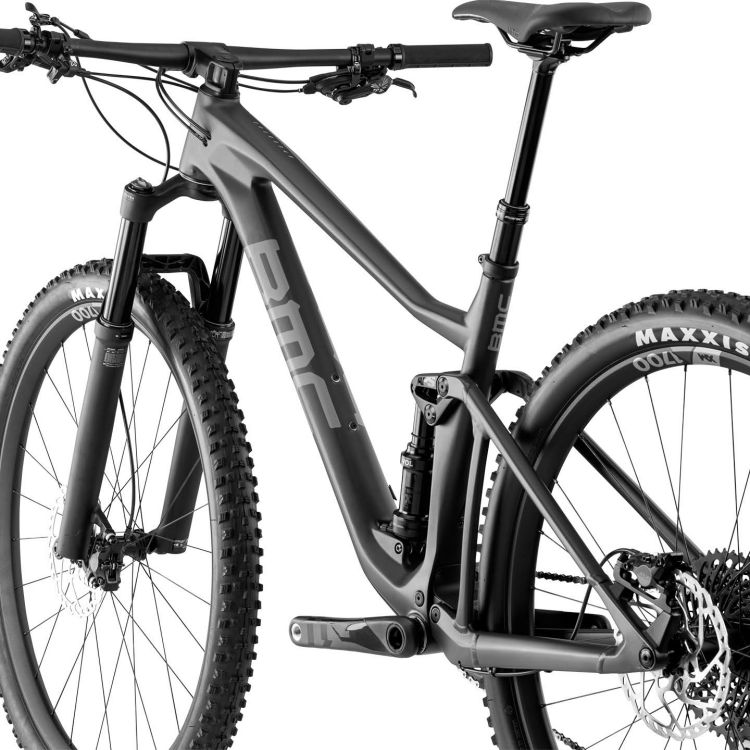 Compared to a typical full-suspension mountain bike, the BMC Speedfox ONE does not have an overly thick tire width. This also proves why the BMC Speedfox ONE can achieve better steering on downhill sections.
While riding I can concentrate fully on the downhill sections, the full vacuum tires have stronger abrasion resistance, and even in the case of a ruptured tire, the self-replacing fluid inside the tire can quickly repair smaller cracks.
The surface of the tire is rich in aramid particles, and I can feel excellent traction when going downhill, as well as cushioning particles for absorbing vibrations on rough terrain.
RockShox Pike RCT3 Fork
This is a tried and true fork that is perfect for mountain biking and I use it on multiple of my bikes year-round. It's obvious that it can handle bumpy terrain with ease and will last a very long time without being prone to error.
I've used other forks that are only 120mm and a massive crash on the drop would easily bottom it out. And the smaller amount of air doesn't leave much room for more pressure. But that didn't happen with this fork (130mm), so I felt it was a good fit.
Other versions of BMC Speedfox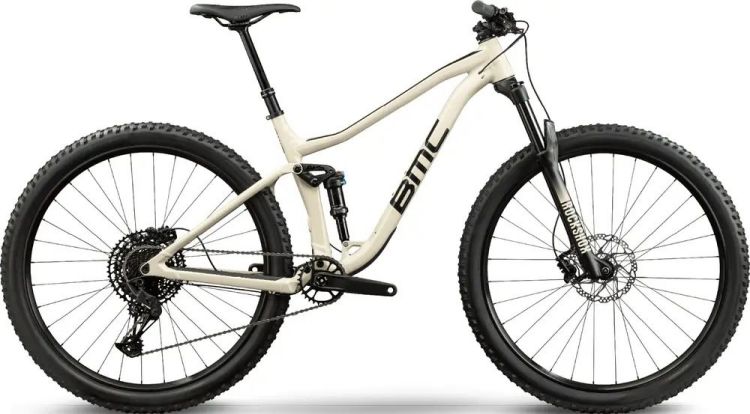 In this review, we reviewed the BMC Speedfox ONE, the SRAM NX Eagle drivetrain has really good performance in real-world experience, and this bike can also be called a versatile climber and descender.
In this regard, we also looked up the 2022 BMC Speedfox AL ONE, which is cheaper and uses more affordable parts for both the fork and drivetrain. The carbon frame is replaced by a full aluminum frame, which can satisfy more consumers for the riding experience. But the price/performance ratio may be far less than an excellent version like the BMC Speedfox ONE. If your budget is not so high, I think the 2022 BMC Speedfox AL ONE is also a good choice.
What we like about it
Trailsync integrated dropper and rear suspension are very easy to maneuver
Excellent steering performance
The carbon frame makes the whole very lightweight
Seatposts provide more user-friendly adjustment
Maxxis Forekaster outer tire provides excellent passing and grip
RockShox Pike RC is tried and true, durable, and appropriate
What we don't like about it
Somewhat expensive
Smaller size range
FAQ
Can I ride the BMC Speedfox ONE on the road during the week?
The BMC Speedfox ONE is certainly up to the task, whether it's gravel forest roads or city roads. You can lock in the front and rear cushioning and ride lightly on the road, although they're a little different than road bikes.
2、 What brand of tires are they for BMC Speedfox ONE? What are the sizes?
Maxxis brand, Maxxis Forekaster 29×2.35 size outer tire is used for both front and rear tires.
3、 What heights does the BMC Speedfox ONE fit?
The size chart of BMC Speedfox ONE is as follows.
(These sizes are only a general guide, the true fit may vary from person to person and the easiest way to find your size is best to go for a test ride.)
| | |
| --- | --- |
| Rider height (cm) | Frame size |
| <173cm | SM |
| 171cm-182cm | MD |
| 180cm-189cm | LG |
| 187cm+ | XL |
2022 BMC Speedfox ONE Specs
Build
| | |
| --- | --- |
| Frame | Speedfox Premium Carbon & Aluminium with APS Suspension System 120mm Travel, Internal Cable Routing, PF92 Bottom Bracket, Post Mount Disc, 12x148mm Thru-Axle BB Standard: BB86/BB92, Press Fit Color: Anthracite |
| Fork | Fox Float 34 Rhythm Grip Fork |
| Rear Shock | Fox Float DPS Performance Elite Evol Shock |
| Bottom Bracket | BB86/BB92, press-fit |
| Stem | BMC MSM01 |
| Handlebar | BMC MFB02 Alloy 750mm |
| Saddle | WTB Silverado Comp |
| Seatpost | X-Fusion Manic Dropper 125/150mm 316mm |
Groupset
| | |
| --- | --- |
| Rear Derailleur | SRAM NX Eagle |
| Crank | SRAM X1 Eagle 1000 34T |
| Shifters | SRAM SX Eagle |
| Cassette | SRAM NX Eagle 11-50T |
| Chain | SRAM SX Eagle |
| Brakes | SHIMANO Deore / SHIMANO SM-RT54 Rotors (180/180) |
Wheels
| | |
| --- | --- |
| Rims | Alex MD30 30mm Inner Width |
| Front Hub | SHIMANO HB-MT400-B/FH-MT400-B |
| Rear Hub | SHIMANO HB-MT400-B/FH-MT400-B |
| Tires | Maxxis Forekaster 29×2.35 TR EXO |
Video
Comparison Table
2022 BMC Speedfox ONE vs 2022 Trek Top Fuel 8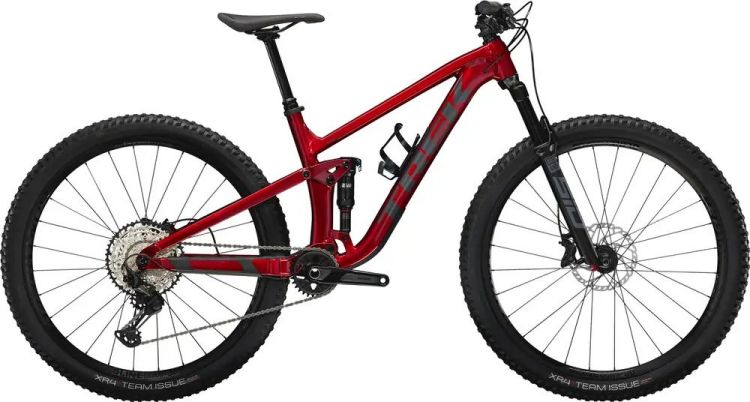 Both bikes are good full-suspension mountain bikes in this price range. And, in contrast, the BMC Speedfox ONE uses the superior Maxxis outer tire, which I've marveled at when riding it for its grip.
The Trek Top Fuel 8, on the other hand, sticks with its own Bontrager XR4 Team Issue outer tire. This may be a better match, but it is lacking in performance.
In terms of cushioning travel, the BMC Speedfox ONE has a longer 130mm fork, which is very important to me. I mentioned above that the 120mm fork always felt like it lacked travel and would bottom out. This is not the case with the 130mm.
So if you're like me, you're very concerned about the fork bottoming out easily. Then BMC Speedfox ONE will solve this trouble.
Learn More: 2022 Trek Top Fuel 8 Review- How Will It Perform In The Face Of Tough Terrain?
2022 BMC Speedfox ONE vs 2022 Marin Rift Zone 29 Carbon 2
Will the price difference have the same performance? In my experience, it is indeed all very good.
It's worth noting that the Marin Rift Zone 29 Carbon 2 has a long Reach (480mm) in the frame geometry, which makes it more comfortable and smooth to ride. However, it is much less agile in steering and the long bodywork is more strenuous when climbing. The BMC Speedfox ONE's short Reach (450mm) is the opposite of this. It has a higher degree of agility and handling precision, and the fully compressed frame allows it to be more direct and aggressive.
Overall, it's up to you whether you choose the aggressive and agile BMC Speedfox ONE or the comfortable and stable Marin Rift Zone 29 Carbon 2. But since the descent is fast and responsive, I think a full suspension bike needs to be more of an aggressive and agile experience. The 2022 BMC Speedfox ONE would be a better choice.
learn more:Is Marin Rift Zone 27.5 1 Worth Buying? [Marin Rift Zone 1 Review]
2022 BMC Speedfox ONE VS 2023 Norco Fluid FS A1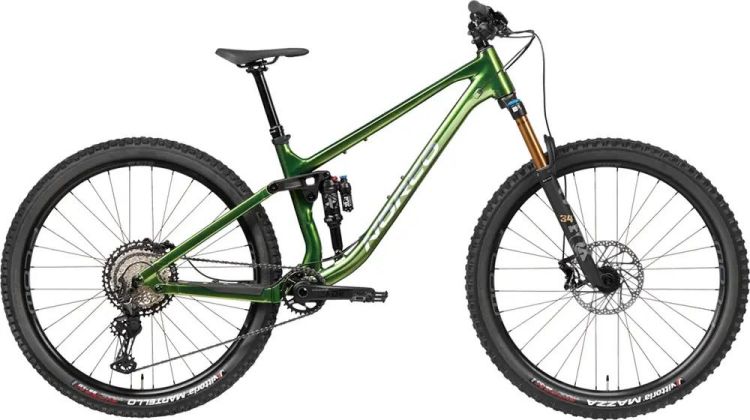 From the frame material, it is easy to see that the aluminum frame of the Norco Fluid FS A1 has a higher weight, but it has stronger fork cushioning and a little lower price. The 2022 BMC Speedfox ONE is a full carbon frame with better shock absorption and lighter weight.
As you can see, the 140mm long fork cushioning is long enough. However, due to the weight of the body, I found in my use that there is not much difference between it and the BMC Speedfox ONE 130mm cushioning in actual riding.
Both bikes have similar geometry, which makes them not too different in terms of riding experience, both are aggressive and agile. During our experience, we found that the Norco Fluid FS A1 has a lower battle height, which may be good news for riders who are not very tall. If you are not very tall, the 2023 Norco Fluid FS A1 would be a good choice for you.
2022 BMC Speedfox ONE vs 2022 Cannondale Habit Carbon 2
There is not much difference between the two in terms of configuration comparison, but in actual riding, you can feel that there must be a big difference between the two bikes in terms of geometry. First of all, the Cannondale Habit Carbon 2 has a long front center (778mm) and a long wheelbase (1245mm), while the BMC Speedfox ONE has a very short front center (728mm) and also a short wheelbase (1169mm). There is also a very big difference in this experience.
Secondly, the BMC Speedfox ONE focuses on a more aggressive riding experience and has a more agile handling experience. The Cannondale Habit Carbon 2 is the most comfortable of all the models compared, and the most suitable for long-distance off-road riding. But with that comes a bulky body and less agile handling. The inflexibility is not good news for fast descents. So I would prefer the 2022 BMC Speedfox ONE because it has a more agile handling feel.
In case, the above comments are helpful to you, please remember to share the subscription. Have a great day!
learn more:Cannondale Habit Carbon 3 Review [2022]-Get On It And Ride Down The Hill