We use affiliate links and may receive a small commission on purchases.
Bianchi Impulso Pro – Ekar 1x13ps
Price: $5,700
Tire: 700×37c
Frame: Carbon
Brake: Campagnolo hydraulic disc
Gear: 1×13-Speed
What we like about it: An endurance bike with premium components and a carbon frame for a great riding experience.
What we don't like about it: The price is higher.
Rating (4.8/5)
Introduction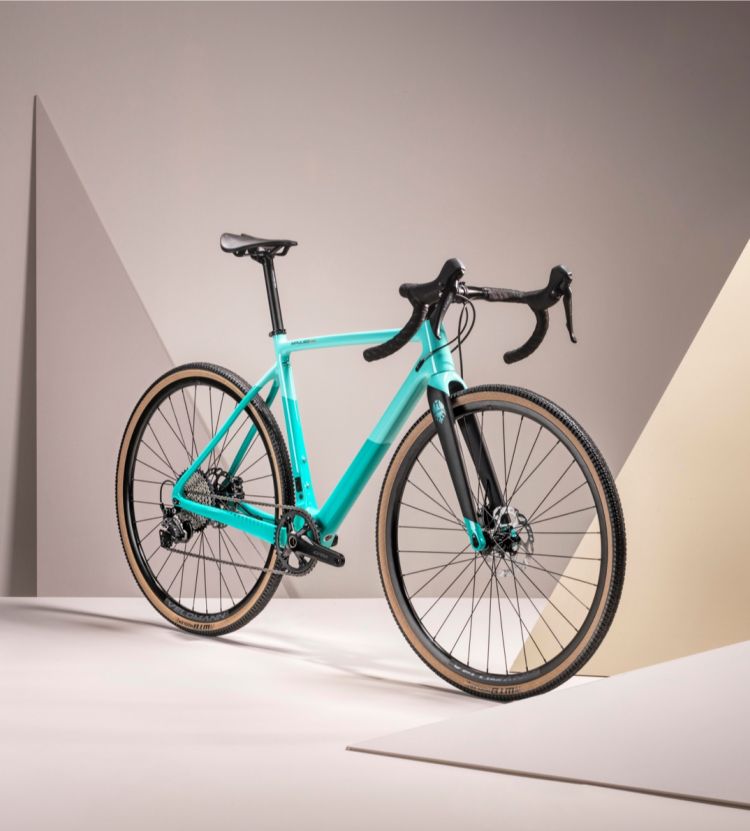 As an enduro bike with an ultra-light carbon frame, the Bianchi Impulso Pro has super high-end components and hydraulic discs, as well as all the characteristics of a racing bike.
It has smooth lines of the body, with a full carbon frame and fork. The most intuitive effect of these is the absolutely strong, absolutely light body, superior damping performance, and the assistance brought to high-speed riding.
The 700 x 37c moderately wide puncture-resistant tires can easily take you over a variety of terrain.
The powerful Campagnolo hydraulic disc brakes ensure your safety while riding. 1×13-speed shifting allows you to make adjustments for any terrain changes, and the 1× drivetrain doesn't put too much of a burden on the weight.
In addition, the comfortable ModelX Superflow FeC saddle with ergonomic geometry guarantees that you won't get too fatigued during your ride. Take the Bianchi Impulso Pro and start your adventure! It can bring you more than that!
Road Riding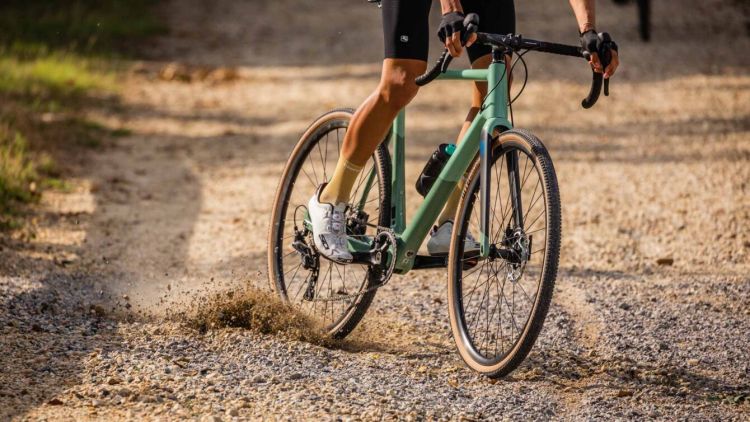 My love for the Bianchi Impulso Pro stems from the first moment I saw it. With its traditional sky blue color and minimalist geometric design, the Bianchi Impulso Pro fits the modern aesthetic and I couldn't help but choose it. But the Bianchi Impulso is not just an empty frame with an empty exterior, it also has superior performance and a great riding experience.
Bianchi Impulso repeatedly confirmed this to us during a three-month-long evaluation in Hastings, Michigan.
The Barry-Roubaix's roads are occasionally dusty and gravelly, but this is no problem at all for the Bianchi Impulso. Its 700 x 37c puncture-resistant wider tires can handle all kinds of rough conditions. Therefore, the strong grinding force it brought to the road gave me enough confidence for the rest of the ride.
The terrain at Barry-Roubaix is not flat, and uphill and downhill are all too common here. But the Bianchi Impulso's extensive 1×13-speed shifting system was enough to allow me to adjust gears accordingly in the face of changing terrain. Although the gravel on the road occasionally caused some very slight vibration, this became less noticeable and even negligible after the Bianchi Impulso's full carbon fork treatment.
Faced with the extra mileage that the Barry-Roubaix track has to offer, I wasn't worried about the rest of my trip. Because the Bianchi Impulso has comfortable geometry and the SelleItalia ModelX Superflow FeC saddle, is known for its comfort. And because of this, I didn't feel discomfort or stiffness in my limbs on my ride.
Not only that, the 170mm crank length maximizes my riding efficiency on the ride. This also means I can save a lot of unnecessary physical output.
The Campagnolo's hydraulic disc design is particularly sensible here. Because of the dusty ride, the fully enclosed design of the hydraulic disc does a good job of blocking out the unappealing gravel as well as the dust. This gives it a longer service life.
General Riding
I've had countless great experiences with the Bianchi Impulso, but I'd like to share the super smooth ride it gave me on a smooth stretch of asphalt. As we all know, while slick, thin tires can be a bit of a handful on rough roads, when it's back on a smooth enough road, the Bianchi Impulso can shine to the best of its ability.
The full-carbon front fork and frame are strong enough to ensure that the bike is also absolutely light. The simple geometry of the bike and the neat front end are designed to reduce wind resistance as much as possible to achieve faster-riding speed. The effect of this is reflected in the Bianchi Impulso, which is the absolute lightness of the body and pays the least physical expenditure to get the fastest riding speed. In addition, the moderate 700×37c tires reduce friction with the ground while also contributing to the riding speed.
That's why, as I rode the Bianchi Impulso along the smooth road, all I could focus on was the ever-expanding view and the wind whistling in my ears. This kind of flight-like experience is why I've always loved cycling.
The internal alignment of the Bianchi Impulso also gives it a smooth and neat appearance and makes it easier to clean the bodywork. The design of the water bottle cage mount on the center tube and down tube also ensures that I can carry enough water bottles on long rides.
Main Features
Frame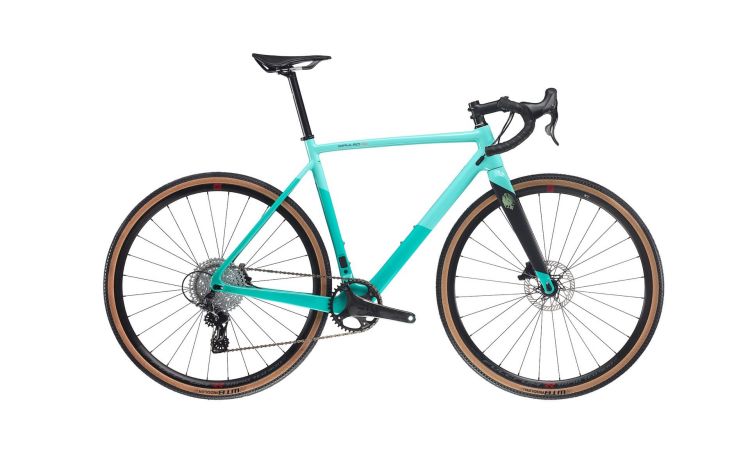 The Bianchi Impulso has an absolutely simple and classic geometric design and a very technical body with three color distributions. The collision of sky blue and mint green gives an extremely refreshing feeling, which is well balanced by the black fork.
The full carbon frame and carbon fork not only have a certain advantage in weight but also can be easily lifted by even a small woman. Although the weight is very light, it can not be doubted on the degree of sturdiness. The internal alignment design makes the body lines more simple and smooth while also increasing the aesthetics.
The water bottle mounting brackets equipped with the mid and downtube are of great use for travel, making it easy for riders to hydrate whenever and wherever they want.
Components and Specifications
Campagnolo Hydraulic Disc Brake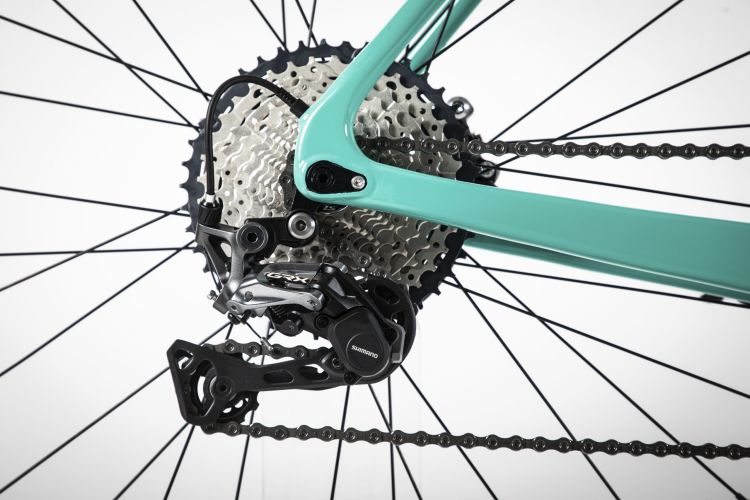 In the previous article, I already mentioned the clever design of Campagnolo hydraulic discs. But the Campagnolo hydraulic disc brake has more to offer than that. It is extremely easy to operate and when I need to brake, I just need to apply a little pressure on the lever and the Bianchi Impulso gives me timely feedback.
Hydraulic discs are usually only available on more high-end bikes than the more classic and traditional mechanical disc brakes. This is because hydraulic discs tend to be more expensive and offer better performance. It is also a coveted braking device for many riders.
Campagnolo EKAR 1×13 – Speed Drivetrain
The Bianchi Impulso has a generous 1×13-speed range of adjustment. It allows me to have enough gears to choose from no matter what kind of terrain I'm facing. And because the 1× speed adjustment is simple enough. So I can only take a small part of the effort out of the speed adjustment so that I can focus more on riding.
Not only that, but the reason why the 1× speed control is a more popular drivetrain for cyclists is its lighter weight. As we all know, the lighter the body weight, the less resistance is generated during the ride. Accordingly, less physical effort is required to drive the bike. Therefore, the Bianchi Impulso's 1×13-speed drivetrain is one of the components I like.
700 x 37c Tires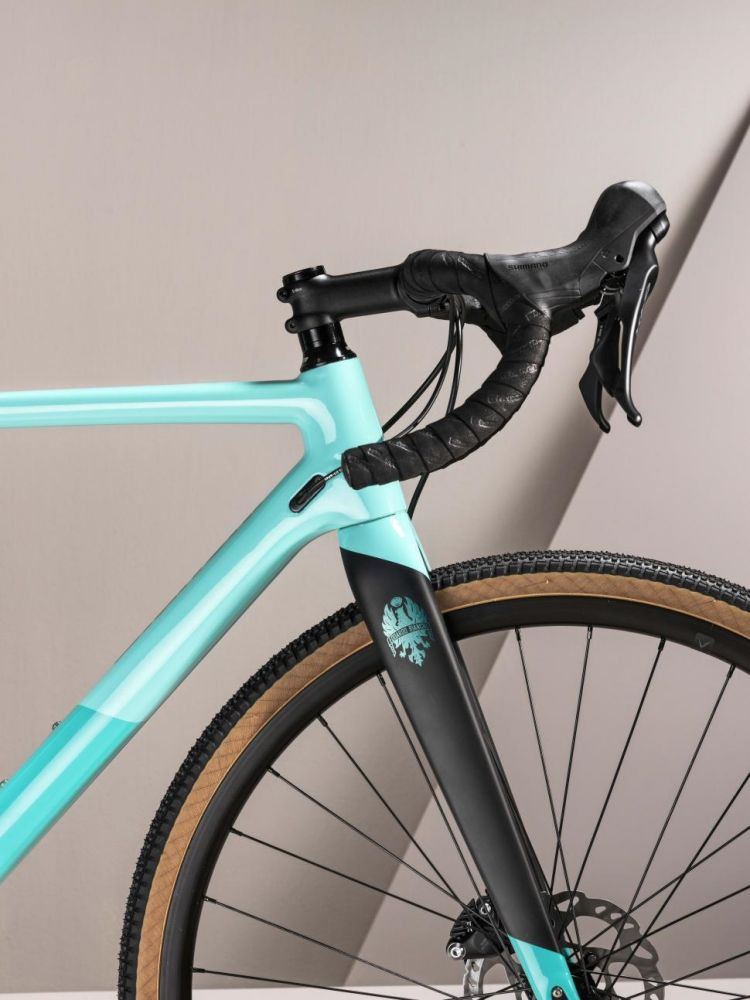 In terms of tires, which are of great concern to most cycling enthusiasts, the Bianchi Impulso has a standard 700 x 37c puncture-resistant tire. Such tires will not lose balance during the ride because of the narrow tread, and will not affect the riding speed because of the excessive friction between the wide tread and the ground.
Not only that, but the thinner tires contribute in terms of body weight. This is perfectly in line with Bianchi Impulso's design philosophy – to reduce unnecessary body weight as much as possible.
Other versions of Bianchi Impulso Pro
In the previous article, we have given a thorough overview of the performance of the 2023 Bianchi Impulso Pro – Ekar 1x13ps. But to make your choice even easier, we have also reviewed the 2022 Bianchi Impulso Pro – GRX 600 for your review.
2022 Bianchi Impulso Pro – GRX 600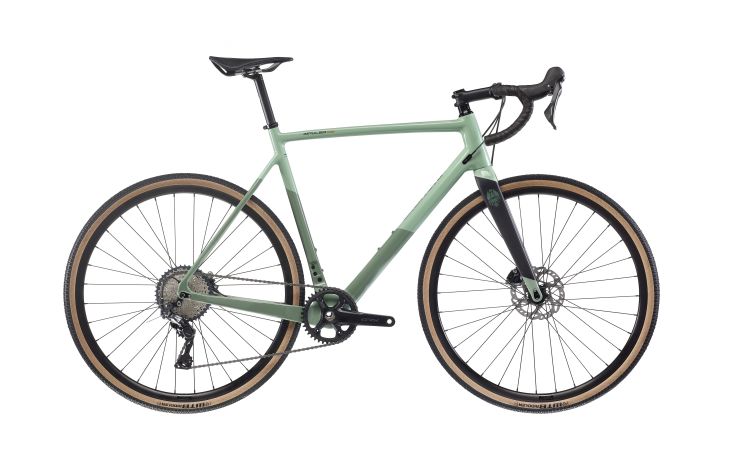 As the Bianchi Impulso Pro of the same series, the GRX 600 has a much better price. But accordingly, in terms of component performance, GRX 600 is a little weaker than Ekar 1x13ps.
Although the GRX 600 has the same carbon body and shock fork as the Ekar 1x13ps, which makes them both have the same lighter body. But unlike the Ekar 1x13ps, the GRX 600 has a 1×11-speed range, which is two speeds less than the Ekar 1x13ps. This meant that I had to make some compromises in terms of gearing when riding the GRX 600. In terms of tires, they are both coincidentally a modest 700×37c, and their near-identical geometry makes them both give me a near-identical ride.
In terms of braking, both opt for hydraulic disc brakes. However, the GRX 600 chose the more classic Shimano brand, while the Ekar 1x13ps chose the Campagnolo brand, which I appreciate more.
Therefore, I think both GRX 600 and Ekar 1x13ps are good choices. Only if you have a more adequate budget, I would recommend the Ekar 1x13ps more.
What we like about it?
Endurance bikes with high-grade components.
The full carbon frame not only has a strong enough appearance but is also very lightweight.
The 1×13-Speed drive system with a wide range of speed control.
The ergonomic and simple geometric design not only has an extremely comfortable riding experience but also greatly reduces the forward resistance during the ride.
The design of the interior alignment makes the body look neater.
Equipped with a water bottle holder mounting position, installed more conveniently for travel.
What we don't like about it?
Because the components are too high-end, they can be more expensive.
FAQs
What is the tire size of the 2023 Bianchi Impulso Pro – Ekar 1x13ps?
The tire size for the 2023 Bianchi Impulso Pro – Ekar 1x13ps is 700 x 37c.
What is the drivetrain of the 2023 Bianchi Impulso Pro – Ekar 1x13ps?
The 2023 Bianchi Impulso Pro – Ekar 1x13ps has a 1×13-Speed drivetrain.
What is the brake on the 2023 Bianchi Impulso Pro – Ekar 1x13ps?
The brakes on the 2023 Bianchi Impulso Pro – Ekar 1x13ps are Campagnolo hydraulic disc brakes.
2023 Bianchi Impulso Pro – Ekar 1x13ps Specs
Build
| | |
| --- | --- |
| Frame | Impulso Pro carbon disc brake flat mount, FM-JM09- 2021, press fit 86.5×41 headset 1.5″ – 11/8″, thru axle 12×142, sizes 48-50-52-54-56-58-cmBB Standard: BB86/BB92, 86mm, Press FitColors: Ip – Celeste Ck16 Aquamarine; It – Sage Escape |
| Fork | Bianchi full carbon disc, 1.5″- 1.1/8″, flat mount caliper, thru axle 12x100mm |
| Bottom Bracket | Fsa BB-CF86/CZ Stainless bearing for Road carbon / alloy MegaExo crankset Press-Fit 86,5×41 |
| Headset | Fsa Orbit C-40-ACB ; NO.42/ACB, Sealed ACB Bearings 1.1/8″ ACB Top, 1.5″ ACB Btm (for 46/56mm Head Tubes), w/15mm alloy cap |
| Stem | Velomann ST182A, Alloy 6061, raise +/ – 7°, height 38mm, Oversize, 1 1/8″, sandblast finish with bolts zinc black finish; 70-90-100-110-120, Ext: 80mm- 48-50cm,90mm-52~54cm,100mm-56cm,110mm-58cm |
| Handlebar | Velomann RA68A Aluminum 6061, reach 70mm, flare angle 16°, drop cc 120 x size 40cm and 130mm x size 42-44-46cm, Size: 400mm- 48/50cm; 420mm-52/58cm,440mm -58cm |
| Saddle | SelleItalia ModelX Superflow FeC, lenght/wide 245x145mm |
| Seatpost | Velomann SP02.1 Alloy shaft AL6061, alloy head, 15mm offset, 350mm, 27,2mm, Length: 350mm-48/58cm |
| Grips | Cork w/ Bianchi logo |
Groupset
| | |
| --- | --- |
| Rear Derailleur | Campagnolo EKAR 1x13sp |
| Crank | FSA Gossamer Pro BB386EVO 40T 1×13 Campy 13S 2-Tone Black B1 w/o BB, model No CK-6124S, Crank Length: 170mm-XS-S, 172.5mm-M-L, 175mm-XL |
| Shifters | Campagnolo EKAR |
| Cassette | Campagnolo EKAR 13s 10-44T |
| Chain | Campagnolo EKAR 1×13 – 117 |
| Brakes | Campagnolo included in the shifter |
| Brake Levers | Included w/shifters |
Wheels
| | |
| --- | --- |
| Rims | Fulcrum Rapid Red 900 DB 2WF-R C22 AFS, alloy, 2-Way fit Ready, rim profile 24mm, width 27,1mm, 28 spokes, HH12- rear HH12/142 N3W |
| Tires | WTB Riddler Comp 700 x 37c, 30tpi Casing |
| Disk Rotors | Campagnolo Rotor, AFS 160mm |
Video
Comparison Table
2023 Trek Domane SL 6 eTap Gen 3 vs Bianchi Impulso Pro – Ekar 1x13ps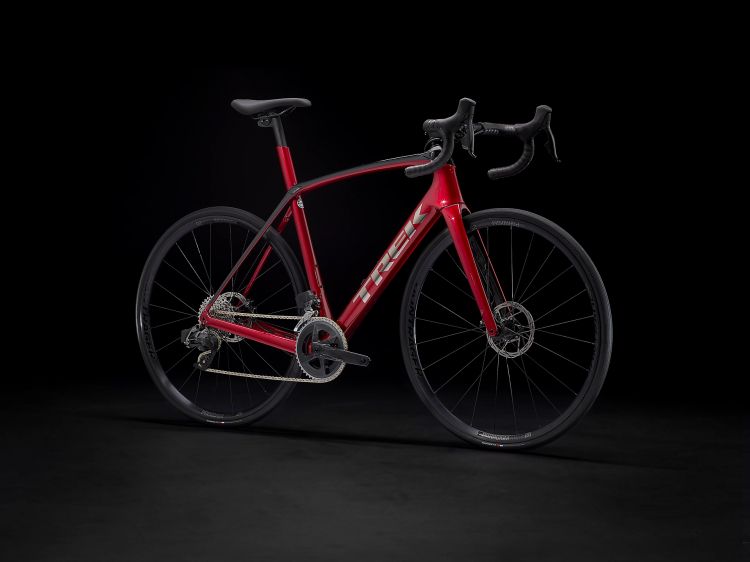 Also, a premium enduro road bike, both the Trek Domane and the Bianchi Impulso share the same choice of all carbon for the frame. This is to reduce the weight of the bike as much as possible without sacrificing its robustness. In the choice of hydraulic discs, the two also coincidentally opted for the powerful hydraulic disc braking method. This braking method has an extremely sensitive braking effect, not only easy to operate, and often longer life.
Other than that, there is nothing more important to an enduro bike than its comfortable riding feel. Fortunately, both the Trek Domane and the Bianchi Impulso allow me to stay in a comfortable riding position during the ride. The Bianchi Impulso's SelleItalia ModelX Superflow FeC saddle was a great relief from the fatigue I felt during long rides.
Therefore, in my opinion, Trek Domane and Bianchi Impulso are both good choices.
learn more:2023 Trek Domane AL 4 Disc Review – Chariot Suspect Revealed!
2022 Giant Defy Advanced 0 vs Bianchi Impulso Pro – Ekar 1x13ps
The Giant Defy, which also has a high-end carbon frame, is comparable to the Bianchi Impulso in terms of weight. Because of this, the two have the same light ride.
The difference is that the Bianchi Impulso's tires are moderately wide 700 x 37c, while the Giant Defy is slimmer 700 x 32c. It's true that the 32c tires create less drag during travel and ride faster. However, I also felt the better smoothness of the Bianchi Impulso's wider tires on my ride. That's something that the thin tires don't give me.
In terms of braking, both also choose the more sensitive and better-performance of hydraulic disc brake. Not only that, but both also have a very wide range of speed control. The difference is that the Giant Defy has a 2× speed range, while the Bianchi Impulso has a 1× speed range, which is preferred by more cyclists. This design is not only for more convenient shifting but also to reduce unnecessary body weight.
All things considered, I still prefer the Bianchi Impulso with its simple speed control.
learn more:Giant Defy Advanced 2 Review [2022]- Fast Enduro Star
2022 Specialized Roubaix Comp – SRAM Rival eTap AXS vs Bianchi Impulso Pro – Ekar 1x13ps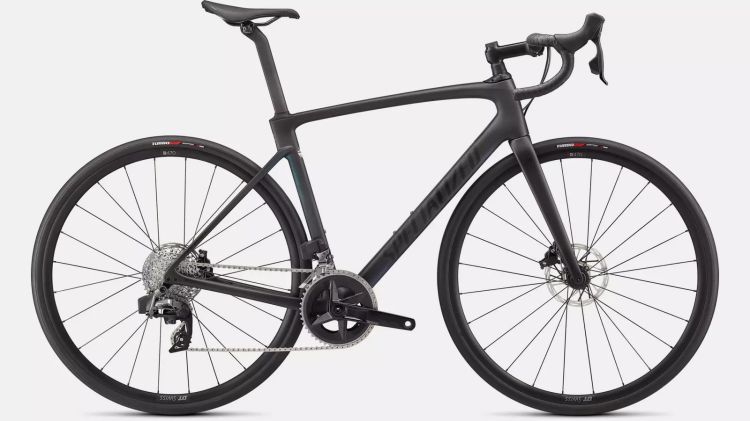 At a comparable price, the Specialized Roubaix also has the same superior performance as the Bianchi Impulso.
First of all, they both have light but strong carbon frames and carbon shock front and rear forks. This design gives them a strong but light frame. This means that when I ride them separately on the same flat road, they give me a nearly identical and smooth ride.
However, they also have something very different. The Specialized Roubaix tires are a little narrower than the moderately wide tires on the Bianchi Impulso. So when I'm riding fast, the Specialized Roubaix is a little faster.
But I still want to say that whether it's a wider tire or a thinner tire, what you like is what matters most. Therefore, in my case, the Specialized Roubaix and the Bianchi Impulso are indistinguishable.
2022 Scott Addict 10 vs Bianchi Impulso Pro – Ekar 1x13ps
I had high expectations when I did the comparison review of these two bikes. The Scott Addict's braking system is the SRAM hydraulic disc brake, which is highly regarded in the cycling industry. I was curious to see if Bianchi Impulso's Campagnolo hydraulic disc brakes could compete with them.
I was pleasantly surprised that when I rode them on the same stretch of road, both gave me the most timely response the first time I applied pressure to the lever.
Not only that, but both have extremely smooth geometry and a full carbon frame. Plus they both have smooth, thin tires, which makes them both have the same light and fast riding experience.
So, for my personal feelings, I think both Scott Addict and Bianchi Impulso are great choices.
In case, the above comments are helpful to you, please remember to share the subscription. Have a great day!
Learn more :2023 The Best Gravel Bike (High-end Version)