We use affiliate links and may receive a small commission on purchases.
Kona Dew Review
Price: $659
Frame: Aluminum
Wheels: 650b×47c
Gear: 2×8
What we like about it: The affordable price gives riders a comfortable, reliable trip around town.
What we don't like about it: The components are more common.
Rating (4.75/5)
For avid cyclists, the Kona brand is certainly no stranger as they have been a bicycle manufacturer focused on cycling for over 30 years. Kona bicycles gave me the initial impression of reliability and safety. They are passionate about creating the most durable and practical bicycles with a high value-for-money budget.
As we introduce to you today, the Kona Dew, part of their urban commuting series. They offer a friendly price for those who want comfortable travel, more fun, and higher efficiency.
Whether it's the solid aluminum frame of the Kona Dew, the reliable 2×8 drivetrain, solid aluminum frame, comfortable geometry, smooth 650b x 47c tires, or other practical accessories, they are a unique combination that provides riders with high-quality riding while ensuring safety.
Below we will analyze the riding experience, specifications, and other versions of the Kona Dew. If you want to learn more about bicycle reviews, you can follow us.
City Road Riding
I believe that like most people, the initial purpose of buying a commuting bicycle is to reduce commuting pressure. After all, on days with good weather, cycling is more economical and fun than driving.
Riding Experience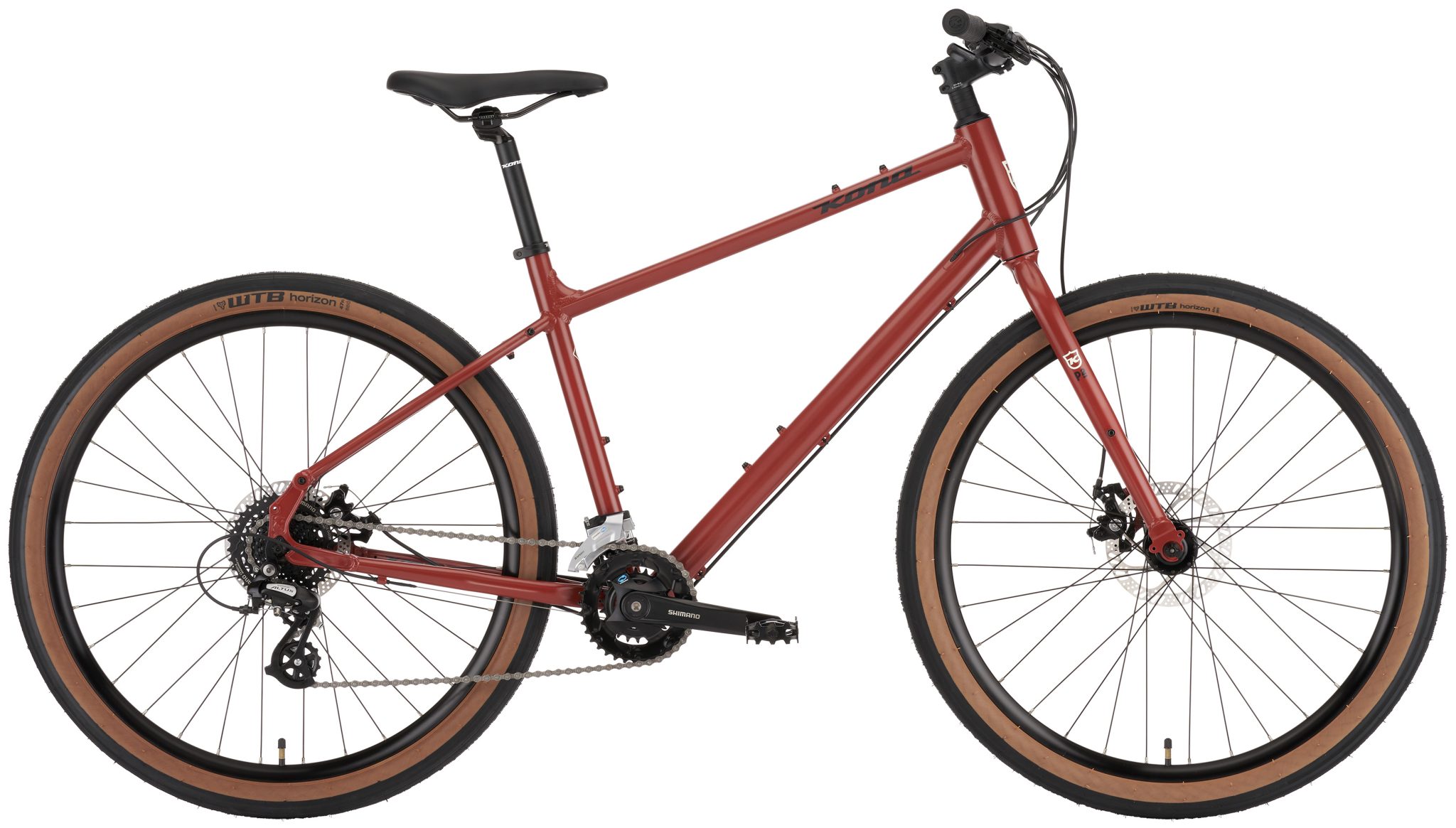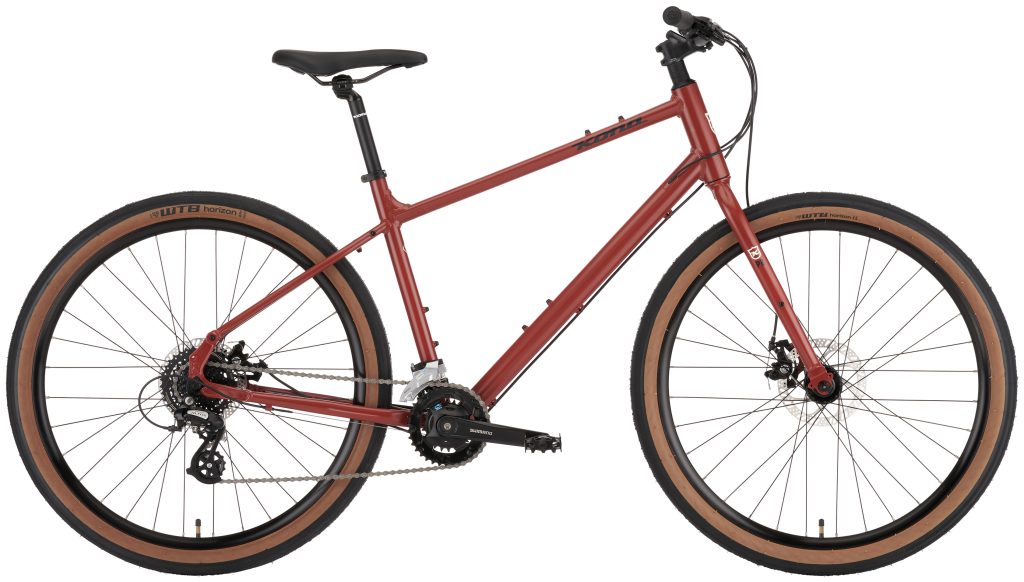 Before setting off, I also booked accommodation through Skyscanner to give myself ample space to rest and prepare. My liking for Kona Dew is largely due to its comfortable riding experience. Compared to the geometry of a typical commuting bicycle, the Kona Dew may be closer to the frame structure of a comfort bike. Because the stack/reach ratio of up to 1.47 is comfortable, I can sit upright and straight. This is a very familiar posture for me who works in an office all year round.
Of course, the Kona Commuter's seat post and saddle, as well as the Kona Key Grip, also contribute to this comfort. When cruising on this bike, I feel like I'm riding on a luxury yacht. They not only effectively relieve bumps like leather sofas but also provide the most comfortable support for my shoulders and hands. When the breeze blows on my face, it feels like going back to the time of yacht vacations in Hawaii, comfortable and fun.
Road Performance
In addition to the high-quality ride, I was also quite satisfied with Kona Dew's performance on the road.
Based on the reliable Shimano Altus or Prowheel CW TM-CY10, 22/36t crank, this bike has a very high drivetrain efficiency. Perhaps it is also inseparable from its comfortable geometry and scientific saddle design. Many times, I did not feel the strain when pedaling, and my legs were able to pedal fast, but not sore and numb.
Of course, this is not possible without the wide, slick 650 x 47c WTB Horizon Comp tires. Compared to multi-section tires, these WTB Horizon Comp tires are, obviously, better suited for urban surfaces. They enable faster rolling while providing higher passability and shock absorption than typical road bike tires. I didn't have to worry about being unstable or slowing down when I hit "obstacles" like sewers and vertical drains on the road. I just pedal and the bike passes easily. The Kona Project Two Disc fork with Kona Key Grip also protected my hands and shoulders well.
Uphill or downhill
While the Shimano Altus shifter can't match the modern, more technologically advanced Di2, it's responsive and silky smooth enough that I have no complaints about it.
Whenever I encountered an uphill section, the chain climbed up to the largest freewheel with ease as I flicked the shifter. With the pedal and crank driving, the bike easily ran up the steep slope. At this point, the Shimano Altus 2×8 drivetrain is not exactly high-end, but it did make it easy on my legs.
I have to admit that the Shimano Altus doesn't have that high of a premium rating. So I wasn't impressed with the drivetrain on the downhill. But it doesn't matter, because the acceleration of gravity graces me with enough speed to enjoy the thrill of the wind whistling in my ears. Of course, for safety, many times, I would use the brakes a little to prevent accidents.
Although the Tektro MDM280 Mechanical is not as quick and precise as the hydraulic brake, it is also very efficient. I only have to go through the grip strength and it has insight into what I need. What's more, when it comes to rainy days, I don't have to worry about losing control of my speed.
Specification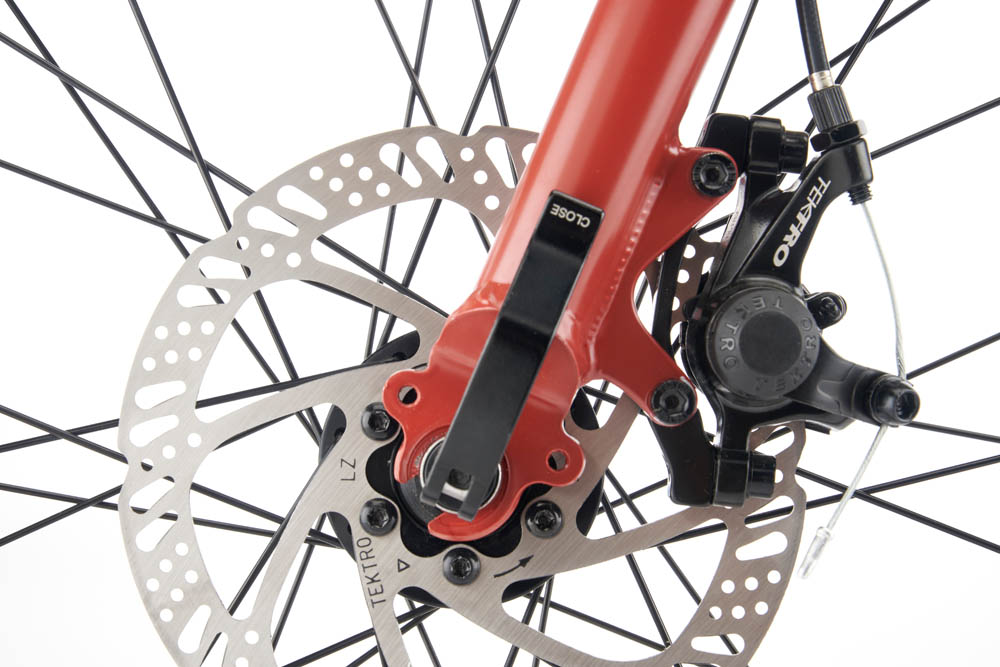 Similar to most bicycles at this price level, Kona Dew also uses solid and durable aluminum as its frame material. Although it is not the lightest option, it is a synonym for sturdiness, durability, and reliability.
The Shimano Altus 2×8-speed drivetrain paired with Tektro MDM280 Mechanical brakes, although not high-end, is certainly enough for riders to handle daily commutes.
The positioning of the Kona Dew is as a city commuting bike, but its comfortable geometry and wide 650×47c WTB Horizon Comp tires give it a hybrid power characteristic. Whether used for fitness or multi-terrain riding such as on roads or gravel, it can combine performance, comfort, and reliability to give riders more fun.
Other Versions of the Kona Dew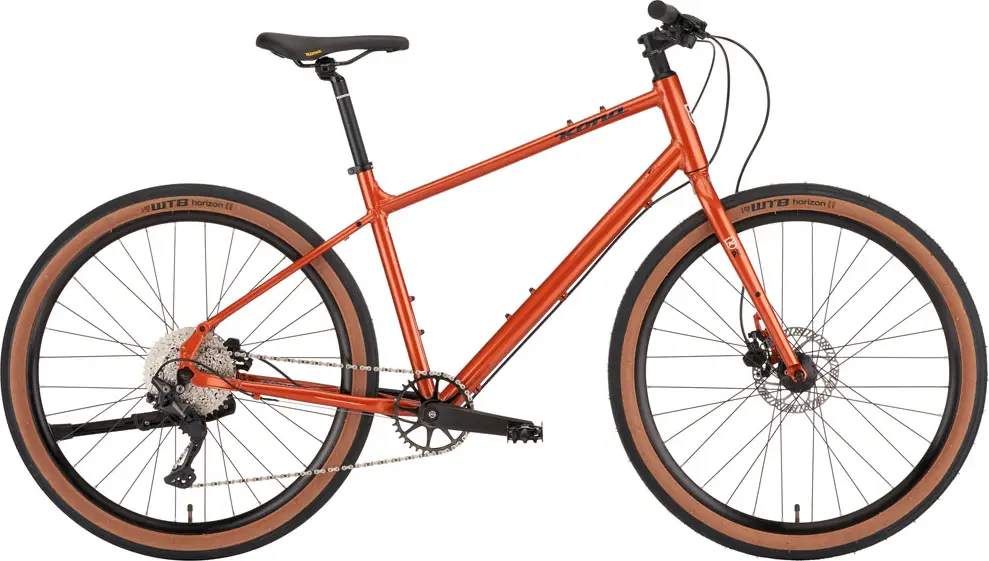 In fact, for riders with a more sufficient budget, the other versions of Kona Dew, such as the 2022 Kona Dew Plus, will be more popular. This is because Kona Dew Plus has made improvements to the drivetrain and braking system that Kona Dew fans most want to upgrade to enhance the riding experience.
In terms of the drivetrain, the Kona Dew Plus uses the Shimano Deore 1×10-speed system, which is more cost-effective than other similar bicycles at this price level. Riders not only have a smoother and smoother shifting experience but also have larger gears to handle uphill sections.
In terms of the braking system, the Clarks M2 Hydraulic is more attractive than the mechanical disc brakes of Kona Dew. Users can brake more quickly and accurately while also saving effort and being safer.
Therefore, for riders with a more sufficient budget, we recommend the more cost-effective 2022 Kona Dew Plus.
Follow us for more information.
What do we like about it?
The affordable price gives the rider more possibilities to experience this cost-effective bike.
Sturdy and durable solid aluminum frame with plenty of quality assurance.
The super comfortable geometric shape with Kona Commuter accessories pulls the comfort level full circle.
Super high drivetrain efficiency that will not tire the rider.
The wide WTB Horizon Comp tires are more hybrid and capable of challenging multi-terrain surfaces.
The reliable Shimano Altus 2×8-speed gearing is designed to help every rider tackle climbs and sprints with ease.
What don't we like about it?
The components are not high-end, but very practical.
FAQs
What kind of components are used in this bike?
Although the 2022 Kona Dew is not high-end in terms of component selection, it justifies the price. the Shimano Altus 2×8-speed shifting system, paired with the Tektro MDM280 Mechanical combination, offers superb value for money.
What is the wheelset of this bike like?
In terms of wheelset selection, Kona Dew uses Double Wall alloy wheels on one hand to ensure the durability of the bike. On the other hand, the 650b x 47c tires of WTB Horizon Comp are used to allow riders to easily handle more terrain for more riding fun.
How to choose the size of the Kona Dew?
The Kona is available in 6 sizes to give riders more adaptability, as the bike has a 650b wheel diameter and is more inclusive of smaller riders. Users can refer to the table below to choose the right bike. Of course, the most effective way to find the right size is to test ride.
| | | |
| --- | --- | --- |
| Rider Height (cm) | Rider Height (in) | Frame Size |
| 152-160cm | 5'0″-5'3″ | Small |
| 157-170cm | 5'2″-5'7″ | Small, Medium |
| 168-178cm | 5'6″-5'10" | Medium |
| 175-183cm | 5'9″-6'0″ | Medium, Large |
| 180-188cm | 5'11"-6'2″ | Large, XL |
| 185-196cm | 6'1″-6'5″ | XL |
Kona Dew Specs
Build
| | |
| --- | --- |
| Frame | Kona 6061 Aluminum ButtedColors: Satin Turismo Olive; Satin Bloodstone w/ Charcoal & Bone Decals |
| Fork | Kona Project Two Disc |
| Rear Shock | n/a |
| Bottom Bracket | Feimin 68mm |
| Headset | Feimin FP-H863 |
| Stem | Kona Control |
| Handlebar | Kona Aluminum Riser |
| Saddle | Kona Commuter |
| Seatpost | Kona Commuter 27.2mm |
| Pedals | Feimin Platform |
| Grips | Kona Key Grip |
Groupset
| | |
| --- | --- |
| Rear Derailleur | Shimano Altus |
| Front Derailleur | Shimano Altus |
| Crank | Shimano Altus or Prowheel CW TM-CY10, 22/36t |
| Shifters | Shimano Altus |
| Cassette | Shimano Altus 11-34t 8spd |
| Chain | KMC Z8.3 |
| Chain Guide | n/a |
| Brakes | Tektro MDM280 Mechanical |
| Brake Levers | Shimano Altus |
Wheels
| | |
| --- | --- |
| Rims | Double Wall alloy |
| Spokes | Stainless 14g |
| Front Hub | Formula 100x9mm |
| Rear Hub | Formula 135x10mm |
| Tires | WTB Horizon Comp 650x47c |
| Disk Rotors | Tektro 160mm |
Video
Comparison Table
Kona Dew VS 2023 BMC Alpenchallenge AL THREE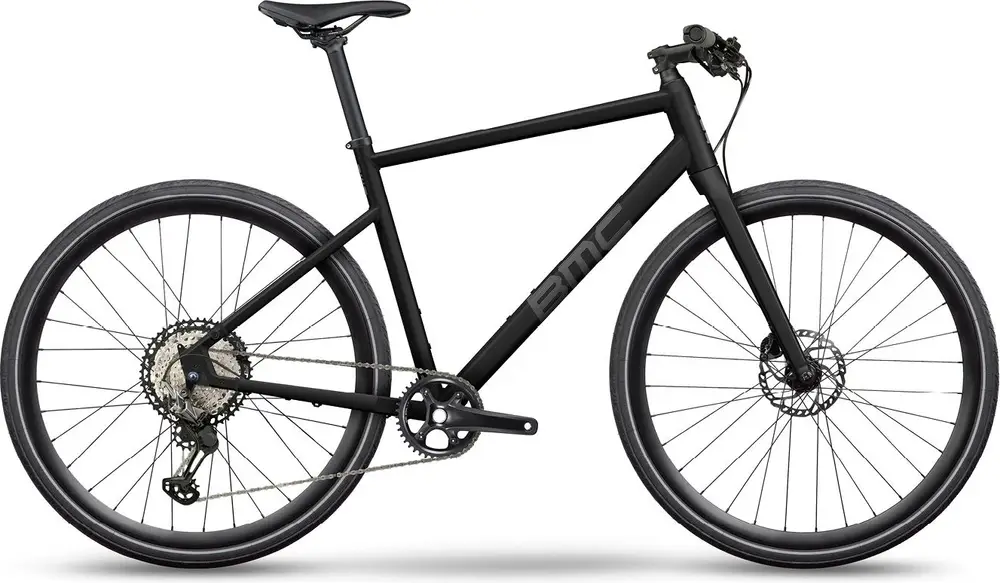 When it comes to commuter bikes, BMC bikes must have a place. The 2023 BMC Alpenchallenge AL THREE is also part of the more famous BMC Alpenchallenge series. The high-quality aluminum frame and fork make the 2023 BMC Alpenchallenge AL THREE lightweight and comfortable, yet sturdy and durable. The more high-end SHIMANO Deore 12 spd shifting system and SHIMANO BL-MT200 Levers Hydraulic Disc also make the bike more advanced sense.
While there is a difference of over a thousand dollars between the Kona Dew and the 2023 BMC Alpenchallenge AL THREE, that doesn't stop me from comparing them to each other. We admit that the BMC Alpenchallenge AL THREE is better, but that is given by its value. Even though the Kona Dew, which costs less, is not as good as the latter in terms of handling, there is not much difference between them in terms of comfort and safety performance.
Is BMC Alpenchallenge AMP AL CITY ONE Worth Buying? [2022 BMC Alpenchallenge AMP AL CITY ONE Review]
Kona Dew vs Liv Alight Disc 3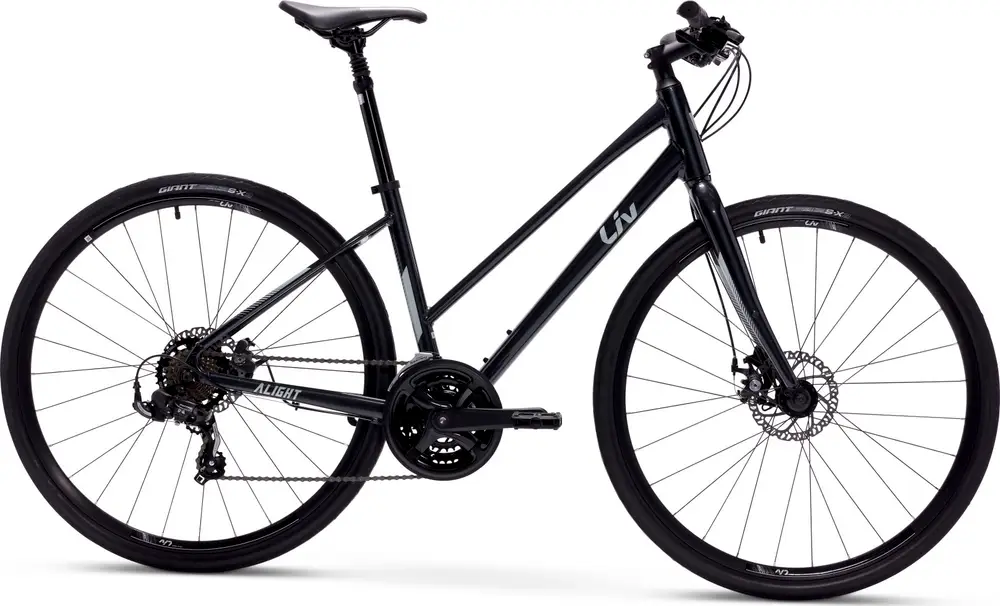 If you compare the Kona Dew to commuter bikes at the same price point, you can see its advantages more clearly. Take the 2022 Liv Alight Disc 3, which is popular with female riders, and the Kona Dew is not at a disadvantage compared to it. Anyone familiar with the Liv Alight Disc 3 knows that it is known for its comfort, and the high stack/reach ratio of 1.5 speaks volumes about its comfort.
However, the Liv Alight Disc 3 has a 3×7 multi-disc shifting mechanism which makes the bike bulky and heavy. It's not very practical, especially for city riding. The Kona Dew's 2×8 speed shifting system, on the other hand, is lighter and more effortless. In addition, the Liv Alight Disc 3's 700×38c tires are not as attractive as Kona Dew's 650b×47c tires in terms of both passability and shock absorption when it comes to wheelset selection.
Therefore, compared to commuter bikes of the same price level, this Kona Dew can be considered outstanding and outstanding.
Is Liv Rove 4 Disc A Good Bike? [2022 Liv Rove 4 Disc Review]
Kona Dew VS 2023 CUBE TRAVEL EXC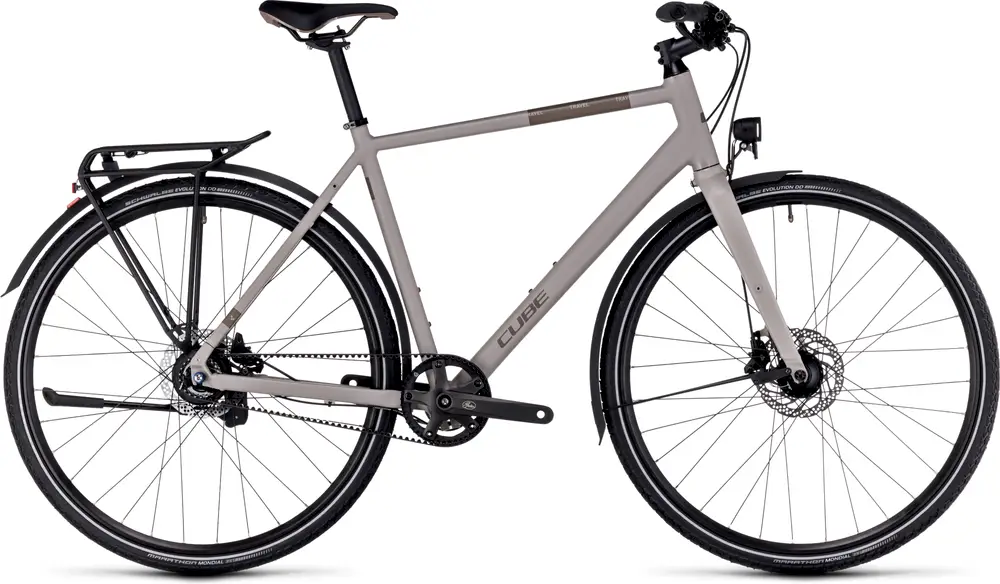 If you're looking for value for money, we don't recommend the 2023 CUBE TRAVEL, EXC. On the one hand, it's not cheap at €1,399, and its configuration, while high-end, is a bit of a disappointment for its price. Because most of its cost is to support the belt drive. On the other hand, the belt drive, although more silent, has a low market share, higher repair and maintenance costs, and is not as simple and hassle-free as a chain drive unit.
The Kona Dew is more than twice as cheap as the CUBE TRAVEL, EXC in terms of price. And it is more costly to maintain as well as more practical, riders can easily respond to climbs or descents by shifting the gears.
Is CUBE NUROAD PRO FE Worth Buying? [2023 CUBE NUROAD PRO FE Review]
Kona Dew vs 2023 Diamondback Division 2
Although Kona may not be as well-known as Diamondback, Kona often means better value for money. Instead of comparing the Kona Dew with the 2023 Diamondback Division 2, it's better to compare the similar version of the Kona Dew Plus with the Diamondback Division 2.
In terms of price, the Kona Dew Plus is almost $100 cheaper, but in terms of component configuration, the Kona Dew Plus is more high-end and cost-effective than the Diamondback Division 2. Compared to the Shimano Acera M3100 1×9-speed drivetrain of the 2023 Diamondback Division 2, the Shimano Deore 1×10-speed drivetrain of the Kona Dew Plus is more attractive because it has more gear ratios to help riders climb.
Therefore, for users with a higher budget, it is better to choose the cheaper and more cost-effective Kona Dew Plus instead of the Diamondback Division 2.
Is Diamondback Haanjo 2 Worth Buying? [2022 Diamondback Haanjo 2 Review]
Summary
Overall, the 2022 Kona Dew is a great option for all riders who want a low-budget, high-reward ride. This value-for-money commuter bike will not disappoint whether you use it for commuting, fitness, hybrid or multi-terrain riding. For those who want to upgrade it, another version, the Kona Dew Plus, is also a great option.
Finally, if you like our content feel free to share it with your friends, and if our content is helpful to you, you can click the email subscribe button below! Thanks for your support!