We use affiliate links and may receive a small commission on purchases.
Evil Offering / GX I9 Hydra
Price: $6299
Category: Off-road bicycle
Frame: Carbon
Gear: 1×12
Tires: 29×2.5 "
What we like about it: UD's carbon body construction is equipped with 140mm of ultra-high travel to ensure an explosive experience on the trails.
What we don't like about it: The excessive price relative to the components.
Rating (4.8/5)
Introduction
If you are a skilled worker who is keen on XC racing, addicted to the wildness of going up and down steep hills. If and wish to become a conqueror of a mountain short track speedway, then today's protagonist – Evil Offering / GX I9 Hydra may just be able to meet your exploding expectations. Because it is a killer on gravel roads.
The fork is equipped with an extraordinarily high 140mm of travel to overcome all the huge obstacles of mountain trail riding. The new generation UD carbon version is lightweight while absorbing a large amount of energy from the rider's impact on the ground. In addition, the Maxxis Minion DHF EXO TR's large tires are capable of maintaining a faster speed on gravel and sand roads, allowing you to experience the endless hiss of the beast. The Evil Offering / GX I9 Hydra is the king of the trail, so to speak.
To make the results more informative for you, we'll elaborate on the Evil Offering / GX I9 Hydra's performance while riding, key features, components, and specifications, as well as other versions of the series. If you would like to learn more about other versions of the Evil Offering / GX I9 Hydra, please refer to our review.
Learn More: Evil Following/GX Review [2022]-Exciting And Explosive Riding Experience
Climbing
There's no denying that the Evil Offering / GX I9 Hydra is the ruler of the off-road mountains. Because beyond Shimano's drivetrain SRAM GX Eagle 1×12 drivetrain is its most critical core. Quickly adjustable and enjoyable, you can't doubt its superiority on steep hills. Not only that, but the Maxxis Minion DHF EXO TR has an even tougher grip on the ground. Because of its surface aramid beads cling to the dirt like a suction cup and roll quickly between them. And the steep geometry angle allows you to maintain a comfortable sitting position even while climbing.
Our team wanted a more profound and accurate riding experience for the Evil Offering / GX I9 Hydra and started a 2-month long trail ride. And the venue was chosen at the Silver Star Bike Park which we know so well.
Our choice was the DH side of the proverbial amazing trail that has now been carved into the XC / AM trail, littered with weeds and messy rocks.
Experience
Knowing that the slope angle is 40° is a tough challenge for every rider. Fortunately, EVIL offers 140mm of travel which gives me great courage to ascend. Thanks to the shorter 42mm offset fork the handling can be kept tight. In addition, the steep seat tube made it easier to climb body and rock crash bumps with the forks both telescoping and descending violently at once, helping me digest the slam from the ground as much as possible. But I had to add a volume spacer or two to the shock (which it didn't have) to stop it from bottoming out too easily.
The UD Carbon is indeed a clear upgrade from the previous generation, and I could easily feel my mastery of the bodywork. And the choppy upper body curve was a hindrance to my ascent. Whereas Evil has slightly better traction on technical climbs and has more noticeable on smooth uphill efforts.
I believe the SRAM GX Eagle 1×12 drivetrain is taking on the role of "guardian". When I was halfway up the mountain, it relied on its keen "sense" to deliver a wilder speed match, so that it was able to make the second half of the sprint. I also want to emphasize that the Maxxis Minion DHF EXO TR is a much more powerful presence than the Bontrager. That's because the big 29″ tires were firmly on the ground, keeping the body extremely stable and helping me to ascend the last 200 meters of the sprint.
Descending
The RockShox Super Deluxe RCT Debonai may not be the "King of the Mountain" if it is only good on the climbs. The RockShox Super Deluxe RCT Debonai is an essential component that will play a vital role in your descent. In addition, the handlebar equipped with Evil Boomstick 7075 alloy maximizes the absorption of vibrations from the ground.
Our testers were returning from the same road, so the same road surface for another different angle of conquest. Perhaps it is all a valuable experience for mountain bikers.
The Evil Offering / GX I9 Hydra descends like a wild goat on a flowing trail, and with each high leap, you can hear the crisp, loud thump of the rock against the body. Perhaps the vibrations were not as strong as expected, thanks to the Bike Yoke Revive, which absorbs the earth's tremors by moving up and down visibly. I chose the m model with a stroke of 160mm (different strokes for different models).
Experience
I have to admit that the 29-inch Maxxis Minion DHF EXO TR tire is the perfect present for mountain descents. This is because it keeps the body extremely stable even while rolling fast. One might worry if the overly large tires sacrifice steering responsiveness, and many descents have taught me otherwise.
Perhaps it is also the unique geometry of the Evil Offering / GX I9 Hydra that maintains this stability. We measured the Evil Offering / GX I9 Hydra to have a relatively short rear fork length and a front and rear wheelbase of 1180mm, which means it balances out the difficulty of steering due to oversized tires. The shorter head tube angle (66.4°) also keeps the drop with a more forward center of gravity for a faster ride.
The descent was not a smooth one, with dead branches falling everywhere to block our way down. This placed a very high demand on the rider's improvisation and put the Evil Offering / GX I9 Hydra to a new test. The Hydraulic Disc performed very well, even on rocky, sandy terrain, and I was able to make quicker, more responsive brakes with a split-second finger flick. This is perhaps hard to see from a mechanical disc.
After the mountain ride, Jack, the photographer, stood on the mountain and kept telling me "Evil Offering / GX I9 Hydra is the king of the mountain, it's a fast beast in terms of looks and performance".
Main Features
Frame
If I had to find a flaw in the Evil Offering / GX I9 Hydra, it would be that the single color does not meet my expectations. If more color combinations could be added, it might be a better seller.
The body frame, Evil Offering / GX I9 Hydra, is a state-of-the-art carbon structure. It provides a lighter body and better vibration damping than traditional aluminum construction. If you encounter an impassable road surface, you may be able to lift it effortlessly. In addition, the addition of down tube rubber with impact foam provides a damping quality that reduces noise and impact.
Also, the Evil Offering / GX I9 Hydra has a guided inner tube. The clean tidy appearance of the internal cable is clean and smooth, which will make maintenance easier.
Geometry
I believe the success of the Evil Hydra is due to its clever geometry. It is common knowledge that mountain bikers will set their seat tube length between 53-58cm. The Evil Offering / GX I9 Hydra has opted for an extreme 46cm seat tube length with a very low BB height of 26cm'. The double insurance allows you to have an extremely low center of gravity and a more stable body. This reduces the chance of rollovers, you know how off-road sports are with hazards.
Also, this crazy extreme of Evil Offering / GX I9 Hydra extends to the 77° lean angle of the seat tube. This is a radical choice, but it is also one that satisfies the extreme passion for rock climbing of off-road fanatics. Even when faced with the steepest of rock faces, I was undaunted.
Just as I was the beneficiary of the steep angle of the Evil Offering / GX I9 Hydra when I conquered the Alps. Of course, being the all-rounder that it is, the Evil Offering / GX I9 Hydra also takes into account what happens when faced with steep moving trails. So, with the head tube angle, a more relaxed head tube angle of 66.4° was chosen. This is a wide and loose angle to maintain the ultimate balance of the body.
Components and Specifications
Maxxis Minion DHF EXO TR 29×2.5(Front), Maxxis Minion DHR EXO TR 29×2.3(Rear)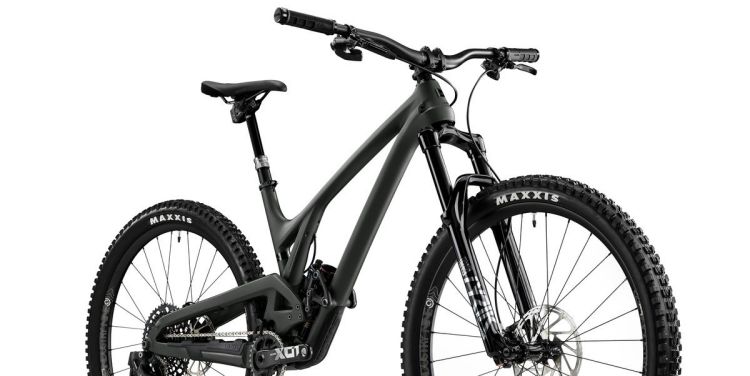 Being a 29-inch tire, its sturdiness speaks for itself. In both supercharged (148×12) and supercharged (157×12) rear tire configurations, the large and wide tires can combine stability while maintaining a fast driving speed. In addition, the material uses long-chain polymers instead of the brittle and toxic epoxy resins and resins used in typical carbons. As a result, impacts can be absorbed through microscopic bending in the fibers and dissipated radially throughout the rim.
Not only that, but after our comparison tests, we found that the Maxxis Minion DHF EXO TR has quieter tires than traditional carbon tires. It eliminates vibration while maintaining more stable and controlled body conditions. Also, Maxxis Minion DHF EXO TR has a powder-coated edge so they stay beautiful despite the bruises and bumps the trails try to put on them. Of course, we also have to see that the Maxxis Minion DHF EXO TR is expensive and perhaps a disaster for your wallet if it gets damaged.
SRAM GX Eagle 12-speed Drivetrain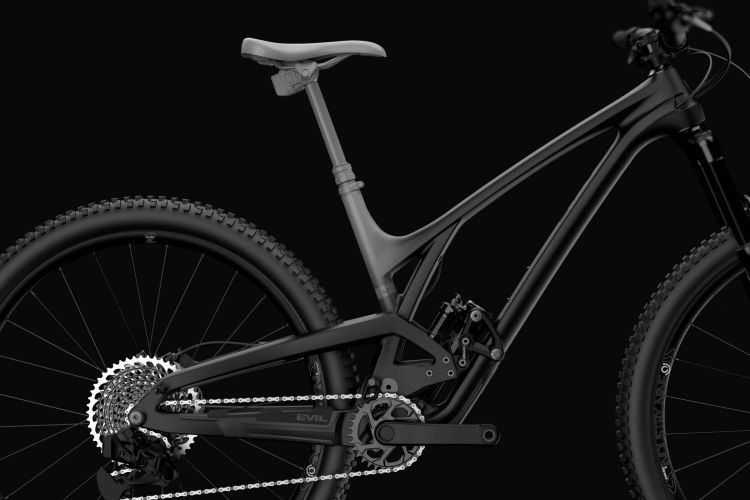 Perhaps professional riders still have more stringent requirements for components, especially the core component of the bike, the drivetrain. But there is no denying that the SRAM GX mountain bike is the master of the field.
The GX Eagle drivetrain is a mountain bike's most faithful companion. 52-tooth GX Eagle cassettes work with 1×12 speeds in any weather, which gives riders the most responsive control in operation. You don't have to worry about complicated speed regulation structures. Unlike the 2x and 3x, the 1x requires only a one-handed finger toggle to get the most reliable speed when facing rough and hilly sections. And of course, it takes a lot of stress off your body.
Fortunately, both Evil Offering v1 and Evil Offering v2 are built with a flexible detachable and interchangeable strategy. This also means that the choice of the drivetrain is in your hands. You can select the appropriate components for the road you are facing.
Of course, if you're a dedicated XC racer, then the XX1 is probably the best bike for you. The super fast ride and silky smooth gear shifting will get you to the top of the race. In addition, if you don't mind the small weight gain and desire to do well in endurance races, then the 363-gram X01 may meet your expectations.
RockShox Lyrik Ultimat Front Fork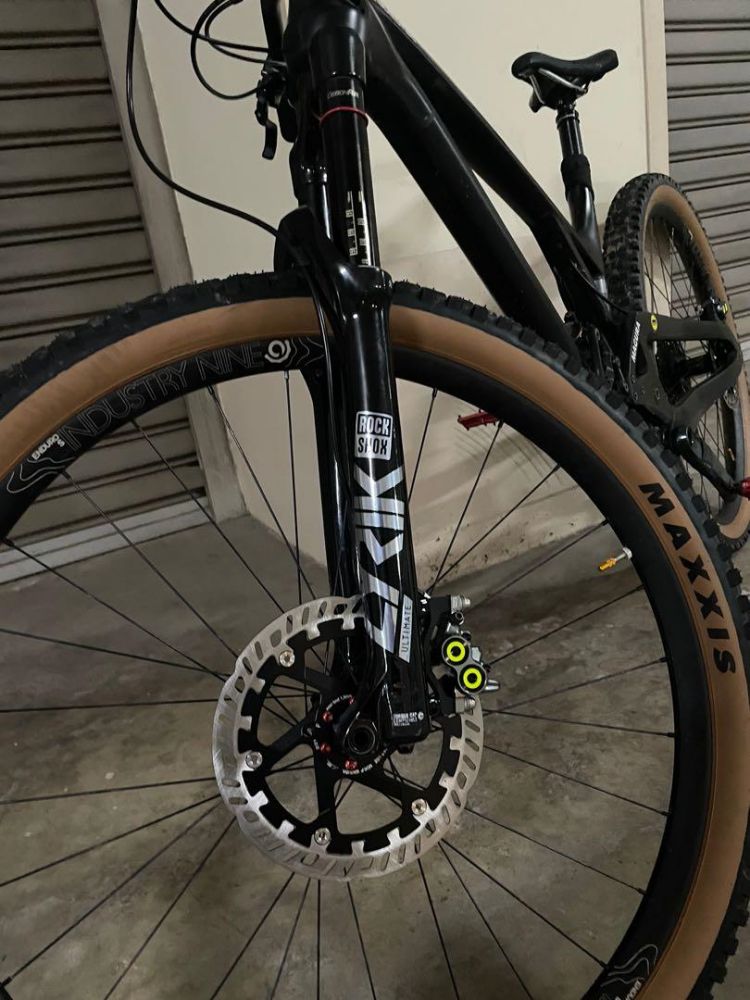 As a professional mountain bike rider, facing rugged mountain rocks is an essential must. Therefore, the shock absorption ability is extremely strict. But the RockShox Lyrik Ultimat is a satisfactory answer to conquer the mountain rocks.
The 140mm is far more than the average mountain bike, and the Debonair 150mm of travel, eliminates unwanted vibrations when riding in the mountains. 42mm offset also means that the RockShox Lyrik Ultimat is extremely compatible. Maybe you don't recognize it, but it gave me a profound feeling when conquering the Silver Star's 40° rising gravel slopes. Combined with the extra-long travel of the dropper design, it did not cause me discomfort. On the contrary, I enjoyed the regular rhythm.
Hydraulic Disc SRAM CODE RSC Brake
It is well known that all mountain bike riders will not hesitate to choose hydraulic braking over mechanical braking. We are convinced by its sensitivity and efficiency. The same SRAM CODE RSC is also capable of bringing surprises. It has extremely lightweight and the bearings provide a clear and accurate riding feeling.
With the Evil Offering radio drivetrain system, it can make a clear and accurate braking response to the mountain road very quickly. Of course, if you're worried that it might get damaged on a mountain descent, you can also install a metal pad underneath (which is what I did). This will increase the lifespan of the SRAM CODE RSC. Be aware that the price to repair it is also troubling.
Other Versions Of Evil Offering V1
Of course, with the objectivity and rigor of the data, our experiment did not stop at Evil Offering V1. Similarly, we also tested the same version of the same series. Including Evil Offering V2, so that you can better choose the model of your choice.
Compared to the Evil Offering V1, the Evil Offering V2 comes with the same 29-inch tires and SRAM drivetrain. Riders who want to take the big roads will find plenty of cushioning to tackle the toughest tracks.
In addition, the steep geometry is perhaps the highlight of an upgrade to the Evil Offering V2. Its 77° seat tube angle helps you tackle 40° trails. Its 77° seat tube angle can help you take on gravel trails of up to 40°. Evil has increased the range of seat tube angles on this new model to keep the product in a more stable position for the rider when riding.
We've been testing the Evil Offering V2 for two weeks and found that the fork has been given another small upgrade. The increase in travel to 160mm also means you get more damping and the ability to take on steeper trails. Of course, there is no denying that the Evil Offering V2 also comes with a price tag that will break your wallet.
What do we like about it?
High front and rear fork travel absorb the feeling of vibration of the body driving.
A lightweight carbon body allows you to pass mountainous roads quickly.
The powerful and simple sram1x12 drivetrain shifts silkier and smooth.
The sensitive and efficient hydraulic disc brake brings you a safe experience.
High configuration under the drip tube design to reduce the seat tube bumps on the body damage
The detachable assembly enables the free replacement of the drive train.
What don't we like about it?
The components are more expensive.
The weight of the relatively heavy drive.
FAQs
What is the price of the Evil Offering / GX I9 Hydra?
The Evil Offering / GX I9 Hydra is priced at $6,299.
What is the body architecture of the Evil Offering / GX I9 Hydra?
Evil Offering / GX I9 Hydra body architecture is carbon.
What is the tire size of the Evil Offering / GX I9 Hydra?
The Evil Offering / GX I9 Hydra has a tire size of 29×2.5.
What are the Evil Offering / GX I9 Hydra sizes?
Evil Offering / GX I9 Hydra Size Chart.
| | | | |
| --- | --- | --- | --- |
| Small' | Medium' | Large | X-large |
| 5″3″-5″8″ | 5″8″-6.0″ | 6.0″-6″4″ | 6″.0″-6″4″ |
Evil Offering / GX I9 Hydra Specs
| | |
| --- | --- |
| BIKE | 2022 Evil Offering / GX I9 Hydra |
| Frame | EVIL Offering 140mm Travel UD Carbon, Internal Cable Routing, Integrated Upper Guide, SuperBoost+BB Standard: BSA, 73mm, Threaded |
| Fork | Rockshox Lyrik Ultimate, Charger 2.1 RC2, Debonair 150mm Travel, 42mm Offset |
| Rear Shock | Rockshox Super Deluxe RCT Debonair, 185×55, DB LLC 380 |
| Bottom Bracket | 73mm Threaded |
| Headset | Cane Creek 40 Series ZS Integrated Tapered Headset – Cups: ZS44/28.6 (Upper) and ZS62/40(Lower), Bearing: 36° x 45° – 41mm (Upper) and 36° x 45° – 52mm ( Lower) ZN40 Zinc Coated, Crown Race: 28.6mm x 36° Integrated (Upper) and 40mm x 36° Press Fit (Lower) |
| Stem | Evil 12 Gauge Stem, Length: 35mm |
| Handlebar | Evil Boomstick 7075 Alloy, Backsweep: 8°, Upsweep: 5° Clamp:35mm, Rise: 35mm, Width: 810mm |
| Saddle | WTB Volt Medium (142mm) Width Chromoly Saddle |
| Seatpost | Bike Yoke Revive, S:125mm, M: 160mm, L:185mm XL: 213mm |
| Grips | Evil Lock-on |
| Rear Derailleur | SRAM GX Eagle, 12sp |
| Front Derailleur | Single Ring Only |
| Crank | SRAM GX Eagle DUB, SuperBoost+, 170mm, Direct Mount 32t, 56.5mm Chainline, Lunar |
| Shifters | SRAM GX Eagle, 12sp |
| Cassette | SRAM XG-1275 Eagle, 10-52T:10,12,14,16,18,21,24,28,32,36,42,52 |
| Chain | SRAM GX Eagle w/ Powerlock |
| Brakes | Hydraulic Disc |
| Rims | 140mm |
| Tires | Front: Maxxis Minion DHF EXO TR, 29×2.5, Rear: Maxxis Minion DHR EXO TR, 29×2.3 |
| 2022 Evil Offering / GX I9 Hydra | https://secretspotcyclery.com/products/evil-offering-v2-gx-i9-hydra-wasabi-shadow |
Comparison Table
2022 Evil Offering vs 2023 Santa Cruz HIGHTOWER S / Carbon C / 29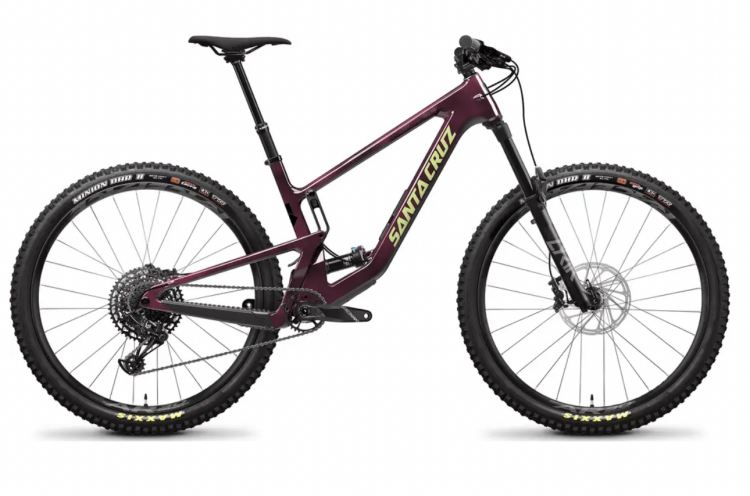 The Santa Cruz HIGHTOWER S / Carbon C / 29 is perhaps the perfect existence in many ways. The lightweight body structure under the carbon, and the impressive SRAM drivetrain. But in terms of fork choice, the Santa Cruz HIGHTOWER S / Carbon C / 29 opts for the Fox Performance Float 36 (150mm front and 145mm rear). In our actual measurements, there are perhaps still some slight differences.
This, of course, comes from the keen sense of professional riders. If you are new to the sport, it may still be able to meet the need for damping. Not only that, the Santa Cruz HIGHTOWER S / Carbon C / 29 can't reach the same speed as the Evil Offering (44km/h for the former and 42km/h for the latter) in a comparison between the same gravel road. This may be a key factor for the official race as well.
If you are a novice, the Santa Cruz HIGHTOWER S / Carbon C / 29 may still be a great choice for you.
Learn More: Santa Cruz HIGHTOWER R Review [2023]- Enjoy Rushing Down Hill
2022 Evil Offering vs 2023 Trek Fuel EX 9.8 GX AXS Gen 5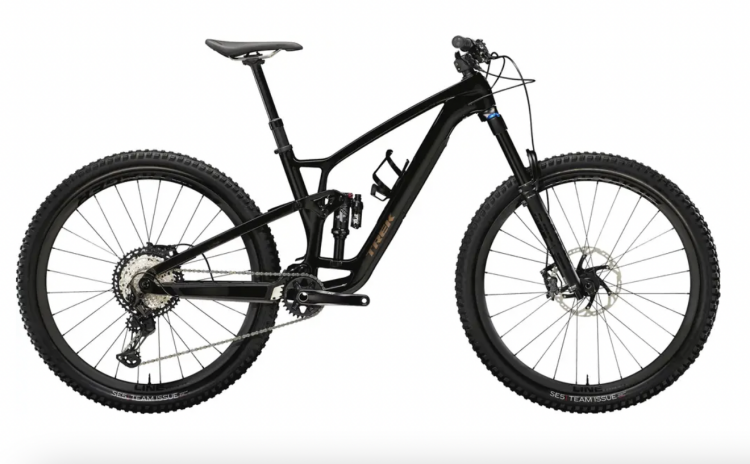 The Trek Fuel EX 9.8 GX AXS Gen 5 may not be as strong as the Evil Offering in terms of downhill capability. This is also visually evident in its relatively short fork travel (140mm front and 130mm rear). This is a typical configuration for an average bike. Of course, the AXS drive gives the upgraded Trek Fuel EX 9.8 GX AXS Gen 5 the ability to drive wirelessly, allowing for responsive and efficient control without the need for complicated cables. Not only that, but the relatively low 346mm BB center is the highlight of the Trek Fuel EX 9.8 GX AXS Gen 5. The 1178mm wheelbase also means it is more agile in steering than the Evil Offering.
Meanwhile, the EX 9.8 GX AXS Gen 5 has more autonomy when it comes to tires. Not only 29-inch, but even 27.5-inch can be equipped under your body, enough to handle your more complicated roads. For those of you who desire a responsive model, the EX 9.8 GX AXS Gen 5 may be a good choice.
Learn More: Trek Fuel EX 9.8 GX Review-How did The Trek Fuel 9.8 GX Become The Perfect Full-Suspension Trail Bike?
2022 Evil Offering vs 2022 Yeti SB130 CLR XT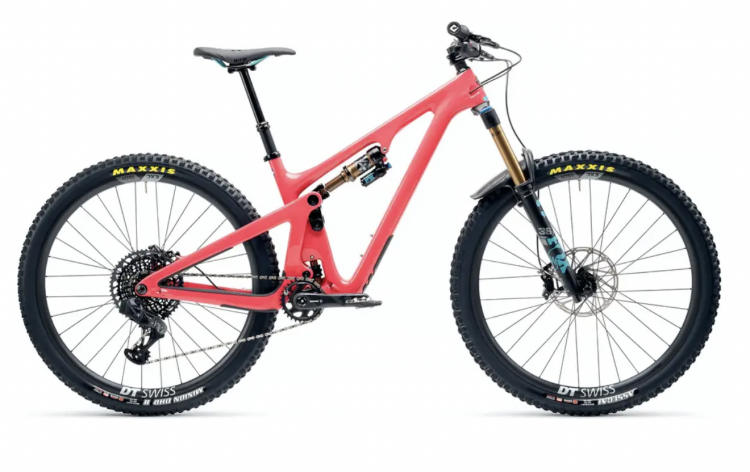 We found that the Yeti SB130 CLR XT is heavier than the Evil Offering with a body weight of 14.3kg, which may not be a good or bad sentence. A lighter body makes you lighter and allows you to get through obstacles quickly. Conversely, a heavier body brings a more stable center of gravity. This may also be the result of the increased weight of the XT drivetrain. However, there is not much difference in the number of fork travel between the front and rear (160mm front and 137mm rear on the SB130 CLR XT).
Therefore, in terms of damping, it is difficult to feel the difference between the two. Perhaps you've trusted Shimano for years, but personally, the Shimano XT would be more of a versatile specialist in terms of riding, and SRAM is a high-powered master of mountain biking, with a faster shifting system and great traction to get you places in XC races. If your goal is a brutal performance mountain bike, perhaps the Evil Offering can meet your expectations in that regard.
Learn more : Is 2023 Yeti SB130 C1 Splendid – [2023 Yeti SB130 C1 Review]
2022 Evil Offering vs 2022 Giant Reign Advanced Pro 29 1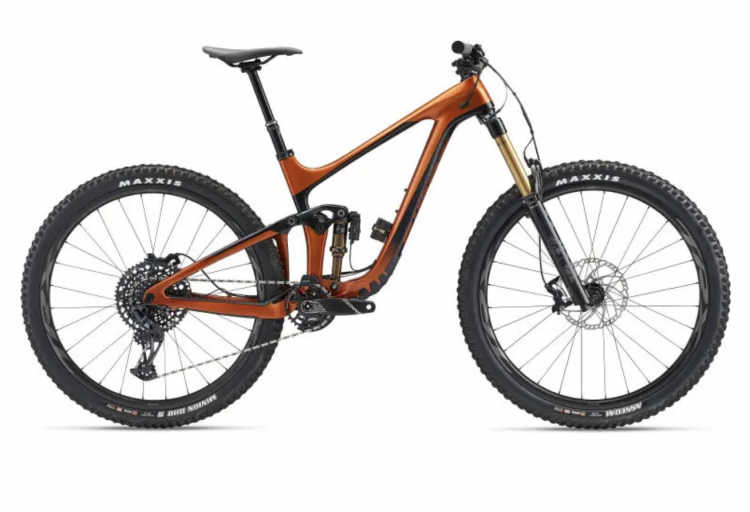 To be honest, I have a hard time identifying the differences between the Giant Reign Advanced Pro 29 1 ride. The same carbon underbody has an unparalleled strong and light feel. The Giant Reign Advanced Pro 29 1 is equipped with the Fox Factory Float 38, which is similar to the Evil Offering's RockShox Lyrik Ultimate. The Giant Reign Advanced Pro 29 1 offers a great riding experience in a super high-end package, perhaps the best ride in terms of fork travel (170mm front, 146mm rear).
Of course, if you have an almost exacting need for damping, then you can try the Giant Reign Advanced Pro 29 1. But also note that the Giant Reign Advanced Pro 29 1 is not pedal-compatible, which means you'll need to purchase your pedals. This may be another blow to your wallet.
In case, the above comments are helpful to you, please remember to share the subscription. Have a great day!
Learn more : Is Giant Reign 29 Worth Buying? – [2023 Giant Reign 29 Review ]