We use affiliate links and may receive a small commission on purchases.
Mountain Bike Bell
Would you install a bicycle bell on your bike? When we conducted this questionnaire on bicycle bells, the majority of responses we received were "No". The majority of riders reasoned that it would be an unnecessary burden on my ride. Or that many bells make a sound when I don't want them to.
Whether it is a daily commuter ride or a leisure ride, in my opinion, the bike bell is necessary. Because it's your reminder to pedestrians and necessary to ensure a smooth ride for yourself.
At this point, one might ask, so we don't have to install a bell on our mountain bikes? As long as you don't care about the insignificant weight, a crisp and pleasant bell may help you avoid many unexpected situations (sudden appearance of a critter, or alerting another rider) when mountain biking off-road.
Here are the 10 bike bells we selected from the bells we reviewed for the mountain bikes.
Learn More: 2023 Top 10 City Bike Bell – Super Value-For-Money
Recommended List
1. ROCKBROS Bike Bell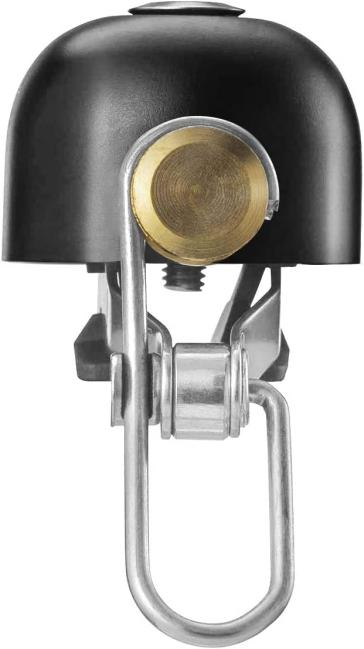 The small and delicate shape has a clear and loud "singing voice".
$11.99 (as tested)
Brass alloy
Fits handlebars with a diameter of 2.13 cm to 3.61 cm.
Smaller size, no obstruction to riding.
I have to admit that at this price it is an excellent bell.
First of all, it is made of brass alloy and coated with anti-corrosion and durable coating, which also ensures its longevity under any conditions. Secondly, the retro design also gives your bike more style.
In addition, in our test, the bell's ringing was heard even in dense forests when we were going off-road in the mountains.
It is worth mentioning that the delicate overall construction does not leave the rider with a messy handlebar. It hides perfectly when you don't need it.
Commodity Links:
2. AXL Cycling Bike Bell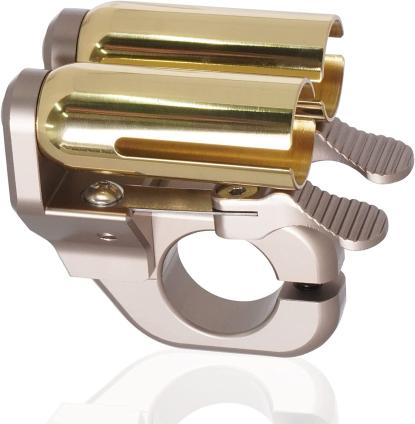 Breaking away from the traditional bell-jar shape, the more radical design attracts more eyes.
$38.59 (as tested)
The design of the double sound.
High-quality and lightweight aluminum alloy.
Easy to install.
We were impressed by the rose gold color and the more distinctive shape design.
You don't have to worry that it is vain. In our actual test, it has a crisp ringing sound that effectively alerts pedestrians to avoid it in time. Even at night, the clear and pleasant sound does not make people feel harsh.
Not only that, but this bell performs very well on the tapered bars of a mountain bike and doesn't get wobbly from exciting trail rides.
Whether it is its high-quality metal or design craftsmanship, it is one of the options worth choosing.
Commodity Links:
3. Sportout Copper Alloy Bike Bell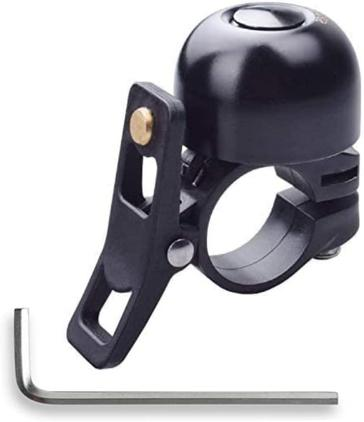 Traditional bell-shaped bike bell.
$10.89 (as tested)
Combined with the hard brass hammer-sounding system.
Small form factor.
Quick installation.
It must be admitted that this bike bell is not that outstanding in form and design. But for the bike bell, we ask for a more direct and loud reminder.
In our actual review, its hard brass hammer knock on the sound-making part was so loud that pedestrians and passing bikes could hear it and avoid it in time. This is very appropriate for safe riding.
In addition, the relatively small size does not cause clutter on the handlebars.
Commodity Links:
4. JAOK Bike Bell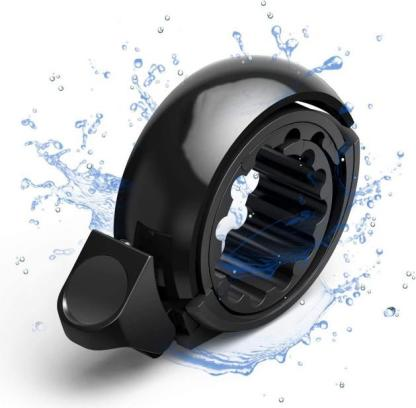 The unique bike ring design of the bell.
$13.99 (as tested)
For 22-31mm handlebars.
Made of high-strength aluminum alloy and ABS material.
Integrated with the bicycle.
If you don't want people to easily see your bell this is a good choice. Be aware that the ring-style design of this bell will fit naturally on the correct bike handlebars.
In our ringtone test, it made just the right sound. That means just enough to get attention, but not enough to offend others. But if you prefer a louder sound, I honestly don't recommend this one.
Commodity Links:
5. GOWIKNS Bicycle Electronic Bell
Loud bike bell with built-in boost circuit.
$13.66 (as tested)
Three colors to choose from.
Up to 120 decibels.
1.2h charge normal use 25-30 days.
I chose it for the amount of time it could be used when it was fully charged. However, in the actual review, it scared me with its sound. Based on that, I think don't let it go loud at night or you may invite complaints from others.
But it must be admitted that if it is in a lush forest, it can alert your partner very clearly where you are.
If, however, you like loud ringtones, this rugged electronic bike bell would be a good choice.
Commodity Links:
6. Bicycle Bells Riding Brass Bell
The singing voice of the ring-style vintage brass bike bell takes you back to the past.
$18.99 (as tested)
High-quality copper metal housing.
Better hidden on the handlebars.
Lighter weight.
If you feel that a normal bell-type bell will make your play suffer while riding, then I must recommend this bell to you.
The first is that its loop design can be better and more concealed on your handlebars without causing a mess on the handlebars. Secondly, the high-quality brass material, as well as the PC base, are also stronger and more durable, while the built-in high elasticity spring allows for a more languid sound when in use.
We did the test in a noisy crowd, and even in such a noisy environment, the bike bell could be heard very clearly.
So, if you want a good-looking and practical bike bell, this could be an excellent choice.
Commodity Links:
7. Mirrycle Incredibell XL Bike Bell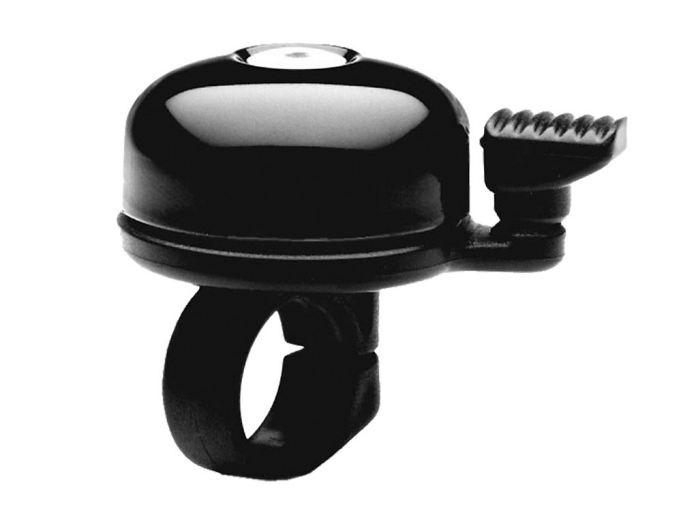 Loudly domed bike bell.
$11 (as tested)
Compatible with 21.7 – 26mm diameter handlebars.
Honestly, if you just look at its appearance, it is not impressive. But in the actual riding review, its "singing voice" makes us happy.
This bell is a louder version of the Original Incredibell with a slightly larger dome and also comes with the same pivot locator I liked on the Original Incredibell. It is very easy to install and maneuver, and the elegant bell alerts pedestrians of your arrival.
Commodity Links:
8. Diamant Retro Klingel Bike Bell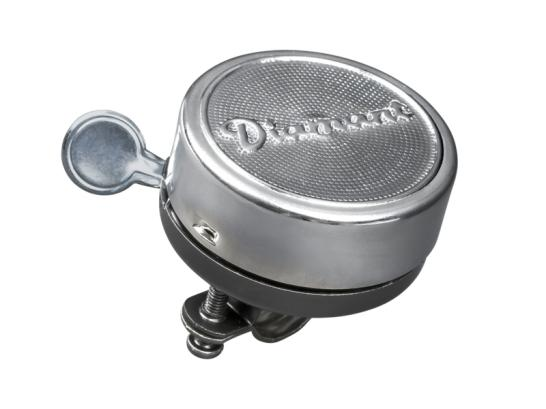 Diamond vintage bike bell.
$9.99 (as tested)
Plain but atmospheric silver.
Original replacement bell for Diamant bikes.
Suitable for mountain bike handlebars.
The review of this bell was rather fortuitous. Because a friend's bell was accidentally lost and needed the original Diamant bell, we found this replacement bell.
I have to say the durable steel construction and the silver and white coating look like a sense of history. But the sound of this bell does seem to me to be a crisp sound that doesn't match its appearance.
In addition, the original replacement bell comes with a better warranty. If you are using a Diamant bike, this original replacement bell is not to be missed.
Commodity Links:
9. TIMBER MOUNTAIN BIKE BELL
More politely alert pedestrians of your arrival.
$24.95 (as tested)
Includes 2 separate O-rings to accommodate handlebar size.
Excellent and durable solid brass bell.
This is not a normal bicycle bell, it mimics a cowbell. Yes, by producing a more passive bell as a more polite way to alert pedestrians. It's also worth noting that it has an integrated switch. When you want to enjoy a quiet ride, you can turn off the bell.
In addition, the solid brass design has a longer life span.
In our actual review, it can also make a long sound on rainy days, allowing us to ride unhindered.
Commodity Links:
10. LEZYNE CLASSIC SHALLOW BRASS BELL
A change from the traditional domed bell form of the classic shallow brass bell.
$15.99 (as tested)
Aluminum bike seat, bright body.
Only 27 grams.
The shape of this bell grabbed my heart straight away, the simple-looking design and the shiny high polished brass body made me feel in line with the current vintage trend.
Not only in appearance, but the clear and loud bell is also a major feature that attracted me. But I must be honest and say that the sound of this bell is not the loudest among all the bells we have reviewed. I chose it because I like the sound of it.
If you are also a fan of retro style, this bike bell is worth your try.
Commodity Links:
Summary
When you ride a bicycle on the road, you may do well with various protective tools, which are necessary for riding protection. But we always tend to overlook such a small helper to remind pedestrians to ensure smooth riding – bicycle bells.
Yes, a great bell will always save you from a lot of unpleasant riding experiences, whether it's a pricey bike or a cheap one. A bell that rings when you are doing a trail ride is also more convenient for your teammates to determine your position.
Yes, a bicycle bell is a necessary feature in my opinion. It is an alarm that alerts pedestrians to ensure safety.
For a gravel bike, the Canyon Grizl CF SL 8 Suspension 1by is excellent in terms of damping. The RockShox Rudy 30 fork absorbs vibrations effectively and has 10mm more travel than the Specialized Diverge Comp Carbon.
It also comes with a dropper design that the Specialized Diverge Comp Carbon does not have. This makes it much easier and more comfortable when you ride on gravel roads. The Canyon Grizl CF SL 8 Suspension 1by is definitely at the top of the list for me in terms of how these bikes feel to me on actual rides.
In case, the above comments are helpful to you, please remember to share the subscription. Have a great day!