We use affiliate links and may receive a small commission on purchases.
2023 Kona Libre Review
Price: $2099
Frame: Aluminum
Wheels: 700x45c
Gear: 1×11
What we like about it: Fast and agile response, great component configuration, and fun to ride.
What we don't like about it: The medium brake handling.
Rating: (4.7/5)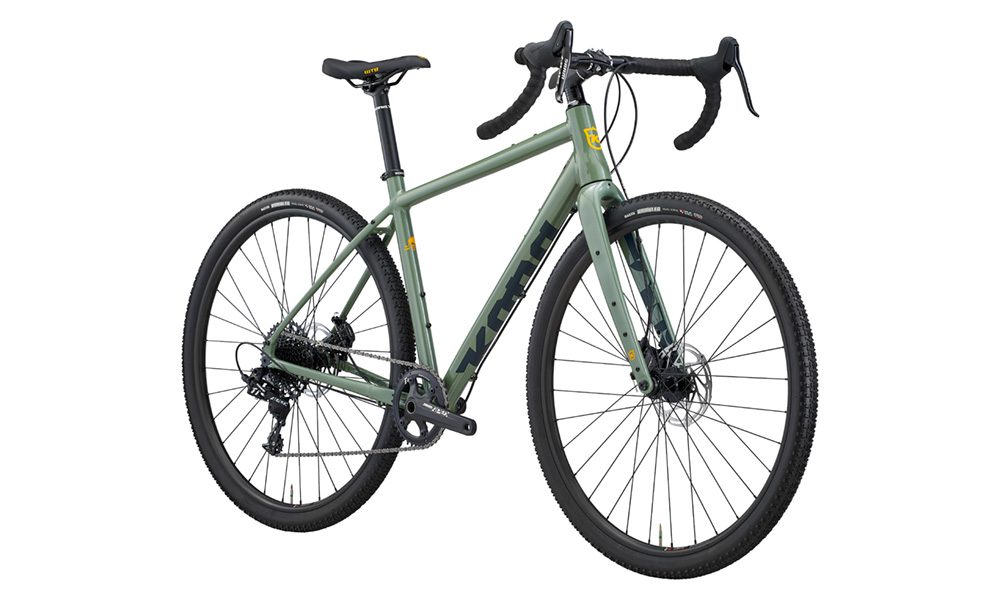 Kona is a bicycle company from the United States, founded in 1988, with offices in Ferndale, Washington and Vancouver, British Columbia. It is a brand dedicated to creating high-performance mountain, road, and city bicycles. Kona bicycles are known for their excellent design and manufacturing, high-quality products, and good reputation. It has its own place in the bicycle industry and performs excellently in different types of riding.
The Kona Libre has become the top choice adventure bike for various skill levels. Do you want a tool that can help you ride farther in less time? This versatile gravel bike can go almost anywhere. With its outstanding performance and comfortable ride, it will lead you to your destination and allow you to enjoy the fun of gravel on both uphill and downhill rides!
Next, we will analyze the riding experience and specifications of the Kona Libre. If you want to learn more about bicycle reviews, you can follow us.
Riding Experience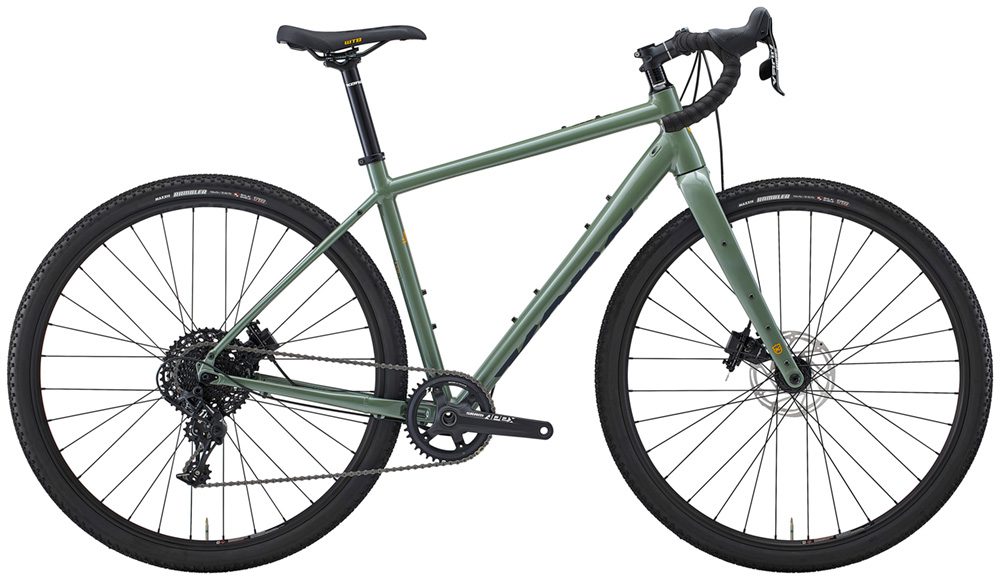 I love riding because I don't have to think too much about the process, and my goal is simply to get ahead. This Kona Libre has been my companion through the weekends of my anxious days. For me, it's not just a riding tool, it's my riding partner.
Gravel Riding
This time, I chose a rough mountain road with steep uphill and bumpy downhill sections, perfect for a weekend adventure. I booked accommodation on Skyscanner, because it allows me to bring my pet dog with me during my stay.
When I rode on a gently sloping uphill section, I was very satisfied with the Kona Libre's rigidity and maneuverability. Especially with its 11-speed drivetrain system, allowed me to choose the most suitable gear ratio for different slopes and easily cope with different terrains. That was great, and I liked it. Thanks to its excellent flexibility, I could also clearly feel every action and response during the ride.
On the downhill road, I liked the Kona Libre's wide tires and rear triangle design with suspension. It effectively reduced bumps and vibrations, providing the most comfortable ride possible. In the constant vibration, I found the joy of cycling. Every cell in my body seemed to be cheering, and I kept going without a destination until I was exhausted.
Daily Riding
The design philosophy behind the Kona Libre is well-reflected in its daily commuting capabilities. The bike's numerous mounting options make it extremely convenient for carrying everyday essentials, and if I need to, I can even pack enough gear for a bike touring trip. Of course, I mainly use it as a commuter bike. On city roads, it feels incredibly smooth and comfortable. I can easily weave through crowded areas, and on deserted streets, I can confidently pick up speed.
Overall, this is a highly versatile bike suitable for multi-purpose and daily riding. It's a bike that suits most people and rides very smoothly. If you're looking for an affordable and practical bike that can handle gravel adventures anytime, anywhere, this bike is the best choice.
Specification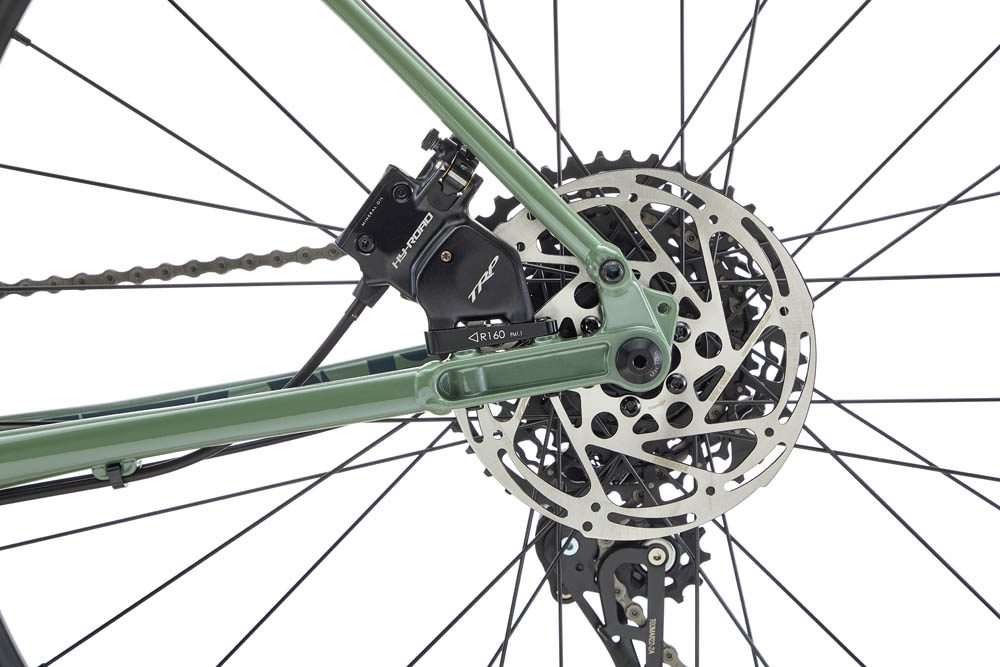 The Kona Libre, like most gravel bikes, has an incredibly beautiful design. The Gloss Metallic Green paint sparkles in the sun and will give you endless confidence while riding. This is due to the application of Kona 6061 aluminum, which provides a sturdy and durable lightweight alloy that offers the utmost convenience for your daily commuting needs. Furthermore, the bike features a shock-absorbing rear triangle design, which effectively reduces bumpiness and vibrations, improving your riding comfort.
The 12x142mm rear axle standard offers two major advantages for Kona riders. The 12mm diameter of the rear axle provides a rigid interface between the rear wheel hub and the frame, while the outer diameter of the wheel hub, which can be 142/148/157mm, allows the wheel to be quickly and correctly positioned in the frame before inserting the rear axle.
Additionally, the use of components such as the SRAM Apex drivetrain, Maxxis Rambler Silkshield TR 700C tires, and mechanical disc brakes further ensure the stability and reliability of the bike. These features provide excellent performance, making it perfect for gravel riding.
What do we like about it?
Fast, agile, and versatile: this Kona Libre excels in both gravel riding and daily commuting, it fits most people and takes them far.
Kona 6061 Aluminum: Tough, durable lightweight alloy that can withstand the wear and tear of frequent use.
Built-in headset: The built-in headset lowers the stack height, so the bar and stem are more adjustable to provide the best fit for the rider.
Tapered headtube: More girth at the bottom of the headtube allows for better impact distribution, extending the bearing life of the headset itself and eliminating brake judder while providing confident steering performance.
Tubeless compatible rims: Tubeless rims allow for higher puncture resistance; the ability to reduce tire pressure, thus providing better tire grip on the track; and reduced rolling resistance.
Comfortable ride: A smooth ride means more comfort, even in the face of long rides, to ensure maximum comfort.
Enough bracket design: It can crush large rides, and enough bracket design means being able to carry a lot of equipment without having to worry about traveling.
What don't we like about it?
Speed: slow acceleration and handling
Braking: medium braking performance
FAQs
What is the tire size of the Kona Libre and what kind of tires are used?
The bike is made in a 700x45c size. The tires used are Maxxis Rambler Silkshield TR model
Can the Kona Libre be used for daily commuting?
Although it is a hardtail crossover, it also performs well in daily commuting. It is just slightly less comfortable and faster than a commuter car.
Is Kona Libre suitable for newcomers?
Certainly suitable for anyone who wants to do gravel riding. Cheap price with great components, perfect for entry-level players.
What size Kona Libre should I buy?
Here we have provided you with a sizing chart, please keep in mind that these sizes are only a general guide and bike sizes may vary from rider to rider and bike to bike. The best way to find your size is to take a test ride.
| | |
| --- | --- |
| Rider height | SIZE |
| 147cm – 171cm | 50cm |
| 157cm – 183cm | 52cm |
| 167cm – 188cm | 54cm |
| 175cm – 196cm | 56cm |
| 180cm – 196cm | 58cm |
Kona Libre Specs
Build
| | |
| --- | --- |
| Frame | Kona 6061 Aluminum ButtedColor: Gloss Metallic Green w/ Matte Black Forest & Indicator Yellow Decals |
| Fork | Kona Libre Carbon fork |
| Rear Shock | n/a |
| Bottom Bracket | SRAM GXP 68mm |
| Headset | FSA No.57B |
| Stem | Kona Road |
| Handlebar | Kona Road |
| Saddle | WTB Volt |
| Seatpost | Kona Thumb w/ Offset 31.6mm |
| Pedals | n/a |
| Grips | Kona Cork Tape |
Groupset
| | |
| --- | --- |
| Rear Derailleur | SRAM Apex |
| Front Derailleur | n/a |
| Crank | SRAM Apex, 40t X-Sync |
| Shifters | SRAM Apex |
| Cassette | SRAM PG1130 11-42t 11spd |
| Chain | SRAM PC1110 |
| Chain Guide | n/a |
| Brakes | TRP HDC711C Mechanical / Hydraulic |
| Brake Levers | SRAM Apex |
Wheels
| | |
| --- | --- |
| Rims | WTB ST i23 TCS 2.0 |
| Spokes | Stainless Black 14g |
| Front Hub | Formula 100x12mm |
| Rear Hub | Formula 142x12mm |
| Tires | Maxxis Rambler Silkshield TR 700x45c |
| Disk Rotors | TRP TR160mm |
Video
Comparison Table
| | | | | |
| --- | --- | --- | --- | --- |
| Bicycles | Click View | Drivetrain | Frame material | Groupset |
| Specialized Diverge Elite E5 | Click View | 2 × 10 | Aluminum | Shimano GRX 400, GRX 600 |
| 2023 Cannondale Topstone Carbon 5 | Click View | 2 × 11 | Aluminum | Shimano GRX 800, GRX 600 |
| 2023 Giant Revolt Advanced 1 | Click View | 1 × 11 | Aluminum | Rival |
| 2023 Canyon Grizl 6 | Click View | 2 × 10 | Aluminum | Shimano GRX 400, GRX 600 |
Kona Libre vs Specialized Diverge Elite E5
As a classic gravel bike, the Specialized Diverge Elite E5 has a great reputation for both performance and brand. The configuration of GRX 400 and GRX 600 components performs well at this price point. The 700C tires have excellent traction on gravel roads and ensure a smooth ride. I enjoy the comfort it provides while riding, especially when riding outdoors, where you can find a lot of fun.
Unlike the Kona Libre, it has a 2x drivetrain system. It's not to say that it's not good, but I always feel a little uncomfortable riding other types of bikes after getting used to the 1x drivetrain. The faster and more flexible shifting performance performs well on some hills, especially when riding outdoors.
Learn More: Is Specialized Diverge Comp E5 Worth Buying? [2022 Specialized Diverge Comp E5 Review]
Kona Libre vs 2023 Cannondale Topstone Carbon 5
As a new gravel bike introduced by Cannondale, you can feel the effort Cannondale has put into it. This 2023 Cannondale Topstone Carbon 5 uses a lighter carbon fiber material for the frame selection, making it even lighter in weight, which is especially beneficial for long-distance rides. If you often do travel cycling, then this gravel bike will be a good choice.
Compared to it, the Kona Libre's aluminum frame seems to be slightly inferior. But what I want to say is that the Kona Libre has done its best at this price point. Compared to these big brands, you really can't ask for more. The Kona Libre's carbon fiber fork paired with the WTB Volt saddle also brings enough comfort during rides. If you are not a loyal carbon fiber enthusiast, then you can try this gravel bike. Believe me, it will give you a different experience.
Learn More: Is Cannondale Topstone 1 Worth Buying? [2022 Cannondale Topstone 1 Review]
Kona Libre vs 2023 Giant Revolt Advanced 1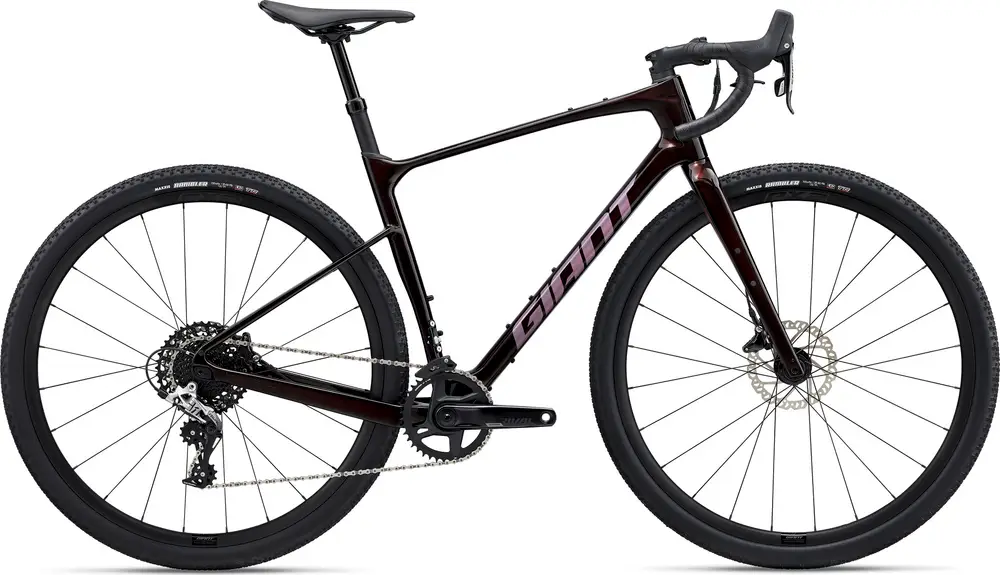 The 2023 Giant Revolt Advanced 1 is also incredibly popular with its carbon fiber frame, hydraulic disc brakes, and 1×11-speed drivetrain, all of which showcase its outstanding performance. I love riding it aimlessly on the country paths, where it feels effortless on these not-so-steep roads. Its stable frame and smooth shifting performance require minimal effort, making it hard to stop.
It even features a dropper post design, which provides a great experience when transitioning between hills, something the Kona Libre lacks. What it seems to offer are an irresistible price and a comfortable ride. In my opinion, this bike is more suitable for leisurely rides, where you can find a sense of freedom on deserted roads.
Learn More: Is Giant Revolt Advanced 3 Worth Buying? [2022 Giant Revolt Advanced 3 Review]
Kona Libre vs 2023 Canyon Grizl 6
If you're looking for a more affordable gravel bike, the 2023 Canyon Grizl 6 might be a good choice. It features an aluminum frame and GRX 400/600 components that make it well-suited for gravel roads. It's worth noting that it uses a 2×10 drivetrain, which may be a bit tricky for some beginners. It also continues Canyon's classic style with a geometry design that's aggressive enough to give you a faster ride.
On the other hand, the Kona Libre is quite the opposite. Its 1.58 stack/reach ratio is very gentle, which can provide you with a more comfortable experience while riding. You don't need to deliberately pursue speed, just prepare your gear and enjoy a gravel ride anytime, anywhere.
Learn More: Is Canyon Grizl CF SL 8 Suspension 1by Worth Buying? [2023 Canyon Grizl CF SL 8 Suspension 1by Review]
Summary
Above is our test of the Kona Libre. As a great gravel bike in this performance, it reaped our unanimous praise. It performs well and even improves on these classic terrains. When you decide to skip the sidewalks, you can laugh lightly along the unbeaten path without any regrets. It's affordable, quirky, and exactly the feeling we hope for in a gravel bike. If you want to try a higher-end gravel bike, check out our related tests.
Finally, if you like our content, feel free to share it with your friends! If our content is helpful to you, you can click the subscription button below. Thank you for your support!