We use affiliate links and may receive a small commission on purchases.
2023 Kona Hula Review
Price: $459
Frame: Aluminum
Wheels: 24 x 2.6″
Gear: 1×7
What we like about it: A general youth bike that doesn't pick the ground and is full of fun.
What we don't like about it: V-brake is a bit raw.
Rating (4.75/5)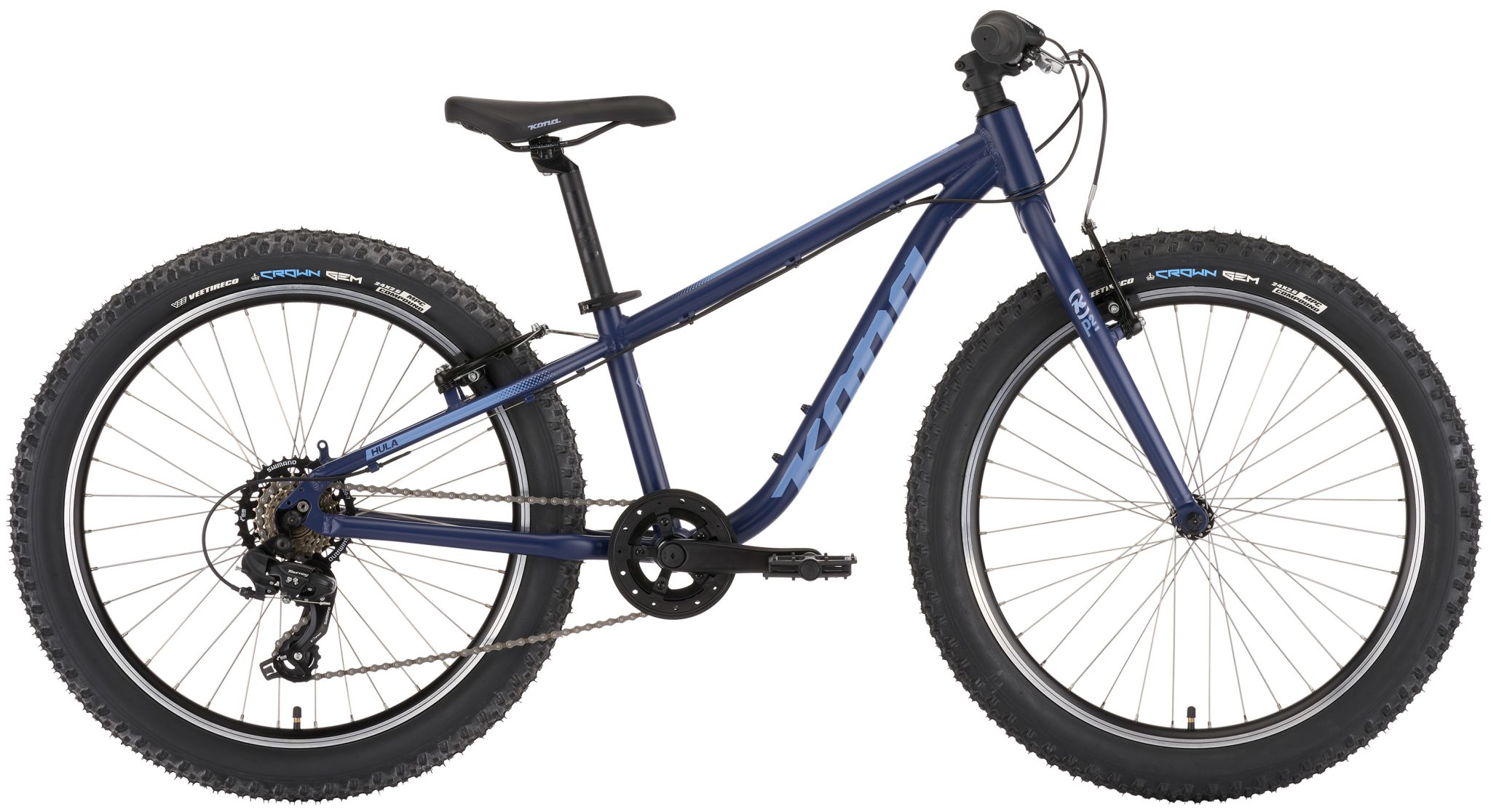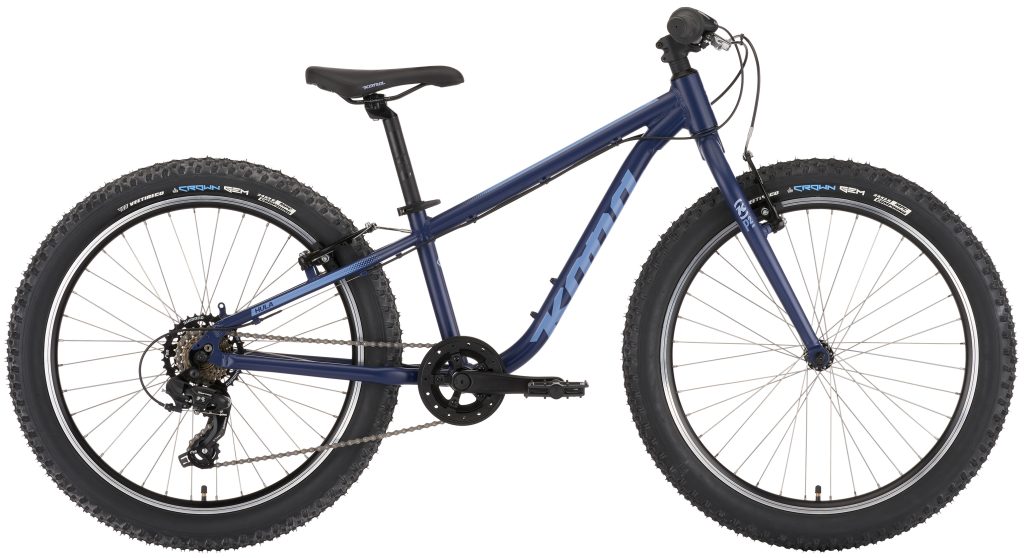 For all children in the height range of about 8-12 years old, choosing this Kona Hula -aluminum frame general youth bike as a gift is worth the surprise and celebration.
Rather than the expensive and unbreakable carbon frame and the bulky and rust-prone steel frame bicycle, this Kona Hula with its geometric aluminum frame that incorporates the rules of child growth and development is more appropriate for children.
Considering that children at this age are already capable of handling simple shifting operations. The latest Kona Hula features a Shimano Revo 1×7 speed transmission for added riding fun.
In terms of brake design, Tektro V-brake looks less high-end but more durable. Moreover, it also reduces the weight of the bike.
The 24×2.6″ Vee Tire Crown Gem tires not only have a strong grip and are very solid and durable without picking up the ground, which can meet the various needs of children's road and mountain riding.
Admittedly, this combination of configurations is not too attractive for adults. But for young riders who are just about to learn to ride or are ready to move up in size, the Kona Hula is a solid new playmate.
Below we analyze the riding experience and specification features of the Kona Hula. If you want to know more about bike reviews, you can follow us.
Off-road Riding In The Park
The reason why I chose to share this Kona Hula with you is that two months ago, my son Novak received the latest bike from me for his 9th birthday. The boy, who was originally introverted, has become more active and sporty. This made me very touched.
Now, every weekend afternoon, when the weather is nice, Novak always asks me or his mom to accompany him to a nearby park to practice riding.
Although I haven't ridden the Kona Hula, I can feel Novak's satisfaction and love for this bike from his pure and sincere smile. And I also feel happier because I can spend more time with my child with this birthday gift.
Ride Experience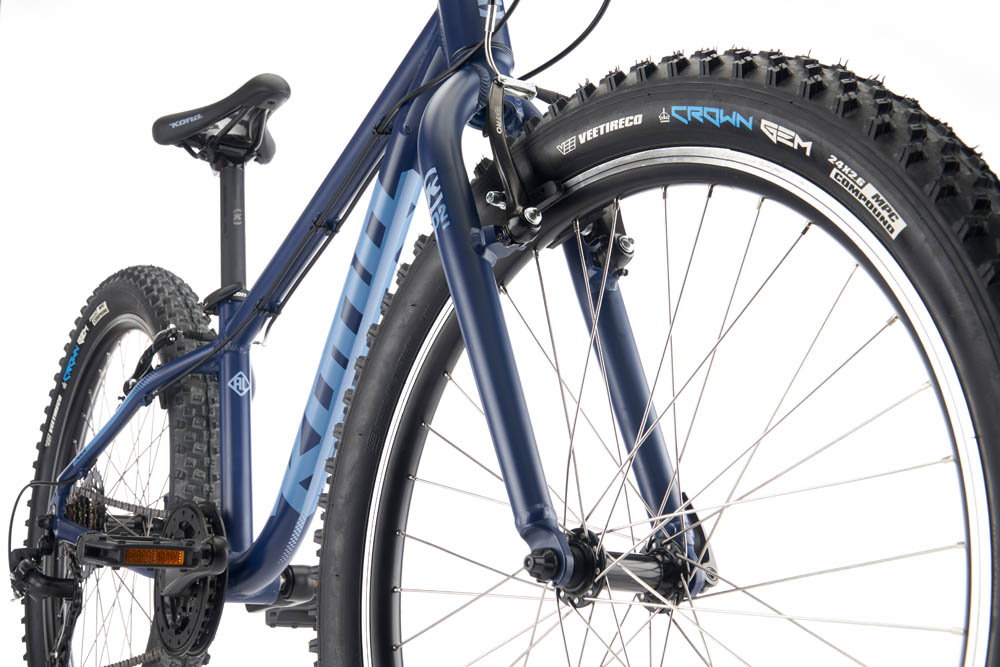 Before writing this review, I had also taken Novak to the park over the weekend and asked him to tell me how he felt about the bike.
Overall, Novak's comments about Kona Hula's ride were largely very positive. I could also feel it in his "wow~" screams and "hahaha~" laughs every time.
Novak told me that he likes the saddle of the Kona Junior. Because it is a little hard, but the leather is very soft and comfortable. Except for the lack of a backrest, it feels similar to sitting on a couch at home.
He gets excited whenever his hands are on the Velo Junior's grips. The grip feels very comfortable to the touch, with dense little bumps that are non-slip and hands that don't easily break free from sweat. And the bike is very easy to control, you can easily adjust the direction by turning the handle, which gives him confidence.
In addition, Novak claims that the height of the bike and the design of the important parts are perfect. By adjusting the height of the Kona Thumb, he was able to sit firmly on the bike. And when his feet are off the pedals, he can easily touch the ground even with both toes up. This height makes him feel safe while pedaling, and he can straighten his legs as much as possible and pedal more smoothly.
Park Riding Performance
Judging from Novak's riding route, I can feel that he prefers to challenge the mountains than road riding on concrete. Because most of the time, he likes to leave long rutted marks in the dirt.
Fortunately, the 24×2.6″ Vee Tire Crown Gem tires are wide enough to pass well. As long as Novak was willing to pedal, he was able to pass even rocky and stony surfaces with ease and grace.
Of course, thanks to the Samox 152mm cranks, the 28-tooth sprocket bike is still relatively efficient in its delivery. I could feel from Novak's smile that the pedaling was easy and the bike ran fast.
Climbing and Descending
When it comes to park riding sports, climbing is also essential. And Novak has become proficient with the Shimano Revo Shift after nearly two months of adaptation.
Because most of the time when he faced the slope, he would quickly and skillfully dial in the shifter in advance. Then the chain would also climb very smoothly from the small wheel to the highest freewheel. Then he climbed up the slope with the bike very easily. Occasionally, Novak would stand up and pedal when he encountered a slope with a large gradient. Although it looks a bit strenuous, it is also an exercise for the child.
And when the wheels came to the downhill section, Novak also consciously changed the chain to the small freewheel. And he would use the brakes lightly to control the speed of the bike. I could see that he was still very careful.
Novak told me that the Tektro V-Brake is a bit stiff, and he is worried about not being able to stop the bike in time. Therefore, he bends his fingers to control the speed at any time. However, this braking system is easier to control than the coaster brake he had used before.
Specification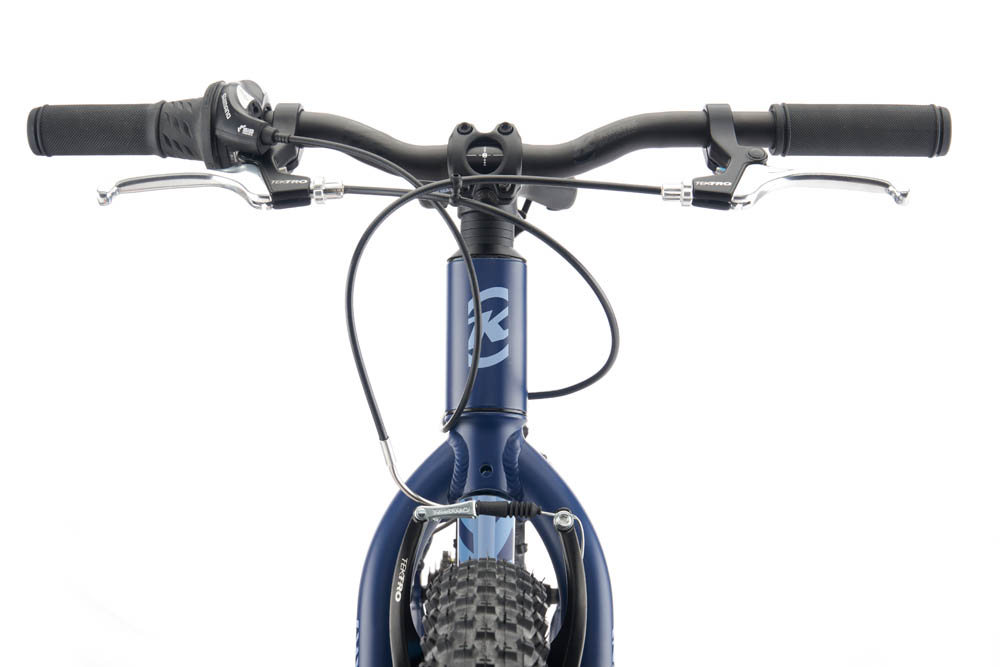 With a sturdy aluminum frame combined with a steel Kona Project Two JR fork, the latest Kona Hula model achieves a balance between lightweight and comfort as much as possible.
The scientifically reliable geometry ensures that the child can always be in a strong pedaling position and ensures safety and reduces fatigue.
The Shimano 1×7-speed transmission with indicators may not be high-end, but it is reliable and easy to operate, making it the best introductory device for most children's bike shifting.
Of course, the wide 24×2.6″ Vee Tire Crown Gem tires are also very reliable partners. Although the large size affects the child's riding speed to some extent, it can adapt to various terrains and compensate for the bike's rigid design in mountain terrain, effectively absorbing certain vibrations.
What do we like about it?
Cheap but popular general youth bike for children.
The strong and durable aluminum frame and steel fork make the bike lightweight and give it more comfort at the same time.
The comfortable and safe geometry allows the child to always be in a strong stepping position.
The easy-to-operate Shimano 1×7-speed transmission increases the fun of riding while facilitating the climbing movement of children.
The powerful 24×2.6″ Vee Tire Crown Gem tires are truly ground-independent and absorb ground vibration.
A complete bike that is ready to use out of the box, with no need for additional expenses other than safety equipment such as helmets and knee pads.
What don't we like about it?
The V-brake is a bit raw.
FAQs
I had pre-ordered through the Kona website and then contacted a dealer. Of course, it's easier to buy if you can easily find a local dealer.
How old is the latest Kona Hula for children?
As a youth mountain bike, this bike has 24″ inch tires and only one size. Generally, it is suitable for children from 4'3″ – 4'11". Because the seat post of the Kona Thumb supports height adjustment.
What additional accessories do I need to buy besides the bike?
The Kona Hula I received was very complete, and I didn't have to purchase any additional accessories. However, for the safety of your child, I recommend that you purchase safety equipment in advance, such as helmets and protective gear. Even for children with riding experience, I still suggest that they wear safety gear.
If you want to take your kids to go riding in well-known terrain or special terrain, where is the most convenient place to stay?
You can book your accommodation on Skyscanner, which is not only rich in variety but also easy to operate.
Kona Hula Specs
Build
| | |
| --- | --- |
| Frame | Kona 6061 Aluminum ButtedColor: Matte Midnight w/ Blue-Grey Decals |
| Fork | Kona Project Two JR |
| Rear Shock | n/a |
| Bottom Bracket | Shimano 68mm |
| Headset | Feimin FP-H863 |
| Stem | Kona Control |
| Handlebar | Kona Riser |
| Saddle | Kona Junior |
| Seatpost | Kona Thumb 27.2mm |
| Pedals | Feimin Platform |
| Grips | Velo Junior |
Groupset
| | |
| --- | --- |
| Rear Derailleur | Shimano |
| Front Derailleur | n/a |
| Crank | Samox 152mm, 28t/Guard |
| Shifters | Shimano Revo Shift |
| Cassette | Shimano TZ 14-34t 7spd |
| Chain | KMC HV500 |
| Chain Guide | n/a |
| Brakes | Tektro V-Brake |
| Brake Levers | Tektro Junior |
Wheels
| | |
| --- | --- |
| Rims | Double Wall alloy |
| Spokes | Stainless 14g |
| Front Hub | Joytech 100x9mm |
| Rear Hub | Joytech 135x10mm |
| Tires | Vee Tire Crown Gem 24×2.6″ |
| Disk Rotors | n/a |
Video
Comparison Table
Kona Hula vs Cannondale Kids Cujo 24+
I have to admit that this Cannondale Kids Cujo 24+ is also a very solid option for most child riders.
The same aluminum frame bike is paired with a lighter aluminum fork, giving the bike a weight advantage. The Shimano Tourney 1×8 shifter is also more attractive for young riders who like to climb. What's more, the Tektro mechanical discs on the Cannondale Kids Cujo 24+ are quicker and more precise for braking than the Kona Hula's V-brake.
But the price of Cannondale Kids Cujo 24+ is not as friendly as Kona Hula for parents on a budget. After all, you get what you pay for. Although the Kona Hula is a good value for money, there is still room for improvement compared to the Cannondale Kids Cujo 24+.
Is Cannondale Kids Trail Plus 24 A Good Bike? [2022 Cannondale Kids Trail Plus 24 Review]
Kona Hula vs Merida MATTS J24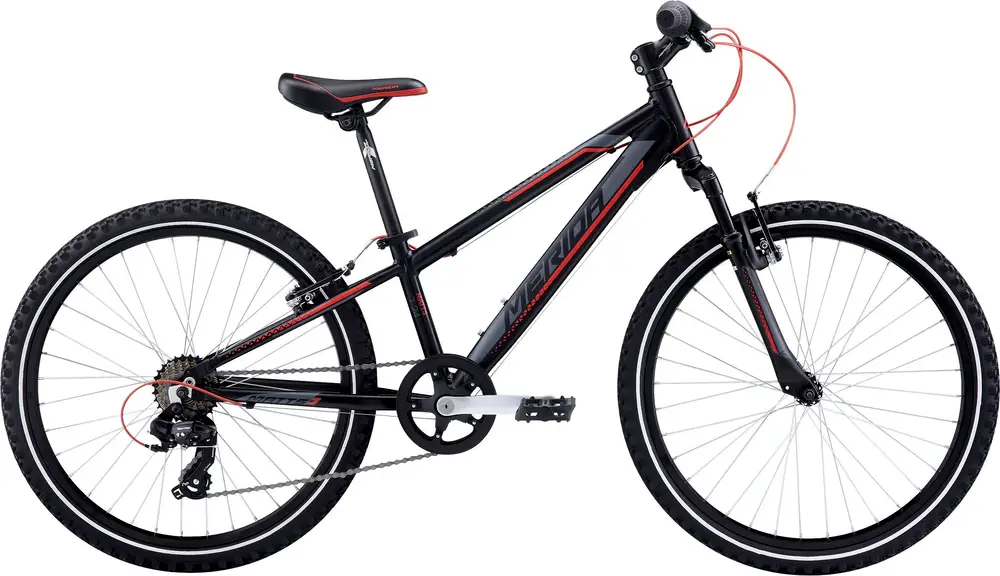 For kids who want more comfort, this hardtail Merida MATTS J24 may seem more attractive at first glance. The aluminum frame, along with the HL Suspension 24 fork, gives the bike good shock absorption capabilities.
The Merida MATTS J24 is very similar in design to the Kona Hula in terms of the transmission and brake systems, with a Shimano 7-speed transmission system paired with V-Brake Linear A. However, the choice of MTB 24 × 1.95″ tires to some extent limits the performance of this bike.
This tire size can be a bit difficult for beginners or kids with an unstable center of gravity. The terrain for this bike is also awkward. The suspension fork is suitable for mountain biking, but the tire's passing ability is not high. On the road, the fork has some leakage, which increases the burden on the child's riding.
Therefore, to some extent, the design of the Merida MATTS J24 is not as scientifically reasonable as the Kona Hula.
Learn more : Is Merida CROSSWAY L 100 Worth Buying? – [Merida CROSSWAY L 100 Review]
Kona Hula VS 2023 Co-op REV CTY 24
I believe that the 3×7 gearing of the 2023 Co-op REV CTY 24 looks extremely attractive to children who don't know much about bikes. Because in a child's perception, bigger numbers mean better. But in reality, the Co-op REV CTY 24's multi-disc shifter gives me the impression that it is flashy but not practical.
But all experienced riders know very well that a multi-disc bike is easy to use for many years after the chainring is still brand new. This design is not only bulky but also very low practicality.
More importantly, we do not recommend young children pay too much attention to shifting while riding, which can distract them from observing the road and enjoying the scenery.
Therefore, the single-disc Kona Hula is more attractive to me than the multi-coil Co-op REV CTY 24. It is lighter, easier to shift, and also ensures that the child's attention is not easily distracted and the ride is safer.
Kona Hula VS 2023 Trek Precaliber 24 8-Speed
The 2023 Trek Precaliber 24 8-Speed has a significant similarity to the Kona Hula. In terms of design, both bikes use lightweight and durable aluminum frames paired with steel front forks for better shock absorption and rider comfort.
However, the component design of the two bikes differs. The 2023 Trek Precaliber 24 8-Speed requires a higher cost budget. In terms of the drivetrain, it features a ProWheel alloy, 32T steel ring crankset, and a Shimano Tourney 8-speed shifting system, which means it has higher transmission efficiency.
Additionally, for tire selection, the 2023 Trek Precaliber 24 also uses more suitable 24×2.25″ Bontrager XR1 tires that match its steel front fork setup. The narrower tires greatly reduce the contact area with the ground while still retaining some comfort, ensuring that most children can move quickly and enjoy their ride in the mountains. However, this also means that the bike's terrain passability is reduced, and children need to spend more energy when encountering rocky or rooty terrain.
Is Trek Precaliber 24 A Good Bike? [Trek Precaliber 24 8-speed Review]
Summary
Although the Kona Hula is not perfect and has room for improvement, it is a comfortable, safe, and fun riding equipment for novice children aged 8-12. Overall, the latest version of the Kona Hula is a great value for money within a reasonable budget.
If you are looking for a children's holiday gift or birthday gift, consider starting with a Kona Hula. It can bring you and your child closer and help your child connect with nature.
If you like our content, please share it with your friends. If our content is helpful to you, you can click the subscription button below! Thank you for your support!