We use affiliate links and may receive a small commission on purchases.
2022 Forbidden Druid GX Review
MSRP: $6,699
Travel: 130mm rear, 150mm front
Frame: Carbon
Tires: Front (29″x2.5″), Rear (27.5 "x2.4")
Drivetrain: SRAM GX 1×12
Brakes: SRAM G2 RSC Hydraulic Disc
Seatpost: Dropper
What we like about it: It will be the perfect companion for those who like to weave their way through the forest trails and roll and jump with ease. As an all-around forest trail bike, it will not only make you feel fast and agile but also unspeakably fun.
What we don't like about it: As a "newcomer" it dares to ask for $6,699, making many people turn their noses up at it.
Rating (4.85/5)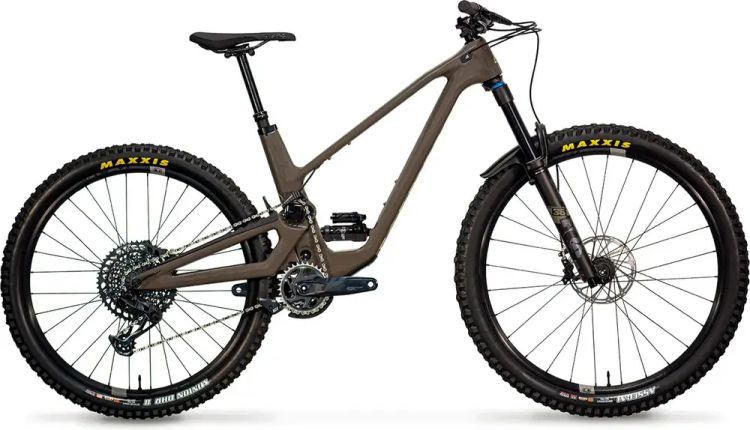 Perhaps only avid fans of mountain bikes have heard of Forbidden Bike Company – a Canadian company focused on making high-quality mountain bikes.
And it is with its unique first work – Forbidden Druid, our protagonist today, that it has attracted much attention.
First of all, the Forbidden Druid GX, with its off-the-wall "High Pivot" construction, has managed to make a name for itself in a world full of strong competitors in the forest trail cycling world.
The Druid's high single-pivot suspension design makes it easy to negotiate aggressive forest roads, rough rocks, and disjointed tree roots without stress.
Meanwhile, the combination of the sturdy Crankbrothers Synthesis Enduro wheelset along with the SRAM 12 drivetrain and SRAM G2 RSC 4 brakes is every bit as telling that it is the wildest presence in Lindau.
If you are also an avid fan of the sport of trail, then it 2022 Forbidden Druid GX will surely make you a good climber.
Here's a breakdown of the 2022 Forbidden Druid GX's ride, key features, components and specs, other versions, and competitive comparisons.
If you want to know more, please remember to follow us, your attention is my greatest motivation to update.
Learn More: Forbidden Dreadnought GX Review [2022]- Giving You Ultimate Enduro Fun
Forest-Road Riding
Forbidden Druid GX Forest-Road Trail Performance
To tell the truth, I was a little nervous when I first came across it. Because Forbidden's reputation is not as well known as Trek, Santa Cruz, Specialized, and other well-known brands.
But after it accompanied me through the wonderful Tahoe Mountain, California, USA trip, I fell in love with it completely. At least I don't plan to change my "toy" until the next version comes out.
At first, I felt very comfortable when the bike was on the dirt gravel path, similar to the feeling of riding a road bike on the road. But there was a little bit more to it, a fun up-and-down rhythm. I believe this is due to the Fork (FOX Performance Elite 36 GRIP2 – 150mm Travel) and the Rear Shock (RockShox Super Deluxe Ultimate 2 – 130mm Travel), which do a great job of eliminating the bumps from the ground.
Forbidden Druid GX Forest-Road Off-Road Performance
I understood the meaning of "High Pivot" very well when the bike came to the rugged and rooty mountain trail. Yes, I can jump up and over them gracefully because of it. And Druid GX is good at seizing every opportunity to bounce, and the feeling of being up in the air makes me scream, it's really exciting and fun.
I once saw someone comment that the idler was not only noisy but also might increase resistance. So I tried to climb on it, and the mountain forest is very rough. I could feel the gears transmitting efficiently as I climbed in lower gears. Because there was no great effort the bike climbed up the rocks. Thankfully, the idler didn't make me feel like I was losing out on my efforts, and I felt it was unusually quiet, probably because of the lube I had put on it.
And the best part is the downhill. The winding trail and the feeling of going downstream are so exciting and fun. It reminded me of the silky, fast wintertime when my dog pulled a sled to take me on a wild ride through the snow.
Riding the Forbidden Druid GX through the woods is quite a wonderful feeling. Because the RaceFace Turbine R 800mm Handlebar is very spacious with the Handlebar Grips, the handling is so strong. It always makes me want to jump across roots and rocks repeatedly, and I enjoy the feeling of being up in the air. And the Saddle on the SDG Radar Chromo Chromoly Rails is so soft, and with the Seatpost (Dropper), it feels like a massage for my hips. It's so much fun, my friend, I could play here all day. After finishing my bike ride, I easily booked accommodation on IHG Hotels & Resorts. I can finally relax and rest well.
Main Features
Frame Group
Carbon frames have long been standard on many mid- to high-end bikes, and the Forbidden Druid GX is no exception. The strong, lightweight, shock-absorbing frame gives the Druid GX more confidence on the trails of the woods.
To its credit, the integrated frame protector not only makes the frame look extra clean, but if you ride it you'll find it's equally quiet. It also increases the life span of various parts.
The high pivot allows the bike to have a rearward axle path, which makes the Forbidden Druid GX a 100% off-road presence.
Forbidden's sincerity is visible, for example, the thoughtful adaptable cable routing leaves the choice of which hand brake to use to the user. For example, the Seatpost of RaceFace Aeffect R also gives enough comfort. In addition, the Water Bottle Fitment is also a rider's presence that can save him from dry mouth.
Interestingly, you can also see hints of Specialized Stumpjumper and Trek Slash on the Forbidden Druid GX, like the protector on the downtube can be removed. Once removed you will see a small storage space that supports you in storing tools and parts, not much but very useful.
Geometry
Probably the most distinctive, and most competitive feature of the Forbidden Druid GX is its particularly attentive geometry.
First, Forbidden's proud "One Ride" proportional geometry gives every rider a custom fit and comfortable experience. The Druid GX changes the Chainstay Length of traditional bikes to allow for more even weight distribution, with different sizes of bikes corresponding to different Chainstay Lengths so that riders of all sizes can find the perfect bike for them.
Secondly, the loose Head Tube Angle (65.1°) gives the rider enough stability for high-speed riding. Especially when it comes to rough downhill roads, you will experience its charm. Also, the steeper Seat Tube Angle (75.1°) is often seen in triathlons, making the Druid GX the most competitive climber in the bush.
Finally, the ultra-short Trail (155mm) gives it extremely agile steering capabilities, with winding trails, single-track trails, and obstacles all in play.
All in all, it can be said that the Forbidden Druid GX is nothing but agile. Therefore it is quite friendly to those players who are keen to show off their skills in the bush, as it will let you experience a high-speed, exciting and fun forest trail ride.
Components and Specifications
SRAM GX 1×12 Speed Drivetrain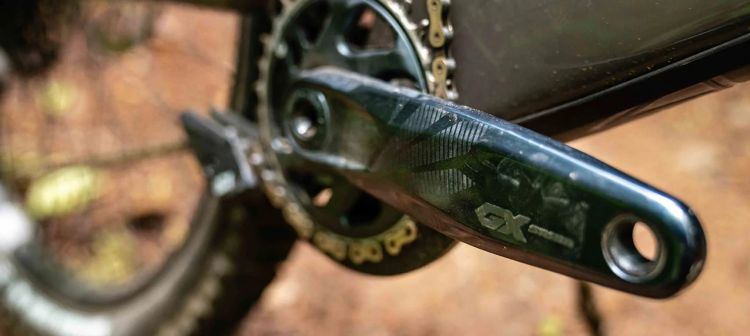 The Forbidden Druid GX has SRAM GX written into its name, and I believe this is a testament to the GX 1×12 speed powerplant. SRAM did not disappoint the players either.
Nowadays, single-disc shifting systems are standard on mountain bikes, and a lighter load is more impressive than a complex, cumbersome shifting system. Because in the rugged and changing terrain of the mountains, the combination of multiple discs may not be an aid, but a liability.
SRAM's quick and precise shifting means that riders don't need to expend too much energy on the mountain trails. That means more energy to tackle the trails or to have fun.
Especially the clean, hard-working rear paddle, which always gets to where I want it quickly no matter every time I dial in the gear. No delay, no chain skipping, and no noise, just fast, accurate and quiet, it grabbed my heart.
SRAM G2 RSC 4-Piston Caliper Hydraulic Disc Brakes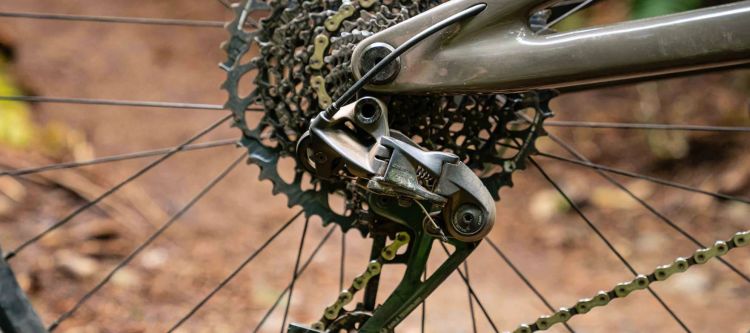 Those who don't love to play may not quite understand what the S4 lightweight 4-Piston Caliper means. It will satisfy your desire for all the features and materials that the Ultimate class should have.
A more precise, fast, and silky smooth braking experience will make you the most agile beast in the mountains. And the aggressive riding style of the Forbidden Druid is more like a strong combination for the SRAM G2 RSC 4-Piston Caliper. You'll never have to worry about losing control because you're going too fast. After all, the SRAM G2Hydraulic Disc will always let you hit the pause button at any moment you want to stop.
FOX Performance Elite 36
As one of the enduro forks, the FOX Performance Elite 36 is probably an old friend of yours, after all, it can always be seen on the world's major podiums. After many technical innovations, the FOX 36 is not comparable to the FOX 38, but it is also very advanced existence. Because of the Grip 2 damper, it doubles its silky smoothness, while the 150mm Travel high rebound travel makes it easy to conquer aggressive mountain terrain.
Rear Shock RockShox Super Deluxe Ultimate
When it comes to Forbidden Druid's shock-absorbing ability, nothing complements the FOX 36 better than the RockShox Super Deluxe Ultimate 2-130mm Travel.
The reinvented RockShox has returned with a faster more responsive, and longer life. While you may think the 130mm Travel isn't long enough, you'll thank RockShox for protecting your butt when gravel bounces off the tire on the mountain.
Undoubtedly, RockShox does not pick the weather, or terrain, in any moment you want to adventure, it can take you out at any time.
Crankbrothers Synthesis Rims and Maxxis Assegai Tires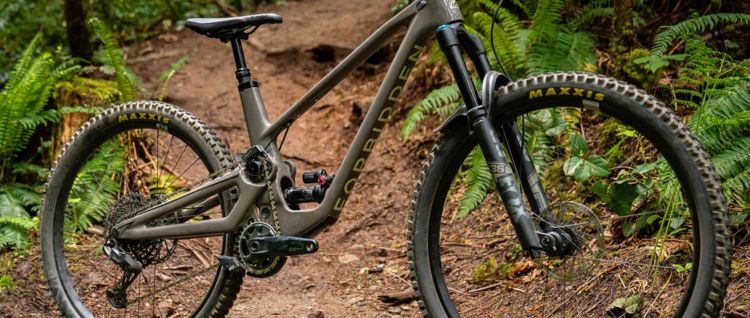 You have to admit, the Forbidden Druid GX can drive as fast as it wants on the forest road because of its rugged tires.
There is no doubt that the Crankbrothers Synthesis Rims are made for the mountains. The improved front hub is not only more compliant, but the rider can feel the increased grip of the wheelset. The rear tire has been stiffened to support heavier loads and improve stability and tracking speed.
And, with its ability to roll fast, the tough, robust Maxxis Assegai is increasingly arrogant in the mountains, escorted by puncture protection. Whether off-road or speeding downhill, the wide 29″ tires offer significant advantages in terms of traction, comfort, control, and safety.
Previous versions of Forbidden Druid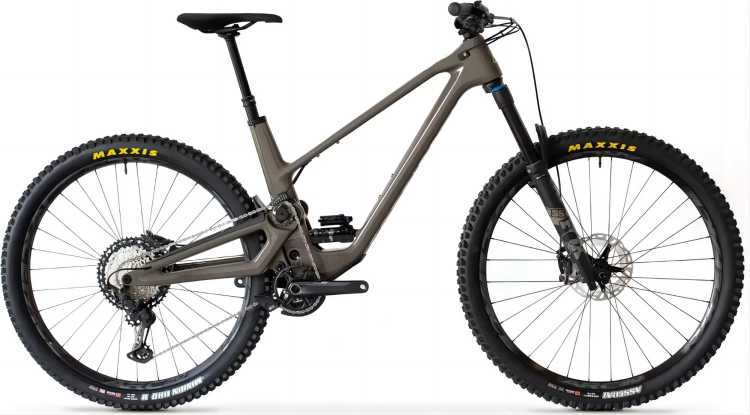 If you like the design of the Forbidden Druid GX but are more used to the operating logic of Shimano, the 2021 Forbidden Druid XT Complete can satisfy you. It has a similar look to the Forbidden Druid GX, with a very fast and smooth Shimano XT 12sp drivetrain. Likewise, the Shimano XT 4-Piston Hydraulic Disc's braking performance is impeccable.
It's worth noting that the 2021 Forbidden Druid XT Complete has a more aggressive geometry. If you don't mind, it's happy to be your playmate.
Forbidden has many more versions of the bike, all of which are perfect for mountain players. If you are interested, you can follow us and I will keep updating you with more useful bike reviews.
What we like about it
The "High Pivot" design makes it the most arrogant presence in the forest road because the bumps don't exist.
The carbon frame is very strong and the damping effect is not to be denied.
SRAM GX 1×12-speed power drivetrain, so that whether climbing or speeding, longer have to worry about the speed is not fast enough.
The SRAM G2 RSC 4-Piston Caliper Hydraulic Disc gives you the security of being able to press pause whenever you want.
The more aggressive geometry is tailored for forest road off-road enthusiasts.
The strong combination of high-travel Fork and Rear Shock allows you to be more reckless in the mountains.
The rugged wheelset provides extreme grip and all-terrain will bow down in their face.
Unique design with high-end components, only to give forest road lovers the most interesting riding experience.
What we don't like about it
There are always people who are afraid to fully trust a new product, thinking it is too expensive.
FAQs
Is the 2022 Forbidden Druid GX's drivetrain noisy?
It's not noisy, it has a very quiet drivetrain. And as long as you take care of it regularly, it's hard to hear the noise even in the mountains.
What are the tire sizes for the 2022 Forbidden Druid GX?
The 2022 Forbidden Druid GX uses a combination of Front 29 "x2.5" tires with Rear 27.5 "x2.4".
Where can I buy the 2022 Forbidden Druid GX?
I booked through Forbidden's official website, and you can too.
What size of the 2022 Forbidden Druid GX should I get?
I purchased a size L in 5'12" and it feels just right to ride, but that doesn't mean it's right for you too. (Bike sizes may vary from rider to rider and bike to bike, so I can only give you an opinion.)
| | | |
| --- | --- | --- |
| Rider Height (cm) | Rider Height (in) | Frame Size |
| 158cm – 168cm | 5'2″ – 5'6″ | S |
| 168cm – 178cm | 5'6″ – 5′ 10″ | M |
| 178cm – 188cm | 5'10" – 6'2″ | L |
| 188cm – 198cm | 6'2″ – 6'6″ | XL |
2022 Forbidden Druid GX Specs
Build
| | |
| --- | --- |
| Frame | Druid Full Carbon – 130mm Travel High-Modulus carbon | Trifecta High Single Pivot Suspension | One Ride Geometry | Enduro Max Bearings | 73mm Threaded BSA Bottom Bracket BB Standard: BSA, 73mm, Threaded |
| Fork | FOX Performance Elite 36 GRIP2 – 150mm Travel GRIP 2 Damper with HSR/LSR/HSC/LSC | FLOAT Air Spring | 44mm Offset | Kabolt Thru-Axle | Matte Black with Custom Decals |
| Rear Shock | ROCKSHOX Super Deluxe Ultimate 2 Position Adjuster | DebonAir | RCT Damper | LLC Tune | 210x55mm |
| Bottom Bracket | SRAM DUB 28.99mm Spindle | DUB | Threaded BSA |
| Headset | Cane Creek HellBender 70 SHIS: ZS44/28.6|ZS56/40 | Premium Stainless Steel Bearings | Alloy Dual-Seal Crown Race |
| Stem | RaceFace Aeffect R 50mm Length | 35mm Bar Clamp | Black Anodized with Grey Graphics |
| Handlebar | RaceFace Turbine R 800mm Width | 20mm Rise | 35mm Bar Bore | Black Anodized with Grey Graphics |
| Saddle | SDG Radar Chromo Chromoly Rails | Black Synthetic Cover with Black Cordura Reinforcements |
| Seatpost | RaceFace Aeffect R 31.6mm | Size Specific Travel :S=125mm – M=150mm – L/XL:170mm |
| Pedals | Not included |
| Grips | RaceFace Half Nelson Single Sided Lock-On | Black |
Wheels
| | |
| --- | --- |
| Rims | Crankbrothers Synthesis Enduro Alloy Front 31.5mm / Rear 29.5mm Internal Width | Welded | Tubeless Ready | Black with Grey Graphics |
| Spokes | Black Stainless Front: D-Light 2.0/1.65/2.0mm / Rear: Race 2.0/1.8/2.0mm | Double Butted | Black ED Coated Stainless | Black Brass 14mm Nipples |
| Front Hub | Crankbrothers 15 x 110 Boost |
| Rear Hub | Crankbrothers 12 x 148 XD Driver | 148x12mm | 32hole | 6-Bolt | Black Anodized Decal |
| Tires | Maxxis Assegai 29 "x2.5" 3C MaxxTerra Rubber Compound | 60tpi | Folding | Tubeless Ready | EXO Casing |
| Disk Rotors | SRAM Centerline – 180mm 6-Bolt |
Groupset
| | |
| --- | --- |
| Rear Derailleur | SRAM GX 12speed Clutch |
| Crank | SRAM GX DUB 32T 170mm All Sizes | 52mm Chainline | Black |
| Shifters | SRAM GX 12speed MatchMaker X |
| Cassette | SRAM GX 10-52T 12speed | XD | 10-12-14-16-18-21-24-28-32-36-42-52T |
| Chain | SRAM GX 12speed | Links = S:126 / M:128/ L:130 XL:132 |
| Chain Tensioner | Forbidden Idler Pulley with e.13 Custom Chainguide Forbidden Integrated Idler | e.13 TRS Plus | Molded Inner with Compact Outer | Black |
| Brakes | SRAM G2 RSC 4-Piston Reach and Contact Adjustment | Steel Backed Metal Sintered |
Video
Comparison Table
2023 Ibis Ripmo V2S NGX vs 2022 Forbidden Druid GX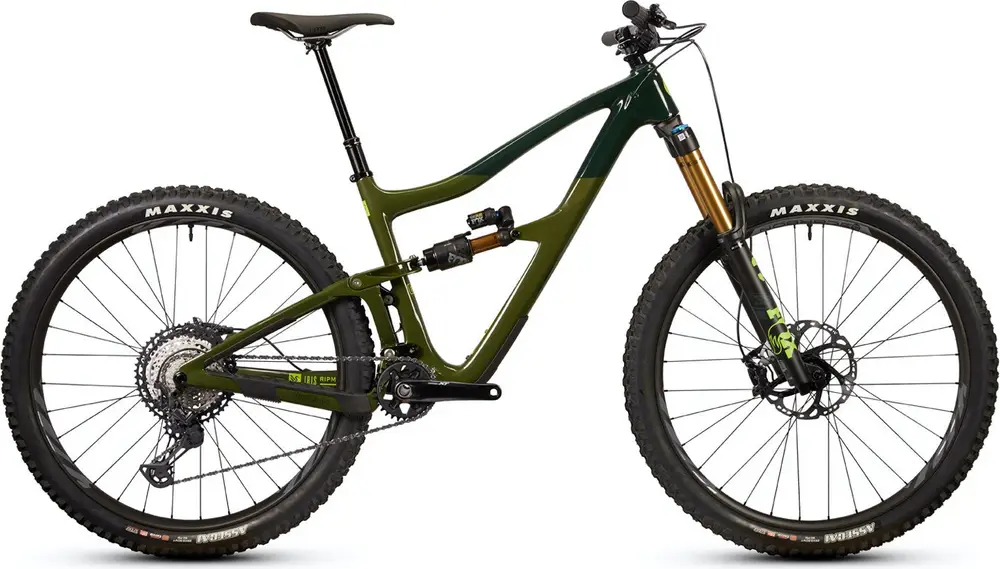 The Ibis Ripmo V2S NGX leans more towards the SRAM GX Eagle than the SRAM GX drivetrain. there's not much difference between the two, after all, they're both stars of the Red Factory.
Although the Ibis Ripmo V2S NGX has a longer shock travel, that doesn't mean it necessarily performs better in the woodlands. At least, it had let me down when faced with very aggressive mountain sports. I'll never forget the moment it got my butt rolling.
But there is no denying that the Ibis Ripmo V2S NGX is also an excellent climber, although there is still room for improvement compared to the Forbidden Druid GX.
Learn More: Ibis Ripmo GX Review [2022] – Taking You Off-road
2023 Santa Cruz 5010 S / Carbon C / MX vs 2022 Forbidden Druid GX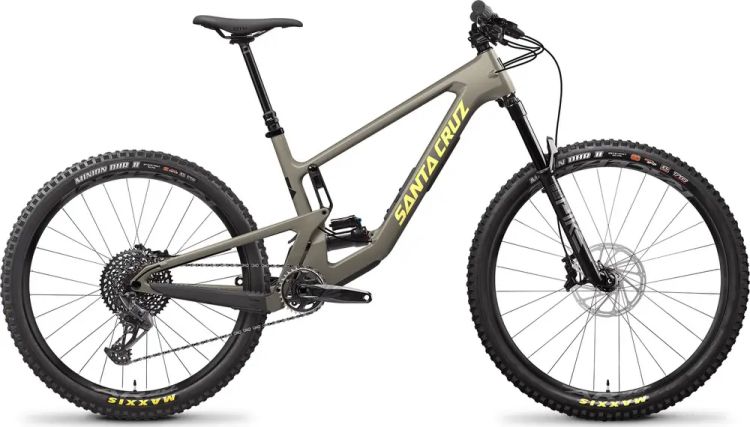 Although the Santa Cruz 5010 S / Carbon C / MX uses a similar wheelset to the Forbidden Druid GX – Front (29 "x2.4") with Rear (27.5 "x2.4"), which is perfect for jumping and running in the mountains.
But actual riding experience tells me that the Forbidden Druid GX can be more agile with the High Pivot bonus. The Druid GX is more passable on singletrack trails and trails full of tree roots. So I could easily maneuver the handlebars without fear of tipping over due to inflexible steering. That's not to say the Santa Cruz 5010 S / Carbon C / MX isn't good enough, just that it could continue to work on improving itself.
Learn More: Santa Cruz 5010 X01 Review [2022]- Napoleon's Heroism
2022 Trek Top Fuel 9.8 XT vs 2022 Forbidden Druid GX
The Trek Top Fuel 9.8 XT, as the name suggests, uses the aforementioned Shimano XT power and braking system, and the handling feel is excellent.
The only thing I regret about the Trek Top Fuel 9.8 XT is how well it shocks. Too surprisingly, the RockShox SID Select+-120mm Travel fork with Rear Shock (RockShox Deluxe Ulitmate -120mm Travel) is not as amazing as the FOX and RockShox combination. So when faced with challenging terrain, the Trek Top Fuel 9.8 XT would make me hesitate because I don't want my arms and hips to feel the painful soreness.
If you like a challenge as much as I do and want to face the forest roads with more ease, the Forbidden Druid GX is a good choice.
Learn More: Trek Top Fuel 9.8 XT Review [2023]- Speed And Passion On Fire
2022 Kona Hei Hei CR/DL vs 2022 Forbidden Druid GX
For those of you who like wireless electronic shifting, you've been following the 2022 Kona Hei Hei CR/DL. I'll admit that the SRAM GX Eagle AXS shifting system is cool and fast, and the handling is super comfortable.
But if you can't stand an overly aggressive ride, the Kona Hei Hei CR/DL might not be for you. Its ultra-low Stack/Reach Ratio (1.3, LG) does dissuade many players.
Although it is entertaining, most people prefer to enjoy it in a more relaxed and comfortable position. So for those of you who think the Forbidden Druid GX geometry is radical, your attitude towards it should also change.
In case, the above comments are helpful to you, please remember to share the subscription. Have a great day!
Learn more : Is Kona Lava Dome Worth Buying? – [Kona Lava Dome Review]