We use affiliate links and may receive a small commission on purchases.
We've selected 15 best bike grips for your reference.
We agree that a comfortable ride leads to a happy life, and the grip is exactly where the key to connecting you to your bike lies. If you're a professional bike rider, then you don't want to miss out.
An excellent bike grip not only brings comfort but also provides enough friction and traction to protect the health of your hands.
Here we have listed 15 different types of bike grips for you, along with a grip buying guide and FAQ. If it helps you, please don't forget to follow us, your support is our biggest motivation to update.
Recommended Lists
1. PNW Components Loam Grip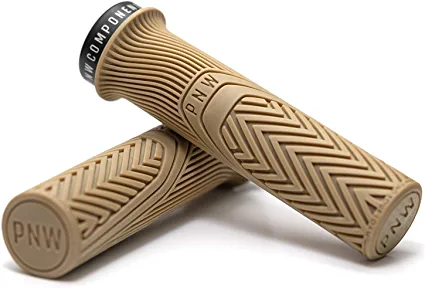 Price: $ 25.95
Length: 133.5 mm
Diameter: 30 mm
What we like about it: It's very light and thin and relieves cycling fatigue.
What we don't like about it: Some people aren't used to the taper of the handle.
Comfort is the most important feature of PNW products, and this PNW Components Loam Grip demonstrates it to the fullest. The thin and light touch makes you hold it and you won't want to let go. You can feel its comfort even with gloves on, no problem.
It may not keep your hands warm at all times, but the ergonomic pattern design can support your arms while riding and can effectively relieve palm fatigue caused by bumps in the road.
What you also need to know is that in the feedback we received, some people weren't used to its grip taper, which will take you a little time to get used to it. However, we know it's not easy to change your riding habits, so we also recommend other grips.
2. Vans x Cult Flangeless Bike Grips
Price: $13.41
Length: 143mm
Weight: 0.28 lbs
What we like about it: Vans co-branded models.
What we don't like about it: There is very little inventory.
As a Vans co-branded grip, we were very excited about its performance, and it certainly didn't disappoint us. First of all, the pattern structure used in the shape is the classic Vans waffle pattern design. This brings excellent grip, even in slippery weather, and can be well controlled.
Further, a proprietary rubber compound is used in the material, which makes for an equally excellent experience in terms of tactile feel. The soft grip allows you to still have a comfortable experience after a long ride.
But unfortunately, just because it's a Vans co-branded model, there's not much of it left in stock. This means that if you're excited about it, then you need to act fast.
3. BW USA Ergo-Lock 2.0 Grips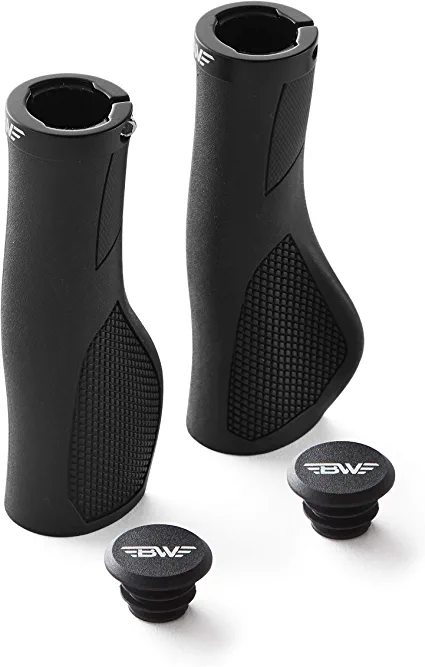 Price: $15.99
Material: Rubber
Diameter: 22mm
What we like about it: Enough color options, anti-twist locking system.
What we don't like about it: It's not for riders with big hands.
It's not often that we see a grip with such a wide selection of colors, but the BW USA Ergo-Lock 2.0 Grips do. In addition to the base color, you can also see black pattern accents, which are more in line with my aesthetic.
Of course, the variety of options is not the main reason why we chose it. The application of the anti-twist locking system ensures that it has sufficient robustness even in harsh environments. The Kraton rubber construction maximizes longevity and provides a comfortable ride.
It should be noted that the grip size is small, which will be somewhat unsuitable for riders with larger hands. But for those who like the smaller size, it is worth a try.
4. SOLODRIVE Ergonomic Design Bike Grips
Price: $18.99
Length: 130 mm
Diameter: 22.2mm
What we like about it: Ergonomic design, easy to install.
What we don't like about it: Solidity still has room for improvement.
The SOLODRIVE designs grips that always capture the needs of their customers, and you can be completely assured that each of their products has undergone rigorous quality testing.
The ergonomic design effectively relieves hand pain and finger numbness while riding and protects the hands. In addition, the non-slip pattern of the handle provides extra grip, allowing you to ride well in slippery conditions.
Of course, that doesn't mean it's perfect either. The standard for most clamps is 3-4nm, and it only stays at 2.8nm. This makes it possible for it to come off in the face of aggressive riding. If you are an aggressive rider, there is no need to worry because the next one will meet your needs.
5. ESI Chunky MTB Grip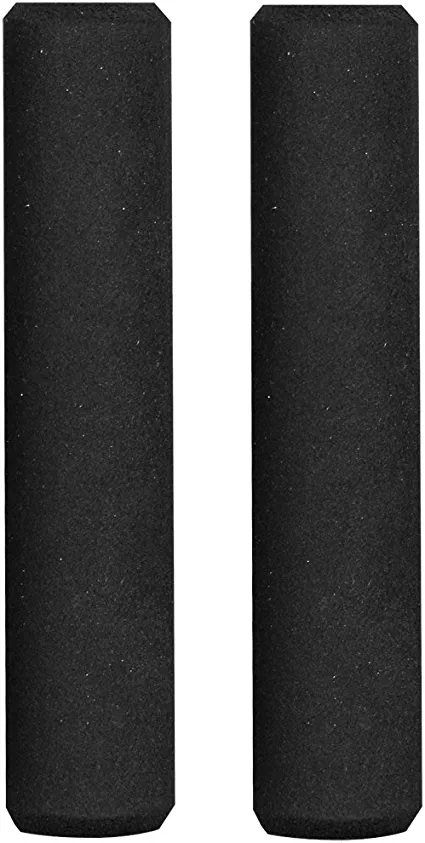 Price: $18.99
Weight: 91g
Diameter: 32mm
What we like about it: The thick grip.
What we don't like about it: Please keep it dry.
The ESI Grips was born in 2003, and it has been making quality high-tech products for riders. It is made of silicone, and the thick grip allows for great shock absorption, which is a boon to aggressive riders. You may be concerned about its installation, but you just need to follow ESI's installation instructions and you won't have any installation problems.
The silicone material gives it excellent shock absorption performance, but it also brings some unavoidable problems. You need to keep it as dry as possible, and it may not perform as well if used in wet weather. So try to choose sunny weather to ride, it will greatly increase your riding experience.
6. 25NINE Ronin Grip
Price: $12.99
Length: 150mm
Material: Rubber
What we like about it: Flanged grip with end plugs for longer life.
What we don't like about it: It looks too long.
As you can see, the 25NINE Ronin Grip is a pistol grip with an end plug, which provides a level of protection for your fingers. In addition, the soft far rubber material and thread pattern ensure comfort throughout and no random sliding, which means you can ride for longer periods.
The durable Kraton rubber construction maximizes grip life, and it handles even aggressive riding well.
However, the 6-inch length seems a bit large for some riders as this is a BMX bike grip. So if you're using a mountain or road bike, it's time to consider whether it fits.
7. ODI MX Longneck SL No Flange Grip
Price: $12.81
Length: 135mm
Weight: 0.25 lbs
What we like about it: The ODI brand flangeless long neck grip.
What we don't like about it: It's made of plastic.
Also as a small wheel grip, unlike the previous one, it is not a pistol grip, but that doesn't stop it from having other great properties. You only need a small amount of topical alcohol, it can be easily installed successfully, and has enough stretch to give you more precise control.
In addition, there is no raised part on the grip, which works very well in actual riding and can effectively eliminate the stiffness of riding, allowing you to have a longer ride.
However, what makes us slightly disappointed is that it is made of plastic. This makes it slippery in wet conditions, which affects your ride to some extent. Of course, although we can not change its material, but can try to avoid going to this kind of environment to ride, or wearing non-slip gloves.
8. Rock BROS Mountain Bike Grips
Price: $11.99
Length: 131mm
Diameter: 22.2mm
What we like about it: Amazingly comfortable, double aluminum clip-on bar ends.
What we don't like about it: The weight is a concern.
The mission of ROCKBROS, the original cycling equipment brand, is to provide quality and comfortable products and services. This Rock BROS Mountain Bike Grip is designed to expand the contact area of your hands, which provides you with a better grip and is more conducive to your mountain cross-country.
At the same time, the anti-slip particles and lines on the surface provide good friction and effectively prevent slippery situations from happening. And the double locking system is set up to bring enough solidity so that you don't have to worry about movement while riding.
But it does have to be said that it is too heavy. We rarely pay attention to the weight of parts, but this grip does give us a little stiffness in the ride. Of course, this doesn't take away from its excellent performance. If you're very concerned about it, don't worry, there are other products for it in the back.
9. RaceFace Getta Bike Handlebar Grip

Price: $20.79
Material: Rubber
Diameter: 33mm
What we like about it: Lightweight design with a single locking system.
What we don't like about it: It's not suitable for long rides.
When it comes to durability and cushioning, the RaceFace Getta Bike Handlebar Grip does it right. It effectively combines the two, using a proprietary RF rubber compound that stands up well to varying levels of impact. And the directional hexagonal bottom pattern is a perfect fit for your fingers, bringing an easy ride.
The single-lock system delivers a lightweight experience. That is to say, it can be firmly attached to the handlebars without falling off easily.
Unfortunately, all this great performance doesn't allow you to experience it for a long time. To the feedback we received when you ride too long, you will feel hand fatigue. This is not good news for those who love riding. But if you are using it for a short outdoor adventure, it is the way to go.
10. PRUNUS Bike Handlebar Grips Short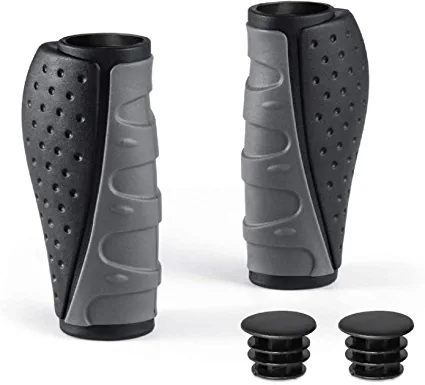 Price: $11.99
Length: 130mm
Diameter: 22.2mm
What we like about it: Cheap price, easy to install.
What we don't like about it: Not used to short handles.
Don't let the price fool you. The PRUNUS Bike Handlebar Grips Short shows us that even a cheap price can have great performance.
The ergonomically designed shape fits your hand perfectly and gives you great support. And the soft material can provide a non-slip grip to improve riding safety. At the same time, the installation does not take you much time, simple operation will be able to fix it firmly.
It is worth mentioning that the short grip design does not meet the needs of most people. If you have not used this grip before, then you need to spend time. Of course, for those who like short grips, it will be a great tool for you when you ride.
11. Dymoece Bike Handlebar Grips
Price: $12.95
Length: 130mm
Diameter: 22.2mm
What we like about it: High-quality rubber and aluminum ring with effective non-slip design.
What we don't like about it: It is not padded and feels hard to use.
If you want a non-slip grip, then this Dymoece Bike Handlebar Grips will satisfy you very well. The patterned design of the surface can prevent maximum slippage. Also, the ergonomic design minimizes fatigue while riding.
In terms of materials, it uses high-quality rubber and aluminum alloy rings. This gives it an excellent quality that can withstand more intense riding.
Although it is the correct shape and holds well, it has zero fill. It feels stiff when your palm is placed in the correct position. This may cause problems for riders who are keen on descending. However, it continues to perform well in everyday riding.
12. DEERU Bicycle Premium Rubber Handlebar Grip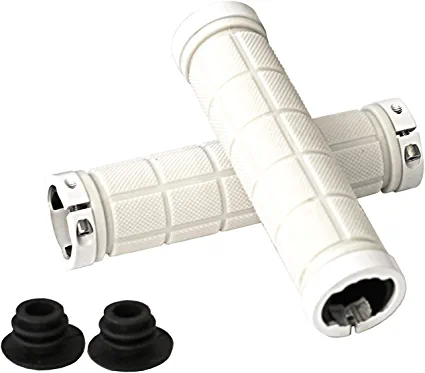 Price: $11.88
Length: 130mm
Diameter: 22.2mm
What we like about it: Adequate traction control.
What we don't like about it: Riding in the heat gets sticky.
The DEERU has always been excellent in bike accessories, and this grip is made by it. The use of high-grade rubber makes it very soft and comfortable to hold. In terms of installation, two screws are used to fix it, and this humanized design is well received by us.
The textured surface provides maximum traction control during use, making your ride easier.
However, it has to be said that the grip needs to be improved in terms of heat protection. If you ride in very hot weather, then you need to be aware that the grip will become sticky as a result. This is something that cannot be avoided by cost saving. If they are willing to make an upgrade for this, then I am willing to pay more even if the price is more.
13. Funn Holeshot Mountain Bike Grips
Price: $14.99
Length: 130mm
Diameter: 31mm
What we like about it: High compatibility with bikes.
What we didn't like about it: It didn't look as good as I thought it would.
The standard grip size is the best feature of the Funn Holeshot Mountain Bike Grips, which makes it very compatible with other bikes. At the same time, the holeshot grips are designed for comfortable riding in the toughest terrain, and the surface pattern ensures that you have perfect control the whole time. It's perfect for riders with large hands.
And the high-quality material used makes it not easily damaged and increases handlebar stability. You can ride vigorously with confidence.
But what made us complain was that when we received it, we found that it didn't look as good as we thought it would, with a slight color difference. Of course, this does not affect its actual use. If you mind this, the following grip may satisfy you.
14. ROCKBROS Bike Handlebar Grips
Price: $12.99
Material: Rubber
Diameter: 22.2mm
What we like about it: Extremely versatile and easy to install.
What we don't like about it: It can only be locked on one side.
Unlike the one described above, this ROCKBROS grip is acceptable in terms of weight. The standard size makes it very versatile for both mountain bikes and bike motocross. The pattern etched on the surface of the grip effectively prevents sweating and slipping while riding, while the soft material makes you more comfortable when controlling. You don't need to worry about installation either, it only takes a few seconds to secure it in place.
However, it must be said that although it uses a double-locking system, in actual experience, it can only lock one side. If you twist the handle hard, then the inner side tends to twist slightly. Of course, we twisted it for testing purposes, and in daily riding, it has no problem.
15. Spank Spike Grip 33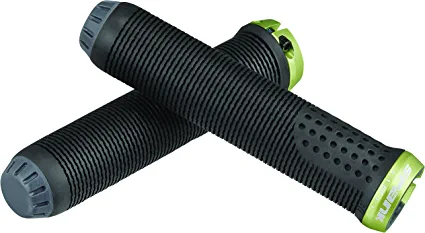 Price: $24.99
Length: 125mm
Diameter: 28mm
What we like about it: Excellent end plug protection.
What we don't like about it: It's a niche recommendation.
Few grips can do that with attention to end plug protection, and this Spank Spike Grip 33 does it well. It is a great choice, especially for the adventurous rider who loves to fully protect the grip from damage.
Besides, it is designed to be comfortable and durable, does not affect the feel of the hand, has enough control, and is lightweight. You can enjoy every ride.
Of course, it has to be said that this is a niche option. Some riders may not be used to it, but we still insist on putting it on. Because an excellent grip will not be buried because of the few people who choose it.
Bicycle Grip Buying Guide
Grip locking system
When you install the grip, you need to make sure it is securely installed. The grip locking system is designed to help you secure the grip. It holds the grip firmly in place through the locking ring, so it won't easily loosen while riding.
In terms of form, the locking device is divided into single locking and double locking. The difference between the two is that the other side has an additional locking device, which also makes it more effective in fixing.
It is worth mentioning that, unlike the slide-in grip, it is easier to install because of the extra locking device. But accordingly, its fixing effect is much better.
For slide-in grips and locking grips, have different features in use. Although the installation method is different, the experience you bring is excellent. The specific choice still depends on your usual riding habits.
Grip manufacturing material
The current mainstream market grip manufacturing material is made of rubber. It has better wear resistance in performance and long service life. At the same time, the high-quality rubber material can make you more comfortable when riding and has a good shock absorption effect when facing bumpy roads. Because of its low manufacturing cost, most of the grips in the list use rubber material.
In addition, there are plastic grips, silicone grips, and some other material grips. Although the materials used are different, they all bring comfort to the ride, and their goal is for you to have a better riding experience. However, due to the hardness of the material, plastic grips are not suitable for technical riding and will make your hands feel sore.
Grip shape
As technology continues to advance, the shape of grips is gradually becoming more uniform. Most of the grip shapes you see today are straight grips. This classic shape design allows the entire grip to have the same thickness, which can give you the ultimate touch. And in riding, it can effectively prevent slippage.
In addition to this, there is another type of grip which has a flat part on the outside. This can give you effective wrist support when riding, in line with the ergonomic design. At the same time, it can fit your fingers to the maximum extent possible to minimize the numbness and soreness that comes with riding and protect your hands from injury.
Grip surface pattern
If you are new to bicycles, you may wonder what the pattern on the surface of the grip is for. Is it just for decoration? No, on the contrary, it brings an important role in your riding.
Different patterns of patterns play different roles. But they all have a common purpose, which is to increase the friction of the palm when riding so that you have better control.
Of course, some patterns can effectively drain hand sweat while riding, some deep groove designs can well drain debris, and some can also provide enough grip.
FAQs
How to find the best bike grip?
Indeed, the grip is not as noticeable as the fork and transmission components. But you can't deny that it plays an important role in cycling as well. A good grip can bring a lot of riding assistance.
Different types of bikes have different requirements for grips. If you are using a mountain bike, then you need a grip that brings enough control and shock absorption. It can fully consider your hand safety, reduce finger damage brought by riding, and at the same time bring effective cushioning function on the bumpy road.
If the ride is a road bike, then you should focus more on the comfort of the ride. Whether it's soft materials or a comfortable grip, these are the things you want to consider.
When you choose the right grip, then your riding pleasure will be greatly increased. What you also need to know is that there is no excellent component, only the best for you is the best.
How do I maintain my grip?
Once you have the right grip for you, what you need to know is how you should take care of it. The service life of a grip depends not only on the material it is made of but also on the usual maintenance. The correct way of maintenance will greatly extend its use time.
For most rubber grips, you need to be careful of direct sunlight. Prolonged exposure to UV rays can damage its material and make the grip sticky. So when you finish your ride, you need to leave it in the shade.
Riding crashes are also an important factor in the grip. Data shows that riders who regularly ride aggressively change their grips more often. A few inconspicuous crashes while riding can lead to damage to the grip. Therefore, if you want to use the grip for a long time, you should try to avoid mistakes and reduce collision.
Is a fine grip better or a coarse grip better?
We often encounter riders who ask about the thickness of the grip, and it's hard for us to give you an accurate judgment on which choice is the right one. Many riders like the ultra-thin grip of the handlebars, and the lighter touch that brings a faster ride. And some riders prefer a thicker grip, the moment you grip on it you can feel the comfort it brings.
So, you don't need to bother about the thickness of the grip, you just need to know your usual riding habits and which one you prefer. For me I prefer the ultimate experience with a thin and light grip, I hope this is a reference for you.
Conclusion
In this review, we bring you 15 of the best bike grips in 2022 in our opinion, they have different prices, and features. These grips have different types of use and we have listed them all for you in detail so you can choose according to your needs. By the way, if you want to go riding in well-known terrain or special terrain, you can book your accommodation on IHG Hotels & Resorts. It is not only rich in variety but also easy to operate.
Finally, if you like our content, feel free to share it with your friends. If our content is helpful to you, you can click the email subscribe button below!